non-US
Posted by David Hardy · 15 December 2014 07:57 PM
Hmmm... the hostage taker had 40+ arrests for sexual assault (released on bond on all), for being an accessory to the murder of his wife (released on bond), and seven for harassing families who had lost a serviceman in Afghanistan (for which he got probation).
A member of Parliament from Victoria says ""No more useless gun laws. Because most of our gun laws now seem to be aimed at the law-abiding, not at the criminals," Mr Bourman told reporters on Tuesday."Exhibit A: Sydney. None of our gun laws stopped that.""
Permalink · non-US · Comments (2)
Posted by David Hardy · 9 December 2014 01:15 PM
An editorial from a Belize newspaper.
"The gun and ammunition laws were passed, our legislators said, to make it difficult for our gangs to obtain the guns and bullets they need to rob law-abiding citizens and to murder each other. These laws were first introduced about twenty years ago, and I think they have been amended once or twice. Today, all of us Belizeans know that these are laws which are abysmal failures, if we are to judge failure or success on the basis of the original intent of the laws.
What the guns laws have succeeded in doing is to intimidate and victimize innocent citizens who live in certain targeted neighborhoods. The laws are draconian, and they have contributed to the ever-growing sense in the Belizean people that we are not in control of our own destiny."
......
"The evidence is the weed law and the evidence is the gun law. These are not Belizean laws. These are oppressive laws. The PUDP are in bed with white supremacy. Power to the people."
Permalink · arms law victims ~ · non-US · Comments (0)
Posted by David Hardy · 19 November 2014 12:08 PM
Story here.
Sounds like the Justice Minister was overridden.
Hat tip to Joe Olson....
Permalink · non-US · Comments (0)
Posted by David Hardy · 20 October 2013 07:31 PM
Story here. There's no such thing as "too much."
Permalink · non-US · Comments (2)
Posted by David Hardy · 28 August 2013 09:39 PM
At the Harvard Journal of Law and Public Policy.
Interesting comparison (sorry, for some reason things don't indent here):
Country Murder rate and Gun ownership per 100,000
Russia 20 and 4,000
Sweden 1.87 and 24,000
Norway 0.81 and 36,000
Permalink · non-US · Comments (4)
Posted by David Hardy · 1 July 2013 12:14 PM
They find 7,500 rounds -- actually, from the pics, it looks like mostly .22 rimfires and expended brass, and freak out.
"Now the pair are worried there may be more rounds of undiscovered ammunition in their home.
Mr Tipping said: 'It's really unnerved us. I'm terrified that next time I'm mowing the lawn I'll run over a bullet that hasn't been found yet. One of us could be seriously hurt."
"Mr Tipping called alerted his partner Ms Mercer and headed to a friend's house - incredibly, with the bullets in his pocket.
'It seems really stupid now but I didn't realise they could be dangerous, I just wanted to find out what they were. My friend used to live on a farm and told me they were 2.2mm bullets."
Permalink · non-US · Comments (3)
Posted by David Hardy · 27 December 2012 04:39 PM
"Two Cautionary Tales of Gun Control". The two tales are those of Britain and Australia.
Permalink · non-US · Comments (2)
Posted by David Hardy · 28 October 2012 01:06 PM
Interesting analysis. The popular narrative is that the U.S. killed the treaty. This analysis argues that the treaty was dead on its feet anyway, for reasons linked to other nations' interests. The treaty had many provisions, and the ones attracting the most opposition were ones that would have restricted arms transfers that were thought to pose a risk of fueling violations of international human rights law, or might adversely affect socio-economic development. No less than 39 countries were objecting to the last. The treaty had nowhere near a consensus backing it. Cuban, Iran, and Venezuela each had more objections than did the U.S..
"In conclusion, UN ATT Conference died from lack of consensus. This death was due less to failed diplomacy, or pressure by the firearms industry and gun rights groups, than it was the result of many years of abortive advocacy lead by an unraveling UK-based Control Arms campaign. Control Arms' broad vision for the ATT was more extreme than consensus could sustain. Ultimately, humanitarian groups sabotaged consensus for an ATT by pushing diplomats too hard for far too much and provoked dispositive sovereignty concerns across the Asia, Latin America, and the Middle East in addition to the United States.
Permalink · non-US · Comments (2)
Posted by David Hardy · 28 August 2012 01:32 PM
A deaf toddler gives his name in sign language; it begins with two index fingers upraised, then crossing each other. The Grand Island Public Schools Board is asking his parents to change his name because a raised index finger violations its anti-weapons policy, since it looks like a handgun.
The school board says it wants to work out a compromise. I'd suggest: the boy goes to school, and the board gets a psych evaluation.
Hat tip to Kurt Hoffman.
Permalink · non-US · Comments (4)
Posted by David Hardy · 22 June 2012 08:47 AM
It's the title of Steve Halbrook's latest article. From the abstract: "This article counsels "be careful what you wish for," using the experiences of France as the paradigm."
Permalink · non-US · Comments (2)
Posted by David Hardy · 10 April 2012 07:47 AM
The measure ending it passed their Senate 2-1 and received royal assent.
Permalink · non-US · Comments (0)
Posted by David Hardy · 27 February 2012 07:58 AM
Canadian man detained, strip-searched, and house searched because ... his 4 year old daughter drew a picture of a gun.
Permalink · non-US · Comments (4)
Posted by David Hardy · 20 February 2012 08:03 AM
$2.5 billion spent to no effect. "The Royal Canadian Mounted Police and the Chiefs of Police have not yet provided a single example in which tracing was of more than peripheral importance in solving a case. The problem isn't just with the long-gun registry. The data provided above cover all guns, including handguns. There is no evidence that, since the handgun registry was started in 1934, it has been important in solving a single homicide."
Just in time for Rahm Emanuel to propose Statewide registration for Illinois.
Permalink · non-US · Comments (2)
Posted by David Hardy · 19 October 2011 03:15 PM
Its headline: "NRA's Cox Deceives Over Arms Trade Treaty.".
It charges: "National Rifle Association chief lobbyist Chris Cox claims in Guns & Ammo magazine that a proposed United Nations Arms Trade Treaty is "completely unnecessary" because the United States "operates what even Hillary Clinton admits is the 'gold standard' of export controls for arms transfers.'" But Clinton made that comment while expressing U.S. support for a treaty that would "promote the same high standards for the entire international community.""
And here's the quote it gives: "On a national basis, the United States has in place an extensive and rigorous system of controls that most agree is the "gold standard" of export controls for arms transfers."
That sounds rather like what he was saying. What Media Matters elaborates is that, since she was arguing for the treaty on the basis that it would raise other countries nearer to the US standard, they think it unfair to quote her, however accurately. Of course, that leaves us with... what difference does it make whether the US signs the treaty or not?
Permalink · non-US · Comments (2)
Posted by David Hardy · 19 September 2011 11:23 AM
Sounds like it's going the way of England. Article here. Man arrested for shooting at masked group that hit his house with six firebombs, another charged after he strikes a burglar (which is smashing his car into the homeowner's car) with the flat of an axe, another jailed for driving off burglars with an unloaded gun.
Permalink · non-US · Comments (3)
Posted by David Hardy · 18 August 2011 10:50 AM
Joyce has an interesting article in the Wall Street Journal.
Permalink · non-US · Comments (5)
Posted by David Hardy · 22 April 2011 12:15 PM
This could get interesting.
Permalink · non-US · Comments (4)
Posted by David Hardy · 18 March 2011 11:46 AM
The El Paso Times has a story based on a Wikileaks leaked diplomatic message. It reports that businessmen in Juarez hired eight Zetas for protection, and Zetas got guns from the army in exchange for a truce with the Zetas and promises of assistance against rival cartels:
"According to the contact, (the source)," the cable states, " 'Zetas' paid a visit on local military commanders when they arrived in Juárez in September 2008, and purchased previously-seized weapons from the army garrison the former 'Zetas' pledged not to target the army, and made themselves available to the army for extrajudicial operations."
Permalink · non-US · Comments (4)
Posted by David Hardy · 6 March 2011 09:13 PM
Story here.
"You can have a gun only when it is not classified exclusively for the use of the military and when it is registered," said Gustavo Nevarez, an attorney in Nuevo Casas Grandes. "Nobody registers them, though."
. . . .
It is a reality that Alex LeBaron, a state representative in northwestern Chihuahua, wants the government to confront. Domestic gun laws have remained a taboo subject among Mexican politicians for decades.
LeBaron believes times have changed, and he wants Mexico to revisit gun politics.
"The right to bear arms is an important matter we shouldn't be afraid to discuss," LeBaron said. "People are armed in their homes. This is not a secret."
. . . .
"We should let the criminals know that every citizen has a right to bear arms," he said.
Other signs that show Mexican people are becoming more gun-friendly are web forums on gun rights and shooting clubs.
Web forums such as Armed Mexico advise people who have been victims of recent attacks to purchase guns by joining shooting clubs. Shooting clubs have surged in farming towns in northern Mexico.
Permalink · non-US · Comments (4)
Posted by David Hardy · 16 February 2011 11:55 AM
It's getting pretty ugly. Masked gang throws firebombs into man's house at night, he shoots into air to drive them off, and he gets prosecuted for careless use of a firearm and pointing a firearm.
The list of court cases being defended against by the Canadian Constitution Foundation is pretty astounding, too. People fined for handing out literature, or writing letters to the editor that offended someone, orders to never again publish such material, orders to apologize, tax auditors who seized and shredded documents, then claimed taxes were due since the taxpayer didn't have original statements, etc.
Permalink · non-US · Comments (4)
Posted by David Hardy · 6 October 2010 12:06 PM
His family has set up a webpage, here. He let it be known that he had firearms without a permit, in order to challenge the requirement. The result was that he was convicted, imprisoned for 11 days, and now the Ontario government is seeking to forfeit his house. He seeks contributions for his defense fund.
Hat tip to Don Kates, who emailed the page...
Permalink · non-US · Comments (2)
Posted by David Hardy · 11 June 2010 09:08 AM
John Lott's latest is at National Review Online.
"Contrary to public perception, Western Europe, most of whose countries have much tougher gun laws than the United States, has experienced many of the worst multiple-victim public shootings. Particularly telling, all the multiple-victim public shootings in Western Europe have occurred in places where civilians are not permitted to carry guns. The same is true in the United States: All the public shootings in which more than three people have been killed have occurred in places where civilians may not legally bring guns."
Hat tip to reader Jim Kindred...
Permalink · non-US · Comments (2)
Posted by David Hardy · 6 June 2010 06:05 PM
Right here.
"The truth s that until 1920, Britain's gun laws were so relaxed they made Texas look effeminate, but we had virtually no gun crime. That only really began to increase here after we abolished hanging.
But that truth doesn't fit the Leftist dogma which has everyone, including the Tories, the media and the police, in its grip, so the facts will be ignored.
What can we learn from the Cumberland murders? Well, first of all that the police are no use to anyone once a crime has been committed. They never were and they never will be, except if they can do first aid."
Of course, here's a more typical response: "Evil Lurks In All of Us". Not really. What you're usually looking at in this situation is a violent and extreme narcissist. The combination of enormous ego and inner self-hate explains multiple murders for no reason (playing God, as it were) with suicide at the end.
Permalink · non-US · Comments (4)
Posted by David Hardy · 25 May 2010 12:11 PM
Bob Owen's title sums it up: He didn't just lie about Arizona: Calderone fibbed about assault weapons, too.
Permalink · non-US · Comments (2)
Posted by David Hardy · 21 May 2010 10:56 PM
Before the National Firearms Act, the makers of the Thompson promoted it as a way to protect ranches against border raiders.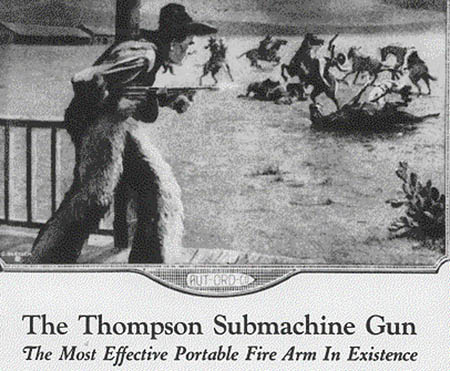 This was practical: cross border raiding remains common to this day. If you want to get anything south of the border, all it costs is $10 mordida ("bite") to the crossing guards and you vehicle will not be searched. The trunk might be full of AKs or dead hookers or bomb-grade plutonium, it doesn't matter. For $10 no one will make messy inquiries.
Permalink · non-US · Comments (7)
Posted by David Hardy · 30 April 2010 06:08 PM
Story here, via Consul at Arms.
Two robbers hijack a moving bus in Belize; one orders the bus driver to slow and to open the door. The driver does so, whereupon a ballsy passenger gives the hijacker a kick that send him out the door. The other tries to shoot, his gun jams, and the passengers give him a fatal overdose of Whupass.
Bus driver and owner: "The only decision or what I would say if they could grant me licenses for all my drivers to keep a gun on the bus for safety. That is the only way to be on the safe side."
Permalink · non-US · Comments (1)
Posted by David Hardy · 1 February 2010 06:20 AM
Story here, in the Wash Post (which is pretty extraordinary in itself).
"Verma said he plans to join the recently formed National Association for Gun Rights India to lobby against new gun controls that the government has proposed, blaming the proliferation of both licensed and illegal weapons for a rise in crime.
Although India's 1959 Arms Act gives citizens the legal right to own and carry guns, it is not a right enshrined in the country's constitution. Getting a license is a cumbersome process, and guns cannot be bought over the counter -- requirements that gun owners describe as hangovers from the colonial past, when the British rulers disarmed their Indian subjects to head off rebellion."
I can attest that the National Rifle Assn of India is all over that country's press, usually with several articles a day. It's a result of the last Olympics, where an Indian shooter picked up the country's only gold, making himself, the sport, and the main organization all very popular.
hat tip to reader John Higi....
Permalink · non-US · Comments (0)
Posted by David Hardy · 20 November 2009 10:42 AM
That's going to become a requirement in New South Wales.
Permalink · non-US · Comments (2)
Posted by David Hardy · 4 November 2009 08:15 AM
Permalink · non-US · Comments (0)
Posted by David Hardy · 25 October 2009 08:59 AM
Story here. And here's a report from the London Telegraph. Which doesn't notice that the story is about arming police with H&K subguns, while the illustration is of an M4/M16.
"Gill Marshall-Andrews, chairwoman of the Gun Control Network campaign group, described the routine arming of officers as a "very retrograde step" and warned that it could lead to higher levels of gun crime.
"This is likely to raise the stakes and encourage more criminals, especially young criminals, to arm themselves," she said."
So criminals will be nice so long as the police are helpless, but will get nasty if the police can do something. That also says a lot for the arms laws that group, I assume, defends, -- criminals can arm themselves at will, should police choose to arm themselves.
Hat tip to reader Nick Lidakis....
Permalink · non-US · Comments (2)
Posted by David Hardy · 16 August 2009 02:50 PM
The real story.
Permalink · non-US · Comments (7)
Posted by David Hardy · 16 August 2009 12:25 PM
Story here. South Ossetia wants to secede from Georgia, which seceded from the Soviet Union. Which I guess means it's like West Virginia or Eastern Tennessee....
"When I saw it, I closed the door and laid it down on the rug. I almost fainted. The sight of such a weapon can make you crazy."
A 74 year old lady describing her delight at buying a 12.7 mm heavy machinegun.
Hat tip to Landis Aden....
Permalink · non-US · Comments (2)
Posted by David Hardy · 13 August 2009 10:44 AM
Story here. Its population is about ten million. 650,000 citizens are licensed gun owners, and 200,000 have CCW permits. Police say unknown hundreds of thousands have guns without the formality of licensing.
Permalink · non-US · Comments (6)
Posted by David Hardy · 16 June 2009 09:48 AM
Story here. Its inventor "was inspired by a documentary in which doctors advocated banning traditional knives."
And to think these guys' fathers held off the Nazis....
Hat tip to reader Jim Kindred....
Permalink · non-US · Comments (7)
Posted by David Hardy · 10 June 2009 05:36 PM
From the UK: a mob tries to rob some golfers of their equipment, menacing them with wood planks. When they attack the golfers, the golfers fight back and they lay out some of the robbers.
Police arrest the golfers on charges of causing gross bodily injury. Apparently even nonlethal self defense is now seen as criminal activity.
On the side, a father of four is beaten to death after asking drunken teens to be quiet and another fellow is killed for refusing a give a cigarrette, and a 10 and 11 yr old are arrested for robbery and assault.
Hat tip to Joe Olson....
Permalink · non-US · Comments (4)
Posted by David Hardy · 4 May 2009 08:22 AM
Officers go about with megaphones, and empowered to enter houses, shouting warnings to lock doors and windows. And the press describes it as a "burglary crackdown."
Permalink · non-US · Comments (3)
Posted by David Hardy · 20 April 2009 08:58 AM
Editorial here.
"Of the ones sent here to be traced, 90 percent turn out to be from America, but most guns recovered in Mexico are not sent here so are not included in the count. Fox News reported that 17 percent is a more accurate number.
Democrats aren't alone in repeating phony gun statistics. The New York Times, CNN and numerous networks continue to repeat the 90 percent figure with no reporting to back it up. The hysteria is used to create the notion that a major problem exists with American guns - and Mr. Obama is anxious to step in to solve that problem with a $400 million program to stop U.S. guns from going to Mexico."
UPDATE: Here's more from the WT.
Permalink · non-US · Comments (3)
Posted by David Hardy · 18 April 2009 06:17 PM
As noted earlier, everyone from President Obama to the Mexican ambassador is claiming that 90%, or even 95% of criminal guns recovered in Mexico come from the US. The fact that 90% of guns submitted to ATF for tracing trace to the US, but the Mexican government only submits guns that it thinks came from the US; a while back FoxNews ran the numbers and concluded that only 17% of guns recovered in Mexico came from the US. Now Factcheck.org reruns the numbers and concludes it's more like 34%, still a minority.
One mystery remains: the difference between the two sets of numbers is explained as the smaller one reflect guns that could be traced to a particular State, the larger one includes those that couldn't be. A successful ATF trace at the very minimum tracks it to retail dealer, thus you know the State. If they couldn't report the State, it probably means an unsuccessful trace -- we know that Colt made it in the US, but can't trace it to the dealer. Unsuccessful traces are disproportionately traces of sales long ago -- those made before the 1968 GCA are about hopeless, and even subsequent to that, the farther back in time, the more likely records have been misplaced.
Which would suggest, at least, that about half of the traces relate to very old gun transfers. Say a gun was sold at retail in 1960, has gone thru 2-3 legit owners since then, a burglar steals it and fences it across the border -- that'd go down as a gun "traced to an American source," and be portrayed as if it was a straw man sale or crooked dealer.
The other possibility is that guns not traced to sale in a particular State include guns not sold in the US at all, but exported. In 2007, American manufacturers exported 10,530 handguns and rifles to the Mexican Ministry of Defense. Think the cartels have enough money to get their hands on as many as they want?
Permalink · non-US · Comments (5)
Posted by David Hardy · 14 April 2009 08:37 AM
It seems more a vulgar brawl than an affair of honor.
Permalink · non-US · Comments (3)
Posted by David Hardy · 11 April 2009 05:23 PM
The Narcosphere points out that reports that (insert imaginary number) % of guns seized in Mexico trace to the US may illustrate a different problem. With State Department approval, American companies sell about $300,000 a year of military/police arms and hardware to the Mexican military and law enforcement.
"The deadliest of the weapons now in the hands of criminal groups in Mexico, particularly along the U.S. border, by any reasonable standard of an analysis of the facts, appear to be getting into that nation through perfectly legal private-sector arms exports, measured in the billions of dollars, and sanctioned by our own State Department. These deadly trade commodities — grenade launchers, explosives and "assault" weapons —are then, in quantities that can fill warehouses, being corruptly transferred to drug trafficking organizations via their reach into the Mexican military and law enforcement agencies, the evidence indicates.
"As in other criminal enterprises in Mexico, such as drug smuggling or kidnapping, it is not unusual to find police officers and military personnel involved in the illegal arms trade," states an October 2007 report by the for-profit global intelligence group Stratfor, which Barron's magazine once dubbed the Shadow CIA. "… Over the past few years, several Mexican government officials have been arrested on both sides of the border for participating in the arms trade.""
The approved shipments in FY 2006 and 2007 included 13,000 firearms, $3 milllion of ammunition, and 42 grenade launchers. The report quotes a retired customs official:
"I would agree entirely [that] DCS (and DoD gifted, as opposed to DCS sold) weapons are obviously the simplest explanation for the massive rise in the number of fully automatic weapons, grenades, rockets, etc., obtained by the narcotics gangs. … That is to say, they are obtaining their weapons from their own, Mexican, government, by various illegal means.
… The Mexican government has a long and well-documented history of corruption at all levels, from city to federal. Most of the weapons being "displayed" [in the media] are simply not available for sale to American civilians, particularly including the grenades — both 40mm and hand types. …
… The source of these weapons can be easily traced by ATF. … All foreign sales must be reported to ATF prior to shipment, just in case the government wishes to hold up a shipment to a particular country, etc. Tracing the serial numbers would be easy, with US government assistance, of course."
It also reports that while State Dept has a program to track and verify such shipments, it is almost never employed. In two recent years, it examined exactly exactly three transfers.
Permalink · non-US · Comments (2)
Posted by David Hardy · 5 March 2009 08:36 AM
Howard Nemerov raises an interesting point. If we take UN claims as to firearms privately owned per capita, and national homicide rates, and divide countries into quartiles based on firearms owned per capita...
The quartile with highest gun ownership had a homicide rate of 1.6. The second quartile (with under half the first's gun ownership) had a homicide rate of 2.5. Third quartile (with gun ownership a fifth of the first quartile) had a homicide rate of 2.7. Fourth quartile, with gun ownership near zero, had a homicide rate of 3.5.
Permalink · non-US · Comments (3)
Posted by David Hardy · 1 March 2009 10:47 AM
There's a move afoot in Switzerland to forfeit their status as a nation of riflemen.
Permalink · non-US · Comments (4)
Posted by David Hardy · 19 February 2009 07:22 AM
Kurt Hoffman has thoughts on the issue.
Permalink · non-US · Comments (5)
Posted by David Hardy · 31 January 2009 08:02 PM
An interesting video on how Afghans make firearms by taking blanks of steel and filing away everything that doesn't look like a gun. Looks like they achieve high quality. And they have better gun handling techniques than the US interviewer.
Also shown are their other inventories. Lewis guns, Lugers, British muskets. They could probably make a better living selling those (apart from the Lewis) to American collectors. I suspect the shop owner, if told that those old muskets could bring a thousand on the American market, and the Lugers that much or several times it, wouldn't hesitate very long.
Hat tip to reader Alice Beard...
Permalink · non-US · Comments (8)
Posted by David Hardy · 6 January 2009 08:54 PM
Issue the victim a bunch of AK-47s. Sounds like a worthwhile approach under the conditions.
Hat tip to reader John Higi,,,
Permalink · non-US · Comments (0)
Posted by David Hardy · 22 December 2008 08:16 PM
Right here. The writer's point is that, whatever the laws, people own guns. In nations with loose firearm laws, they own them legally. In nations with restrictive firearms laws, they own them illegally.
Permalink · non-US · Comments (6)
Posted by David Hardy · 10 December 2008 07:22 AM
Story here. As we'd say in Arizona, "that's Indian, as in India," since the vast majority of Indians here descend from folks who came across the Bering Strait about 20,000+ years ago.
Permalink · non-US · Comments (6)
Posted by David Hardy · 7 December 2008 03:44 PM
"If each of us carried a gun . . . we could help to combat terrorism".
Perhaps the most interesting aspect is that it's in the Time of London. This will likely stir a bit of controversy.
Permalink · non-US · Comments (4)
Posted by David Hardy · 25 November 2008 08:13 PM
Story here. OK, I've figured out what a "bikie" is, but I'm still wondering about "the power to issue prohibition orders against people found near an illegal weapon."
Permalink · non-US · Comments (4)
Posted by David Hardy · 14 October 2008 03:07 PM
They're now instructing people who use barbed wire to keep out thieves to take it down lest a thief get hurt and sue.
"Mr Malcolm's plight comes just weeks after Bristol council angered allotment holders by urging them not to lock their sheds in case burglars damaged them breaking in."
You really couldn't make this stuff up...
Permalink · non-US · Comments (2)
Posted by David Hardy · 19 September 2008 12:30 PM
In Burma, the Buddhist monks are the value of arms against a despotic government.
When they get down to Old Nuns with guns ... that's a prospect that would have had Stalin begging for mercy....
Reader Trap Tee emails with word that it's already happened, in Kosovo:
Kosovo's nuns take up arms
Independent, The (London), Aug 23, 1998 by Paul Wood
SISTER Anastasija, calm and serene during most of our conversation, became
animated on the subject of the weaponry held at the Orthodox convent of
Devic in central Kosovo. "God is looking at you," she cautioned, explaining
that a TV picture of one of "the nuns with the guns" had been used for
anti-Serbian propaganda.
The order of nine nuns have now acquired "six or seven" 9mm automatic
pistols - to be worn discreetly under the habit within the convent, or
placed close to hand in the fields. "They are just small pistols, not great
big rifles," Sister Anastasija said. "We're all women. We go through
the forest or to our land and all we have is one small pistol each. There's a
war here." (snip)
http://findarticles.com/p/articles/mi_qn4158/is_19980823/ai_n14181165

Permalink · non-US · Comments (8)
Posted by David Hardy · 14 August 2008 09:16 AM
Its member, Abhinav Bindra, just won India's first Olympic Gold Medal (in any sport) and has returned home to a hero's welcome
""As long as the sun and moon remain, the nation will remember your name," chanted the crowd at New Delhi airport."
Another report: "Bindra returned from Beijing on Thursday to be immediately engulfed by an adoring crowd, followed by a series of meeting with dignitaries including President Pratibha Patil at Rashtrapati Bhavan, Prime Minister Manmohan Singh and ruling United Progressive Alliance (UPA) chairperson Sonia Gandhi."
He's achieved the peak of fame -- now Indians are reading of "unconfirmed reports" that a saboteur may have tampered with his rifle's sights.
Permalink · non-US · Comments (2)
Posted by David Hardy · 13 August 2008 09:46 AM
For self-defense, a fellow in Scotland was reduced to carrying, under the seat of his car, a gobstopper (a very law jawbreaker type candy) in a sock.
The story comes to light after he was fined 400 pounds for carrying the weapon.
"Sheriff Kenneth McIver told him that, even though it was not in the same category as a knife or axe, it was capable of inflicting a nasty injury.
"You will be aware of the ongoing national debate on offensive weapons including knives," he told Harvey.
"But all too often this court has to consider other improvised weapons like this." "
Posted by David Hardy · 16 July 2008 01:42 PM
Encountered an article in which the author says that the country "according to anti-arms campaigners, has one of the greatest per capita rates of gun ownership in the world." Alongside a cartoon of a fellow reaching for the two guns in his belt, the author notes:
"How many more wake up calls do we need until law makers realise that some new, strict gun control laws need to be passed? What about a limit on the number of guns a person can have, say, two? What about more detailed background checks?" He calls for an assault weapon ban, and ends with:
"As everyone realises, we are no longer the pioneer society we were when gun laws were first instituted in this country. I do not understand why legislators do not get it, gun control laws are extremely out of date."
So what's unusual about this article? Click on extended remarks to see.
Continue reading "Interesting aspect to the media"
Permalink · non-US · Comments (6)
Posted by David Hardy · 16 July 2008 09:13 AM
It sounds from this story as if the improvement is essentially: "formerly, if you defended yourself in a very restrained way, we would prosecute you anyway and require you to prove your innocence: now we won't file charges." That this is viewed as a reform tells us all we need to know. Some persons quoted, tho, say it's no more than window-dressing.
"It came as it emerged that homeowners could have to wait up to three days after reporting a crime to see a police officer, according to a leaked draft of the Policing Green Paper.
It sets out new national standards for local policing for all 43 forces cross England and Wales.
Callers to the police will be given set times within which officers will attend an incident.
The paper says that this will be "within three hours it if requires policing intervention or three days if there is less immediate need for a police presence.""
Permalink · non-US · Comments (5)
Posted by David Hardy · 15 July 2008 11:47 AM
At Rachel Lucas. One comment hits it on the nose: thank God that Nelson and Churchill aren't alive to see it.
Via Instapundit....
Permalink · non-US · Comments (3)
Posted by David Hardy · 13 July 2008 11:13 AM
American pastor, going to meet a fellow clergyman in Russian, brings a gift that lands him in a Russian jail. A box of cartridges for his host's new rifle.
Permalink · non-US · Comments (3)
Posted by David Hardy · 7 July 2008 09:49 AM
Story here, with a note that presently 17% of those found with a knife get jail time.
Hat tip to Norman Heath...
Permalink · non-US · Comments (3)
Posted by David Hardy · 4 July 2008 02:51 PM
16 year old lured to an ambush where he is beaten and stabbed to death.
"Meanwhile a 17-year-old boy who lives near where Shakilus was attacked said stabbings were depressingly commonplace - and often happened for no reason at all.
He said: "If he hadn't died, no one would have cared about this, it would have just been another stabbing. You grow up around here, you always see the yellow boards around and then you wake up and see 20 police vans outside."
More here, with an interesting typo in the headline.
UPDATE: a Briton has up an online petition to allow firearms ownership there. He notes he's been robbed at knifepoint twice, and includes some statistics
Permalink · non-US · Comments (1)
Posted by David Hardy · 3 July 2008 06:09 PM
"FRENCH STUDENTS TORTURED AND STABBED 250 TIMES IN TARANTINO-STYLE RAID ON LONDON HOME"
"It also sent shockwaves across France where the loss of two of the country's finest young minds was seen as proof of Britain's spiral into knife-obsessed lawlessness."
Permalink · non-US · Comments (6)
Posted by David Hardy · 19 June 2008 09:27 AM
Article here. Looks as if, as is common in parliamentary systems, the largest party is still slightly less than a majority. And pro-gun Members formed their own party, the Shooters' Party, which is just enough to give the dominant party a majority if it votes with them.
Permalink · non-US · Comments (5)
Posted by David Hardy · 17 June 2008 02:52 PM
A doctor's look. Pretty horrifying.
Good thing they have such strict gun laws, otherwise things would get out of hand.
"Obviously, we're making an impact," said Judy Bassingthwaite, the national director of the leading lobby for curbs on gun ownership, Gun Free South Africa. "That's very good news."
UPDATE: Wooter in South Africa comments, in a comment blocked by the spam filter (and this time it has me totally baffled):
Yes, it's great that criminals can't get guns in SA. Keeps us all safe. Especially from the toy guns which we are all so scared of.

me goes off to play with his warm fuzzy wuzzy wabbit.
Sarcasm off. :-)
Posted by David Hardy · 11 June 2008 03:00 PM
Over at the Huffington Post. It's one of the fad arguments: American guns are being used by the drug gangs there, so America needs to change its laws.
One wonders ... how do the guns get there? Answer: slip the border guard a small sum (used to be $10, now I've heard it's $20, weakening dollar affects everything) and he doesn't look in the trunk of your car. You can import dozens of guns for $20.
I've had a few stolen, and I'd be 80% sure they went south, with a modest tip at the border.
I had a friend who went down there with a buddy. After passing the border, the buddy opened his trunk and inside was an unregistered Thompson. The friend went ballistic -- a full auto in a military caliber? They crucify us! Don't worry, said the buddy. Turned out it was a birthday gift for a police official, who loved it and let all the other police handle it.
Hat tip to reader Jack Anderson...
Permalink · non-US · Comments (3)
Posted by David Hardy · 7 June 2008 12:06 PM
The Toronto Globe and Mail has the story.
""All those things we're doing to decrease firearm weapons is cutting down the availability of these guns," says Staff Inspector Brian Raybould, the head of the Toronto police homicide squad. "At the same time, criminals who choose to arm themselves have to find some way to do it. If firearms aren't available, what's the next best thing? Knives, sharp-edged weapons."
.....
Toronto police responded to 167 stabbings up to the end of April, 2008 - in 73 of those cases, the victims were taken to hospital in serious condition. That's up from 58 by April last year.
Still, overall homicide rates - by any method - for Toronto and its suburbs are roughly the same so far this year as they were last year.
.....
In Britain, where Robert Knox, 18, who played schoolmate Marcus Belby in the Harry Potter movies, was stabbed to death with a wood-handled kitchen knife outside a pub last month, it is illegal to carry any knife longer than 7.62 centimetres. It is also illegal to sell a knife of any kind to someone under 18.
Yet stabbings have become an epidemic in Britain. Mr. Knox and more than 30 others died at knifepoint in the first five months of this year. The deaths are just a few of the 100-plus stabbings seen in the country since January, and police say most are committed by young men in their teens or early 20s.
Some experts point to Britain's strict gun laws to explain the surge in violent knifings. It's called the substitution effect, says Jack Levin, co-director of the Brudnick Center on Violence at Northeastern University in Boston.
He has been watching the "fewer guns, more knives" phenomenon for years in the United States."
Permalink · non-US · Comments (1)
Posted by David Hardy · 5 June 2008 05:53 PM
Story here.
"The deaths have sparked fears of a knife crime "epidemic" among Britain's young, and spurred the government to announce tougher penalties for teens caught carrying a blade."
.....
""Young people need to understand that carrying knives doesn't protect you, it does the opposite - it increases the danger for all of us, destroys young lives and ruins families," Brown said."
.....
"London's new mayor, Boris Johnson, has also vowed to crack down on knife crime. His proposals include airport-style metal-detecting arches at train and subway stations. London police recently began an aggressive new program to search anyone they wish for knives without having to justify their suspicions beforehand.
Some experts, however, say the measures are little more than political posturing.
"I'm skeptical about whether the latest measures will have an effect," said Enver Solomon, deputy director of the Center for Crime and Justice Studies at King's College London.
He said most teens who carry knives do so because they have been the victims of crime."
Hat tip to reader Jim Kindred...
Permalink · non-US · Comments (4)
Posted by David Hardy · 2 June 2008 02:57 PM
A prominent British antigun campaigner has been stabbed to death by her grandson. He was already in custody, over having stabbed a railroad worker, when challenged about trespassing.
Hat tip to Sarah "Six Gun Sally"...
Permalink · non-US · Comments (8)
Posted by David Hardy · 27 May 2008 09:27 AM
Letter here. Interesting, since if the letter is correct, present Canadian law (1) does not require marking of a gun with its importer (US law since 1968, I believe) and (2) its definition of firearm only includes a complete and operable gun, not any one part such as the receiver (which has been US law since 1938, I think).
Permalink · non-US · Comments (1)
Posted by David Hardy · 19 May 2008 01:45 PM
In the Toronto Star.
Just got back, and am totally exhausted. Wayne said attendance was estimated at 60-70,000; they didn't have firm figures yet. There were somewhere around 3,000 booths. Got to meet a bunch of fellow gun bloggers -- Bitter and Sebastian, whom I'd met many times, Sharp as a Marble, SayUncle, The Smallest Minority, Joe Huffman and some others that now slip my tired mind.
Permalink · non-US · Comments (6)
Posted by David Hardy · 6 May 2008 11:42 AM
Story here.
Permalink · non-US · Comments (3)
Posted by David Hardy · 23 March 2008 11:31 AM
Editorial here.
"Yet it seems the danger pellet guns pose has not yet spurred enough public outcry to spark new laws.
Perhaps that's because in many pellet gun incidents, injuries were absent or minor.
But even when the trigger isn't pulled, these makeshift weapons can be used to rob, abuse and otherwise break the law as effectively as the real thing.
For example, one man allegedly used a soft air gun to shoot a Winnipeg Transit driver on Aug. 9, 2007.
And on Oct. 29, 2004, two young men terrorized the residents of a St. Andrews home, using a pellet gun to force them to reveal their bank card numbers."
"If these steps fail, a licence for pellet guns might be necessary to force potential owners to pass criminal record checks and endure a waiting period as pre-requisites to own a pellet gun."
Permalink · non-US · Comments (4)
Posted by David Hardy · 23 January 2008 04:09 PM
Where have we seen this before?
A pic of tons of weapons laid out on a table.
"His intervention follows a string of high-profile fatal stabbings."
"Camilla Batmanghelidjh, founder of the charity Kids Company, warned that the proposals would not address the underlying causes of knife crime - gang culture and the drug trade."
"Mr Brown added that he wanted to use teenagers as "test purchasers" to snare retailers illegally selling blades, and that he was considering outlawing the most lethal weapons."
Permalink · non-US · Comments (15)
Posted by David Hardy · 18 January 2008 12:35 PM
Story here. The headline is perhaps a little overstated: the terminals will be in US Consulates. But it strikes me as strange that if the Mexican government wanted to trace recovered firearms that might have come from the US, they don't just send the info in an email and request the data.
Permalink · non-US · Comments (6)
Posted by David Hardy · 10 December 2007 03:31 PM
Here's a webpage noting that the daughter of a Canadian pro-gunner is making YouTube videos. If you watch the video, well, it's something made by a young teen, but she recites some data that is pretty astonishing. Her father made a public records request: has the Canadian gun registry system gotten reports of stolen guns, and later allowed them to be registered to someone else?
Answer: only about 4,500 times, by their count. Plus another 500 lost ones re-registered.
Permalink · non-US · Comments (0)
Posted by David Hardy · 6 December 2007 10:10 PM
The Brussels Journal reports on a case where a rape victim fought back, a blogger asked why the rapist (convicted of a prior rape) had not been removed from society, and otherwise citizens themselves might have to do so -- and was forced to delete his post lest it incite violence:
"It is taboo in Europe to say that if the state fails to protect the citizens, the citizens should do so themselves. There is no Second Amendment in Europe. Even European politicians from the so-called "right," like Mr. Sarkozy, are horrified at the suggestion that citizens should be allowed to protect themselves against criminals. Last year, Mr. Sarkozy told French radio: "Security is the responsibility of the state. I am against the private ownership of firearms. If you are assaulted by an armed burglar, he will use his weapon more effectively than you anyway, so you are risking your life.""
UPDATE: actually, this is not Hobbesian. Hobbes maintained that the ONE right you could not give up was the right of self-defense. It was to him the only "inalienable" right. After all, you had given up rights (including the "right" to kill in vengence or just for the heck of it) in order that the sovereign would protect you against others exercising those rights. So you couldn't agree to give that up, too, or you would be giving the sovereign the only thing he had promised to provide you.
This is something far beyond Hobbes. More like you give levithan everything, and hope for the best.
Continue reading "Europe: complaint about released criminal equals incitement to violence"
Permalink · non-US · Comments (31)
Posted by David Hardy · 2 December 2007 06:44 PM
Story here.
Yep, it was a mistake to leave his pistol at home; I'd have suggested bringing a 12 gauge with buckshot, too, if the officer was actually allowed to own one.
Around here, tho, if rioters had beaten a responding officer with clubs, and fired on others with shotguns, I suspect some lead would have been flying, and it it would have been bigger than birdshot. And if Pima Count Sheriff's Office were somehow outnumbered, they could have called upon the good citizenry, who (1) were probably even more heavily armed and (2) aren't really conversant with the details of deadly force policy and tend to think the test is a little more like "did he need killing?"
Fact: about 30 years ago, the city police department went on strike. Burglary rates fell. Burglars knew that with law enforcement functioning, many victims would call 911. Response would give time for escape, and officers responding would be bound by standard policies restricting use of deadly force.
Without it in operation, the citizenry would figure they had to deal with it on their own, and would answer to grand juries composed of citizens who knew they'd had to do the same thing.
Permalink · non-US · Comments (8)
Posted by David Hardy · 29 November 2007 10:52 AM
The BBC reports the Euro Parliament has voted to raise the age for buying guns to 18, to tighten registration, and to outlaw blank firing guns that can be coverted to fire regular ammo.
Here's Deutsche Welle's report.
Permalink · non-US · Comments (2)
Posted by David Hardy · 23 November 2007 02:52 PM
In Great Britain. Actually, the description -- plastic gun and pellets -- sounds more like the deadly AirSoft guns.
Permalink · non-US · Comments (5)
Posted by David Hardy · 7 November 2007 05:19 PM
Story in the London Sun. He finds someone trying to get in a second floor window, when the guy flees he pursues and holds him for police. Police notice the guy has a fat lip ... and arrest the homeowner for assault.
Permalink · non-US · Comments (2)
Posted by David Hardy · 30 September 2007 10:42 AM
Story here.
Permalink · non-US · Comments (7)
Posted by David Hardy · 5 September 2007 10:13 AM
Steve Halbrook just released new paper on Nazi efforts to disarm Jews and other targets in the time around the Night of the Broken Glass. He includes a study of Nazi arrest reports relating to guns (it helps that Steve is fluent in German!)
Permalink · non-US · Comments (4)
Posted by David Hardy · 3 September 2007 10:52 AM
Alphecca notes there will be an arms show in Great Britain -- with 4,000 police assigned for security.
Via Instapundit...
Permalink · non-US · Comments (3)
Posted by David Hardy · 27 August 2007 09:06 AM
From the Times Online.
"Sawn-off shotguns are now being sold for as little as £50, and handguns for £150."
Hat tip to Joe Olson...
Permalink · non-US · Comments (0)
Posted by David Hardy · 20 August 2007 10:28 PM
Times Online reports that knife robberies have more than doubled in two years, robberies overall increased by nearly 50% over the same period, and the government is responding by increasing the sentences for carrying a knife in public.
Permalink · non-US · Comments (5)
Posted by David Hardy · 18 August 2007 12:35 PM
Angry in the Great White North has a report. A "grassroots group" that is actually run by political officials.
Hat tip to Bill Bailey.
Permalink · non-US · Comments (2)
Posted by David Hardy · 14 August 2007 06:21 PM
American satire: company supposedly makes bulletproof school backpacks, which get an NRA endorsement.
British reality: parents really are buying school shirts made of kevlar, to protect their kids against stabbings.
"Teachers are also demanding to be equipped with stab-proof vests to protect them from attack as they frisk pupils for knives and guns."
Permalink · non-US · Comments (5)
Posted by David Hardy · 4 July 2007 01:56 PM
From the Philippines comes this story:
"Neither does the Philippine National Police have the appetite to go after Bedol for admitting that he owned a cache of 20 firearms. Such private armories are normal among traditional clans in the Autonomous Region in Muslim Mindanao, according to Chief Superintendent Joel Goltiao, ARMM police director.
Under the country's tough gun laws, civilians are not supposed to maintain such weapons stockpiles. But Philippine laws apparently do not apply to the ARMM, as far as the PNP is concerned. A study in 1995 reportedly showed that 80 mayors in the region each owned at least 60 firearms, including assault rifles, grenade launchers and M60 machine guns."
And in Nigeria, with the elections over, the the bottom has fallen out of the machete market.
Meanwhile, Canadian polls show little support for more gun control, and support for easing what exists.
Permalink · non-US · Comments (2)
Posted by David Hardy · 1 July 2007 08:16 PM
"Victims of Crime Trust director Norman Brennan said Britain was quickly gaining a reputation as being one of the most violent countries in the Western world, scarring communities and leaving millions in fear of crime.... "A child is stabbed to death on the streets of Britain every week and knife homicides out number gun homicides by three to one. If these measures were introduced it would greatly reduce knife crime and consequently save lives."
Permalink · non-US · Comments (5)
Posted by David Hardy · 1 July 2007 01:16 PM
Story here. A British shopkeeper pursues shoplifters, two of them attack him and one of them kicks him in the groin, he fights back. The shoplifters are given "penalty notices," the shopkeeper is charged with criminal assault and fined.
"The act was aggravated by the fact you kicked the victim on the ground. We feel it has been mitigated because you acted in self defence."
Hat tip to Dan Gifford.
Permalink · non-US · Comments (3)
Posted by David Hardy · 26 June 2007 09:13 AM
It turns out the British crime victimization survey, the British Crime Survey, has since its inception had an artificial cap: no one may report having been a victim of more than five crimes in a year. Victimization No. 6 and beyond are simply discarded.
One might think that'd not have a big influence -- but a study by Professor Graham Farrell of Loughborough University finds that it means the real violent crime rate is 82% higher than what is being reported -- 4.4 million incidents per year rather than 2.4. That comes just from adding back in people who are being victimized 5+ times a year!
"In particular, the system means that the most vulnerable people in society may not be getting the police protection they require from repeat offenders, the report said."
[Hat tip to Dan Gifford]
Permalink · non-US · Comments (2)
Posted by David Hardy · 23 June 2007 10:31 PM
This is priceless:
"The problem remains that the law can never be restrictive enough to prevent dangerous weapons falling into the hands of dangerous people.
The question is whether the law needs to be toughened even more to include a wider ban on pistols as well as a handgun buyback.
The trouble is, criminals do not comply with buybacks."
Permalink · non-US · Comments (0)
Posted by David Hardy · 21 June 2007 09:03 AM
The Daily Mail reports that when heiress Jemima Khan had a cat go missing, two Scotland Yard detectives took on the search.
"But it emerged that for 33-year-old Miss Khan's non-celebrity neighbours, it was a different story when they asked the police for help.
When thugs, thieves, vandals and even a gunman terrorised them, the incidents aroused little interest from the local constabulary."
Permalink · non-US · Comments (1)
Posted by David Hardy · 28 May 2007 10:16 AM
The Tortonto Star reports that the appointed firearms advisory committee is "made up almost entirely of pro-gun advocates opposed to the firearms registry."
Tho it does refer to "NRA president Sharon Froman." Oughta at least get the name straight....
Permalink · non-US · Comments (4)
Posted by David Hardy · 22 May 2007 09:40 AM
Right here.
Permalink · non-US · Comments (0)
Posted by David Hardy · 17 May 2007 09:09 AM
50 heavily armed men abduct 7 police: four them of them found dead, three missing, gun battles leave 20 dead. About a thousand people so far this year shot or decapitated.
Iraq? No, northern Mexico, about a hundred miles south of here. Betting is that the gang was a drug lord's entourage.
[Update: yep, Mexico has quite strict gun laws. Americans often get in trouble under them. If a gun, or even a round of ammo is found in your car, and it's in a military caliber, you're charged with a variety of treason -- since presumably violators are planning to overthrow the government, and want to be able to use military arms -- which accordingly bears a prison sentence of many years. I had a friend who went down there on vacation and they found a box of 9mm in his trunk. He was lucky -- it was empty. Of course all these difficulties can be avoided by giving the border guard his $10 mordida.
Permalink · non-US · Comments (6)
Posted by David Hardy · 29 April 2007 11:15 PM
Off duty police, and retired police, are hiring out as "militia" in Rio. The slums there have long been ruled by drug gangs, and are virtually war zones. (Current issue of Soldier of Fortune has an article on it -- basically, in large areas the gangs rule the place, and anyone who objects will be tortured and killed). The official police function there is essentially to protect the rich and powerful, and neglect the poor.
So the off-duty work consists of forming a group (which the article calls a militia, in the way the term is now used to mean any non-governmental armed group), and hiring out to the slum residents. Pay them so much per household, and they'll do what the government will not ... hang out with their guns and drive the druglords away.
The governor of the state opposes them, saying the government should provide security, but the mayor of Rio defends them, saying anything is better than rule by drug gangs. The locals seem to love them.
Permalink · non-US · Comments (3)
Posted by David Hardy · 14 April 2007 07:31 AM
Sounds like a good idea.
Permalink · non-US · Comments (1)
Posted by David Hardy · 25 March 2007 07:53 AM
Permalink · non-US · Comments (0)
Posted by David Hardy · 17 March 2007 08:52 PM
Sounds to me as if the Netherlanders need a right to arms.
Permalink · non-US · Comments (0)
Posted by David Hardy · 4 March 2007 07:19 AM
Clayton Cramer has an extensive post on the Dunblane school massacre, with interesting notes on the documents the gov't has sealed for 100 years. Little things like the killer's autopsy, his correspondence with various politicians, little things like that.
Permalink · non-US · Comments (2)
Posted by David Hardy · 1 March 2007 05:48 PM
Ian Bell was one of the principal backers of the (final) British gun ban, in the wake of the Dunblane school massacre. Today, he takes a somewhat different position. It's a long article, and he still has a visceral dislike for guns, but he ends:
"Back then, I believed every word. America had, and has, too many of the instruments that Thomas Hamilton found so alluring. Yet almost 11 years on, what do I read, and what do I say?
I read of three London teenagers murdered in the space of 11 days. I read of firearms "incidents" spreading like an epidemic across our cities. I read of Tony Blair holding a Downing Street summit on a crisis that seems - call me naive - a greater threat to many communities than any terrorism.
What I say then becomes obvious: my idea didn't work. In fact, I begin to thread certain fears together, like links in a chain. Here's one: if even London teenagers can provide themselves with the means to kill 15-year-old Billy Cox in his bedroom, guns have become commonplace, so commonplace that every would-be terrorist worth his salt must be armed to the teeth. Bans have failed utterly.
......
Let's concede that all the bans have failed. That doesn't mean we should also fail to ask a practical question. Britain has become a security state in recent years. Nobody strolls unmolested through customs these days. There are terrorist suspects, so they say, at every turn. So why, precisely, are handguns still getting into this country?"
Permalink · non-US · Comments (2)
Posted by David Hardy · 27 February 2007 06:54 AM
A killer successfully gets around Canadian gun laws, which just proves they need more.
"the most sensible thing to do is to cut down on the armed people like Gill, Valery Fabrikant and Marc Lepine, all of whom obtained their guns legally.... To me, the answer is simple: no more guns."
Permalink · non-US · Comments (2)
Posted by David Hardy · 21 February 2007 07:49 AM
New South Wales had to amend its gun laws to allow VP Dick Cheney to bring armed Secret Servicemen.
Permalink · non-US · Comments (4)
Posted by David Hardy · 16 February 2007 09:39 AM
The Telegraph speaks out. "We have, post-Dunblane, what are said to be the toughest gun control laws in the world. They have actually proved strikingly ineffectual."
Permalink · non-US · Comments (5)
Posted by David Hardy · 4 February 2007 09:09 PM
I posted earlier about the insanity over there, when convicted murders escaped from prison but officials refused to release their photos lest it violate their privacy rights. Now comes evidence that, yes, the inmates are running the asylum.
The Police Minister said that people who witness an attack in the street should 'jump up and down' while waiting for the police to arrive."
And to think I believed that Monte Python was fiction....
Permalink · non-US · Comments (3)
Posted by David Hardy · 2 February 2007 09:31 PM
Two convicted murderers escape from prison, and law enforcement refuses to release their photos, since they have "human rights" and pose "no risk." I swear, I am not making this up.
Permalink · non-US · Comments (5)
Posted by David Hardy · 1 February 2007 12:05 PM
Gates of Vienna has a discussion of a British event. It's in response to a Briton's statement that they don't want a gun culture, and the response is -- we don't want a culture of sheep.
The event in question involved a burglary of a doctor's house in Britain, and theft of three computers with priceless data. Police wouldn't even send an officer out, told him there was little chance of recovering anything. So he put up signs offering a reward for return, no questions asked. Police then had time enough -- to threaten to arrest him, because there is a law against offering rewards for return, with no questions asked!
[Via The Smallest Minority].
Permalink · non-US · Comments (4)
Posted by David Hardy · 30 January 2007 09:56 AM
Here's the story.
"Could we be seeing the first signs of a militant middle class which has had enough and is beginning to arm itself? Perhaps.
For those who cling to the notion that an Englishman's home is his castle, a new weapon will soon be available to help deter intruders. Designed by BowTech in Oregon, USA, the Stryker (left) will be on sale in Europe by mid-January."
Look forward to a drive to ban crossbows. Well, not the first over there. Henry VIII tried it, too, in order to force everyone to train with longbows.
Permalink · non-US · Comments (5)
Posted by David Hardy · 8 January 2007 07:49 AM
The London Times Online has the story.
"PUT down those golf clubs and go for your gun: shooting is fast becoming the social networking sport of choice.
A survey of 2,000 companies and 14,000 directors shows that shooting is soaring in popularity. A decade ago, toting a shotgun did not even feature among the most popular recreations listed by company directors. But the survey ranks shooting as the seventh most popular recreation, almost level with gardening."
But the remark I like best is: ""In golf, if you're no good it's painfully obvious. In shooting, if you keep missing birds nobody minds...."
[Hat tip to Eric Bainter]
Permalink · non-US · Comments (2)
Posted by David Hardy · 28 December 2006 09:01 AM
The British Journal of Criminology has it.
Permalink · non-US · Comments (2)
Posted by David Hardy · 27 December 2006 06:47 PM
Britain is having one heck of a problem with arrestees jumping bail.
"Thousands of suspected highly dangerous criminals are roaming Britain's streets because police forces are failing to track down bail jumpers to enforce arrest warrants.
A total of 3,273 accused rapists, robbers, violent offenders and career criminals remain at large after failing to turn up at court while on bail."
Permalink · non-US · Comments (0)
Posted by David Hardy · 27 December 2006 12:17 PM
Story here. Now, it notes they already have just a few:
"Since 1976, Canadians have had to obtain a Firearms Acquisition Certificate in order to purchase new firearms and a Restricted Weapons Permit for handguns and certain other military-style weapons.
Gun owners had to be at least 16 and had to check a box on the application, stating they were not mentally ill.
In 1991 the then-Conservative government passed Bill C-17. The law tightened restrictions on handguns, required a firearms safety course and a background check for would-be gun owners, as well as a 28-day waiting period before purchase.
The Liberals later introduced Bill C-68, which took effect on Dec. 6, 1995, the sixth anniversary of the Polytechnique massacre.
The new law put a screening process in place and banned semi-automatic military-style assault weapons and large-capacity gun magazines like the one used by Lepine.
It required a licence to own a gun and added shotguns and rifles to the list of firearms that had to be registered. Handguns and other restricted weapons already had to be registered."
Permalink · non-US · Comments (1)
Posted by David Hardy · 23 December 2006 04:57 PM
Iraq the Model reports on fighting in Baghdad:
"The big problem is that the security forces are not strong enough to stop them, worse than that, some members of these forces let themselves become partners to the criminals.
We had no choice but to rely on ourselves to protect our homes and neighborhood insurgents and militias alike. In our mixed block the elders met to assign duties and make plans in case things go wrong. They decided that people should all exchange cell-phone numbers as the fastest means to communicate at times of action, it was also decided that if someone calls to report an attack on his home, everyone else must go up to the roof and start shooting at the direction of the assailants.
More roadblocks were erected and older ones strengthened—streets and alleys were blocked in any possible way to prevent any attack with vehicles.
They also agreed that no one moves on the streets after a certain hour at night and any moving person would be dealt with as a threat.
....
No major incidents happened near us except some shooting at a stranger vehicle which neighbors told me carried militants who were trying to launch mortar rounds from an abandoned space but were forced to run away by the shooting."
Permalink · non-US · Comments (2)
Posted by David Hardy · 20 December 2006 12:19 PM
A Vancouver school trustee is raising the issue of whether their gun laws should be rolled back.
Hat tip to Joe Olson
Permalink · non-US · Comments (0)
Posted by David Hardy · 30 November 2006 02:53 PM
18 hours of rioting left Great Britain's largest detention center in ruins... so authorities released 150 persons awaiting deportation since there was nowhere to put them. 'The place is completely uninhabitable, they have trashed everything, so there's no way any of them can stay there.'
Permalink · non-US · Comments (4)
Posted by David Hardy · 29 November 2006 06:08 PM
The Daily Mail reports on a study of convicted British robbers... 36% of whom had been arrested more than fifty times...
"Robbers increasingly carry out their vicious attacks for 'kicks' and street credibility rather than cash, a chilling study reveals.
The research, based on interviews with 120 sentenced criminals, said many simply had a desire for brutal violence rather than financial gain. ...
"It's for the fun. 'Cos the point of street robbery is to get them to fight back, innit? I'd give him a couple of slaps and tell him to fight back," said one criminal. "If he won't fight back, we just give him a kick and go."
Sometimes, theft was only an afterthought, with the crime being prompted by "anger and the desire to start a fight", the report says.
"I picked a fight with someone on the street. They were the first people I come across," said one thug. "I started hitting one of them and calling him names and said, 'What are you looking at?' and stuff like that. Then I can't remember how, but I started hitting him and then I just jumped on him. Punched him, turned him over, went through his pockets."
Posted by David Hardy · 12 November 2006 10:03 AM
UK's Guardian reports law enforcement is in an uproar after a .22 short cartridge was found lying in a doorway.
"The bullet, of Swiss origin, was still in its brass casing, complete with enough gunpowder for it to fire itself. [To fire itself, it must have been one remarkable cartridge].
Mr Khan said that if it had been struck hard enough or exposed to heat it could have gone off. ..."How can you feel safe when you are finding things like this on the street?
.....
The bullet has been examined at a Metropolitan Police laboratory and details about it kept for future reference. [Lab report: "This is a .22 short."]
.....
Police are treating the unattended ammunition as a crime."
Hat tip to Dan Gifford.
Permalink · non-US · Comments (4)
Posted by David Hardy · 9 November 2006 08:48 AM
Two stories from the Daily Record (UK):
1. The Minister for Justice hails new laws against airgun sales. "The laws effectively ban the sale of airguns at car boot sales, from corner shops or any store not approved by the police.... The Executive called for tougher laws following the death of Glasgow toddler Andrew Morton in March last year. Jamieson said: "Following the tragic death of young Andrew, the First Minister and I began discussions with the Home Office and police to find ways to tighten the law on these weapons. Today marks the culmination of that work.... I hope that Andrew's family will be able to take some comfort from the fact that their campaigning on this issue has contributed towards a further tightening of the UK's gun laws to reduce the likelihood of future deaths and injuries.""
2. Three thugs, repeat violent offenders, get a whopping 20-25 years each for stabbing and burning to death a 15 year old. The three were "part of a criminal gang who terrorised people in Pollokshields, Glasgow, for years.... All the killers have long criminal records. Baldy was jailed for four and a half years in 1995 for attacking a man with a baseball bat. And he was freed from a 30-month sentence for serious assault just three months before Kriss's murder."
Posted by David Hardy · 7 November 2006 06:49 PM
A controversy in Canada over mandatory sentencing.
"Real Menard of the Bloc Quebecois demanded that Toews produce Canadian studies to show that there would be any reduction in offences.
Toews scoffed that Menard supported the gun registry — which the minister said did nothing to fight crime — but opposed tougher sentences.
The two got into a shouting match.
"He wants more guns out there," said Menard."
Permalink · non-US · Comments (0)
Posted by David Hardy · 23 October 2006 05:17 PM
A ten-year study published in the British Journal of Criminology concludes that the Australian confiscation (termed a "buy back" only because a half-billion in compensation was paid out) had no effect on crime rates.
"Homicide patterns (firearm and non-firearm) were not influenced by the NFA, the conclusion being that the gun buyback and restrictive legislative changes had no influence on firearm homicide in Australia," the study says.
In his first year in office, the Prime Minister, John Howard, forced through some of the world's toughest gun laws, including the national buyback scheme, after Martin Bryant used semi-automatic rifles to shoot dead 35 people at Port Arthur.
Although furious licensed gun-owners said the laws would have no impact because criminals would not hand in their guns, Mr Howard and others predicted the removal of so many guns from the community, and new laws making it harder to buy and keep guns, would lead to a reduction in all types of gun-related deaths.
.......
The director of the NSW Bureau of Crime Statistics, Dr Don Weatherburn, said he was not surprised by the study. He said it showed "politicians would be well advised to claim success of their policies after they were evaluated, not before"."
Update: ABC News -- the AUSTRALIAN Broadcasting Co., that is, carried the story, and fairly. At the end they quote Prof. Simon Chapman, describing him as an "anti-gun advocate" (when was the last time you heard that term used by the US press?) as "He says the gun laws on hand guns still need some tightening up. "There's been a proliferation of hand guns in recent years, but I think generally speaking that the gun law situation in Australia remains one of the toughest in the world and that's to the great disappointment of the gun lobby in Australia and internationally.""
Permalink · non-US · Comments (5)
Posted by David Hardy · 21 October 2006 09:42 AM
Here's a translation of statements by one French presidential candidate ... and he's the more conservative one! He's speaking to a burglary victim who wants to be able to defend himself.
"Private gun ownership is dangerous. I do perfectly understand that you may be exasperated, to have been stole [burglarized] twice and I do understand the fear of your wife and your daughter, but the answer is in the efficacy of the judiciary answer. It's not in private gun ownership."
[Update, via Instapundit: Here's how good the "judicial answer" is. The police can't protect themselves, let alone anyone else.]
Permalink · non-US · Comments (3)
Posted by David Hardy · 10 October 2006 12:22 PM
Surprise -- British police have found they have gun crime crisis.
Continue reading "England's gun crisis"
Permalink · non-US · Comments (0)
Posted by David Hardy · 19 September 2006 10:02 AM
The editorial is here.
Posted by David Hardy · 17 September 2006 05:58 PM
Glenn Reynolds at Instapundit has a post on the NY Time story on globalization of the gun rights movement.
Posted by David Hardy · 17 September 2006 02:23 PM
There was a shooting in Canada, by some punk with a (legal) gun, and the president of Coalition for Gun Control predictably that doesn't prove the gun laws don't work, just that we need more of them.
But a columnist in the Calgary Sun lets drive at her with both barrels.
"Wendy Cukier, the mastermind behind Canada's obscenely expensive and ineffective gun registry -- she's president of the Coalition for Gun Control -- along with her Liberal Party lapdogs promised us more gun control would make us safer.
Way to go, Wendy."
[Hat tip to Dan Gifford]
Posted by David Hardy · 10 September 2006 04:34 PM
While (as I've noted earlier) Great Britain has gone to giving warnings for first-offense burglary, they still have time to crack down on garden gnome statues that a neighbor claims are (for unspecified reasons) offending him.
[Hat tip to Dan Gifford]
Posted by David Hardy · 4 September 2006 12:03 PM
There's a call for stricter gun control in Turkey. Apparently their idea of gun control is discouraging people from shooting randomly into the air to celebrate weddings, etc. The estimate given is that around 200 people a year die from this manner of celebration; from the sound of it, the celebrants sometimes fire "into the air," more like parallel to the ground.
We need to send Eddie Eagle over with a crate of firecrackers.
Posted by David Hardy · 1 September 2006 11:07 AM
Canada is moving to arm its border guards, in the wake of an embarassing situation where some fled when told murder suspects were heading in their direction.
Nimrod45 adds, in a comment for some reason rejected by the spam filter:
Just a small correction, if you please, David:
The Customs Officer's union has been pressing the Canadian Federal Government for sidearms for years, as a "workplace safety" issue - as I am sure that everyone would agree that it is. The previous Lieberal (socialist) government of 13 years steadfastly refused to provide them with the tools necessary for them to do their jobs effectively and safely.
The Customs Officers in question did not "flee" - they exercised their legal right to WALK OFF THE JOB due to UNSAFE WORKING CONDITIONS - several times, in fact - when reports that armed and dangerous felons were fleeing the U.S.'s jurisdiction towards our borders.
Fortunately, the current Conservative government understands the dangerous nature of the work in which these men and women are engaged, and rightly have moved to arm and train them, for their, and our, protection.
Posted by David Hardy · 30 August 2006 10:36 AM
Police here see themselves as underfunded.... but in South Africa, with the second highest murder rate in the world, recruits are being told, when responding to a crime report, "If you don't have a car, ride a bicycle or a donkey".
Hat tip to Dan Gifford.
Posted by David Hardy · 7 August 2006 04:06 PM
A 64 year old, 5'1" grandmother is confronted by a gang of teenage thugs, blocking her way and shouting abuse and taunts. One dares her to hit him, and she gives him some light prods in the belly. He knocks her down and breaks her arm.
The thug's mother calls the police on her, and she is arrested for assault.
Tom Holzel comments (which for some reason my spam filter stopped):
The situation in the UK is now completely out of control. Tony Martin, a farmer, had been repeatedly robbed, with the local constabulary at least 30 minutes away--when they chose to come at all. The third time he was robbed, he shot and killed one perp and wounded another after they had broken into his home. Both had long rap sheets. Of course Martin was tried and convicted of using excessive force. The wounded burglar was consulted by the judge to determine the length of the sentence (!!) The trial cost for the wounded burglar were paid for by the state. Tony Martin's were not.

Recently a man in London called the police on his cell phone to say he was witnessing the theft of his car, and if the police hurried, they could catch the miscreants. They replied that they had better things to do, and he could come down to the station and report the theft for insurance purposes.>>
Posted by David Hardy · 5 August 2006 04:15 PM
Preston, Lancaster police want to ban drinking while standing at a bar, out of the fear that fights start when people crowd arond the bar and knock each other's beer over.
Posted by David Hardy · 2 August 2006 09:55 AM
Police in Australia may not quite be doing door-to-door searches of gun owners, but they're going to be doing door-to-door inspections of gun storage.
[Hat tip to Budd Shroeder]
Posted by David Hardy · 20 July 2006 03:21 PM
The Telegraph has the story.
"A big rise in street robberies across England and Wales rocked the Home Office last night only hours after John Reid announced a major overhaul of his embattled department, including a purge of top civil servants.
The latest crime figures showed an eight per cent increase in muggings, in particular in the towns and cities targeted just a few years ago by Tony Blair's 'street crime initiative'."
Permalink · non-US · Comments (1)
Posted by David Hardy · 11 July 2006 10:37 AM
Gun Owners of South Africa is organizing protests.
Reader Kurt Fremont comments (in a comment blocked for some reason by the spam-stopper): The place is run by a bunch of communist thugs essentially the same as American liberals. They want the criminals to be able to kill, rob and destroy the citizens' lives and have the citizens be powerless to fight back. You go, Gun Owners Of South Africa!
Permalink · non-US · Comments (0)
Posted by David Hardy · 9 July 2006 04:09 PM
FoxNews has streaming video on the Canadian experience.
Permalink · non-US · Comments (0)
Posted by David Hardy · 6 July 2006 12:57 PM
An Australian study concludes that that nation's tightening of gun laws isn't working:
"While the level of lifetime gun and knife ownership had fallen in the three years to 2004 - possibly because of new controls - there had been an upsurge in more recent ownership.

"[New laws] clearly have not impacted on a subset of detainees because the proportional ownership of firearms in the year before interview increased over the same period," the study said.

"The illicit trade in firearms is a challenge for law enforcement because some individuals appear undeterred by the penalties associated with their illegal trade and ownership.""
Permalink · non-US · Comments (6)
Posted by David Hardy · 5 July 2006 10:15 AM
"Everyone is scared witless. There is talk of a cannibal attack...." I suppose that's only understandable.
Permalink · non-US · Comments (0)
Posted by David Hardy · 29 June 2006 01:44 PM
Neue Zürcher Zeitung has published a review of Steve Halbrook's latest book, "The Swiss and the Nazis. How the Alpine Republic Survived in the Shadow of the Third Reich." The review is in German, but I've put an English translation in the "read more" section.
Continue reading "Review of Steven Halbrook's latest book"
Permalink · non-US · Comments (0)
Posted by David Hardy · 23 June 2006 10:07 AM
Peter Glover has an interesting article at Tech Central... in the wake of a five year effective sentence for a convicted pederast (the victim was a toddler, BTW), a British film producer is bringing out "Outlaw," a Death Wish - like film set in Britain.
"As Love's movie lead puts it, "If you want to spend the rest of your life being raped and bullied...and letting the pedophiles wander the playgrounds while you smile mutely and pay your taxes, then walk out the door." I suspect there won't be too many "walking out" on Outlaw however, unless it is because of its explicit content."
[Via Prof. Joe Olson]
Permalink · non-US · Comments (1)
Posted by David Hardy · 22 June 2006 08:47 AM
Joyce Malcolm has an article in the June 17 Wall St. Journal (subscription required). I've got excerpts in the extended entry below.
Continue reading "Joyce Malcolm: Mad Dogs and Englishmen"
Posted by David Hardy · 15 June 2006 06:01 PM
China is having quite a bit of a problem with illegal knives, explosives, smuggled guns and even home-made guns.
Permalink · non-US · Comments (4)
Posted by David Hardy · 15 June 2006 09:11 AM
I've noted previously the situation in Great Britain, where burglars are now being given warnings, and homeowners are cautioned by police to take their car keys to bed, because burglaries to grab keys are frequent.
In an interesting contrast, when British police found a " large quantity of cartridges" (44, to be precise) in a home, the occupants were sentenced to 1.5 and 3 years imprisonment.
Permalink · non-US · Comments (6)
Posted by David Hardy · 13 June 2006 07:43 AM
Via the Volokh Conspiracy comes word that Joyce Malcolm has published "Guns and Violence: The English Experience." Dave Kopel's review is here.
The point made is that, to the extent we have records, English homicide rates started out high in the 13th-14th centuries, and then fell for the next six centuries. In the early 20th century, England began steadily tightening gun controls, plus criminalizing self-defense, and homicide, gun homicide, and general violent crime rates began to rise, the increase steadily speeding as more controls were added.
Presently, the situation is so crime-friendly that a victim of crime is warned not to shout "help," because that might incite another citizen to (shudder) use violence against the criminal, but to instead shout "call the police." and police are instructed to release a first-offense burglar with a warning.
Permalink · non-US · Comments (2)
Posted by David Hardy · 6 June 2006 10:33 AM
Anti-knife activists, calls for five year mandatory sentences, amnesties... USA Today has the story.
Permalink · non-US · Comments (0)
Posted by David Hardy · 1 June 2006 11:26 AM
Via the Bitchgirls comes word that Canada's conservatives are holding firm on plans to abolish the registry, noting that it has a billion dollar cost overrun, is of little value against crime, and it looks like some of its contracts were sweetheart deals awarded without competitive bids. "People understand very well what we've done. . . . People realize a colossal sum was invested in a program that didn't work.''
Permalink · non-US · Comments (0)
Posted by David Hardy · 31 May 2006 07:56 PM
The Policeman's Blog gives a view of what it's like to be an LEO in Britain. A recent entry notes that burglaries to steal car keys and then the car are a fequent occurence, and the offenders pack CS spray and knives. Police are now advising persons to take their car keys to bed with them at night. He adds:
"American Rifleman has a few alternative solutions to the Car Key Burglary problem; try keeping one of these by the bed instead of your car keys: the XD 45 ACP (.45 calibre but feels like 9mm in the hand), the Kel-Tec PLR-16 (for if you have a particularly long hallway) or the P90 (for when we tell you we'll be out as soon as we can)."
Another entry summarizes a book that contends that to protect the public, they would have to quadruple the police forces and treble the incarcerations.
Posted by David Hardy · 31 May 2006 10:30 AM
From the BBC:
"People caught carrying a knife face arrest and custody until appearing in court, under new guidelines being issued by Scotland's top prosecutor.
.....
Mr Boyd said more than half of all murders were committed with a knife."
[Update: spelling corrected. I hadn't yet finished my dose of coffee when posting]
Posted by David Hardy · 12 May 2006 01:32 PM
The Ottawa Citizen reports that auditors have found that Canada's former Liberal party government hid the real costs of its gun registry by listing its expenses in other categories. "Prime Minister Stephen Harper is expected to use the auditor general's report as a reason to begin dismantling the disputed program, which is opposed by many of the party's core supporters, particularly in Western Canada."
Permalink · non-US · Comments (0)
Posted by David Hardy · 28 April 2006 10:50 AM
From Britain, another case of police failure to protect. A pregnant woman was seriously assaulted, but an arrest could not be made because police were dealing with a dog in a locked car. A week later the assailant cut her throat.
(Hat tip to reader H. Clay).
Permalink · non-US · Comments (0)
Posted by David Hardy · 26 April 2006 07:58 PM
ABC News reports that the Australian PM wants stricter gun laws. There is a telling interview with a spokesman for their National Coalition for Gun Control.
He begins by saying that ten years ago ""I think the perception was that there was reasonable regulation over handguns," but they needed a ban on semi-auto rifles and shotguns.
Today, that's not enough. He wants a ban on semi-auto handguns, which apparently can still be owned by licensed targetW-shooting club members. "We really need the Commonwealth to explain why target shooters with handguns in clubs are better armed than our police. We really need an explanation as to that and they haven't provided one."
[UPDATE: the Daily Telegraph has word on gun law changes in New South Wales. They've eliminated a monopoly one company had on giving tests for rifle and shotgun licenses -- a monopoly that made it millions -- but made the tests more difficult. The PM says "I think there's always more that can be done at a state level," and "we really must resolve as a nation never to go down the American path." In the meantime, The Australian disputes whether all the antigun measures have done anything worth doing.
Permalink · non-US · Comments (6)
Posted by David Hardy · 23 April 2006 08:49 AM
From The Australian:
"Don Weatherburn, the chief of the New South Wales Bureau of Crime Statistics, said the pattern of firearms had made a "horrendous change" for the worse with handguns now responsible for between 50 and 60 per cent of annual gun deaths."
"Ms McPhedran said policies on gun control should be based on evidence and that homicide rates overall had remained relatively static since the Port Arthur massacre despite the gun buyback, while suicide rates have actually gone up."
Permalink · non-US · Comments (1)
Posted by David Hardy · 21 April 2006 01:33 PM
AP has the story. 9400 homicides last year, in a population of about 25 million, for a rate of about 37 per 100,000, or about 500% of the US rate, I remember correctly.
Permalink · non-US · Comments (1)
Posted by David Hardy · 17 April 2006 09:52 AM
As I read this story, a member of Jamaica's senate has called for complete repeal of its gun laws, a former police commissioner has endorsed arming the citizenry, but the Jamaica Rifle Association is protesting because "Guns are not the solution to Jamaica's crime problem."
I guess I have enough trouble figuring out our own politics....
Posted by David Hardy · 9 April 2006 12:16 PM
I've posted below on how the British government (1) makes it all but impossible for its subjects to defend themselves and (2) declines to defend them, having recently adopted a policy of issuing warnings for burglary, assault, etc..
Don Kates alerted me to this reprint of a Times article, discussing how their police react to criminal gun assaults. Apparently the standard procedure is to stay away from the scene for hours, because after all an armed criminal might be dangerous. The first case cited involved police staying away from a shooting scene for an hour despite telephone calls from it saying the gunman had left. In the meantime, two women bled to death. The culture has become one of extreme caution, driven by events such as a workplace health and safety citation of a Police Commissioner ... after a constable suffered a fatal fall while pursuing a criminal across a rooftop.
Permalink · non-US · Comments (1)
Posted by David Hardy · 5 April 2006 01:09 PM
The Daily Mail (UK) reports the new British policy: issuing warnings to burglars. The same for arson, threats to kill, auto theft, and assault with infliction of bodily harm.
So (1) you may not protect yourself but (2) the government won't protect you, or even punish the offender afterwards, either. Essentially, the society has just been handed over to the sociopaths.
Permalink · non-US · Comments (4)
Posted by David Hardy · 16 March 2006 12:56 PM
The ever-busy Larry Pratt, of Gun Owners of America, has been in South Africa aiding Gun Owners of South Africa.
Permalink · non-US · Comments (0)
Posted by David Hardy · 14 March 2006 06:53 PM
There are several interesting anonymous British police blogs -- The Bow Street Runner, The Policeman's Blog, The Thin Blue Line, and Another Secret Policeman. The powers that be are, of course, trying to shut them down. They give an interesting view of life on the other side of the pond. Sounds pretty bureaucratic....
Permalink · non-US · Comments (0)
Posted by David Hardy · 13 March 2006 01:38 PM
Iraqi civilians are -- hardly surprisingly -- stocking up on every gun they can get. This despite the fact that a pistol can cost several months' pay. [via Dave Kopel's newsletter.
Permalink · non-US · Comments (0)
Posted by David Hardy · 12 March 2006 11:24 AM
So said James Madison in Federalist 46 -- notwithstanding their standing armies, European monarchs are afraid to trust their people with arms.
A more recent demonstration of this comes from a Pentagon assessment of Sadaam Hussein's strategy, such as it was. His military leaders proposed a withdrawal, and letting local Iraqis fight a guerrilla war against American supply lines (the early WWII Soviet situation).
"Mr. Hussein rejected the recommendation. Arming local tribes was too risky for a government that lived in fear of a popular uprising."
He figured that Americans would not commit land forces, because they were fearful of taking casualties. "Mr. Hussein's main concern about a possible American military strike was that it might prompt the Shiites to take up arms against the government. "Saddam was concerned about internal unrest amongst the tribes before, during or after an attack by the U.S. on Baghdad," Mr. Aziz told his interrogators."
Permalink · non-US · Comments (2)
Posted by David Hardy · 9 March 2006 02:47 PM
Clayton has an interesting post on the Dunblane Massacre, which led to the final banning of handguns in Britain. He notes that questions are being raised with regard the files of the subsequent investigation, which were sealed for 100 years, and which some are suggesting an unsavory relationship between the killer (a serial paedophile and child pornographer) and government officials, which might explain how he managed to a get a handgun permit despite his known illegal proclivities.
Permalink · non-US · Comments (0)
Posted by David Hardy · 6 March 2006 12:46 PM
The 1996 Dunblane Massacre -- where a shooter killed students and teachers at a school -- led to Britain's 1997 complete ban on handguns. A new book on the subject is now raising serious controversy over there. ['nother hat tip to Dan Gifford]
Permalink · non-US · Comments (0)
Posted by David Hardy · 2 March 2006 11:49 AM
The always-interesting Instapunk has a note on Swedish laws and gun laws in particular. Yes, Sweden has stricter gun laws than the US, and a lower homicide rate -- but other Scandanvian countries have much looser gun laws than Sweden, and lower homicide rates that that country.
[The notes about regimentation -- until fairly recently, alcohol was rationed by the government, to make sure nobody could drink more than it felt proper -- remind me of a couple of jokes about Germany. (1) You can't have a revolution in Germany, because the police won't issue the permit; (2) You can't have anti-government riots, either, because all the government buildings have "keep off the grass" signs in front of them.]
Permalink · non-US · Comments (5)
Posted by David Hardy · 19 February 2006 02:37 PM
Yep, this will do a lot to stop terrorism.
[Hat tip to Prof. Joe Olson]
Permalink · non-US · Comments (3)
Posted by David Hardy · 19 February 2006 02:34 PM
Numbers of guns (at least registered ones) are surging in Australia, and the antigunners are complaining that the government is starting to act a bit pro-gun, says the Daily Telegraph.
Brazil, Canada, now start of movement in Australia. Might we be seeing an international trend beginning here?
Permalink · non-US · Comments (1)
Posted by David Hardy · 17 February 2006 08:09 AM
Alphecca reports that the new Canadian government has appointed a committee, with an eye to terminating its gun registry. [via Instapundit]
Permalink · non-US · Comments (0)
Posted by David Hardy · 15 February 2006 09:27 AM
From the London Telegraph comes "kill this gun culture".
[Hat tip to Dan Gifford].
Permalink · non-US · Comments (2)
Posted by David Hardy · 13 February 2006 09:22 AM
From the National Post (subscription only) comes an editorial that points out that as gun density declines, crime rates increase.
Continue reading "Canadian column on failure of their gun control"
Permalink · non-US · Comments (3)
Posted by David Hardy · 4 February 2006 09:31 AM
The Bradnon Sun has the story.
Permalink · non-US · Comments (0)
Posted by David Hardy · 30 January 2006 06:23 PM
A lady teacher who was plagued by thugs dared to fire an air gun at them.
Result: a sentence of three years' imprisonment (reduced on appeal to 36 days), and a firing.
Permalink · non-US · Comments (1)
Posted by David Hardy · 25 January 2006 01:02 PM
Italy has enacted a law authorizing use of arms in self-defense. The news articles don't make clear just how it changes the law. The New Zealand Herald says "The measure was put forward after a series of headline-grabbing cases in which shopkeepers were accused of manslaughter for killing their robbers and applies only if there is a "risk of aggression" for the victim of the break-in and no sign that the intruder is backing down."
[Hat tip to, in order of appearance, to Bruce Stern, and Don Kates].
Permalink · non-US · Comments (0)
Posted by David Hardy · 24 January 2006 08:49 AM
In our book on Moore, Jason Clark and I explore how every cause he's endorsed (Wesley Clark, Howard Dean, John Kerry, etc., etc.) goes down in flames.
We could add another -- on the eve of the Canadian elections, Moore endorsed the Liberal Party, and the Conservatives went on to win their first election in 18 years.
The Conservatives have proposed ending Canada's expensive gun registryand spend the money on law enforcement.
Permalink · non-US · Comments (0)
Posted by David Hardy · 16 January 2006 09:50 PM
From the Daily Mail [Great Britain]:
"Ordinary people should carry weapons if they want to be safe on Britain's crime-ridden streets, the father of murdered lawyer Tom Ap Rhys Pryce's fiancee said last night.
In a bitter denunciation of the lack of police officers on the beat and the lenience of the courts, Rod Eastman said it was better to risk arrest for carrying an offensive weapon than risk being murdered by muggers."
[Hat tip to Dan Gifford]
Posted by David Hardy · 14 January 2006 08:19 PM
Iraq the Model reports on the situation over there:
"Meanwhile, there are some good news coming from Anbar.
Al-Qaeda is apparently being chased down and confronted by Iraqis in Anbar and Samarra according to a report from al-Sabah.
Mohammed al-Ubaidi is a citizen of Anbar who took part in a battle against al-Qaeda fighters said that people were enraged by the attacks that kill civilians in Anbar and other provinces and therefore have decided to form squads from the residents to rid Anbar from the foreign terrorists.
The reports mentions that several tribes' sheikhs had a meeting in the home of a sheikh of the Dulaim tribe where they pledged to fight al-Qaeda and throw them out of the province. There are also news that some 120 al-Qaeda members have already fled outside Iraq after a series of battles between their cells and the residents of Ramadi and other towns and suburbs of Anbar.
According to the same report, similar measures are being taken by the residents in Samarra and have succeeded in forcing foreign terrorists out of their city."
Permalink · non-US · Comments (0)
Posted by David Hardy · 12 January 2006 08:17 AM
The agenda, and proposals, from the UN's 2006 Small Arms Review Conference are available here.
Permalink · non-US · Comments (1)
Posted by David Hardy · 11 January 2006 02:00 PM
1. The Swiss Army is now letting members who have completed their service take home the latest assault rifle, the SIG 90, provided they pay to make it semiauto only. Previously they were only allowed to take home the earlier SIG 57.
2. The Swiss cabinet has recommended to the legislature that they conform to the European Union's Schengen accord, by instituting a system where all firearms acquisitions are reported to the government, and apparently some manner of permit is required (although the grounds for issuance sound broad). Enough signatures have been collected in opposition to require the matter to be put to a public referendum, and opposition is forming.
Permalink · non-US · Comments (1)
Posted by David Hardy · 11 January 2006 12:36 PM
John Lott has an article in the NY Sun, which goes into gun bans in other countries and the rising homicide rates that followed.
Permalink · non-US · Comments (1)
Posted by David Hardy · 9 December 2005 09:46 AM
The latest marksmanship competitions in street fighting in Monrovia apparently feature rules that forbid use of sights, taking a firing stance, taking cover, or shooting from the shoulder. Or maybe even from the hip. The preferred stance appears to be holding the rifle sideways over the shooter's head. (Hat tip to Nancy Norell).
I suppose it does keep the casualty rates down, since someone can only get hit if they have very bad luck. (Which may actually be the unspoken purpose... it's been noted that even in the 18th century very few bayonet charges led to use of cold steel. One side or the other backed down and ran off before it got to that. This may be a variant: shoot a lot of ammo, look aggressive, and the other side bails out. Actually start shooting them, and they may do the same to you, and there will be a pile of bodies).
[UPDATE: I suspect that the "gangsta" sideways hold is mostly movie hype -- I recall hearing that it was used on some movie, and after that street thugs thought it was the stylish way to shoot. I can only guess that it might have some slight utility if the shooter had a pistol and didn't know a real shooting grip. Under those conditions, the natural (and wrong) grip tends to throw the shot to the right, assuming a right handed shooter. Turning the gun sideways would tend to throw it up. Since human beings (other than Michael Moore) are taller than they are wide, a shot too high is more likely to hit than a shot too far right. Whether the same holds true is an untrained rifle shooter I'd doubt, since with a rifle the heavier firearm doesn't move very much during the instant between when the trigger releases and when the bullet exits the barrel).
The problem with gripping a pistol is that the natural grip (owing the shape of our hand and fingers) has the gun pointing about 30-45 degrees to the right, and then wrist then cocking to point it forward. The finger compresses the trigger, and the gun is pressed back into the ball of the thumb. When the trigger releases the ball of the thumb presses forward and in that instant the gun is pushed to the right. One of the first bits of handgun marksmanship training is to grip the gun so that it is a natural extension of the arm, which requires that the trigger be pulled with the last portion of the finger, rather than the stronger intermediate portion. Then, at the moment of trigger release, any movement is straight ahead.]
Permalink · non-US · Comments (4)
Posted by David Hardy · 8 December 2005 10:06 AM
David Kopel, over at Volokh Conspiracy, notes that Canada's possibly outgoing (and thoroughly corrupt) Liberal government is proposing a handgun ban. He also notes that members of Parliament had previously been saying that registration wouldn't lead to confiscation, and even that registration might improve the value of private firearms.
Permalink · non-US · Comments (4)
Posted by David Hardy · 6 December 2005 10:03 PM
While on the topic of law enforcement, I just came across a British policeman's blog.
His entries confirm what Joyce Malcolm has told me regarding their nanny-state. Apparently an officer has to be very careful what he puts in his reports (as in avoiding naming suspects unless there is sufficient evidence).
He comments on assault against officers over there: "None of the officers in Newtown got murdered over the weekend, but 3 out of 10 (1 female officer) sustained minor injuries at the hands of drunken idiots who seem to think that people in scruffy flourescent jackets are fair game. I was single crewed because the nightshift was odd numbered (five as opposed to six officers). Would I have felt safer with a Glock and an AR15? Yes. Would people have magically sobered up and gone home when faced with the business end of a shotgun? Yes."
Permalink · non-US · Comments (0)
Posted by David Hardy · 6 December 2005 08:05 AM
South Africa is having serious trouble with its gun permit system.
(I seem to recall hearing about this before--the requirement is for firearms training, and there are only a handful of certified instructors, spread out all over the country).
Permalink · non-US · Comments (1)
Posted by David Hardy · 28 November 2005 10:15 AM
Don Kates has an excellent article on international comparisons, at the Independent Institute. A few excepts:
"Anti-gun advocacy is built on decades of erroneous claims that the United States, with the world's highest gun ownership rate (true), has the highest murder rate (false). Russia's recently disclosed murder rates since 1965 have consistently exceeded U.S. rates despite Russia' ban of handguns and strict control of long guns. Since the 1990s Russian murder rates have remained almost four times greater than American.
.....
If more guns mean more violence, nations with high gun-ownership rates should have high murder rates. But two international studies comparing gun ownership with murder rates in 36 and 21 nations (respectively) found "no significant correlations."
Anti-gun advocates never mention these facts. Nor do they mention all the European nations with high gun ownership rates but very low murder. Norway, with the highest gun ownership rate in Western Europe, has the lowest murder rate—far below England's. The only European nation that bans all guns, Luxembourg, has the highest murder rate (except for Russia): 30 percent higher than the U.S. and ten times that of gun-dense Norway. Holland, with Western Europe's lowest rate of gun ownership, has a 50 percent higher murder rate than Norway. Greece has much higher gun ownership than the Czech Republic but much less murder. Finland has 14 times more gun ownership than neighboring Estonia but much lower murder rates."
Permalink · non-US · Comments (0)
Posted by David Hardy · 20 November 2005 10:26 AM
The London Telegraph reports that a Conservative MP is pushing a bill to broaden self-defense in the home, and the Home Secretary has come out in opposition.
The bill would change the standard of "reasonable force" into "all but grossly disproportionate force." As commentators such as Joyce Malcolm have pointed out "reasonable force" is construed by British courts as allowing almost no self defense. (She pointed one piece of government advice, to the effect that if you run into a burglar in the dark and bonk him with a crowbar, you will be put on trial but probably win. But if you hit him a second time, you are almost certain to be convicted. Note that even the first blow is predicated to result in a criminal charge. Where I live, the prosecution wouldn't waste time asking for a grand jury's opinion. If you killed the guy, they might bother the grand jury, just enough to get a "no true bill" so that they could say they asked for a second opinion, so to speak.
Hat tip to Dan Gifford...
Permalink · non-US · Comments (0)
Posted by David Hardy · 18 November 2005 09:56 AM
Over at the Volokh Conspiracy, Dave Kopel has a posting on Kuwaiti gun prohibition. The kingdom has a near-complete ban on all guns, and just doubled the penalty to ten years in the slammer. A major issue is the Kuwaiti resistance (to the Iraqi invasion of some years ago), which understandably does not propose to disarm, nor quite understand why its rulers don't trust it. [The kingdom seems to be a perfect illustration of what people of the founding period here foresaw: (1) absolute rulers must disarm their people; (2) they are then forced to rely upon a mercenary army, which (a) must be weak enough to where it cannot take over and (b) must thus be too weak to defend the state... or else be strong enough both to defend it and to take over, and, as Machiavelli put it, what reason is there for an armed man to obey a disarmed one?]
Permalink · non-US · Comments (1)
Posted by David Hardy · 16 November 2005 02:47 PM
Yorkshire Today reports that the British are passing legislation to restrict reloading tools and components:
"During Bieber's trial, Mr Justice Moses said it was "completely barmy" that the killer had legally bought a Dillon RL550 bullet press and re-loader from a Hertfordshire gunshop that he had used to manufacture thousands of bullets in a home-made weapons factory in a Leeds lock-up.
PC Broadhurst's mother Cindy Eaton – backed by the Police Federation and PC Broadhurst's MP, Batley and Spen's Mike Wood – launched a high-profile campaign in the Yorkshire Post for a ban on the unrestricted sale of bullet-pressing kits and primers – the essential mini-detonators which set off the propellant in a round.
Following Bieber's conviction, the MP called directly on the Prime Minister to change the law.
His pleas are set to come to fruition today, as MPs give their final approval to the Violent Crime Reduction Bill, which will make buying components subject to the same restrictions as buying firearms.
Clause 28 of the Bill will make it an offence to sell primers to anyone without a firearm licence and Clause 29 will ban cartridge and bullet presses."
Hmm.. (1) the killer in the case managed to get the gun despite the existing laws; (2) with regards the "slippery slope"... aren't the British ever going to get to the bottom?
Permalink · non-US · Comments (2)
Posted by David Hardy · 5 November 2005 07:00 PM
The Tapei Times covers the industry. Pistols, subguns -- these guys will make them, from scrap metal. The illegal gunmakers reportedly number in the thousands. And lower-ranking government officials are among their customers!
(Some enterprising fellow is going to get to these guys and tell them they can make a fortune in replicas. Why make some pocket change for a pistol when you can put away five hundred for a flintlock, or a thousand for a wheel-lock?)
Permalink · non-US · Comments (1)
Posted by David Hardy · 28 October 2005 09:18 AM
An interesting column on the Australian experience. Excerpts:
"Gun ownership is rising and there is no definitive evidence that a decade of restrictive firearms laws has done anything to reduce weapon-related crime, according to NSW's top criminal statistician.
The latest figures show a renaissance in firearm ownership in the state - a 25 per cent increase in three years. And the head of the Bureau of Crime Statistics and Research, Don Weatherburn, said falls in armed robberies and abductions in NSW in the past few years had more to do with the heroin drought and good policing than firearms legislation.
Even falls in the homicide rate, which have been steady, began long before the gun law debate provoked by the Port Arthur massacre in 1996.
Nationwide, the proportion of robberies involving weapons is the same as it was in 1996, while the proportion of abductions involving weapons is higher, the latest Australian Bureau of Statistics fiures reveal. They show a mixed result in firearms-related offences since the mid-1990s. There has been a fall in firearms murders (from 32 to 13 per cent) but a rise (19 to 23 per cent) in attempted murders involving guns."
[UPDATE: typos correct. Must've had too much Foster's before typing...]
Posted by David Hardy · 27 October 2005 10:41 AM
A report on British crime figures. "A report released this week by the United Nations confirms what law-abiding Americans have known for quite some time. That being that criminals prefer victims who cannot fight back. Based on a crime survey of the world's top industrialized countries, the U.N. report indicates that a resident of the United Kingdom is nearly 3 times more likely to become a victim of violent assault than is a citizen of the United States. The report reveals that Scotland is the most violent country in the industrialized world with over 2,000 Scots attacked every week, which amounts to about 3 percent of the population on an annual basis. England and Wales are close behind with 2.8 percent of the population falling victim to violent assault. By comparison, Americans are victimized by violent offenders at a rate of 1.2 percent."
Posted by David Hardy · 25 October 2005 08:32 PM
According to this report, the British are considering relaxing their handgun ban a bit, in order to permit London hosting the 2012 Olympic games.
Reminds me of a trip I took to the Olympic training center in Colorado (I think) perhaps ten years ago. The shooting sports were, well, rather specialized. A pistol event where you had to hit a number (5-6) targets in the least time possible ... so it shot a .22 shot, from a gun with holes drilled thru the upper surface of the barrel to keep down even that tiny recoil and rise. A "running boar" event (now actually a "running oval" out of fear of offending moslems, although I can't see where they would have objection to shooting a pig, just to eating or contacting it, and boars aren't really pigs anyway) where, since the target went left to right and right to left, there were two rear sights for each arrangement.
But the most starting sight was on the running track. A lady was running, and next to her a golf cart or something very like that was keeping pace. A hose like a vacuum cleaner hose connected to a face mask she wore. I asked what was going on, and was told that the cart housed equipment that would plot her CO2 output as she ran, so that they could optimize her speed. I thought this was going just a trifle far, on something that's supposed to be an amateur sport, after all. (A remark a friend made: they ought to go back to the original system, where there was one prize, for the best, and there was no reckoning by nation or city-state. The object is simply to find the best individual, in a very limited number of events -- I think six or eight -- and not to tally up 22 golds, 35 silver and whatnot bronze for some country. But then I suppose there wouldn't be that much advertising to sell...)
Posted by David Hardy · 24 October 2005 02:16 PM
The BBC summary of the Brazilian referendum is ... strangely suggestive of US debates on the gun issue.
The antis campaign " was heavy in celebrity razzamatazz, and light in penetrating argument." Its political sponsors were dealing with accusations of official corruption. When the opposing campaign heated up, many started waffling.
The pro-gun side "portrayed the referendum in terms of civil rights, claiming that the government wanted to take away the right of people to choose how best to defend themselves," and argued that "criminals do not buy guns legally in shops, where customers are subject to strict background checks." The net result, they submitted, was that the law would not disarm criminals, but would stop honest citizens from defending against them.
I think I've seen this debate somewhere before...
Posted by David Hardy · 23 October 2005 06:52 PM
Reuters reports that the vote in Brazil lost by 64-35%. ""We didn't lose because Brazilians like guns. We lost because people don't have confidence in the government or the police," said Denis Mizne of anti-violence group Sou da Paz." How about both reasons?
Via Instapundit, which has a great roundup, including Dave Kopel's note that this represents a stunning repudiation of the international gun banning movement.
Posted by David Hardy · 23 October 2005 10:57 AM
Sundries has some translations of Brazilian blogs debating the gun ban referendum. For those of us who don't read Portugese, this is quite handy. She also observes turnout will likely be high, since voting is mandatory in Brazil: failure to cast a ballot can mean fines or trouble with your passport!
Posted by David Hardy · 21 October 2005 09:06 AM
The Christian Science Monitor is reporting on the Brazilian referendum to limit (the article is unclear just how, but significantly) gun sales. It sounds as if gun sales would be limited to hunters, collectors, etc., and those with a stiff registration fee and paperwork requirements.
The article reports the polls are going back and forth, starting with a big majority for "yes" and now with a majority for "no."
Interesting notes: Brazil's population (122 million according to this article, 162 million reported elsewhere) is somewhat under a third that of the US, and its estimated gun density (17 million) is somewhat under a tenth of ours. Yet its homicide rate is twice ours (and the article notes, Venezuela's rate is higher. That's just south America -- as I've noted, all the former Soviet republics have much higher homicide rates than the US, a fact not apparent when they were USSR, since the Soviet government deliberately under-reported. I think the claim that the US has an unusually high homicide rates is steadily failing.
[UPDATE: The Mercury interviewed Brady Campaign on it. It describes the ban as "banning the sales of guns and bullets to almost all civilians." It then reports: "U.S. gun-control advocates could use Brazil as a test case for tighter laws, although not a total ban, said Peter Hamm, a spokesman for the Washington-based Brady Campaign to Prevent Gun Violence, which advocates tougher gun restrictions."
(1) Once again, Brady shows its only real agenda is "anything that restricts gun ownership" -- including in this case complete or near-complete bans on rifles and (2) in light of this, its support for the DC ban, etc., Brady will find it harder and harder to argue that it only favors "reasonable limitations" on handguns.]
Posted by David Hardy · 14 October 2005 07:07 PM
From the Middle East Times:
"At least 30 Muslim women in the disputed region to the north of India and Pakistan have constituted a separate all-women Village Defense Committee (VDC) and are operating with the Indian army in the forested mountains of Surankote in the Poonch district bordering the Pakistani side of Kashmir to fight militants.

"Now militants do not dare enter our village," said 18-year-old Nishat Bee, the youngest member of the group. Her companion, however, corrects her by saying, "In fact militants have not been this way since we picked up guns against them."

On a visit to the twin villages of Marah and Kulali, one finds tall, slender Muslim women sporting rifles on their shoulders while grazing cattle alone in deep forests or standing on top of the roofs of their homes to keep a watch on militants.

"I am proud to fight a Jihad [holy war] against marauders who have cheated us of our dignity and honor," says Shamima Akhter, the 30-year-old commander of this particular women's group. ....

The foundation of this first women's VDC goes back to March 2003, when local Muslim priest Mir Hussain was killed by a group of mainly foreign Lashkar E-Tayyaba militants when he tried to stop the rape of his wife.

The priest's brother, Fazal Hussain, returned from the Gulf where he had been working, and with the help of the Indian army constituted the first ever-Muslim village committee in the border district of Poonch.

This group helped the Indian army destroy the biggest militant hideout in the famous Hill Kaka bowl in the mountains of Surankote in July 2003. At least 150 foreign militants were killed in the operation.

To avenge those killings, a Lashkar group in April 2004 attacked Kulali village and killed 14 women and children while the men were out on an operation.

Later, in June 2004, the militants executed another attack, which was repulsed by a woman, Khatoon Begum, who had learned to use a 303 Rifle from her son. Although she died in the attack her act helped save at least a dozen members of her family from Islamic guerrillas.

"Khatoon Begum's daring act lead to the foundation of all Muslim women VDC. We were supported by our husbands and fathers and thus trained ourselves in the operation of 303 rifles, SLRs, grenade throwing and other military aspects of how to react and repulse a militant attack", stated another women fighter, Shahnaz. "
Hat tip to Dave Kopel, on the Volokh Conspiracy.
Posted by David Hardy · 12 October 2005 09:07 AM
Clayton Cramer reports an interesting newspaper report from Romania. It reports a defensive gun use, and also that the country has adopted a version of the "make my day" law, with a legal presumption that shooting a burglar is self-defense. Clayton also suggests that some European might want to start a Euro version of his civilian self-defense blog.
Posted by David Hardy · 10 October 2005 07:36 PM
Armenia Liberty reports an embarasment to the country's Prime Minister. "Under Armenian law, citizens can not possess any firearms without police permission which is supposed to be given only in exceptional circumstances." However, the Prime Minister has given out about 500 guns as presents, and one was used in a crime (a mayor shot a rival). Their arms laws are sufficiently tight that the PM's 500 presents are "one of the easiest ways of obtaining" a gun.
Just out of curiosity, I checked Armenia's homicide rate. In 1996, it was a bit over 25 per 100,000 population. The US rate was 9.4.
Posted by David Hardy · 10 October 2005 07:31 PM
The Edmonton Sun is reporting that Canadian homicide rates are up 12%, Canadian police are finding that a majority of guns used in homicide are unregistered, and that the registration system -- whose tab runs over a billion dollars thus far -- appears to be a failure.
Posted by David Hardy · 28 September 2005 01:29 PM
The Guardian reports that the current British proposal is to outlaw replica guns, including paintball and airsoft guns. "Mr Walker, 62, a former Bedfordshire police officer, remains haunted by the shooting of his sons. "We just want to get guns off the street," he said. "The frightening thing is how many there are."" What that has to do with replicas I have trouble seeing. I suppose when you've already outlawed virtually all real firearms, and feel the urge to pass some more gun laws anyway, you have to make do with what you have....
Posted by David Hardy · 19 September 2005 04:42 PM
From the Times of London:"Scotland Tops List of World's Most Violent Countries".
Posted by David Hardy · 24 August 2005 08:04 AM
An article in National Review Online regarding the Canadian experience with gun control...
Permalink · non-US · Comments (1)
Posted by David Hardy · 22 August 2005 12:36 PM
Colin Greenwood (a British law enforcement officer who, back in 1972 authored "Firearms Control," a critical study of the British gun laws) has submitted a paper to Parliament's Select Committee on Northern Ireland on the matter. Among his notes:
"8. In 1991, Professor Brandon Centrewall studied handgun availability and homicide in the jurisdictions on each side of the US/Canada border where demographic differences could be factored out. He found that, though restrictions were few in the US States and the number of legally held handguns exceeded those on the Canadian side by a factor of 10, rates of homicide were virtually identical ((1991) American Journal of Epidemiology V134 pp 1245-65).
9. As an example of a study so broadly based as to compensate to some extent for an inability to factor out demographic and other differences, the Economic and Social Council of the United Nations published a survey (E/CN.15/1997/4 dated 7 March 1997) of 33 countries. If broad band analyses are conducted, this survey shows that there is no correlation between rates of gun ownership and crime, accidents or suicides.
THE UNITED STATES OF AMERICA
10. Any debate about cross sectional analyses is clouded by reference to the United States where it is said that guns are subject to no controls and crime rates are consequently many times those of the United Kingdom. In fact there are some 20,000 statutes concerning gun ownership at Federal, State and local levels. They vary from a virtual ban on gun ownership in many areas, including Washington DC, to a very lax regime in States like Vermont. Within the United States, there is no correlation between the strictness of the gun control system and rates of armed crime. Washington DC has a homicide rate of about 80 per hundred thousand despite its harsh system of regulating firearms. Vermont with little control has a homicide rate lower than that in England and Wales.
11. When crime in the United States is compared with that in England and Wales the generally accepted picture is proved to be entirely false. A study by Dr Patrick Langan of the US Department of Justice and Dr David Farrington of Cambridge University published in 1998 showed that in both recorded crime and crime victim surveys, England and Wales has higher rates of robbery, assault, burglary and motor vehicle thefts. These figures do not take account of differences in recording systems mentioned earlier. The following table shows figure per 1,000 population [omitted]
* Other studies (British Crime Surveys 1982, 1984, 1988 and 1992) showed that 43 per cent of burglaries in England and Wales were committed on occupied houses. A similar rate has been found in Holland. In the US only 9 per cent of burglaries were of occupied houses (Kleck G, Targeting Guns 1997 Aldine de Gruyter, New York).
12. Whilst the United States has a much higher homicide rate than England and Wales, the gap seems to be closing. In 1980, the US had an unadjusted homicide rate of 10.5 per hundred thousand population but in 1998 that had dropped to 6.26. England and Wales had an adjusted homicide rate of 1.1 per hundred thousand in 1980, rising to 1.43 in 1998 and to 1.55 in 2000. Thus in 1980, the US had a homicide rate almost 10 times that of England and Wales. By 1998, the differential was down to 4.4. Home Office adjustments reduce the recorded homicide figure by at least 12 per cent so that change is even more marked."
Permalink · non-US · Comments (0)
Posted by David Hardy · 15 August 2005 06:20 PM
"Defend the Second Amendment" -- an article in Pravda??????
Permalink · non-US · Comments (0)
Posted by David Hardy · 14 August 2005 04:20 PM
An interesting article from the Russian News and Information Agency, on liberalizing Russian gun laws. (How strange that sounds to those of us who grew up during the Cold War! Almost as strange as reading an article about Europeans calling for adoption of American gun laws, so they can defend themselves). The writer notes that Russian law allows only possession of a few types of guns, with permit processes that make New York City sound easy, but, still, at least 10 times as many Russians own guns as they did under the Soviet regime.

"[T]he public in Russia is increasingly leaning towards a more liberal law on weapons. For the last half a year the State Duma has been discussing the possibility of giving the people real firearms, as is done in the United States, for one.

American statistics are the main argument of Russian firearms advocates. According to the U.S. Justice Department, 34% of all criminals were wounded or detained by armed civilians, while 40% have altogether given up an idea of an attack for fear of reciprocal fire. In those states that allow citizens to carry concealed arms, the level of murders is lower by 33 %, and of robberies by 37%.

Advocates of legalizing firearms in Russia often refer to the experience of neighboring Latvia: After the relevant law was adopted, street crime dropped by 80%, and the Latvian police force has been cut."
Permalink · non-US · Comments (1)
Posted by David Hardy · 24 July 2005 05:40 PM
From Times Online, a story about knife control in Scotland.
"Calum Duke, a schoolboy from Glasgow working undercover, was able to buy a potentially lethal haul of blades including kitchen knives, daggers, dirks, hunting knives, craft knives and even an axe....
The findings follow a warning by police this week that the west of Scotland is in the grip of a "knife pandemic". The number of murders involving a blade in the Strathclyde area is three times higher than
anywhere else in Britain.
Every week for the past six months, there have been 25 serious assaults with a knife and 13 of the 30 murders in the west of Scotland this year were committed with a blade.
The level of knife crime in Glasgow is similar to that in the most violent eastern European cities. The worst offenders are male and between 15 and 25.....
The Bhs store in Glasgow's St Enoch Centre had signs on display warning: "It is an offence to sell knives to people under 16 years of age", but Duke was still able to buy a set of six steak knives without being challenged.
Similar warning notices were on display at the Co-op store in the Paisley Centre, where he was able to buy a cooking knife with a six-inch blade."
Posted by David Hardy · 22 July 2005 12:24 PM
According to the London paper The Times Online, onlookers to the recent shooting of the fleeing bomber in London describe the situation as:
"He sort of tripped but they were hotly pursuing him and couldn't have been more than two or three feet behind him at this time He half-tripped, was half-pushed to the floor.

"The policeman nearest to me had the black automatic pistol in his left hand, he held it down to the guy and unloaded five shots into him."
The British (for all their gun law failings) have long had a more realistic response to terror than we do. When I was with Interior in the late 80s, another attorney attended a terrorism response session (yes, they had concerns back then) where there was a presentation on the British storming the Iranian Embassy, which had been taken over by hostage-takers. He said the SAS had been given photos of many of the hostage takers, and told they were divided into three classes. One, I assume needed for interogation, were to be taken alive if at all possible. A second group could be taken alive or not. A third group was not to be taken alive, period (I assume because future hostages might be taken in order to free them).
The hostage takers had taken a British policeman. Since they supposedly aren't armed, they didn't search him. Well, British cops don't always follow that rule, and he had a hidden gun. As the SAS stormed the building, he grabbed a hostage taker and put the gun to his head. The SAS burst in, and he shouted he had the fellow. The SAS ordered him away from him. He stepped away, and they shot the hostage taker dead. He had been on the third list.
I'd assume there was no such list involved here, but the concern would have been whether the fellow had a bomb belt on, and a warning shot to the head was the best solution. It doesn't sound like there was a detailed investigation -- but with a city under repeated terrorist attack, a fellow who attracts police attention, flees, and rushes into the subways which have been a target in the preceding days and indeed hours, does assume a certain risk.
Posted by David Hardy · 8 July 2005 11:41 AM
From Dave Kopel, over at the Volokh Conspiracy -- the Italian parliament has voted in their version of a national "make my day law." Under previous law, forced used in defense had to be "proportional" to the criminal attack -- which sounds reasonable, until you consider it meant that a woman facing a strong-arm rape broke the law if she defended with a knife or gun, since she was "escalating" the struggle from bare hands to weaponry.
Permalink · non-US · Comments (0)
Posted by David Hardy · 29 June 2005 05:36 PM
From the Evening Times: Scottish Justice Minister Cathy Jamieson is proposing to require that only licensed dealers sell "non-domestic knives" (any pointed knife not made specifically for household purposes), and to ban most sword sales. Purchase of such a knife would require a permit "similar to a firearms permit."
The proposal is driven by the fact that almost half the murders in the country are committed with knives.
The epidemic of edged weapons violence seems to be an international one. In Australia, where the Minister for Justice and Customs reported "knives and other sharp instruments are the most common weapons used in homicides, and are used in more homicides than both blunt instruments and assault leading to murder put together."
According to the FBI, in the US only 13% of homicides involved edged weapons.
Permalink · non-US · Comments (3)
Posted by David Hardy · 8 June 2005 07:11 PM
The Scotsman reports that some Scottish officials are calling for their parliament to be given power to enact additional gun laws (beyond those applicable to Great Britain generally).
The reason? They're upset that the British Parliament is moving to restrict replica firearms but hasn't taken a tough stand on ... those dangerous airguns.
Mr McConnell had been lobbying the Home Office in an attempt to get a licensing system for air weapons, or at least a permit system for the most dangerous types.

But the government's new restrictions, unveiled by Hazel Blears, the Home Office minister, concentrate largely on imitation weapons, which have hardly been a problem in Scotland.

The decision only to raise the age of legal purchase on airguns and to tighten the law on where they can be used did not go nearly as far as the First Minister had hoped.

Mr MacAskill said: "Little is being done to address the number of airguns on Scottish streets. Raising the age for purchasing airguns from 17 to 18 is a token gesture that will not properly address this serious issue. The Scottish Parliament must take control over firearm legislation."
Permalink · non-US · Comments (0)
Posted by David Hardy · 15 May 2005 11:25 AM
Via Don Kates--an interesting article raising that question. The argument is that, based on the British and Australian experience, (1) governments turn to gun control because they are wit's end over violence; (2) that fails to reduce violence, so (3) they start to abridge other rights hoping to find the solution.
Read more....
Continue reading "Does gun control lead to erosion of other rights?"
Posted by David Hardy · 4 April 2005 08:25 PM
Joyce Malcolm has published Civil liberties cannot be defended selectively on a British website.
Excerpts:
"Just when it seemed that government removal of another civil liberty would be greeted with the usual collective shrug, the Prevention of Terrorism Bill provoked a firestorm of fury and dismay. Where can liberty turn? Simon Jenkins pleaded in The Times, (February 23, 2005). Jenkins had prefaced his appeal to the Lords with Magna Carta's famous guarantee: 'No Freeman shall be arrested or detained in prison or deprived of his freehold or outlawed or exiled or in any way molested…except by the lawful judgment of his peers.' . . . .This sudden fondness for juries from a man who was arguing, in the same paper, barely a month earlier, 'Juries: the evidence is clear…dump them' , (January 27, 2005) is indicative of a piecemeal approach to the defence of British liberties that has permitted a growing number of protections to be jettisoned, leaving the newly concerned public wondering, "Where can liberty turn?""
Permalink · non-US · Comments (2)
Posted by David Hardy · 2 April 2005 08:12 AM
Columnist Dimitri Vassilaro suggests "The slaughter, rape and torment of the citizens of Darfur would end if humanitarian aid included guns."
Amnesty International responds that
""Fighting fire with fire is not a solution to the genocide. It is a dangerous proposition to arm the minorities to fight back."
After 70,000 people have been killed, isn't it a bit late to worry about making things "dangerous?" Sounds more like it's time for shipments of "Beecher's Bibles."
[Thanks to Joe Olson for this one}
Continue reading "An interesting thought"
Permalink · non-US · Comments (5)
Posted by David Hardy · 1 April 2005 10:07 PM
NY Times, via SF Chronicle, reporting on another case of Iraqis taking up arms against terrorists. [thanks to Don Kates for this find}
Fed-up Iraqis fight insurgent patrol
Shopkeeper, kin kill 3 militants prepared for battle
Baghdad -- Ordinary Iraqis rarely strike back at the insurgents who terrorize their country. But just before noon Tuesday a carpenter named Dhia saw a troop of masked gunmen with grenades coming toward his shop here and decided he had had enough.....
Continue reading "Iraqis do it again"
Permalink · non-US · Comments (2)
Posted by David Hardy · 30 March 2005 07:27 AM
From an Iraqi blog:
Iraqi citizens Kill 5 terrorists
From Radio Sawa (Arabic link):
Citizens of Al Mudhiryiah (a small town in the "death triangle") were subjected to an attack by several militants today who were trying to punish the residents of this small town for voting in the election last Sunday. The citizens responded and managed to stop the attack, kill 5 of the attackers, wounded 8 and burned their cars. 3 citizens were injured during the fire exchange.
Continue reading "Right to bear arms ... in Iraq"