Posted by David Hardy · 21 May 2018 12:28 PM
Story here. Too bad it was only a misdemeanor. She's apparently part of a group that feels the other gun-hating organizations are insufficiently mentally disordered radical. So much for modern academia.
Posted by David Hardy · 20 May 2018 05:42 PM
Sen. Elizabeth Warren pledges not to accept any NRA contributions. I suppose people will now start to demand that Chuck Schumer and Hillary Clinton do the same.
It's probably significant that Fauxcahontas has not disavowed support from the Archery Trade Association.
Posted by David Hardy · 18 May 2018 05:36 PM
Some law professors submitted an amicus brief, and in the opinion got footnote 11:
"While we categorically reject the contention and supporting arguments of the amici, we do not mean to be unfair. The professors' brief does have good grammar, sound syntax, and correct citation form/"
Posted by David Hardy · 17 May 2018 03:26 PM
They stopped processing them back in 2015, due to a work overload.
Posted by David Hardy · 17 May 2018 10:17 AM
From Law and Liberty, Part One and Part Two.
The point I have regarding non-originalists is more legal/political than historical. Federal judges are, of course, unelected and given life tenure. They do not stand for re-nomination at any time. Indeed, it's unconstitutional for Congress to reduce their salaries. What's the rationale for having officials chosen and kept in office in such an un-democratic manner? It's that the judges, in theory, only execute the will of the people as expressed by folks other than judges -- by Congress, or the President, or the Constitutional Convention and the states that ratified its creation. That is, judges are passive implementors of other people's decisions, and thus can be kept outside the democratic process. If judging is seen as something else -- implementing policy, deciding what is best for the country, implicitly amending the Constitution (a measure that otherwise requires super-majorities in both Congress and the state legislatures) -- is there any reason to have a judiciary so insulated from democratic forces? The "living Constitution" begs the question of which human beings make it "live." And thus why those human being should be people never elected by anyone and given lifetime tenures in power. We'd be outraged at designating a "president for life," and denounce it as monarchy. How can we justify a system in which the Constitution's content would be dictated and amended by "judges for life"?
Hat tip to Joe Olson...
Posted by David Hardy · 13 May 2018 07:48 AM
UPDATE: the the predictable response.
"The Chairman of Gun Control Australia Sam Lee said more needed to be done to tighten the nation's gun laws.
"I have never been more concerned about the state of our gun laws as I am now," she told Sunrise."
(As far as what the victim's father said ... I am appalled, but read it yourself.).
Posted by David Hardy · 11 May 2018 11:38 AM
especially when doctors study crime (gun crime), funded by grants from the antigun CDC:
"Many studies' results cannot be reproduced, scholars warn." They found that, of 53 medical studies, only 6 had reproducible results. "Not all irreproducible research is progressive advocacy; not all progressive advocacy is irreproducible; but the intersection between the two is very large. The intersection between the two is a map of much that is wrong with modern science."
From the executive summary: "Many common forms of improper scientic practice contribute to the crisis of reproducibility. Some researchers look for correlations until they find a spurious "statistically signicant" relationship. Many more have a poor understanding of statistical methodology, and thus routinely employ statistics improperly in their research. Researchers may consciously or unconsciously bias their data to produce desired outcomes, or combine data sets in such a way as to invalidate their conclusions. Researchers able to choose between multiple measures of a variable often decide to use the one which provides a statistically signicant result. Apparently legitimate procedures all too easily drift across a fuzzy line into illegitimate manipulations of research techniques."
Hat tip to Joe Olson.
Posted by David Hardy · 10 May 2018 07:23 AM
Over 87,000 attendees. No wonder the media were so reluctant to count, estimate, or image the hundred or so protestors outside (or to be more exact, about a quarter mile away).
Posted by David Hardy · 8 May 2018 05:34 PM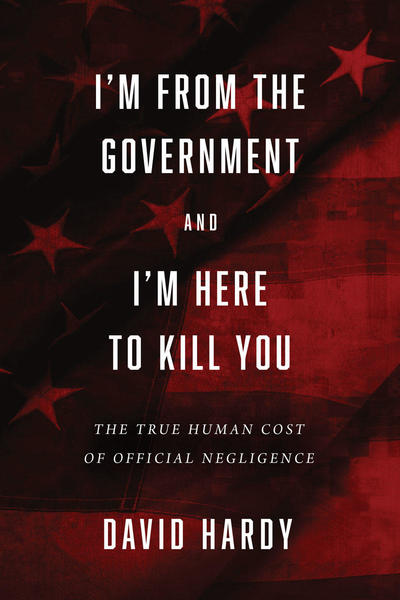 I notice they'd reduced the price:
I'm from the government and I'm here to kill you: the human cost of official negligence
It got a very nice review at the Washington Times.
Posted by David Hardy · 8 May 2018 12:57 PM
Michael Moore's bodyguard got busted for unlicensed handgun possession. The guy walked up to a NYC airport, and said he wanted to carrying his unloaded handgun with him in his carry-on baggage. Mistakes were made.
(Moore's photo... is it just me, or does he look more and more like Janet Reno every day? Might she have faked her death, rubbed him out, and taken his place to enjoy his wealth?