Posted by David Hardy · 14 October 2017 11:13 AM
Right here. Sounds like his brother has his head screwed on straight:
"This hurts, but I don't feel an ounce of remorse coming from him, and that kills me too. When I heard his written, lame excuse... Not an excuse. When I heard his admission of feeling remorse for the victims and then him cavalierly, almost crazily saying he was going to go out and take on the NRA, it was so disturbing to me. It was utter insanity."
Quite the narcissist... the response to "you've hurt people" is not remorse (why would a god-like creature feel remorse at hurting ordinary humans) but rather "I'll make up for it by hurting someone else."
Posted by David Hardy · 11 October 2017 02:59 PM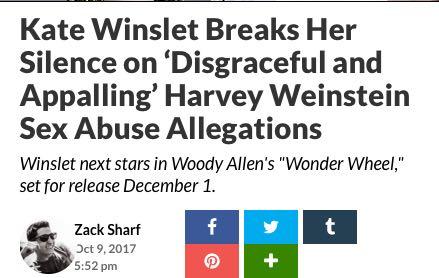 It's a real headline, albeit from a Tinseltown publication.
Hat tip to Instapundit...
Posted by David Hardy · 11 October 2017 12:34 PM
From Congress's pharmacist:
"At first it's cool, and then you realize, I'm filling some drugs that are for some pretty serious health problems as well. And these are the people that are running the country," Kim said, listing treatments for conditions like diabetes and Alzheimer's.
"It makes you kind of sit back and say, 'Wow, they're making the highest laws of the land and they might not even remember what happened yesterday.'"
Posted by David Hardy · 9 October 2017 11:38 AM
Right here.
Posted by David Hardy · 8 October 2017 08:30 PM
From a Briton who contacted Mark Steyne. Remarkable, but it passes my version of Occam's Razor: it is consistent with all known facts and inconsistent with none.
Posted by David Hardy · 6 October 2017 01:46 PM
Hilarious and pitiful at the same time. How about the horn-dog blaming himself? No, that'd be too much to expect.
"The source said: 'Harvey feels is being set up by a team of people who are out to get him. 'Nobody is claiming that the New York Times spent any money to get this story done but other organisations may have done 'There are are conservative organisations who know he is long-time foe of the NRA, of Donald Trump, and a longtime supporter of Hillary Clinton, Barack Obama and the Democrats. 'He believes they are financing a team of lawyers who are digging up these stories."
I must see if the team is hiring....
Why anyone thinks you hire a lawyer to do an investigation is beyond me. You ask the lawyer whom he hires to investigate, and you hire that investigator and save the overhead.
Posted by David Hardy · 5 October 2017 10:21 AM
The Washington Post has the story.
Posted by David Hardy · 5 October 2017 07:29 AM
Story here. I guess they learned from the last time.
Hat tip to Alice Beard....
Posted by David Hardy · 4 October 2017 11:19 AM
A German term for being amused at the tribulations of another.
Washington Post: "D.C. weighs gun law appeal, with fate of restrictions nationwide in the balance."
Mother Jones: "Just Days After Las Vegas, Gun Laws in the Nation's Capitol Are About to Get Weaker."
Posted by David Hardy · 4 October 2017 09:51 AM
Stay out of the gun debate, if you can't be honest," asks Daniel Payne.
Posted by David Hardy · 3 October 2017 11:51 AM
Over at Law and Liberty. The Heller case (and the advocates who drove it) fit nicely into the concepts expressed, as does Judge Posner's opposition to Heller.
Posted by David Hardy · 2 October 2017 01:28 PM
Story here, in the Tucson Sentinel, a local alternative paper (which is the best source of news around here).
Posted by David Hardy · 2 October 2017 12:27 PM
RIP, Sonny Melton. The Valkyries were dispatched immediately.
Via Instapundit.