Posted by David Hardy · 20 October 2017 03:02 PM
Posted by David Hardy · 18 October 2017 12:31 PM
The "received wisdom" is that the US Constitution resulted from the decision of the delegates to the Constitutional Convention to exceed their authority, which only extended to proposing amendments to the Articles of Confederation, and instead draft an entirely new charter.
Michael' Farris challenges this with his DEFYING CONVENTIONAL WISDOM: THE CONSTITUTION WAS NOT THE PRODUCT OF A RUNAWAY CONVENTION, in the Harvard Journal of Law and Public Policy.
He demonstrates that the Framers saw the state calls for a convention as the critical events, and not the Continental Congress' subsequent resolution calling for it. Only a few of the state calls limited delegates to proposing amendments, and even those states ratified the ultimate result. Claims that the delegates had exceeded their authority were only rarely made, when such claims would have been useful to antifederalist writers. The antifederalists would have been the first to assert that the relevant calls for a convention would have been the ones made by the states (which antifederalists felt had the ultimate power) and not that made by the Continental Congress.
Posted by David Hardy · 17 October 2017 12:44 PM
Most of us are familiar with Paxton Quigley, who's done such an outstanding job of promotion gun ownership and self-defense among women. (Check out that webpage for her books on the subject). She's now written a two-part article on her earlier career with the recently deceased Hugh Hefner.
Posted by David Hardy · 14 October 2017 11:13 AM
Right here. Sounds like his brother has his head screwed on straight:
"This hurts, but I don't feel an ounce of remorse coming from him, and that kills me too. When I heard his written, lame excuse... Not an excuse. When I heard his admission of feeling remorse for the victims and then him cavalierly, almost crazily saying he was going to go out and take on the NRA, it was so disturbing to me. It was utter insanity."
Quite the narcissist... the response to "you've hurt people" is not remorse (why would a god-like creature feel remorse at hurting ordinary humans) but rather "I'll make up for it by hurting someone else."
Posted by David Hardy · 11 October 2017 02:59 PM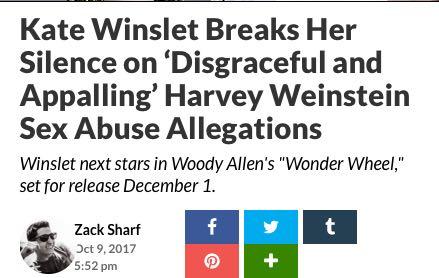 It's a real headline, albeit from a Tinseltown publication.
Hat tip to Instapundit...
Posted by David Hardy · 11 October 2017 12:34 PM
From Congress's pharmacist:
"At first it's cool, and then you realize, I'm filling some drugs that are for some pretty serious health problems as well. And these are the people that are running the country," Kim said, listing treatments for conditions like diabetes and Alzheimer's.
"It makes you kind of sit back and say, 'Wow, they're making the highest laws of the land and they might not even remember what happened yesterday.'"
Posted by David Hardy · 9 October 2017 11:38 AM
Right here.
Posted by David Hardy · 8 October 2017 08:30 PM
From a Briton who contacted Mark Steyne. Remarkable, but it passes my version of Occam's Razor: it is consistent with all known facts and inconsistent with none.