« April 2007 | Main | June 2007 »
May 2007
Posted by David Hardy · 31 May 2007 07:17 PM
Story here.
The good news: AU is not a campus where only security guards are allowed to have arms.
The bad news: that's because security guards can't have them, either.
The good news: after security called 911 and DC police got there, they did deal with the "shooter."
The bad news: it took 20 minutes.
Posted by David Hardy · 31 May 2007 06:24 PM
Here's my podcast on the Parker case, at JPFO's website.
Permalink · Parker v. DC · Comments (2)
Posted by David Hardy · 31 May 2007 04:43 PM
A fax transmission to a bank that bore a stylized bomb, "The Countdown Begins," and a message about small business commitment week, unfortunately goes thru without the part about small business. As a result, a shopping center winds up evacuating.
Posted by David Hardy · 31 May 2007 11:04 AM
Don't tell the judge she's a few fries short of a happy meal.
[via the Volokh Conspiracy, where the comments suggest that, taken in context, the attorney was trying to say "there are additional steps here that you have to take" rather than "you're a moron." All the same, good reason to avoid a phrase that could be construed as an insult, esp. if you're from out of town.]
Posted by David Hardy · 31 May 2007 08:34 AM
Bob Levy will be discussing the 2nd amendment, and I'd suppose Parker, this Saturday on CSPAN. It's set for 8:45-9:15 AM EDT, on Washington Journal.
Posted by David Hardy · 31 May 2007 08:27 AM
I know they're hard up for priests, but there ought to be some limits.
Posted by David Hardy · 30 May 2007 12:07 PM
The Politico has the story.
There's a candidate I could back. I mean -- he quotes Don Kates on the Second Amendment, says that right to carry laws decrease crime rates, and blows away Michael Moore.
Permalink · Politics · Comments (1)
Posted by David Hardy · 30 May 2007 11:45 AM
Jay Wexler has an article (pdf) in The Green Bag, devoted to a study of how often a Justice generates laughter during an argument. It's not too surprising that Scalia wins hands-down (77 laughter events during the 2004-2005 Term), or that Thomas, who rarely if ever asks questions, came in last. But it is a bit surprising that Breyer came in at second (45).
Posted by David Hardy · 29 May 2007 02:11 PM
Alphecca has the report.
Permalink · State legislation · Comments (0)
Posted by David Hardy · 29 May 2007 02:10 PM
Here's a pic of *part* of the drug runner's money supply. Yes, those are hundred dollar bills.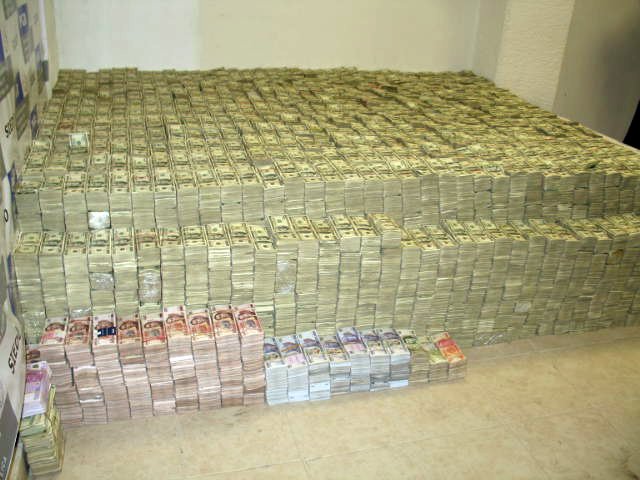 Permalink · Crime and statistics · Comments (23)
Posted by David Hardy · 29 May 2007 01:54 PM
The city of Cleveland has sued the State, challenging its enactment of pre-emption. Ohioans for Concealed Carry and the NRA have filed a motion to intervene.
Posted by David Hardy · 28 May 2007 10:16 AM
The Tortonto Star reports that the appointed firearms advisory committee is "made up almost entirely of pro-gun advocates opposed to the firearms registry."
Tho it does refer to "NRA president Sharon Froman." Oughta at least get the name straight....
Permalink · non-US · Comments (4)
Posted by David Hardy · 27 May 2007 06:03 PM
It's here. And here's a .pdf of the stay motion, which doesn't say much that isn't obvious.
Permalink · Parker v. DC · Comments (3)
Posted by David Hardy · 27 May 2007 05:20 PM
I may have posted earlier on how the major firearms manufacturers essentially started GCA '68, in order to cut off competition. In the early 60s they were getting killed by mail order houses offering cheap surplus rifles (as in $30-40 Mausers and Springfields), and so wanted to stop surplus imports and interstate sales.
Here's an article on how the same thing is happening in environmental law. Basically, there is money to be made in incinerating certain forms of hazardous waste, and companies specialize in it. Then cement kilns found they could do it, too, and since the heat was useful to them, they charged only a third of what the incinerators were charging. The incinerators began setting up environment suits against the kilns.
"Examples of industry-environmentalist cooperation are numerous. Blakeman Early of the Sierra Club stated forthrightly that "The commercial waste industry has an interest in improving regulations sufficiently to drive mom-and-pop operations out of business."
Adler notes that WMX, the largest waste management company in the United States, "has funded the National Audubon Society, National Wildlife Federation, Natural Resources Defense Council, Wilderness Society, and World Resources Institute, typically giving over $700,000 annually to environmental causes."
A former director of environmental affairs for WMX, William Y. Brown, who also served as acting director of the Environmental Defense Fund, acknowledged, "We're in a position to benefit from the same objectives that [environmental groups] are pursuing…. Stricter legislation is environmentally good and it also helps our business."
Pennsylvania Environmental Enforcement Project (PEEP), a local citizens' group based in the Bath area, filed suit against Keystone [a cement kiln]. PEEP, which was incorporated only weeks before the suit was filed, was found to have been heavily supported by one of Keystone's competitors—a hazardous waste incinerator. Within eight months' time, PEEP received at least $250,000 from Rollins Environmental Services..."
Posted by David Hardy · 27 May 2007 12:34 PM
Boy bags a half-ton wild hog. Personally, I'd be more comfortable with a .50 BMG...
Posted by David Hardy · 26 May 2007 05:19 PM
From this morning's Arizona Daily Star:
First, the staff of an elementary school notices a very foul odor and calls a plumber. He finds the pluming is OK, keeps searching until he finds the source -- a decomposing corpse in the air conditioning ductwork. I'd assume it was a burglar who had a heart attack or stroke while on the job. But what he was hoping to steal from an elementary school, and take back thru the ductwork, is beyond me.
On the same page... an FBI agent was busted for indecent exposure after he was found masturbating in a ladies' room at the University's student union. That's not easy to explain -- as I'm sure he said to his boss.
THEN... the Exec. Dir. of the State Fingerprinting Board was discovered to have an interesting MySpace page:
"Seavers' MySpace.com web page said he lived "a quiet daytime life as a state employee" but that his friends knew him "as wild debauchery, interested in self-promotion and enrichment. And by enrichment, I mean money. None of this self-esteem crap. Though afflicted by dipsomania, I stroll through crowds under the guise of sobriety. I volunteer as a Big Brother, only to indoctrinate children in the gothic splendors of lawlessness.""
Posted by David Hardy · 26 May 2007 11:44 AM
Instapunk has some fun with a Clemson student's article, that maintained self-defenders on campus would just manage to miss or hit bystanders, and with great lines like "You can't fight violence with more violence" -- although it seems to me that law enforcement is paid to do just that -- and proposing a course where students "would learn to be aware of the warning signs of a potential attack..." E.g., a sucking chest wound.
Interesting that in this sort of hypothetical, the author assumes that the killer is clever, rational, inventive, and a good shot, and that any defender is foolish, clumsy, rather stupid, and has lousy aim. Hey, fellow, which one of them is a mental case, and which one passed the background check and has training?
Reminds me of a comment Prof. Kleck made, about how he got interesting in doing statistical work on self-defense. He said he was struck by a number of writings which seemed to assume that firearms were quite useful to criminals, yet useless in self-defense. It struck him that in both cases the same tool was being used for roughly the same purposes and under the same conditions -- it's just that one use was lawful and the other not. A tool that was useful for one probably would be useful for the other, too.
Permalink · Self defense · Comments (2)
Posted by David Hardy · 26 May 2007 08:16 AM
The Checks and Balances of Armed Self-Preservation. Synposis says it gives an analysis of the division of armed defensive forces within the modern system of checks and balances in American government. Discussion of possible analogies to be drawn from that division of force for interpreting the Second Amendment and whether it creates an individual right to keep and to bear arms or only a collective right to armaments in organized military units such as the National Guard.
And Randy Barnett's upcoming article The People or the State?: Chisholm v. Georgia and Popular Sovereignty is online. Chisholm was the Supreme Court's first big con law case, and held that States were subject to suit in federal court (notwithstanding the argument, made in the Federalist Papers, that sovereign immunity would block this -- and a result overridden by the 11th Amendment).
Prof. Barnett's article asks why this case is usually overlooked in teaching con law. (If I remember correctly, when I was taught it the case got about 2-3 sentences, this is what it held, and the 11th Amendment resulted).
Permalink · General con law · Comments (2)
Posted by David Hardy · 25 May 2007 04:28 PM
The Arizona Republic carries a story on it.
I wouldn't doubt that there's some of that, but I'm told by Border Patrol friends that the smugglers prefer full auto AKs, which you don't find in the typical American gun store, nor get without a government clearance if you do. And the story goes WAY overboard with scare lines like:
"Cartel operatives flood Arizona to buy semi-automatic assault rifles, grenades, plastic explosives and rocket launchers in bulk. "
Hmmm.... I dunno about anyone else here, but I can't think of a place that sells grenades, plastic explosive, or rocket launchers, let alone in bulk. If they are getting any, there's only one place they could come from: government supplies.
Permalink · media · Comments (7)
Posted by David Hardy · 25 May 2007 02:19 PM
DC petitioned the Circuit to stay the mandate until August 7, deadline for their filing a petition for cert. in the Supreme Court. The Circuit granted the stay (small pdf file). Judge Silberman appends a comment to the effect that DC has only said it "may" file a petition, but that he would view their filing this motion, and then not filing for cert., as an abuse of the system. An interesting comment, quite true, but also has a "bring it on" quality to it.
Note on procedure: when a higher court issues a ruling, that is followed by a mandate. The opinion says who won and why. The mandate is the actual order to the lower court to carry out the higher court's decision. It's delayed a bit, since someone may file for rehearing, etc..
Permalink · Parker v. DC · Comments (6)
Posted by David Hardy · 25 May 2007 12:14 PM
It's here. I used a new compression program that got it down to 110 kb or so, from what had been over a megabyte, but I'm not sure every pdf display program will show it. Take a look and let me know if it works with yours!
Permalink · documentary film · Comments (10)
Posted by David Hardy · 25 May 2007 10:59 AM
Oh, the poor tick! On a serious plane, you have to keep an eye on those, and make sure the doc gives a good dose of antibiotics. In the early stages, the Lyme microbe is loose in the blood, it can be killed off by antibiotics. But give it time and it gets into the connective tissues, where circulation (and thus antibiotic effects) are poor. At that point, it can be impossible to cure. And what it can do to you is an endless list.
Posted by David Hardy · 25 May 2007 10:34 AM
It gets some heavy coverage at PajamasMedia.
Via Instapundit.
Posted by David Hardy · 24 May 2007 09:58 PM
Brady Campaign has released a paper (pdf) arguing that universities should allow neither faculty nor student holders of CCW permits to carry arguing, among other things, that universities might increase legal liability. The paper got some traction in the Chronicle of Higher Education today.
Reminds me a little of Prof. Reynold's comment, in my documentary, that gun control is a litmus test for how a person views their fellow citizens. A few choice quotes:
"A binge drinking, drug using student is dangerous enough; let's not give him or her a gun" (p.8)
" had there been a number of people who had been in that classroom with guns, [there could have been] additional persons killed just as a result of poor judgment calls."
On allowing teachers to arm: "As a society, do we really want our teachers to be prepared to shoot children, perhaps killing them? ... what about the student that merely flashes a gun threateningly?... In how many of those instances would an armed teacher have been tempted to shoot the student because of a perception of danger?"
Permalink · antigun groups · Comments (12)
Posted by David Hardy · 23 May 2007 12:49 PM
It's here.
Among other things, he uncovers evidence of Revolutionary era "impressment" of arms -- the same term used for, well, kidnapping sailors to force them into the royal navy. During the Revolution, some governments impressed arms for official use, and the practice was bitterly resented. As Joyce Malcolm found in 17th century England, many hid their arms to preserve them, or refused to bring them to militia musters.
[Hat tip to Don Kates]
Posted by David Hardy · 23 May 2007 12:18 PM
Bloomberg's mayors are putting on a push in Pennsylvania, but the legislature is pushing back.
Permalink · State legislation · Comments (0)
Posted by David Hardy · 23 May 2007 11:11 AM
I hope the DC Examiner got the story wrong, but it claims the Gov. is "troubled that Virginia law allows any individual to stockpile ammunition with no way for authorities to monitor the cache," because Cho had 377 rounds of ammo.
377 rounds? With a Thompson, that's gone in under half an hour.
Update: reader William Taggart points out that, according to this news story, 15 guns is "an arsenal of weapons."
Permalink · State legislation · Comments (14)
Posted by David Hardy · 22 May 2007 10:53 PM
Right here. Via Dave Kopel at the Volokh Conspiracy.
Permalink · Supreme Court caselaw · Comments (2)
Posted by David Hardy · 22 May 2007 10:17 PM
Obituary here. Lead firearms instructor at FLETC, police instructor, NRA pistol championship, but probably the best endorsement is "If we anticipated any danger, we wanted Stan and his guys there."
Posted by David Hardy · 22 May 2007 09:40 AM
Right here.
Permalink · non-US · Comments (0)
Posted by David Hardy · 21 May 2007 06:24 PM
I earlier posted ideas on IED detection. One of the comments brought up how a team had worked out a defense against RPGS -- basically a radar unit to detect incoming ones, then fire a shotgun blast at them, that disabled or detonated them. Check out the comment for details.
Yup, detonation would probably be halfway frequent: from what I understand, the fuze is a piezoelectric crystal that generates an electrical pulse. Anything that hits that fuze with sufficient force would detonate the round, even if the projectile itself is hardly slowed.
The other quirk at least the earlier models have is that the electrical pulse travels thru two metal layers, I believe the outer casing and an inner one. Anything that dents the casing shorts it out. Ordinary chain link fencing worked well in Vietnam, for a stationary vehicle. I wonder if that couldn't be upgraded. Say overlapping metal or cable circles, of almost the same diameter as the RPG, hanging loose so that they pivot upward when struck. Perhaps a few teeth on the inside of the ring at the lower end. A round that hits is unlikely to hit on the fuse, and thus may not detonate. The casing will be dented pretty badly as it spins. If it does go, with any luck it will be directed upward. The problem may be strength, as those things accelerate to (if I remember correctly) around 800-900 fps.
Posted by David Hardy · 21 May 2007 01:20 PM
SCOTUSBlog has a posting on how to get cert. when you have no circuit split.
Prof. Kerr, at Volokh Conspiracy, notes it omitted the easiest approach: "make sure you lost in the Ninth Circuit with Judge Reinhardt or Pregerson (or, if you're really lucky, both) in the majority."
Posted by David Hardy · 21 May 2007 01:10 PM
Guns and politicians... a dangerous combination? Not here.
Posted by David Hardy · 20 May 2007 11:58 AM
It appears that Michael Sullivan has been nominated to head ATFE (right now he's Acting Director), and that the nomination hearing has been postponed.
Hat tip to Len Savage.
Permalink · BATFE · Comments (0)
Posted by David Hardy · 20 May 2007 11:33 AM
Right about now 4 years ago, early afternoon of the 20th, I was telling my ex that the docs were coming over to say they'd exhausted all options for saving her, she was dying, and they wanted to move her to a hospice. I'd had to wait until they were suctioning her throat, that way her mother was out of the room.
Her eyes went big and round. Within a few seconds a doc blew into the room, saying that he sees we're talking about it so it should come as no surprise, he wants her to sign a do not revive order and move to a hospice.
Suppose I should have wrung his neck but I was a bit busy just then. And she was dead within 36 hours.
Got a memorial page for her. Check out the wedding pics if you want to see what Wayne LaPierre looked like 25 years ago with an Austin Powers type haircut.
Permalink · Personal · Comments (3)
Posted by David Hardy · 19 May 2007 10:45 PM
May 19. Remembering four years ago. May 18 was the 18th birthday of Mark, son of my ex (married 1982, separated 1990, divorced 1992) and I. I flew back to Falls Church for the event, and found that perhaps she'd misled me a bit. I knew she'd been diagnosed with cancer in January. Had seen her once since then. As I was leaving she talked of the bone pains and I, worried, kissed her for the first time in a dozen years. On the phone and in email she'd said it was no worry, the chemo was taking care of it.
I flew in and came to the house on May 18, and found her in bed on oxygen. Maybe there's something I don't know? I lifted her to the wheelchair and took her to the table so she could be at Mark's birthday cake cutting. She had trouble talking, could barely whisper. Mind you, she was age 52.
On May 19, I showed up at the house for breakfast. And saw an ambulance there. As they wheeled her across the lawn she make the "OK sign" with her fingers.
It wasn't OK. She'd never see that house again. I had a day or two to talk to her. As a friend later remarked, our bodies have enormous overcapacity. You can function with no symptoms on 10% of liver capacity, or with your heart arteries 90% occuluded. But you need ALL of what is left. Once a certain threshold is passed, a person rapidly goes from functional to dead. The tumors were sealing off her blood vessels and, more vitally, her trachea. That was the reason for the oxygen. She'd reached the point where she could function, on 100% O2, and was now passing that.
I'd known here since, oh 1979, shared secrets and a life and a child and for years love. Buried her father in '85, my best friend. That night I was racing around to find her a milkshake when she signaled that her mouth was dry and the nurses said she could have a semisolid.
That night they only allowed two visitors, and her mother and cousin were in most of the time. When I same in at the end, as visiting hours closed, I took her hand and she opened her eyelids and her eyes rolled up. While getting the car, I called her church, got the medical hotline, and reported they had a parishioner dying at the hospital. Fran was a VERY devout Catholic, and I'd been trained in the old school -- get a priest, now! After we got everybody home, her cousin said that she'd been heavily sedated for a CAT scan. I called the church to say it was a false alarm.
It wasn't. She was dying. But an eager-beaver young priest was on duty (he'd been a Justice Dept attorney, curiously, I was later to find out). He got my voicemail and without waiting to reply leaped into the car and raced to the hospital. She was conscious and coherent enough to know who he was --she made the sign of the cross as he entered, and he gave her absolution, the viaticum, the last rites.
I haven't any idea whether that makes a difference in the end. I hope so. In any event, she would have firmly believed that it did, and that if she went out the next step was heaven, and that belief is sufficient for me.
Reckon when you say you have someone's back, you have their back, and nevermind a decade of fighting thereafter.
Permalink · Personal · Comments (4)
Posted by David Hardy · 19 May 2007 11:51 AM
At the Volokh Conspiracy, Prof. Adler discusses three en banc decisions, one relating to felon in possession. (A pdf is available via his posting).
I think the split between the judges keys on a slipup in the indictment. Defendant's girlfriend called 911, saying that he had a gun and was going to kill her. Police arrived five minutes after being dispatched, but luckily the guy had left and left her alive. She describes him as holding a blued semiauto, and racking the slide. He returns in a car, his mother driving. A gun meeting the description is found under his passenger seat, in a plastic bag, with no fingerprints. The key is that the indictment charged him with possession of that specific gun. If it hadn't been so specific, the girlfriend's testimony that he held a gun on her would have been sufficient -- but now the prosecution was bound to prove it was that specific gun found under his seat.
The majority finds that sufficient to uphold the jury's verdict. It could reasonably have concluded that after he left the scene, he wiped the gun of prints, put it in the bag, and returned. The dissent says that's not enough, citing caselaw to the effect that finding of a gun under a car seat is insufficient to make the driver or passenger in "possession," without further proof he knew it was there.
Permalink · prohibitted persons · Comments (0)
Posted by David Hardy · 19 May 2007 11:21 AM
Michelle Malkin reports how a mentally-prepared 11 year old girl cleaned a kidnapper's clock. I bet that guy is going to have a fun time in prison, between being charged with crimes against little kids, and having had an 80 pound girl get the better of him. After breaking his hold, she rang all the doorbells in her building, and the neighbors mustered to cut off all escape routes, chase him down, and open a big can of whupass on him.
Reminds me of a case here in Tucson, at the other end of the age scale. A guy broke into a convent, came into the kitchen, exposed himself to a nun and approached. Bad choice. The Old Nuns were tougher than nails. She grabbed him by the exposed appendage and yanked (she later told police that she figured if she had a grip on it, he wouldn't be doing much with it). He screamed and knocked her down, but she kept her hold. The rest of the nuns rushed in, seized the big cast iron skillets, and began pounding him over the head. He is shrieking in agony, being near-emasculated and beaten into a bloody heap at the same time. The police reported that he surrendered without resistance.
Permalink · Self defense · Comments (2)
Posted by David Hardy · 18 May 2007 10:34 PM
A deadly combination: welding, an open can of gasoline, and a bunch of ammo. In fact, I doubt I'd recommend welding and an open can of gas. Or even the open can of gas.
Posted by David Hardy · 18 May 2007 05:28 PM
I've mentioned before the feasibility of building an improvised explosive device detector. All receivers actually radiate a little, because they require crystals to generate RF for mixing with the incoming signal, in order to move its frequency up and down for various forms of processing. I seem to recall that shortwave receivers gave off radiation around 455 hz. That's precisely why they require you to shut down computers, cells phone, handhelds, etc. on aircraft takeoff and in some medical facilities. The terrorists often use cell phones or walkie-talkies to detonate IEDs, so if you could spot the characteristic emissions of one of these while listening, you would have a detector. Apart from shielding vehicles and personnel, it'd be a lot better than sending people in to scout out the car or other carrier while someone might be watching with finger on the button.
I did a bit of research, and found that, where people have wanted to create detectors of radio receivers, they have done so, and rather easily. (Cells phones are easier because every so often they send off a signal on the control frequencies, so the system knows in which cell you are located).
Here's a cellphone detector, range up to a hundred feet, selling for a rather pricey $655. Here's a handheld unit, range unspecified, for 159 British pounds.
This one confirms that it picks up the control channel signals. Range is 2 to 60 meters.
And for police in states (like VA) that forbid radar detectors, there is the radar detector detector (and in the continuing electronic arms race, there is now the radar detector detector detector, which shuts down the radar detector if it sees the emissions of a radar detector detector). This page indicates that the detector detectors look for emissions in the 11 Ghz range, and can spot detectors up to two miles away.
In Great Britain, where they have a licensing fee requirement for TV ownership, the licensing agency has TV detectors, both vehicle mounted and hand carried. I've seen some reports that the fee only applies to watching certain channels, and the detectors can determine if you're watching those, by spotting the specific frequencies your TV emits as it processes the signal.
Here's an all-band receiver, parts cost maybe ten bucks. Now, a broadband is going to have a lot of false alerts--it just signals that it is hearing radio signals at a preset intensity. But it could at least be used (at low sensitivity, on a pole or small remote-controlled vehicle) to signal that it was quite near an emitter, and would probably cost five or ten dollars.
But when I turn to IED detectors .... a 2004 proposal to research and create one for a modest $750,000 and a year of work. Another proposal, that says it's stalled for lack of support. And an April 2007 grant for having a sample system delivered in six months. The speed and innovation seen in the radar detector and detector detector field just isn't here.
Posted by David Hardy · 17 May 2007 08:29 PM
Brady Center has posted a webpage attacking the Parker case.
Hmm. The Parker decision is "fantasy," not to mention "inconsistency, flawed reasoning, distortion of binding precedent, and misunderstood historical materials"? Then DC should be rushing to file a petition for cert., rather than agonizing over the call.
UPDATE: A nice illustration of Sandy Levinson's point that, on this issue, most thinking does a 180 degree shift relative to other political/constitutional thought. Here we have Brady Campaign, an organization that (I can speculate, but probably accurately) draws 95%+ of its support from persons who think of themselves as liberal ... complaining of "activist judges" and calling for a return to "strict constructionism" in a manner that gives one memories of the Nixon Administration.
Posted by David Hardy · 17 May 2007 07:05 PM
Just attended the only really fun, and funny, CLE course that I've ever been to. It consisted of four local legends talking about how it was the practice in Tucson in the good old days. I started really just at the end of that time, and I enjoyed it greatly. Highlights:
We had two identical twins on the bench, Robert and Richard Royalston. They not only looked alike, they also thought alike. So if one of them had something important come up during a jury trial, the other would just substitute for him, without telling anyone.
They had a hell of a sense of humor, and spoke in a soft, almost whispering, Tennessee drawl. Late in his life, one was coming onto the bench to start a jury trial -- and the bench is so laid out that the judge enters thru a door at its rear. He stumbles, falls over his chair, his cane goes up and he goes down.
As he struggles to get up, he peeps his eyes over the bench and asks the jury, "How did you like (lahk) the firs' part of mah act?"
One day an attorney is trying to take child custody away from one parent, and proves that he was seen several times with his son in the Bayhorse Bar. The judge responds, "Richard and ah take little George to the Bayhorse all th' time, counsel."
A criminal case witness who vigorously denied he'd been convicted as a procurer, and finally said, "I'm not a procurer. I'm a pimp!"
(More in extended remarks)
Continue reading "Arizona courts in the old days"
Posted by David Hardy · 17 May 2007 11:01 AM
Story in US Today. It should be quite interesting -- he's the first self-made man to make it to the Court in longer than I can remember.
Posted by David Hardy · 17 May 2007 10:57 AM
It's here. Relevant part in extended remarks below.
Continue reading "Transcript of my time on CNN Headline News"
Permalink · Personal · Comments (1)
Posted by David Hardy · 17 May 2007 09:58 AM
A Washington Post story sweats over the prospect of a Supreme Court appeal of the decision striking the DC gun ban.
"Gun-control advocates are quietly acknowledging that Fenty (D) is in a difficult spot. Across the country, many of them and their attorneys have been meeting in conference rooms to analyze the potential damage that could be done nationwide if the D.C. law falls apart. Some fear that an adverse Supreme Court ruling could lead to more gun lobby challenges and the collapse of tough gun regulations in New York, Chicago and Detroit. Other potential casualties include federal laws that require background checks for gun buyers or ban the manufacture of machine guns for civilian use."
Brady Campaign leader "Helmke said he wouldn't advise the mayor to avoid the Supreme Court challenge. He said several gun-control experts worry just as much about the cases the gun lobby might be able to win if the city doesn't keep fighting."
Quite a turnaround for the Washington Post and for DC! When the panel decision came down, the Post reported that DC "Promises to Fight Appellate Court's Ruling," In an editorial, it proclaimed "a federal appeals court turned its back on nearly 70 years of Supreme Court precedent to give a new and dangerous meaning to the Second Amendment." It was a "radical" and "dangerous" ruling that showed "willful disregard of Supreme Court precedent." "Never before has a law been struck down on that basis."
And today, DC, the Washington Post and Brady Campaign are .... dare we say, sweating bullets over the thought that the Parker plaintiffs might just be right?
Continue reading "WaPo sweats bullets over Parker"
Posted by David Hardy · 17 May 2007 09:09 AM
50 heavily armed men abduct 7 police: four them of them found dead, three missing, gun battles leave 20 dead. About a thousand people so far this year shot or decapitated.
Iraq? No, northern Mexico, about a hundred miles south of here. Betting is that the gang was a drug lord's entourage.
[Update: yep, Mexico has quite strict gun laws. Americans often get in trouble under them. If a gun, or even a round of ammo is found in your car, and it's in a military caliber, you're charged with a variety of treason -- since presumably violators are planning to overthrow the government, and want to be able to use military arms -- which accordingly bears a prison sentence of many years. I had a friend who went down there on vacation and they found a box of 9mm in his trunk. He was lucky -- it was empty. Of course all these difficulties can be avoided by giving the border guard his $10 mordida.
Permalink · non-US · Comments (6)
Posted by David Hardy · 17 May 2007 08:55 AM
Story here. He definitely kept a cool head. Saw the robbery, drew, took cover where he controlled the robber's escape route, trapped him, summoned police, and when they arrived let them take the lead. The robber is also charged with murdering two bank clerks.
Permalink · CCW licensing · Comments (0)
Posted by David Hardy · 16 May 2007 08:04 PM
Instpundit has a post on a South Carolina move in this direction, and a link to an American Spectator article on the subject. I've seen in the weeks since Va Tech quite a few such articles.
I can't help but wonder about the impact of 9/11 on such perceptions. I rather suspect that, prior to that date, such logical suggestions would have been treated as idotiocy, extremism, or both (or, more likely, not been written for fear of the author being seen as such, or killed by an editor out of fear his journal would be so viewed). Perhaps on 9/11, we learned to fight back? Or perhaps, as my friend Gale Norton (formerly my boss, and then Sec. of Interior) pointed out, in the Cold War we knew that a gun was no defense against the menace of a nuclear attack, but in 9/11 had to reflect that if one person or pilot on each plane had had a pistol in their pocket, the only deaths would have been those of the terrorists?
Look at the response to Columbine. April 1999: calls for gun laws, denunciations of the NRA.
Response to Va Tech, April 2007: Calls for better reporting of mental adjudications, something like consensus that further gun laws would have not changed anything, calls for allowing faculty or students to be armed in self-defense.
I suppose there are other factors to be considered -- expansion of the internet and erosion of the power of the MSM, etc.. But I still think there is a sea-change in underlying world-views.
Posted by David Hardy · 16 May 2007 08:23 AM
The Glenn Beck Show, airing at 7 PM and repeating at 9 PM EDT. The filming is 90 minutes, so blogging will be a bit light.
Posted by David Hardy · 16 May 2007 08:18 AM
The Miami Herald has a brief summary.
Permalink · Politics · Comments (1)
Posted by David Hardy · 16 May 2007 08:09 AM
Bob Levy writes in today's The Hill. Excerpts:
"Why, then, is there any question about seeking review? Well, because politics and legal stratagems often play a role. On the political front, the argument will go like this: The last thing the mayor's Democratic friends want is a gun control case percolating at the Supreme Court, with a decision likely in the heat of the '08 campaign. Gun control is a losing issue for Democrats and red meat for Republicans."
"Then there's the legal strategy argument: No doubt some anti-gun groups will urge the mayor not to seek Supreme Court review because D.C. might lose. And if D.C. lost, the repercussions for gun control regulations nationwide could be historic. Because of the tightly balanced cast of justices, and their unknown views on the Second Amendment, there's a real risk for both sides. Still, the obligation of D.C.'s mayor is to defend the constitutionality of the District's laws, not to engage in strategic lawyering because of concerns outside of Washington."
"The citizens of D.C. — indeed, all Americans — deserve a foursquare pronouncement from the nation's highest court on the real meaning of the Second Amendment. The U.S. Supreme Court is, and rightly should be, the final word on that question. Let's give the court an opportunity to rule, and give the rest of us the benefit of the court's collective judgment on a debate that concerns millions of Americans."
Posted by David Hardy · 16 May 2007 08:04 AM
People get them, for various reasons.
Permalink · State legislation · Comments (1)
Posted by David Hardy · 15 May 2007 12:04 PM
Lila Rajiva has a commentary on the Va Tech after-action review that found the university had a "very effective and a very successful response." I'd hate to see an "unsuccessful" response, by that standard.
Posted by David Hardy · 15 May 2007 11:06 AM
Here's a pdf of a 6th Circuit case, handed down today. A pilot who objected to a proposed union contract made a video of himself shooting a DVD that the company sent around to promote it. The company fired him. He won the arbitration, and now wins the appeal.
Posted by David Hardy · 15 May 2007 10:43 AM
Alphecca has the report.
[Hat tip to Instapundit]
Permalink · State legislation · Comments (0)
Posted by David Hardy · 15 May 2007 10:33 AM
Article here. It may be an aspect of what Prof. Renee Lerner noted at the last 2nd Amendment seminar at George Mason Univ. -- a profound disconnect between attitudes of the intelligensia and the rest of us. The former views a defensive use of force, no matter how justified, as a matter of last resort, to be tightly controlled. The general public views it as "one rapist or robber or even burglar fewer -- that's a social good, who cares about the details of how it came about?"
I sent Prof. Lerner a bit of personal knowledge. I know a local prosecutor who, about 20 years ago, went to the County Attorney and proposed that they stop prosecuting homeowners who shot burglars in the back, which under state law is about the only no-no in that situation. He pointed out they'd taken three of those cases to trial in his time, and every one had ended in a unanimous acquittal. So far as local juries were concerned, it was open season on burglars, no bag limit. The County Attorney responded they had to prosecute, it was against the law. The prosecutor replied -- if juries universally acquit, it isn't against the law, for all practical purposes.
Posted by David Hardy · 15 May 2007 09:55 AM
The technical branch has an opening, only for in-house promotion. GS-14 pay is mighty nice, esp. in Martinsburg.
Posted by David Hardy · 15 May 2007 09:33 AM
Story in the Cleveland Plain Dealer.
Continue reading "Legislator has a change of heart"
Permalink · CCW licensing · Comments (2)
Posted by David Hardy · 14 May 2007 05:35 PM
Here it is.
[UPDATE: a reader notes that it classifies South Carolina as an unrestricted open carry state, which it isn't. S.C. Code Sec. 16-23-20 provides that it is illegal to carry a handgun about the person, and then lists a bunch of exceptions (such as hunters and fishermen while hunting and fishing), but it's apparently not the case that (as in my Arizona) you can just carry anything openly.
Permalink · CCW licensing · Comments (10)
Posted by David Hardy · 14 May 2007 03:32 PM
Just by way of a caveat, in the wake of the Va Tech shootings -- here's a story in the Toronto Star about former Saturday Night Live star Tony Rosato. It sounds as if he went paranoid schitz in Toronto, kept calling police, and they responded by charging him with criminal harrassment of his wife.
The article doesn't quite say, but it sounds as if he was found incompetent to stand trial, and the jail has no particular duty to get him psychiatrist treatment. As a result he's been sitting in a cell in a high security prison for two years, awaiting trial on a charge that would result in maybe one day of incarceration.
Posted by David Hardy · 14 May 2007 11:30 AM
I've glanced at HR 297, the "NICS Improvement Act." I must say it's mostly evidence of how lazy Congress has grown. It redefines domestic violence misdemeanors, with the biggest change being the statement that if a person is acquitted, it doesn't count as a conviction. Now, that's a surprise! It keeps in the rather strange language that a conviction doesn't count if a person wasn't represented by an attorney and didn't waive that right, or if a person was entitled to a jury under state law, didn't get a jury, and didn't waive the jury. In other words, if the state trial judge completely fouled up. (I knew a city court judge who did things like that 20+ years ago, until a prosecutor sat him down with photocopies of the case law, but hopefully this is rare. I suspected the drafters of the original meant to guarantee jury trial, which is often not applicable to misdemeanors, and got sidetracked.
Probably the best evidence of the drafters' laziness here is the definition of "adjudicated a mental defective." As I noted earlier, this term was an antique when the 1968 Gun Control Act was drafted, and is even more of a legal/psychiatric dinosaur today. It really could use a more modern and precise definition. HR 297 provides a definition: "The terms `adjudicated as a mental defective', `committed to a mental institution', and related terms have the meanings given those terms in regulations implementing section 922(g)(4) of title 18, United States Code, as in effect on the date of the enactment of this Act."
The ATF regulations are pretty reasonable, essentially taking the Black's Law Dictionary approach: found a danger to self or others, or found incompetent to manage one's own affairs, or found not guilty by reason of insanity or guilty but insane or not competent to stand trial. But simply saying, in statute, that the definition is whatever a given regulation says on the date of enactment is quite sloppy, to my mind. How do the folks codifying the US Code handle that? As I recall, 18 US Code has been enacted into law (see extended remarks below for what this means), so they can't rewrite the bill if it passed. I suppose they could drop a big footnote to say what the regulations provided on the effective date.
I do wish that, if they were revisiting the definition, they'd put in a provision for when it ends. E.g., the court finds that the person no longer requires court ordered treatment, or ATF can find that the person is no danger, or something like that. As it is, it's a lifetime bar. A person can be convicted of a felony and get firearm rights restored by the court, but a person briefly committed to an institution 20 years ago cannot. I've had people come to me with exactly that problem.
[Update in light of comments: a temporary committment for observation doesn't count as a committment, nor does a voluntary hospitalization].
Continue reading "NICS Improvement bill"
Permalink · Gun Control Act of 68 · Comments (2)
Posted by David Hardy · 13 May 2007 06:35 PM
Article here. It's interesting to note that with 40 decisions handed down this Term, Justice Kennedy has been in the majority 38 times, and he's the only Justice to be in the majority in all 5-4s to date.
Hat tip to Instapundit.
Permalink · Supreme Court caselaw · Comments (1)
Posted by David Hardy · 13 May 2007 05:58 PM
Mike Westfall interviewed me about In Search of the Second Amendment, and the Canada Free Press picked up the story. Mike's interview is here.
Permalink · documentary film · Comments (0)
Posted by David Hardy · 13 May 2007 05:53 PM
Arizona has put its birth and death certificates online, and here's my g-grandfather's death certificate. They got the name right: "Nathaniel M. Hickman, also known as C.W. Hardy." He was a fugitive from the law -- shot man who'd cheated him, at Ft. Lyon, Colorado, fled to AZ Territory, and became a judge. Someone once told me I ought to make a movie on it. I responded Clint Eastwood's already done it. "Unforgiven."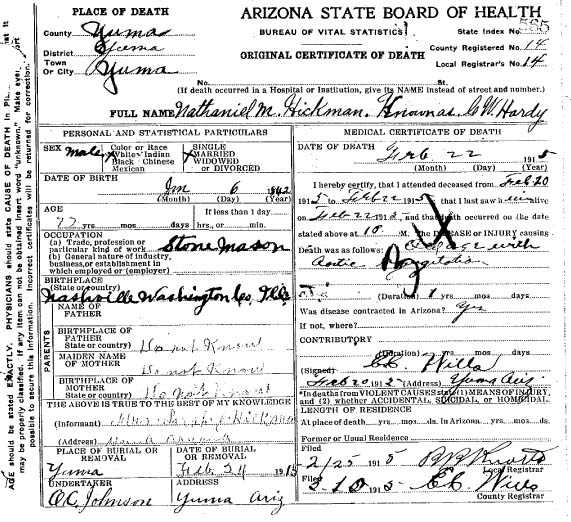 Continue reading "A genealogy-related find"
Permalink · Personal · Comments (2)
Posted by David Hardy · 13 May 2007 03:31 PM
An account of Germonimo's surrender, in 1886, by two men who were there:
"With the Army were Indian scouts under command of Lieut. Charles B. Gatewood. One of these old scouts, known as Sgt. Smiley, who later lived on the Yavapai-Apache Indian Reservation in the Verde Valley, told this story to William Loy (now deceased), a white man whose ranch adjoined the reservation.
Fred Coxen: "William Loy, very reliable man, told me this story as the old Indian scout had given it to him:
William Loy: "The Indian scouts were near Geronimo's band, in the Sierra Madre Mountains of Mexico. Lieut. Gatewood gave permission to Sgt. Smiley and another Indian scout, both of whom knew Geronimo personally, to make contact with the renegades, which they did. They went into Geronimo's camp and talked all night with him and his band.
"Sgt. Smiley said that they advised the band to surrender to General Miles or they would all be killed by the American civilians, and those would include rancheros, miners, freighters, mail contractors, along with others.
"Sgt. Smiley stated he had advised Geronimo that while he and his band might out-travel or elude the Army, whose slow travel and loud bugle calls handicapped them, it would be different with the civilians who were determined to get him and his band, and would surely do it because their methods were very different.
"Geronimo and his band talked it over, and because of the all-night meeting with the two courageous scouts and a long powwow with Lieutenant Gatewood, decided to surrender at a place designated as Skeleton Canyon in the Peloncilla [sic] Mountains..."
Posted by David Hardy · 13 May 2007 01:24 PM
18 US Code §924(c)(1)(A) provides for an additional, consecutive, five year mandatory minimum if the defendant "uses or carries a firearm" in "any crime of violence or drug trafficking crime." (The punishment escalates if the defendant actually brandishes or fires it).
I just received an amicus brief from Gun Owners' Foundation, in the pending Supreme Court case of Watson v. United States. (Order granting cert. here. It appears that Watson was the recipient of the firearm in the exchange; he talked to an informant about buying a gun, and the informant helpfully suggested that he knew someone willing to sell one in exchange for drugs. The core question is whether a defendant who swaps drugs for a gun has "used" the gun in a drug trafficing crime, and the amicus argues that using it as payment is not "using" it within the meaning of the statute. It notes that the Circuits have split 2-2 on the issue.
Permalink · Gun Control Act of 68 · Comments (0)
Posted by David Hardy · 13 May 2007 10:41 AM
Captain's Quarters has the interview. After the Va Tech shootings, Hamline U sent out an email offering trauma counseling to its students. [What a time we live in--crimes occur a thousand miles away, and we're offered trauma counseling because we heard of it]. A student responded with an email saying he was a licensed CCW holder, and how about letting such folks carry on campus? The university responded by suspending him during finals, and requiring s psychiatric evaluation before he could return.
Posted by David Hardy · 12 May 2007 04:48 PM
Right here. Basically, when Cho was diagnosed as dangerous, the judge didn't commit him, but ordered outpatient treatment. Under the Virginia system, that doesn't mean he is assigned to an agency or anyone alerted to the order. He's just been ordered to seek care, and from there it's up to him.
"Yes, it's always best to let a mentally ill person decide whether or not they need to attend court-ordered treatment. Maybe the next step should be to let criminals decide whether or not they want to go to jail or not."
Posted by David Hardy · 12 May 2007 03:49 PM
Billie Louden has it in the Denver Post.
"When I later learned he was armed with only two handguns, disbelief washed over me. It was later revealed he fired 190 rounds in about seven minutes. Being in law enforcement as well as having been in the military, I know for a fact the shooter had to have spent a great deal of time reloading and exchanging magazines. I can only wonder what was going on during these necessary pauses.
I don't blame the victims for their own demise. I blame the non-confrontational attitude in America that may have stopped someone from fighting back. The basic human instinct of survival has been tamped down by the reemergence of the "Make love, not war" peacenik movement of the '60s, especially on our college campuses.
Our kids are being taught to avoid conflict and try to reason with the unreasonable. A non-aggression mentality has been ingrained in them since gradeschool, where childhood games like dodge ball are deemed to harsh. In Littleton, some protested a statue of a heroic American soldier because he carried a gun. The thinking must be that if we deny to our children that guns exist, then guns will never hurt them.
I found it ironic that the one person who did try to block the Virginia Tech gunman's way was a professor who had survived the Holocaust, a man who, I am quite sure, had looked insanity in the eye before and survived. He understood that inaction meant death. This is also what must have finally occurred to the passengers on United Flight 93 on Sept. 11, 2001, when they chose to fight back. Even though they died, they died fighting and on their terms."
Permalink · Self defense · Comments (8)
Posted by David Hardy · 11 May 2007 04:49 PM
I blogged the study here. Brady Center just came out with a press release critiquing the critque.
It "utilized vintage firearms that had never been considered for testing previously because of their model age (10-50+ years) and mechanical condition" The guns used were S&W .40 calibers -- hardly a cap and ball!
"NanoMark Technologies, which holds the patent for microstamping technology, provided firing pins for the study, but they were not optimized due to Beddow's budget constraints." Hmm? No details on what this optimization would have been, or why it would have affected wear on the firing pin. That it was so expensive as to prevent the manufacturer from undertaking it does not bode well for the argument that the expense of microstamping would be reasonable.
The whole debate omits the simple point that a commenter made in the earlier post. A crime-fighting technology that a criminal can negate with a few swipes of a file is not a very good one.
Posted by David Hardy · 11 May 2007 11:17 AM
One more reason I like living in AZ:
"Her legislation would reduce the [CCW w/o permit] penalty to a $300 fine for a first offense.
Johnson said her gun, a .22-caliber, eight-shot revolver, is "everywhere I go." She said that includes when she comes into the Senate building, though she leaves her purse — and the gun in it — in her office when she goes to the Senate floor.
State law makes it a crime for anyone to bring a weapon into a public building "unless specifically authorized by law." The statute creates exceptions for police officers, members of the military performing official duties and officers of the Department of Corrections.
Questions to Senate security were referred to Senate President Tim Bee, who was not available for comment Thursday.
Johnson may not be the only legislator who brings a firearm into the Capitol complex. Several lawmakers questioned by Capitol Media Services said they have permits to carry concealed firearms. That includes House Speaker Jim Weiers."
Posted by David Hardy · 10 May 2007 09:21 PM
Gist of the suit: Wyoming had a statute allowing persons convicted of misdemeanor domestic violence to get their convictions "enpunged." As in a lot of states, that didn't mean the Court ordered the file shredded. It remained on the books, and could be used to enhance sentencing in a second offense. The 1986 amendment to the Gun Control Act said that a conviction for purposes of GCA did not include a conviction which the court had expunged. ATF said the state statute did not qualify, since the records were not really destroyed and the conviction had continuing legal effect. Wyoming said the statute said they were "expunged" (or set aside, now I forget the language) and that should suffice. The court of appeals agreed with BATF.
Not to ramble, but I had a hand in drafting the 1986 amendments. Maybe I'll tell the story someday. It was pretty wild at times. I recall there was then a movement to have states adopt procedures so that people could get rid of misdemeanors and even felonies to a greater or lesser degree, but still keep them around just in case they erred again. I think it hadn't caught hold quite yet, but there was the federal Youth Corrections Act. Unfortunately, I can't just now recall whether under the YCA the records were actually destroyed, and the legal effect vacated, or not.
Posted by David Hardy · 10 May 2007 04:43 PM
Right here. This is staggering -- a possible presidential candidate who understand the Second Amendment, down to having read the scholarship on it. No "I support the Second Amendment" (leaving you to guess what I think it means). Instead, he quotes Kates, and observes "Unfortunately, the [NY Times] article falsely portrays the individual right argument as some new interpretation held only by a few fringe theorists. The truth is very different, as civil rights attorney and gun law expert Don Kates has pointed out recently."
I just realized -- what he's quoting comes from an email Don sent out, via Dan Gifford, to a small number of pro-second amendment types. Don doesn't even blog. His email was mentioned on John Lott's blog and one this blog, that's it that I can find.
One way or another, Thompson is interested enough in the right to arms to pick up on postings to scholarly email lists on the subject, or else hangs around pro-gun blogs. This is just incredible.
Anybody have a mailing address for him? I want to send him a copy of my Second Amendment documentary.
Permalink · Politics · Comments (13)
Posted by David Hardy · 10 May 2007 12:04 PM
Hudson v. Hudson, a recent 6th Circuit ruling. (pdf).
"First, we briefly recount the tragedy that led to this
lawsuit. Jennifer Braddock was issued three protective orders against James Hudson, the father of
her son, because Hudson repeatedly abused Braddock. In August 2001, while the third protective
order was in effect, Hudson broke into Braddock's home and threatened her. She called the
Memphis Police Department, but it made no attempt to find him. Hudson eventually was convicted
of aggravated criminal trespass, vandalism, and violating the protective order, and sentenced to one
week in jail. Over the next two years, Braddock called the police several times to complain about
various violations of the protective order, including acts of physical violence, but the Memphis
Police took no action. Braddock's struggle against Hudson's violence ended when Hudson broke
into her home, killed her and two of her friends, then turned the gun on himself and committed
suicide."
.....
"As a general principle, state actors cannot be held liable for private acts of violence under
a substantive due process theory. DeShaney v. Winnebago County Dep't of Soc. Servs., 489 U.S.
189, 196 (1989); see also Castle Rock, 545 U.S. at ___, 125 S. Ct. at 2810. We recognize two
exceptions to this rule: (1) when the state has a special relationship to the victim, and (2) when the
state creates the danger that led to the victim's harm. Jones v. Union County, 296 F.3d 417, 428 (6th Cir. 2002). In Jones, the plaintiff claimed that Union County, Tennessee, violated her substantive
due process rights when it failed to serve a protective order on her ex-husband, who later attacked
her. We held that "the Tennessee Legislature's imposition of affirmative duties upon state officials
to serve ex parte orders of protection timely does not give rise to a due process claim cognizable
under § 1983 based upon a special relationship between Union County and Plaintiff." Id. Similarly,
we hold that a protection order does not create a special relationship between police officers and the
individual who petitioned for that order.
Nor may the plaintiffs establish their claims under the state-created-danger theory. Under
this theory, a plaintiff must show "an affirmative act that creates or increases the risk, a special
danger to the victim as distinguished from the public at large, and the requisite degree of state
culpability." McQueen v. Beecher Cmty. Schs., 433 F.3d 460, 464 (6th Cir. 2006) (citing Kallstrom
v. City of Columbus, 136 F.3d 1055, 1066-67 (6th Cir. 1998)). These officers' alleged inaction fails
to satisfy the "affirmative act" requirement."
[Update in light of comments: the Court's treatment of due process falls into two categories. "Procedural" due process is what you'd normally think of as due process. A person got what process was due, a fair trial or procedure. "Substantive" due process is a strange bird, largely created to make the 14th amendment apply the Bill of Rights to the states. For example, if a state outlaws freedom of speech, it deprives a person of liberty without "due process" no matter how much process they give that person.]
Permalink · Self defense · Comments (12)
Posted by David Hardy · 9 May 2007 06:58 PM
At the Volokh Conspiracy, the good prof. is reporting that Obama backed a total ban on semiautomatic firearms. Posts are here and here. The position paper referenced is here. Scroll down to "Gun Issues." Then scroll back up to "Crime Issues" and not what he does not favor: ending parole for repeat violent offenders, prosecute juvenile murderers as adults, restitution for crime victims.
Posted by David Hardy · 9 May 2007 04:55 PM
The Gun Control Act forbids firearm possession by any person who has been committed to a mental institution (other than for temporary observation) or who has been "adjudicated a mental defective."
I made an effort to find definitions of the latter term. In Black's Law Dictionary, "mental disease or defect" is set out as "see Insanity." None too helpful. Insanity is defined as a legal rather than medical term, a condition that renders a person "unfit to enjoy liberty of action because of the unreliability of his behavior with comcomitant danger to himself and others." It gives details on not guilty by reason of insanity, committment for danger, and mental incapacity to make a contract or will.
So I Googled it. It appears that the term "mental defective" had faded out long before they drafted the Gun Control Act. Here's a review of a 1931 book by that title, which seems to focus upon "feeblemindedness." PubMed, which compiles medical journals, turns up a one article from 1957: "Differentiation between the mental defective with psychosis and the childhood schizophrenic functioning as a mental defective." Here's another, same year, in French.
This appears to be a use in 1974.
Here's a recent call from the National Assn of Social Workers to take the phrase out of the GCA as " stigmatizing and inappropriate language."
And by pure coincidence I found this entry in a pro-gun populist blog.
Posted by David Hardy · 9 May 2007 04:13 PM
But it might be worth having a box just to show around:
Season Shot, the only birdshot that seasons game when you shoot it.
Strangely, there's no word about ballistic form. Range is given as "45 yards," and "accuracy" (for birdshot?) as "comparable to steel shot."
Posted by David Hardy · 9 May 2007 04:07 PM
The Gun Nut has put online a segment from Julian Hatcher's Notebook on guns (an invaluable source), dealing with what happens when a bullet is fired straight up.
Permalink · shooting · Comments (1)
Posted by David Hardy · 9 May 2007 11:30 AM
The two had opposing columns on five days in the LA Times:
Debate with Christopher Lockwood, Day One: The Virginia Tech Murders

Debate with Christopher Lockwood, Day Two: The Politics of Gun Control

Debate with Christopher Lockwood, Day Three: International Issues

Debate with Christopher Lockwood, Day Four: Myths about Guns

Debate with Christopher Lockwood, Day Five: Gun Solutions
Posted by David Hardy · 8 May 2007 12:53 PM
Here it is. Most interesting segment:
"As a reader points out, below, Circuit Judge Karen LeCraft Henderson, who dissented from the panel decision, did not vote for en banc review. The dissenters were a conservative, A. Raymond Randolph, and three liberal or moderate judges, Merrick Garland, Judith Rogers and David Tatel. Had Henderson voted with them, the Court would have been split 5-5 but review would still be denied, because a majority is required."
Hat tip to Guy Smith....
Posted by David Hardy · 8 May 2007 12:47 PM
Pretty interesting -- it's Bluey Blog.
Posted by David Hardy · 8 May 2007 11:04 AM
Just got word.
Posted by David Hardy · 8 May 2007 09:41 AM
Dave Kopel has put online a pdf version of his forthcoming article, The Human Right of Self Defense. It's going to be in the BYU Journal of Public Law.
Permalink · Self defense · Comments (0)
Posted by David Hardy · 7 May 2007 04:44 PM
One of the readers has a guest editorial over at The War on Guns: "Waco Rules Vs. Romanian Rules". It's a wide-ranging piece, largely devoted to unintended consequences, including commentary on how proposals to ban "assault rifles" led to a massive increase in sales, Clinton misuse of power created the militia movement, etc.
Posted by David Hardy · 7 May 2007 10:36 AM
Here's a PDF And Here's an article on it.
As I read it, the bill would allow the Att'y General (in practice, some of his underlings) to find that persons are "appropriately suspected" of aiding terror, and reasonably believed to be likely to use guns in that.
If a person is put on that list, they are not forbidden to own guns, but they are put on the instant check list, so they can't buy from a dealer.
If that sounds pretty strange ... if a dealer is put on the list his license can be revoked. Or if a person responsible for a licensee's policies is on the list, it can be revoked.
In any appeal from any of the above, the government may furnish the court with summaries of its evidence, or redacted versions of it. The court may review the originals only to ensure that the summary is appropriate, but may not rely on the original. (My guess: so the court reads the original, and whether you say it can't rely on it or not, the judge is human and will do so. But the individual challenging only sees the summary).
The questionable nature of giving a person legal status because they are "appropriately suspected" of something (the term is undefined -- presumably it's less than probable cause, since if they have that they could arrest him anyway) is clear to me. But the rest is just plain wierd. A terrorist snapping his fingers in frustration because he can't clear the instant check, and protesting that he has a clean record and something must be wrong here, he's gonna write the FBI....
I wonder if the real target isn't dealers and manufacturers. A gun gets into a terrorist's hands ... or is suspected of the same. The mfr knows nothing of it, but you can "appropriately suspect" that they do. Note also that the list would cover anyone "appropriately suspected" of aiding domestic terrorism, too.
[UPDATE: .416 Rigby's comment is dead on. As I recall, part of the escalation in the Randy Weaver case involved the local US Atty (whom I knew from Interior days) sending Mrs. Weaver's letters to the FBI for a threat assessment. They came back with a completely unjustified assessment of her as extremely dangerous, etc.. I recall reading FBI's psychologists' assessments of David Koresh's letters, sent out during the siege ... the evaluation was positively wacky. Only made sense if you assumed they were writing so as to please their bosses. Among other things they called him a "virulent paranoid" -- meaning they weren't quite in command of English. And leaving me wondering how you could assess paranoid traits in a fellow whose *reality* was that he was surrounded by government tanks, had the government playing music and wierd noises all night to disrupt his sleep, sending in listening devices to spy on him, testing a device to shut down all radio and TV reception, and testing three battlefield robots in his front yard, etc. His reality at that point was far wilder than fifty paranoid schitzs could cook up with a team effort. And the letters focused upon his prediction that, as part of the end times, there was going to be an earthquake, and he was warning FBI not to let their agents camp below the dam nearby, because he figured the dam would breach. Paranoids do not normally show concern for the safety of their supposed persecutors.].
Permalink · Gun Control Act of 68 · Comments (4)
Posted by David Hardy · 6 May 2007 08:17 PM
The State Univ. of NY had a student committed for observation (and suspended from school) for having a Facebook page that said he was tired of other people talking down his school and -- shudder! -- having a a photo of himself with a shotgun.
Posted by David Hardy · 6 May 2007 04:48 PM
Rec'd an email from Don Kates, via Dan Gifford:
"The pervasive inaccuracy of the N.Y. TIMES on gun issues is epitomized
by the fact that the article that follows is probably the most honest
treatment it has ever given a gun issue – and yet is still fundamentally
misleading.
From the article the ordinary reader would come away with the following
impression: 1) from its enactment in 1791 to roughly 1980 everyone
viewed the 2nd Am. as a states right (or a meaningless "collective
right"); 2) since c. 1980 a few ivory tower intellectuals have theorized
that the 2nd Am. might be a right of individual gun owners; 3)
nonetheless the great majority of authorities say that is wrong.
The truth is almost diametrically opposite:
1) From its enactment till the outset of the 20th Century gun control
movement there was no controversy over the 2nd Am. – not one court or
commentator denied that it was a right of individual gun owners. 18th
and 19th Century judges and commentators routinely described it as a
right of individual gun owners and expressly analogized it to the rights
of freedom of speech, religion, jury trial etc., etc.
2) The states' right and collective rights theories are inventions of
the 20th Century gun control movement having no historical
constitutional provenance whatever. Far from the 2d Am being a states'
right, 200 years of Supreme Court cases on the militia hold that the
federal government has plenary power over it with state authority being
limited to issues on which Congress has not spoken.
3) Over 120 law review articles have addressed the Second Amendment
since 1980. The overwhelming majority affirm that it guarantees a right
of individual gun owners. That is why the individual right view is
called the "standard model" view of the 2d Am by supporters and
opponents alike. With virtually no exceptions, the few articles to the
contrary have been written by gun control advocates, mostly by people in
the pay of the anti-gun lobby. In contrast, a very substantial
proportion of the standard model articles are written by scholars who
ruefully admit that they support gun control but must honestly admit
that the evidence is overwhelming that the 2d Am precludes banning guns
to the general population."
Permalink · media · Comments (0)
Posted by David Hardy · 6 May 2007 03:50 PM
At the Volokh Conspiracy, Prof. Randy Barnett has a detailed post on development of Second Amendment academic views.
Posted by David Hardy · 6 May 2007 01:19 PM
Here. Findings are essentially: one form of microstamping wore aways quickly, another survived. And "codes engraved on the face of the firing pin could easily be removed with household tools..."
Posted by David Hardy · 6 May 2007 12:53 AM
When even the New York Times acknowledges the change in scholarly perception of the 2nd Amendment, you know it has arrived.
They overstate the change a little: "There used to be an almost complete scholarly and judicial consensus that the Second Amendment protects only a collective right of the states to maintain militias. That consensus no longer exists..." Judicial (at least lower courts) yes, but scholarly, not really. When I started writing law review articles in 1974, there were only a handful of articles, none of any note, and most of those were "collective right." I just wouldn't count, and I guess here at the number, three of the five articles as "an almost complete consensus." More like "a handful of people had written on it, and a majority of those took the collective rights view."
Of course, NY Times does give Brady Center's spin, which is FAR off the real situation, big play: "The individual rights view is far from universally accepted. "The overwhelming weight of scholarly opinion supports the near-unanimous view of the federal courts that the constitutional right to be armed is linked to an organized militia," said Dennis A. Henigan, director of the legal action project of the Brady Center to Prevent Gun Violence. "The exceptions attract attention precisely because they are so rare and unexpected.""
Exceptions? We're talking about 90% of scholarship in the last quarter century. We're talking about all the big names in con law -- Sanford Levinson, William van Alstyne, Akhil Amar, Larry Tribe.
Chuckle--the DC attorney in the Parker case says "We all remember very well when D.C. had the highest murder rate in the country, and we won't go back there." Yep, I remember it, too. I was working at Interior then. One of the more cynical attorneys had a betting pool on when DC would break 300 homicides (I forget who won). DC's handgun ban had been in effect for ten or twenty years then.
[Update: yup, the collective right theory in court opinions traces to circuit courts of appeals reacting to the Supeme Court's Miller decision in the 1940s. They appear startled to realize that, under Miller, possession of almost any military-type firearm would be protected. One circuit court sets out to misread Miller, the other argues that Miller just established a minimum threshhold test and other courts can go farther. Other circuits picked up on those two over the 1950s and 1960s.
The idea had been around longer. Saul Cornell found a constitutional textbook aimed at the masses, from the 1830s or so, that mentioned the idea in terms of "maybe we can read it this way." And an 1842, I believe, state court case mentioned it in one of the three judges' opinions. But until 1941 or thereabouts, that was it. For all practical purposes, the "collective rights" concept arises from the federal circuit courts over the last sixty years, as a way of getting around Miller].
Posted by David Hardy · 4 May 2007 07:11 PM
Here's another Youtube. An undercover officer sets up a drug deal, but the other guy decides to kill him. (The attacker seems to be having trouble with the gun, another bit of good luck. Upon watching this several times, I think the attacker was stopping to cock for single-action fire after each shot, and going a very clumsy, two-handed job of it). First shot grazes the officer, he goes down. Killer aims at him on the floor, he kicks and deflects aim, another graze.
Officers in the adjoining room come thru the connecting door. In the meantime, the undercover guy gets up and rushes the shooter (I assume he's unarmed, and maybe figured that trying to get out the door would just get him shot in the back, so rushing the guy was the least-worst move). They blast the shooter, and now the undercover officer is in the line of friendly fire (which isn't), and has to leap out of the way.
It illustrates another effect--we can talk about stopping power (and I personally use .44s and .45s) but the human reaction is to go down when hit, in any degree. The undercover guy took a graze, and probably a hand cut up by muzzle blast, and the muzzle blast, and went down, even when it meant his life was now in danger and if he'd stayed up he'd have been much more likely to survive. After he went down the survival instincts kicked in, and he spotted the guy, kicked, and rose up and rushed him.
[UPDATE: The FBI has, I'm told, a training program along the lines of "just because you're hit doesn't mean you're dead." What they'd found was that the majority of people hit crumple, not because anything vital was damaged, but because that's a natural reaction to realizing a hole has been punched thru them. The problem with that in officer vs. perp is that the perp is given a chance to finish the officer off. So the gist of the training was take the hit, stay on your feet, and keep shooting back.]
Posted by David Hardy · 4 May 2007 06:53 PM
Here's the security cam video. Nice soundtrack, too. Looks like the robber enters, goes to counter at extreme right, one motel clerk begins emptying the till for him. The guy on the laptop at left gets up, casually wanders over to help her, then draws and fires. The guy drops right outside the door. BTW, the comments say the camera angle is deceptive -- the lady with the kid wasn't actually standing right next to the armed robber while he was doing his thing, nor in the line of fire.
The CCW holder looks to have been a cool hand, up until he drew you'd swear he was just helping make sure the robber got his money -- reportedly, three shots and three hits.
[Update: the camera angle and setting may be deceiving, as has been reported -- the lady with the child may have been out of the way. As a pure legal-type, there might be some question around shooting him in the back. I'd hope that the police are like those around here, inclined to say "good shooting" rather than "let's ask for a legal opinion." And inclined to understand that once a gun battle begins, it doesn't stop because the other guy turns away. We can put all sorts of legal constructs on that -- "well, he could still have turned and resumed the fight" -- but the bottom line is that once a person begins a fight for his life at close range, it's too much to expect that in a tenth of a second they will judge "hey, he's turning way, I should cease fire under sundry provisions of state law." As the pragmatic judge Oliver Wendell Holmes observed, it is too much to expect distinterested contemplation in the presence of an uplifted knife (paraphrase, I forget his exact wording).]
Posted by David Hardy · 4 May 2007 06:00 PM
Rep. Dennis Kucinich has announced he's holding the first congressional hearings on gun control since the Va Tech shootings, i.e., in the last three weeks.
Posted by David Hardy · 4 May 2007 05:57 PM
Yup, they did it anyway.
I suppose it "sends a message." That the city leaders believe that, while citizens must obey the law, they are free to violate the laws whenever they want.
But why send a message about something that everyone already knows?
Permalink · pre-emption laws · Comments (1)
Posted by David Hardy · 4 May 2007 02:27 PM
There will be a memorial celebration for Col. Jeff Cooper, May 10, 2007, 1:30 to 5 PM, followed by informal dinner. Location is the NRA Whittington Center at Raton, NM. Here's the memorial and RSVP page.
Here's a page devoted to his books.
Posted by David Hardy · 4 May 2007 09:05 AM
Daniel Taylor writes in The American:
"One of the first signs of this shift (away from being anti-gun) in the Democratic Party was in 2005, when Howard Dean was appointed to chair the Democratic Party. As much as conservatives hate him, he is pro-gun. So is the new Senate Majority Leader, Harry Reid (D-Nevada), who publicly expressed his hope that the Virginia Tech tragedy would not result in an immediate push for gun control.
At the Democratic Presidential Debate in South Carolina last week, when the seven candidates were asked who owned a gun at one point in their lives, only New York Senator Hillary Clinton and Illinois Senator Barack Obama didn't raise their hands.
In fact, the NRA's highest-rated presidential candidate in either party is New Mexico Governor Bill Richardson, a Democrat."
Posted by David Hardy · 4 May 2007 09:01 AM
Tennesee's legislature just expanded its "no retreat" law, and barred firearms confiscation in emergencies. Story here.
Permalink · State legislation · Comments (0)
Posted by David Hardy · 3 May 2007 11:05 AM
Posted by David Hardy · 3 May 2007 08:05 AM
Maybe, anyway -- the Philadelphia Inquirer has a rather confused and confusing story on the subject.
Posted by David Hardy · 2 May 2007 05:41 PM
A Pennsylvania woman gets probation for holding officers at bay using four rattlesnakes. As might be expected, she got bitten. "I just wasn't in the right frame of mind that night," she explained, which does seem likely to have been the case.
Permalink · non-gun weapons · Comments (1)
Posted by David Hardy · 2 May 2007 03:44 PM
Story here. It was pretty appalling to begin with, and now is getting even worse.
The raid was based on the word of a junkie trying to get charges dropped.
They convinced the junkie that they could jail him, by planting drugs in his yard before they called in a drug sniffing dog.
To get the search warrant, they just invented a story of an undercover buy.
After they shot her, they planted drugs in the house.
[Hat tip to reader David McCleary]
Posted by David Hardy · 2 May 2007 12:39 PM
Bloomberg and his "mayors" have been claiming that the present ATFE budget rider somehow restricts ATFE from releasing trace data to local police (in fact, they're upset because it restricts releasing the data for purposes of their filing of civil suits against gunmakers, but they claim it impairs law enforcement use. Here's one example: "Dozens of mayors from around the country gathered Tuesday to urge the new Democratic Congress to fight crime by allowing wider tracking of illegal guns." Here's another: "When handguns with bullets that can pierce body armor showed up on the streets of New Jersey, Sen. Frank Lautenberg asked federal regulators to share data that could help local police figure out where the weapons were coming from. That information, the New Jersey Democrat was told, is off-limits....Insisting that gun trace data is an essential crimefighting tool for cities, Bloomberg used his own funds as seed money, formed Mayors Against Illegal Guns and made repealing Tiahrt's amendment its number one issue this year."
ATF director Michael Sullivan has released an Op-Ed setting the record straight:
"During the past several weeks, numerous questions and articles have arisen in the media, regarding the ability of the Bureau of Alcohol, Tobacco, Firearms and Explosives to share firearms trace data among members of the law-enforcement community. With the recent tragic events surrounding the senseless criminal use of firearms; I felt the need to clarify this important issue.
.......
Our agency routinely shares trace data with state and local law-enforcement agencies in support of investigations within their respective jurisdictions. Once a requesting agency receives law-enforcement-sensitive trace data from ATF, it becomes the agency's data to disseminate and share with other law-enforcement entities as it deems appropriate.
Let me be clear: neither the congressional language nor ATF rules prohibit the sharing of trace data with law enforcement conducting criminal investigations, or place any restrictions on the sharing of trace data with other jurisdictions once it is in the hands of state or local law enforcement. In fact, multi-jurisdictional trace data is also utilized by ATF and shared with fellow law-enforcement agencies to identify firearm-trafficking trends and leads. Additionally, nothing prohibits ATF from releasing our own reports that analyze trace-data trends that could be used by law enforcement."
[Hat tip to SAF email alerts]
Permalink · antigun groups · Comments (1)
Posted by David Hardy · 2 May 2007 10:46 AM
And this story just reinforces it.
"In 1991, the state representative from Nome faced federal gun charges. Six unregistered machines guns and a 50 mm Soviet mortar were found in Richard Foster's possession.
In many other places, such troubles could be grounds for a recall or at least cold shoulders. Instead, Foster's constituents threw a fundraiser to help pay for his defense. ... A Vietnam veteran and former Army captain, Foster grabbed the attention of federal agents when he asked a Juneau machinist to craft some submachine gun parts. But a sympathetic Nome jury acquitted Foster — to the applause of the gallery.
.....
Now facing a more serious challenge — he has a life-threatening kidney disease and needs a transplant — friends once again are rallying to Foster's side.
Half a dozen people at the Alaska Capitol have offered him one of their kidneys, and more than 200 legislators, staff, lobbyists and well-wishers turned out in Juneau last month to raise money to help cover out-of-pocket expenses for him and his wife, Catherine."
Posted by David Hardy · 2 May 2007 09:18 AM
A federal district judge has issued a preliminary injunction suspending their license revocation until he can determine the merits. The ruling itself could be routine, but the findings the judge made sound like he's leaning against the revocation. It's astonishing that they had two BATFE inspections without a problem -- every sale of a gun requires, as I recall, 42 handwritten entries, so it's almost impossible for a dealer to go for a year without having mistakes.
Posted by David Hardy · 1 May 2007 08:06 PM
I recalled reading his somewhere, and found notes on it here. In the duel in the last act of Hamlet, the script calls for the Hamlet and his opponent to switch swords, so that wounded Hamlet now has the sharpened and poisoned blade. This often mystified performers ... how would two fencers manage to switch blades?
The answer was that 16th century fighters using rapiers had a move (get past the other man's point, rush him, drop the dagger in your left hand, grab the other fellow's sword guard and twist it from his hand) for which the best counter was for the other person to do the same. The dagger in the left hand, incidentally, was used for defense, the rapier itself being a bit heavy for that purpose.
Chuckle... at Teacher Vision, readers are told that they "inadvertently exchange swords."
Incidentally, in Henry V, Shakespeare has Pistol ask the king (who is impersonating an ordinary soldier), "Trail'st thou the puissant pike?" I found in the british Calendar of State Papers (but unfortunately lost my notes to it) a passage noting that a militia muster at Stratford on Avon had a Wm. Shakespeare mustered as a pikemen. Pikemen were quite proud of the fact that they were chosen from the strongest men, since they had to wear armor and wield an 18 foot spear. You carried it on the march by "trailing" it... grab it by the head and let it drag behind you.
Posted by David Hardy · 1 May 2007 04:12 PM
It's here.
We do have to recognize a few things here:
1. The causation may be inverted. Mass killers tend to be seriously mentally messed up, so it would be foreseeable that most of them would be on medication. With millions of people taking one drug or another, the odds of mass killers falling among that group is going to be quite high. We might be more surprised to find a mass killer who *wasn't* on medication.
2. In most cases, the medication works as intended. But in a minority of cases it has psychatric side-effects. It can take a bipolar who is depressive right now and flip him to manic. Also a person may be so deeply depressed that they are unable to act. Even suicide requires a decision, and in that state would represent hope, and the person is so deeply depressed that they can't act and can't even think of hope. At some stages in their return, they may pass thru a belt where they are able to act, and still depressed enough to want to kill themselves (or others). And there are problem areas, such as the risk that Ritalin, if given to a bipolar, can push them into psychosis. A psychiatrist is likely to be alert to these matters, but GP may not be. (I note that one of the killers in the article was receiving Valium, which GPs sometimes use as a general-purpose psychoactive medication, even tho it's a muscle relaxant with incidental calming effects).
The person's treatment has to be monitored with alertness to these risks. A small minority of cases still represents a significant number when millions of people are involved. A 1% risk equals tens of thousands of cases, so even a fraction of one percent is a serious risk to the public.
3. The details also show the problems of government health care. When Medicare or other government sources fund the treatment, they often require prescription of older generations of medicines, which have more risk of side-effects than newer ones. The name of the game is keep health care costs down, and the agencies who pay for the results of the side-effects (local courts and agencies funding care for the committed) don't go into the equation because it's somebody else's budget.
[Hat tip to reader The Mechanic]
Posted by David Hardy · 1 May 2007 01:50 PM
Here's their press release:
"Pass the NICS Improvement Act, introduced by Representative Carolyn McCarthy. This legislation provides funding incentives for states to provide appropriate records to strengthen the information in NICS. --
Require background checks for all gun sales, not just those from federally licensed dealers. --
Rescind the requirement requiring that records of Brady background checks be destroyed within 24 hours of purchase approval. --
Impose a waiting period under the Brady Law, to allow time to do accurate and complete review of appropriate records. --
Reinstate the Federal ban on ammunition magazines of larger than 10 rounds that expired along with the Federal assault weapons ban in 2004, and pass a ban on military-style assault weapons. --
Repeal the so-called "Tiahrt Amendment," which as an annual appropriations rider bars the Federal Bureau of Alcohol, Tobacco, Firearms and Explosives (ATF) from sharing data on the sources of guns used in crimes. --
Require that new semi-automatic handguns be equipped with technology to allow police to quickly match shell casings found at a crime scene to the handgun from which they were fired. This technology, known as"microstamping," would enhance law enforcement's ability to rapidly solve gun crimes."
Permalink · antigun groups · Comments (8)
Posted by David Hardy · 1 May 2007 12:57 PM
Unfortunately, only for six hours.
"At a Monday news conference, his sister, Kathy Cagg, spoke of how her brother had a long history of mental illness combined with alcohol abuse. He had been hospitalized in October as suicidal, but only for six hours...."
"There is no guarantee that they will be kept for 96 hours," said Jackson County Circuit Judge Kathleen Forsyth. "Doctors can let them out any time. Sadly, there is no guarantee they'll even let them in. Many times the hospital is full up."
Sometimes, she said, patients are let out in a matter of hours.
...
The local state mental health hospital, Western Missouri Mental Health, had 100 inpatient adult psychiatric beds five years ago. With about $6 million in funding cuts, that number has been reduced to 75.
Moreover, prior to 2003, Missouri employed mental health coordinators in its community mental health centers statewide. These individuals were trained to go to people's homes to help families evaluate whether a loved one needed to be committed for evaluation or care which, depending on the case, could last up to a year. The coordinators helped the family through the judicial process. In 2003, those positions were eliminated.
[Hat tip to Clayton Cramer]
Posted by David Hardy · 1 May 2007 12:18 PM
Story here:
""I think it makes sense for Texans to be able to protect themselves from deranged individuals, whether they're in church, or on a college campus or wherever they are," said Perry."
[hat tip to Dan Gifford]