Personal
Posted by David Hardy · 11 October 2012 09:17 AM
Just got word that Gordon Novel, whom I first met back around 1979, died last week. There's no way to sum the man up: his wikipedia page is just a beginning. The strangest thing was that with him, the more impossibly outrageous a claim seemed to be, the more likely it was provably true. He designed a mechanism to erase the Nixon tapes from a distance. I saw the blueprints and the newspaper story on it, and knew enough to know that he'd foreseen the design problems (dissipation of heat and how to get batteries to dump current fast enough). The government tried to frame him for arson, using concocted audiotapes; I spoke with the experts who established that the tapes were faked. He helped John DeLorean beat prosecution, and was given one of his hyper-expensive cars as gift; I spoke with a reporter who verified it with DeLorean, and I rode in Gordon's car. He was living in a one bedroom apartment at the time, and driving a $200,000 car.
His role in Waco -- I think I was the first person he called, to describe exactly when and where on the infrared tapes could could see gunshot images. This was NOT easy to do, we're talking "at one hour, twenty one minutes, eleven seconds, look in the upper left corner next to the armored vehicle," and I'd still have to play and replay it to spot them. He said he'd been shown them by his CIA contacts, who had flown into New Orleans to show them on a peculiar device that was like a portable VCR with screen (today, I think it was a very early laptop, running video, but then, the mid 1990s no one had heard of those things). And when William Colby, former CIA director, drowned, Gordon called me in panic (the only time I ever heard him frightened) and said Colby was the fellow who flew in to show him the video.
Two things he would vigorously deny: (1) he said he'd never worked for the CIA. Hung out with them a lot, but never was employed by them. (2) He had nothing to do with the JFK assassination. Jim Garrison had subpoenaed him, he fled, and Garrison tried to have him extradited, but, he said, that was just to decoy Garrison, not because he had any useful information.
Permalink · Personal · Comments (1)
Posted by David Hardy · 8 June 2012 11:07 AM
Nancy Norell was firearms law staffer to Sen. Jim McClure, while he was pushing the Firearm Owners' Protection Act; she was married to Jim Norell, who was head of communications in NRA-ILA, and more recently writes for America's First Freedom. This is an understatement of her role in the gun movement--on gun issues, she was the point staffer for the point Senator on the gun issue, at an extremely pivotal time. It begins with the creation of the gun rights movement, the founding of NRA-ILA, SAF, and Gun Owners in the mid and late 1970s, the first big battles (blocking the planned ATF regulations under the Carter Administration, ATF abuse investigations and hearings, the six year fight for FOPA, etc..
Here's her obit, written by Jim, for the local paper:
Nancy B. Norell of Three Springs, writer, editor and former legislative assistant to U.S. Sen. James A. McClure, died Wednesday at JC Blair Hospital, succumbing to stage 4 pancreatic cancer.
Mrs. Norell was the wife of James O.E. Norell who was also her business partner in a long-time writing enterprise. The Norells recently celebrated their 47th wedding anniversary. They have lived at their
small farm near property Three Springs for 32 years.
A native of Idaho, Mrs. Norell began working in the U.S. Senate in 1975 and began her freelance writing-editing career when Sen. McClure retired in 1990. She wrote for SAF's Women and Guns as legislative correspondent, and for the NRA's Women's Outlook, covering political and legislative issues as well as features.
On Capitol Hill, she was affectionately known as the "gun lady," having passionately worked to defend Second Amendment Rights for decades. She was instrumental in garnering support for enactment of the Firearms Owners Protection Act of 1986 – a landmark firearms rights law that reformed and removed many onerous provisions of Federal law that had been used to vindictively pursue lawful firearms ownership and commerce. Enactment of the reforms protecting gun owners was a seven year effort. Mrs. Norell, as a legislative advocate, worked closely during those years with staff in both houses and on both sides of the political isle. She also dealt with the media on firearms rights.
Her legislative duties also covered Native American issues and foreign affairs. In the latter capacity, she traveled to Taiwan and China.
The Norells became permanent residents of Clay Township after she left her Senate duties.
Mrs. Norell is an Endowment Member of the National Rifle Association.
She is also a member of Three Springs-Saltillo chapter of the Beta Sigma Phi Sorority having at one time been elected its President.
She has also served in various elected capacities on the Board of Election Supervisors in Clay Township and has been a familiar face on election day.
Mrs. Norell grew up on a family dairy in the Palouse near Genesee, Idaho. With her parents and little sisters, they farmed 360 acres and milked 60 cows.
She was especially known for her wit. Growing up, Nancy chased and washed Holsteins before and after school. When her husband once suggested at the Belleville auction that they buy a "little Jersey cow,"
she told him, "I hope you will be very happy living in Three Springs, Pa. – with your little Jersey cow."
Mrs. Norell is survived by her husband, Jim; her daughter, Kjersti Sivitilli and her son-in-law Rob Sivitilli, who reside in Singapore; by her godson, Hans Schneider of Austin, Texas; by her sister, Jan Gill of
Anchorage, Alaska; and by her brother-in-law, Michael Norell, also of Three Springs.
She attended the University of Idaho and earned her B.A. in English from American University in Washington D.C. in 1965. She taught eighth grade English for four years.
Nancy was an avid reader, book collector and cross-stitcher. She loved to garden and was known for her small family of house cats – some of whom she taught parlor tricks.
The Norells were recently confirmed in the Roman Catholic faith.
Permalink · Personal · Comments (3)
Posted by David Hardy · 22 May 2012 05:51 PM
May 22, 2009, cancer, but I made it.
May 22, 2003, cancer, and Frances did not.
Permalink · Personal · Comments (8)
Posted by David Hardy · 2 April 2012 12:06 PM
I was admitted to the hospital yesterday... I thought it was a kidney stone, but it turned out to be an infected kidney. On IV antibiotics now.
Permalink · Personal · Comments (21)
Posted by David Hardy · 20 March 2012 08:32 PM
27 years ago tonight, Bill Avery, my late wife's father and my best friend, died. A few days later I wrote a letter to some of my friends.
Permalink · Personal · Comments (1)
Posted by David Hardy · 25 August 2011 12:00 PM
For nonprofits, they certainly are profitable.
Permalink · Personal · Comments (0)
Posted by David Hardy · 22 May 2011 07:09 PM
My annual memorial post for my wife, Frances Avery Hardy, who died on this day in 2003, age 52. Cancer got her. She died in the same hospital where our son was born, 18 years and four days before.
Today in 2009, I had the major cancer surgery which kept me offline for two days.
Permalink · Personal · Comments (5)
Posted by David Hardy · 9 May 2011 10:46 PM
Right here. Got to stop slouching so much.
Permalink · Personal · Comments (5)
Posted by David Hardy · 1 February 2011 08:40 AM
Madelyn Hardy, my mother, died last week at the age of 89. Here's her obituary. Just reflected that both she and my father were born when Woodrow Wilson was President.
Permalink · Personal · Comments (12)
Posted by David Hardy · 4 November 2010 02:04 PM
It's gotten to where I can walk, but still have to go barefoot on the left since I can't get it into a shoe or even a sandal due to tissue damage and swelling. But a lot better than it was before. Here's what it looked like in the ER. I can time this to between 10 PM and 1:30 AM, or 4-5 hours after the bite, while it was still worsening.
The ink lines were the med's record of how far the black and blue was extending. The line for 2200 hours is drawn. The next one, not yet drawn, was 0030 and at the ankle. Later lines extended to the knee in front and up the hip behind, and the black and blue and the swelling got much darker.
Permalink · Personal · Comments (7)
Posted by David Hardy · 25 April 2010 09:26 AM
I was just remembering a matter involving my my late ex, Frances.
After I discovered that the name Hardy is an alias, taken by my outlaw judge great-grandfather, our son Mark found it very interesting, but Frances found it rather appalling. Mark wanted to write a paper for school on the subject, and she made him pick some other topic.
Her maiden name was Frances Avery, and she'd mentioned that her family descended from an Ephraim Avery, a minister who had made the move from Connecticut to the Ohio frontier after some scandal. By pure luck, I found the scandal. I called her from a pay phone outside a law library, and said I'd happened upon a book that devoted an entire chapter to her ancestor. She said that was great, and then I noted the title was Great Murder Trials of the 19th Century or something like that. I later joked with her that at least when my ancestors killed their man, they killed their man.
Update: Here's his headstone, courtesy of Findagrave.com.
Permalink · Personal · Comments (2)
Posted by David Hardy · 15 February 2010 06:04 PM
The comment to the previous post reminds me of an experience when I worked in Interior's legal shop. Understand, to a bureaucrat "we've always done it this way" is sacred, safe; "we've never done it that way" means it's dangerous and unwise.
Early one morning my boss and I are attending the staff meeting of the Deputy Director, US Fish and Wildlife Service, when an Ass't Director brings up a strange issue. There was a statute that only applied to importing fish "taken" outside the US, with no definition of "taken."
A fellow wanted to construct an oil-tanker sized ship as a giant floating aquarium. He'd steam up to somewhere in Canada where salmon are taken, load the ship with them, and steam to Los Angeles. Along the way the salmon would be fed and fattened up. At Los Angeles they'd be killed and sold.
Question: within the meaning of the statute, were the fish "taken" when they were captured in Canada and put into the ship, or were they "taken" when removed from the ship and killed? Everyone in the meeting spoke of how this was a strange situation, nobody else had ever come up with the idea, etc.,etc..
The Deputy Director asked my boss for his legal opinion. I forget which way he went, but he ended with "because we've always treated that way."
There was silence in the room.
The Deputy Director said -- everyone here just agreed nobody has ever come up with an idea like this. If this is the first time the idea has ever come up, how can we "always have treated it that way"?
My boss thought for a few seconds (it was very early in the morning) and allowed he might have been misinformed.
Permalink · Personal · Comments (2)
Posted by David Hardy · 29 January 2010 09:44 AM
At Interior (1982-1992) I chiefly represented Fish and Wildlife Service. And this article reminds me of the type of strange cases we had.
"A German man who stuffed 44 small lizards into his underwear before trying to board a flight has been sentenced to prison in New Zealand for plundering the country's protected species....
Kubus was caught by wildlife officials at Christchurch International Airport on South Island in December, about to board an overseas flight with 44 geckos and skinks in a hand-sewn package concealed in his underwear."
Permalink · Personal · Comments (1)
Posted by David Hardy · 4 October 2009 12:21 PM
It was this weekend. Very good to see folks I hadn't seen in years, and in some cases, in decades. At mass this morning they read off the names of classmates who'd passed on. 22 names, plus one they forgot (Larry Brown, the Red Bandana Bandit, killed after release from prison). 23 out of a class of about 300.
Brown -- ah, he showed the benefits of a good Salpointe education! The judge who sentenced him told me he was the most polite armed robber, ever. One time he took his place in line behind two ladies, and only stuck up the clerk after they'd been helped. No cutting in line! Another time it looked like the clerk might make a move, and so roughly the following took place:
Brown: Wait a minute, let's talk.
Clerk (mystified): OK.
Brown: They pay you minimum wage, right?
Clerk: Yes.
Brown: And they don't give you health or life insurance, right?
Clerk: Yes.
Brown: Then why should you risk YOUR life for THEIR money?
The clerk testified the argument was utterly convincing, and so he cleaned out the cash register. After Brown got out of prison he was killed. Never was solved, but there was guessing that he might have gotten on the wrong side of some prison gang.
Permalink · Personal · Comments (3)
Posted by David Hardy · 29 September 2009 06:25 PM
It's where I used to live, in Falls Church VA. (I don't have any financial interest in it; after my ex died in 2003, it went to our son, who sold it).
Update: they didn't have ACORN back in 1982, so we just got it as a house. Originally it had three bedrooms on the main (2d) floor, one in the first floor (the land drops away in the back yard, so that it wasn't really a basement), and two small rooms on the third floor. We eventually ran heating and cooling into the two top rooms so they were habitable, and I used one for an office. Then we added on an extension rearward to the first floor bedroom, and Fran's mother lived in that. I gather the new owners enclosed the porch on the rear to make it yet another bedroom. Seven bedrooms, three baths, plenty of room in there. Used to have a lot of trees, too, but the new owners for some reason cut almost all down. A big oak in front, a bigger tulip tree in back, pines and other trees, now gone.
Permalink · Personal · Comments (3)
Posted by David Hardy · 10 August 2009 01:04 PM
Some readers have asked for one, so here's the short version--
Here is what I had.
Here is the procedure that dealt with it. The version with all the trimmings, orthotopic diversion, lymph node removal.
Pathology report says they got it all. Lymph nodes (they took 25 of them) were clear (if it gets out, the lymph system is usually its first avenue of spread).
It's been over two months since the op, and I'm mostly recovered. Still a little lacking in energy and concentration, but the body is in good order, apart from bellyaches (the intestines are still resentful of having had a stretch of them cut away). I've got a hefty 8" scar running from navel down to pubis, so I'm just glad I never had a chance as a swimsuit model anyway,
Permalink · Personal · Comments (15)
Posted by David Hardy · 24 October 2008 08:55 AM
Here's the legal opinion on the Samish Tribe, in pdf. Courtesy of reader Joshua Tallent, who pdf'd it.
Permalink · Personal · Comments (0)
Posted by David Hardy · 23 October 2008 09:16 AM
A friend of mine, Carl Behrens, just died, age 85. He'd been president of Tucson Rod and Gun Club way back, and a Pima County Sheriff's deputy even farther back. Probably in the 1950s and thereafter. Back in the days when there, er, weren't a lot of rules.
He was absolutely fearless. Lots of mafioso retire to Tucson, and the usual rule is that you don't practice your business locally. One, I think it was Bats Battaglia, did. One day Carl visits a business in his patrol district, and finds the owner has a broken leg. Says it was an accident. A few weeks later Carl visits again, and he has a broken arm. Carl questions him and he admits Battaglia's guys are shaking him down for protection money.
Carl knows a restaurant where Battaglia likes to eat dinner. He goes there, out of uniform, and when the mobster goes to the men's room, follows him. When Bats turns around and zips up, Carl (who was a very big guy) grabs him by his coat lapels, lifts him up, and snarls that he's a deputy, he knows he's been shaking down businesses in his patrol district, and if it ever happens again he will visit upon Bats all the injuries that have been inflicted on anyone in his district. Then he leaves.
The shakedowns stopped. The mobster had met a cop who talked his language. I'll add more stories in extended remarks later today.
Continue reading "Old time LEO passes away"
Permalink · Personal · Comments (4)
Posted by David Hardy · 23 October 2008 09:08 AM
Here's a scan of the original opinion. It's not the clearest image -- it's been sitting in my files for 21 years now. Click on the thumbnail to get it full size.
This is the original opinion she signed (mine is unsigned, since it came from my personal chron file--I would have the opinion as it went to her, the signed one would have gone into the departmental files. The tribe applied for listing, Fish and Wildlife kicked it to us, the legal shop, for an opinion. We all knew it was a publicity gig for the Tribe. Gale signed this opinion, and sent it to Fish and Wildlife, then the other bureaucrats got worried and had her sign another, perfectly serious, one. Fish and Wildlife in the meantime had passed the first opinion to the media and they loved it. But both opinions remained in the files. I'm told that when she was nominated the first opinion was hunted down and shredded. I don't have a copy of the second, serious, one since I didn't draft it.


Permalink · Personal · Comments (5)
Posted by David Hardy · 22 October 2008 05:08 PM
Back in my Interior days, a small Indian tribe wrote requesting to be listed under the Endangered Species Act, as a publicity move.
I wrote up a really hilarious opinion for the Associate Solicitor's signature, and she signed it. Later others became terrified, wrote another opinion that took it very seriously.
When the Associate, Gale Norton, was nominated for Interior Secretary, there was a frantic effort to find and deep six the first opinion. I thought my copy was the only survivor.
A friend just pointed out that he'd found it in a December 2001 issue of Harper's.
Update: if by original document, you mean the Samish petition, I didn't keep that. I kept my own files when I left Interior back in 1992. Understand, every document was produced with seven copies for various filing systems. But you always made an eighth copy for yourself.
Because you'd never find it in the other seven filing systems.
Permalink · Personal · Comments (5)
Posted by David Hardy · 3 June 2008 03:20 PM
Bill Bailey, a former prof. of speech communications at U of Arizona, commented here with some regularity. His last comment, May 22, is here, another here. A couple of exceptional ones here.
I'd known Bill since around 1974 or 75. I've been lucky to know a lot of folks with above-average brains, but he certainly had the most versatile intellect I'd ever encountered. A fellow who could offhandedly tie together politics, statistical theory, psychology, communication theory, philosophy and much else in an organized and completely logical manner. Last saw him at dinner at his place a few weeks ago.
This morning I was told by his daughter Elisa that he'd passed on, an emergency open-heart surgery that didn't end well.
I don't think I'll know his equal again.
Permalink · Personal · Comments (5)
Posted by David Hardy · 21 May 2008 10:37 AM
May 21, 2003. My ex, Frances, had managed to gesture and gasp out that it was time for the hospice, and was sliding into a coma. Here's her webpage, with more detail.
Permalink · Personal · Comments (3)
Posted by David Hardy · 2 April 2008 09:34 AM
Bob Hooker. A few years back, the PD's office was a bunch of demoralized people. The two best defense guys in town, Hooker and Bob Hirsch, gave up private practice, took it over, brought in experienced people like my former law partner, and turned it around. My former partner reported they're up to 50% wins on jury trials, and winning a majority of motions to suppress. Heard the Office is now among the top five in the country.
Last night he was driving home, north up Main Street -- a little two to four lane urban road, not a fast moving one. Unfortunately, two teens decided to drag race going south on it. One, in a pickup, went airborne crossing the RR tracks, which are on a grade, and went head on into Hooker's SUV. An officer saw the crash, and says Hooker was gone when he got to him.
UPDATE: talked to a PD. Hooker was tied up in traffic on Main St., a slow road leading north out of downtown. The drag racers were heading south at an estimated 100 mph on that congested road, went airborne, crossed into the northbound lanes and smashed into his car.
He was on his way home for his 33rd wedding anniversary.
Permalink · Personal · Comments (3)
Posted by David Hardy · 27 February 2008 10:59 AM
Local federal District Court judge William Browning died last night. My first job out of law school was with his firm, Browning & Wilson-Druke. Carol Wilson-Druke passed away some years ago.
Browning was a westerner and a fun guy to be around. He did slip now and then. He'd been to a bar luncheon when he was president of the State Bar. Governor Raul Castro (no, not that Raul Castro) was the speaker. He spoke with a slight accent. Browning was making cracks at his table like "He can ALMOST speak two languages."
When the governor left, one guy at the table got up and left. Browning asked the others at the table who that fellow was. "The governor's pilot," was the reply. Oooops. They probably had some interesting conversations on the flight back to Phoenix.
Gad, the interesting ones are passing on. A few years ago we lost Mo Ollason, bankruptcy judge. He'd hang out at Bob Dobb's bar, and had an incredible sense of humor. One night he was discussing a case involving an ostrich farm north of here (yes, there is one). They were going bankrupt because the birds weren't reproducing as rapidly as projected. Someone jokingly pointed out that the new-ager types believe there is a powerful good vortex near Sedona, and powerful negative vortex near the ostrich ranch.
So next time the case came up, with a perfectly serious face he asked the attorneys:
Q. Have you investigated whether the ostriches are being affected by the negative power vortex at Picacho Peak?
A. Pardon, your honor?
Q. The negative power vortex at Picacho Peak. Everyone knows about it. It may be affecting the ostriches' willingness to reproduce.
A. Uh ... we'll investigate, your honor...
He'd also become the first bankrupcy judge to seize Univ of Arizona basketball tickets (goods one are worth $10-15,000 per season) from high-rolling developers who went bust. Then the court sold them by raffle, so every one in town could have a shot at them. Another guy had a classic car collection, which he undervalued in court, but the judge knew his cars. He ordered them turned in a 5 PM, and figuring the guy wouldn't, sent the Marshal out with tow trucks at precisely 5.
Then there was the time a guy at Bob Dobb's said he knew the judge had Viagra and could he borrow one for a hot date. Sure, Mo says... and gives him one of the powerful painkillers he had for back pain.
UPDATE: Yup, there really is a Bob Dobb's here. They sell T-shirts with the logo "I drink to make other people interesting."
Permalink · Personal · Comments (1)
Posted by David Hardy · 24 December 2007 02:59 PM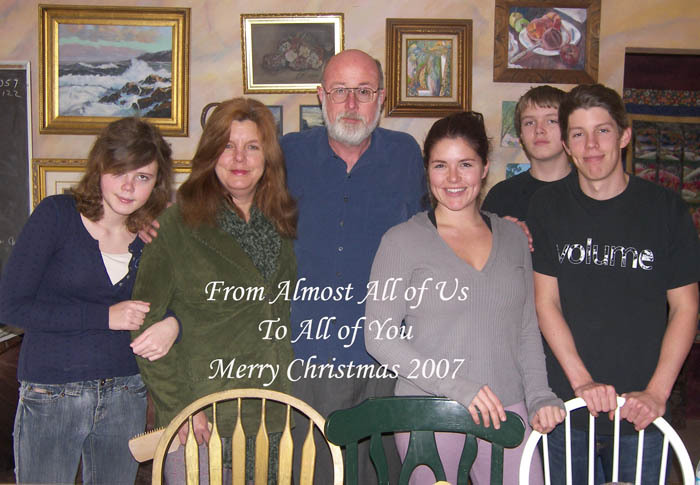 Merry Christmas from almost all of us, to all of you!
(Almost all, because son Mark wasn't available for the pic).
Permalink · Personal · Comments (8)
Posted by David Hardy · 17 November 2007 04:25 PM
I had breakfast today with an old friend from my DC days. He related an interesting case. DC is condemning property to build a new stadium. One of the most difficult cases involves a guy who runs a number of gay porn shops in an out of the way, seedy, area. They offered him new, prime, property, readily accessible, and he declined. He explained that some of his clientele includes high government employees and officials and businessmen and such, and they obviously don't want to be seen entered his establishments, so he wants some isolated, perhaps seedy, area. I suppose in all businesses the key is location, location, location!
Then on the way back the little battery symbol on the dashboard lit up. There went the alternator! Had to get that and the battery replaced, but at least it kept going until I got to the shop.
Permalink · Personal · Comments (1)
Posted by David Hardy · 21 August 2007 09:44 AM
On August 21, 1982, I was going down the aisle with Frances, who died in 2003. If you'd like to see what Wayne LaPierre (my best man) looked like 25 years ago, check out the wedding pics, here. Her memorial page is here.
NRA memories: Neal Knox had been fired as head of ILA a few months before (in May, I think, right after the annual meeting). Harlon Carter (who's also in the wedding photos) was EVP. Jim Featherstone (now deceased) had been replaced by a new General Counsel, Mike McCabe (also now deceased). Wayne was head of Federal Affairs; the new (and disasterous) head of ILA was Warren Cassidy.
Permalink · Personal · Comments (4)
Posted by David Hardy · 22 July 2007 08:09 PM
My great-grandather, Judge Charles Hardy, first Justice of the Peace of Cave Creek, Arizona Territory. He was also a gunman name Nat Hickman, who fled the law after shooting a guy in Colorado, and took Charles W. Hardy as his alias. He 'fessed up when he applied for a Civil War pension many years later. I've always wondered if he left a clue in this photo. His left hand looks like it has a glove with the fingertips cut away. Elmer Keith wrote that the old gunmen always did that, to make sure they have a feel for the trigger. I suspect it amused him to leave clues. For example, his cattle brand was N/H -- his real initials, plus a slash, and in the civil pension application he mentions as a distinguishing mark a knife slash on his cheek.
I know he was a gunman because a turn of the century doctor wrote of his experience in the Arizona Territory, and of knowing a "rancher Hardy" in Cave Creek, who was incredibly fast with a gun and terrified him with tales of how outlaws were just killed out of hand.
At his side is Sarah, an Indian who was widow of the first JP of Phoenix (who got relieved after he shot a man in a street fight and fled the law). The taller boy is Jesse Hardy, whose headstone I posted earlier, and the shorter my grandfather Mark Hardy.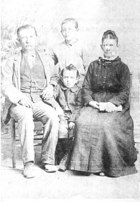 Permalink · Personal · Comments (1)
Posted by David Hardy · 22 July 2007 12:29 AM
Digging thru old photos, I found two I'd made of the gravesite of my great uncle, Jesse Hardy (died in 1941). He was a fairly big landowner for the area (Buckeye, AZ, west of Phoenix), but the family couldn't waste money on a headstone. Below in the image is his marker -- a metal tag on a stick -- and above is a broader view of the cemetery where he lies -- and where the great majority of graves have the same markers. It may have been 1941, and he may have been a landowner, but these folks were living in a state that would stagger anyone below the poverty line today. Click on the thumbnail for a larger image.

Permalink · Personal · Comments (5)
Posted by David Hardy · 13 July 2007 06:07 PM
We're largely cut off from town (can still get there by going east, then south, and coming back west), have been for about 3-4 hours. First clue was lots of sirens and emergency vehicles really hauling tail.
News says a Honda Accord, full of teenagers, was speeding south down Bear Canyon Rd when they lost control and went head-on into a pickup. The Accord was pretty well demolished. The two in the front seat were killed, three others had non-life threatening injuries. Which, considering the state of the Accord, is very lucky.
In my last try at getting thru, deputies were searching both sides of the road (it's sealed off about a quarter mile from the actual accident site). I assume looking for missing car parts.
Understand, this is a 2 lane road; in a dozen years here, this is only the second accident I've seen on it. Some of the younger drivers do tend to take it rather fast (you want to be careful when the high school above us lets out).
Permalink · Personal · Comments (0)
Posted by David Hardy · 20 May 2007 11:33 AM
Right about now 4 years ago, early afternoon of the 20th, I was telling my ex that the docs were coming over to say they'd exhausted all options for saving her, she was dying, and they wanted to move her to a hospice. I'd had to wait until they were suctioning her throat, that way her mother was out of the room.
Her eyes went big and round. Within a few seconds a doc blew into the room, saying that he sees we're talking about it so it should come as no surprise, he wants her to sign a do not revive order and move to a hospice.
Suppose I should have wrung his neck but I was a bit busy just then. And she was dead within 36 hours.
Got a memorial page for her. Check out the wedding pics if you want to see what Wayne LaPierre looked like 25 years ago with an Austin Powers type haircut.
Permalink · Personal · Comments (3)
Posted by David Hardy · 19 May 2007 10:45 PM
May 19. Remembering four years ago. May 18 was the 18th birthday of Mark, son of my ex (married 1982, separated 1990, divorced 1992) and I. I flew back to Falls Church for the event, and found that perhaps she'd misled me a bit. I knew she'd been diagnosed with cancer in January. Had seen her once since then. As I was leaving she talked of the bone pains and I, worried, kissed her for the first time in a dozen years. On the phone and in email she'd said it was no worry, the chemo was taking care of it.
I flew in and came to the house on May 18, and found her in bed on oxygen. Maybe there's something I don't know? I lifted her to the wheelchair and took her to the table so she could be at Mark's birthday cake cutting. She had trouble talking, could barely whisper. Mind you, she was age 52.
On May 19, I showed up at the house for breakfast. And saw an ambulance there. As they wheeled her across the lawn she make the "OK sign" with her fingers.
It wasn't OK. She'd never see that house again. I had a day or two to talk to her. As a friend later remarked, our bodies have enormous overcapacity. You can function with no symptoms on 10% of liver capacity, or with your heart arteries 90% occuluded. But you need ALL of what is left. Once a certain threshold is passed, a person rapidly goes from functional to dead. The tumors were sealing off her blood vessels and, more vitally, her trachea. That was the reason for the oxygen. She'd reached the point where she could function, on 100% O2, and was now passing that.
I'd known here since, oh 1979, shared secrets and a life and a child and for years love. Buried her father in '85, my best friend. That night I was racing around to find her a milkshake when she signaled that her mouth was dry and the nurses said she could have a semisolid.
That night they only allowed two visitors, and her mother and cousin were in most of the time. When I same in at the end, as visiting hours closed, I took her hand and she opened her eyelids and her eyes rolled up. While getting the car, I called her church, got the medical hotline, and reported they had a parishioner dying at the hospital. Fran was a VERY devout Catholic, and I'd been trained in the old school -- get a priest, now! After we got everybody home, her cousin said that she'd been heavily sedated for a CAT scan. I called the church to say it was a false alarm.
It wasn't. She was dying. But an eager-beaver young priest was on duty (he'd been a Justice Dept attorney, curiously, I was later to find out). He got my voicemail and without waiting to reply leaped into the car and raced to the hospital. She was conscious and coherent enough to know who he was --she made the sign of the cross as he entered, and he gave her absolution, the viaticum, the last rites.
I haven't any idea whether that makes a difference in the end. I hope so. In any event, she would have firmly believed that it did, and that if she went out the next step was heaven, and that belief is sufficient for me.
Reckon when you say you have someone's back, you have their back, and nevermind a decade of fighting thereafter.
Permalink · Personal · Comments (4)
Posted by David Hardy · 17 May 2007 10:57 AM
It's here. Relevant part in extended remarks below.
Continue reading "Transcript of my time on CNN Headline News"
Permalink · Personal · Comments (1)
Posted by David Hardy · 13 May 2007 05:53 PM
Arizona has put its birth and death certificates online, and here's my g-grandfather's death certificate. They got the name right: "Nathaniel M. Hickman, also known as C.W. Hardy." He was a fugitive from the law -- shot man who'd cheated him, at Ft. Lyon, Colorado, fled to AZ Territory, and became a judge. Someone once told me I ought to make a movie on it. I responded Clint Eastwood's already done it. "Unforgiven."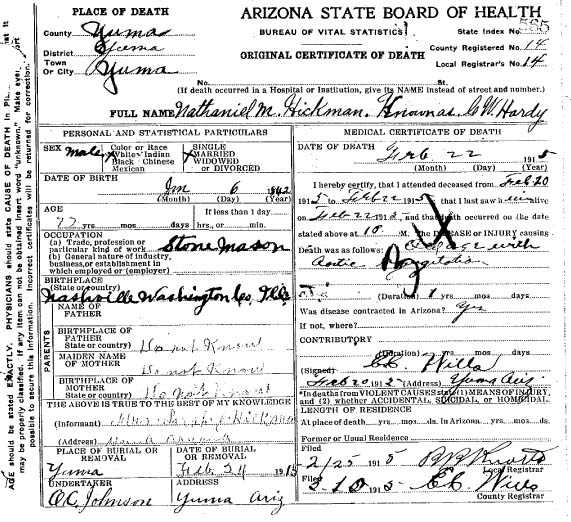 Continue reading "A genealogy-related find"
Permalink · Personal · Comments (2)
Posted by David Hardy · 4 February 2007 12:13 PM
Saw a Remington 81, the old semiauto hunting rifle, in .300 Savage. Bright bore, only a few minor scratches on the metal. Got it for $280. From what I see, they go for more like $400+. It was a John M. Browning design, produced from 1936 to 1950.
I have no practical use for it ... haven't had time to go deer hunting in decades, and iron sights aren't much use in the desert, but just wanted one as a collector item. I know at least one expert who contends that Kalashnikov took the idea for his selector switch from its safety.
Permalink · Personal · Comments (2)
Posted by David Hardy · 2 February 2007 09:13 AM
I was light on blogging the last few days, because I needed to get tax paperwork together. My law office is a one-man corporation, and my film distribution firm for the documentary a one-man LLC, which is the same as a simple proprietorship. But for the two I needed to get out:
Two quarterly federal tax withholding reports, and two quarterly state reports.
One federal and one state unemployment tax report (just in case I fire myself).
Federal form W-2 and W-3 for social security admin.
State annual report that tracks the W-2.
Monthly state sales tax for the LLC.
Two business property tax reports (quite detailed, even tho I have nowhere near enough equipment to be subject to the tax).
Then start getting all the data together for the corporation's income tax return and begin getting it for the LLC's return (which is part of my personal tax). Reconcile several hundred deposits and payments, etc., etc.
You'd think if the government wants to up the employment rate it'd make it easy to employ people! All this for a couple of one-man operations. I'd have to think seriously before I dreamed of hiring a second person and complicating everything.
Permalink · Personal · Comments (2)
Posted by David Hardy · 29 January 2007 07:49 PM
There's been some talk about the snowfall last week in Tucson.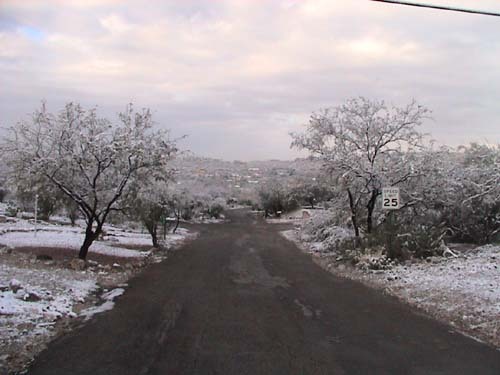 Here's an image, from the street in front of my house. Understand, this is the middle of the Sonoran Desert!
Permalink · Personal · Comments (3)
Posted by David Hardy · 24 November 2006 03:35 PM
This goes back, oh 10-20 years, to a Thanksgiving with what was then my family. Ladies at dinner were my late ex, her late mother (lot of it going around lately) and her cousin. Males were myself, my son, and the cousin's son. As will become apparent, the ladies were VERY naive.
The cousin's ex husband, Claus, had been a cook in the Army and was skilled with a carving knife. After the turkey was carved, the following conversation ensued.
Cousin: Did you ever see Claus bone a turkey?
My ex: Yes! Nobody bones a turkey like Claus bones a turkey!
[We three males look at each other and begin biting our lips].
Her mother: Yes, when Claus boned a turkey, it was a work of art.
Ex: What are you three chuckling about?
Me: Oh, uh, nothing really.
Cousin: When it came to boning a turkey, I've never seen anyone who could match him.
Ex's mother: His turkey boning was just an art.
Ex: What ARE you three laughing about? What's so funny?
Me: Don't mind ... uh ... I'll explain later.
Cousin: I remember one Thanksgiving. Claus had just gotten through boning the turkey, when....
Permalink · Personal · Comments (1)
Posted by David Hardy · 24 October 2006 06:17 PM
Instapundit recalls that the Washington snipers were busted four years ago. An excellent example of the unorganized militia at work. As I recall, the police had gotten their IDs (not very hard, after they asked for cash to be wired to an account one owned) and license plate.
The police wanted to keep it quiet, but mistakenly broadcast it on an unencrypted radio channel. Reporters got ahold of it and reported it. A truckdriver, keeping his eyes open, spotted their car and called police.
Going by memory here, but the citizenry did a much more credible job than law enforcement. Local police had set up a hot line for sniper reports. When the real sniper called in with his demands, they repeatedly hung up on him. When he called the police directly, they told him all such calls must go to the hotline. He finally called a clergyman and got HIM to call, figuring they might at least listen to a minister, which they finally did. Then the FBI profilers had their say: the sniper was a young caucasian loner, who'd recently experienced some traumatic event. Wrong on everything.
Permalink · Personal · Comments (1)
Posted by David Hardy · 11 October 2006 03:20 PM
From my earlier days, here is a movie ofmyself and my son Mark snuffing Barney the Dinosaur. He's got the AR-15, I had the full auto Thompson.
[Not to say this is a bit old, but it was done on 8mm digital, as a quicktime .mov file, since MPEG either wasn't around or was too expensive].
Permalink · Personal · Comments (2)
Posted by David Hardy · 10 September 2006 09:53 AM
I get up this morning, look out front, and what do I see but an albino roadrunner!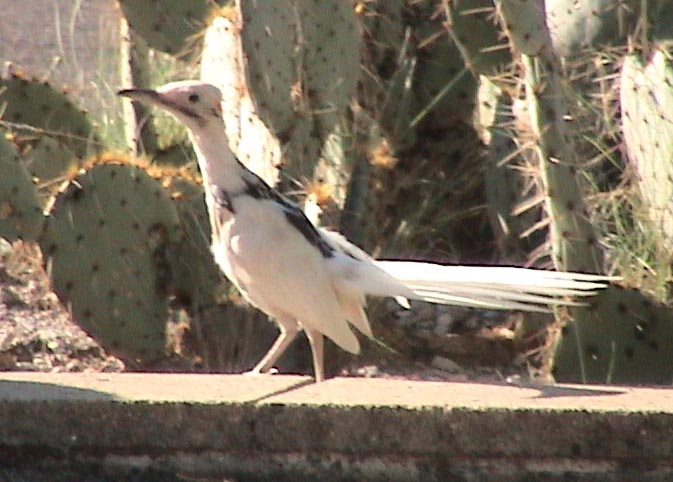 Posted by David Hardy · 1 September 2006 01:32 PM
I just remembered my late father and late uncle talking about the military around WWII and how its status changed so suddenly.
My uncle, George Ferguson, enlisted in the Coast Guard before WWII. At one point he was in Norfolk, the big port, in then-segregated Virginia. The restaurants had signs up: "Negroes and Sailors Not Admitted."
After the war, he was demobilized far from home, and it took several days to get back. In all that time he didn't buy one meal. He'd eat, put money on the counter and the owner would push it back to him, grinning and saying "Your money's not good here, sailor," meaning it was on the house. Or when the check was put down, a civilian would snatch it up and say it was his privilege to buy his meal.
Dad was demobilized on the east coast (he'd been USAAF and it left him terrified of flying... he drove from Tucson to D.C. for our wedding and the baptism of our first kid rather than fly. He set out to return home by thmbing a ride. A guy picked him up, and said they could make Arizona in two days by driving day and night -- the one not driving would sleep in the back seat. Off they went. That meant the owner was trusting a perfect stranger to drive his car while he dozed, but he was a serviceman, wasn't he?
In 1940, a serviceman was treated as scum. In 1945, a man in uniform was treated as at least a completely trustworthy fellow, and often as a hero. [More below]
Continue reading "Thoughts on military status"
Posted by David Hardy · 8 August 2006 10:36 AM
So I awaken this morning, and find a specimen of furry, baby, wildlife drowning in my pool. Of course I rush to the rescue!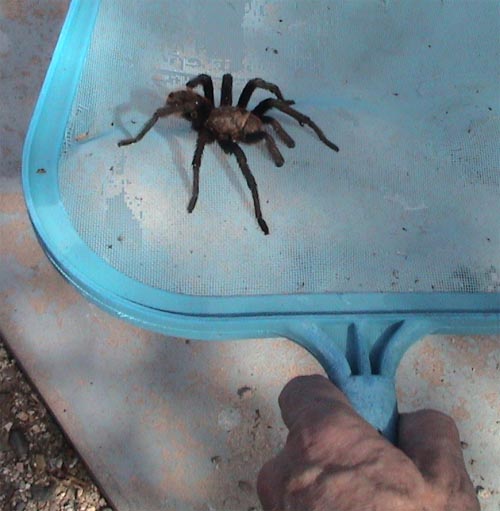 Posted by David Hardy · 1 August 2006 10:14 AM
Larry Pratt, of Gun Owners of America, lost his 23 month old grandson, Luke, to an accident. Luke is the son of Larry's son Erich.
If any of you are in the DC area, memorial service is Thursday at 2:00 p.m. at the Harvester Presbyterian Church at 7800 Rolling Road in Springfield, VA 22153. In lieu of flowers, they suggest contributions to the church, with "Hispanic Ministery" written on the note line.
There's nothing worse than losing a child. It makes things like the prospect of your own demise seem trivial. I never went that far, but did spend 3-4 yrs thinking I was going to lose my eldest.
Permalink · Personal · Comments (0)
Posted by David Hardy · 16 May 2006 09:41 AM
I'll be heading to Milwaukee tommorrow, and will likely be doing very little blogging until Sunday.
Three years ago today I was flying to Falls Church VA, for my eldest son's 18th birthday. He lived there with my former wife... we'd divorced in 1990 and years later I'd remarried, but we were on good terms, if still, well, arguing from time to time.
His mother had been diagnosed with cancer in January, and she'd been telling me the chemo was taking care of it. I got out to the house and found her in bed on oxygen. A four day trip turned into two weeks, during which (the rest of the family chickening out) I had to tell her that the docs said she wouldn't make it, arrange a funeral and a probate. I've got a memorial page to her here. Look in the wedding photos if you want to see a young Wayne LaPierre with Austin Powers-type haircut.
You'd think after 20 years of argument it wouldn't hit hard, but it certainly did. I still put flowers on her grave every time I'm in the DC area, tho I stopped weeping while doing it after a year or so. Bottom line was that we'd shared a life and a love and a bed and a child for years. Her father, my best friend, had died in 1985, and she was laid to rest next to him. Her mother died nine months later, and went in the plot as well. That entire family wiped out.
Continue reading "Three years ago"
Permalink · Personal · Comments (2)
Posted by David Hardy · 14 April 2006 12:01 PM
In a prior life (1982-92) I was a bureaucrat, a GS-14 at Interior Dept HQ in DC. Good pay, good benefits, cast-iron job security. I thought I'd let you (we) taxpayers know what the bureaucracy is like.
To a bureaucrat there is right, wrong, and "our position." The last trumps anything, including reality. It really does resemble mental illness at certain levels. I once reported to the client agency what had happened in court ... we argued this, they argued that, the judge made this ruling. My boss's boss became terrified ... I'd told them what had happened, without making sure that was "our position." I asked how one can have a "position" about hard facts and he gave me a blank stare, then went back to worrying.
At one point the administrative types, bean counters, hit upon a bureaucrat's dream -- make yourselves look good, while someone else does the work. Their plan was to have a case briefing book, where every litigation matter, no matter how complex, was to be distilled to one page, with 5-6 mandatory segments. No one knew how many cases interior had going -- they guessed several hundred. It turned out to be over 7,000. The briefing book became a set of big 3 ring binders, maybe 3 feet of paper, renewed once a month. When the field offices sent theirs in (via 300 baud modem, the only type then available) it tied up the system for two days. So they ordered field offices to send them in via 5.25" floppy disks and overnight mail. Then we in HQ had to edit them and make sure they were perfect. But the field offices never got our changes, so everything had to be re-edited next month. Then they decided that this didn't highlight changes in all that paperwork. So each month's changed parts were to be in bold.
Down at the bottom of each page was "For further information contact (name of atty handling, and phone). Secretary Lujan actually read his copy, and sometimes found something interesting and... called the staff atty handling it to chat. The mid level bureaucrats became terrified. He was getting the real scoop from the attorney, not "the office position.: He wouldn't stop it. So we got written orders, no kidding that if we were called by the Secretary we were to refuse to discuss a case and tell him to go through channels. (We were under the Solicitor, who'd been personal attorney to Geo. Bush I, and so the Secretary couldn't fire him).
When people wrote in to the Secretary, he never saw it. The mail room skimmed everything off and sent it to the office they thought handled it. The office (i.e., if you were complaining, the people you complained about) then wrote a letter for the Secretary and it went up the chain of command. In every case I can recall, he signed it -- being quite busy, and knowing only that everyone below him, who knew more of it than he did, said this was what happened.
You were in little risk of getting dinged for giving stupid advice, but were always dinged if there was a typo. If you had typos in more than 10% of documents, it cost you at evaluation. The typists were making typos constantly, but you were held accountable. You'd make corrections, and they'd make new typos. Many attorneys read their documents with a ruler on them, carefully going down one line at a time and concentrating on each word. Try that with a 20-30 litigation report... one typo and you'll be dinged. It took 2-3 days to get a one page document together on average (only late in my time did individual attys have their own computers and word processors. I once had an emergency matter bounced back because on page two I had said "indian tribe" when protocol was "indian tribe." Another document get bounced back because it had one space between the period ending one sentence and the first letter of the next and the Govt Style Manual said use two spaces. Then when you were done the document was set up in a package (including seven copies for various files. If you were smart you made one for yourself, since nobody could ever find documents in those files. If anyone above you made a change or caught a typo, start the process again, make seven more copies....
We worked as hard as anyone else, no laziness there. But the bureaucracy was such that we were lucky to get done in a week what one energetic person could do in a day.
Amusing tale: one day an electrical socket burst into flame in the office of the Deputy Director, Fish and Wildlife Service. He ran outside to the newly installed, multi-million dollar fire alarm and threw it. Nothing happened. He grabbed a fire extinquisher. Nothing happened. (He was lucky -- they were pressuried water, not the thing you want to use against an electrical fire). They finally got it out, and had to take crowbars to the window to get it open -- all windows were long ago painted shut, and by intent (if you left one open at night, pigeons flew in and roosted). About two months later we got memos from the administrators telling us to be aware this was National Fire Prevention month ... and ending with a note that they hoped to have the fire alarm system repaired soon. I suspect any private office that knowingly had a nonfunctioning fire alarm system for two months would have been shut down.
Posted by David Hardy · 20 March 2006 12:10 PM
March 20. Twenty one years ago I lost Bill Avery, my father in law and best friend. Yup, the two aren't ordinarily synonymous. My then-wife, Frances, was pregnant with his grandson.
In May, 1985 Mark was born at Fairfax Hospital. Eighteen years and a couple of days later, Frances died in Fairfax Hospital, and I buried her next to Bill. Here's a website memorial to them.
Permalink · Personal · Comments (2)
Posted by David Hardy · 4 January 2006 06:45 PM
I'll be out of town until next Wednesday, blogging light if at all until then...
Permalink · Personal · Comments (1)
Posted by David Hardy · 24 December 2005 12:27 PM
From Reuters comes an article on naughty santas. My favorite:
"That incident paled in comparison to what happened in Auckland on Saturday when 40 drunken Santas rampaged through the city center, stealing from stores and assaulting security guards in a protest against Christmas becoming too commercial."
Permalink · Personal · Comments (0)
Posted by David Hardy · 13 December 2005 02:37 PM
In a bit of utterly shameless self-promotion, might I suggest as stocking stuffers three documentaries starring ... myself. "Fahrenhype 9/11" is a really professional demolition of Michael Moore's "Fahrenheit 9/11."
"Michael Moore Hates America" also takes on Moore, but uses humor as its tool. I found it quite amusing. The plot is their attempts to interview Moore (who goes to great lengths to hide from any possibly hostile interviews, down to refusing to give out where his studio is actually located, and using a mail depot as its address). I particularly liked the scene where they talk to the mail depot, discover that the depot will notify Moore's shop immediately if anything perishable is delivered ... so they go out and get a big bunch of roses, deliver that with a sweetheart card addressed to Moore and asking if he'll give them an interview now.

Finally, radio and TV host Larry Elder's "Michael and Me" started out as a rebuttal to Moore, but evolved into a broader pro-gun documentary. He must have invested a fortune in it, as it was shot on film rather than video (which increases materials and editing costs by a factor of ten or so).

Permalink · Personal · Comments (0)
Posted by David Hardy · 11 December 2005 12:44 PM
Just in case any readers have connections with DARPA or suchlike, I'll post an email I sent to the Marine Corps lab--
From what I hear, many of the improvised explosive devices use cellphones as detonators.
Most electronic receivers put out a radio frequency field, due to the necessity to "mix" frequencies up and down (it's often better to discriminate between signals at one frequency range, then take it back down before amplifying). Thus even a receiver transmits, albeit faintly. That's how police are able to have "radar detector detectors" that spot when a driver goes by with a radar detector operational
in his car. The police detector picks up radiation emitted by the driver's radar detector. That's also why the airlines make passengers shut down cell phones, laptops and ordinary radios during takeoff.
I don't know if cellphones radiate a more powerful signal, so the network knows where you are when a call comes through to you. They might keep track of your location, or might query the entire network when a call is received.

Might it be possible to build a cellphone detector? The range might be improved with a yagi or other directional antenna, which would also let you judge which direction is the cellphone.
It could be mounted on a remote control vehicle (heck, even one of the fancier remote control toy cars) to probe ahead, or to approach a suspicious package, in which event the range need only be a few feet. It could relay back by radio its findings, or if designed on the cheap, just light up a light to show cell phone presence. I suspect these could be made in quantity for fifty dollars or so.
Permalink · Personal · Comments (6)
Posted by David Hardy · 21 November 2005 05:28 PM
Since I've got my address on several websites, and probably in many inboxes as well, I usually get the first wave of any email viruses. One started going around today, focusing on trying to get you to open a contaminated .zip file. Some of the emails are plausible, but some are rather amusing ... notices from CIA and FBI that they have logged you on "illegal" websites and ask you to open the attached zip file to see their questions.
Another variant is emails from gsa (General Services Administration), with different messages--you've been added to a database or mailing list, here's your password, did you lose my email address, etc.
Permalink · Personal · Comments (1)
Posted by David Hardy · 10 November 2005 07:31 AM
Blogging will be light thru next Tuesday... I'm off to the American Association of Law Schools convention in DC.
Permalink · Personal · Comments (0)
Posted by David Hardy · 22 July 2005 02:59 PM
A fellow I've been in email correspondence with, a Turkish Moslem, has established an interesting blog, The White Path. (Title is taken from what his last name means in Turkish).
Very interesting insights, which gives you a view as to how things look from over there. It's not always what you'd expect.
For example, some Turks are rather anti-Bush because they're suspicious he may lean too far toward Islamic fundamentalism (and Turkey is *strongly* secular in its politics). After all, if he's a devout, perhaps fundamentalist, Christian, why wouldn't he naturally prefer devout, fundamentalist Moslems, to secular ones?
He also points out that other Turks lean toward anti-Americanism not because of politics, Iraq, military matters, but because they see the traditional, family-oriented, value-holding America (which they admired -- they LOVED "Little House on the Prairie) collapsing into a valueless, materialistic, atheistic morass. (He pointed out that the 9/11 terrorists did not hit the Vatican or other religious symbol, and middle eastern terrorists rarely target synogogues. Instead the first hit the WTC, a symbol of modern materialism, and the latter prefer to hit Israeli nightclubs and bars).
Posted by David Hardy · 15 July 2005 10:00 PM
Off to VA for a few booksignings, and probably out of internet touch -- will be back Wednsday!
Permalink · Personal · Comments (0)
Posted by David Hardy · 7 June 2005 02:05 PM
Via Clive Davis' blog... a couple of postings on his interview of Jesse Larner's new book, "Moore and Us." first post and second. His page has a link for UK Amazon orders; I can't find it on Amazon US yet.
Permalink · Personal · Comments (3)
Posted by David Hardy · 12 April 2005 06:09 PM
Flying out early for the conventon in Houston. I'll try to live blog, or at least report, from there.
Permalink · Personal · Comments (0)
Posted by David Hardy · 10 April 2005 09:57 PM
Had to take a break to film Clayton Cramer, and to replace an evap cooler (which Clayton was kind enough to help me get up onto the roof). He was supposed to fly home this morning, but the Denver airport was snowed in, so he goes back tommorrow. Tonight we had dinner with Kevin Baker of thesmallestminority and then Clayton was off with his enormous binocs to try stargazing.
Permalink · Personal · Comments (2)
Posted by David Hardy · 2 April 2005 09:51 AM
Blogging is a little slow today. I'm busy feeding a Great Horned Owl chick (if you can call a fellow this size a "chick") that blew out of my palm tree the night before last. He's now sitting up and the wildlife rescue people are on the way. To get an idea of his size, compare my hand -- and I'm 6'4" and take 37" sleeves, so that is not a tiny hand.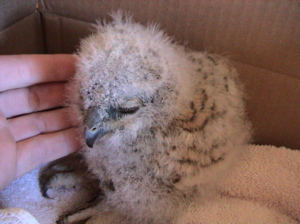 [Update: They got him and he's doing well. In respose to comments, no, by "feeding him" I don't mean I was masticating the mice for him! I only had to give them a couple of chomps before he got the idea.]