« Pack vs. herd, 1886 | Main | Documentary getting coverage in Canada »
A genealogy-related find
Posted by David Hardy · 13 May 2007 05:53 PM
Arizona has put its birth and death certificates online, and here's my g-grandfather's death certificate. They got the name right: "Nathaniel M. Hickman, also known as C.W. Hardy." He was a fugitive from the law -- shot man who'd cheated him, at Ft. Lyon, Colorado, fled to AZ Territory, and became a judge. Someone once told me I ought to make a movie on it. I responded Clint Eastwood's already done it. "Unforgiven."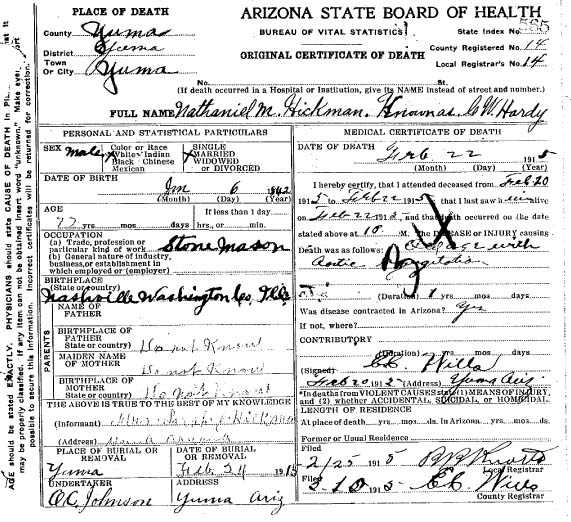 Glad to hear I was of help to a reader! Other great geneo sources are:
The US census. I think the 1930 one is now available.
In the late 1800s, Arizona had territorial censuses, in between the national ones. Other states may have had them, too. I found copies in the state capitol building, in Phoenix, I forget which office.
Civil War enlistments and pension records are at the National Archives, I think now moved to a site in Maryland. They're accessible easily because most states published books that listed all the regiments and who was in them, often with a name index volume at the end. Always go for the pension records. LOTS of vets applied late in life and tried to link their ailments back to service (because for them that was the sickliest part of their life; remember that disease killed twice as many as combat). And a person who was killed would have a spouse or parents putting in for a pension.
A good local resource is any Mormon "Family History Center." They're open to all, are sort of like a geneo library, and can order in stuff from the gigantic FHC in Salt Lake City.
You've got to be alert to aliases, tho. There were so common that the civil war pension forms had a blank for them. And to different spellings. Until a person was literate, their name would be spelled however the listener thought it sounded. Colin=Cullen=Collin=Cullomb. And when a family did become literate, some spelled it differently. One branch of my family spelled it "Bogart" in one generation and "Bogard" in the next, and I've seen a case where one brother and his family spelled their names Fogel and the other brother and family spelled it Vogel.
· Personal