« Camp Perry results online | Main | More on how hard it could be on the frontier »
Introducing the family
Posted by David Hardy · 22 July 2007 08:09 PM
My great-grandather, Judge Charles Hardy, first Justice of the Peace of Cave Creek, Arizona Territory. He was also a gunman name Nat Hickman, who fled the law after shooting a guy in Colorado, and took Charles W. Hardy as his alias. He 'fessed up when he applied for a Civil War pension many years later. I've always wondered if he left a clue in this photo. His left hand looks like it has a glove with the fingertips cut away. Elmer Keith wrote that the old gunmen always did that, to make sure they have a feel for the trigger. I suspect it amused him to leave clues. For example, his cattle brand was N/H -- his real initials, plus a slash, and in the civil pension application he mentions as a distinguishing mark a knife slash on his cheek.
I know he was a gunman because a turn of the century doctor wrote of his experience in the Arizona Territory, and of knowing a "rancher Hardy" in Cave Creek, who was incredibly fast with a gun and terrified him with tales of how outlaws were just killed out of hand.
At his side is Sarah, an Indian who was widow of the first JP of Phoenix (who got relieved after he shot a man in a street fight and fled the law). The taller boy is Jesse Hardy, whose headstone I posted earlier, and the shorter my grandfather Mark Hardy.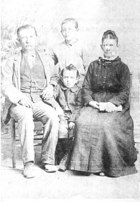 · Personal