« July 2008 | Main | September 2008 »
August 2008
Posted by David Hardy · 31 August 2008 06:24 PM
Story here.
Had the same issue here in AZ. It'd help if drafters of legislation remembered always to include a saving clause. I.e., this legislation applies to events occuring after the effective date, or prosecutions filed after its date, or cases pending on its date, or cases or appeals pending on its date. Just say what it is, and that's it. Leave it open, and anything can happen (most likely the courts find it only applies to events occurring after its date). I did some research a ways back, and found some cases indicating that a loosening of a criminal statute is given broad effect, while a tightening, under the double jeopardy clause, can't be given.
Permalink · State legislation · Comments (2)
Posted by David Hardy · 29 August 2008 09:46 AM
Story here.
Reduced to a nutshell: federal law says a conviction does not count if it has been "expunged," or firearm rights have been restored. Under Wyoming law (and that of a lot of other States), a misdemeanor domestic violence conviction can be "expunged," with a ruling say that it is so, even tho the record is not physically destroyed and can be used, if the person offends again, to enhance the sentence.
Is that "expunged" or not? Wyoming argues it is -- the purpose was to let state law control the question of whether a person is convicted, and here's a state court order saying the record is "expunged," using the very word of the statute. ATF argued, and the 10th Circuit agreed, that something isn't "expunged" if it's still sitting in court or government files and has future legal effect.
I wasn't involved in the case, but thought the key would be to look at what expungement schemes looked like in 1986, when the Firearm Owners' Protection Act, which inserted the expungement language, was adopted. My memory is foggy, but as I recall there was the federal Youth Corrections Act, which I think did destroy records, and some early State laws. Congress was acting against the background of that legislation ... what did it provide?
Hat tips to Jim Kindred and Dan Gifford...
Permalink · Gun Control Act of 68 · Comments (4)
Posted by David Hardy · 29 August 2008 09:35 AM
She's an NRA lifer, which is good, and a hunter. Gotta say, she adds more to his ticket than Biden adds to Obama's.
Permalink · Politics · Comments (17)
Posted by David Hardy · 29 August 2008 08:29 AM
District Court ruling, in pdf, here. Defendant, a reservist, has two handguns (one a semiauto, one a registered full auto) and two shoulder stocks that would fit either. The shoulder stocks double as holsters, and he has one handgun in each when ATF raids him (on other grounds, which turn out to be a legal mistake). Government argument is that the semiauto plus the stock in which it was holstered equal an unregistered short-barreled rifle. The District Court says no -- using the Thompson Arms test, the two stocks had a purpose other than an illicit one, namely being fitted legally to the full auto.
The government has appealed, but it looks like a sound ruling to me. What saved him was having a registered full auto that took the stocks. What might put him in danger is having the semi-auto holstered in one of them (even tho under Thompson Arms, that should make no difference).
Permalink · National Firearms Act · Comments (8)
Posted by David Hardy · 28 August 2008 09:34 AM
Story here. OK, maybe it wasn't the type of gun owner most of us would care to be around, but it must count for something.
Hat tip to reader Jim Kindred...
Permalink · Politics · Comments (3)
Posted by David Hardy · 28 August 2008 09:28 AM
Before returning, I head to DC for a business matter, and stay in a three story motel in Arlington VA. Tuesday morning I'm awakened by a lot of engines running outside, sound of people walking around and talking. At first I thought it was construction ... but in a hotel at 6 AM? So I open my door and see this. (Click on the image for a bigger one).



Firemen said some guy on the third floor (one above me) had flipped out and set fire to his bed. They contained it and saw no need to evacuate everyone. The hotel is concrete, and with open halls and steps it's one gigantic fire escape anyway. After a morning of shoot houses, it took more than this to wake me up, so I went down for some coffee.
Posted by David Hardy · 27 August 2008 01:44 PM
This was our transport down to Blackwater (click on thumbnail for bigger image). Pretty nice! It picked us up at the hotel and then stopped at Blackhawk's headquarters for a tour and presentations. We were issued a pair of their holsters, which were VERY nice. One version has the gun held by an adjustable detent. The other has a detent plus a clamp on the front of the trigger guard, which you release with your index finger on a button on the holster's exterior. Both have a cutaway front for faster draw and easier holstering. For those PDs requiring three-point security, they have all that and one with a housing that fits over the rear of the handgun and is released by your thumb during draw.
Of course that's just the beginning -- for the military, they had the same holsters that could be fitted to the center chest area of body armor, and some that could be mounted in multiple locations.

Posted by David Hardy · 27 August 2008 01:36 PM
Here's the inside of the Blackhawk bus that took us to the shoot. It was quite a comfortable ride, altho not so classy as the Suburbans we later drove. Click on image to enlarge.


Posted by David Hardy · 27 August 2008 12:47 PM
They loaned us a couple of Suburbans that had been lightly used in the "ram your way out of an ambush" exercise. The insides were full of spent and live ammo, one had two bullet holes, both had windows gone. It was unspeakably cool transportation. This was the one in better condition. The other had a cracked windshield, three windows blown in, and a headlight dangling by its electrical cables. Click on the image for a full size shot.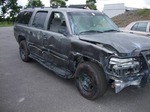 Posted by David Hardy · 27 August 2008 11:06 AM
Right here.
Posted by David Hardy · 25 August 2008 04:58 PM
It was some astonishing stuff. Made by International Cartridge Corp., of Reynoldsville PA. It's made of sintered copper and tin. The 9mms weighed in at 100 grains, the ,45s at 155. We shot steel plates at 3 yards and no splash back, no jacket fragments, a couple of times I felt something touch my leg, that was it. But it shot like the devil. Todd Jarret was shooting at 6" targets at 100 yards for the heck it it, knocked one down with 8 rounds, the rest grouped a little low, but it was a tight group. At 10 yards he shoot a one-hole group. They say it's as accurate as ball and I'd believe it.
Jarret said he became a believer when the inventor gave a little demo. He took an H&K subgun, held the muzzle 1-2" from a steel plate, and burned thru an entire magazine at full auto. All that he felt was a sort of draft from the muzzle gasses, and a cloud of copper dust. The company rep said they're now making hollow point. The key is that you can control the behavior by controlling pressure and heat, and made the bottom of the bullet behave differently from the tip. Because it's all copper and a little tin, there's no worry about EPA getting on a range's back over lead, and if you vacuum up the copper and tin they have scrap value.
Posted by David Hardy · 25 August 2008 03:42 PM
Didn't have time to post before this, but it was wild! Todd Jarret took us thru the shoot house, twice! Imagine a steel building (it looked like 3/8" plate, covered in plywood) divided into rooms, all doors shut, you open the door and there might be anything inside. Good guy targets, bad guy ones, both with one covering the other ... or nothing at all. Firing live ammp. You get your adrenalin up so high that some guys were whooping and shouting at the end, when Todd grabs your shoulders from behind and says that's the end. I'm still pumped, a day later.
Then out to another range to try an AR-15 variant that Para will be bringing out soon. I liked it a lot. It has an operating rod rather than using gas impingement, which cures the AR-15's biggest problem. The bolt spring is moved forward of the receiver rather than mounted in the buttstock, so it can have a folding stock. A serious compensator that really does make it recoiless, if rather noisy. And this version had a fine optical sight. Todd J. fired it so fast it sounded like a slow full auto, say 500 rpm.
On the way to the range our lead Suburban pulled into another 'urban area" range and found it had 20 women in burkhas. OK, someone else's drill. and while we shot, the Muslim call to prayer played in the background. Behind us was the auto track, where cars regularly spun out. On one occasion we heard q thunderous boom from it, saw smoke rising, and heard gunfire, so I guess the drivers were being tested on an IED attack and ambush.
Posted by David Hardy · 23 August 2008 06:31 PM
I ache all over. Eight hours of shooting. Shooting while moving toward, away from, or parallel to the target, shooting at moving targets, shooting while moving at moving targets. I don't know how many hundred rounds. My right hand feels as if it were sandpapered. Another shooter has a blister on his palm.
I'm coming to like the Para LDA trigger. I've always shot single action 1911s, never once shot a double action auto, so it takes getting used to. It's indeed a light pull compared to what I expected in a DA. As one shooter said, a Glock-like trigger on a 1911 chassis. Chuckle--the Glock shooters took to it readily, but had no idea of how to take it apart, and the 1911 shooters had the reverse situation.
Para-Ord handguns may become collectibles, soon. The company is changing its name to Para USA and relocating its manufacturing from Canada to North Carolina.
Amusing note: To shuttle all the people around, Blackwater lent us two Suburbans. They were vehicles used in their ramming exercises. One is minus front bumper, grille and one headlight, plus two windows, with windshield heavily cracked. Both had been badly sideswiped, and one has bullet holes. They are full of expended or live simulated ammunition (firing tiny paint balls). They're so badly beat up that one had a fender portion fall off while parked outside the cafeteria. They are, of course, great fun to ride in.
Posted by David Hardy · 22 August 2008 06:01 PM
Pretty tired. Sitting here with six gun bloggers (now that Sebatian/Snowflakes in Hell came upstairs). They're probably concentrating on the shooting so I'll cover what led up to it.
First a trip to sponsor Blackhawk, which made the holster and other equipment we're using. VERY inventive folks. They operate with development and manufacturing in tandem, which reduces time to market. And all made in USA. One competitor outsourced all operations and closed their ship. Blackhawk bought the premises. The employees were fired on Friday, and on Monday Blackhawk was calling them with job offers, in their same old building.
Some of the stuff they developed -- uniforms with two built-in tournaquits on each limb. With body armor, bleeding out from a limb wound becomes more more prominent as a source of KIAs. Hit, you can try to hunt up the issue tournaquit and apply it. Or, with their uniform, pull upon a velcro flap, yank on the tournaquit to take out the slack, and start turning the handle. The folks speaking said that they are constantly improving based on comments from users ... move this pocket here, that feature there, we'd like to see this.
Then on to the Blackwater training facilities. 6,000 acres of them. An auto driving course with things like berms that obstruct views, so an ambush can be set up on the other side. A checkpoint where you can (for extra cost) be trained in ramming the blocking vehicles out of the way, (And a scrapyard where they put the rammed vehicles when they're too beat up). 500 vehicles to drive so you can train in what you drive. Oh, and three shooting ranges just off the course so you can pull in for gun training. The auto course needs repairs since they set off explosives on it. An area with sprinklers to simulate rain-induced skidding.
Threel shoothouses (largest 5000 sq. ft.) that we'll use Sunday, Walls and second floor built out of bulletproof steel sheathed in plywood to catch fragments. Up in what would be the attic, catwalks so instructors can stand above. A few doors were blown in -- there'd been training in breeching charges recently.
Urban areas for shooting, too, and known and unknown distance sniper ranges out fo 1200 yards. Not to mention two ship simulators, and one train one, in case you needed to train on that. Plus the more standard ranges, altho even those include moving targets.
Posted by David Hardy · 22 August 2008 05:28 AM
Story here.
Posted by David Hardy · 21 August 2008 10:40 PM
pdf here. How they reconcile with the GCA 68 definition of firearm as the receiver (so that manufacture = making the receiver) is beyond me. By their definition, a person who assembles receivers to other components is also a manufacturer, as is a gunsmith who regularly sporterizes military guns into hunting rifles.
Permalink · Gun Control Act of 68
Posted by David Hardy · 21 August 2008 09:39 AM
In a short time I'll be on the plane for the Blackwater shooting facility, to meet with the other gun bloggers who won the Para Ordinance competition and will also be training there. Blogging will be light for a few days, tho I may be able to post some pics and relate the experience. I hear they ordered in 1,000 to 1,500 rounds per person....
Posted by David Hardy · 19 August 2008 06:30 PM
With regard the Demo platform acknowledgment that "What works in Chicago may not work in Cheyenne," it's worth noting that:
"This election season, for instance, the residents of Obama's hometown are being murdered at a clip not seen in five years.
Murders have risen 18 percent over a year ago. Assaults in the city involving guns are also rising. City officials, Police Supt. Jody Weis and the police force are increasingly coming under criticism."
Update: Fighting for Liberty notes:
Homicide rate: Chicago 16.4, Cheyenne 3.5
Robbery rate: Chicago 555, Cheyenne 40
Permalink · Politics · Comments (13)
Posted by David Hardy · 19 August 2008 05:18 PM
Press release here. Of course, they're opposed.
I wonder if they see the incongruity of one section of their press release, considering that they pushed "gun free school zones" on the claim they were needed to protect children:
""It is a myth that 'gun-free schools' somehow make our children more vulnerable," said Brady Center President Paul Helmke. "In fact, America's schools are some of the safest places for them to be. As Gary Kleck, a researcher frequently cited by the gun lobby, has noted, 'both gun carrying and gun violence are … phenomena almost entirely confined to the world outside schools.' Less than 1% of school-age victims of homicide are killed on school grounds or on the way to or from school."
Posted by David Hardy · 19 August 2008 09:35 AM
Right here. Tho I am a bit suspicious of the claim that they frequently practice with weapons (80% practicing, average 23 times a year). A big city gang banger is going to be hard put to find open countryside in which to shoot. I note they only studied 43 offenders, so perhaps the results should be taken with a bit of salt.
Permalink · Crime and statistics · Comments (13)
Posted by David Hardy · 19 August 2008 08:37 AM
John Rosenthal, the millionaire founding director of AHSA (he resigned last year after his antigun connections became a little too publicized) has taken out a billboard that is a fake gun store front proclaiming "We Sell Guns! No ID required. No background checks. Criminals and terrorists welcome!"
"Gun shows are the equivalent of Al Qaeda terrorists walking directly onto the airplane while you and I wait in the TSA line," John Rosenthal, founder and chairman of Stop Handgun Violence, said in a recent interview."
So much AHSA as supposedly representing shooters...
Hat tip to reader Jack Anderson...
Posted by David Hardy · 18 August 2008 11:03 AM
Hat tip to Six-gun Sarah...
Posted by David Hardy · 18 August 2008 08:22 AM
Chicago Public Radio has a story. The group doing the drafting, Legal Community Against Violence, is a Joyce Foundation subsidiary.
Permalink · Heller aftermath · Comments (7)
Posted by David Hardy · 18 August 2008 08:11 AM
Story here.
Permalink · Heller aftermath · Comments (0)
Posted by David Hardy · 17 August 2008 09:15 PM
Permalink · Politics · Comments (0)
Posted by David Hardy · 16 August 2008 09:57 PM
Story from WTOP News. One FFL dealing with the public (temporarily out of business while he changes address), $125 charge to transfer and paper a gun.
Interesting that, while before Heller, the city government was predicting the fall of Republic if their ban wasn't sustained, and now the Chief of Police is simply encouraging people to get firearms safety training, and suggesting maybe someone ought to open an indoor shooting range in the city.
Permalink · Heller aftermath · Comments (7)
Posted by David Hardy · 16 August 2008 10:25 AM
The 8th Circuit has so ruled. (pdf). The ruling essentially says that a well organized militia must be a State organized militia (and the State law recognized non-Guardsmen only as the "unorganized militia") hence his possession of the NFA firearms was not related to service in a well organized militia.
I can't see how this analysis can be squared with Heller, where Heller was not a member even of DC's unorganized militia (he was over the age limit) and DC didn't want him to have the firearm in question.
The court does turn to Heller -- without noting that its preliminary point is contra to Heller's holding -- and holds that machine guns are not in common use.
The ruling also sustains a trial court order that forbade his counsel to argue the 2A issue to the jury. This would be in accord with case law over the last century or so, but not in accord with the practice at the time of the framing. For my money, it just makes trials more boring. Patrick Henry would be serving a million years for contempt these days. (A side issue: many courts require counsel to stand at the podium, 30 ft or so from the jury, while arguing. This again makes things rather impersonal and thus boring. I think it's a matter of control -- don't want attorneys to have too much influence -- and a feeling that if everything is mediocre and contained, things will be fairer, since an attorney who cannot speak worth a dang will not be disadvantaged. Goodbye Patrick Henry, and goodbye interesting trials).
Permalink · Heller aftermath · Comments (14)
Posted by David Hardy · 16 August 2008 08:45 AM
Story here. It's claiming that its license to store fireworks (explosives) puts it within an exemption to the statue allowing employees to leave firearms in their parked, locked, cars while working. That's not how I read the statute. Disney has now agreed that employees at sites other than the big one, which has the explosives license, are protected by the law.
Posted by David Hardy · 15 August 2008 09:01 AM
Story here.
Hat tip to reader Charles Oldfield....
Posted by David Hardy · 14 August 2008 11:45 AM
With the usual result: people who are not criminals pick up some cash for old guns. The sad part here is that some of those had history, ownership by grandparents, purchase by a fellow, as a child, 70 years ago, etc..
Hat tip to reader Jack Anderson...
Posted by David Hardy · 14 August 2008 10:12 AM
Report here. They were selling so many stolen guns on the street that locals complained. I find it surprising that police then had to set up a sting to catch them. I'd have thought FedEx would have a little more security, i,e,, security cams inside), or at least a system where workers could carry seventy boxes shotguns out to the parking lot.
UPDATE: link fixed. I'd cut and pasted it from the original, and it worked when first tested. Maybe they changed the page?...
Posted by David Hardy · 14 August 2008 09:27 AM
Here's an article on the latest. Len is a firearm inventor and designer, who starting having serious problems with ATF Technical Branch after he testified as an expert witness against them several times.
Permalink · BATFE · Comments (2)
Posted by David Hardy · 14 August 2008 09:16 AM
Its member, Abhinav Bindra, just won India's first Olympic Gold Medal (in any sport) and has returned home to a hero's welcome
""As long as the sun and moon remain, the nation will remember your name," chanted the crowd at New Delhi airport."
Another report: "Bindra returned from Beijing on Thursday to be immediately engulfed by an adoring crowd, followed by a series of meeting with dignitaries including President Pratibha Patil at Rashtrapati Bhavan, Prime Minister Manmohan Singh and ruling United Progressive Alliance (UPA) chairperson Sonia Gandhi."
He's achieved the peak of fame -- now Indians are reading of "unconfirmed reports" that a saboteur may have tampered with his rifle's sights.
Permalink · non-US · Comments (2)
Posted by David Hardy · 13 August 2008 01:38 PM
At The New Republic.
Generally, he's a good thinker and writer. But not on this subject.
UPDATE: Federal laws relating to guns were pretty sparse until 1968, so indeed there was little reason for the Court to take a 2A case. If I recall correctly, around 1902 there was a law banning pistols from the Postal Service mails. Then the 1934 NFA, applicable only to full auto, short barrels, and a few other things, and still allowing those if registered and taxed. A 1938 National Firearms Act, which didn't do much -- provided for licensing dealers (I don't recall who had to get one) and they had to keep simple records of purchaser's name and address. A few prohibited person categories, chief one being convicted violent felons. Hard to see much of a 2A test case there!
Also, Prof. Wm van Alstyne has pointed out that the first case in which the Court struck down a Federal law for violation of right to speech and press... was in 1965! What we regard as normal judicial function, a careful review of laws for constitutionality, people bringing test cases, the cases getting to the Supremes, is very much a function of the last 30-40 years. That the Court didn't recognize a right as important until recently represents quite a common situation.
Permalink · Parker v. DC · Comments (20)
Posted by David Hardy · 13 August 2008 09:46 AM
For self-defense, a fellow in Scotland was reduced to carrying, under the seat of his car, a gobstopper (a very law jawbreaker type candy) in a sock.
The story comes to light after he was fined 400 pounds for carrying the weapon.
"Sheriff Kenneth McIver told him that, even though it was not in the same category as a knife or axe, it was capable of inflicting a nasty injury.
"You will be aware of the ongoing national debate on offensive weapons including knives," he told Harvey.
"But all too often this court has to consider other improvised weapons like this." "
Posted by David Hardy · 12 August 2008 11:45 AM
Here it is, in RealMedia video format. Justice Kennedy is speaking at the 9th Circuit Judicial Conference. He gets to Heller about 38 minutes in (and the rest of it is interesting, too. He has a great sense of humor.
My notes:
Audience member asks him what are the best teaching cases of his time on the Court. He names Heller, and continues:
I taught a 2A course for one year back in the 1970s, just because it was interesting. Back then, there was no there, there. Few cases and no "highly restrictive laws." Heller is a "great teaching case."
14th Amendment -- we'll have to revisit the entire incorporation doctrine (he sounds like he relishes the idea). And it's a very important case [he's referring to Heller, but I wonder if he means in follow up cases, or the 2A iin general] case for levels of scrutiny. Is the right to arms like the right to property, subject to many restrictions, or like the right to speech, subject to few?
The dissent said -- you're discovering this right after 200 years? What gives? That's not unusual. The first time we struck down a state law for violation of the establishment clause was in the 1940s, the first time we struck down a state law for violating freedom of speech was in the 1930s. Nothing wrong with that. The Constitution takes on new meaning over time. [This could be read as "living constitution," but I think he means that new meaning may be discovered by the Court]. I'm not in a class with the great Justices, Marshall, Holmes, but I do have the advantage of being able to view 200 years of history and know thereby what was folly and what was wisdom. If a right takes on new relevance, the Framers would have wanted us to recognize that.
Update: the link (rtsp://video1.c-span.org/60days/ac080908.rm) is a strange one, and I think it only works if you have RealPlayer installed).
Permalink · Heller aftermath · Comments (7)
Posted by David Hardy · 12 August 2008 10:24 AM
Right here. It's just getting going, but I figured folks might want to get in on the readership ground floor!
Permalink · Politics · Comments (0)
Posted by David Hardy · 12 August 2008 10:16 AM
Story here.
"[Alderman] Rainey suggested that the city might want to consider printing the names of all those who have state firearms cards in the local paper.
"Do you want your grandchild going to visit someone who has a gun?" Rainey asked. But no action was taken on that suggestion.
Police Chief Richard Eddington said he would recommend against establishing a local registration program for firearms owners. He said the cost of the program couldn't be justified under the city's tight budget. In addition, Eddington said, the registration program would depend on everybody telling the truth, "which in my professional opinion isn't always true.""
The Chicago Tribune calls the repealed ordinance "one of the more progressive in the country" because it banned even BB guns and paint ball guns, and that Alderman Bernstein complained ""I find the Supreme Court decision repugnant."
Hat tips to readers Bill Z., Ambiguous Ambiguae, and Jack Anderson....
Permalink · Chicago gun case · Comments (20)
Posted by David Hardy · 11 August 2008 08:30 PM
At the Volokh Conspiracy, Gene Volokh has a posting on a rather thinly reasoned District Court case, involving a gun possessor who had a misdemeanor DV conviction. The court does little more than cite other post Heller district court decisions upholding other restrictions (e.g., felon in possession) in concluding that there is no 2A problem.
The comments are interesting, one of them pointing to the Defendant's motion to dismiss, which is as thin as the opinion, basically a bunch of quotes from Heller and then a note that Defendant was convicted only of a misdemeanor. Rather illustrative of the worries of many (including me) prior to Heller, that a 2A case might reach the Court on very flimsy arguments in a criminal case.
Also as some comments point out, district courts have massive dockets, and a natural inclination to duck complex legal issues -- those will be for the Circuit Courts to figure out. I spent part of today in a pretrial conference in the local US District Court, on a civil case. The judge reportedly has over 500 cases on his docket, mostly criminal and subject to deadlines. We needed two weeks for a civil trial, and got set for next March, unless a six week criminal trial that he has set cancels out. This is after all discovery and major motions have been dealt with, and everyone is ready to roll.
Permalink · Heller aftermath · Comments (3)
Posted by David Hardy · 10 August 2008 02:40 PM
My friend Jim Warner has a column on the subject.
In the meantime, the Demos keep digging. Their draft platform (pdf) at p. 43, states:
"We recognize that the right to bear arms is an important part of the American tradition,
and we will preserve Americans' continued Second Amendment right to own and use
firearms. We believe that the right to own firearms is subject to reasonable regulation, but
we know that what works in Chicago may not work in Cheyenne. We can work together
to enact and enforce common-sense laws and improvements, like closing the gun show
loophole, improving our background check system and reinstating the assault weapons
ban, so that guns do not fall into the hands of terrorists or criminals."
OK, we got beat in Heller, want regulation anyway.
1) What works in one area may not work in another. Ah, they rediscovered federalism!
2) No they didn't. We want (national) bans on AWs and other national regulations. These are going to be imposed in Cheyenne, too. The federalism works only one way: stricter local laws are OK, less strict local laws are not.
Hat tip to reader Jack Anderson....
Permalink · Politics · Comments (17)
Posted by David Hardy · 8 August 2008 03:32 PM
Mayor Kwame Kilpatrick, one of Bloomberg's mayors, gets out of jail for violating conditions of release, on a perjury charge, and is promptly charged with two felony counts of assault on an officer.
Permalink · antigun groups · Comments (2)
Posted by David Hardy · 8 August 2008 02:30 PM
His explanation doesn't do him much good, either. Yeah, he did her (and apparently was trying to last week) but he doesn't love her and he's sure the child isn't his, but sired by one of his staffers. I suspect there are quite a few who don't demand that a politician keep his zipper shut, but do expect him not to be a cad afterward.
HT to reader Jack Anderson....
Permalink · Politics · Comments (5)
Posted by David Hardy · 8 August 2008 12:29 PM
Snowflakes in Hell discusses it. The story is a bit ambiguous: it says TSA is considering "authorizing" airports to ban from everywhere, including parking lots.
Note that the request for the action comes from the Atlanta airport, which is facing lawsuits over its rule to that effect, which reportedly conflicts with Georgia's pre-emption statute. It's a good bet that the idea is that if TSA authorizes the airport to ban (and if TSA in turn has been given authority to do so by Congress, then that would override State pre-emption, under the Supremacy Clause. So essentially this is all over one airport.
Posted by David Hardy · 8 August 2008 09:48 AM
From the Baltimore Sun.
"When the shooting stopped, two dogs lay dead. A mayor sat in his boxers, hands bound behind his back. His handcuffed mother-in-law was sprawled on the kitchen floor, lying beside the body of one of the family pets that police had killed before her eyes.
After the raid, Prince George's County police officials who burst into the home of Berwyn Heights' mayor last week seized the same unopened package of marijuana that an undercover officer had delivered an hour earlier.
What police left behind was a house stained with blood and a trail of questions about their conduct. No other evidence of illegal activity was found, and no one was arrested at Mayor Cheye Calvo's home in this small bedroom community near College Park."
Puts me in mind of the line in The Wild Bunch. They ride thru a town in Mexico, buildings burning, bodies in the street, weeping women. One asks a resident, "Villa did this to you?" He replies, "no, senor. It was our own Federales. If it had been Villa, it would have been much worse."
UPDATE: comments put me in mind of the Kenyon Ballew case. Right after GCA 68, ATF raided his house in a Maryland suburb. He was innocent, the warrant turned out to be full of lies and deception (a teenage burglar had got caught, and to get mercy made up a bunch of stuff about Ballew having illegal guns and bombs. They screwed up the raid big time. Tried to enter at a back door that Ballew and his wife never used and had an aquarium in front of it. When she didn't open the door quickly, smashed it down. Then the first two officers in weren't in uniform, they were local uncover drug unit guys, meaning they looked like junkies. They pushed the uniformed guys aside and went in.
Ballew is in the bathtub, responds to wife's screams, picks up a cap and ball replica (his only gun, I think). The first two officers open fire, hit him in the head. Massive brain damage. Then they arrest his wife (on no grounds), decide to investigate the shooting themselves, and do things like cut out the walls where bullets hit.
He sued and lost. He didn't have a skilled attorney, as I recall. The government said he had a practice grenade (non explosive), had black powder, and if you fill a practice grenade with black powder, put a stopper in the hole, and tie it in with lots of filament tape, you can make it blow up. Ergo, he had all the components of a bomb.
Posted by David Hardy · 8 August 2008 07:18 AM
Bob Levy and Dave Kopel have an op-ed in the Wall St. Journal on the subject.
Permalink · Heller aftermath · Comments (4)
Posted by David Hardy · 7 August 2008 10:47 AM
Detroit mayor Kwame Kilpatrick is prominent in Bloomberg's group. It's amusing to read this report, which ends with "The mayor's chief of staff, Kandia Milton, will run the city while Kilpatrick is in jail, mayoral spokeswoman Denise Tolliver said."
Permalink · antigun groups · Comments (6)
Posted by David Hardy · 7 August 2008 09:25 AM
Not that there's a lot of strict gun laws there, but even so, Heller is having an impact.
Permalink · Heller aftermath · Comments (0)
Posted by David Hardy · 6 August 2008 10:19 PM
The National Shooting Sports Foundation is scheduling gun courses for DC residents. And DC residents are forming a lobbying group.
Permalink · Heller aftermath · Comments (0)
Posted by David Hardy · 6 August 2008 08:43 PM
Story here. Don't know if I liked the story about the guy who tried to steal copper wire from a live line, or the one about the lady who crashed her car into a convenience store and then tried to buy beer, more.
Posted by David Hardy · 6 August 2008 08:29 PM
If you're going to pull a SWAT raid, and shoot two dogs, don't do it to the mayor. That's gotta hurt promotion protential.
Posted by David Hardy · 6 August 2008 05:40 PM
Story here, regarding their first national meeting in D.C.. Rather slanted -- a five second clip from the meeting, and more from their opponents -- but then it's hard to expect much else.
Permalink · CCW licensing · Comments (2)
Posted by David Hardy · 6 August 2008 12:50 PM
Calif. Rifle and Pistol Assn has an alert out that three bills could be considered in the CA Senate Appropriations Committee tommorrow:
Assembly Bill 2062 would require an individual to possess a license to purchase ammunition, require vendors to keep a detailed record of the transaction, and simply ban mail or internet ammunition orders.
Assembly Bill 2235 would ban the sale of handguns other than "owner-authorized (or "smart") handguns" -- that is, handguns with a permanent, programmable biometric feature that renders the firearm useless unless activated by an authorized user.
Assembly Bill 2948 would prohibit the sale of firearms and ammunition on the property or inside the buildings that comprise the Cow Palace.
Contact info is in extended remarks below.
Continue reading "CA bills up for vote"
Permalink · State legislation · Comments (19)
Posted by David Hardy · 5 August 2008 08:03 PM
Here's the topper for the wedding cake...
Posted by David Hardy · 5 August 2008 03:41 PM
I don't use sitemeter (nor IE unless I have to), but a few days ago a lot of people were having trouble accessing blogs that do. Here's the info on the source and cure of the problem.
Posted by David Hardy · 5 August 2008 02:58 PM
Editorial here.
"Like Daley, this page strongly disagreed with the court's ruling. We admire his stand on this issue. But the court ruling was clear and explicit: A blanket ban on handgun ownership is unconstitutional under the 2nd Amendment."
Permalink · Chicago gun case · Comments (5)
Posted by David Hardy · 5 August 2008 11:52 AM
A report on a CT (corrected) law that allows officials to get a warrant, and seize firearms, on the belief that a person *might* misuse them in the future. Something over 1,700 guns have been taken under its provisions.
Quite apart from the obvious 2A violations, it seems to me there's a 4th Amendment issue as well. Warrants are supposed to be issued based on probable cause, i.e., basis to suspect a crime has been committed, and that evidence of it will be found. These are being issued where no crime has been committed at all.
Permalink · State legislation · Comments (3)
Posted by David Hardy · 4 August 2008 10:48 PM
Right here. It performs an excellent service, as an aggregator of aggregators, as it were.
Posted by David Hardy · 4 August 2008 05:29 PM
Via Snowflakes in Hell comes this pdf of the House Demos' proposal for a restoration of DC gun rights bill.
It has ambiguities, as might be expected, but does do away with the semiauto ban, and forbids the city to "unduly burden" firearms rights. It also *appears* (don't have time to research the DC Code) to repeal registration except as to NFA-type firearms, and to allow DC residents to purchase in VA and MD.
Permalink · Heller aftermath · Comments (4)
Posted by David Hardy · 4 August 2008 05:01 PM
The Mass. House passed a resolution endorsing the Heller decision!. Sounds as if the Gun Owners Action League was pushing it.
Posted by David Hardy · 4 August 2008 09:25 AM
Historian Robert Churchill has a detailed review of Saul Cornell's recent book on the right to arms (Cornell's approach basically is that of DC in Heller). The critical parts:
" If I am reading Cornell correctly, he is arguing that early Americans believed that the right to keep and bear arms was guaranteed only to enrolled militiamen, and that it applied only to a single weapon per militiaman. If I have misunderstood him, I hope he will use part of his response to clarify. But if I have understood him correctly, then I think he has mis-conceptualized the civic right at the heart of the Second Amendment.
Cornell makes several arguments supporting this conception of the civic right. First, he asserts that colonial and state governments exercised a police power to regulate the possession of guns. Here, I submit, he has exaggerated the reach of the police power. For example, Cornell notes that early American law empowered constables to "take away the arms" of those guilty of the common-law crime of affray (p. 30). But the disarmament in question was authorized only temporarily for the purpose of bringing the offenders before a justice of the peace.[2] When discussing regulation in the Jacksonian era, Cornell argues that several states expanded their use of the police power to prohibit "the sale or possession of certain weapons," and suggests that these weapons included both guns and knives. He specifically claims that Georgia and Tennessee passed "wide-ranging laws prohibiting the sale of pistols, dirks, and sword canes" (p. 142). There are two problems with Cornell's presentation of this material. The first is that Tennessee's statute applied only to Bowie knives, which clearly fell outside the scope of the right to keep and bear arms. The second problem is that Georgia's statute, which did apply to small pistols, was struck down as an unconstitutional infringement of the right to keep and bear arms in the 1846 case Nunn v. Georgia. Because Cornell never cites the case, it is difficult for a lay reader to discern the lack of balance in his presentation of the evidence. Cornell's assertions aside, there is little evidence that any colony or state exercised a police power to disarm citizens prior to the Civil War.
Cornell also asserts that pistols clearly fell outside of the constitutional protection afforded by the Second Amendment. He rests this assertion on the 1840 Tennessee Supreme Court Case Aymette v. State upholding the aforementioned statute banning Bowie knives. Cornell declares that "in the view of the Aymette court, the legislature enjoyed the widest possible latitude to regulate pistols" including the right to ban their possession (p. 146). But no such suggestion appears in the court's opinion. The court in Aymette declared that "the object for which the right to keep and bear arms is secured, is of general and public nature, to be exercised by the people in a body, for their common defence, so the arms, the right to keep which is secured, are such as are usually employed in civilized warfare, and that constitute the ordinary military equipment.... The citizens have the unqualified right to keep the weapon, it being of the character before described, as being intended by this provision."[3] The court found that Bowie knives were not of a military character, but made no mention or suggestion as to the status of pistols. Postbellum legal commentaries and judicial decisions applied Aymette's logic in support of the argument that some small pocket pistols lacked military utility and thus fell outside the Second Amendment's protection, but Cornell has read this postbellum doctrinal development into an earlier text."
Hat tip to Jon Roland....
UPDATE: David E. Young has a commentary blocked for some reason by the spam filter. I've added it in extended remarks below.
Continue reading "Historian reviews Saul Cornell book"
Posted by David Hardy · 4 August 2008 09:14 AM
Two essays by Prof. Tushnet, who is not particularly fond either of the individual rights view or of originalism.
Hat tip to Joe Olson...
Permalink · Parker v. DC · Comments (1)
Posted by David Hardy · 3 August 2008 12:14 PM
Story here. Mayor of a small town had his wife request a civil order of protection against him and his son. The order of protection form has a checkbox for finding that the person on the receiving end poses a credible threat and therefore police are to seize any arms they possess. The judge (without any requirement to notify the mayor or son or hear their side) issued the other, checked the box, and their firearms were impounded.
It's also possible here for a person completely unrelated to you to get an order of protection. Although that statute makes no mention of firearms, it does say that the order can enjoin you not to harass the other person and has a vague clause about the judge having the right to order other relief.
Permalink · protection orders (civil) · Comments (3)
Posted by David Hardy · 3 August 2008 11:53 AM
Prof.s Glenn Harlan Reynolds and Brannon Denning have an article in Northwestern Univ. Law Rev. on the future of Heller.
The question is whether the case becomes, essentially, what it should be: the recognition of a Constitutional right, and the beginning of an entire branch of Con law, or whether it may go the route of the Lopez case. In Lopez, the Court struck down the Federal gun-free school zone law because, in limiting simple possession, it had no basis in the interstate commerce power. But the lower courts resisted this, and essentially said "okay, so that statute is invalid. But any other ban on possessing something will be upheld, no matter how flimsy the connection to interstate commerce."
Permalink · Parker v. DC · Comments (2)
Posted by David Hardy · 1 August 2008 05:25 PM
The DCist is reporting that House Speaker Nancy Pelosi may allow a vote on Rep. Souder's (spelling corrected) bill. Actually, the report is that she'd have vulnerable blue dog Demos introduce the same or a similar bill, and allow a vote on that.
Here's a more extensive report in The Hill. The bill would strike the ban on semiautomatics, allow residents to buy from FFLs in VA and MD, and (altho this is a bit much to hope for, and may be a reporter's error) end the registration system. The discharge petition filed by Souter (which would discharge it from the committee which is holding it and bring it to the floor) already has 164 signatures, of 218 required.
Permalink · Heller aftermath · Comments (8)
Posted by David Hardy · 1 August 2008 04:16 PM
New url is here. There are reports that Google for some reason marked his original site as a spam site, and so his provider cut him off.
Posted by David Hardy · 1 August 2008 08:20 AM
Plaintiffs have filed a motion for summary judgment (pdf). As they're subject to a page limit of 15 pages, it can't be a treatise. But the critical points are made, and the style excellent. A person without a legal background can read and reasonably well understand it, which for a technical issue like 14th amendment incorporation, is hard to do.
On the side, they're giving the city flak about its answer to the complaint.
UPDATE: the odds of winning in the District Court are about zero, and appellate court not high. As I see it, the only likely win is in the Supreme Court, should it take the case. The trial court (even if not part of the Daley Machine) is going to answer "maybe you're right, but the Circuit Court of Appeals has said it's not incorporated against the States, and I can't overrule the Circuit." The Circuit would *probably* respond "maybe you're right, but (1) we've held previously that it wasn't incorporated and (2) a century ago the Supreme Court did the same (albeit under the earlier "privileges or immunities" approach only), and we can't overrule the Supreme Court." Then you go to the Supremes and see if they'll decide the issue.