« NY threatens guns manufacturers' banking: Hornady refuses to sell to NY agencies | Main | Nothing like science! »
NRA convention and protests
Posted by David Hardy · 6 May 2018 11:07 AM
Just back from the NRA convention in Dallas. No word on attendance yet--that will be announced on Monday, after it's ended--but upwards of 70,000 were predicted.
I see the anticipated stories on "protests" -- here's one from the Virginian Pilot, (curiously showing a speaker with no one else visible) and here's one that claims there were two protests "across the street" from the meeting (illustrated with an image of five or six protestors).
Funny, I wandered all over looking for them, and here's a pic I took from the entryway into the convention center:
<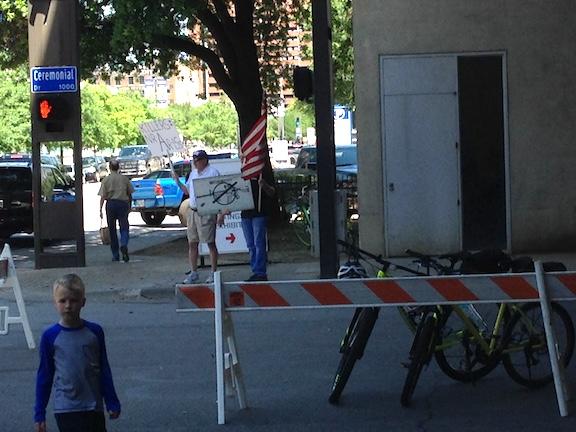 I wandered back several times, and there were only those two guys. A friend said he'd tried to find the protests, and finally found some about a quarter mile from the building, at Dallas City Hall.
Here's an interesting video report. It notes that antigun speaker Alyssa Milano showed up to speak, protected by at least two armed guards. You can see perhaps a couple of dozen in the audience (either protestors or media) and the calls and clapping are consistent with that estimate.