« November 2013 | Main | January 2014 »
December 2013
Posted by David Hardy · 31 December 2013 05:20 PM
Story here. He upheld the ban on magazines holding more than ten rounds, but struck down the provision banning putting more than seven rounds in one of them.
UPDATE: Here's the decision itself. The judge strikes the seven round limit, because it is impossible to believe that a bad guy with a ten round mag will obey the law and only load seven rounds, so the law bears no relationship to the government's interest. He also strikes the definition of assault rifle that includes a firearm with a "muzzle break" on the grounds that it is meaningless, and he is unwilling to hold that a law can be applied by correcting a mis-spelling. (That error gives us an idea of how carefully the legislature considered what it was enacting).
Permalink · State legislation · Comments (5)
Posted by David Hardy · 29 December 2013 09:59 AM
After nearly a year: 1,146 felony charges, which were previously misdemeanors, 59 arrests for possession of a magazine holding more than ten rounds, or of a ten round magazine with more than seven cartridges in it.
In the meantime, NYC has cut its police force by 17%, I assume to reduce its budget.
Posted by David Hardy · 29 December 2013 08:57 AM
Right here. Granted, this is from the San Francisco area, and we know what Mark Twain said about California. My favorites:

Burlingame, Nov. 14: An opera singer was reported to be creating a disturbance again.
Redwood City, Aug. 28: A man called police after his wife got upset with him for asking her boyfriend to stop phoning him.
Foster City, July 24: A woman reported that her her friend had failed to answer the phone or the doorbell for more than four hours. Police determined that the friend was trying to avoid her.
Redwood City, March 25: A man worried that marijuana smoke from the alley was going to kill him.
Burlingame, Nov. 26: A man wearing a Spider-Man mask who had spread his belongings on the floor of a shop was advised to leave.
Fremont, July 8: Jack in the Box was robbed at gunpoint by a man wearing a Halloween mask who took a moment to don the headset and let drive-through customers know it would be just a sec.
Redwood City, Aug. 16: A mother with her children in a laundromat reported a fellow patron had undressed to include what she was wearing in her load.
Niles, Sept. 17: A vehicle was ransacked by someone who took only one item: a bag of elephant dung the owner had received as a gag gift. Police suspected the thief mistook it for marijuana.
Burlingame, Sept. 12: A man with a picture of a gun on his cellphone was pointing it at people as if it were a real gun.
Posted by David Hardy · 27 December 2013 04:47 PM
This via NRA Director Tom King:
Fellow Gun Owners,
I just confirmed this with the SAFE Act Hot Line 855-LAW-GUNS.
When the recently postponed background check for the purchase of ammunition becomes effective there will be a $10 charge for each background check. According to the NY State Police the system will be up shortly and they stated the $10 fee will soon be raised $20.
Posted by David Hardy · 27 December 2013 11:10 AM
The upgraded site is up and working, and accepting comments! My thanks to Pro-IT Service, which handled things in a very few days, over the Christmas season, no less.
Posted by David Hardy · 23 December 2013 11:25 AM
Dead at the age of 94. I'd say John M. Browning was the greatest firearm designer who ever lived, and Kalashnikov is second only to him.
Read his autobio a ways back, a very interesting fellow -- and 100% Stalinist, even though he and his parents spent time (and his father died) in Siberia during Stalin's purges. He was convinced that Stalin wasn't to blame, it was local officials ("if only the king knew, he would fix things").
Posted by David Hardy · 21 December 2013 08:11 PM
The founder of JPFO, and one very good man. I hadn't realized it'd been that long.
Hat tip to reader Barbara Grant...
Posted by David Hardy · 19 December 2013 04:08 PM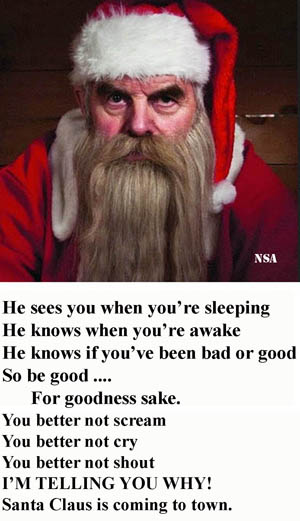 Permalink · humor · Comments (0)
Posted by David Hardy · 18 December 2013 11:32 AM
Story here. Armed robbers enter a market, wind up beating and pistol-whipping the clerk. Then a passer-by arrives.
"The gunman "turned around and looked at me," Dosser said. "He stared at me. I had my weapon up. I didn't point the gun at the person. I had it at the ready, out of the holster.
His buddy said something to him, and then he had this surprised look on his face, and they both ran to his vehicle and took off.""
I've been too busy to do much blogging. Just filed an enormous brief, after months of work, in one case, now working on a shorter one, due Monday. Then, I hope, life and blogging will resume.
Permalink · Self defense · Comments (0)
Posted by David Hardy · 15 December 2013 08:12 PM
A reader has started a petition to remove the "good cause exists" requirement for CCW permits in Los Angeles County. I know nothing of petitioning through change.org, but felt I should pass it on for those who know more about the subject.
Now that I have a 60 page brief done (an incredible workload) I hope to have commenting restored soon.
Posted by David Hardy · 15 December 2013 02:57 PM
December 15. 1791: Virginia gives the Bill of Rights the eleventh vote needed for ratification. As is appropriate, since VIrginian George Mason had been its most insistent proponent, and Virginia James Madison its principle drafter.
Curiously, Massachusetts, Connecticut and Georgia didn't ratify until 1939...
Posted by David Hardy · 11 December 2013 04:26 PM
The History Detectives make a good case. The video is no longer online but you can read the transcript. It matches up with one that patriot forces snatched out of the Boston militia armory shortly before, and which spies told Gen. Gage could be found at Lexington.
Posted by David Hardy · 10 December 2013 07:14 PM
Former San Diego mayor Bob Filner listed his Mayors Against Illegal Guns membership as a major accomplishment of his time in office. Yesterday there was another accomplishment: he plead out to felony unlawful imprisonment and two counts of battery. The charges stem from his sexual harassment of city employees.
We need universal background checks of MAIG recruits, I think.
Posted by David Hardy · 10 December 2013 02:11 PM
Story and pics here. I won't go into the lack of class involved in grinning while taking a selfie of yourself and the (quite attractive) Danish Prime Minister during a funeral. But look at the First Lady's iron stare. Then apparently she switched seats with her husband so as to separate him from the Prime Minister.
Posted by David Hardy · 9 December 2013 01:37 PM
Handed down today. Suit filed to challenge California's 10 day waiting period. California moves to dismiss, and judge denies the motion. That's not the same as striking down the law, tho that might come later, but the judge does take intermediate review seriously. He notes that California argues for the law as (1) allowing time for a background check and (2) allowing a "cooling off" period, but provides no evidence that either requires a ten day wait.
Permalink · Chicago aftermath · Comments (0)
Posted by David Hardy · 7 December 2013 05:18 PM
An impressive fictional twitter-like coverage of the Pearl Harbor attack, with pretty stunning photos. Viewing the conflagration on Battleship Row, we can see how the Japanese thought they'd won the war in hours.
Perhaps Yamamoto never said that they had awakened a sleeping giant and filled him with terrible resolve, but his thoughts were along those lines.
Posted by David Hardy · 7 December 2013 04:23 PM
Maybe it's right when it says that that some Californians can't be trusted with assault rifles.
Sheesh. Leaving a loaded rifle unattended on an elementary school playground.
Permalink · AW bans · Comments (0)
Posted by David Hardy · 6 December 2013 06:33 PM
It's punishment for using tests other than the Law School Admission Test to admit incoming students. You'd think a law school ought to be allowed to create its own standards for admission, but ABA says no. The fine is presumably to be enforced by "pay up, or we won't certify you."
A strange situation generally. Understand, the American Bar Assn is a private group. Membership in it is not required to practice law. (State bar membership is generally required). So it's a private club, of a small minority of attorneys, mostly big-firm types.
To practice law anywhere that I know of, you have to pass the bar exam, run by the State bar. That's understandable. But even if you are capable of passing it, you are only allowed to take it after graduating from a law school. That's ... well, not totally understandable, but somewhat so. And the law school must be certified by the ABA, which is a private club. That's hardest to justify. It's not like this club just assesses the adequacy of a school.. They have elaborate standards (such as this one, relating to whom the school can admit). Other standards require, as I recall, that a high percentage of faculty be full time, and that no part-timer can teach a first year course. (Thus a skilled personal injury attorney cannot teach Torts 101 or Evidence part time, subjects about which he knows far more than a full time prof who's never been in a courtroom). This of course benefits the faculties.
Bottom line: why should a government occupational permit depend upon whether your school met standards imposed by a private club, that comprises but a small part of the occupation at issue, and has its own agendas?
Posted by David Hardy · 5 December 2013 10:11 AM
NYC sends out notices to owners of registered guns that can take over five rounds: get them out of the city or turn them over.
PS--I'm still diagnosing the problem with the spam filter, might have it fixed and comments allowed in a few days. It may have been a problem with the filter itself, unrelated to hacking and the 1,600 spam comments (I counted them). Which illustrates the magnitude of spamming. Your filter goes down and you get 1,600 spams in a matter of an hour or two.
Permalink · State legislation · Comments (0)
Posted by David Hardy · 4 December 2013 07:52 PM
"Illegal Mayors Against Guns" in the in the New York Post. Perhaps MAIG should have a background check requirement for its members?
Posted by David Hardy · 4 December 2013 09:04 AM
Only Guns and Money has the story. The newest CT gun law was passed in a way that violates its statutes, but the District Court ruled that NSSF (and by implication anyone else) does not have standing to raise the issue.
Posted by David Hardy · 3 December 2013 03:00 PM
Send a lady to contact the fugitive. Safer than calling out the SWAT team to go in with flash-bangs.
Posted by David Hardy · 1 December 2013 10:45 PM
Story here.
Posted by David Hardy · 1 December 2013 10:28 PM
Had to stop them for a time.... was hit with a spammer who managed to (1) disable my spam blocker and (2) post over 1,600 comments in a couple of hours. Let me try to figure how to repair. If anyone has a clue as to what happened (I'm using MoveableType), please email me at dthardy -at- mindspring.com.