« In line for Heller, Clayton Cramer eats up an anti-2A type | Main | "The Bloomberg Collection?" »
Heller: photo of the usual suspects
Posted by David Hardy · 21 March 2008 08:02 PM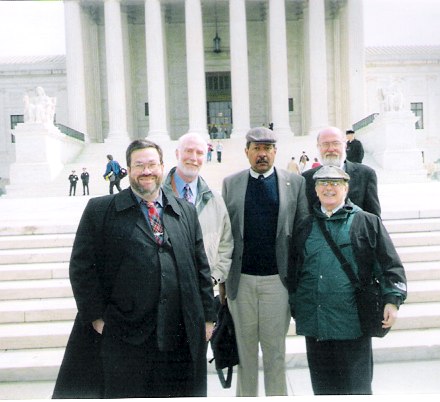 L to R: Clayton Cramer, Alan Korwin, Bob Cottrol, myself (w/ beard in rear) and Joe Olson. And yes, we were feeling good!
.416 Rigby comments, and was for some reason blocked by the spam filter:
Dave:
Where do nattily dressed 2nd Amendment types like that go drinking while in the District? I generally hang at the Old Ebbitt Corner Bar because it is 1) near my usual hotel, and 2) a library paneled tribute to the good life decorated with double barrel shotguns, wooden waterfowl decoys, and real oil paintings of real guys shooting ducks, drinking good booze, and playing poker. Is there a better place?