« David Young on the "Mason Triad" | Main | It's election time! »
Photo of President Obama shooting
Posted by David Hardy · 5 February 2013 11:07 AM
Everyone has seen the picture of President Obama shooting a shotgun on the Camp David skeet field. But a careful look raises some questions in my mind. Here's the image in question:
Note the background: a road-sized path or road, that either expands, or goes into a T-junction, in front of his firing position. Beyond that some grass, and a forest. No tower is visible, nor is any fence.
Here's an image of JFK shooting on the range. Note the high wooden fence about ten feet behind him, and the narrowness of the pathway.

Of course, that would have been around fifty years ago. But you can see modern images of the range, up through the time of George Bush, Sr. at the following address (for some reason the html tag won't work:
http://aboutcampdavid.blogspot.ca/2010/08/skeet-range.html
In them, the towers and the wooden fence are visible. Here is a modern aerial view, obtained from Google Maps, of the Camp David skeet range. Note the throwing towers at either end of the range, and what appears to be the wooden fence, especially visible next to the left tower. The towers are about five feet on a side, so the walkway is about three feet wide. The only areas where the path widens are at the ends, right next to the towers.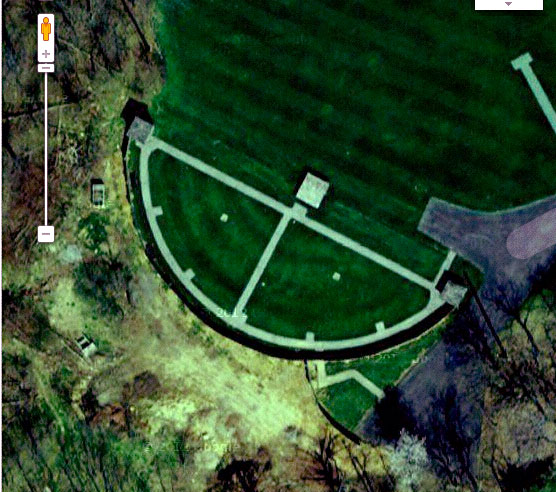 I can't see how the Obama photo could have been taken on that range. There's no fence visible, the pathway or road is far wider than the range walkway, and the only places where the path widens are next to the towers, yet no tower is visible.
UPDATE: the rectangular object isn't, I think, the corner of one of the towers. On that webpage I cited, you can see the towers, and their roofs are 12-14 feet up. The object here appears to be more like half that.
The photo appears to be taken at right angles to his direction of fire; for it to omit the tower, Obama have to have left the shooting area, and that still wouldn't explain why he has the road/path behind him and in front of him (or else a widening of it in front of him). The area where it widens near the tower in the overhead view is behind the tower, so to speak, and within the wooden fence.
With regard the firearm--some shotgun loads can be pretty smokey, and you can have a ported over-and-under which would send some of it directly up. I can't figure out what the yellow object at the end of the barrel is, though. Possibly some uncombusted powder gasses igniting as they reach the air?