« Fed. district court rules for FFL | Main | Monks with guns? »
More on "the other NRA"
Posted by David Hardy · 18 September 2008 08:44 PM
Here's a pic, from a reader, of a National Recovery Administration meal sign that once hung in a store: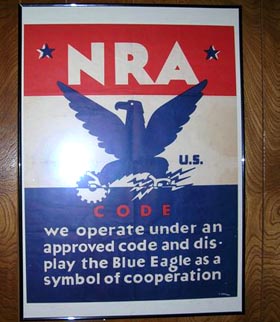 From another reader comes a discussion of the mail chaos when the National Rifle Association and the National Recovery Administration were officed in the same building:
"Sacks of targets, used in NRA tournaments, were delivered to puzzled clerks in the offices of the National Recovery Administration, while the National Rifle Association staff sorted through pleas for financial aid to locate its own correspondence. The problem was not fully solved until May 12, 1935, when the Supreme Court voided the National Industrial Recovery Act."
James B. Trefethen, Americans and Their Guns 229 (1967).
· NRA