Posted by David Hardy · 26 September 2016 08:39 PM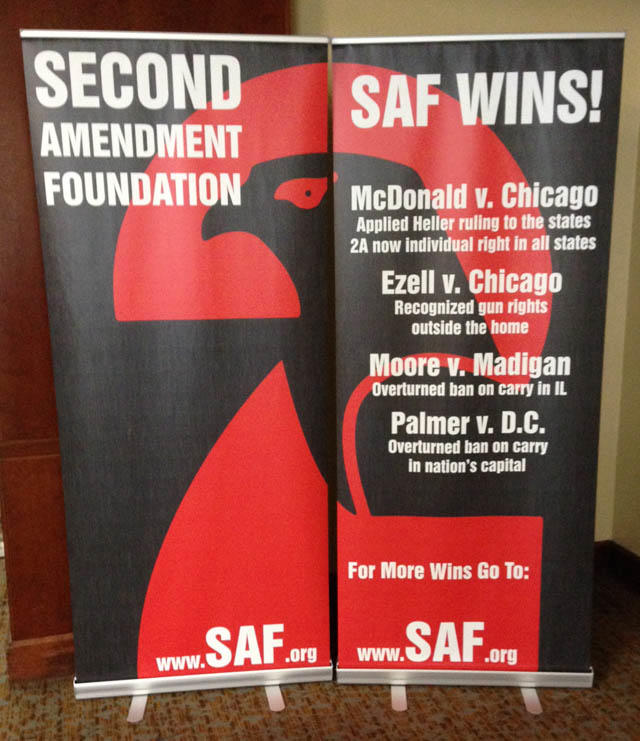 It wrapped up yesterday, and was as always a very nice event. My favorite panel was "Winning Gun Rights, One Lawsuit at a Time," which featured Pamela Capanna, Eric Friday, Don Kilmer, Dan Schmutter, and David Sigale. Other high points were John Lott, and a panel of doctors on the medical "studies."
Posted by David Hardy · 24 September 2016 08:05 AM
I'm at it, in Tampa. It's being live-streamed here.
Major matters include the awards luncheon at 12:15, "Winning FIrearms Freedom One Lawsuit at a Time" at 2 PM, John Lott at 4:30, a panel on the medical attacks on gun rights at 5.
Posted by David Hardy · 23 September 2016 08:14 AM
Right here. He suggested responding to Charlotte rioters shutting down and looting a highway by running them down. I suppose that is worthy of investigation. Obviously, an 18-wheeler would work, and maybe an SUV, but with a sedan you might damage the undercarriage, or at least require a front end realignment. Only experimentation and investigation can settle this.
Posted by David Hardy · 19 September 2016 07:59 PM
The fellow who shot the knife-wielding terrorist at the Crossroads Mall in Minnesota is identified in the media as an off-duty police officer.
Actually, it would be accurate to describe him as a US Practical Shooters Ass'n competitor, a three-gun competitor, and tactical training facility owner, who is also a part-time police officer.
Posted by David Hardy · 14 September 2016 08:41 PM
It's reported that the fellow who tried to grab a gun from a policeman so he could shoot Donald Trump has plead guilty to being a prohibited person (illegal alien) and will likely get two years' imprisonment.
Either the report is off or he got an incredibly easy break. Calculating from the Federal Sentencing Guidelines, the lowest result would be base level 14 (possession by prohibited person), plus four levels for intent to use it in a felony, plus two for it being stolen equals level 20, sentencing range 33-41 months. On the other hand, they could charge attempted murder of a federally-protected candidate, and that starts off at level 33. homicide (135-168 months, or 11-15 years).