Posted by David Hardy · 14 April 2015 05:57 PM
Interesting issue ... and here I'm referring to shotguns which were originally made with a rear pistol grip in place of a buttstock.
Under the Gun Control Act, the issue seems simple: they are pistols. Very big pistols, but pistols. Thus they have been treated, and sold in large numbers over quite a few years.
The National Firearms Act, however, poses a problem. Under it, they are not shotguns, since the definition of "shotgun" includes "designed to be fired from the shoulder." 26 U.S.C. §5845(f).
The problem is posed by a different part of the NFA, created when it was amended in 1968. Those amendments created a class of firearms designated "destructive devices," and really aimed at artillery pieces. As you might expect, these were VERY tightly regulated, nevermind that criminal use of artillery wasn't exactly a big problem.
Under the NFA, "The term "destructive device" means .. any type of weapon by whatever name known which will, or which may be readily converted to, expel a projectile by the action of an explosive or other propellant, the barrel or barrels of which have a bore of more than one-half inch in diameter, except a shotgun or shotgun shell which the Secretary finds is generally recognized as particularly suitable for sporting purposes..." 26 U.S.C.§5845(d).
Every shotgun but the diminutive .410 has a bore greater than half an inch. The "sporting purpose" exemption doesn't apply, since that is limited to shotguns, and as we have seen, these firearms are not "shotguns" under the definitions of the NFA.
The situation as it stands is thus: BATF must never have realized that these firearms are NFA "destructive devices," and as a result thousands, if not millions, are in private possession of persons who bought them legitimately over the counter, with no reason to suspect that there was anything legally amiss.

Posted by David Hardy · 12 April 2015 07:32 PM
While at the meeting, I wandered over to the "Moms Demand" so-called demonstration. (It was over half a mile from the meeting, but since the object was publicity I suppose its location was unimportant to its organizers). It looked like a hundred people or so people were there (its organizer had predicted four hundred).
To put in context, 300 attorneys attended NRA's National Firearms Law Seminar.
The Moms event was pitiful. One guy sung some sixties sorta-protest songs, while an old lady danced around with a red banner. Two people held a banner where cars could see it.
They had to use trick photography to try to inflate their numbers for a pic. As the linked page points out, they took the photo on an incline. They had some people stand close to the camera, then others formed up 50-100 yards back, at just the right angle to create the impression that their massed group was that deep, when most of the distance was empty space.
Here's an enlargement of a portion to show how they did it. Notice the rear ranks are far apart from the front ones.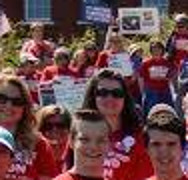 In the full picture at the linked page I counted a total of 102 people, right about my estimate. With the trick photo, it seems like 2-3 times that.
Posted by David Hardy · 12 April 2015 06:30 PM
Best presentation I heard at the Firearms Law Seminar was that of Massad Ayoob. I'm a good and often tough judge of speaking, and he was simply first rate. He spoke on self-defense and the law of self-defense.
I lost my notes, unfortunately, but some of the points he made, with force, logic, and humor were:
Some people don't talk to the police. He says, if you had to unholster your gun, your next move should be to dial 911. Reasoning: police instinctively divide humanity into perps and victims. Whoever calls first is assumed to be the victim. If you warded off a road-rage type with your gun, his revenge will be to call 911 and claim you were the one provoking everything and drew for no reason at all. You want to have called first. (Obviously, this advice may not apply if carrying illegally in New Jersey).
Point out the evidence. If there were shots, you want the spent brass pinned down before people start picking it up or accidentally kicking it out of place.
Say you are willing to sign a complaint. This better than saying "press charges," which is the prosecutor's job.
Do not recite "I was in fear for my life" as if it were magical incantation. Point out WHY you were in fear for your life.
On a human level, the fact that you tried to avoid use of force is persuasive, even if the law is "no retreat." If you could have closed and locked the door instead of "standing your ground," there's a human tendency to think that you were looking forward to using force.
If you hear a pounding on your door at 3 AM, consider that it's less likely to come from a mutant with 666 tattooed on his forehead than it is to be police with word that, oh, your car was stolen and they found it. If you open the door with gun in hand, "you don't need this little A-rab to tell you where things will be going."
Memorize what you will shout if things go bad. No need to be hesitating between "freeze," or "don't move," or something else.
Your opponents will go for the media first and try you there. Zimmerman is a classic case. His head being smashed by someone who is far more powerful than he, he winds up being branded as a vigilante racist who shot an unarmed man. Ferguson -- a guy who committed a robbery, fought with an injured the officer, tried to get his gun (the forensic evidence was clear there) became a racist who shot an unarmed "gentle giant" in the back while the guy was trying to surrender. In both cases, the defender winds up with his life ruined even after he proves his innocence.