« January 2018 | Main | March 2018 »
February 2018
Posted by David Hardy · 28 February 2018 03:54 PM
CNN reporter tries to shoot an AR-15.
Posted by David Hardy · 28 February 2018 03:23 PM
A survey indicates that companies that disaffiliated with NRA members had a sharp drop in "favorable" ratings when informed of the decision. Giving in to Twitter mobs at the price of hacking off five million people (or maybe fifty million -- polls have indicated that for every one NRA members, there are nine people who incorrectly think they are members -- is a bad PR idea. Who would have thought it?
Posted by David Hardy · 28 February 2018 10:02 AM
Over at Captain's Journal, I think Nancy Pelosi is pulling ahead in a crowded field.
Posted by David Hardy · 27 February 2018 03:56 PM
Here is the list I could compile--if anyone knows of additional companies, please add them. I say breaking ties with the membership because the ties consisted of discounts for members:
Allied Van Lines
Avis Car Rental
Budget Rent-A-Car
Chubb. Ltd (Carryguard insurance)
Delta Airlines
Enterprise Rent-A-Car
First National Bank of Omaha
Hertz Rent-A-Car
Lifelock (Stopped a promotion to NRA members, unclear if that was just a scheduled end or a response to pressure)
MetLife
North American Van Lines
Norton antivirus
Paramount Rx
SimplySafe home security
Starky Hearing (hearing aids)
TrueCar
Wyndham Hotels & Resorts
Good guy alert: FedEx announced it will continue its discount for members, that it doesn't care what political beliefs its customers have.
I don't do business with any of the above, except for the car rental companies... well, Dollar usually gives the best prices, anyway, so I'll just use them.
Legal issue: this is, of course, being driven by entities on social media (with some bots likely thrown in). Could this be tortious interference with contract?
Posted by David Hardy · 26 February 2018 05:58 PM
Story here. He's quoted as saying
"Florida lawmakers, like U.S. Sen. Bill Nelson, want stricter laws to fix the so-called "gun show loophole," which allows people to buy a gun at one of these events without getting a background check.
Not only that, Nelson is also calling for a ban on assault weapons, saying murders were down after they were banned back in 1994.
"Before that law, they were high and after that law, when the NRA killed the law in 2004, the number of deaths as a result of assault weapons has grown up like a rocket taking off," he says."
Let's get real. There are no national records on "assault rifle" use. The FBI only breaks firearm homicides down into rifle, pistol, shotgun, other. All rifle uses are lumped together. The overall and gun homicide rates did begin to fall in 1994, and continued to fall after the "assault weapon ban" expired in 2004. Since rifles of all types are used in about 300 homicides per year, it is impossible to claim that AW deaths have "grown up like a rocket." In fact, in 2004 there were 393 total rifle homicides and in 2016 374.
I've seen this quite often. An advocate of gun control need only invent data (i.e., lie), proclaim it, and expect the press to publish it without any fact-checking.
Posted by David Hardy · 26 February 2018 05:34 PM
In USA Today. The conclusion:
"We have more government, at all levels, than we've ever had before. Yet failures like this keep happening. The FBI, after all, missed the Tsarnaevs (who committed the Boston Marathon bombing) despite being warned by the Russian government. It missed the 9/11 attacks even though it was investigating Zacarias Moussaoui -- agents investigating Moussaoui hit so many roadblocks that they joked that Osama bin Laden must have had a mole in the Bureau HQ. And, of course, the San Bernardino shooters and Pulse nightclub shooter Omar Mateen escaped the net as well.
People are being asked to trust the government to keep them safe, when the government is patently unable to do so. And then, when the government fails, it engages in blame-shifting deflection. Why should people listen? Increasingly, they won't."
Posted by David Hardy · 24 February 2018 07:31 PM
Not long ago, Harvey Weinstein was boasting that he was going to make a movie about NRA and that they are "going to wish they weren't alive after I'm done with them."
Now, someone is writing a play about Harvey Weinstein.
(He'd better hurry. There may soon be movie on the subject.
Posted by David Hardy · 20 February 2018 04:50 PM
But over a strong Thomas dissent.
"as evidenced by our continued inaction in this area, the Second Amendment is a disfavored right in this Court. Because I do not believe we should be in the business of choosing which constitutional rights are "really worth insisting upon," Heller, supra, at 634, I would have granted certiorari in this case."
"The Ninth Circuit claimed to be applying intermediate scrutiny, but its analysis did not resemble anything approaching that standard. It allowed California to prove a governmental interest with speculation instead of evidence. It did not meaningfully assess whether the 10-day waiting period is reasonably tailored to California's purported interest. And it did not defer to the factual findings that the District Court made after trial. The Ninth Circuit would not have done this for any other constitutional right, and it could not have done this unless it was applying rational-basis review."
Posted by David Hardy · 19 February 2018 03:08 PM
Why does it take a Australian to ask the right question about the US?
Posted by David Hardy · 16 February 2018 08:45 PM
I've been looking over the indictment and, from the standpoint of an appellate law practitioner with 40 years' experience, it looks like a PR gesture rather then the statement of a viable case, even if we disregard the fact that it indicts a bunch of people in Russia, who aren't likely to surrender to authorities, who acted in Russia, where the application of US law is doubtful.
Count One, the key count, (p. 4-5) charges conspiracy to defraud the US government ny impairing the functions of various agencies. This is a variation of the "honest services fraud" claim, that is, a claim that the fraud deprived the government of its right to honest services of its employees.
The application of the conspiracy to defraud to deprivation of honest services was disallowed in McNally v. United States, 483 U.S. 350 (1987), then (after Congress amended the statute to expressly include such a theory) narrowly allowed in Skilling v. United States, 130 S.Ct. 2896 (2010), where the majority held that the new statute could be saved by a narrowing construction that made it applicable only to certain pre-McNally case law - basically, theft via bribery or kickbacks. 130 S.Ct. at 2932-33. The indictment does not allege that either was involved. To be fair, I haven't compared the indictment in Skilling with the indictment here, nor considered whether the wording of the indictment affected the outcome. At the very least, Count One is doubtful.
The remaining counts are wire fraud and bank fraud. I can't speak to the latter, but with wire fraud (technically, use of the wire to defraud) the mail and wire fraud statutes speak of artifices "for obtaining money and property." 18 U.S.C. §§1341, 1343. Cleveland v. United States, 531 U.S. 12 (2000) establishes that "obtaining property" within the meaning of these statutes does not encompass obtaining issuance of a government permit. McNally v. United States, 483 U.S. 350 (1987) establishes that the intangible right to honest government was likewise not property. United States v. Bruchhausen, 977 F.2d 464 (9th Cir. 1992) holds that under McNally, government agencies' right to conduct their affairs free from false statements is not property.
If the Independent Counsel's folks did their research, they must know that Count One is questionable at least, and the remaining counts look utterly invalid. Even if the Russians indicted booked flights back here to appear, and if a DC court were to conclude that it had jurisdiction over acts that occurred in Russia, the indictment would probably go down in flames. Which leaves only one explanation for it.

Posted by David Hardy · 16 February 2018 05:05 PM
Posted by David Hardy · 15 February 2018 05:18 PM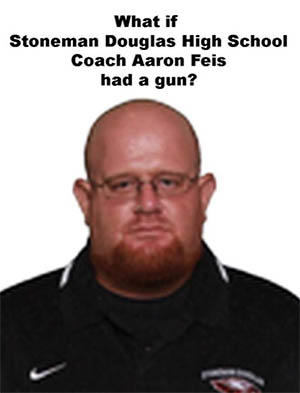 It's from his Facebook page. The reference is to the football coach who gave his life shielding three students from the killer.
Posted by David Hardy · 14 February 2018 07:38 PM
She's Lori Klein Corbin, and here is her campaign page. She's a national GOP Commiteewoman and the coordinator for the Western Conservative Conference. She's as pro-gun as they come, married to former NRA president and Arizona Attorney General Bob Corbin, shows up for most Board meetings even tho she isn't on the Board.
Posted by David Hardy · 9 February 2018 08:19 AM
I've been trying to find webpages on the subject, please feel free to add them in the comments. So far I've found Colonel Brown's webpage. He also endorses David Keene, William Satterfield, John Sigler, Scott Bach, David Coy, John Cushman, Timothy Knight, and Mark Humphreville. I've also found a Facebook page for David Coy, and a a webpage for Scott Bach.
One tip: too many people vote on the basis of "since I can vote for 25, I will vote for 25." That's not good math. Your 25th pick might just bump off your first or second choices. I usually think of the ones whose loss would really hurt the organization, and vote just for those. My problem this year is that there are so many of those on the ballot! I haven't had time to fill out my ballot, but when I do I'll probably vote for a dozen or so, while most years I'd vote for six or seven. I also try to compensate for my natural bias, and not to neglect the folks who focus more on shooting as such rather than activism. If we don't have people to bring juniors into the shooting fold or promote hunting or arrange competitions, activism won't do much good after a generation or two.
Posted by David Hardy · 6 February 2018 03:11 PM
I haven't dealt with informant use to obtain search warrants since I wrote my first law review article on the subject in 1984, but this retired LEO, who wrote hundreds of affidavits for search warrants, has a very good point, with regard to the FISA wiretapping warrant. The point is that, if an LEO wants a warrant based on the word of an informant, he must prove to the judge that the informant has some proven reliability (he's given other information which led to persons being found in illegal acts), or else his statement must be supported by supporting evidence (police monitored the guy he said was selling drugs, and saw activity consistent with drug dealing).
The FISA warrant application was largely based on a report by Christopher Steele. He may or may not have been described in the application as having a track record for reliability. But Steele himself witnessed nothing; he was relating hearsay from his "contacts," and it seems reasonable sure that the application did not describe each contact and show they have proven themselves reliable. If so, and the application did not state support for the claims, then it didn't meet the Fourth Amendment standard of probable cause. Which would mean the FISA court overlooked this, or issued it anyway, and so did the Deputy Attorney General, the head of the FBI, and everyone else in the chain of command. Which is hardly supportive of the idea that the present system has sufficient safeguards for privacy.
Posted by David Hardy · 6 February 2018 01:56 PM
His USA Today article is here. As he points out, gun control is largely an elitist issue, and courts are the most elitist branch of the government, the only one where a member must have a doctorate, and almost always has had a high income.
Hat tip to Alice Beard....
Posted by David Hardy · 5 February 2018 09:43 AM
Blog post here.
Posted by David Hardy · 4 February 2018 09:57 AM
Story on Fox News. Well done, Mr. Meyer, well done.
Posted by David Hardy · 2 February 2018 10:30 PM
Right here. It's against Douglas Haig (not the Lord Douglas Haig, who should have been tried for mass murder... of his own men) for manufacture (by reloading) of AP bullets in .308 and .223.
It poses an interesting legal question. The .223 in particular has a two part core: in front is a steel penetrator, and behind a conventional lead core. The .30 AP has a steel core with lead wrapped around it. But the statute banning manufacture of AP defines AP bullets as having "a core which is constructed entirely (excluding the presence of traces of other substances) from" several banned metals, including steel. Is a two-part core, one part of which is lead, something that meets that? ATF's position is essentially that a bullet can have more than one core, and if any are the banned metals, the bullet qualifies. I think that's questionable, particularly since the statute requires that the core be "constructed entirely" of a banned metal, and bullet at which the statute was aimed was in fact a solid, made I believe of bronze.
hat tip to reader Steven Stamboulieh...
Posted by David Hardy · 1 February 2018 01:41 PM
Here's Prof. Volokh's analysis. The court uses "elevated intermediate scrutiny," holding that "the government bears the burden of showing a very strong public-interest justification and a close fit between the government's means and its end, as well as proving that the "public's interests are strong enough to justify so substantial an encumbrance on individual Second Amendment rights.""
(This level of review stuff is getting complicated. Back when I went to law school, there were just two: strict scrutiny and rational basis. Now there are three and arguably four levels.