« September 2017 | Main | November 2017 »
October 2017
Posted by David Hardy · 28 October 2017 10:00 AM
A newspaper article on famous gravesites in Tucson. The fourth headstone down is Johnny Behan, Wyatt Earp's rival in love and in politics. He's buried out at Holy Hope Cemetery.
Posted by David Hardy · 26 October 2017 11:00 AM
He participates in a "smash and grab" robbery of a gun store, then posts pictures of stolen guns on Facebook with offers to sell them. A great quote sums it up: "I feel like I'm snitchin' on myself."
Posted by David Hardy · 25 October 2017 05:13 PM
Amusing. Six days ago, CNN editorialized:
"President Donald Trump sent this tweet on Thursday morning: "Workers of firm involved with the discredited and Fake Dossier take the 5th. Who paid for it, Russia, the FBI or the Dems (or all)?"
This is, of course, somewhat common fare by this point in the arc of Trump's presidency....
The bigger issue -- at least to me -- is that Trump is suggesting that the dossier itself was funded by some combination of a foreign power, the opposition political party and a federal law enforcement agency.
It's easy to roll your eyes at the very suggestion and dismiss that idea as just Trump being Trump. "You guys always take him literally," Trump's supporters will say. "You shouldn't!"
OK. But here's the thing: President Trump is, um, the President. Which means he is held to the same standard every past president is held to. And by that standard, this tweet is crazy.
Unfortunately, lots and lots of Trump backers will believe this stuff solely by dint of the fact that Trump tweeted it. And that, of course, is Trump's goal. Muddy the waters and discredit the ongoing investigations into what Russia did in the 2016 election. Make the whole thing into a partisan witch hunt.
But, there is no plausible scenario by which what Trump suggested this morning -- a wide-scale conspiracy involving three separate actors across federal agencies and continents -- actually happened. That we can't (won't?) agree on that seemingly obvious fact is troubling."
Posted by David Hardy · 20 October 2017 03:02 PM
Posted by David Hardy · 18 October 2017 12:31 PM
The "received wisdom" is that the US Constitution resulted from the decision of the delegates to the Constitutional Convention to exceed their authority, which only extended to proposing amendments to the Articles of Confederation, and instead draft an entirely new charter.
Michael' Farris challenges this with his DEFYING CONVENTIONAL WISDOM: THE CONSTITUTION WAS NOT THE PRODUCT OF A RUNAWAY CONVENTION, in the Harvard Journal of Law and Public Policy.
He demonstrates that the Framers saw the state calls for a convention as the critical events, and not the Continental Congress' subsequent resolution calling for it. Only a few of the state calls limited delegates to proposing amendments, and even those states ratified the ultimate result. Claims that the delegates had exceeded their authority were only rarely made, when such claims would have been useful to antifederalist writers. The antifederalists would have been the first to assert that the relevant calls for a convention would have been the ones made by the states (which antifederalists felt had the ultimate power) and not that made by the Continental Congress.
Posted by David Hardy · 17 October 2017 12:44 PM
Most of us are familiar with Paxton Quigley, who's done such an outstanding job of promotion gun ownership and self-defense among women. (Check out that webpage for her books on the subject). She's now written a two-part article on her earlier career with the recently deceased Hugh Hefner.
Posted by David Hardy · 14 October 2017 11:13 AM
Right here. Sounds like his brother has his head screwed on straight:
"This hurts, but I don't feel an ounce of remorse coming from him, and that kills me too. When I heard his written, lame excuse... Not an excuse. When I heard his admission of feeling remorse for the victims and then him cavalierly, almost crazily saying he was going to go out and take on the NRA, it was so disturbing to me. It was utter insanity."
Quite the narcissist... the response to "you've hurt people" is not remorse (why would a god-like creature feel remorse at hurting ordinary humans) but rather "I'll make up for it by hurting someone else."
Posted by David Hardy · 11 October 2017 02:59 PM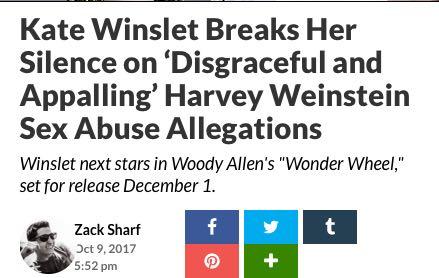 It's a real headline, albeit from a Tinseltown publication.
Hat tip to Instapundit...
Posted by David Hardy · 11 October 2017 12:34 PM
From Congress's pharmacist:
"At first it's cool, and then you realize, I'm filling some drugs that are for some pretty serious health problems as well. And these are the people that are running the country," Kim said, listing treatments for conditions like diabetes and Alzheimer's.
"It makes you kind of sit back and say, 'Wow, they're making the highest laws of the land and they might not even remember what happened yesterday.'"
Posted by David Hardy · 9 October 2017 11:38 AM
Right here.
Posted by David Hardy · 8 October 2017 08:30 PM
From a Briton who contacted Mark Steyne. Remarkable, but it passes my version of Occam's Razor: it is consistent with all known facts and inconsistent with none.
Posted by David Hardy · 6 October 2017 01:46 PM
Hilarious and pitiful at the same time. How about the horn-dog blaming himself? No, that'd be too much to expect.
"The source said: 'Harvey feels is being set up by a team of people who are out to get him. 'Nobody is claiming that the New York Times spent any money to get this story done but other organisations may have done 'There are are conservative organisations who know he is long-time foe of the NRA, of Donald Trump, and a longtime supporter of Hillary Clinton, Barack Obama and the Democrats. 'He believes they are financing a team of lawyers who are digging up these stories."
I must see if the team is hiring....
Why anyone thinks you hire a lawyer to do an investigation is beyond me. You ask the lawyer whom he hires to investigate, and you hire that investigator and save the overhead.
Posted by David Hardy · 5 October 2017 10:21 AM
The Washington Post has the story.
Posted by David Hardy · 5 October 2017 07:29 AM
Story here. I guess they learned from the last time.
Hat tip to Alice Beard....
Posted by David Hardy · 4 October 2017 11:19 AM
A German term for being amused at the tribulations of another.
Washington Post: "D.C. weighs gun law appeal, with fate of restrictions nationwide in the balance."
Mother Jones: "Just Days After Las Vegas, Gun Laws in the Nation's Capitol Are About to Get Weaker."
Posted by David Hardy · 4 October 2017 09:51 AM
Stay out of the gun debate, if you can't be honest," asks Daniel Payne.
Posted by David Hardy · 3 October 2017 11:51 AM
Over at Law and Liberty. The Heller case (and the advocates who drove it) fit nicely into the concepts expressed, as does Judge Posner's opposition to Heller.
Posted by David Hardy · 2 October 2017 01:28 PM
Story here, in the Tucson Sentinel, a local alternative paper (which is the best source of news around here).
Posted by David Hardy · 2 October 2017 12:27 PM
RIP, Sonny Melton. The Valkyries were dispatched immediately.
Via Instapundit.
Posted by David Hardy · 1 October 2017 10:42 AM
I've been too dang busy to blog it, but it was a nice and informative conference. I'll link to it as a podcast as soon as I can get in touch with Charles Heller.
One very interesting note: Sidney Powell gave a presentation on her book, "Licensed to Lie: Exposing Corruption in the Department of Justice." She's a onetime DoJ attorney who became a very top notch defense attorney. Among her cases were a defendant in the Enron prosecution, and the late Sen. Ted Stevens. In both cases, DoJ was caught concealing evidence that clearly proved both men were 100% innocent, but before the convictions were set aside the first man served a year in prison, was made unemployable, and the other narrowly lost his re-election. In the Enron case, the question was who had modified a document (whose drafting involved compromises by a number of drafters) in a subtle way that made it fraudulent. What was discovered was that DoJ had concealed written evidence clearly proving that her client had not made the modification, it was another (named) drafter. The DoJ team had had actual knowledge that the defendant was innocent, and had jailed him anyway, and hidden the evidence until it disclosed it by accident.
She mentioned that the lead attorney in the Enron prosecutions was Andrew Weissman, and that when Mueller was recently named an Independent Counsel, his first pick for his subordinate attorney was ... Andrew Weissman. She added that Main Justice should be "cleaned out with Chlorox and firehoses." I would agree.