« August 2016 | Main | October 2016 »
September 2016
Posted by David Hardy · 27 September 2016 09:59 PM
They have decided against being total buffoons in the matter. A wise choice. Even if they feel compelled to recite formulae such as "I understand the hurt and frustration they feel," "move forward to rebuild our law school community," and "coming together as a community in thoughtful and constructive dialogue."
They left off "God is love" and "gentlemen will take care to arrange their clothing before leaving the men's room."
But now will they investigate his blending puppies to prepare his energy drinks?
Posted by David Hardy · 26 September 2016 08:39 PM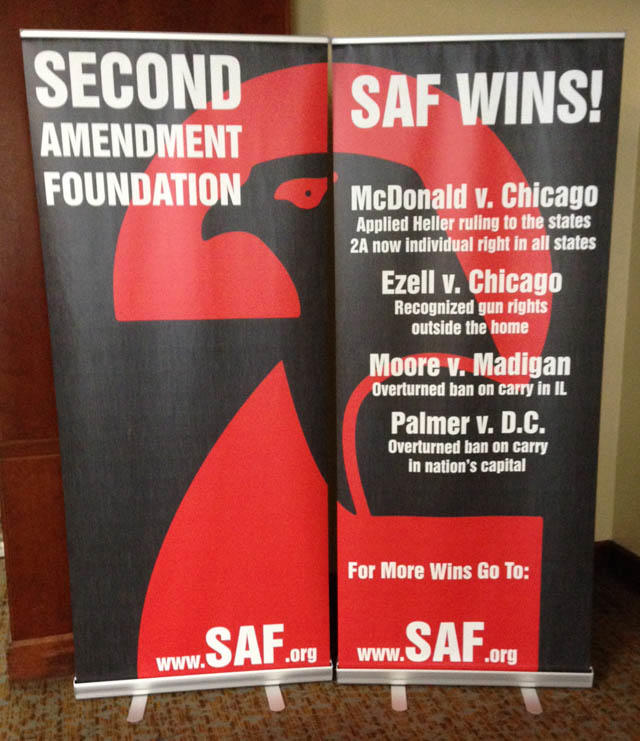 It wrapped up yesterday, and was as always a very nice event. My favorite panel was "Winning Gun Rights, One Lawsuit at a Time," which featured Pamela Capanna, Eric Friday, Don Kilmer, Dan Schmutter, and David Sigale. Other high points were John Lott, and a panel of doctors on the medical "studies."
Posted by David Hardy · 24 September 2016 08:05 AM
I'm at it, in Tampa. It's being live-streamed here.
Major matters include the awards luncheon at 12:15, "Winning FIrearms Freedom One Lawsuit at a Time" at 2 PM, John Lott at 4:30, a panel on the medical attacks on gun rights at 5.
Posted by David Hardy · 23 September 2016 08:14 AM
Right here. He suggested responding to Charlotte rioters shutting down and looting a highway by running them down. I suppose that is worthy of investigation. Obviously, an 18-wheeler would work, and maybe an SUV, but with a sedan you might damage the undercarriage, or at least require a front end realignment. Only experimentation and investigation can settle this.
Posted by David Hardy · 19 September 2016 07:59 PM
The fellow who shot the knife-wielding terrorist at the Crossroads Mall in Minnesota is identified in the media as an off-duty police officer.
Actually, it would be accurate to describe him as a US Practical Shooters Ass'n competitor, a three-gun competitor, and tactical training facility owner, who is also a part-time police officer.
Posted by David Hardy · 14 September 2016 08:41 PM
It's reported that the fellow who tried to grab a gun from a policeman so he could shoot Donald Trump has plead guilty to being a prohibited person (illegal alien) and will likely get two years' imprisonment.
Either the report is off or he got an incredibly easy break. Calculating from the Federal Sentencing Guidelines, the lowest result would be base level 14 (possession by prohibited person), plus four levels for intent to use it in a felony, plus two for it being stolen equals level 20, sentencing range 33-41 months. On the other hand, they could charge attempted murder of a federally-protected candidate, and that starts off at level 33. homicide (135-168 months, or 11-15 years).
Posted by David Hardy · 12 September 2016 04:20 PM
Video here. I found it quite impressive. If you're in a hurry, skip ahead to about 6:00, where the really interesting material begins.
UPDATE: via the UK's Daily Mail, here's a closeup of Hillary's "stumble" on 9/11. It looks like anything but a simple stumble. An aide stands to her left, with a good grip on her arm, as if expecting something to happen. First her back arches repeatedly, as if going into some manner of seizure. Then two other aides grabs her torso and her other arm and the three try to move her forward. Then she goes limp and flops down.
UPDATE: here's more from the same doctor, regarding her 9/11 episode. He points out that, on overcast day, she was wearing sunglasses, in a strange blue shade that I've never seen before, and he says that such glasses are used by Parkinson's patients to suppress muscle dis-coordination. I checked, he's right, here's a webpage selling them for just that purpose, and in the same bright blue shade as the glass she was wearing.
And while we're on glasses, let's talk prism glasses, such as such as Hillary wore a while back. While they can be necessary after a concussion causes double vision, they're also used for some Parkinson's patients.
FURTHER UPDATE: This page asks what is going on with Hillary's eyes during a recent speech. I couldn't see it in the video, but when I viewed it frame by frame it was apparent. Often one eye will be looking more or less straight ahead, and the other be set at an extreme left or right position.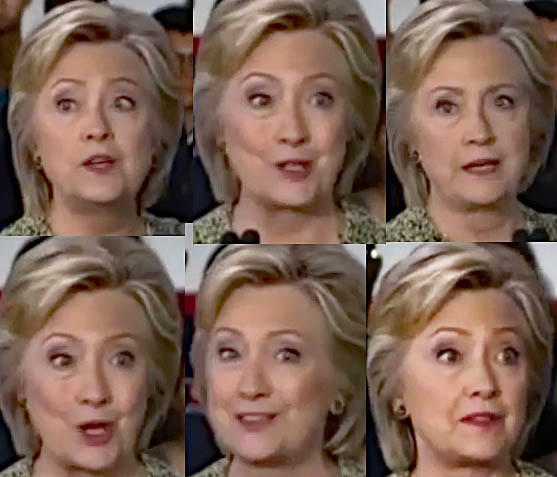 It happens when she swings her head. One eye seems to find its new target, while the other eye lags behind and takes a while to catch up. It turns out this, too, is a symptom of Parkinson's. "In Parkinson's disease, the saccades [eye movements to aim at a new target] tend to be slow (or hypometric) and show delayed initiation. Some people with PD require a blink to change their saccadic position (this is called Wilson's sign)."
Posted by David Hardy · 12 September 2016 09:21 AM
British sniper uses .50 Barrett to kill ISIS executioner -- by bursting his flamethrower and turning him and his henchmen into a fireball.
Posted by David Hardy · 6 September 2016 02:43 PM
An interesting graph. When the Obama Admin began in 2009, of the eleven numbered circuits, only the Ninth had a majority of Demo appointees, with the Second and Third being split 50-50.
In 2016, only four circuits (in the middle of the country) have a majority of Repub appointees; the other seven are all majority Demo appointees. (The same is true of the DC and Federal Circuits). What's also interesting in both Repub dominated and Demo dominated circuits, the proportions tend to be overwhelming, 66-33% or more.
Posted by David Hardy · 5 September 2016 01:04 PM
Here, at Ammo.com. Apparently, at least two States require potential parents to sign agreements as to how they store their guns; one of them also regulates carrying and the other wants unannounced home inspections to enforce the agreement.