« July 2016 | Main | September 2016 »
August 2016
Posted by David Hardy · 21 August 2016 09:11 AM
President commutes sentences of fifty persons convicted of Federal gun law violations. Oh, possession of stolen firearms, carrying a firearm during a drug offense, things like that.
Posted by David Hardy · 21 August 2016 08:15 AM
I had lunch at a new Chinese restaurant here. The menu had a typo. At least, I HOPE it's a typo for "crab puff."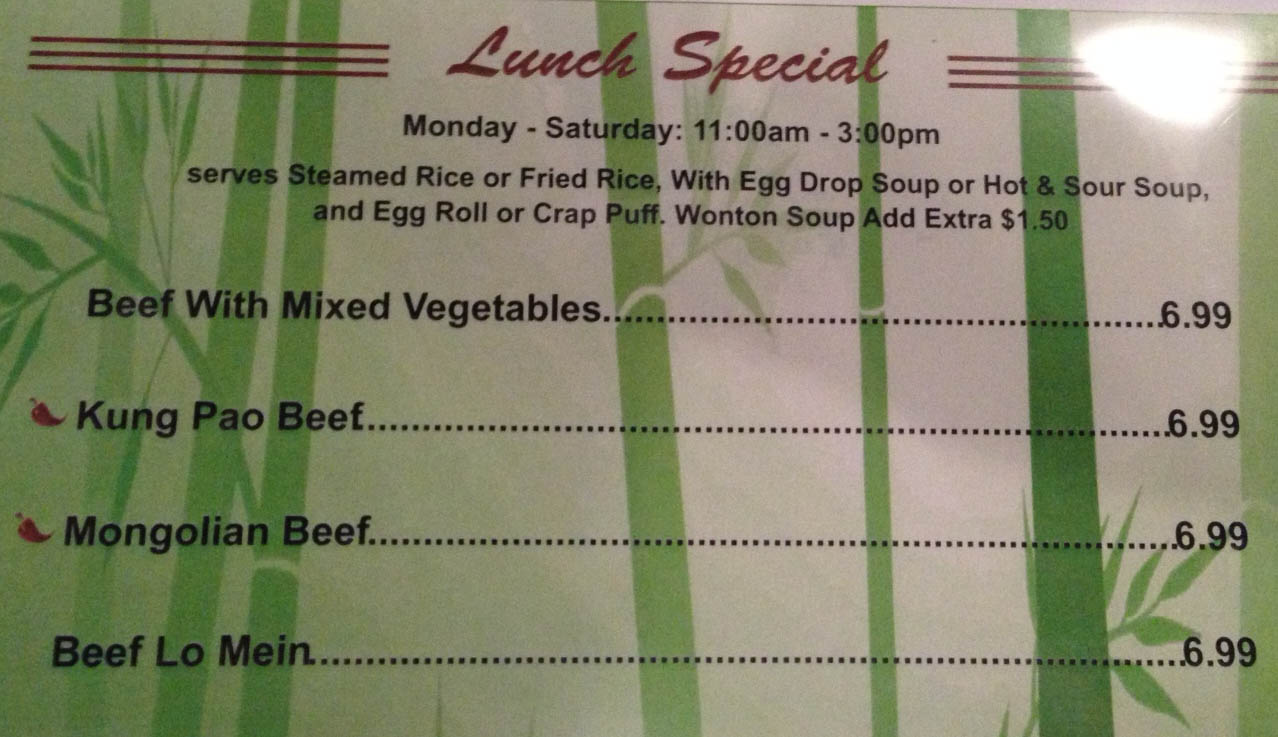 Posted by David Hardy · 18 August 2016 11:42 PM
Bob Dowlut, NRA General Counsel and acting GC since ... way back in the last century, and Alice Beard, both of them published Second Amendment authors ... here's Alice's Facebook note about their 42nd anniversary. Dig that crazy tux! It's cool, or maybe the cat's pajamas! : )
Posted by David Hardy · 15 August 2016 01:07 PM
Bill Weld, Libertarian VP candidate, interviewed on gun laws:
"The five shot rifle, that's a standard military rifle; the problem is if you attach a clip to it so it can fire more shells and if you remove the pin so that it becomes an automatic weapon, and those are independent criminal offenses. That is when they become, essentially a weapon of mass destruction. The problem with handguns probably is even worse than the problem of the AR15."
With an incoherence like that, how did he wind up on any ticket?
Posted by David Hardy · 11 August 2016 08:11 PM
Story here. She's Ginny Thrasher, and a graduate of the West Springfield High rifle team and West Virginia U's shooting team. Both of those were helped by NRA Foundation grants.
Posted by David Hardy · 10 August 2016 10:27 PM
Cancer got him early this morning. David Codrea has a number of posts on Mike. He notes that services will be Saturday, 2 PM, in Leeds, Alabama, just outside of Birmingham.
Posted by David Hardy · 9 August 2016 04:28 PM
At a rally in North Carolina, Donald Trump remarks, of Hillary Clinton, "By the way if she gets to pick her judges, nothing you can do, folks." Then he adds "Although the Second Amendment people, maybe there is, I don't know."
Hillary's campaign responds "This is simple -- what Trump is saying is dangerous. A person seeking to be the President of the United States should not suggest violence in any way."
And Trump's campaign replies that his reference was to political power: "2nd Amendment people have amazing spirit and are tremendously unified, which gives them great political power. And this year, they will be voting in record numbers, and it won't be for Hillary Clinton, it will be for Donald Trump."
Very, very clever. The first statement was merely setting the ambush.
Posted by David Hardy · 5 August 2016 02:02 PM
Apparently, there has evolved a custom in the Ninth Circuit of filing an oversized brief at the last moment, figuring that the court won't reject a motion to do so because that'd throw off the court's briefing and argument scheduling. In a recent ruling, however, Judge Kozinski dissents and comes up an effective deterrent to such an approach:
"For my part, I don't feel bound to read beyond the 14,000 words allowed by our rules, so I won't read past page 66 of the state's brief. If counsel for the state wishes me to consider any argument in the remaining portion of her brief, she should feel free to file a substitute brief, no longer than 14,000 words, which I will read in lieu of her oversized brief, so long as it is filed no later than 7 days from the date of this order."
Posted by David Hardy · 5 August 2016 10:14 AM
This time it's R. Scott Silverthorne, mayor of Fairfax City. A while back he wrote an antigun column for "Everytown". He proclaimed that 2015 had been a terrible year for him.
Doesn't look like 2016 will be any better. Silverthorne just got busted for giving an undercover officer meth in exchange for sex.
"According to Fairfax County police, they encountered Silverthorne after learning of an individual who was distributing meth through a website used to arrange male-on-male sexual encounters.
An undercover detective created a profile on the site and was contacted by Silverthorne, who said he could provide meth in exchange for sex. They arranged to meet at a hotel, where Silverthorne was arrested for felony distribution of methamphetamine."
Posted by David Hardy · 2 August 2016 10:04 AM
Dave Workman has his take on it, drawing from this WashPo article.
"Kaine has pivoted on guns, in style and substance, depending on the political climate, the office he sought and particular events.
He has been an urban mayor determined to reduce gun deaths. And he has been a statewide candidate who embraced the Second Amendment and promised not to tighten gun laws. He has become quiet on the issue at times, and played offense at other moments."
He seems to have more positions than the Kama Sutra....