« April 2016 | Main | June 2016 »
May 2016
Posted by David Hardy · 31 May 2016 06:29 PM
Bearing Arms has the story.
Posted by David Hardy · 25 May 2016 09:22 PM
Katie Couric, et al., and "Under the Gun" get caught doctoring footage to make pro-gun speakers look dumb. She asks a question of a group of Virginia Citizens Defense League members, and in the film as edited they stare in dumfounded silence for eight seconds, unable to answer. But VCDL made audio footage of the interview, and in it the members promptly give several answers. She appears to have spliced footage of her asking the question to footage of the group sitting in polite silence when no question was pending.
More here.
Posted by David Hardy · 25 May 2016 09:08 AM
It's Doe v. Franklin County, handled by Joshua Prince. The court held that any official who discloses, other than to law enforcement, information from a license to carry application is subject to a civil penalty and not shielded by official immunity. I'd suggest anyone whose information might have been disclosed contact Prince immediately.
Posted by David Hardy · 24 May 2016 03:43 PM
Right here. As he says, "Don't write my obituary just yet, but these words needed saying."
Posted by David Hardy · 16 May 2016 05:43 PM
Does the Second Amendment cover encryption? It covers "arms," after all, and when the private encryption tool PGP made its way outside the US, the government investigated the creator on charges of exporting munitions without a license.
Posted by David Hardy · 16 May 2016 11:10 AM
It's rare that I can say that, especially on 2A matters, but Teixeira v. Alameda County meets that description. Basically, the county adopted and interpreted a zoning ordinance so that it in effect prohibited all new gun stores, and the 9th Circuit struck that down. Among other things, it recognized that a gun dealer may assert the rights of his future customers, that the Heller "categorical exclusions" (felons, commercial regulations, etc.) are to be read narrowly -- "it's sorta like that" is not good enough -- and suggests that language about a class of laws being "longstanding" and thus presumptively allowed requires a more specific showing that the type of regulation at issue is of a longstanding class.
The victorious attorney was Don Kilmer, of California.
Posted by David Hardy · 12 May 2016 07:58 AM
Joyce Malcolm has thoughts on the subject.
Posted by David Hardy · 6 May 2016 08:46 AM
David Codrea has it, and is seeking contributions toward its cost. Its back side sums things up well.
Posted by David Hardy · 3 May 2016 08:39 PM
Before authorizing the gassing at Waco, Janet Reno received a briefing, and she or someone else requested that military advisors be present. The advisors chosen were reluctant to advise a law enforcement operation, but had little choice.
Here's the memo they made of the meeting. The civilian experts were quite unconcerned about the effects of the gas; the military advisors were far more concerned. Reno then asked "why now," and the FBI grossly misled her. Koresh had in fact said he would be coming out as soon as he finished writing the "little book" (too complex to explain here). The FLIR infrared had shown the Davidians were about out of water anyway (it was stored in big plastic tanks outside the building). As far as HRT suffering from lack of training, the military advisors had the simple answer: just pull them back for training. (FBI also had many of its SWAT teams manning the perimeter). There's also a mention of some military equipment (name and nature redacted) that was deployed to Waco.
Posted by David Hardy · 1 May 2016 01:11 PM
Here are two pictures made from the air during the fire of April 19: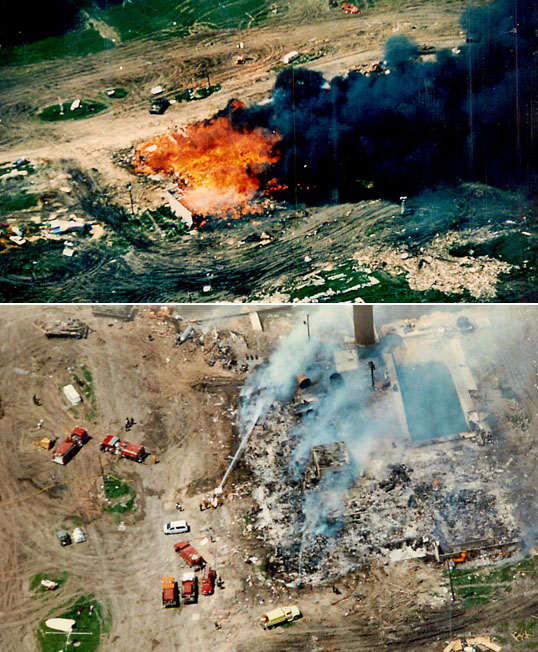 In the first, you see the Davidian home almost entirely destroyed by fire. There are no firetrucks present. In the second, you see the fire engines after they were allowed in, at a time when they could do no more than cool the ashes.
The sound track of the FLIR tapes picked up radio traffic. The agent at the scene was desperately calling for fire engines, while his superior was ordering them held up several miles away. The agent at the scene got to where he was practically pleading for them, his superior radioed were the trucks for the women and children, the agent answered yes, and his superior replied "they're the only ones, I hope."