« March 2016 | Main | May 2016 »
April 2016
Posted by David Hardy · 29 April 2016 09:58 AM
I read in the May American Rifleman that Joe White passed on--I knew him since the late 70s, and was in touch within the last few months. He passed on at age 95. He served as NRA's deputy EVP, the only deputy EVP NRA has ever had, being one of the Border Patrol retired leadership that Harlon Carter brought with him to found the NRA. (I know, it'd been around for a century before then, but the organization as it is known today was really founded in the late 1970s). He's written a number of interesting books on the NRA, on growing up impoverished in the hills, and on handling real estate. Oh, and on being in the Border Patrol. A very good man.
Posted by David Hardy · 28 April 2016 05:22 PM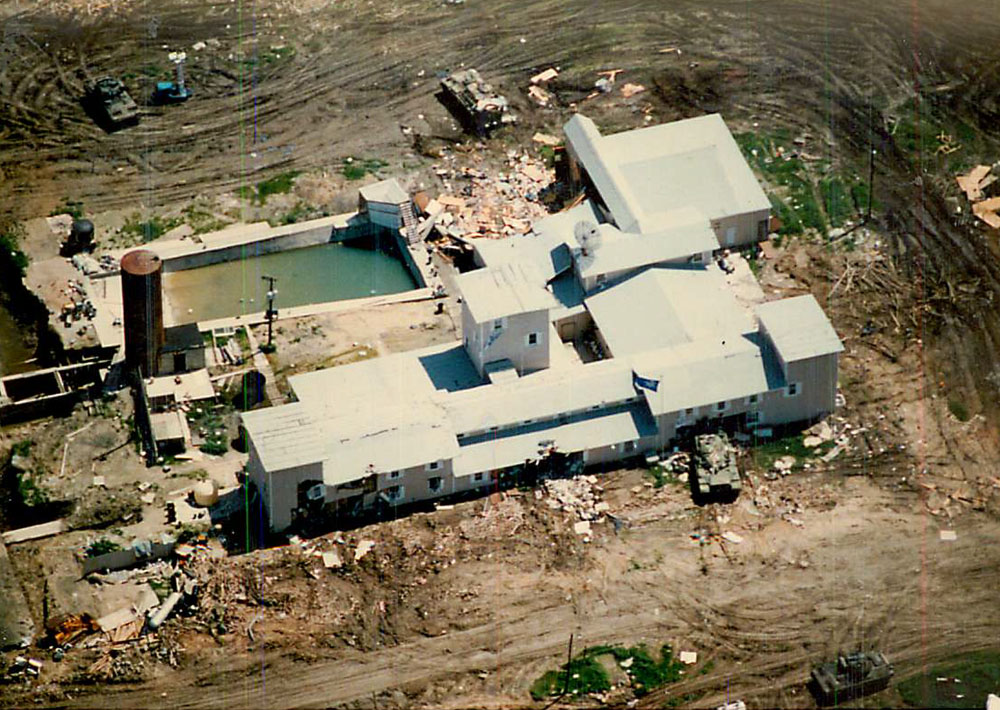 Here's a pic taken late in the process. The forward wall has been crushed in at three places, and in the center the tank entered almost its entire length. The previous photo shows how the right side had been torn open. And at the rear another CEV has destroyed half the "gym." I was there when they took the deposition of Danny Coulson, former HRT commander who monitored the operation from Washington, and he said that until he walked into the room he'd had no idea how much of the building had been destroyed or that tanks penetrated nearly their full length.
Posted by David Hardy · 28 April 2016 02:26 PM
One key to what happened on the day of the fire lies in claims that the Davidians shot at the FBI armored vehicles. As a general rule, AR-15s with 55 gr bullets are not considered good anti-tank rounds. Multiple hits in the same place may, however, require touch-up painting.
The FBI plan, as sold to Janet Reno, called for quite slow injections of CS "tear gas," more designed to annoy the Davidians into coming out. However, this could be changed to an all-out assault if the Davidians shot at the tanks (no reason was given for this, but they slid it past Reno).
The claim was that the Davidians began shooting early in the assault and continue throughout it. The incident commander testified that was why he out't let the fire trucks respond to the fire -- too dangerous, with the fanatic Davidians shooting.
Here's one of the aerial photos, taken late in the assault (notice how shredded the building is). Three armored vehicle are parked to the left (I inserted an enlarged area above them). It certainly looks as if one crewman has dismounted and is standing in the open, within about 50 yards of the building. That's not a shadow, the sun is high and notice how small the tank's shadows are.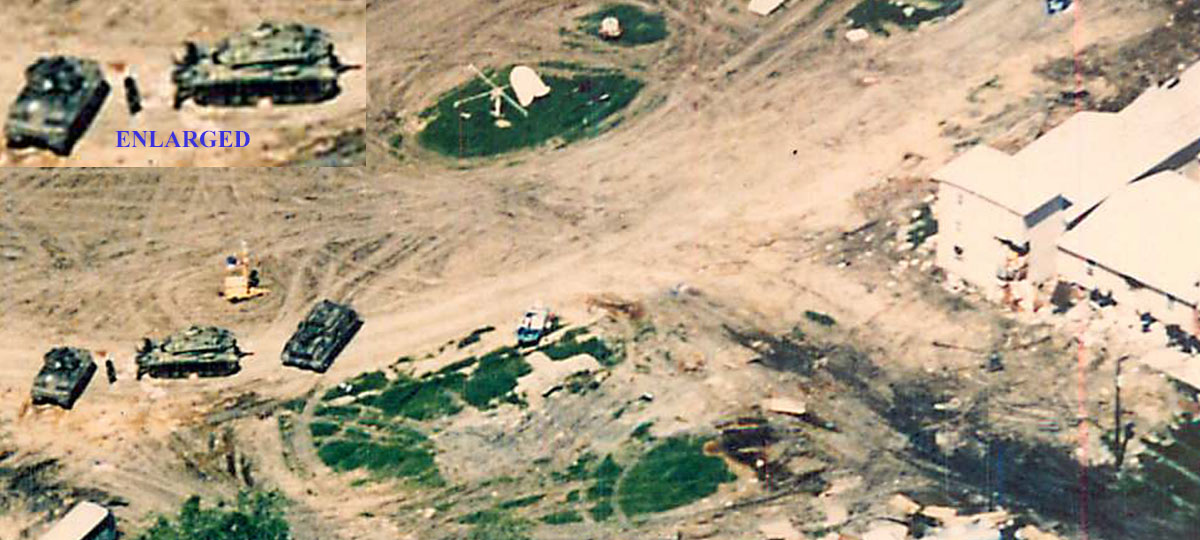 Posted by David Hardy · 27 April 2016 07:54 PM
Here is a pic I objected via FOIA, showing the very beginning of the Feb. 28 firefight in front of the building. The surviving Davidians (who were at the front of the building) said the first shots involved BATF firing through the double doors. The photo shows three agents kneeling and apparently shooting at the double doors. There are also bullet holes, barely visible, there and elsewhere. The agents' "cover" doesn't seem to match claims that the Davidians deluged them with gunfire.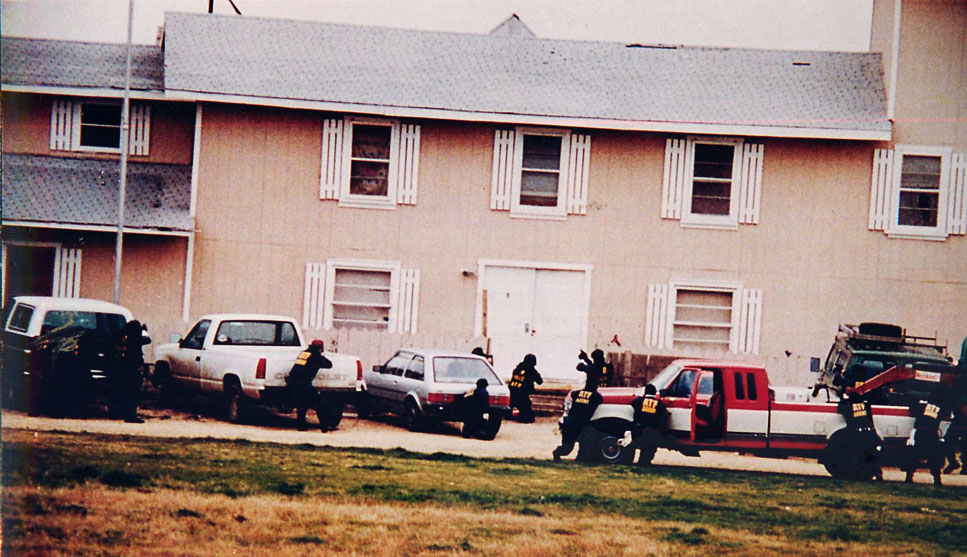 Posted by David Hardy · 26 April 2016 08:43 AM
Carlos was an infrared expert-- here's more on him.
On April 19, the day of the fire, FBI had an aircraft circling overhead with a FLIR unit (FLIR=Forward Looking InfraRed, a title still used after the units got small enough to where they no longer had to be mounted looking forward). This produced monochrome videotapes that showed heat. An issue arose as to whether they also showed gunfire coming from FBI positions before and during the fire -- the FBI denied it fired a shot that day. Several experts said the tapes did reflect gunshots.
The House Committee on Government Reform hired Carlos to examine the tapes. Unfortunately, he died from a heart attack (a weakness that ran in his family). The Committee thereupon issued statements that he'd never given them a report, that they were about to fire him, and essentially disavowing everything to do with him.
There was one problem with that story. Carlos had faxed me the report right after he gave it to the committee and briefed its staff. He found there were indeed gunshots. In fact, he pieced together an encounter. A Davidian appeared to throw something at an armored vehicle, and the something went off with a quick burst of heat. The hatches on the vehicle opened, some people dismounted, and fired in the direction of the fleeing Davidian. The battle went on from there. Carlos told me that as he played and paused the video for the congressional staffers, explaining what they were seeing, they looked like they were sucking on lemons.
Posted by David Hardy · 25 April 2016 11:37 AM
The events outside Waco unfolded in 1993, at a point when the Clinton Administration was new in office. BATF was facing some pressures -- an initiative to reinvent government by phasing out inefficient agencies was on the table, and the agency looked like a target for that.
What was needed was a big action, one that would bring in lots of favorable publicity and also curry favor with the Clinton White House. There was talk of trying to ban "assault rifles," so those seemed a good target. The agency got wind of a religious group generally called Davidians (they themselves didn't use that term), located in a big building called Mt. Carmel, in a rural area NE of Waco, Texas. The Davidians were headed by a David Koresh, who was said to have a fondness for underage women. BATF also discovered that the Davidians had bought a lot of AR-15s. All were purchased via legal purchases from an FFL. ATF ginned up a search warrant affidavit that claimed (1) a person had heard full auto fire in the vicinity of Mt. Carmel, but Koresh and a few other Davidians who could be checked had never registered full auto firearms and (2) a former Davidian said that they had a .50 cal, but from their description of it it was actually a .55 Boyes rifle, and thus a destructive device.
BATF threw together a SWAT team (some of its members were made members just before the raid) of 80 agents, borrowed three military helicopters, and went off to raid Mt. Carmel, on Feb. 28, 1993.
Koresh had been warned that they were coming, and when they pulled up he ran toward them, asking them to hold on and saying there were women and children inside. A shot rang out (I think it was at the rear of the building, where the helicopters were approaching) and Koresh retreated back inside. A major fire fight erupted, and Koresh was hit twice before he could get thru the door. The Davidians called 911 and eventually worked out a cease-fire: four agents and six (I think) Davidians were killed.
The powers that be decided that FBI and its Hostage Rescue Team would handle the siege of Mt. Carmel. The HRT was well supplied with military vehicles, in particular an M-1 tank, some engineering vehicles, and some Bradley armored personnel carriers. On April 19, 1993, the HRT decided to end the siege: it began firing in tear gas projectiles from the Bradleys, and spraying in massive quantities of "liquid tear gas" (CS dust dissolved in the methylene chloride) from tanks on the engineering vehicles' booms.
After some hours, the armored vehicles began to tear Mt. Carmel down, completely demolishing the "gym" at the rear and smashing into several parts of the front. A fire broke out, and driven by high winds, quickly gutted Mt. Carmel, killing 80+ Davidians, including 24 children.

Posted by David Hardy · 24 April 2016 11:05 AM
To start things off, here is a BATF report of their activities on February 19, 1993, nine days before the first raid and gun battle.
Background: BATF claimed that the massive raid (80+ agents, three borrowed military helicopters, a large caravan of vehicles) was necessary because David Koresh was a paranoid recluse who never left the Davidians' building and thus could not be arrested peacefully.
To monitor the Davidians, BATF put several agents in what came to be called the "undercover house," across the street from the Davidian residence (albeit "across the street" here means a couple of hundred yards away). This report details what those agents did on February 19.
They went shooting.
With David Koresh.
They had all the guns. Koresh had one unarmed Davidian with him. Then Koresh went home, and the agents went back to planning the raid.
Posted by David Hardy · 22 April 2016 10:21 PM
I attended the Waco memorial this year, first time in years that I haven't had some emergency supervene. I think next week on this blog will be largely devoted to that topic. I found it amazing how forgiving the Davidians are. Example: in front of the rebuilt church is a memorial to the BATF agents killed in the initial assault, and to the dead of Oklahoma City: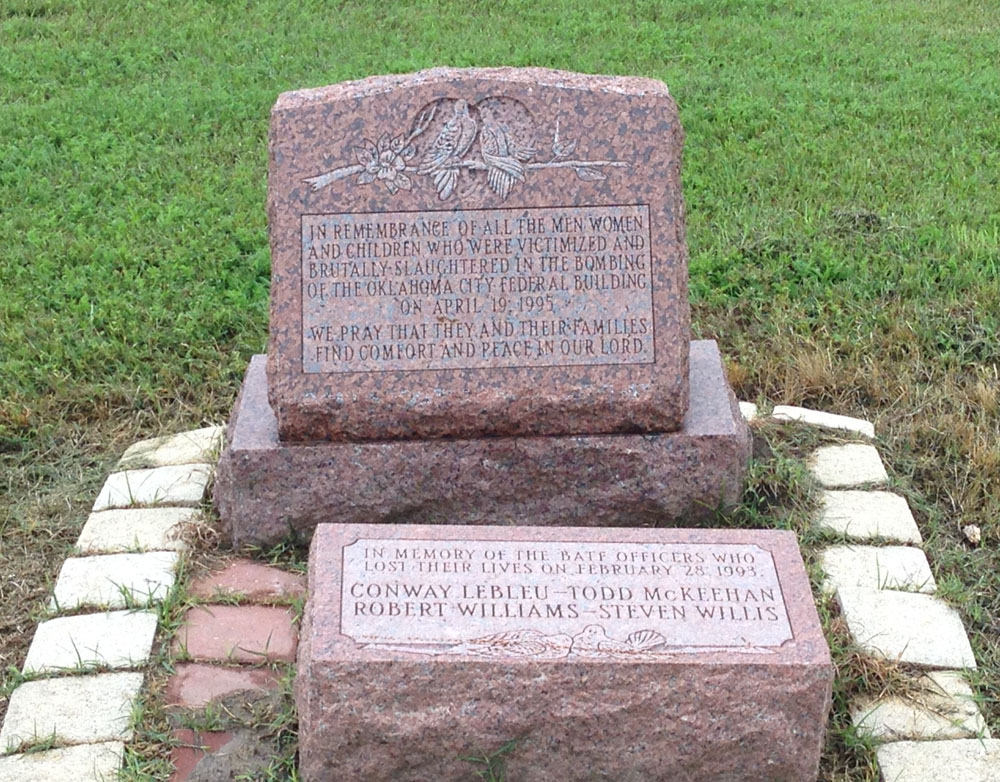 Posted by David Hardy · 22 April 2016 02:40 PM
"What You Might Not Know About Harriet Tubman, Gun-Toting Slave Liberator" at Conservative Review.
Posted by David Hardy · 20 April 2016 03:18 PM
So points out Clayton Cramer.
Posted by David Hardy · 20 April 2016 08:52 AM
He'd get $5-25,000 to expedite permit issuance. He told an undercover officer that "the officer could earn $900,000 if he helped with an estimated 150 permits."
Sounds like he was stiffing the other licensing branch officers: they said they were only getting $100 per permit.
Bribery of the permit-issuers has been an issue at least since the Knapp Commission investigated NYPD corruption in the 1970s. As I recall, that led to moving the decision making from officials in the precincts to officials at headquarters, in the hopes that would make corruption a little more difficult. There was probably undocumented corruption since the system began--you can find news articles from the 1920s and 1930s about mobsters holding pistol carry permits.
UPDATE: this fellow paid $12,500 and got a pistol carry permit, despite having a felony record. He was shocked to find that he still couldn't buy a gun, since he flunked the NICS background check.
Posted by David Hardy · 15 April 2016 02:31 PM
The media has been playing up the court's ruling allowing the Brady Campaign lawsuit against Bushmaster to proceed, notwithstanding the Protection of Lawful Commerce in Arms Act. A look at the actual ruling rather than the news accounts shows the ruling is far less significant than the media claims.
It appears that Connecticut procedures allow a defendant to move to dismiss a case in different ways, including arguing (1) the plaintiff has no case, or (2) the court doesn't even have jurisdiction to decide whether plaintiff has a case. (It's not clear to me whether you can do both in the same motion, as you can with federal practice). Buahmaster's attorneys chose to argue (2): the PLCAA deprives a State court of jurisdiction to determine a case that the statute covers. And that's the argument that the court turned down. Assuming CT procedures permit this, Bushmaster can now proceed to argue that plaintiff doesn't have a case.
Posted by David Hardy · 14 April 2016 10:42 AM
David Codrea reports a conversation with Mike last night. He and Mike were keys to opening up "Operation Fast and Furious." He writes that Mike is coming home from the hospital, but that doctors give him about a month to live.
Posted by David Hardy · 13 April 2016 09:39 PM
Sen. Grassley wants to hold a national dialogue on the role of the Supreme Court. I loosely knew Grassley back 30 years ago, and thought little of him, but maybe we've both grown in that time. I think the idea worthwhile.
I mean, the traditional image of the Court is that which CJ Roberts espoused in his confirmation hearings, just an umpire calling balls and strikes. The reality has become far different. Can we speak of baseball umpires as having liberal and conservative wings? Recent Terms have given us rulings that (1) when the Framers used the term State "legislatures," they meant something other than, you know, legislatures, (2) a statutory provision expressly denominated a "penalty" is not a penalty, but a tax (or was it the other way round? I lose track of these redefinitions) and (3) if it was a tax, it was not a tax for purposes of the statute that says a court cannot enjoin collection of a tax, the taxpayer must pay it under protest and seek its return.
And of course in the field of the right to arms, we've seen a minority of the Court (but within one vote of becoming a majority) do things to the 2nd and 14th Amendments that were unspeakable, for no better reason than that they, personally, think the framers had bad ideas in this arena.
Posted by David Hardy · 11 April 2016 09:44 PM
No Lawyers, Only Guns and Money has an updated one online. It says something that things are changing so quickly (and all in the direction of greater freedom) that you have to make sure any chart is up to date.
In terms of population, they calculate that 65% live in "shall issue" states, 27% in "may issue," 7% in "don't need" and 0.4% in "can't get" states.
It's not so many years ago, I think up 'till the mid 1980s, that the entire country was, in terms of concealed carry, either "can't get" or "may issue," Vermont being the one exception. (Like many western states, Arizona was "can't get" for concealed carry and "don't need" for open carry).
Posted by David Hardy · 1 April 2016 08:37 PM
Right here. Guy Smith, its central person, hopes to expand efforts toward pro-gun Youtube messages and undertake other projects.
"To continue this winning streak, we need your help. We want to continue educating the masses, like we did last year when we:
• Broke the code on why some polls show gun ownership steady while others show it declining.
• Showed that "lax law" states are not the source of crime guns, but that "strict law" states are.
• Launched a YouTube channel with snappy 60-second videos for you to share.
• Showed why "universal" background checks are not universal, and why they make no difference in gun crime.
• Ignited a push-back to the phony "gun violence research" drive, a counter-punch already organically circulating on the net.
• Deconstructed the myth that firearms are an anti-woman issue.
• Destroyed the Missouri myth that getting permission to buy a gun stops crime.
• Demonstrated why American street gangs are the prime source of gun violence.
• Showed that permitless (constitutional) carry is a non-problem."