« November 2015 | Main | January 2016 »
December 2015
Posted by David Hardy · 31 December 2015 05:21 PM
Chicago: policeman manages to accidentally kill a female bystander.. They also killed a 19 year old student, not by mistake.
In related news, am I the only one that thinks this shows a third-world tinpot dictator introducing a rather unimpressive general?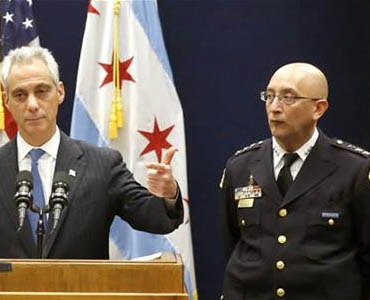 Well, I suppose that's not far off the mark.
Posted by David Hardy · 30 December 2015 12:50 PM
Virginia governor Terry McAuliffe is proposing various forms of gun control, and has by executive order banned firearms in State offices. Va State Senator Charles W. Carrico Sr. has an interesting response: defund the governor's armed guards. "It's easy for someone who is surrounded by armed state policemen to tell someone else they can't carry a weapon to protect themselves."
The idea has lots of potential. If a public figure maintains that, oh, firearms should be limited to ten-round magazines, the legislature could ensure that his body guards are limited to those. After all, if ten rounds is enough to defend against a criminal attack, and the body guards are there to prevent criminal attack, they can set the example for the rest of us.
Actually, we might wonder why a governor needs body guards. I can't recall a single case of a governor being attacked while in office, with the exception of Huey Long eighty years ago. And there are some that argue that Long was hit by an errant shot from his body guards.
Posted by David Hardy · 30 December 2015 09:59 AM
Article here. And as with anything Massad writes, well thought-out and worth reading.
Posted by David Hardy · 23 December 2015 07:20 PM
NY Times story here. Of course "Campaign Against Gun Violence" means "Campaign Against Gun Owners." If NBA actually wanted to combat gun violence, it'd dissolve itself.
Jayson Williams, Philadelphia 76ers and New Jersey Nets: convicted of manslaughter after fatally shooting his limo driver.
Art Long, Sacramento Kings, Philadelphia 76ers, and other teams: sentenced to seven years after being caught running a drug ring, while possessing an AK-47 and stolen pistol.
Raymond Felton, New York Knicks, busted on felony weapons charges.
Javaris Crittenton, LA Lakers and other teams, sentenced to 23 years after fatally shooting a woman, and being caught running a cocaine distribution ring.
Gilbert Arenas, Washington Wizards: convicted of felony carrying in DC, after a lockeroom argument over a gambling debt. (NBA did suspend him for a time).
Someone has created the NBA Crime Library, where you can research the 350 NBA players who have been charged with criminal acts. A simple search turns out 28 players with gun charges.
Posted by David Hardy · 22 December 2015 02:36 PM
Very sharply cuts back, following a ruling by its Attorney General. As of February 1, it will no longer recognize concealed carry permits from: Alaska, Arizona, Arkansas, Delaware, Florida, Idaho, Indiana, Kansas, Kentucky, Louisiana, Minnesota, Mississippi, Montana, Nebraska, New Mexico, North Dakota, North Carolina, Ohio, Pennsylvania, South Carolina, South Dakota, Tennessee, Washington, Wisconsin and Wyoming.
It will continue to recognize only those from West Virginia, Michigan, Oklahoma, Texas and Utah.
Posted by David Hardy · 20 December 2015 05:32 PM
Clayton Cramer has posted an an in-depth examination of the question. For one thing, the FBI uses a strange definition of justifiable homicide, which excludes "I shot because he was attacking me with deadly force" -- which most would consider the very core of self-defense. For another, the FBI reports are gathered soon after the investigation and/or arrest, and Clayton found that including acquittals at trial doubled the numbers involved.
Posted by David Hardy · 20 December 2015 03:47 PM
The new standard is becoming counterattack. What's equally interesting is that this report is from the Washington Post, via MSN.
There are bunch of trend lines merging here. Skyrocketing gun ownership and concealed carry permits, fighting back against killers, etc.. And the "ruling class" seems stuck in the past. Even this article seems reluctant to acknowledge things fully. It several times refers to successful unarmed counterattacks, never once mentioning the armed ones.
Posted by David Hardy · 16 December 2015 07:30 PM
That's the group founded by John Lott, the economist who has done so much over the decades for the right to arm. Donations can be made here. On the left margin of that page you can see links to some samples of his research output....murder rates before and after gun bans, comparing murder rates and gun ownership across countries, and plenty more.
Posted by David Hardy · 11 December 2015 08:56 PM
Right here. A choice bit:
"Which of the terrorist attacks cited by Obama in his speech -- which included two he had never before acknowledged as such, the Fort Hood shooting and the Chattanooga attack on a military recruiting office -- would a no-fly gun ban have prevented? None of them. None of the suspects were on the no-fly list. Farook and Malik flew last year with no problems, and Fort Hood terrorist Nidal Hasan was still in the Army. In fact, even after Russia warned the FBI about Boston Marathon bomber Tamerlan Tsarnaev in 2011, the U.S. allowed him to fly to Russia and back in 2012.
In other words, the no-fly list is not just unconstitutional, it's also a red herring. Democrats want to change the subject from the failure of this administration to prevent these attacks. When government feels the need to strip Americans of their constitutional rights -- including the right to bear arms -- they should prove their case in court while allowing for full due process. That is precisely why our founders wrote the Constitution in the first place: to protect a free people against the whimsy of tyrants."
Posted by David Hardy · 10 December 2015 08:26 PM
Right here.
"If we had the "reasonable gun control" I keep hearing about, what guns would be limited? I'm arguably not a complete idiot, but I can't figure it out. I hear "nobody wants to take away all your guns" a lot -- which seems demonstrably false -- but what guns do gun-control advocates want to take away, or restrict? Most of the time I don't know and I suspect that the advocates don't know either."
"It's hard to grasp the reaction of someone who understands gun terminology to someone who doesn't. So imagine we're going through one of our periodic moral panics over dogs and I'm trying to persuade you that there should be restrictions on, say, Rottweilers.
Me: I don't want to take away dog owners' rights. But we need to do something about Rottweilers.
You: So what do you propose?
Me: I just think that there should be some sort of training or restrictions on owning an attack dog.
You: Wait. What's an "attack dog?"
Me: You know what I mean. Like military dogs.
You: Huh? Rottweilers aren't military dogs. In fact "military dogs" isn't a thing. You mean like German Shepherds?
Me: Don't be ridiculous. Nobody's trying to take away your German Shepherds. But civilians shouldn't own fighting dogs.
You: I have no idea what dogs you're talking about now.
Me: You're being both picky and obtuse. You know I mean hounds.
You: What the fuck.
Me: OK, maybe not actually ::air quotes:: hounds ::air quotes::. Maybe I have the terminology wrong. I'm not obsessed with vicious dogs. But we can identify kinds of dogs that civilians just don't need to own.
You: Can we?
Posted by David Hardy · 8 December 2015 05:12 PM
I reported recently that Clayton Cramer's gun self-defense blog is back online. I just realized it has an interesting feature. In the right margin are a list of labels. Clicking on these you can get cases from each of several states, the nature of the self-defense, and some firearms used (including ARs and AKs). I was interested that one of the largest categories is "pizza delivery driver." One of the smallest is "mistaken identity," listing one case where police mistook the defender for a burglar and fired on him. (Fortunately their marksmanship wasn't up to snuff, and no one got hurt).
Posted by David Hardy · 7 December 2015 09:39 AM
Opinion here. The dissent begins after p. 11 of the orders.
A dissent from denial has no precedential value, though it can be cited for whatever strength its reasoning holds. It does serve as a signal (here, by two Justices, one of whom authored Heller) that there are two votes for cert. in a good case raising 2A issues (tho it also signals that the reasons given in this case were insufficient to attract enough votes to grant cert.). It can also signal lower court judges who want to rule in accord with the dissent that there is support for that view on high.
Sentencing Law and Policy blog has some thoughts.
Posted by David Hardy · 6 December 2015 04:24 PM
Quite a number. Of course, ten years ago Sen. Ted Kennedy found he was on the no-fly list It took him six weeks to get his name removed. Then, again, he had killed somebody.
Posted by David Hardy · 6 December 2015 01:41 PM
AG Loretta Lynch pledges to prosecute "hate speech" directed at Muslims. Never mind that there is no First Amendment exception for "hate speech," however defined. You'd think someone competent to be AG would at least know the First Amendment exceptions.
But I wonder if she would direct her attention here?
Posted by David Hardy · 3 December 2015 04:40 PM
Got an email from Prof. Nick Johnson:
"The John Stossel Show on Fox Business is doing an hour on gun issues, airing this Friday the 4th at 8:00. (Already taped) It will appear on the main Fox network sometime over the weekend. Stossel is a pro-gun libertarian. The theme of the show is debunking gun control myths and illuminating some of its absurdities. I am on someplace in the middle talking about [his book] Negroes and the Gun and why trusting your security entirely to the state has been a bad idea for some folks."

Posted by David Hardy · 2 December 2015 12:49 PM
My article in America's First Freedom, about finds in the Clinton Presidential Library, is online here. The most interesting finds related to how the Clinton Administration was trying to settle the suits against gun manufacturers -- by creating a system that would essentially register guns, ban all firearms that could take 10+ round magazines, ban polymer frames, ban FFLs from selling at gunshots, etc., etc. All by judicial settlement, with no need to turn to Congress.
Posted by David Hardy · 2 December 2015 12:22 PM
Right here!
He'd had some troubles with a copyright troll, and so it now bears the message: "Documenting civilians using guns in self-defense. Email complaints/requests about copyright infringement to clayton at claytoncramer.com. Reminder: the last copyright troll that bothered me went bankrupt."
Posted by David Hardy · 1 December 2015 09:56 PM
Video, via Project Veritas, here.