« March 2015 | Main | May 2015 »
April 2015
Posted by David Hardy · 29 April 2015 03:58 PM
But the governor says he'll veto it.
In AZ, concealed carry was absolutely banned (no permits available) except for peace officers, until, oh, 10-20 years ago. Then we went straight to "shall issue." A few years they repealed the ban on permitless concealed carry, so even that went (tho you can still get a permit if you want it for reciprocity purposes). If either change had any effect on human behavior, I never noticed it.
Posted by David Hardy · 28 April 2015 02:28 PM
It looks like Freddie Grey, the fellow who was mortally wounded while in police custody, was being arrested for possessing a knife banned under Maryland's arms laws. As they say, don't enact a criminal statute unless you are prepared to see someone killed in its enforcement (tho in most cases, not so intentionally as here).
But at least, you you can dial 911 for help. This might have a better result.
Posted by David Hardy · 24 April 2015 10:42 PM
Tyler was the case on an "as applied" challenge to the ban on possession where a fellow had had a short mental commitment decades ago, and Michigan law did not incorporate the Federal route to getting that lifted. The panel opinion did use facial challenge logic to reason to its conclusion (as applied logic would be simply: there is no reason to deprive this guy of the right to arms for his entire life, because he is not dangerous, regardless of whether persons in that category in general are risky). The Sixth Circuit has take the case en banc.
Posted by David Hardy · 23 April 2015 02:28 PM
Story here.
My favorite line: "The Brady Campaign declined Guns.com's request for comment about paying court costs and the dismissal."
If Brady pays it (they're the attorneys, and the award is assessed against their client, not themselves) that'd be about 10% of their assets, or 5% of their budget. If they don't ... they're gonna have some serious problems finding clients for future cases.
UPDATE: I can't find where the Protection of Lawful Commerce in Arms Act provides for attorneys' fees. The operative part of the statute simply says that a "qualified action," lawsuit, shall not be brought and any pending ones shall be dismissed. I wonder if the judge might have awarded the fees as sanctions for bringing an utterly frivolous suit. That's a rare action for a court to take, the suit has to be utterly beyond the pale, and in awarding them the judge could assess them directly against the attorneys.
Posted by David Hardy · 22 April 2015 08:59 PM
In the wake of Brady Campaign being handed its posterior in court, Sebastian notes that Brady no longer serves any purpose, even to the antigunners, and Bob Owens asks "Is the Brady Campaign done?".
Both good points. I just had one worry, though. There have been rumors that Bloomberg's groups have been in some conflict/rivalry with the older antigun groups, trying to encroach upon their space, as it were, in terms of PR and fundraising. Might this lead to Bloombergian hegemony? They may be astroturf, but they have the money to form mercenaries, and the other side has never worried much about real grassroots anyway.
Posted by David Hardy · 21 April 2015 10:14 AM
Latest issue here. The firearms related articles are at the end of the issue. There's Steve Halbrook on the NY SAFE act, and Dave Kopel on the history of firearm magazines and restrictions on them.
H/T to Alice Beard....
Posted by David Hardy · 20 April 2015 10:00 AM
Man begins shooting into a crowd, an Uber driver with a concealed carry permit shoots him down before he hits anyone.
Posted by David Hardy · 19 April 2015 12:22 PM
1775: the Revolutionary War breaks out as General Gage sends a force to seize militia supplies, and the Americans resist.
1993: the final day of the Waco siege. FBI armored vehicles fill the Davidians' building with CS gas and methylene chloride, a fire breaks out, and over a hundred die.
1995: Timothy McVeigh sets off his bomb at Oklahoma City, killing 168.
2015: the Washington Post remembers one of the above.
Posted by David Hardy · 19 April 2015 11:45 AM
The PA Gaming Control Board has been advised that its restrictions on firearms in casinos violates the State's pre-emption statute.
Posted by David Hardy · 19 April 2015 10:00 AM
As a general rule, bringing a knife to a gunfight is unwise, but there are exceptions to every rule. It probably helped that the knife in question was a katana.
Posted by David Hardy · 14 April 2015 05:57 PM
Interesting issue ... and here I'm referring to shotguns which were originally made with a rear pistol grip in place of a buttstock.
Under the Gun Control Act, the issue seems simple: they are pistols. Very big pistols, but pistols. Thus they have been treated, and sold in large numbers over quite a few years.
The National Firearms Act, however, poses a problem. Under it, they are not shotguns, since the definition of "shotgun" includes "designed to be fired from the shoulder." 26 U.S.C. §5845(f).
The problem is posed by a different part of the NFA, created when it was amended in 1968. Those amendments created a class of firearms designated "destructive devices," and really aimed at artillery pieces. As you might expect, these were VERY tightly regulated, nevermind that criminal use of artillery wasn't exactly a big problem.
Under the NFA, "The term "destructive device" means .. any type of weapon by whatever name known which will, or which may be readily converted to, expel a projectile by the action of an explosive or other propellant, the barrel or barrels of which have a bore of more than one-half inch in diameter, except a shotgun or shotgun shell which the Secretary finds is generally recognized as particularly suitable for sporting purposes..." 26 U.S.C.§5845(d).
Every shotgun but the diminutive .410 has a bore greater than half an inch. The "sporting purpose" exemption doesn't apply, since that is limited to shotguns, and as we have seen, these firearms are not "shotguns" under the definitions of the NFA.
The situation as it stands is thus: BATF must never have realized that these firearms are NFA "destructive devices," and as a result thousands, if not millions, are in private possession of persons who bought them legitimately over the counter, with no reason to suspect that there was anything legally amiss.

Posted by David Hardy · 12 April 2015 07:32 PM
While at the meeting, I wandered over to the "Moms Demand" so-called demonstration. (It was over half a mile from the meeting, but since the object was publicity I suppose its location was unimportant to its organizers). It looked like a hundred people or so people were there (its organizer had predicted four hundred).
To put in context, 300 attorneys attended NRA's National Firearms Law Seminar.
The Moms event was pitiful. One guy sung some sixties sorta-protest songs, while an old lady danced around with a red banner. Two people held a banner where cars could see it.
They had to use trick photography to try to inflate their numbers for a pic. As the linked page points out, they took the photo on an incline. They had some people stand close to the camera, then others formed up 50-100 yards back, at just the right angle to create the impression that their massed group was that deep, when most of the distance was empty space.
Here's an enlargement of a portion to show how they did it. Notice the rear ranks are far apart from the front ones.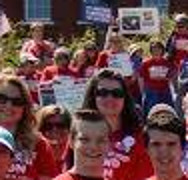 In the full picture at the linked page I counted a total of 102 people, right about my estimate. With the trick photo, it seems like 2-3 times that.
Posted by David Hardy · 12 April 2015 06:30 PM
Best presentation I heard at the Firearms Law Seminar was that of Massad Ayoob. I'm a good and often tough judge of speaking, and he was simply first rate. He spoke on self-defense and the law of self-defense.
I lost my notes, unfortunately, but some of the points he made, with force, logic, and humor were:
Some people don't talk to the police. He says, if you had to unholster your gun, your next move should be to dial 911. Reasoning: police instinctively divide humanity into perps and victims. Whoever calls first is assumed to be the victim. If you warded off a road-rage type with your gun, his revenge will be to call 911 and claim you were the one provoking everything and drew for no reason at all. You want to have called first. (Obviously, this advice may not apply if carrying illegally in New Jersey).
Point out the evidence. If there were shots, you want the spent brass pinned down before people start picking it up or accidentally kicking it out of place.
Say you are willing to sign a complaint. This better than saying "press charges," which is the prosecutor's job.
Do not recite "I was in fear for my life" as if it were magical incantation. Point out WHY you were in fear for your life.
On a human level, the fact that you tried to avoid use of force is persuasive, even if the law is "no retreat." If you could have closed and locked the door instead of "standing your ground," there's a human tendency to think that you were looking forward to using force.
If you hear a pounding on your door at 3 AM, consider that it's less likely to come from a mutant with 666 tattooed on his forehead than it is to be police with word that, oh, your car was stolen and they found it. If you open the door with gun in hand, "you don't need this little A-rab to tell you where things will be going."
Memorize what you will shout if things go bad. No need to be hesitating between "freeze," or "don't move," or something else.
Your opponents will go for the media first and try you there. Zimmerman is a classic case. His head being smashed by someone who is far more powerful than he, he winds up being branded as a vigilante racist who shot an unarmed man. Ferguson -- a guy who committed a robbery, fought with an injured the officer, tried to get his gun (the forensic evidence was clear there) became a racist who shot an unarmed "gentle giant" in the back while the guy was trying to surrender. In both cases, the defender winds up with his life ruined even after he proves his innocence.
Posted by David Hardy · 4 April 2015 10:05 PM
Some things are just impossible to believe. But then, who would have believed glass could be turned into flexible threads of great strength?
Posted by David Hardy · 4 April 2015 10:04 PM
Story here.
"A review of congressional legislative records, federal lobbying disclosure forms, as well as interviews with former ATF agents, shows how the NRA has repeatedly supported legislation to weaken several of the nation's gun laws and opposed any attempt to boost the ability of the Bureau of the Alcohol, Tobacco, Firearms and Explosives (ATF) to enforce current laws, including:
The Firearms Owners' Protection Act of 1986. This law mandated that the ATF could only inspect firearms dealers once a year. It reduced record-keeping penalties from felonies to misdemeanors, prohibited the ATF from computerizing purchase records for firearms and required the government to prove that a gun dealer was "willful" if they sold a firearm to a prohibited person."
No, FOPA says BATF can randomly inspect once a year. It can inspect additionally anytime a gun is "traced" to a dealer, or if they have evidence of specific misconduct. Certain conduct has to be proven "willful" (made in known violation of the law) to secure a conviction. A dealer who deliberately sells to a prohibited person is hardly in a position to claim he didn't know that this was illegal.
"The Tiahrt amendments. Beginning in 2003, the amendments by then-representative Todd Tiahrt, R-Kan., to the Justice Department's appropriation bill included requirements such as the same-day destruction of FBI background check documents and limits on the sharing of data from traces."
As I recall, the same-day destruction requirement is only for persons who passed the background check. How would that, or sharing trace data with others, impair law enforcement?
"One provision in the law Vizzard cited as particularly vexing to the ATF was that false record keeping for dealers was reduced to a misdemeanor, meaning if an ATF agent audited a gun dealer missing 1,200 guns, the dealer could not be charged with a federal offense.
"You just don't get many U.S. attorneys filing misdemeanors in federal court," he said."
Sure. Just go out and violate a National Park or National Forest Service regulation, and see how hard it is for them to get a U.S. Attorney to file misdemeanor charges.
"ATF records show the agency had 1,622 agents and 826 industry investigators in 1973 compared with 2,574 agents and 833 investigators in 2012.
Meanwhile the number of firearms owned in the United States has only grown."
And the number of licensed dealers has shrunk.
"The agency has not had a permanent director since 2006, the same year the Congress passed a bill to require the head of the ATF to be confirmed by the Senate like their counterparts in the FBI - a bill supported by the NRA.... President Obama recently nominated B. Todd Jones, the ATF's current acting director, to fill the leadership void permanently. While the NRA has yet to weigh in on his nomination, key senators, such as Sen. Chuck Grassley, R-Iowa, have already called for a thorough investigation of his record."
Hello? USA Today? Jones was confirmed by the Senate over a year ago, and recently resigned.
"Ronald Carter, who served as acting director in 2009, said the blame for the ATF's troubles ultimately lies with Congress and said it was time for the bureau to have a permanent head.
"ATF is not exactly loved," Carter said. "They passed the Brady Bill, but they never gave it any teeth. There are no penalties.""
A former acting director never heard that the agency now has a director? And doesn't know that Brady Act violations are felonies, carrying penalties of up to five or ten years? I hope he was misquoted.
Posted by David Hardy · 3 April 2015 10:24 PM
David Codrea notes that, while J. Edgar Hoover happily received the first .357 Magnum made, he'd secretly tried to outlaw its development, on a "cop-killer bullet" sort of theory.
Posted by David Hardy · 2 April 2015 01:46 PM
John Lott's Crime Prevention Research Center is having a very interesting event on the evening of Friday, April 10. You can sign up here. It's $50-200, depending upon your choices, and it's going to a good cause -- in terms of refuting antigun research and conduct progun research, the best cause, in fact. And how often can you hear about details of criminology alongside Katie Pavlich and Dana Loesch?
Posted by David Hardy · 2 April 2015 01:13 PM
Good news! Shes the lady with the PA carry permit who was stopped in NJ, and thinking her permit valid, informed the officer that he had a gun. She was looking at a mandatory sentence of around three years, as I recall.
Posted by David Hardy · 2 April 2015 12:02 PM
Dave Workman has the story.
Posted by David Hardy · 1 April 2015 05:05 PM
Right here. The weapons-grade plutonium is a little pricey, though.
Just remember the offers may not last long after April 1...
Posted by David Hardy · 1 April 2015 03:07 PM
John Lott takes apart an FBI report claiming that the number of mass shootings is increasing. Among other things, he notes that the FBI data including shootings where no one was killed (which make up nearly a quarter of the incidents counted) and someones nobody injured. It includes cases where one person was killed (which hardly are mass slayings), which makes up another quarter of the cases counted. It also overlooks cases fitting its criteria early in the period, which including some that shouldn't be counted at the end. The FBI count begins with the year 2000, which had an exceptionally low number of events (and undercounts them -- showing zero when actually there were four). He replies with a count over the last four decades, which finds only a slight rise. (And we might note that the US population increased 43% over the period used by Lott, and 12% over the shorter period US by the FBI).
Hat tip to reader Alice Beard....