« November 2014 | Main | January 2015 »
December 2014
Posted by David Hardy · 31 December 2014 04:47 PM
Just found her on find a grave. Heck of a smart young lady. I knew her from when she was one of the first NRA/ILA lobbyists (there were five: Bill Pickins, head, Kathy, Susan Reece, Randy Bowman and Danny Smith). She left that when she married a British MP. I last saw her at a party, though either my dates or those on her obit were confused, since I remember my son Mark (born in 1985) was an infant at the time.
She was very, very, good at politics and PR, and a little goofy in everything else. One day she came into work rather shaken up. She'd locked her keys in her house, tried to climb in an upstairs window, slipped and rolled down the roof and went into the bushes below. Another time she flew to New York City, rented a car, drove to her appointment, took a taxi back to the airport and flew back to DC. A while later the car rental place called NRA to ask where their car was. (In the meantime, it was stolen).
Posted by David Hardy · 30 December 2014 11:32 AM
Springfield MA city councilman Bud Williams, speaking at a public event, tells listeners to remember that "Jesus is the reason for the season."
He apparently didn't figure out that the event was a menorah lighting ceremony marking the beginning of Hanukkah.
I checked: yep, he supports more restrictive gun laws. Somehow, not too surprising.

Permalink · antigun groups · Comments (1)
Posted by David Hardy · 30 December 2014 11:24 AM
Texas man abuses company credit card to buy $23,000 worth of guns.
Posted by David Hardy · 29 December 2014 04:35 PM
Over 300,000 fugitives from justice are at large because the arresting jurisdiction refuses to say it'll extradite them if caught. Apparently, they figure that if the fugitive moves out of state, they're someone else's problem.
What's more, millions of fugitives can pass background checks, because law enforcement has never reported the outstanding arrest warrant to the NICS system.
Permalink · Crime and statistics · Comments (1)
Posted by David Hardy · 29 December 2014 11:44 AM
Prof. Nick Johnson (Fordham Law) takes it apart, at the Library of Law and Liberty.
Permalink · Gun manufacturer liability · Comments (0)
Posted by David Hardy · 28 December 2014 02:24 PM
The ruling is discussed by Eugene Volokh, at the Volokh Conspiracy.
Permalink · Self defense · Comments (1)
Posted by David Hardy · 27 December 2014 08:29 PM
Story here. Apparently some sheriffs are denying CCW permits to people with medicinal pot permits. The one problem I foresee is that, even with it, Federal law still makes it a felony for a user of marihuana to possess a firearm. Getting a medicinal marihuana permit and a CCW permit is like painting a target on your back, if the Federales want to get unpleasant.
Hat tip to Southern Rockies Nature Blog, which I notice today has a lead article on deer's vision and how it should govern choice of clothing while hunting.
UPDATE: I do find it interesting that... well, throughout my early years, "states' rights" (OK, States do not have rights, per se, but that was the term used) was portrayed (back then, usually accurately) as synonymous with "States can restrict liberty all they want." Today, the situation is reversed. States are quite often defending the individual liberties of their citizens against Federal restriction and injustice. Personally, I'd like to see the Federal government returned to its constitutional role as the controller (and if you want to be really originalist, protector of) interstate commerce, leaving affairs that have no actual interstate effect to the people of a State, subject to constitutional limits (establishing a church just goes too far, as does impairing the right to arms, that manner of thing).
If Colorado wants to legalize something, as a citizen of Arizona, and a citizen of the US, it should be none of my business. If a State legalizes something to which I have a profound objection, if it decides that armed robbery and murder are OK, my remedy is simple: don't move there.
Posted by David Hardy · 27 December 2014 07:14 PM
A great article on him. I didn't know he'd had a stroke, but it sounds like he's back in action.
Posted by David Hardy · 26 December 2014 02:24 PM
I discovered that Judicial Watch used NY Public Records laws (and a lawsuit) to get the city-maintained records of Mayors Against Illegal Guns, which was from the outset hosted on NY City servers. There are some interesting documents in there that I will post from time to time. This one is an email exchange (read bottom message first) between Mark Glaze, director of MAIG, and John Feinblatt, head of Everytown for Gun Safety, both being of course Bloomberg creations. Feinblatt reports that the gun manufacturers will be at some manner of negotiations and it is necessary to weaken them beforehand, and Glaze replies that Mastercard is willing to help. Sounds like an early, and nongovernmental, form of Operation Chokepoint.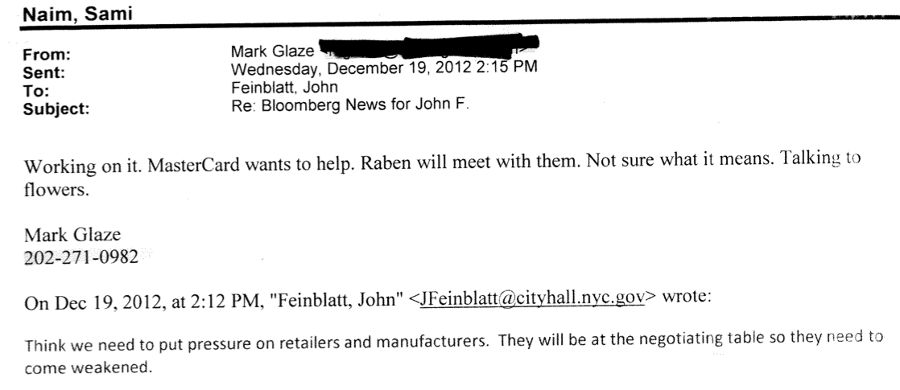 Permalink · antigun groups · Comments (5)
Posted by David Hardy · 23 December 2014 07:58 PM
The DC Circuit ruled today in Trumpeter Swan Society v. EPA. The plaintiffs, 101 self-described enviro groups, had petitioned the EPA to promulgate rules relating to spent lead ammo, arguing that the Toxic Substances Control Act required them. The EPA declined, the groups sued, lost in the trial court, and now lose on appeal.
The groups had earlier petitioned ESA to ban lead ammo, and EPA replied that TSCA has an exemption for things taxed under Pittman-Robertson, which imposes an excise tax on ammunition. So this time they came back and sought a regulation of fired projectiles, arguing that they were not subject to Pittman-Robertson.
DC Circuit holds that, no, the Pittman-Robertson exemption applies here: logically, if the EPA lacks TSCA jurisdiction to regulate ammunition, it lacks jurisdiction to regulate spent ammo. It cannot regulate the latter without indirectly regulating the former, which Congress has forbidden. It does say that EPA should not have treated the second petition as redundant, but should have considered it and denied it on the same basis as the first petition (which would require EPA to publish the denial in the Federal Record).
The groups also complained that components sold to handloaders are not P-R taxed, but the court points out that they should have raised this argument earlier and in more detail, and denies it as well. (An interesting question: how would EPA regulate spent ammo from handloads as opposed to all other spent ammo? Sounds to me as if the plaintiffs were clutching at straws by this point.).
Posted by David Hardy · 22 December 2014 11:51 AM
Pretty appalling. The PSA has a kid stealing his mother's handgun, hiding it in his backpack, taking it to school, and handing it to a teacher, asking that she take it away since he doesn't feel safe with a gun in the house. Presumably, conduct the creator feels worthy of emulation.
As the web page points out, the student in the video commits five felonies -- theft, carrying a concealed weapon, carrying at a bus stop, on a school bus, and in a school. I'd add that if the teacher takes it, the teacher commits receiving stolen property and possession of a firearm in a school zone. And of course if either of them is untrained (and the kid being so scared of a gun is evidence that he is that), neither should be packing a gun in a school or anywhere else.
Permalink · antigun groups · Comments (5)
Posted by David Hardy · 18 December 2014 10:38 AM
Tyler v. Hillsdale County -- as-applied challenge to prohibition against those who have a mental commitment.
Majority goes with strict scrutiny. Lengthy discussions of various prohibited person categories. Scalia's "presumptively lawful" treated as ambitious, with note that under any heightened scrutiny the law cannot be presumed valid.
Court concludes that statute is not "narrowly tailored" since those with mental commitments can apply for restoration of rights in States that have adopted a regime matching federal requirements (thereby getting grant money), the simple fact that Tyler's State hasn't should not leave him with a lifetime bar. Remanded for trial.
Posted by David Hardy · 17 December 2014 08:53 PM
How many mistakes can the AP make in one short story? "Stand your ground" was not an issue in the Montana shooting. Nor in the George Zimmerman case. I'm sure Montana law, prior to the amendment, allowed self-defense in cases there was no tumultuous entry into a house (as in, if outside the house, or in the house if there is a reasonable fear of death or great bodily injury). "Stand your ground" laws do not give "a person the right to use force or threaten to use force to protect his or her own home from unlawful entry or attack."
That's a pretty good list of errors for a twelve-sentence story.
Posted by David Hardy · 16 December 2014 07:53 PM
Prof. Volokh discusses the decision here.
Posted by David Hardy · 15 December 2014 07:57 PM
Hmmm... the hostage taker had 40+ arrests for sexual assault (released on bond on all), for being an accessory to the murder of his wife (released on bond), and seven for harassing families who had lost a serviceman in Afghanistan (for which he got probation).
A member of Parliament from Victoria says ""No more useless gun laws. Because most of our gun laws now seem to be aimed at the law-abiding, not at the criminals," Mr Bourman told reporters on Tuesday."Exhibit A: Sydney. None of our gun laws stopped that.""
Permalink · non-US · Comments (2)
Posted by David Hardy · 15 December 2014 11:05 AM
The Supreme Court today handed down Heien v. North Carolina. An officer stopped a car that had a brake light burned out, and in the course of the stop discovered cocaine. It turns out that the North Carolina traffic statutes say that a vehicle must have a working stop "lamp," singular. The State court of appeals ruled that this meant the stop was not supported by probable cause: no reason to believe a law was being violated. The State supreme court ruled that the stop was valid, because the officer's misunderstanding of the law was reasonable. A reasonable mistake of fact does not eliminate probable cause; does a reasonable mistake of law do so?
The Supreme Court ruled 8-1 that the stop was valid. Justice Kagan and Ginsburg concurred, writing to stress that (1) the question of reasonableness is an objective one, not one linked to the officer's personal thoughts or training, and (2) the test is stricter than the one used for qualified immunity (which is loose indeed). Justice Sotomayor dissented, arguing that a mistake of law, reasonable or not, means there is no probable cause.
UPDATE: I quite agree that it is incongruous to have government actors protected by a "reasonable mistake" defense, and have citizens often covered by "ignorance of the law is no excuse." It's particularly so in the area of qualified immunity where, as Sotomayor's dissent points out, civil suit is not allowed unless "anyone but a complete incompetent would have known this was illegal and unconstitutional." And that's when a government actor's pocketbook, not his liberty, is at stake.
With a private citizen, ignorance of the law is no excuse, and even when intent is required the prosecution can ask for a "willful ignorance" instruction, that essentially even if defendant didn't know, if you think he sorta shut his eyes to it, you can find him guilty.
I haven't researched it, but I wonder how this plays out in the setting of a criminal prosecution of a government actor for deprivation of civil rights. Is ignorance of the Constitution no defense, because it's a criminal case, or is reasonable failure to appreciate there was a constitutional right being violated a defense because of qualified immunity? Bear in mind that all of this is judicially created. The statutes say nothing about qualified immunity, or about willful ignorance.
Permalink · General con law · Comments (9)
Posted by David Hardy · 15 December 2014 10:24 AM
Story here. I really can't see it as filed in good faith. Apart from the Lawful Commerce in Firearms Act problem (a massive one), where is the negligence (selling a lawful rifle?), how do they solve proximate causation (intentional criminal misuse of a tool usually breaks the chain of cause), and after that they have to prove facts that aren't true -- that the AR-15 platform is unsuited for sporting use or self-defense. The lawsuit may be good for PR but this is the type of thing that risks a court awarding sanctions to the defendants.
Permalink · Gun manufacturer liability · Comments (6)
Posted by David Hardy · 11 December 2014 12:45 PM
A ways back, NBC's David Gregory appeared on Meet the Press, filmed in DC, flashing around a 30-round AR-15 magazine, in public violation of DC's ban on such. DC was pressed to prosecute and, of course, declined. Legal Insurrection blog sought to obtain, via the Freedom of Information Act, data relating to the non-prosecution, and won another motion, to obtain a police affidavit that called for his prosecution.
Also at the link are emails between NBC News and the DC Police Department, before the event. NBC asks, can we bring in and show the magazine? DC PD responds no, it is completely illegal, just use a photo of it.
The only thing more ridiculous than criminalizing possession of a box and spring is refusing to enforce the ban based upon the possessor's clout and friends.
Posted by David Hardy · 10 December 2014 07:48 PM
It's the latest Pew survey. They started asking the question in 1993, when "gun control is more important" led by 57-34%. Its lead peaked in 1999, at 66-34%. Today "protecting gun rights is more important" leads, 52-46%. The big change started in 2007, and from 2010 onward the two were in a dead heat.
"Compared with last January, support for gun rights increased by 6 points among Republicans and Democrats, 7 points among independents, 8 points among whites and 10 points among African Americans."
Posted by David Hardy · 9 December 2014 01:15 PM
An editorial from a Belize newspaper.
"The gun and ammunition laws were passed, our legislators said, to make it difficult for our gangs to obtain the guns and bullets they need to rob law-abiding citizens and to murder each other. These laws were first introduced about twenty years ago, and I think they have been amended once or twice. Today, all of us Belizeans know that these are laws which are abysmal failures, if we are to judge failure or success on the basis of the original intent of the laws.
What the guns laws have succeeded in doing is to intimidate and victimize innocent citizens who live in certain targeted neighborhoods. The laws are draconian, and they have contributed to the ever-growing sense in the Belizean people that we are not in control of our own destiny."
......
"The evidence is the weed law and the evidence is the gun law. These are not Belizean laws. These are oppressive laws. The PUDP are in bed with white supremacy. Power to the people."
Permalink · arms law victims ~ · non-US · Comments (0)
Posted by David Hardy · 8 December 2014 08:56 PM
NRA is behind evil plot to allow Michigan teens to have BB guns.
Posted by David Hardy · 6 December 2014 12:09 PM
In Austin, a gunman begins firing into buildings. An policeman going off-duty stops him with a 110 yard one-handed pistol shot. The officer was with the mounted unit, and holding two horses' reins in his other hand; he scored a solid chest hit.
Posted by David Hardy · 5 December 2014 04:31 PM
Here's their story on the military seeking a new handgun to replace the Beretta. A few problems:
The Beretta in the pic is appears to be a .32 pocket pistol.
It's illustrated with hollow point projectiles.
The story says the 1911 was first issued during the "war in the Philippines." I assume this refers to the Moro Rebellion: the main fighting there came in 1900-1902, and by 1911 things were pretty much still. .45s were issued during the Moro Rebellion, but they were revolvers.
It says that "guns chosen by the military achieve cult status, used as iconic weapons in James Bond and other action movies..." I can't recall that James Bond ever used a military weapon.
Posted by David Hardy · 4 December 2014 03:32 PM
Cleveland PD officer fatally shoots a 12 year old who is holding an airsoft gun. Now it appears that Cleveland hired him after another PD asked for his resignation, based on his emotional instability on the firing range.
"During a training episode at a firing range, Loehmann was reported to be "distracted and weepy" and incommunicative. "His handgun performance was dismal," deputy chief Jim Polak of the Independence, Ohio, police department wrote in an internal memo."
Posted by David Hardy · 4 December 2014 10:58 AM
The Ninth Circuit just ordered both sides to brief the petition for rehearing en banc, noting that "A judge of this Court having made a sua sponte call for a vote on whether this case should be reheard en banc..." (in legalese, "sua sponte" usually means for a court to do something without being asked to do so -- in this case, after the motion was denied. At issue are the motions by California and Brady Center to intervene and take over the case, seeking the rehearing en banc that the Sheriff did not seek.
In a separate ruling, the Court allowed Plaintiffs to file quite long (35 pages) briefs on the question.
Eugene Volokh has on the event. I think I can guess why the Court would want to consider Peruta, and not its companion cases. Peruta is cleaner case, and the other two decisions are decided essentially by referencing it. If the issue is going to be reconsidered, why not take Peruta rather than its progeny?
UPDATE: a description of what's going on. Basically,
The 9th Cir. has something like 28 active judges. The custom is that they divide into three judge panels to decide cases.
Peruta won before the panel. California cannot both (1) may "may issue" permitting and (2) ban all carrying, open or concealed, without a permit in incorporated cities and counties. The question was whether San Diego wanted to ask for en banc review (theoretically, before the entire 20+ judge court, but the Ninth Circuit is so big that en banc goes to 10 randomly selected judges and the chief judge). That's hard to get, really ties up the court, and usually it takes a conflict between two panel decisions to do it. Then en banc comes in to settle which panel decision should be the law of the circuit).

San Diego didn't want to try that, so it just let the time for requesting en banc pass.

California (and some antigun groups), which had never been involved in the case, filed motions to intervene and take over the case, so that THEY could ask for en banc. The argument was essentially, "we didn't join in this case earlier because we thought San Diego would protect our interests, and now it's not going to.

The panel denied the motion. California had simply waited too long. It could have gotten involved at any earlier stage, but passed it up.

California moved to take that decision, the denial of permission to intervene, and moved to have that decision taken en banc.

Apparently, at least one judge thought it was a good motion, so the court ordered both parties to brief it. Then they'll see if there are enough votes to grant it. It takes a majority of judges.

If denied, Peruta stands (altho two cases heard at the same time raising much the same issues might be taken en banc). If granted, California becomes the new defendant, and files its motion for rehearing en banc, and the court decides that. And of course after that, there's potential Supreme Court involvement.
Permalink · Chicago aftermath · Comments (3)
Posted by David Hardy · 3 December 2014 11:52 PM
An argument against State preemption: it prevents cities from stopping dueling. I suppose that in Pottstown PA there are already letters out, asking the satisfaction due a gentleman.
I hope their seconds aren't foolish enough to arrange the "encounter" on Main Street. It's hard to aim a dueling pistol with traffic whizzing by on either side, and since the seconds are supposed to stand somewhat to the side, they'd be run down for sure.
Posted by David Hardy · 3 December 2014 10:08 PM
Announcement here. Brian D. Aitken will discuss his book "The Blue Tent Sky: How the Left's War on Guns Cost Me My Son and My Freedom" at the Cato Institute. They'll also have the discussion online.
Hat tip to Alice Beard....
Posted by David Hardy · 1 December 2014 11:05 AM
It's been widely assumed that telephone surveys of gun owners understate the real numbers, because some proportion of them are reluctant to disclose ownership to a stranger. I recently found two pieces of research on the question.
Arthur L. Kellerman, et al., Validating Survey Responses to Questions About Gun Ownership Among Owners of Registered Handguns, 131 J. OF EPIDEMOLOGY 1084 (1990)... yes, that Kellermann. They surveyed 35 households in Seattle and Memphis (I wasn't aware that either had registration) who had a handgun registered to them. 31 said that they did have a gun, 1 denied ever having had one, and 3 said they'd had one, but didn't now (which the study counts as a valid answer, but I'd classify it as fishy, at least). So 3% gave an incorrect answer and 9% gave a fishy one.
Ann C. Rafferty, et al., Validity of a Household Gun Question in a Telephone Survey, 110 PUBLIC HEALTH REPORTS 282 (1995). A larger sample (around 190) of households that have a registered handgun, or had a hunting license. 13% of the first and 10% of the second denied owning any type of gun.
These suggest that telephone surveys result in numbers that are significantly too low, as by an eighth to a tenth, even when the ownership is completely legal.