« February 2014 | Main | April 2014 »
March 2014
Posted by David Hardy · 28 March 2014 11:38 AM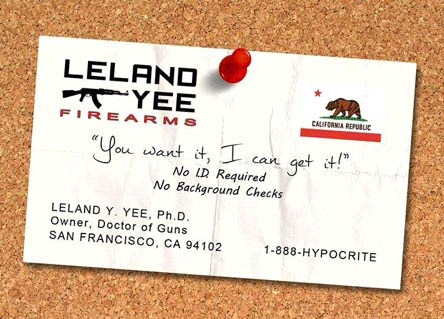 Hat tip to Peter Buxton....
Posted by David Hardy · 28 March 2014 11:29 AM
Right here. As to the State, they have to agree that the court has the power to allow intervention in its discretion; as to everyone else (Brady Campaign, etc.) the argument seems clear that they have no standing to become parties. The State and they are seeking to intervene in order to file a motion for rehearing en banc.
Posted by David Hardy · 27 March 2014 07:07 PM
He told FBI undercover agents that he could obtain millions of dollars worth of guns illegally, and had an associate who supplied arms to Islamic terror groups in the Phillipines.
Posted by David Hardy · 27 March 2014 03:03 PM
Here it is. Fifty pages, 213 fns. It did take a while to write.
Permalink · Chicago gun case · Comments (5)
Posted by David Hardy · 27 March 2014 10:27 AM
State senator Leland Yee, prominent in pushing for firearm restrictions, gets busted for official corruption, including taking money from a supposed gun trafficking ring.
"The indictment alleges Yee and Jackson defrauded "citizens of honest services" and were involved in a scheme to traffic firearms in exchange for thousands in campaign donations to the senator.
.....
The indictment also describes an August 2013 exchange in which Jackson told an undercover officer that Yee had an arms-trafficking contact. Jackson allegedly said Yee could facilitate a meeting for a donation."
"In 2006, Yee was named to the Gun Violence Prevention Honor Roll by the Brady Campaign for his efforts that included co-authoring a first-in-the-nation bill to require new semiautomatic handguns be equipped with ballistics identification technology known as micro-stamping. In 2013, he stood with law enforcement officials and then-Los Angeles Mayor Antonio Villaraigosa to propose a bill that would regulate assault weapons."
http://www.latimes.com/local/lanow/la-me-ln-yee-charged-trafficking-firearms-fbi-20140326,0,4807012.story#ixzz2xBJeX9xK
Posted by David Hardy · 26 March 2014 10:52 AM
Opinion here. The core issue: defendant had been convicted under a State statute that forbids knowingly "causing bodily injury," in this case to the mother of his child. The Gun Control Act forbids gun possession by anyone convicted of using or threatening "force" against an intimate partner. Does he fit within the Federal statute, since (1) you can cause bodily injury without using force (e.g., by giving someone drugs or poison) and (2) "force" under the Federal statute might mean something more than what is required to prove common-law battery (for which an offensive poke of the finger is sufficient, although I can't see how this meshes with the State statute that requires injury).
The Supreme Court answers -- good try, but no cigar. Scalia concurs on narrower grounds, agreeing that "force" means enough force to at least hold the potential of causing bodily injury.
Posted by David Hardy · 25 March 2014 03:17 PM
Right here. He's one of the whistleblower agents. In his case he spent years infiltrating the Hell's Angels -- then ATF, for reasons unknown, let his personal data become public. Credible death threats followed, without ATF giving him any security. His house was burned down, and ATF tried to pin it on him.
He sued the agency ... the court took three weeks of testimony, and has not yet ruled. Here's a news account of the last day of the trial. Dobdyns' blog is more detailed:
"Today U.S. Court of Claims Judge Francis Allegra opened the closing argument phase of my lawsuit by making the statements that he was the "finder of fact" and "decider of law" in this matter. He went on to say that after three weeks of trial (June and July 2013) his assessment of ATF's treatment of me was "wretched", their acts were "purposeful", derived out of "professional jealousy" and "simply spiteful."
Judge Allegra went on to say that during trial, witnesses testifying for the government had answered questions in his courtroom with "less than candor". That is a tactful way of saying they committed perjury, or for the rest of us laymen - they lied.
This was before the attorney's even spoke."
Sounds like the government attorney then went on the offensive... doesn't sound like good tactical judgment to me.
UPDATE: as far as media coverage -- and understand, Dobyns was a lifelong Tucsonan, the trial was held here, and the house was burned here -- the local newspaper ran one article, with no coverage of the judge's remarks before oral argument (which was open to the public).
Posted by David Hardy · 24 March 2014 05:19 PM
Story here.
Posted by David Hardy · 24 March 2014 04:21 PM
Innovator Enterprises v. United States, D.D.C., Mar. 19, 2014.
ATF ruled that a sample muzzle brake submitted for testing was a silencer. But it turned out that, while ATF has equipment to measure sound levels, it doesn't use them to test samples. Instead it used it to establish that certain features are consistent with being a silencer, and then just looks at the sample to see if it has those features. Which is rather like determining that competitive racing cars have transmissions with five or more speeds, thus any auto with five or more speeds is ready to enter the Indy 500. Or, for that matter, ATF is a federal agency, FBI is a federal agency, so ATF is FBI.
As the judge notes,
"A mouse is not an "elephant" solely because it has three characteristics that are common to known elephants: a tail, gray skin, and four legs. A child's bike is not a "motorcycle" solely because it has three characteristics common to known motorcycles: two rubber tires, handlebars, and a leather seat. And a Bud Light is not "Single-Malt Scotch," just because it is frequently served in a glass container, contains alcohol, and is available for purchase at a tavern."
via John Frazier's gun law blog.
Posted by David Hardy · 20 March 2014 09:07 AM
That's the title and the content of this article in Reason Online.
When I first got into 2A writing, back 39 years ago, I never dreamed I'd see a headline like that. Heck, I wouldn't have dreamed it ten years ago.
Posted by David Hardy · 19 March 2014 05:48 AM
The Delaware Supreme Court, in Boone v. Wilmington Housing Authority, ruled that a public housing agency cannot preclude possession of firearms in common areas. It noted that many of those common areas are what would in ordinary houses be part of the house/home, and rejected claims that the government here was acting as a landlord and not as a sovereign.
"With the Common Area Provision in force under penalty of eviction, reasonable, law-abiding adults become disarmed and unable to repel an intruder by force in any common living areas when the intervention of society on their behalf may be too late to prevent an injury."
Posted by David Hardy · 18 March 2014 07:59 AM
Via reader Mac Cox comes this post on the differences. I've fired both in my AR-15 without problems, but the post says this is not advisable.
Posted by David Hardy · 17 March 2014 06:09 PM
News of the first here. The bills would required chief law enforcement officers to sign the required certification within a deadline (15 days in the Utah bill).
Posted by David Hardy · 16 March 2014 10:07 PM
David Codria has them.
Posted by David Hardy · 16 March 2014 10:57 AM
Here. I note that the letter is trimmed to only include "Sample 1," presumably because that's what they're selling, and the other two samples may have been found to be "firearms."
Under the Administrative Procedure Act, 5 U.S.C. 552, documents and rulings such as this are supposed to be public, not just reflected in a letter to one person. Any general doctrines of, in this case, how much finishing it takes to make an item legally a "firearm" should be published in the Federal Register and then in the Code of Federal Regulations. Specific rulings (rubbing your belly and saying this is or isn't a firearm) should be in the agency reading room (these days an online one) so that the public can see and be guided.
Hat tip to Dave in Colorado
Permalink · BATFE · Comments (0)
Posted by David Hardy · 15 March 2014 05:28 PM
David Codrea has the story.
Ares got a temporary restraining order forbidding the raid; the Dept of Justice filed an ex parte motion (ex parte = the other isn't given notice or opportunity to oppose) modifying the order so that it did not prevent criminal investigations, which of course meant it forbade nothing. Then they raided.
Permalink · BATFE · Comments (1)
Posted by David Hardy · 13 March 2014 05:02 PM
Summary here. Essentially, Ares makes "80% receivers." A receiver starts out as raw material -- steel, or here polymer. Everyone can agree that's not a receiver. At the end, it is a finished receiver that, with the appropriate parts attached, can fire. We can all agree that that is a receiver. But at what point between the two does it go from being in one legal status to being in the other?
The industry understanding (and I emphasize understanding) has been that the line is crossed when the future receiver is 80% complete. But this is one area where BATF rulings, if any, are kept private, and never published as a regulation. This violates the Administrative Procedure Act (which requires that general rules for the public be published as regulations -- you cannot have a rule that the public must comply with, and keep it secret) and allows a little of wiggle room for "our position is" or "our position has always been."
Hat tip to Jeff Harris....
Permalink · BATFE · Comments (5)
Posted by David Hardy · 12 March 2014 06:46 PM
Late today, Justice Kennedy denied the requested stay. This didn't surprise me -- odds of such a motion succeeding in this context seemed most slender. The fact that he ordered the City to respond, ASAP, was the main surprise.
Posted by David Hardy · 12 March 2014 11:46 AM
26 bicyclists ride from Newtown to Washington DC to support gun control.
The movement for gun control had very much a 20th century approach. Monopoly in the media, almost the same with celebrities, top-down organization where the Washington HQ tells its members what to think and do, and they have little input into its decisionmaking or priorities. Contrast the gun rights movement, where NRA is rather top-down, but its members have input -- they elect the Board. Gun Owners of American, SAF, JPFO, etc. do not elect their leadership, but they are very accessible to their members and open to their input. Add on State level organizations independent of the national groups -- CalGuns and similar organizations, some big enough to influence the national groups (instead of the other way around). Naturally, people are more energized where they are genuinely part of the organization and not merely its contributors.
Then comes the internet. The mainstream media monopoly on information distribution is impaired, if not broken. Groups can communicate without paying postage for each communication. People have more ways to provide input; the top-down model becomes antiquated. It really is a new world, and the gun right movement was well-suited to adapt to it.
Posted by David Hardy · 12 March 2014 10:03 AM
I just learned that Judge David Boehm died last year. here's his obituary, and here is more on him.
I knew him from the NRA Board, where he was a director for many years until failing health led him to step down. His pictures do him justice -- he was always a kindly and happy fellow.
Permalink · NRA · Comments (0)
Posted by David Hardy · 11 March 2014 03:59 PM
Scotusblog has it here. A brief summary: the city of Sunnydale, CA, enacted a ban on magazines holding more than ten rounds. It was challenged in US District Court, with a motion for preliminary injunction (to stay enforcement of the law while the case was under consideration). The District Court denied the motion, which was appealed to the Ninth Circuit, which also denied it. That denial was in turn appealed to the U.S. Supreme Court.
I'd have given it low odds there -- the Supreme Court is unlikely to trouble itself with whether a city ordinance should be stayed for the months necessary to dispose of a case. But in the latest development, Justice Kennedy (who handles emergency motions from the Ninth Circuit) ordered the city to respond by 5 PM tomorrow. This indicates at the least that he did not want to deny the motion out of hand. Whether it means more, will have to see.
UPDATE: the motion is online here. It's well-written, I think.
Posted by David Hardy · 10 March 2014 02:38 PM
CBS investigative reporter Sharyl Attkisson, who broke the "Fast and Furious" story, has resigned from the network after 21 years of service.
"Attkisson, who has been with CBS News for two decades, had grown frustrated with what she saw as the network's liberal bias, an outsized influence by the network's corporate partners and a lack of dedication to investigative reporting, several sources said. She increasingly felt like her work was no longer supported and that it was a struggle to get her reporting on air."
Permalink · BATFE ~ · media · Comments (1)
Posted by David Hardy · 9 March 2014 06:30 PM
In USA Today.
"Even short of revolutions and coups, the militia had a different character in ordinary law enforcement than professionals possess. If called upon to enforce an unpopular law, or to enforce the law in an oppressive or unpopular way, the militia could drag its feet and fail to perform. (In this sense, the militia was like a jury, which is free to acquit even a guilty defendant if it thinks conviction would be unjust. In fact, Yale Law Professor Akhil Amar has likened the militia to jurors with guns because, like the jury, it was an institution made up of the people, through which the government must act, and one not susceptible to the kinds of corruption besetting professional institutions)."
"But although the militia survives in vestigial form in the statute books, as a functional institution, it no longer exists. For law enforcement, the militia has been replaced by professional police, with SWAT teams, armored vehicles and Nomex coveralls; for military purposes, the militia has been replaced by the National Guard, which despite a thin patina of state control is fundamentally a federal military force."
"But this departure from the system the Framers set up has encouraged more intrusive law enforcement at home, and more military action abroad. So I'll ask you: If a well-regulated militia is necessary to the security of a free state, then are we insecure? Or unfree? Or both?"
Permalink · militia · Comments (4)
Posted by David Hardy · 9 March 2014 03:32 PM
Will Baude posts his thoughts on the subject at the Volokh Conspiracy. The debate in the comments is fully as interesting as the post. E.g., if we were not meant to be bound by the social contract embodied in the original Constitution, as the Framing generation saw it, why were the requirements for amending it made so strict, requiring not just majority agreement to the changes, but very nearly a consensus? (2/3 of both Houses + 3/4 of the States).
Permalink · General con law · Comments (0)
Posted by David Hardy · 7 March 2014 07:55 PM
[UPDATE: several commentors have noted they cannot find any Connecticut Peace Officers Association online... nor can I. I've emailed the person who emailed me on this, asking for info. His indication had been that the article (which he attached) would be online in a few days at http://ezinearticles.com/. Until he responds, or does not respond, I'd treat this as a possible hoax. I would have done more digging except that when I posted I was on a plane, as part of 4,000-miles-in-36-hours trip.]
[FURTHER UPDATE: Actually, update to an update. I was absolutely sure this was a hoax and there was no story, when the story appeared online. I'd checked with ezinearticles.com, and they'd said the author was not enrolled to post there -- I guess they were wrong. Now, this doesn't cure the problem that the CPOA can't be found, but at least there is a story.]
[UPDATED UPDATE: one of the commentors, down toward the very end, notes there is a Wikipedia article on the CPOA ... but it was created this afternoon, by the author of the article. Yep, the article may be real but it's a hoax.]
Tyler Jackson has emailed me an interesting story, soon to appear online (I'll link to it once it does)-- the gist is that the head of the Connecticut Peace Officers' Assn has released an open letter stating that the police will not "be party to the oppression of the people of the state by enforcing an unconstitutional law." So far 250 LEOs have cosigned the letter.
The CT law required the registration of AWs, with a deadline for doing so, and it appears that the vast majority of AW owners have simply refused. So now the State faces massive resistance, and some portion, perhaps a large portion, of police refusing to enforce.
Posted by David Hardy · 6 March 2014 11:36 AM
The Ninth has created its own webpage devoted to Peruta, which struck down California's "may issue" for concealed carry, combined with its complete ban on handgun open carry.
Posted by David Hardy · 5 March 2014 03:05 PM
CalGuns Foundation's press release notes the event. This is their and SAF's suit against the sheriff of Yolo County, over restrictive "may issue" permit policies. The 9th Circuit (same panel as in the earlier case) reversed the trial court ruling, in favor of the sheriff, in an unpublished opinion that applies its earlier, pro-2A case.
Now, this sheriff can ask for en banc in his case.
Posted by David Hardy · 3 March 2014 09:20 PM
These guys claim that DHS has rated them the No. 1 training establishment in the world. I don't know if that is false, or if DHS has insane rating methods.
Posted by David Hardy · 2 March 2014 03:50 PM
There was a reason why conservatives in the DC area, when leaving for another part of the nation, would refer to it as "going to America."
Then there was the time when then-Senator Manny Lujan (R-N.M.) sent a letter to a constituent in New Mexico and had it returned by the DC Post Office, for having insufficient postage to go to a foreign country.
Posted by David Hardy · 2 March 2014 10:24 AM
Story here. In another account, one of the knives is described as two feet long, which would make it more of a short sword.
Permalink · non-gun weapons · Comments (0)
Posted by David Hardy · 1 March 2014 05:25 PM
Man comes to courthouse security checkpoint, empties pockets for the x-ray machine, dropping a baggie of cocaine into the tray. When questioned, he explains the pants he is wearing are not his. Oh, and he already had a felony warrant out for him.