« August 2013 | Main | October 2013 »
September 2013
Posted by David Hardy · 27 September 2013 09:22 PM
Interesting article here. It points out the initial reports said there were two shooters, using AR-15s, and then named as the dead shooter a fellow who was home in Virginia at the time of the shootings and as might be expected, not dead at all. But other than that....
Now in Houston, getting ready to speak at SAF's Gun Rights Policy Conference tomorrow. The hotel is amazing. It's right on the edge of the airport -- I can look out and see planes taxying, and outside smell the burned jet fuel, but inside it's quite quiet.
Posted by David Hardy · 27 September 2013 10:27 AM
Prosecutor dismisses charges, stating that she cannot call the lead agent as a witness. Reasons not given. The only one that comes to mind is she discovered that the agent was clearly lying, or perhaps hiding evidence.
Permalink · BATFE · Comments (3)
Posted by David Hardy · 26 September 2013 01:08 PM
Tucson passed two gun ordinances, requiring that lost or stolen guns be reported, and mandating a breathalyzer test for anyone who caused a negligent discharge. Arizona's Attorney General just ruled both violated the pre-emption statutes.
Permalink · State legislation · Comments (2)
Posted by David Hardy · 26 September 2013 09:38 AM
It wants to study its effect on Canadian gun owners. That seems to be more than the U.S. did before signing. Of course, an unratified treaty isn't legally binding, or empowering, and I rather doubt this is going to be ratified. I also doubt that the major arms exporters to civil wars, genocidal governments, etc., are going to sign on, let alone follow it. When was the last time you saw their followers toting M-16s? AKs, yes, M-16s no.
Posted by David Hardy · 25 September 2013 07:32 PM
Interesting. Russia has about one-tenth of the US's gun density, a ban on all semi-autos, background checks and permits for other guns, yet has near twice our murder rate.
Posted by David Hardy · 24 September 2013 02:54 PM
McCutcheon v.FEC. Federal campaign laws limit not only how much an individual can contribute to a given candidate or committee, but also how much he can contribute in total to all candidates and committees over a given two year period. The issue: is this unconstitutional?
Permalink · General con law · Comments (3)
Posted by David Hardy · 23 September 2013 06:33 PM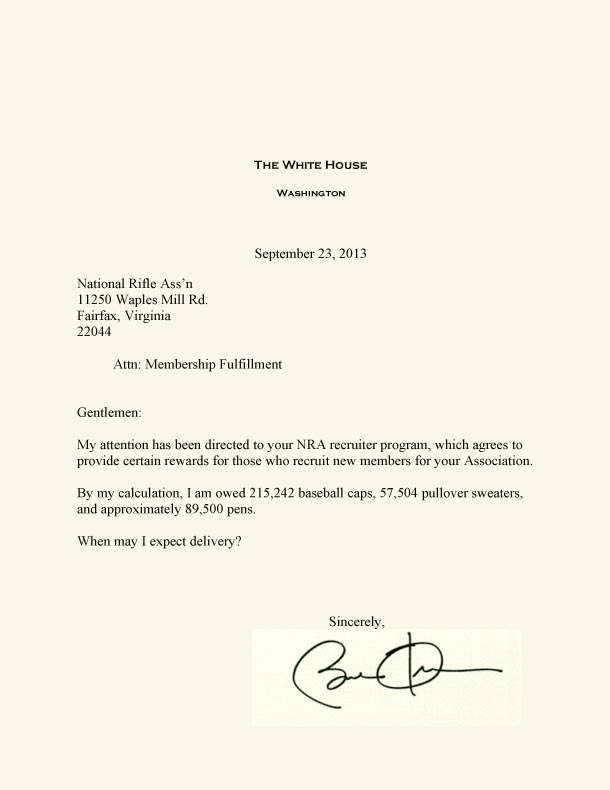 Permalink · humor · Comments (5)
Posted by David Hardy · 23 September 2013 11:09 AM
A webpage where people who believe in living gun-free can register. The page looks serious but from the press release it's actually humor.
"John Peden, the founder of GunControlHeroMarker.com, said, "Perhaps we, the pro-firearm people are looking at this the wrong way. I built Gun Control Hero Marker so people can share where those precious Gun Control Heroes live and we can get this list of "Safety Zones" out so people will know where they'll be safe from some gun-toting redneck with a Rambo complex. The simple fact is that, with over 300 million legal firearms owned by over 80 million law-abiding Americans today, it is much easier to mark where guns are NOT than where they are. There are 2 or 3 million Gun Control Heroes throughout the country that want the government to know which citizens are armed and which are not."
GunControlHeroMarker.com is the one place where both sides of this issue can come together – heroic gun control activists know that a giant database filled with personal information is a good thing and pro-firearm activists don't have to worry that their 2nd Amendment rights are being infringed. Everybody wins and gets what they want."
I suspect eventually he'll disclose that all of five people really registered.... It's a high tech version of challenging an anti-gunner to put a "There are no guns in this house" sign on his lawn.
Posted by David Hardy · 21 September 2013 10:22 PM
A great Youtube video. It wouldn't be so funny were it not so true.
Permalink · media · Comments (2)
Posted by David Hardy · 20 September 2013 03:10 PM
Video here, on youtube.
Hat tip to Russ Howard....
UPDATE, response to a comment... spam comments are an UNBELIEVABLE problem on blogs. I just went up and deleted 56 of them that made it thru my draconian spam filter. The spam comments outnumber real ones by five or ten to one. Most of the time a block can be resolved by dropping your email address... spammers love to use some like gmail and yahoo. To date, the spam filter has blocked nearly a million of them, and I catch more, as in this case, around 50 a night, that make it through. I only block an entire domain if I get a wave that is coming in faster than I can delete them. Literally, delete 20, and 20-30 more appear.
Posted by David Hardy · 19 September 2013 10:02 AM
Making a gun gesture with fingers gets a grade schooler in Maryland suspended.
Posted by David Hardy · 18 September 2013 01:03 PM
Complaint here, in pdf.
Maryland enacted more gun laws recently, and so applications for permits surged. The State Police are supposed to process them, but have "farmed out" a large part of processing to employees of other agencies. The suit notes that Maryland has regulations regarding data security and sharing, which this violates, and the other personnel are not so well vetted as are State Police staffers. Further, it appears that the data is not encrypted and protection against hacking seems flimsy.
Permalink · State legislation · Comments (0)
Posted by David Hardy · 18 September 2013 11:32 AM
From the Daily Kos, last December. Very instructive, a longer version of what Pete Shields, founder of what is now the Brady Campaign, told the New Yorker back in 1976.
The author starts by conceding that the gun laws being discussed will be useless: "Only about 5% of people killed by guns are killed by guns which would be banned in any foreseeable AWB." Magazine bans? "But it only takes one bullet out of one gun to kill a person. Remember the beltway sniper back in 2002? The one who killed a dozen odd people? Even though he used a bushmaster assault rifle, he only fired one round at a time before moving. He could have used literally any rifle sold in the US for his attacks."
He argues the solution is "to ban civilian ownership of all guns. That means everything. No pistols, no revolvers, no semiautomatic or automatic rifles. No bolt action. No breaking actions or falling blocks. Nothing." But, he agrees, this is not politically feasible, and would lead to mass disobedience. The solution is to go step by step.
"The very first thing we need is national registry. We need to know where the guns are, and who has them. " "Along with this, make private sales illegal." Next...
"Now that the vast majority are registered, we can do what we will. One good first step would be to close the registry to new registrations. This would, in effect, prevent new guns from being made or imported. This would put the murder machine corporations out of business for good, and cut the money supply to the NRA/GOA. As money dries up, the political capital needed for new controls will be greatly reduced."
Then ban concealed carry, try to make firearms and ammo hard to get. mandatory gun safes with police inspection to make sure. A national PR campaign against gun ownership, and restrictions on hunting.
By these incremental measures, "we can make the transition to a gun free society much less of a headache for us."
Permalink · antigun groups · Comments (12)
Posted by David Hardy · 17 September 2013 04:55 PM
What we know:
First, he didn't have an AR-15, doubtless to the great disappointment of certain legislators. Looks like he had a Remington 870, and two handguns he took off security personnel that he shot. The media are making gallant tries to explain why they were all claiming the AR-15. I suspect someone, somewhere, got that idea and everyone else repeated it.
Second, in 2004, he was in Seattle arrested after shooting out a parked car's tires, and nothing was done beyond the arrest.
Third, in 2010, he shot a bullet up into the apartment of a neighbor with whom he'd argued. He claimed he was cleaning the gun while cooking (?) and accidentally fired it. He was arrested but prosecutors declined to proceed.
Fourth, he was reportedly being treated for paranoid psychosis, which poses quite a risk of danger.
UPDATE:
A couple of links that ask the right questions:
How many must die in gun free zones before we learn?
EDITORIAL: End Clinton-era military base gun ban
Posted by David Hardy · 16 September 2013 10:58 AM
Woollard challenges Maryland's "may issue" permit standards for most gun carrying, open or concealed. The main reason Woollard applied for the permit was a former son-in-law who had broken into his house and assaulted him, as I recall. He was granted a permit, but the government refused to renew it when it expired, since he could not sufficiently prove a continuing threat.
Last week, the former son-in-law assaulted Woollard's daughter, beat his parents with a pipe, and shot himself after a standoff with police.
Permalink · Chicago aftermath · Comments (1)
Posted by David Hardy · 15 September 2013 08:16 PM
Dancing with Devils. I got a copy from him and finished it on the plane (7 hours in the air, I read fast). This fellow did more in a good month than I've done in my life. Got into and thrown out of Special Forces twice, stripped of a security clearance for associating with anti-Castro rebels but still got into Command and General Staff College (where top secret clearance is considered a requirement for entry ... knowing an experienced noncom with connections who'd do lots for friendship and a bottle of fine bourbon helps) entered Afghanistan while it was under Soviet rule, had a South American dictator put a contract on his life, ran humanitarian supplies into Bosnia, etc., etc..
I was esp. amused by one sniper's trick. In guerilla war, he found the problem was figuring out who was the leader and worth a shot. So he'd leave envelopes on the trial with "Take me to your commander" written on them in the local language. When the point man took it to somebody, he knew his target. Later they figured this out and told the commanders, who forgot to tell their men. Then he waited for the point man to run back with the envelope and knew his target was the person who put his hands up in a "stop" gesture and started yelling at the point man.
Posted by David Hardy · 15 September 2013 09:16 AM
Story here. One of the bills is described as a near ban on any semiauto rifle that takes detachable magazines.
Permalink · State legislation · Comments (5)
Posted by David Hardy · 12 September 2013 12:57 PM
Plaintiff sued for a Firearm Owner ID Card, required for gun possession. He had a misdemeanor DV. Apparently Illinois has no way to get rights restored after a misdemeanor. The State opposed, since its statute doesn't allow FOID cards to be issued to those barred from gun possession by Federal law, and there is the Federal bar against those with misdemeanor DV convictions.
As I read it the court holds that Federal law exempts from its prohibited person categories anyone convicted but who has had their rights restored, and that issuing the FOID is the equivalent of restoring rights (the statute does not say the rights must be restored by a court), ergo there is no Federal bar, and the FOID should issue.
Opinion here. Warning, it is a long pdf.
Permalink · prohibitted persons · Comments (3)
Posted by David Hardy · 11 September 2013 07:56 AM
Despite being grossly outspent....and Giron running in a district that is 2-1 Demo!
Press release from Bloomberg Mayors: "This election does not reflect the will of Coloradans, a majority of whom strongly support background checks and opposed these recalls."
Messr. Bloomberg, et al.:
If you will forgive the informality of my address, I believe you have been owned, sir.
Posted by David Hardy · 10 September 2013 08:55 PM
The Tampa Bay Tribune ran an article claiming, from a review of 200 court cases, that defendants claiming self defense in Florida were more likely to be acquitted if the person shot was black. I posted on this a while back, looking over their raw data, and noting that most defensive shootings were black on black or white on white, and that both defenders of both races had very nearly the same chance of being acquitted (and hispanic defenders had a much higher acquittal rate than either).
Howard Nemerov, who has far more statistical skill than I do, has done a detailed analysis and gives a solid refutation to claims of racial disparity. He's responding to claims by John Roman or the Urban Institute, who used nationwide figures from 2005-2009. Howard first notes the peculiar choice of years ... why not go for 2000-2010? Why not compare figures for justifiable homicide from States with "no retreat" to States without it? Why not compare figures to law enforcement justifiable homicides, to see if justifiable homicide rules changed generally? He concludes that States which enacted no retreat generally saw an increase in the rate at which black defendants ruled to have been involved in justifiable homicide.
Permalink · Self defense · Comments (0)
Posted by David Hardy · 10 September 2013 07:32 PM
In Colorado Springs, where John Morse is subject to recall, unofficial results are Yes" 6751, "No" 6186. (Some sites say that only with about half the districts reporting).
UPDATE: just announced, 100% of unofficial, president of the senate Morse loses by a hair, Giron lost by a big margin,
Posted by David Hardy · 9 September 2013 07:36 PM
An op-ed piece in the LA Times, by historian Joseph J. Ellis. As the comments point out, he has an interesting past. (A friend commented that one should be suspicious of historians who cannot honestly report their personal history).
I find it amusing that he says the 2A is not "an absolute right, like the right to vote or the right to a fair trial."
As to voting, it's a right that only adults can exercise, on one day, generally every two years. It must be exercised at designated locations, between designated hours, involving a choice between candidates who have been chosen by a government-designated procedure, which can involve filing petitions with thousands of signatures by a specific deadline.
As far as fair trial... good luck. If your attorney does not make the right motions, at the right time, you lose, even if the evidence did not prove your guilt, or a biased jury was picked, or evidence was gathered in violation of the Bill of Rights.
It's the standard claim that "a right can sometimes be regulated, this is a regulation, so it is okay." But the fact that we cannot send someone threats, or engage in blackmail (threatening, unless paid, to report a crime) or try to incite a riot, does not establish that a law making it a crime to criticize the president or Congress is perfectly constitutional. (At least that has some historical claim, since Congress did just that in the Sedition Act of 1798, I believe. The Federalist Party pushed it through, and the people destroyed the Federalist Party, showing that the popular understanding of the First Amendment was broader than that held by Congress a mere seven years after the Bill of Rights was ratified).
Posted by David Hardy · 9 September 2013 05:21 PM
Right here.
Permalink · State legislation · Comments (0)
Posted by David Hardy · 8 September 2013 01:01 PM
107 year old man killed after shooting it out with a SWAT team. "You dirty rats will never take me alive!"
UPDATE: they used to have a way to deal with standoffs in Tucson, at least over the summer. Cut the electrical power and the water. Pretty soon the guy is inside, 105-110 degrees, no air conditioning, air not moving, and no water. Pretty soon he's down to a choice between drinking from the toilet bowl or surrendering, and chooses the latter, since the jail at least has AC.
Posted by David Hardy · 6 September 2013 12:59 PM
Emily Miller has story. The Washington DC police department has noted that fired or empty cartridge cases are "ammunition" under its law, which restricts ammo possession to local residents with firearm permits.
Hat tip to reader Jim K....
Posted by David Hardy · 5 September 2013 12:36 PM
I've noticed that, whenever a person or group objects to "no retreat," they never say just what they want to do about it, other than "talk" or "have a dialogue" on it. That's because the purpose of the protest is to have a protest, and not to air a proposal. So I'll supply the deficiency with a draft bill they can endorse.

Whereas, the lives and persons of murderers, rapists, robbers, and other violent criminals are offered insufficient protection under existing law, and
Whereas, murderers, rapists, robbers, and other violent criminals are exposed to undue and unreasonable danger from resisting victims, and
Whereas, a home is not a castle,
Therefore be it enacted:
I. Limitation on Use of Force in Self-Defense.
A. The victim of attempted murder, rape, robbery or other violent offense is not justified in using force to resist unless the said victim is unable to retreat from the person attempting the violent offence.
B. A person attempting to prevent the commission of murder, rape, robbery or other violent offense against another person is not justified unless the victim is unable to retreat from the person attempting the violent offense.
C. This Act shall be entitled "The Violent Criminals' Protection Act of 2013."
Permalink · Self defense · Comments (8)
Posted by David Hardy · 4 September 2013 04:48 PM
Story with video here. The vet's moves were about as smooth as possible. He parries the robber's gun to the side, draws his own and ... I'm sure the robber needed a change of clothing about then.
Permalink · Self defense · Comments (5)
Posted by David Hardy · 2 September 2013 04:34 PM
Emily Miller has the story.
Posted by David Hardy · 2 September 2013 12:19 PM
Prince Law Firm proposes September 3 as the NFA Day of Reckoning. That page has form letters (to be personalized and edited) to send to your Congress critters, and to the Small Business Administration, and a link to get the mailing addresses.
Permalink · National Firearms Act · Comments (1)
Posted by David Hardy · 1 September 2013 03:54 PM
Peter Gould, who is producing a 2A documentary on which I've blogged, will be appearing on Armed American Radio. He and Gary Theroux will be on 9-10 PM EDT. The AAR page has a link to find where it airs: it looks to be carried by quite a few stations.
Posted by David Hardy · 1 September 2013 10:27 AM
Here's the proposed rule. It results from a petition by the NFA Trade and Collectors Association ... why they petitioned, I cannot explain. Perhaps they counted upon the agency to be reasonable, which is never a good idea. Even if the agency is reasonable, the regs must clear the Office of Management and Budget, which is the President's right arm in regulatory matters.
The proposed rule (as a commenter to an earlier post predicted) would require photos and fingerprints of the operator for trusts and other business entities, but does not delete the requirement that the Chief LEO sign off on the transfer. It does shave that down a little, so that the CLEO certifies that the transfer would not place the recipient in violation of law, tho he wouldn't have to certify that he knows of no reason to believe the recipient would act illegally with the gun. That doesn't solve things for CLEOs who just refuse to sign, period.
It's also interesting that the reason for this (see pp. 14-15) is given as the Brady check being unreliable...50% of arrest records have no disposition report, for example.