« September 2012 | Main | November 2012 »
October 2012
Posted by David Hardy · 31 October 2012 09:19 AM
According to the Washington Times, Issa's latest committee report "divulged for the first time that Attorney General Eric H. Holder Jr.'s office originally planned for him to go to Arizona to announce the results of the Fast and Furious investigation before Justice Department officials abruptly dropped the idea when guns from the operation showed up at the murder scene of the border agent."
This confirms that the operation was being treated as a media matter; the logical purpose of an AG press conference is not merely to announce arrests (that could be done in a press release) but to push the theme of "we need more gun laws because American guns are going to Mexican cartels." That wouldn't prove that the AG knew that guns were being walked... those setting up the gun walking would have figured to get praise, promotions, and bonuses for the PR outcome, without mentioning that little detail, or mentioning it only after
Permalink · BATFE · Comments (0)
Posted by David Hardy · 30 October 2012 10:57 AM
New York City is reporting there may have been "some leakage" of storm waters into the subway system. I'd say this suggests more than "some leakage."
UPDATE: the wording used by the New York Times is not leakage, but seepage: "Officials said water also seeped into seven subway tunnels under the East River."
Posted by David Hardy · 30 October 2012 09:50 AM
Gene Hoffman of CalGuns has them online. This is the challenge to Maryland's requirement to show "good and substantial reason" in order to get a handgun carry license (open or concealed carry).
Woollard lives on a remote farm; he was burglarized and attacked there (with police taking over two hours to respond). His attacker has a long record, and lives within three miles of him, and is now out of prison. He was denied a permit since he could not prove a threat outside of his own property. As his brief states, "To decide this case, it is enough to acknowledge what has long been established in our legal system: access to fundamental rights does not turn on some official's whim. No "good and substantial reason" is required to exercise fundamental rights."
Permalink · Chicago aftermath · Comments (1)
Posted by David Hardy · 29 October 2012 09:54 AM
The Justice Dept has moved to dismiss, and the judge ordered a tight schedule: Issa's committee counsel is to respond by Nov. 15, and DoJ to reply by Dec. 10.
Posted by David Hardy · 28 October 2012 08:54 PM
Burglar kicks in door, searches house, finds 12 year old girl hiding in a closet, and she plugs him.
Comment by a reader, P. N. Henick: "Listen to the 9-1-1 call http://newsok.com/durant-girl-12-talks-about-shooting-home-intruder/article/3720428 - the dispatcher tells her to hold onto the gun, as opposed to putting it down. Also the dispatcher communicates with the arriving deputies that the girl is coming out with a cellphone which is NOT a gun.

There is just so much that was done right. And the reason it stands out is, unfortunately, because that happens so rarely."
Permalink · Self defense · Comments (0)
Posted by David Hardy · 28 October 2012 01:06 PM
Interesting analysis. The popular narrative is that the U.S. killed the treaty. This analysis argues that the treaty was dead on its feet anyway, for reasons linked to other nations' interests. The treaty had many provisions, and the ones attracting the most opposition were ones that would have restricted arms transfers that were thought to pose a risk of fueling violations of international human rights law, or might adversely affect socio-economic development. No less than 39 countries were objecting to the last. The treaty had nowhere near a consensus backing it. Cuban, Iran, and Venezuela each had more objections than did the U.S..
"In conclusion, UN ATT Conference died from lack of consensus. This death was due less to failed diplomacy, or pressure by the firearms industry and gun rights groups, than it was the result of many years of abortive advocacy lead by an unraveling UK-based Control Arms campaign. Control Arms' broad vision for the ATT was more extreme than consensus could sustain. Ultimately, humanitarian groups sabotaged consensus for an ATT by pushing diplomats too hard for far too much and provoked dispositive sovereignty concerns across the Asia, Latin America, and the Middle East in addition to the United States.
Permalink · non-US · Comments (2)
Posted by David Hardy · 28 October 2012 12:07 PM
The Coalition to Stop Gun Violence (a wholly-owned subsidiary of the Joyce Foundation) is trying to silence Kurt Hofman, who blogs as the St. Louis Gun Rights Examiner. Their knowledge of the First Amendment is right up there with their knowledge of the Second.
Permalink · antigun groups · Comments (1)
Posted by David Hardy · 24 October 2012 10:17 AM
Article here.
The media has elaborate, court-created, protections against being sued for defamation or "false light," but if the complaint's allegations are right, Fortune is in trouble. The complaint says that the Fortune article claimed that the agent initiated the gun-walking out of a grudge, when the magazine knew his superiors ordered its execution, and hurled a number of other, invented, falsehoods against him.
Posted by David Hardy · 23 October 2012 09:20 PM
There is a report that DoJ has hired 117 prosecutors -- without paying them. (I guess the legal market is getting pretty tight, DoJ has a hiring freeze, and so they work in hopes that when that is lifted their unpaid services will be rewarded by being hired and paid).
"The unpaid attorney program, while unusual, has been used haphazardly at times in the past. But in January 2011, the DoJ began posting the volunteer positions more widely "as a strategic solution for offices to manage constrained resources", a DoJ spokeswoman said. There are currently 10 postings for one-year positions in Massachusetts, Tennessee, Louisiana, Texas, West Virginia and Pennsylvania."
There's a little problem with this. 31 U.S.C. § 1342 provides:
"An officer or employee of the United States Government or of the District of Columbia government may not accept voluntary services for either government or employ personal services exceeding that authorized by law except for emergencies involving the safety of human life or the protection of property.... As used in this section, the term "emergencies involving the safety of human life or the protection of property" does not include ongoing, regular functions of government the suspension of which would not imminently threaten the safety of human life or the protection of property."
Posted by David Hardy · 23 October 2012 10:04 AM
""Last spring, he said to me 'It's time to move on to the big game,'" she said, adding that she will miss Saturday's football game in Neyland to hunt with him in Wyoming.
"I'm hoping to bag myself an antelope.""
Supreme Court Justice Elena Kagan, speaking of Justice Scalia.
Posted by David Hardy · 23 October 2012 09:54 AM
I haven't blogged much, because I've been working on two articles. One is a comprehensive piece on how to restore firearm rights in a variety of situations, and the other is an exploration of the Dred Scott case. Just as one indication of how much the players in the latter were really pawns in a far bigger game: neither is correctly named in the court papers. Dred Scott's real name was Ethelred Scott. His opponent, named as John Sandford, actually spelled his last name Sanford.
And although Sanford stipulated that he claimed Scott as his slave, that claim was utterly bogus. The real claimant was his sister, Irene. But you can understand why his sister wanted to keep her name out of the papers ... she had married an antislavery congressman. (And she didn't succeed in keeping it out of the newspapers, either: right after the case was decided, all the pro-slavery papers began running the story of their ownership.).
Update: the ruling got a LOT of debate going, of course.... in particular, a fellow named Abraham Lincoln used it for his "House Divided Speech," saying that it, plus affairs in Kansas, proved a pro-slavery conspiracy encompassing Congress (which had passed the Kansas-Nebraska Act, repealing the Missouri Compromise), the President (who was pushing a pro-slavery constitution for Kansas, even tho the majority of settlers there were anti-slavery) and the Court.
I do see signs of jury nullification in some cases, esp. where a slave owner sued someone he claimed had aided the slave's escape. And Dred Scott's Missouri attorney wrote his Washington DC one with a concern that the Court might be reluctant to accept a free black as a citizen, because then any alleged slave being held under the Fugitive Slave Act could invoke diversity jurisdiction, and get a jury trial. (The Fugitive Slave Act was incredibly draconian in terms of procedure. No jury. If the slave-State court issued a warrant for the arrest of the alleged slave, the receiving court was required to enforce it without further investigation. Of course, with no fingerprints or photo ID, it often had nothing but a general description to go by, or at most a slave owner or his agent saying that this fellow was an escaped slave. Any black in a free State was thus at constant risk of legal kidnapping. Oh, and if the judge found the person was free, the judge got only half the fee that he did if he found he was a slave. Seriously, that was the arrangement.)
Posted by David Hardy · 18 October 2012 01:59 PM
October 26, 2010. Right in the middle of the Fast and Furious gunrunning, with SAC William Newell overseeing the operation. An Arizona television station reports:

PHOENIX - Weapons that trace back to dealers and sellers in Arizona are being found at various Mexican crime scenes, according to William Newell, Special Agent in Charge of ATF's Phoenix Division.

"Mexico is in a tough, tough situation right now, they are at war against a very, very violent, vicious group of thugs," said Newell.
. . . . . . .

At various Mexican crime scenes, Newell said they are finding weapons that trace back to dealers and sellers in Arizona.
"We have agents throughout Mexico, I go to Mexico all the time, I see US-sourced firearms there all the time," he said. "A large percentage of those firearms that they illegally acquire and illegally traffic to Mexico are from the U.S. and a large percentage are from Arizona."
Permalink · BATFE · Comments (4)
Posted by David Hardy · 17 October 2012 08:41 PM
The candidates muff it, but Prof. Winkler does not. Neither seemed to know the difference between full automatic and semi-automatic firearms, which would be no great knowledge gap ... unless the person in ignorance is proposing to outlaw something that they can't describe.
"Is it any wonder then that the candidates offered little in the way of effective solutions? Neither seems to know much about what they are—finally—talking about."
Posted by David Hardy · 17 October 2012 03:00 PM
This Twitter chain or whatever it's called could support a major increase in Secret Service staffing. Like treble it? It isn't often that you see 50 or so felonies committed on a single webpage.
Posted by David Hardy · 17 October 2012 11:38 AM
From the transcript:
"QUESTION: President Obama, during the Democratic National
Convention in 2008, you stated you wanted to keep AK-47s out of the
hands of criminals. What has your administration done or planned to
do to limit the availability of assault weapons?
OBAMA: We're a nation that believes in the Second Amendment, and
I believe in the Second Amendment. We've got a long tradition of
hunting and sportsmen and people who want to make sure they can
protect themselves.
But there have been too many instances during the course of my
presidency, where I've had to comfort families who have lost somebody.
Most recently out in Aurora. You know, just a couple of weeks ago,
actually, probably about a month, I saw a mother, who I had met at the
bedside of her son, who had been shot in that theater.
And her son had been shot through the head. And we spent some
time, and we said a prayer and, remarkably, about two months later,
this young man and his mom showed up, and he looked unbelievable, good
as new.
But there were a lot of families who didn't have that good
fortune and whose sons or daughters or husbands didn't survive.
So my belief is that, (A), we have to enforce the laws we've
already got, make sure that we're keeping guns out of the hands of
criminals, those who are mentally ill. We've done a much better job
in terms of background checks, but we've got more to do when it comes
to enforcement.
But I also share your belief that weapons that were designed for
soldiers in war theaters don't belong on our streets. And so what I'm
trying to do is to get a broader conversation about how do we reduce
the violence generally. Part of it is seeing if we can get an assault
weapons ban reintroduced. But part of it is also looking at other
sources of the violence. Because frankly, in my home town of Chicago,
there's an awful lot of violence and they're not using AK-47s.
They're using cheap hand guns.
And so what can we do to intervene, to make sure that young
people have opportunity; that our schools are working; that if there's
violence on the streets, that working with faith groups and law
enforcement, we can catch it before it gets out of control.
And so what I want is a - is a comprehensive strategy. Part of
it is seeing if we can get automatic weapons that kill folks in
amazing numbers out of the hands of criminals and the mentally ill.
But part of it is also going deeper and seeing if we can get into
these communities and making sure we catch violent impulses before
they occur.
CROWLEY: Governor Romney, the question is about assault weapons,
AK-47s.
ROMNEY: Yeah, I'm not in favor of new pieces of legislation on
– on guns and taking guns away or making certain guns illegal. We,
of course, don't want to have automatic weapons, and that's already
illegal in this country to have automatic weapons. What I believe is
we have to do, as the president mentioned towards the end of his
remarks there, which is to make enormous efforts to enforce the gun
laws that we have, and to change the culture of violence that we have.
And you ask how - how are we going to do that? And there are a
number of things. He mentioned good schools. I totally agree. We
were able to drive our schools to be number one in the nation in my
state. And I believe if we do a better job in education, we'll –
we'll give people the - the hope and opportunity they deserve and
perhaps less violence from that. But let me mention another thing.
And that is parents. We need moms and dads, helping to raise kids.
Wherever possible the - the benefit of having two parents in the
home, and that's not always possible. A lot of great single moms,
single dads. But gosh to tell our kids that before they have babies,
they ought to think about getting married to someone, that's a great
idea.
Because if there's a two parent family, the prospect of living in
poverty goes down dramatically. The opportunities that the child will
– will be able to achieve increase dramatically. So we can make
changes in the way our culture works to help bring people away from
violence and give them opportunity, and bring them in the American
system.
The - the greatest failure we've had with regards to - to
gun violence in some respects is what - what is known as Fast and
Furious. Which was a program under this administration, and how it
worked exactly I think we don't know precisely, where thousands of
automatic, and AK-47 type weapons were - were given to people that
ultimately gave them to - to drug lords.
They used those weapons against - against their own citizens and
killed Americans with them. And this was a - this was a program of
the government. For what purpose it was put in place, I can't
imagine. But it's one of the great tragedies related to violence in
our society which has occurred during this administration. Which I
think the American people would like to understand fully, it's been
investigated to a degree, but - but the administration has carried
out executive privilege to prevent all of the information from coming
out.
I'd like to understand who it was that did this, what the idea
was behind it, why it led to the violence, thousands of guns going to
Mexican drug lords.
OBAMA: Candy?
CROWLEY: Governor, Governor, if I could, the question was about
these assault weapons that once were once banned and are no longer
banned.
I know that you signed an assault weapons ban when you were in
Massachusetts, obviously, with this question, you no longer do support
that. Why is that, given the kind of violence that we see sometimes
with these mass killings? Why is it that you have changed your mind?
ROMNEY: Well, Candy, actually, in my state, the pro-gun folks
and the anti-gun folks came together and put together a piece of
legislation. And it's referred to as an assault weapon ban, but it
had, at the signing of the bill, both the pro-gun and the anti-gun
people came together, because it provided opportunities for both that
both wanted.
There were hunting opportunities, for instance, that haven't
previously been available and so forth, so it was a mutually agreed-
upon piece of legislation. That's what we need more of, Candy. What
we have right now in Washington is a place that's gridlocked."
I didn't see this part of it --from the transcript, it seems as if Romney goes into Fast and Furious, then at Obama's request the moderator cuts him off. If so, that underscores both a bias and what Prof. Brian Patrick describes as the media's self-image in which they are high priests of information. There will be a "town hall," but the moderator has reviewed, and presumably screened, all questions. There will be a debate, but the moderator will decide what can be argued. You're not to hear about Fast and Furious, because it is outside the moderator's decision about what you may hear.
Permalink · Politics · Comments (2)
Posted by David Hardy · 16 October 2012 05:37 PM
Petition for cert. here. It stems from a challenge to Georgia's ban on carrying in churches. Ordinarily, I'd not give that much hope of success. But Georgia Carry recruited a church pastor who wanted church goers to carry. Now it becomes a first and second amendment case, with the government telling a minister how to conduct worship services.
Permalink · Chicago aftermath · Comments (9)
Posted by David Hardy · 16 October 2012 04:23 PM
In Springfield, Ill., a major theme in the election is which candidate is least likely to prosecute someone for unlawful carrying.
As I've said, it must really suck to be on the other side just now....
Posted by David Hardy · 16 October 2012 01:45 PM
Eric Holder is asking the Federal District Court to dismiss Issa's suit to enforce the committee's subpoena, and David Codrea points out that gives an opportunity to Romney. It could be paired nicely with the attack in Libya. The local diplomats call for greater security (or any at all), nobody listens, and after the smoke clears, they cover up. Government officials run thousands of guns to the cartels, who use them to murder hundreds of people, nobody listens, and after the fact they cover up... in this case, the AG himself joins in covering up.
Posted by David Hardy · 15 October 2012 09:43 PM
Related to my post on Brady Campaign's collapsing finances, Bitter at Shall Not Be Questioned points out that Dennis Henigan has left Brady Campaign. I'd add that in previous IRS Form 990s Sarah Brady was listed in the top five staffers receiving salaries, and she now has vanished, either going unpaid or at least with greatly reduced salary. Between those moves and borrowing a quarter of its budget, it has all the marks of an organization on the verge of going under.
Bitter also notes that it's strange the way Henigan has been "airbrushed" off the Brady homepage. I find it strange that the guy who really put the organization on the map -- "Pete" Shields -- has gotten the same treatment, given scant mention in its material. Way back, 30+years ago, I debated Pete. He took them from a tiny organization into a fairly big one, recruited the Bradys, handed it over to them, and today is barely acknowledged. A personal beef -- we may have been on different sides, but I found him rather likable.
Permalink · antigun groups · Comments (0)
Posted by David Hardy · 15 October 2012 06:18 PM
Nordyke v. King -- which has been pending for 13 years now -- has a petition for cert. pending before the Supreme Court. Because the odds of granting cert. are low, the responding parties often waive their right to file a brief opposing the petition. Alameda County did just that -- but today the Court ordered them to respond. Prof. Volokh just emailed a reference to a law review article that notes that an order of that type raises the odds of cert. being granted by a factor of four -- from 4% to 16%. So Nordyke *may* be the next Supreme Court 2A ruling, and it's certain that the Supreme Court is at least open to another 2A case right now.
On another front, the 9th Circuit has consolidated for argument three right to arms cases, challenging California's "may issue" handgun permit system, and set the argument for Dec. 6.
Permalink · Chicago aftermath · Comments (1)
Posted by David Hardy · 12 October 2012 08:47 PM
ATF officials lured whistleblower to a Denny's, then served termination papers on him in the parking lot. Gutless snakes. Vince was one of the founders of CleanupATF.org and did much to expose Operation Fast and Furious.
This was a really stupid move, even by ATF HQ standards.
Permalink · BATFE · Comments (3)
Posted by David Hardy · 12 October 2012 10:33 AM
Mike Vanderboegh, who with David Codrea has done SO much to break the Fast and Furious story, is in the hospital for surgery (following two strokes, so I assume it's brain surgery). Get well cards and best wishes (I suppose prayers don't need an address) can be directed to him at:
Trinity Medical Center
800 Montclair Road
Birmingham, AL 35213
Posted by David Hardy · 12 October 2012 10:25 AM
From Businessweek,of all places:
"At an industry conference in September, P. James Debney, the chief executive officer of Smith & Wesson (SWHC), the largest U.S. producer of handguns, said the number of computerized background checks conducted by the FBI in conjunction with proposed gun purchases had risen year over year for 27 straight months. S&W's annual sales have increased 23 percent, to $412 million, since 2009."
"firearm crime continues to decline, as it has since the early 1990s. The rate of gun-related murder and manslaughter fell 11 percent from 2008 to 2010, the most recent year for which comparable statistics are available. This trend cannot, however, be neatly attributed to anything that happened during the Obama administration. The gun-killing rate has fallen a total of 51.5 percent since 1993. Criminologists can't agree why."
The article has to stretch to attribute the boost in gun sales to fear of the Obama Administration. I've seen the industry study that concluded there was an Obama boost for the first 2-3 months of his Administration ... tested by rises in sales of guns likely to be regulated (handguns, "assault weapons") without a rise in sales of other guns. Then the sales of all firearms began to shoot up, whether they were likely to be subject to additional regulations or not, and has continued to this day.
Posted by David Hardy · 11 October 2012 09:17 AM
Just got word that Gordon Novel, whom I first met back around 1979, died last week. There's no way to sum the man up: his wikipedia page is just a beginning. The strangest thing was that with him, the more impossibly outrageous a claim seemed to be, the more likely it was provably true. He designed a mechanism to erase the Nixon tapes from a distance. I saw the blueprints and the newspaper story on it, and knew enough to know that he'd foreseen the design problems (dissipation of heat and how to get batteries to dump current fast enough). The government tried to frame him for arson, using concocted audiotapes; I spoke with the experts who established that the tapes were faked. He helped John DeLorean beat prosecution, and was given one of his hyper-expensive cars as gift; I spoke with a reporter who verified it with DeLorean, and I rode in Gordon's car. He was living in a one bedroom apartment at the time, and driving a $200,000 car.
His role in Waco -- I think I was the first person he called, to describe exactly when and where on the infrared tapes could could see gunshot images. This was NOT easy to do, we're talking "at one hour, twenty one minutes, eleven seconds, look in the upper left corner next to the armored vehicle," and I'd still have to play and replay it to spot them. He said he'd been shown them by his CIA contacts, who had flown into New Orleans to show them on a peculiar device that was like a portable VCR with screen (today, I think it was a very early laptop, running video, but then, the mid 1990s no one had heard of those things). And when William Colby, former CIA director, drowned, Gordon called me in panic (the only time I ever heard him frightened) and said Colby was the fellow who flew in to show him the video.
Two things he would vigorously deny: (1) he said he'd never worked for the CIA. Hung out with them a lot, but never was employed by them. (2) He had nothing to do with the JFK assassination. Jim Garrison had subpoenaed him, he fled, and Garrison tried to have him extradited, but, he said, that was just to decoy Garrison, not because he had any useful information.
Permalink · Personal · Comments (1)
Posted by David Hardy · 10 October 2012 04:19 PM
The left-liberal media blog Media Matters has had what seemed to be an obsessive grudge with NRA (and also with anyone who dared to criticize Fast and Furious, where MM was sending its posts to DoJ for review).
The trend really begins in 2010. If we take posts that headline "NRA", there was one in 2007, none in 2008, four in 2009 ... and then twelve in May 2010 alone. Between then and now it's had about 5-10 NRA pieces a month, with titles like "Rachel Maddow Highlights NRA And Fox Extremism," "Chris Matthews Calls Out NRA Leader LaPierre's "Crazy" Obama Conspiracy Theory," "NRA Fundraises Off 9-11," "Gun Blogger Ignores NRA Undermining Gun Law Enforcement Measures," (Sebastian was the feature of that one), and "NRA News Downplays Loophole That Helps Arm Criminals."
I was just looking at the 2010 IRS Form 990 for the mega-rich Joyce Foundation. Understand, one tactic for using nonprofits is, if you want to dump money on a cause but for some reason don't want it to be obvious, give it to a nonprofit, and tell them where you want it spent. Then their name rather than yours will show up as supporting the causes. That way, you can claim to be moderate, while laundering money to radical causes, or pay for attacking someone by proxy.
In 2010, Joyce Foundation spent about three million on antigun causes ... after receiving a donation of two million from "Bloomberg Philanthropies" of New York City. Yep, that Bloomberg. $400 K to attack NRA via blog posts... and 1.6 million left over for radical antigun groups (Joyce only gave $20,000 to Brady Campaign, apparently thinking it too moderate for its tastes).
[UPDATE: if your comment is blocked, try deleting your email address. I had to block some, gmail, yahoo, due to incredible waves of spam comments, but set it so you can comment while leaving no email address at all].
Permalink · antigun groups · Comments (3)
Posted by David Hardy · 10 October 2012 02:43 PM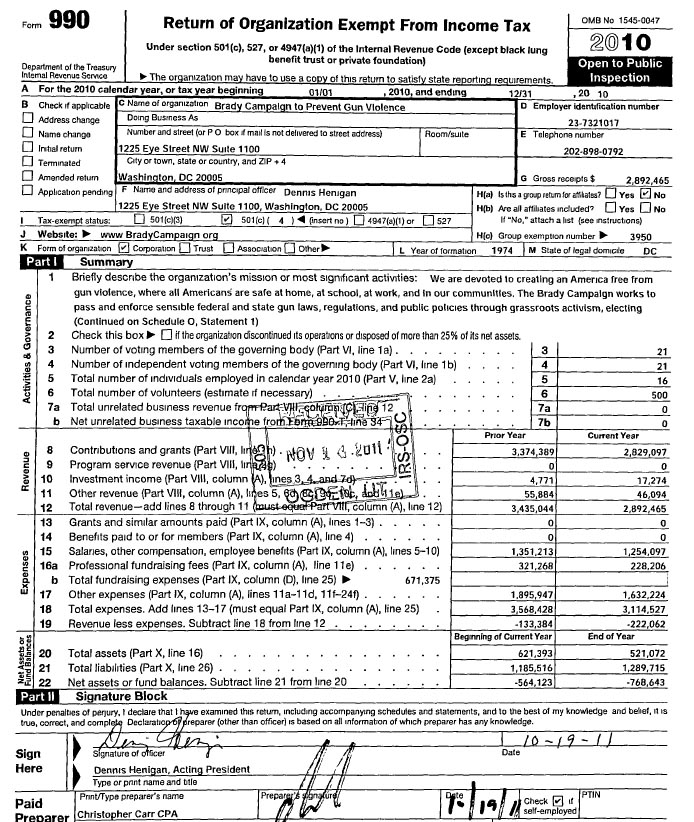 The first page of Brady Campaign's latest IRS Form 990, for 2010. By way of comparison:
Revenue Expenses Assets minus liabilities
2004 7.4 million 7.8 million 197,000
2008 4.1 million 4.2 million -838,000 (yes, a negative)
2009 3.4 million 3.6 million -564,000
2010 2.8 million 3.1 million -768,000
Their donor base is spiraling down, they haven't been able to cut expenses that far, and I assume are covering the gap by continual borrowing -- most recently, of 25% of their budget.
In 2010, salary expenses were $1.25 million and professional fundraising $228,000, meaning that over half their revenue went to those two purposes. If we take total salary expense (1.25 million) and deduct the salary for their seven best paid people ($992 K), We're left with about $258,000 payroll for anyone else. In DC, government secretaries draw $27 - 37,000, so that's probably not enough to pay a receptionist and give each of the seven a secretary. I'd guess total headquarters staffing as a dozen people or so. Salary expenses dropped by $100K between 2009 and 2010, so they probably let several people go.
Elsewhere on the form they report counting as "members" anyone who had donated $15 or more in the last two years.
Permalink · antigun groups · Comments (2)
Posted by David Hardy · 10 October 2012 01:47 PM
David Codrea reports on the Obama Admin webpage and gun control proposals. The relevant webpage is here. Scroll down about 3/4 of the page to the heading "Crime and Law Enforcement
Permalink · Politics · Comments (2)
Posted by David Hardy · 9 October 2012 02:14 PM
Interesting finds....
Probably the most interesting is the file on reactions to losing Printz v. US in the Supreme Court, which held that local LEOs could not simply be ordered to perform the background checks for some years until the Federal system was functional. Looks like the White House staff was going nuts over it, debating whether to "buy" law enforcement after the manner of the Crime Bill (I assume meaning give them lots of grants to mollify their opposition), maybe enact a very long waiting period (as it was, the dealer could transfer in no background check came in a few days), seek legislation to outlaw FFLs transferring handguns unless a background check were done, make performing them a condition of receiving certain federal funds? Debates whether something like this could be done via Executive Order....
Then there's the proposal to extend the "assault weapon ban" by totally banning possession of magazines holding more than ten rounds, that is, removing the "grandfather" exception for ones already made.
And proposals to restrict gun shows, and mandate some sort of child-proof gun, with the note that they're working with the one manufacturer who has a prototype.
Posted by David Hardy · 8 October 2012 08:24 PM
Posted by David Hardy · 8 October 2012 02:44 PM
Video here. Pretty graphic footage, BTW.
Permalink · BATFE · Comments (1)
Posted by David Hardy · 8 October 2012 10:25 AM
And a great picture of The Usual Suspects in Fast and Furious' exposure.
Posted by David Hardy · 4 October 2012 09:13 AM
George Zimmerman to sue NBC over editing his 911 call audio. The network took audio where he was saying it looks like this guy is up to no good, the 911 operator asks if he's white, black, or hispanic, he replies he looks to be black, and edited it into it looks like this guy is up to no good, he looks to be black. Normally the media has a LOT of first amendment protections against suit, but this situation might get past all those. Clearly, it had knowledge of what the audio actually said, and someone changed it to make it more sensational, and negative for Zimmerman.
UPDATE: I know something of defamation law, having won what their attorney said was the only verdict a major TV station here ever lost. A news outlet cannot make a person a public figure, and then plead his public figure status in order to gain the constitutional protections associated with that. The plaintiff must himself have gained such status. But there would be a decent argument that Zimmerman became a public figure by involvement in the fight. In any event, the audio was clearly doctored, so *someone* working for NBC had actual knowledge that it was untrue.
Posted by David Hardy · 3 October 2012 10:46 PM
Brady Campaign laments that it cannot event get a mention.
This wouldn't have happened in the 1970s, or 1980s, maybe not even in the 1900sl
Posted by David Hardy · 3 October 2012 09:00 PM
This guy must have an unusual way of cleaning his guns. You'd think the spillage of Hoppes No. 9 would have taught him that wasn't the proper approach.
In my experience, the proportion of "shot himself while cleaning a gun" to "shot himself while doing something too stupid to admit" approaches 100%.
Posted by David Hardy · 3 October 2012 05:25 PM
New Orleans prosecutor cited after dropping a joint in courtroom while talking to two police officers. Before this, he was an attorney for the city's Drug Court. Well, I suppose it's good that an attorney has some experience ....
Posted by David Hardy · 2 October 2012 02:06 PM
Obama National Cochair a venture capitalist who's closed down firms and laid people off. The Denver Post of course ignored the news, and when they wanted to run it as a full-page ad, made them delete the reference to his campaign position. (Reason: they charge thousands more for ads for political purposes than for ads to, say, sell something. So much for the MSM being there to foster awareness, etc., etc.).
Permalink · Politics · Comments (1)
Posted by David Hardy · 2 October 2012 09:33 AM
The Daily Caller reports that Univision linked two cartel mass slayings to F&F firearms, one involving an attack by 20 hit men on a student party, which left 14 dead and 12 wounded. It noted that 57 previously unreported F&F guns were linked to murders and kidnappings in Mexico.
Separately, it reports that when that cartel's top enforcer and carnage king was arrested in 2011, he was carrying F&F guns.
If the object of F&F was to get American guns used in violent crime in Mexico, it appears to have been very successful. I've seen figures indicating that when ordinary American guns turn up there, the "time to crime" (time between retail sale and recovery) was in the years and decades. With F&F guns, it was in the days and weeks. It appears that there is a very high percentage of them so recovered, and in this case, they were personal favorites of a cartel leader.
And to think that all the bloodbath the operation created is thought to be remedied by a few resignations and talk of "flawed leadership" ....
UPDATE: A friend who monitors border area media say "A quick scan of Monday US - Mexico border, English language media and Mexican media pretty much indicates the Univision special on F&F never happened. Almost total silence. Univision did do a credible job of promoting the program. Don't know about the US media, but it has been suggested that the Mexican media is waiting for guidance from EPN and the PRI.
The US media also waiting for guidance?"
And .. the documentary on F&F is in production.
Permalink · BATFE · Comments (0)
Posted by David Hardy · 1 October 2012 09:54 AM
2011: Ohio allows CCW permittees to carry in restaurants and bars. 2012: nothing happens.
""There was a lot of hubbub about it on both sides, ... then almost immediately it just got quiet," said Scott Heimlich, owner of Barcelona Restaurant in Columbus and president of the Central Ohio Restaurant Association. "In restaurants, we have not had any incidents.""