« July 2012 | Main | September 2012 »
August 2012
Posted by David Hardy · 30 August 2012 01:42 PM
The Palm Beach Post argues that if a police officer wound up shooting nine bystanders, it must be that CCW holders would have done worse.
I suspect that actual, departmental training is modest, at best. That's not illogical, since it's training for an event that will never happen to most officers, so far more time is spent on what will be routine for them. But since the great majority of LEOs are gun enthusiasts, they get their real training the way all gun enthusiasts do, on their own time. In NYC, tho, opportunities for sport shooting are not easy to come by. One officer, I'm told, handled it well. The other seems to have done very poorly -- but then, his training and practice may have been miniscule.
UPDATE: Criminal repeatedly stabs woman, CCW holder draws and forces him to surrender without firing a shot.
Permalink · media · Comments (5)
Posted by David Hardy · 28 August 2012 01:32 PM
A deaf toddler gives his name in sign language; it begins with two index fingers upraised, then crossing each other. The Grand Island Public Schools Board is asking his parents to change his name because a raised index finger violations its anti-weapons policy, since it looks like a handgun.
The school board says it wants to work out a compromise. I'd suggest: the boy goes to school, and the board gets a psych evaluation.
Hat tip to Kurt Hoffman.
Permalink · non-US · Comments (4)
Posted by David Hardy · 28 August 2012 11:20 AM
Right here. It's one that spells out "gunwalking." Interesting points:
pp. 10-11: "secondary sources (e.g.,gun shows, thefts and private sales) are a greater source of trafficked crime guns than licensed dealers."
p. 11: "This strategy will present certain challenges as some of the persons we seek to investigate, indict, and apprehend will reside outside the United States and/or may be priority targets of other U.S. law enforcement agencies. When appropriate, this strategy envisions that ATF will refer information and actionable intelligence to the Government of Mexico and/or other U.S. law enforcement agencies." Which was not done.
p. 11: "There are also practical considerations that may require bringing investigations to a conclusion or dictate a change in investigative tactics prior to the identification of persons directly affiliated with the DTOs. Examples include high volume trafficking investigations in which numerous diverted firearms identifiable with one or more purchasers are being used in violent crimes and recovered by law enforcement, and high volume trafficking investigations in which over an extended period ATF cannot reasonably determine where or to whom such firearms are being trafficked. SACs must closely monitor and approve such investigations, assessing the risks associated with prolonged investigation with limited or delayed interdiction. In some instances, the best answer may be to provide actionable intelligence to other law enforcement agencies and/or the Government of Mexico." Essentially admits that guns, perhaps in large volume, will be allowed to go to the cartels (DTOs).
p.13: Lists 2009 gun seizures from the cartels. Gulf and Zeta cartels had 892 firearms and 782 grenades seized, the Sinaloas lost 578 firearms and 60 grenades. The grenade numbers are interesting, suggesting that we're talking largely military thefts or imports from the south. This also illustrates that the number of "walked" guns -- estimated at 2000 -- was no drop in the bucket.
p. 18: "The controlled movement of firearms, ammunition, explosives, explosives devices, and/or components or non-functional "props" of such items across the U.S.-Mexico border from the United States shall be coordinated with and approved in advance by Bureau headquarters and the MCO [Mexico Country Office, the ATF attache']. Which was not done -- the attache' was kept in the dark.
If anyone knows the attorney representing Brian Terry's family in their suit against the US, I'd appreciate their bringing this to their attention. One problem in a Federal Tort Claims Act suit is getting around the discretionary function exception, and the key to getting around that is proof that someone disobeyed orders (i.e., had no discretion to do what he did).
Posted by David Hardy · 28 August 2012 09:30 AM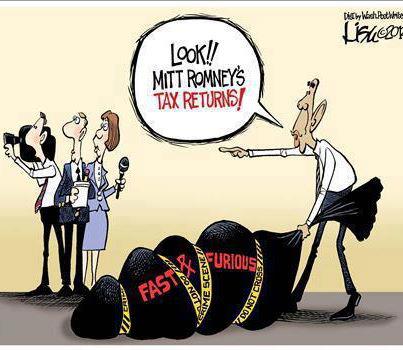 Hat tip to Len Savage.
Permalink · media · Comments (0)
Posted by David Hardy · 25 August 2012 11:17 AM
NYPD officers confront the killer, and seconds later he is dead and nine bystanders shot and wounded. [corrected]
It would have been even worse if the perp had gotten a shot off.
Granted, marksmanship goes down the tube when you're looking down the other guy's barrel, but if a CCW holder had responded with this outcome, it would forever be cited as proof that civilians acting in self-defense are more danger than they are worth.
Posted by David Hardy · 22 August 2012 09:59 AM
William McMahon, an agency official who has been questioned by Congress, is off in the Philippines, working for a private firm, while also on the BATF payroll. Here's the Issa letter.
It says he's taking annual leave from the agency (apparently planning to retire once that runs out). This is quite unusual. You can always take your annual leave, but taking another job while on it is another question. Also, the Issa letter talks of this having been in effect for nearly half a year. There are limits on the maximum leave a Federal employee can have. In my day, it was 40 days. More than that was "use or lose," lost at the end of the year. I think Senior Executive Service (which he may or may not be) now has 90 days. Either is far from half a year.
Permalink · BATFE · Comments (6)
Posted by David Hardy · 21 August 2012 09:33 AM
A Census Bureau poll, performed for Fish and WIldlife Service, shows that, over the period 2006-2011, the number of hunters increased 5% and gun, ammo, and archery expenditures increased by 33% This is a sharp reversal or earlier trends downward. This matches my hypothesis that we're seeing a broad cultural turnaround. Americans have historically liked guns, shooting, and hunting. From the 1960s onward, that was reduced. Now (at last, after fifty years) it's returning to the norm.
That's why even the media is going from "gun owners are Neanderthal rednecks out of tune with the modern world and society's needs" to being generally fair, why the courts are open to Second Amendment challenges, and why the antigun groups are faltering. When the cultural battle is being lost, it's harder to win political battles.
Posted by David Hardy · 18 August 2012 06:56 AM
And its answer, that it must supply and train 295 special agents, raises questions of its own.
I think many agencies view having their own law enforcement, not to mention a SWAT team, as matter of prestige. A JP in New Mexico once issued a number of search warrants for food stamp fraud cases. Next morning he found the town overrun with Dept of Agriculture SWAT teams, taking down people that he knew would have turned themselves in if given a phone call. Overhead was a helicopter full of armed guys. But there was nowhere to land it ... too many telephone lines. He asked an agent and was told it would just hover there for a while and then fly back to the airport. It was only there because Congress had started asking why the agency had a helo and never used it.
UPDATE: I'd agree that there are thousands of federal buildings that need some entrance security, and that those folks ought to be adequately training. But in my experience, Federal buildings are not guarded by employees of the agency involved, if only because (apart from major HQ buildings) most federal buildings combine several agencies. They are guarded by Federal Protective Service, which is part of DHS. This might explain DHS's large purchases, but not that of other departments.
I can remember when Interior was protected by private agencies, with unarmed employees, and no metal detectors. When there was an alert they looked in your briefcase, and ladies' purses, but never under overcoats. I thought Interior did not want to face the grim fact that no terrorist would think it worth attacking. What are they going to knock out, the environmental law division of the Park Service, or the migratory bird hunting division of Fish and Wildlife, or screw up FOIA response by taking out the Division of General Law?
Posted by David Hardy · 17 August 2012 09:08 AM
Story here.
Permalink · BATFE · Comments (0)
Posted by David Hardy · 16 August 2012 09:47 PM
Gun activist Alan Korwin contracted to place advertising posters on Phoenix bus shelters, promoting firearms training. The Phoenix transit agency ordered them taken down because of their policy of allowing advertising only of speech that "proposes a commercial transaction." The Goldwater Institute filed suit on his behalf, arguing a First Amendment violation (which I think it surely is). Word now is that oral argument is set for August 23.
Posted by David Hardy · 16 August 2012 03:05 PM
[The bullet button, as I understand it, stems from California's "assault weapons ban," which relates to guns with detachable magazines. Which in turn is defined as magazines that can be removed without special tools. People came up with the idea of having a magazine release that cannot be depressed by a fingertip, but can be depressed by the nose of a bullet.]
Permalink · State legislation · Comments (5)
Posted by David Hardy · 15 August 2012 09:31 AM
Story here, and the ruling upon which it is based, here.
As I read it: here in AZ, the legislature completely rewrote the criminal code in the 1970s, classifying felonies into six classes, and then with sentencing provisions specifying the presumptive, minimum, and maximum sentences for each class, plus aggravating factors. North Carolina took an approach much like the Federal one: leave the offenses with the traditional "shall be sentenced to five to ten years" clauses, then impose a general sentencing provision, i.e., crimes carrying a sentence of 5-10 years will in fact be sentenced in this manner for first offense, and that for second offense.
In this case, the defendant had been convicted of small-time marijuana trafficking, first offense. The North Carolina statute on the offense said it was punishable by up to five years' imprisonment. But the general sentencing provisions said that would carry a sentence of more than a year only if the State pleads and proves aggravating conditions and a certain criminal history, which the State did not.
Simmons was later caught possessing a firearm. So was his past conviction for a crime punishable by more than a year's imprisonment, the Gun Control Act definition of a felon, or was it not? The Fourth Circuit initially ruled that it was -- the only test was whether the specific criminal statute said more than a year, in fact, if it allowed more than a year for the most aggravated form of violation. The Supreme Court remanded, and the Fourth Circuit reconsidered and held that it was not a conviction punishable by more than a year's imprisonment.
Permalink · prohibitted persons
Posted by David Hardy · 14 August 2012 02:40 PM
The National Weather Service is out to buy 46,000 rounds of .40 hollowpoint plus 6,000 rounds in frangible. Do they figure people are getting that upset about their forecasts?
Posted by David Hardy · 13 August 2012 01:12 PM
Here's the complaint, filed this morning.
Permalink · BATFE · Comments (0)
Posted by David Hardy · 13 August 2012 10:20 AM
An interesting telephone interview on Deer Talk. It starts at 11:00 minutes.
Posted by David Hardy · 13 August 2012 10:20 AM
An interesting telephone interview on Deer Talk. It starts at 11:00 minutes.
Posted by David Hardy · 9 August 2012 04:15 PM
In its pitiful attempt to remain relevant (let alone solvent), Time magazine runs a pitiful excuse for an editorial.
It talks generically of "gun control," so as to avoid having to spell out an idea and show why it would work out.
It says that the US has the highest gun murder rate in the world. Not true. And in any event, gun murder rates are not relevant, it's the total murder rate that is. Using just gun murder rates, Taiwan seems peaceful (a fifth the US rates), and Northern Ireland even better. But in terms of overall murder rates, both are significantly higher than the US.
Finally, it argues that gun control is constitutional ... because Warren Burger said so (not mentioning it was a Parade magazine interview, which doesn't trump two recent Supreme Court rulings).
(Shaking head)
Permalink · media · Comments (4)
Posted by David Hardy · 8 August 2012 05:42 PM
First, in the midst of an antigun event, a reporter asks why NYPD just sold 28,000 pounds of spent cartridge to an ammo reloader, and he rather loses it, and tells the reporter if she keeps at it she'll have to stand in the back of the room at all future press conferences. (That, BTW, illustrates why the press often hesitates to criticize government officials, or at least Democratic ones. The official has what the reporters want, access -- you can have interviews, invitations to press conferences, "unnamed officials" who leak things to you, or you can be cut off while your competitors get all that).
Then, word that San Francisco has declined to adopt the NYC policy of vigorous stop and frisk, because more than 80% of those stopped and frisked are black or hispanic, and 90% of frisks found nothing.
(Instead, SF will rely upon "a zero-tolerance approach for violations of probation, parole or the city's gang injunction." I guess actually enforcing those is a new idea to the city).
Permalink · antigun groups · Comments (5)
Posted by David Hardy · 8 August 2012 12:56 PM
I wasn't doing much blogging for several days, in order to produce this. It's filed in the Woollard case, which challenges the Maryland carry permit's being based on amorphous standards that amount to "we can deny permits to anyone, or grant them to almost anyone, so unless you're a good buddy, don't bother applying for one."
It's a BIG pdf that takes about 30 seconds to download. That's because there's 20+ pages of scanned paperwork in it.
UPDATE: Here's the brief it was opposing. Again, a big pdf. Both are online courtesy of Gene Hoffman of CalGuns. Here's a link to all, or I think all, the briefs filed.
Permalink · Chicago aftermath · Comments (5)
Posted by David Hardy · 7 August 2012 02:40 PM
The video interview is wonderful.
Permalink · Self defense · Comments (5)
Posted by David Hardy · 6 August 2012 04:55 PM
Right here. The late Curtis Earl, NFA dealer and expert, told me he thought the design was ripped off from the Johnson Light Machinegun. Externally, they're quite similar, they have similar features (down to the first model FG-42 and the Johnson could have their magazines reloaded from five round clips pushed in the other side of the gun), both are short recoil operated, and both fire from an open bolt in full auto and a closed bolt in semiauto. That's truly a rare combination of features -- it'd be quite a coincidence that two groups working independently designed guns with all of them!
Hat tip to reader David McCleary.l..
Permalink · shooting · Comments (5)
Posted by David Hardy · 5 August 2012 08:48 AM
I've been reading Brian Anse Patrick's "NRA and the Mass Media," a very good work, which notes that there are several models to explain the function of the mass media, but the one the media themselves love is where they function as high priests of data, deciding what information their followers should have. With that model in mind...
The Chicago Sun-Times informs its readers that "Even legal, semiautomatic assault weapons aren't precision instruments. Though each bullet fired requires a separate squeeze of the trigger (unlike fully automatic weapons), after the first round is fired, the trigger loosens for subsequent rounds."
Another paper tells readers that "A Mississippi teacher is circulating a petition online requesting that Dick's Sporting Goods discontinue the sale of high-powered ammunition in light of a Colorado movie theater massacre that killed 12 and wounded 58," and asks "Should Dick's Sporting Goods pull ammunition for high-powered guns from its shelves?"
Posted by David Hardy · 2 August 2012 09:07 PM
The Federal courts have all gone to electronic filing, in a system which I regard as a disaster. For example, there are three different systems, each with different protocols for user names and passwords... one system is for filing in District Court, another for filing in Courts of Appeals, and a third if you want to download a document rather than file it. And there is no uniformity court-to-court. If you can file in the First Circuit, and want to file in the Second Circuit (including file a motion for admission to its bar), you have register with the Second Circuit before you can file there.
I'm admitted to the US District Court for the District of Columbia. They just sent out an email asking everyone to take a tutorial or a webinar on electronic filing. And in it is the following -- and remember, this is the District Court of DC --
"SPECIAL NOTE TO DEPARTMENT OF JUSTICE ATTORNEYS/STAFF:
The WebEx web conferencing website is not accessible to DOJ attorneys/staff due to internet blocks set in place by your IT department, therefore you are unable to register for a webinar training class or participate in the WebEx training room session itself. "
Posted by David Hardy · 2 August 2012 10:13 AM
John Lott points out that police aren't about to go on strike for gun control, as Bloomberg suggested, because they of all people know gun control doesn't work.
Permalink · antigun groups · Comments (7)
Posted by David Hardy · 1 August 2012 02:19 PM
Woollard held that Maryland's vague standard for a carry permit, good cause or something like that, was unconstitutional. Maryland appealed to the Fourth Circuit (in Richmond, VA) and the court today issued a stay, but also accelerated its consideration of the case:
"Upon consideration of the filings relative to the motion to stay pending appeal, the court grants the motion. The court further directs that this case be expedited and tentatively calendared for oral argument during the October, 2012 session of court, October 23-26, 2012.
Entered at the direction of Judge King with the concurrence of Judge Gregory and Judge Davis.
For the Court
/s/ Patricia S. Connor, Clerk
Permalink · Chicago aftermath · Comments (6)
Posted by David Hardy · 1 August 2012 11:53 AM
Editorial here. They must be quite torn on the issue: disclosure can't help re-elect the current administration, which is one of their priorities, but it will generate news, which is at least nominally their business.