« May 2011 | Main | July 2011 »
June 2011
Posted by David Hardy · 30 June 2011 10:44 AM
Here's a pdf of a report prepared by the Demo minority of the House Oversight Committee, in anticipation of their hearings. The first page is a series of quotes from MSM, making it obvious who they regard as their allies, or tools. Most of the content is interviews of ATF supervisors claiming that they need more gun laws.
I'd have thought they'd have more sense than to extensively quote William Newell, the Special Agent in Charge of the Phoenix Office, and the fellow who pushed Operation Gunwalker, and reportedly led a coup to oust the ATF attache' in Mexico, when he opposed it. As a person responsible for seeing that 2,500 guns went to the drug cartels, I suppose he is an expert on the subject, but still....
I've seen this done before, when I was a bureaucrat. Their argument is that they need a specific statute directed at gun trafficking. OK, straw man buys are felonies (the buyer has to lie on the 4473, where it asks if is buying the gun for himself), any resales in quantity for profit are a felony (being a dealer without an FFL), exporting guns without a permit is a felony, knowing transfer of a firearm to a person who intends to use it in violence is a SERIOUS felony, and conspiracy to do any of these is a felony. Why do we need another statute?
Answer: US Attorneys are declining to take cases because, among other things, the penalties seem too low. OK, US Attorneys work for some guy named Eric Holder. All he has to do is issue an order.
Permalink · BATFE · Comments (0)
Posted by David Hardy · 29 June 2011 12:50 PM
Story here. Since "witnesses" will include Chuck Schumer and several representatives of antigun groups, you can see where this is going. WaPo can at least take comfort that someone is holding a hearing that they can cover.
Permalink · BATFE · Comments (2)
Posted by David Hardy · 27 June 2011 07:28 PM
The firing of whistleblower agent Vince Cefalu gets covered by Fox News.
Cefalu takes on retired agent Jim Cavanaugh, the ATF's sorta-spokesman.
Acting Director Melson will testify in July.
The Day-by-Day cartoon series asks asks why most of the MSM is MIA.
UPDATE: Vince Cefalu will be on Fox News "America's Newsroom" tomorrow morning, 10 AM Eastern, 7 Pacific.
Permalink · BATFE · Comments (0)
Posted by David Hardy · 27 June 2011 03:35 PM
Holy cow! That man needs some meds, stat!
On the other hand, at least he doesn't need a criminal appellate lawyer!
Posted by David Hardy · 27 June 2011 10:21 AM
Can a State court assert "long arm" jurisdiction over a non-US manufacturer that has no contact with the State except that one of its items wound up there? That was an issue that went to the Arizona Supreme Court in Uberti v. Leonard (at least I think that was the caption) about ten years ago, the gun in question having been one of the first lots made by Urberti for Iver Johnson, at a time when the company had no US subsidiary and no presence in the US. The Arizona court concluded that it nonetheless had jurisdiction. Today the Supreme Court finally revisited the issue, and held that (on facts almost identical to my case) a State court did not have jurisdiction.
Permalink · General con law · Comments (2)
Posted by David Hardy · 26 June 2011 09:09 PM
It's Enos v. Holder, brought by Don Kilmer, and sponsored by the Madison Society. Complaint is here (scanned pdfs, so they load slowly).
Permalink · Chicago aftermath · Comments (3)
Posted by David Hardy · 25 June 2011 04:43 PM
WaPo acknowledges the issue exists, but with an article that begins "A chief Republican critic of a controversial U.S. anti-gun-trafficking operation was briefed on ATF's "Fast and Furious" program last year and did not express any opposition, sources familiar with the classified briefing said Tuesday." Although the anonymous sources did not say he was told that the operation included letting guns "walk," the lead sentence tries to create that impression. The total description of the hearings is one sentence: "But several ATF agents testified before Issa's committee last week that they were ordered not to stop people they suspected had illegal guns."
Why the paper didn't cover the hearings is not mentioned. I remember you often heard about an issue in the Post only after the paper was brought in to do damage control.
The Daily Caller quickly gives another side to the story.
Permalink · BATFE · Comments (0)
Posted by David Hardy · 24 June 2011 03:29 PM
Right here. Two interesting aspects:
"Current and former federal officials say their hands are tied because of weak U.S. gun laws. Possessing a gun isn't a crime, unlike, say, possessing cocaine. And, in order to bring a prosecution, the government must demonstrate a straw purchaser had bad intentions."
No, they have to demonstrate he was a straw purchaser. He was buying a gun for someone else, and checked the box on the 4473 that asks if you are buying the gun for someone else as "no."
"Issa and ATF whistleblowers who protested to no avail with their supervisors in Arizona say the number of Fast and Furious guns still unaccounted for could top 1,000. But authorities are telling Congress the numbers could be far lower. Documents obtained by NPR and provided to lawmakers suggest that 568 weapons tied to Fast and Furious have been located: 372 in the U.S. and 196 more in Mexico."
I'd expected NPR at least to do simple math. The number of guns allowed to walk has been reported as 1,700 or 2,500. Subtract 568 from those and you get 1,132 to 1,932, neither of which is "far lower" than a thousand.
Permalink · BATFE · Comments (3)
Posted by David Hardy · 24 June 2011 02:26 PM
Here's the story. The importance is that Cefalu is an ATF agent who started blowing the whistle on corruption and waste, and helped to break the story of Operation Gunwalker -- so ATF just fired him. It'll probably be the usual situation: fellow gets excellent evaluations, and commendations, then he reports corruption or abuse, and suddenly his evaluations go terrible. Or perhaps the agency just fired him, without bothering to salt the mine with bad evaluations. (As a Federale, you only get evaluated once a year, end of the fiscal year (October), and they may have been in a hurry).
Permalink · BATFE · Comments (1)
Posted by David Hardy · 23 June 2011 05:31 PM
Meaning 49 States allow concealed carry, in one form or another (no permit, may issue or shall issue).
Permalink · State legislation · Comments (9)
Posted by David Hardy · 23 June 2011 05:17 PM
NY State RIfle and Pistol Assn and SAF have moved for summary judgment in the suit challenging NYC's $340 permit application fee.
Permalink · Chicago aftermath · Comments (1)
Posted by David Hardy · 23 June 2011 05:09 PM
Story here.
"The Brady Campaign, in announcing Helmke's departure, noted many accomplishments of his tenure." Must not have been a long ceremony... Heller, McDonald, passage of "shall issue" permit laws, concealed carry in national parks, expiration of the "assault weapon" law....
UPDATE: some signs of discord:
"Even after deciding to leave his role as president, Helmke said he still wanted to stay with the Brady Campaign . He said that he and the organization could not agree on a suitable role, however, so the two sides mutually decided to part ways."
Permalink · antigun groups · Comments (4)
Posted by David Hardy · 23 June 2011 10:00 AM
It handed down two cases with possible ramifications in this field of law.
First, in Sorrell v. IMS Health, it held that intermediate scrutiny applied to restrictions on sorta-commercial speech (here, on how pharmacies and drug companies share and use data). The Court notes this is not the usual commercial speech case (i.e., advertising) but rather the law hinges on the identify of the speaker and the content of the speech. It then holds that the statute fails such scrutiny, which requires that the law directly serve an important governmental interest and be drawn to promote that interest. The ruling may impact what appears to be a trend toward applying intermediate scrutiny to 2nd Amendment challenges.
Second, in Bullcoming v. New Mexico, it ruled that the Sixth Amendment right to be confronted by one's accuser was violated when a written blood alcohol report was introduced into evidence, supported by live testimony from an expert on the testing procedure, but who had not been the one who performed the test. The Court notes that the written report documented not only the test results, but also the fact that the person had received the vial of blood unopened, verified that it was the one for this defendant, etc., none of which the live witness could testify about. This could impact, for example, introduction of evidence relating to whether a firearm is registered (NFA cases used to involve no more than introducing a certificate that it had not been found in the database).
Permalink · General con law · Comments (0)
Posted by David Hardy · 23 June 2011 09:53 AM
Right here. The editorial agrees that the Massachusetts gun laws are often beyond understanding, but goes on to argue that the legislature shouldn't repeal the requirement of fingerprints and background check before someone can buy a pepper-spray or Mace.
Permalink · media · Comments (1)
Posted by David Hardy · 22 June 2011 06:58 PM
Video here.
Permalink · BATFE · Comments (1)
Posted by David Hardy · 22 June 2011 08:52 AM
Hat tip to Sixgun Sarah...
Posted by David Hardy · 21 June 2011 10:45 PM
This is hard hitting. The vast majority of gun seized in Mexico are not traced, of those that are traced the vast majority do not trace to American FFLs, of those that do trace to folks with an American FFL... the majority trace to the Mexican government, which apparently holds an FFL.
Hat tip to reader Jim Kindred....
Posted by David Hardy · 20 June 2011 04:31 PM
That would get interesting, esp. if the White House appoints Traver as the new acting director. (I find it strange that an agency, whose head is subject to Senate confirmation, has been going for years with an unconfirmed acting director).
Permalink · BATFE · Comments (1)
Posted by David Hardy · 17 June 2011 01:41 PM
Hat tip to reader David McCleary...
Posted by David Hardy · 17 June 2011 09:38 AM
My manuscript is online at SSRN. Its central thesis is that the various forms of "collective right" were confined to the lower Federal courts, and even so only became dominant there in the 1970s. I also have some evidence relating to US v. Miller and supporting Bryan Frye's evidence suggesting that the trial judge struck down the NFA in hopes the Supreme Court would reverse him and "deep six" the Second Amendment.
Posted by David Hardy · 16 June 2011 11:31 AM
Some years back, attorney Stanley Chesley teamed up with the Brady Campaign to bring the first city lawsuits against gun manufacturers.
Yesterday, the KY bar association recommended his disbarment, over his having kept $7 million in excess fees from a class-action settlement.
Posted by David Hardy · 15 June 2011 10:29 AM
Summaries from the Oversight Committee. Sounds as if knowledge went right to the top. Most interesting: the FFLs who were helping were given security videocams to document the straw buys, and the Acting Director of ATF got the IP addresses of the cameras so he could watch the events from his office. That's about as involved as it can get!
Here's a summary of the field agents' and whistleblowers' testimony. Among other things, the supervisor in charge was giddily happy when the guns started turning up at Mexican crime scenes.
The Wall Street Journal's take on it. For some reason the Washington Post hasn't had much to say.
In the meantime, the Dems worry.
Permalink · BATFE · Comments (3)
Posted by David Hardy · 14 June 2011 09:41 PM
I find this Delicious.
Permalink · Chicago aftermath · Comments (2)
Posted by David Hardy · 14 June 2011 05:45 PM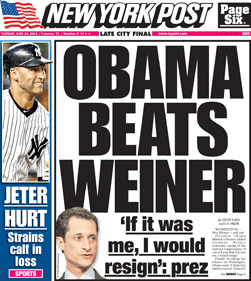 Posted by David Hardy · 14 June 2011 03:23 PM
Indiana State Rep. Kelly Hastings introduces a what is described as a pro-gun bill, a reporter says that Hastings is a gun owner and has a CCW permit, and he responds by calling the reporter a liar, an idiot, and a coward.
Posted by David Hardy · 13 June 2011 05:45 PM
The legislative history (and evidence of public understanding) of the 14th Amendment quite clearly, to my mind, that the Amendment was meant to require States to observe the Second Amendment.
The Heller dissent reads the Second Amendment as intended solely to protect the right of States and their peoples to be prepared to resist forcefully Federal decisions that are seen as tyrannical.
What are the odds that the RECONSTRUCTION Congresses would have meant to affirm the right of States and their peoples to resist Federal decisions with armed force? Section three of the Amendment (today forgotten) went on to bar from public office anyone who had taken an oath of allegiance to the US and thereafter "shall have engaged in insurrection or rebellion against the same...."
Posted by David Hardy · 12 June 2011 07:00 PM
Announcement here. Chuck Michel won it on behalf of the NRA and the Calif. Rifle and Pistol Association.
Permalink · CCW licensing · Comments (3)
Posted by David Hardy · 12 June 2011 11:20 AM
On KBSZ 1260, in Scottsdale AZ.
Posted by David Hardy · 9 June 2011 03:03 PM
Sen. Grassley will lead off with his experience trying to pry documents out of the agency, I suspect in order to lay more basis for a contempt citation, He'll be followed by relatives of the murdered Border Patrol agent, and by several of the agents who blew the whistle. Then an Assistant Attorney General goes on the hot seat. More detail by David Codrea and by Dave Workman.
UPDATE: here's the official release. June 15, 10 AM, with a webcast page given.
Permalink · BATFE · Comments (1)
Posted by David Hardy · 8 June 2011 06:50 PM
Story here. Since the State has "may issue" CCW permits, this would amount to "may issue" for carrying, period. On the other hand, it'd undercut the permit issuers' position in the California challenges to that, where one of their arguments is that the permit issuance only affects concealed carry, not open (albeit with a ban on open carry of a loaded firearm).
Permalink · State legislation · Comments (2)
Posted by David Hardy · 8 June 2011 05:09 PM
In California, a Federal SWAT team (apparently associated with the Dept of Education) breaks down a door to search a house for a woman who wasn't there. Apparently they wanted his estranged wife on some manner of fraud relating to education. The search warrant shows it was to be executed by the Dept of Education's Office of Inspector General, and from the list of matters to be seized it sounds as if they suspected her of getting student loans without being enrolled at a college. OK, send out a squad car and knock on the door.
In Phoenix, a SWAT team (apparently throwing flash-bangs, as windows were blown out) is called out to arrest a man suspected of cockfighting.. Real purpose of the raid appears to be an appearance on a virtual reality TV show, with actor Steven Segal along to ride in the tank.
Posted by David Hardy · 7 June 2011 09:38 AM
Gunwalker guns are linked to a shootdown of a Mexican government helicopter.
Issa's House Oversight Committee has interviewed witnesses and is preparing more subpoenas. No word yet on what he's going to do to enforce the earlier ones.
The hearings are set to begin June 13. We can only hope they do serious work. I've seen a lot of hearings where the legislators and staffs are coming at an issue cold, and have many things on their plate, whereas the agency people have inside knowledge, and have worked on nothing but the issue for weeks. And many where the legislators didn't know how to cross-examine a person, so they gave long speeches with a question mark at the end, or failed to react and follow up on answers.
Posted by David Hardy · 5 June 2011 12:14 PM
Pdf here. It's by Alan Gura. Its main theme is VERY interesting. The central questions are standard of review, or as the brief phrases it, the means-end relationship. But, it suggests, requiring permits to carry should be compared to prior restraint of speech rights. Here, the permit system gives the issuer complete discretion. That should be invalidated, period. Only after a jurisdiction comes up with a permit system that is not arbitrary can or should a court get down to determining the means-end balance between the specific conditions and the problems supposedly addressed.
Permalink · Chicago aftermath · Comments (4)
Posted by David Hardy · 2 June 2011 03:26 PM
7th Circuit ruling here. After losing in the Supreme Court, and before the case came back down to the trial court so it could enter judgment, the defendant cities changed their handgun bans, and the trial court dismissed the case as moot. It then ruled in the NRA case that there were no "prevailing parties" to recover fees, since the only final judgment was a dismissal.
The Seventh Circuit reverses this. As the court asks, "By the time defendants bowed to the inevitable, plaintiffs had in hand a judgment of the Supreme Court that gave them everything they needed. If a favorable decision of the Supreme Court does not count as "the necessary judicial imprimatur" on the plaintiffs' position (Buckhannon, 532 U.S. at 605), what would?"