« April 2010 | Main | June 2010 »
May 2010
Posted by David Hardy · 31 May 2010 12:21 PM
A friend told me of having been at a Thanksgiving dinner, where the diners were mostly older ladies, but included one retired Army colonel who'd served in Korea. The former were making lengthy conversation on topics that males regard as torture, and they eventually got around to "What is the most beautiful thing you have ever seen?" One described a sunset in detail, several named their grandchildren, etc., etc. Finally, one of them asked the colonel what was the most beautiful sight he had ever seen.
He replied that at one point in Korea his unit was holding a ridge when the Chinese came on, shouting, in a human wave attack meant to overrun their position by sheer human mass. But his unit had a .50 Browning M-2, and the gunner slowly swept the onrushing attack from side to side. It was just like mowing down grain, the colonel said, except that grain doesn't go flying backward when you cut it. He smiled at the memory, even seemed a bit misty-eyed, as he finished "and that was the most beautiful sight I have ever seen."
The conversation went into a lengthy pause at that point....
Posted by David Hardy · 31 May 2010 11:59 AM
Snowflakes in Hell notes that during the week of the NRA convention, Charlotte experienced a 45% drop in criminal activity, compared to the same week a year before. Someday I'll check out a few other cities that hosted conventions in past years, and see if anyone keeps records like that.
Permalink · NRA · Comments (1)
Posted by David Hardy · 26 May 2010 06:42 PM
So the Caesar Rodney Institute reports. The ban essentially conditions living in public housing upon giving up all firearms; possession of one in an apartment can result in immediate eviction.
Posted by David Hardy · 26 May 2010 05:17 PM
Print story here.
Permalink · BATFE · Comments (0)
Posted by David Hardy · 26 May 2010 04:00 PM
Story, at Crime, Guns, and Videotape. A masked robber, with a long rap sheet, burst into the elderly couple's home, and collided with a .38 projectile going the other way.
Permalink · Self defense · Comments (1)
Posted by David Hardy · 26 May 2010 09:54 AM
Implosion at Los Alamos, the story of an investigation into security gaps at our nuclear lab, including the loss or theft of no fewer than 400 computers (which may have had classified data on their drives).
Posted by David Hardy · 26 May 2010 09:43 AM
Prof. Volokh notes a District Court ruling allowing a claim that an Iowa sheriff violated Equal Protection and the First Amendment by refusing a carry permit based on his political activities. Parts of the complaint were dismissed, for sundry technical reasons, and portions of the remainder may be mooted by Iowa's change to "shall issue."
The ruling is also noteworthy for its formating (no more Courier in 12 point) and its breakthru use of "complete flummadiddle" on p. 17. We may hope that both become universal in the future.
Permalink · CCW licensing · Comments (2)
Posted by David Hardy · 25 May 2010 12:11 PM
Bob Owen's title sums it up: He didn't just lie about Arizona: Calderone fibbed about assault weapons, too.
Permalink · non-US · Comments (2)
Posted by David Hardy · 25 May 2010 12:09 PM
It's the title of a piece by Roger Simon. While he doesn't deal with firearms or firearms rights, it parallels my past comment on how those are shifting.
Posted by David Hardy · 24 May 2010 08:14 PM
This Wednesday and Thursday, Mary 26 & 27, CNN is to air a two part series on BATFE. Given the number of scandals, screwups and betrayals, I can see why it requires a two part series to cover, or at least begin.
Permalink · BATFE · Comments (2)
Posted by David Hardy · 24 May 2010 10:27 AM
U.S. v. O'Brien, handed down today. 18 USC §924(c) provides for 5 extra years' sentence for use of a firearm in certain federal crimes, and 30 years' extra for use of a machinegun. So does that mean (1) use of the described firearms is a sentencing factor, making for a stiffer sentence for the underlying federal offense, or (2) this describes an independent crime, with elements of committing the underlying offense and of being armed while so doing? If the first, the fact of being armed can be decided by the judge during sentencing; if the second, it must be decided by the jury, since it is part of the crime.
Years back, the Supreme Court had ruled that 924(c) described a separate offense, and an element that must be proven to the jury. But Congress amended the section in 1998. Now, per Justice Kennedy, the Supreme Court rules that the 1998 amendment and restructuring does not change things; it remains a new offense with element that must go to the jury for determination.
Permalink · Gun Control Act of 68 · Comments (2)
Posted by David Hardy · 22 May 2010 09:40 AM
A report has been going around the internet that someone (unnamed) was asked three questions by a Vet Affairs screener and then told, off the record, that if he'd answered any "yes" he would have been reported to DHS and he would be disarmed. I found the report very fishy, and it appears to be without foundation.
Here's the response of the Military Officers Ass'n of America.
Here's VA Watchdog's response.
Posted by David Hardy · 21 May 2010 10:56 PM
Before the National Firearms Act, the makers of the Thompson promoted it as a way to protect ranches against border raiders.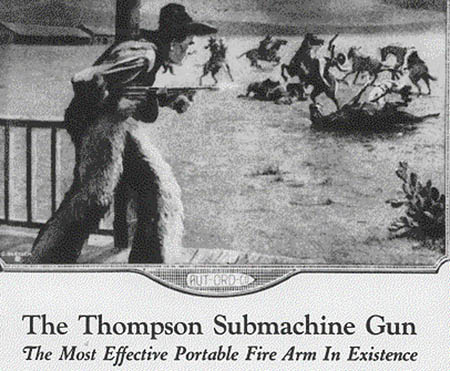 This was practical: cross border raiding remains common to this day. If you want to get anything south of the border, all it costs is $10 mordida ("bite") to the crossing guards and you vehicle will not be searched. The trunk might be full of AKs or dead hookers or bomb-grade plutonium, it doesn't matter. For $10 no one will make messy inquiries.
Permalink · non-US · Comments (7)
Posted by David Hardy · 20 May 2010 12:30 PM
David Codrea documents the flub. Brady was out to file an amicus in the Montana case over its Firearms Freedom Law. Brady gets permission for itself to file an amicus, but files one on behalf of itself and two dozen other groups. On top of it, one of the signatory attorneys is not admitted to practice in the court, and has not applied for this-case-only ("pro haec vice") admission.
Posted by David Hardy · 20 May 2010 12:09 PM
Chicago is experiencing a homicide surge, and the Police Superintendant ("when danger reared its ugly head / he turned his tail and bravely fled") has responded by splitting body counts into indoor killings and outdoor killings, and arguing his police can't be expected to restrain the first.
If so, it'd be a good case for firearms in the home for self defense, no?
UPDATE: The Sun-Times reports Mayor Daley has an answer:
"The show-and-tell was the same today, when Daley was asked how effective Chicago's strictest-in-the-nation handgun ban can possibly be when the city's homicide rate is rising and an off-duty Chicago Police officer was gunned down during an attempted robbery.

The mayor picked up a gun from the table and sarcastically told the reporter, The Reader's Mick Dumke, "If I put this up your butt, you'll find out how effective it is."

Hat tip to Sixgun Sarah...
Permalink · Crime and statistics · Comments (6)
Posted by David Hardy · 18 May 2010 10:09 PM
From Elena Kagan's questionaire:
"d. List, by case name, all cases in courts of record, including cases before
administrative law judges, you tried to verdict, judgment, or final decision (rather
than settled),....
i. What percentage of these trials were:
1. jury;
2. non-jury.
I have never tried a case to verdict or judgment."
This is a person who has been a tenured law prof for decades, head of Harvard Law School, and now is up for the US Supreme Court. NEVER TRIED A CASE!!!! Not once. Not small claims, not a DUI, nothing.
UPDATE: settling a case isn't trying it. If there was no trial, no one tried the case. In my first year in practice, I tried, oh, 2-3 cases, maybe more, tho my first jury trial had to wait another year or so. In other positions (prosecutor or PD), they might try several misdemeanors a week or felonies a month, but in the civil area trials are fewer. I just find it staggering that a person can be head of Harvard LS and a Supreme Court nominee without every trying anything. It's as if a person became professor of surgery and head of a med school and then Surgeon General without ever having sutured a cut or picked up a scalpel.
Posted by David Hardy · 18 May 2010 03:55 AM
Heading home... too busy to blog for a few days, but Snowflakes in Hell has had great coverage of events.
Permalink · NRA · Comments (0)
Posted by David Hardy · 12 May 2010 09:29 PM
Off to the NRA convention in the morning. I won't be reporting much for a while since I'll be busy at their legal seminar all of Friday. In the meantime -- if you're commenting and use a gmail address, I had to block that due to a wave of comment spam, but the blog is set so that it will accept comments with no email address, or with an invented one.
Posted by David Hardy · 12 May 2010 12:53 PM
Pleadings here. Fellow blogger Rudy Digacinto challenges GMU's ban on open carry, as violating State pre-emption, the State constitution, and the 14th Amendment. And here is NRA's amicus.
I find it rather ironic that the policy is in place at George Mason University, of all places, given Mason's enormous role in creating the first State declaration of rights, in pushing for the Federal bill of rights, and in arguing in the Virginia ratifying convention that disarmament leads to tyranny.
Permalink · State legislation · Comments (5)
Posted by David Hardy · 12 May 2010 12:03 PM
The word is that 70,000 are expected to attend the convention in Charlotte this week -- so many that TV stations are announcing likely traffic delays.
update: I dunno about where right to arms is banned, but I did see stickers on the convention center saying that carrying of arms is not allowed. This struck me as rather strange, as there were thousands of arms in it, which presumably had not appeared from another dimension. I have no idea where the next meeting will be held, or what it says about freedom of expression, but I'd suggest going to Arizona again, where there are no problems with either. [NB: this is sorta ironic, since given the enormous size of a convention, you have to book it many years in advance].
Permalink · NRA · Comments (0)
Posted by David Hardy · 12 May 2010 10:17 AM
The NY Times has her answers to questions posed when she was nominated for SG.
Posted by David Hardy · 11 May 2010 10:37 AM
Article here, citing Chicago as a prime example.
Thought: at the same time that we are militarizing police, we are orienting the military toward civilian police standards. The objectives are increasingly toward arresting suspects, as opposed to destroying the enemy. Actually, we're hardly allowed to call people who want to kill Americans "the enemy": they're "combatants" or "insurgents," and when captured "detainees," with their rights decided in the courts (and now an issue as to their Miranda warnings).
Posted by David Hardy · 10 May 2010 01:25 PM
And Paul Campos asks whether she is the next Harriet Miers?
It's a very good question. What distinction has she achieved?
As a judge -- zero. Not that I consider that a barrier; the Warren Court boasted some serious intellect, despite only one Justice having sat on a Circuit court (and Justice Black having served a year as a police court judge).
As a lawyer -- virtually none. Two years of being an associate in the big firm. I'd be rather surprised if she has ever tried a case to a jury. She may well have never tried a case, period.
As a legal academic -- Campos points out she got tenure on the basis of a single law review article that was mostly a review of others' research. In twenty or so years since, she published two short articles and two book reviews, that's it.
Heading up Harvard Law, she chiefly distinguished herself by fundraising -- hopefully not a major concern at the Supreme Court level -- and by covering up plagiarism committed by faculty members.
Updates:
1) With two years of experience (decades ago), she was appointed Solicitor General and has been there for a year. Not much experience at all. The SG's job is mainly administrative. Their squads of careerist lawyers handle things. If an agency wants to take an appeal, they write up a detailed legal memo on it, and the SG's staffers say yes or no; if yes, the relevant division of Justice does the briefing and argument (except for the handful of cases that reach the Supreme Court). The SG's privilege is to argue those if he/she wants to. I've heard no reports of Kagan's skill there.
2) Law review articles... it depends on the timeframe. Back in the 80s, it could take 9 months to get one published (but there was no problem with writing another during that time, since it wasn't 9 months of work, but largely 9 months of delays). You had to type it up triple spaced for editing and mail it around; there were fewer reviews and they could be both slower and more choosey.
In recent years, it's a cinch. You submit manuscripts electronically via a service called Expresso. Upload it, designate what journals you want (out of 550+, it costs $2 each, but as a prof. your school usually has a subscription that eliminates that), and it's to them in an hour. If one bites, you can send a mass email to others asking for expedited review by the deadline for the first.
I published two articles in 2009, have two more published in 2010, and a third accepted but not yet in print ... and it's only May. (To be fair, there are a lot of profs out there with 3-4 articles. I'm told three over six years is enough to get tenure, and some seem to stop right there).
The other thing about her publication list is it includes several book reviews, which are generally treated as "if you don't have time for a real article, whip out a book review." Also at least one publication at the review of a school where she taught, which again is "if you can't place it elsewhere..." The reviews are student-run, so a prof is usually loathe to have his/her own students evaluating the piece, it smacks a little of undue influence.
Permalink · General con law · Comments (22)
Posted by David Hardy · 8 May 2010 06:53 PM
With regard proposals to turn persons listed on terrorism watch lists into prohibited possessors, this story is but one of many:
"There are about one million names on the combined government watch list for airline travelers, according to the Public Education Center, a Washington DC-based non-profit group that tracks airline security. However, the problem is that even the government admits that most of those people shouldn't be on the list.
Unfortunately for investigative reporter Ana Garcia, she is one in a million, and has been on this list for several years, and can't get removed. Whether it's at the curb, online or at the kiosk, problems checking-in persist for Garcia and many other Americans who have been erroneously placed on the watch list.
"A list full of mistakes," Joe Trento of the Public Education Center said of the government watch list."
Posted by David Hardy · 7 May 2010 07:52 PM
The current acting director had to step down because there's a limit on how long a person can be "acting" without Senate confirmation. (I think a person can only be "acting" for 120 days in such a post -- this keeps a president from calling someone an acting director or acting secretary and giving them full power without getting Senate confirmation).
UPDATE: When I wrote 120 days, I was going by memory. The system was extensively amended in 1998; it's now more complicated than a simple 120 day clock.
Permalink · BATFE · Comments (10)
Posted by David Hardy · 7 May 2010 11:41 AM
Nebraska Firearms Owners Association has the story. A member shot a gang member in self-defense, and police held his firearm as evidence. NFOA took up contributions, and got him a replacement. But Ohama apparently has some manner of registration requirement, and when he went in to register it, he was told that his registration would be "delayed," for some unspecified reason. And in the meantime, the gang member's associates are looking to find the defender....
Permalink · State legislation · Comments (7)
Posted by David Hardy · 7 May 2010 10:38 AM
A cultural shift, and not just fear of a new Administration (which by now is over a year old). Here's Ruger Arms' report to its shareholders. 2009 earnings per share trebled, and first quarter of 2010 beats first quarter of 2009 (i.e., the quarter following the election). They report the post-election surge for rifles only lasted thru the first half of 2009. While shotguns remained weak, self-defense type handguns have led the rest of the increase and have stayed strong.
Posted by David Hardy · 6 May 2010 10:22 AM
Brady Campaign sets up an online fundraiser, raising bucks to oppose open carry and its squabble with Starbucks: "is this the America you really want to live in?"
And raises a a whopping $20.
Permalink · antigun groups · Comments (9)
Posted by David Hardy · 6 May 2010 10:08 AM
Hat tip to reader George Mocsary...
Posted by David Hardy · 6 May 2010 08:57 AM
Dave Kopel has the story, and a note that CCW permittees had already been allowed to carry at the largest campus, for seven years, without incident.
Posted by David Hardy · 4 May 2010 09:56 AM
Story here.
Posted by David Hardy · 3 May 2010 07:31 PM
A British sniper in Afghanistan has scored two one-shot kills at 1.54 miles, on a pair of Taliban machinegunners. (The reference in the article to an 8.59 mm bullet is actually a reference to the .338 Lapua Magnum version of the British L115A1 rifle.
Hat tip to reader Bill Taggart....
Permalink · shooting · Comments (5)
Posted by David Hardy · 3 May 2010 05:38 PM
NSSF reports that in 2009, with the rest of our industrial picture going from bad to worse, the firearms industry added 16,000 jobs (a 10% gain) while wages went from six billion to eight billion dollars.
In first quarter 2009, Ruger Arms reported increased sales over first quarter 2009. Olin Corp., which owns Winchester, reported its best first quarter in its history.
The early 2009 surge was widely attributed to Obama taking office, and potential gun purchases trying to buy before gun restrictions came in. But that Administration has been in place over a year without lifting a finger. The Brady Campaign has given it an "F" grade. Eric Holder's Justice Department didn't even file an amicus in the Chicago case. I suspect anyone buying out of fear of the new Administration would have done so in the first months of 2009 and certainly not held off until early 2010.
Add in DC v. Heller, and the likely outcome of McDonald v. Chicago. The press becoming almost even handed on the gun issue. I think we're looking at an enormous cultural shift here. It's a reversal of the shift that occurred in the 1960s. In 1960, firearm ownership was quite acceptable. President Kennedy was happy to accept life membership in the NRA. Somewhere in the early 60s, the American Bar Assn gave an award for a pro-individual rights article on the Second Amendment. And you've probably heard we ancients speak of the days when universities had rifle teams and students thought nothing of bringing guns to school. Then came the 60s -- three assassinations in 1963-68, the summer riots, and by the later 60s guns were the source of all social ills, and anyone who would defend their ownership was a neanderthal, a fool, or a selfish social menace.
Fifty years later, we may be switching back.
Concerns about Obama might explain why NRA membership is back over four million again, but it's hard to use that to explain Violence Policy Center's having to lay off staff due to funding declines, or why Brady Campaign's income is in such steep decline. And note that both these trends were evident from 2004.