« November 2009 | Main | January 2010 »
December 2009
Posted by David Hardy · 31 December 2009 09:46 AM
I refer to Col. Robert L. Howard, of Waco TX. Special Forces, five tours in Vietnam, eight purple hearts, a Medal of Honor, and two more nominations for that which instead got him a Distinguished Service Cross and a Silver Star.
Posted by David Hardy · 31 December 2009 09:15 AM
Pdf is here. Reading it now.
Thoughts after a quick read: stylistically, well-written. The argument against due process incorporation involves taking what the Court has said and not what the Court has done. The Court has said that "fundamental rights" are something of a narrow class of rights ... rights without which there is liberty or civilization. But what it did while so saying was to rule fundamental almost all the rest of the bill of rights, and unincorporated rights such as the rights to contraception, abortion, and gay relationships.
I think we can say that there can be liberty and civilization without, oh, jury trial for major misdemeanors, the right to buy condoms, the right to an appointed attorney. For that matter, with an established church, such as in England, and the right of the prosecution to move for a new trial based on legal errors. I vastly prefer living in THIS civilization and with THESE freedoms, but I can envision a liberty and civilization without them.
With regard privileges or immunities incorporation, it's right what we could expect. (1) Don't overrule 100+ years of case law and (2) OK, so there are quite a few mentions in 1866-68 of p or i enforcing the bill of rights, but they're not enough and not clear enough for our tastes. With a dash of (3) if you incorporate via p or i (AND use it to abandon rather than supplement due process incorporation) then you have to withdraw all bill of rights protections from corporations and aliens, since they may be "persons," but are not "citizens."
Permalink · Chicago gun case · Comments (6)
Posted by David Hardy · 30 December 2009 02:59 PM
The American Association of Law Schools is holding its annual meeting in New Orleans in early January. In conjunction with that, Don Kates and the NRA Civil Rights Defense Fund are presenting a two day seminar on the right to arms.
It'll be held at the Radisson Hotel, in Kenner, LA,. near the New Orleans airport, on Saturday & Sunday, January 9 and 10. Each day begins at 8 AM with breakfast and 9 AM with the session.
Saturday will be a manner of roundtable on the Second Amendment, with Don Kates as coordinator.
I'm on a Sunday morning panel devoted to 14th Amendment incorporation; members will present and the rest of the morning will be a roundtable. The panel consists of:
Adam Winkler of UCLA, author of Scrutinizing the Second Amendment and of Heller's Catch 22;
Josh Blackman and Ilya Shapiro, authors of Opening Pandora's Box: Privileges and Immunities, The Constitution in 2020, and Properly Extending the Right to Keep and Bear Arms to the States;
and myself, author of Original Popular Understanding of the 14th Amendment as Reflected in the Print Media of 1866-68.
As some rather controversial matters will be raised, attendees are urged to bring body armor, and to flee before the police fire pepper gas. The 14th Amendment panel will be followed by presentations on criminology and arms control.
Reservations are necessary (the hotel wants them, and earlier is better); if anyone is interested, just email me and I'll get your data to the right person.
If anyone would like to make a deductible donation to the NRA Civil Rights Defense Fund, click here.
UPDATE: I'd urge readers to cast a vote. It's a vote for Lowell Baeir for Conservationist of the Year. He's a hunter and shooter and life member of NRA and president of Boone & Crockett Club. He's trailing a fly fisherman by 40+ votes right now, so your aid may be critical, for a good guy. You can cast your vote here. For more info on Lowell, click here.
Posted by David Hardy · 30 December 2009 08:52 AM
I remember the pre-Heller predictions that striking the DC handgun ban would lead to carnage. Well, here it is: "DC Homicides, In National Trend, Hit Lowest Level Since '64".
[Here in Tucson, they hit the lowest level since 2001]
Permalink · Heller aftermath · Comments (5)
Posted by David Hardy · 29 December 2009 10:05 AM
Snowflakes in Hell has a copy. It's a list of 40 recommendations sent to the White House, aimed at making gun ownership more burdensome and costly.
Permalink · antigun groups · Comments (5)
Posted by David Hardy · 29 December 2009 09:10 AM
You won't hear a speech like this at a Brady Campaign dinner...
Permalink · NRA · Comments (2)
Posted by David Hardy · 28 December 2009 09:56 AM
America's First Freedom, January, has my article "A Rifleman in No Man's Land." (It's not in the online edition). I'll post scans of some of the correspondence mentioned in it. The core of the article is that in the late 19th and early 20th centuries there was a fad of military anti-marksmanship, which NRA fought against. The theory was that most riflemen couldn't hit a target anyway (and there were proposals to remove the sights and replace them with a level, the officer calling out the proper elevation!). Marksmanship taught pride and independence, which were the ruination of good discipline.
In World War I, the standard British and French training was to rush home with the bayonet. If men stopped to shoot, they'd go prone, and the advance would stop. The one problem with this approach was that the attackers were butchered and the attack failed. Still this approach won over Sec. of War Newton Baker. American troops were trained in trench fighting with knife and grenade, not with rifles.
NRA's head, Col. William Libby, was a professor at Princeton when President Woodrow Wilson taught there, and they were good friends. General Pershing, sent to Europe to prepare for his troops' arrival, was a serious competitive shooter. The two lobbied President Wilson and Secretary Baker, and in the end won out.
This December 1916 letter from Col. Libby to the President asks for a personal meeting. It's also interesting to illustrate how NRA was then virtually a quasi-government agency. The NRA and the National Board for the Promotion of Rifle Practice share one letterhead.
This letter from Secretary Baker announces that General Pershing has won him over to rifle skills. "This will confirm the opinion that Colonel Libbey expressed to you and, of course, completely upsets the view which I had expressed to you." He announces that soon "a large amount of practice ammunition will be in the hands of the soldiers, and suitable ranges provided for extensive practice." (Note the practice in governmental letters of putting the address at the bottom rather than top of the page).
President Wilson's response to the Secretary notes "It would tickle Colonel Libbey to death if I could show it to him, and it is very generous of you to send it to me."
So the NRA played a major role in WWI -- that of keeping American troops from being butchered. Not a bad historical niche.
UPDATE: I'd urge any reader to cast a vote. It's a vote for Lowell Baeir for Conservationist of the Year. He's a hunter and shooter and life member of NRA and president of Boone & Crockett. He's trailing a fly fisherman by 40+ votes right now, so your aid may be critical, for a good guy. You can cast your vote here. For more info on Lowell, click here.
Permalink · NRA · Comments (5)
Posted by David Hardy · 28 December 2009 08:39 AM
A letter to the editor from a Boston teacher, regarding school shootings. He argues that speedy evacuation of an attacked school is just unfair, because it "unfairly rewards resourceful children who move to safety off-site more shrewdly and efficiently than others. Schools should level playing fields, not intrinsically reward those more resourceful. A level barrel is fair to all fish."
As far as self-defense, "I would sooner lay my child to rest than succumb to the belief that the use of a gun for self-defense is somehow not in itself a gun crime."
UPDATE: I am relieved to see, as illustrated by the comments, that this fellow's writings are probably satire. I must admit I wonder if the newspaper realized that!
Hat tip to reader David McCleary...
Permalink · antigun groups · Comments (13)
Posted by David Hardy · 27 December 2009 04:11 PM
Audio here. Strange part is that they're interviewing the reporter who wrote the Chicago magazine story... electronic media reporting on print media rather than on the story itself. Reporter at least admits her own "personal biases," and says she was surprised at the plaintiffs' points being persuasive.
Permalink · Chicago gun case · Comments (2)
Posted by David Hardy · 27 December 2009 01:23 PM
An interesting study, in Chicago magazine.
Permalink · Chicago gun case · Comments (3)
Posted by David Hardy · 27 December 2009 10:22 AM
Crime, Guns, and Videotape has some thoughts. It's become what gun control used to be -- something happens, pass another law to show "we did something," whether or not that has any relationship to present or future. Here -- without advanced screening sensors, it's going to be hard to stop a primitive with explosive under his clothing. But security kabuki requires that something be done, so they ban getting out of your seat during the last hour of a flight.
Posted by David Hardy · 25 December 2009 01:52 PM
Ilya Shapiro lists five different possible outcomes for McDonald v. Chicago. It's a very good analysis.
Permalink · Chicago gun case · Comments (6)
Posted by David Hardy · 25 December 2009 10:30 AM
AccurateShooter.com has the links to them on GoogleBooks. I remember reading a hardcopy of The Bullet's Flight from Powder to Target as a grade schooler. A great early (1909) book by a fellow who had to invent much of his own equipment (he had a device to measure velocity that consisted of two circular pieces of wood, maybe a yard apart and with a common axle, rotating at high RPM. When the bullet passed thru them, he could measure the amount of rotation between the two holes and calculate the velocity). Also an 1879 book on marksmanship by Col. Wingate, who cofounded the NRA.
Permalink · shooting · Comments (1)
Posted by David Hardy · 23 December 2009 08:16 PM
Chuck Schumer goes hunting.
And then the Fourth Seal is opened...
Permalink · antigun groups · Comments (13)
Posted by David Hardy · 22 December 2009 10:15 AM
Dave Kopel has it at the Volokh Conspiracy. And my upcoming Akron L. Rev. Strict Scrutiny piece, "Originalism and its Tools: A Few Caveats", is available thru SSRN.
Permalink · Chicago gun case · Comments (0)
Posted by David Hardy · 21 December 2009 10:46 AM
In order to get 60 votes for cloture, the Senators pushing the health care bill gave residents of Nebraska special and permanent Medicare benefits. It sounds to me as if it might be violative of equal protection (or the EP component of 5th Amendment due process). A body of people are given an exemption from general law for no rational purpose ... it's just their legislator wanted it as the price of his vote. (On the other hand, it might be argued that appropriations work like this all the time).
Permalink · General con law · Comments (10)
Posted by David Hardy · 21 December 2009 09:37 AM
Lowell E. Baier is one person being considered by Outdoor Life for designation as the top person who's who's had an impact on hunting, fishing, and conservation.. You can cast your vote here.
I know Lowell --he's now president of Boone and Crockett, He started off by helping to found the National Capitol Area chapter of Safari Club International, and then became one of the founders of the Foundation for North American Wild Sheep. His latest project was sponsoring the preservation of Teddie Roosevelt's Elkhorn ranch in North Dakota. Last year he won the Budweiser Conservationist of the Year award, and donated the $50K award to the Roosevelt ranch.
On the page, BTW, ignore the "log in" on top left, just follow the three steps laid out.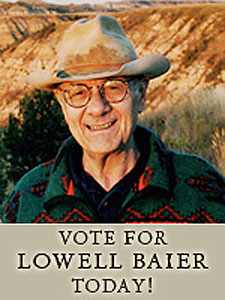 Posted by David Hardy · 17 December 2009 06:49 PM
There was a move to add, to an emergency budget bill, a provision allowing Amtrak passengers to store firearms in checked baggage, the same as airline passengers have long been able to do. It succeeded.
Now there is word that the enrolling clerk fouled up, and wrote it as requiring the passenger and the gun to be boxed in stored baggage, and that is the version sent to the President and "signed into law."
So (1) the version signed by the President is not the version passed by both houses of Congress. Hmm... so is it law? (2) To my mind, this illustrates how the federal machine, originally designed as a government of limited powers, has gotten far out of hand. I remember decades ago, when I attended a Senate "mark up session," where the committee actually votes on amendments to a bill, being astonished. Because the Senate Judiciary Committee did not actually vote on how to change the language, but rather on abstract ideas, and "the staff will redraft the legislation along these lines." Here, the decisionmaking was that of someone in a clerk's office. The report is that Speaker Pelosi wanted to change it without requiring a second vote ... but what was there to vote on? Both houses had passed certain words, those are the words that should go to the president for his signature or veto.
Posted by David Hardy · 17 December 2009 05:16 PM
Petitioner's attorney, Alan Gura, has agreed to divide argument and give 10 minutes to the Attorney General of Texas, to argue on behalf of the 38 States that signed the amicus brief supporting Petitioner.
Yes, I'd say this is going to be lively. Probably more so even than Heller. The Court is looking at:
1) Only its second real right to arms case (Miller was really more of a judicial notice case);
2) It's first 14th Amendment incorporation case in 20-30 years (depending upon what you mean by incorporation case) ... if you take the former measure, only Justice Stevens has been around long enough to have heard one of those, and if you take the latter measure, no one on the Court has ever ruled on the issue;
3) The first serious argument over privileges or immunities incorporation since, oh, 1947, I think ... at which point Justice Alito was not yet born, and Justice Stevens had just received his law degree.
(Gad, looking up Justice Stevens -- not to say he's been around a bit, but he saw Babe Ruth play, received a bronze star for helping with the codebreaking that got Admiral Yamamoto shote down).
Permalink · Chicago gun case · Comments (2)
Posted by David Hardy · 16 December 2009 08:07 AM
Licensed carrier carries concealed on Atlanta's MARTA mass transit, is detained for half an hour and released. A federal judge rules the detention was lawfully based on probable cause.
Here's the rub: if the offense of CCW were worded as "it is unlawful to carry a weapon concealed without a permit," then lack of a permit is part of the offense, and until there is reason to suspect that, there is no probable cause. But if it is worded as "It is unlawful to carry a weapon concealed. Exception for people having permits," then concealed carrying is the offense, and sufficient suspicion of that justifies an arrest or detention. Having the permit is a defense, and the officer doesn't have to rule that out, any more than he has to rule out insanity, justification, etc..
I think a separate question here is the length of the detention. Absent true arrest, the detention must be reasonable, and no more than is required for the proper purpose. Here, once the person shows his permit (and perhaps the officer verifies it is valid), the detention should end. I doubt suit would have been filed if the officer had asked for a permit, he'd shown it and matter had ended there.
Hat tip to readers Ryan Gill, Scott Nolde, and Ed Stone...
Permalink · CCW licensing · Comments (15)
Posted by David Hardy · 15 December 2009 09:02 PM
Right here. Hat tip to reader Jack Anderson....
Permalink · NRA · Comments (0)
Posted by David Hardy · 15 December 2009 09:25 AM
Story here. Interesting university politics. The University wasn't then short for money, and the rifle team's expenses were under 1% of the athletic budget. But the University concluded it'd be best to terminate a number of sports and concentrate the money on scholarships, etc. for the big name sports. It's amusing that the legislature responded by giving the rifle team its own appropriation!
Posted by David Hardy · 14 December 2009 10:06 PM
Ed Stone notes in the Atlanta Examiner that this is the first anniversary of a Georgia law allowing CCW licensees to carry on mass transit systems. Some Atlanta mass transit system operators had begged for bulletproof shields to protect them from their homicidal yet CCW licensed passengers. "We don't want cameras. Cameras don't save people's lives. ... We want something that gives us a fighting chance."
Results of the first year: homicides on the Atlanta mass transit system fell from 2 to zero. Armed robberies from 94 to 71. Not much of a bloodbath.
Permalink · CCW licensing · Comments (5)
Posted by David Hardy · 14 December 2009 04:02 PM
Dick Riley, longtime NRA director, and former president, has died. He was president from 1990 to 1992, and I think his term as director goes back to the Cincinnati Revolt of 1977.
Permalink · NRA · Comments (1)
Posted by David Hardy · 13 December 2009 10:16 AM
David Codrea has some pointed insights.
Permalink · media · Comments (0)
Posted by David Hardy · 11 December 2009 07:18 PM
David E. Young is having a 50% off sale on his books, Origins of the Second Amendment and The Founders' View of the Right to Bear Arms. Sale ends after Bill of Rights Day, December 15. I have both ... or had, I lost the former, and will order another.
To put it concisely: Origins of the Second Amendment was cited 38 times in the Emerson decision. Our Academics for the Second Amendment brief cited it in the Supreme Court. Enough said.
Posted by David Hardy · 11 December 2009 12:18 PM
Here.
I've mentioned before that there are three ways in which incorporation could be found:
1) Thru the Due Process Clause, as it's been done for a century or so.
2) Thru Privileges or Immunities, overruling back to Cruikshank (which held the first and second amendments were not privileges or immunities).
3) Thru P or I, going farther back and overruling The Slaughter-House Cases (which held the non-enumerated right to practice business w/o certain regulation was not a p or i).
The authors of the article want (2) and seem terrified of (3), arguing that it could lead to gay business marriages, destroy the Republic and so on. I really don't see the point. If the Court wanted to do the things they list, it could do them under the Due Process Clause.
In fact the Lochner case, so often cited as an example of that (it struck down a maximum hour law as a violation of liberty of contract) WAS a substantive due process case.
Permalink · Chicago gun case · Comments (6)
Posted by David Hardy · 11 December 2009 08:12 AM
The modern antis' theme of "commonsense gun control"....
Sometimes a theme comes upon a group or movement almost by accident. Decades ago I heard a statistician describing just how the pro-2A side must have read public opinion surveys and discovered that "enforce current laws instead" had more support than "enact more laws," and decided to make that a theme. One of those present, who played a major role in adopting that theme, afterward chuckled "if only he knew." Nobody had studied surveys, they'd come up with argument by instinct. Perhaps it's the same here. Anyway....
Back in the 60s and 70s there was essentially zero hard data on the gun control question. I seem to recall two attempts, one by Alan Krug that just compared crime rates to a rather arbitrary concept of strictness of gun control , and found no correlation, and one by somebody else. who crudely adjusted for a few items (using race as a surrogate for poverty and lack of education!) and found some correlation. Both sides were flying blind.
Things are quite different today. Back in the 70s and 80s there were several studies, now I forget the authors, of crime rates and gun ownership in Illinois' hundred or so counties, concluding that when other factors were compensated for there was no effect. There's Gary Kleck's detailed surveys on self defense, concluding several million incidents per year, and John Lott's elaborate studies of liberalized CCW, concluding that it lowers crime rates, and his critics (who to my knowledge dispute whether it lowers them, but do not contend that it increases them). There's even the meta-study, now I forget by whom, the study of all studies to date, that concluded there was no evidence that gun control in any form affected violent crime rates. And for details, the two surveys by the Bureau of Justice Statistics that found gun shows were the source of well under 1% of criminals' guns.
In face of all this hard data, the antis' theme has become "commonsense gun control." That, I think, is more than just "we only want a moderate amount of gun control." I think it also has a nuance of "don't expect us to cite hard data, just back whatever sounds like a good idea." Gun shows are "a loophole" that must be closed -- don't ask whether they're a source of criminal guns. Liberalized CCW is a terrible idea, will lead to street massacres -- don't expect us to show that it has ever had that result. Etc. "Commonsense gun control" thus equates to "we lost the battles over the hard data, and don't want to talk about them."
Posted by David Hardy · 10 December 2009 10:10 AM
The House just passed a big bill with a rider requiring Amtrak to allow firearms in checked baggage. Amtrak had resisted, doubtless fearful that a passenger would somehow get into the baggage compartment and hijack the train.
Posted by David Hardy · 9 December 2009 10:24 PM
The case involving the deputy who read over and grabbed the defense attorney's papers gets stranger by the moment, even allowing that the county attorney up there and the sheriff are reputedly, well, nuts.
As noted earlier, the judge held the deputy in contempt. Now the county attorney has filed felony charges against the judge. On a quick read they are pretty strange. For one thing, they are quite ambiguous. The judge provided "money, transportation, weapon or disguise or other means of avoiding discovery, apprehension, prosecution of conviction" to any judges, officials, or attorneys (only two being named).
For another, look at the verification. "Subscribed and sworn upon information and belief this 9th day of December 2009" .... and there is no signature of a notary. Then it has the judge's home address.
BTW, the defendant is the chief criminal judge of the county.
At the end is the explanation. Cripes ... the judge apparently denied the county's motion to recuse himself, and county lost an appeal. Then he failed to hold someone in contempt that the county thought should be held in contempt. And he responded to claims that the sheriffs' office didn't have enough manpower to transport people to court for bail-setting hearings (meaning people remained in jail without necessity) by suggesting that if the number of inmates was reduced this would cease to be a problem.
I have trouble reading further. This suggests a remarkable assault on the judiciary by the executive branch. Rule our way or face prosecution! I hope the judge files a 1983 action and puts a few wingnuts in their place.
Posted by David Hardy · 9 December 2009 01:17 PM
Here. And he was Director of Industry Operations in the Houston area.
Hat tip to Cbarles Heller....
Permalink · BATFE · Comments (5)
Posted by David Hardy · 9 December 2009 11:47 AM
Considering I have a doctor's appointment this afternoon, my mother is in a nursing facility recovering from surgery, and Chris Conte is in the hospital after a kidney transplant .... this is seriously scary! An annual 1.5 million Americans are sickened or killed by medication errors; another 98,000 are killed by infections acquired while in the hospital....
Posted by David Hardy · 9 December 2009 08:23 AM
A teacher at a private school sees a stabbing of a student, draws his gun and stops it.
I've heard the term "subculture of violence," and in my time as an attorney known a few who were in such a group, where physical violence was just a fact of life, nothing to get worked up about. In this case, having stabbed a guy a half dozen times, his wife drives him away, but then returns to retrieve his cell phone. For you, this is attempted homicide. For him, it's Tuesday morning.
Permalink · Self defense · Comments (6)
Posted by David Hardy · 8 December 2009 07:39 PM
Brady Campaign eulogy here. I knew him before he turned his coat and went with them, and he was a decent guy. The version they give is a bit sanitized... his change came more like the group he was was supported by gun makers, but got too close with the other side. Funding ended, and he's looking for new work, and Brady Campaign was scouting for such folks. (I know they'd scout, from experiences of a friend who got laid off, but refused to turn coat).
Always wondered how he kept his legal license. A lobbyist or consultant can turn coat (look at Dick Morris!) but a lawyer has obligations to keep his secrets. He'd represented a gun manufacturer group for years, and then he becomes an expert witness in suits against gun manufacturers. Everything he knew that was relevant would come from his prior representation. Maybe he represented the organization rather than each manufacturer -- but that being a membership organization, I can't see that making a difference.
Posted by David Hardy · 7 December 2009 03:44 PM
The deputy who removed a defense attorney's papers behind her back was jailed for contempt, and 20 courtroom deputies phoned in sick and a bomb threat was made.
Posted by David Hardy · 7 December 2009 01:41 PM
Off Road, a novel by a blogger and reader of this blog, said to be a great gift for antigun relatives.
And several books by Joe White, an extraordinary gent. He flew in WWII, rose to high rank in Border Patrol, and served as Harlon Carter's right hand man in the early years of ILA.
Posted by David Hardy · 7 December 2009 10:43 AM
Just got the hardcopy, and the pdf version, online. He specifically reaches the right to arms on pp. 1319-20,
Permalink · 14th Amendment · Comments (0)
Posted by David Hardy · 6 December 2009 02:37 PM
Webpage here. It's Chris Conte, ILA Legislative Counsel, and he goes in the afternoon of December 8.
UPDATE: his family posts that they're connecting the new kidney. Surgery is expected to last until 4:30 EST.
Posted by David Hardy · 5 December 2009 07:05 PM
Some thoughts on the subject.
Permalink · shooting · Comments (3)
Posted by David Hardy · 4 December 2009 01:05 PM
Story here. Owner of a security firm is suing the District over an arrest warrant issued for him, charging him with possession of unregistered firearms.
Posted by David Hardy · 4 December 2009 09:57 AM
A while back I blogged a report that a Maricopa County detention officer had been caught on security cam rummaging thru a public defender's file while her back was turned, and taking something from it. Today's newspaper reports that the judge held the officer in contempt, and ordered him to apologize (lot of good that would do). He refused, and is presently jailed for contempt.
He's appealing, and may have a good point.... an order to apologize amounts to "say something you may not believe, or go to jail."
Posted by David Hardy · 4 December 2009 09:11 AM
Kopel's new book, Aiming for Liberty, is available on Amazon.com
for $13.60. The publisher is angling for a "book bomb" today, to boost its Amazon ratings.
Posted by David Hardy · 3 December 2009 08:53 AM
A Tucson attorney and friend has authored a murder mystery, Immaculate Deception,
Posted by David Hardy · 2 December 2009 02:18 PM
The Keystone of the Second Amendment: Quakers, the Pennsylvania Constitution, and the Questionable Scholarship of Nathan Kozuskanich, forthcoming in Widener Law Journal.
Gist of it is a critique of Nathan Kozuskanich's claims that the right to arms guarantee in the 1776 PA Constitution -- "the people have a right to bear arms for the defence of themselves and the state" --actually has a secret meaning relating to Quaker objections to military service.
Wonder if I could coin a term -- "constitutional conspiracy theory" -- to describe all these collective-rights theories that take multiple references which are most naturally read to describe an individual right, and by referring to one or another historical event (sometimes isolated ones 20 years before), argue that that incident gives a meaning to the reference entirely at odds with its words, its history, and the speaker's background.
I don't recall seeing claims like this in any other constitutional context. Leonard Levy and Ed Meese debated the outer edges of the Establishment Clause -- are government policies that favor all religions an establishment or not? -- without either claiming that due to some event in 1760, "shall make no law" had a secret meaning (which no one bothered to record or reference) amounting "may make some laws," or that, say, "establishment of religion" was intended, sub silentio, to forbid only chartering of new churches, not handing public money to a specific church.
Posted by David Hardy · 1 December 2009 01:08 PM
The FBI has announced its intent to purchase two 20mm rifles -- suppressed!''
Here's the piece they're buying.
The announcement is necessary because the contract will be single-source, simply awarded to a firm rather than put up for competitive bidding. The reason for single-sourcing here is that there IS only a single source of suppressed 20mm bolt action rifles.
Posted by David Hardy · 1 December 2009 10:52 AM
At Bloomberg.com. "The banker had told this friend of mine that senior Goldman people have loaded up on firearms and are now equipped to defend themselves if there is a populist uprising against the bank."
"Common sense tells you a handgun is probably not even all that useful." In the author's mind, you keep your self defense gun unloaded in a safe where, yes, it might be a bit hard to use.
Against criminal attack, "In other words, a little humility and contrition are probably the better route." Criminals really appreciate humility. I'm not sure why the victim should be contrite.
"Concealed gun permits are almost impossible for ordinary citizens to obtain in New York or nearby states." That's news to Pennsylvanians. Or maybe she had in mind Vermont, where I've heard the police haven't issued a single CCW permit, ever. Because they don't have to.
hat tip to a Russian reader....