« October 2008 | Main | December 2008 »
November 2008
Posted by David Hardy · 30 November 2008 06:02 PM
1) Mayor Bloomberg pushes for and gets passage of legislation imposing a 3.5 year, no-probation term for carrying without a license.
2) Giants wide receiver Plaxico Burress shoots self in leg while carrying illegally.
Mike Ditka, in the meantime, proposed that NFL players be banned from owning guns. A new "prohibited person" class?
Permalink · State legislation · Comments (10)
Posted by David Hardy · 30 November 2008 12:05 PM
Story here. The background check system is supposed to be limited to licensed dealers checking out a potential sale, but the newspaper found that 10% of requests are from state troopers, not dealers.
Permalink · Gun Control Act of 68 · Comments (1)
Posted by David Hardy · 29 November 2008 02:23 PM
At the moment, most commercial vessels are required to use AIS, Automatic Identification System, as a collision avoidance measure. It radios the ship position, course and speed to any ships within receiving range. And to any pirates. The Washington Times reports AIS is a suspect in the recent hijacking of a mega-tanker 450 miles offshore. "The ability of the pirates to intercept this mega-tanker so far out in the Indian Ocean suggests they were able to obtain either track information from an outside source or they were electronically able to intercept the ship's Automatic Identification System (AIS). The AIS system is driven by Radio Frequencies (RD) that can be intercepted and tracked by any ship with an RF intercept capability"
That'd make sense. Picking off ships at choke points isn't that hard, but you'd not want to range out 450 miles, without radar, unless you knew where and when to intercept a big prize. Its captain changes course by a degree or two and you're going to spend a long time waiting for nothing.
AIS receivers are on the market (Google AIS receiver and you get prices as low as $189, more if you want a GPS unit to show your own location relative to the target), and if you qualify you can even get one for free.
But they don't need a radio receiver, just an internet connection. Go for a world map showing location of ships at sea, with different designations for cargo, passenger, tanker, etc.
Click on the "vessels" tab and you get a nice table of all vessels at sea, their type, last location and course (and when that was recorded, usually less than an hour ago) and destination. Click on the individual ship and you get its details. Admiral L is a tanker, weight 41,100 metric tons, ETA Houston on Jan. 11, reported at 24.2255 lat., -81.83988 long, 52 minutes ago. Click on its "track" and you get a nice map. It's heading around the Florida Keys right now.
I'd guess a hi-tech pirate would use both. Ship-to-ship AIS range is about 20 miles; if you have a receiver on a mountain, it can go to ten times that. So you'd have a guy ashore with an internet link up, to radio you on any course changes by the target. When you get close, you have your own receiver for the final approach. This would also suggest that radio monitoring might give advance word on pirate attacks. You'd be listening for someone ashore broadcasting locations and courses, maybe even naming the target. A bit of direction finding and you'd also have the pirates' transmitter's location, just in time for an air strike.
UPDATE: after pirates attacked a chemical tanker, British helicopters rescued three unarmed security personnel. Unarmed security personnel have never had a good track record against pirates. Blackbeard and the boys are not here for a wrestling match. What you need is a .50 caliber M2 and some guys who can use it. Or if you want it on a smaller scale, turn out the crew with M1As. Your opponents are bouncing around on a high-speed vessel, you've got a steady platform. Open fire at, say, 400 yards and I doubt anyone would need a second magazine.
Several hat tips to Don Hamrick...
Continue reading "High-tech shipping sets up vessels for pirate attack"
Posted by David Hardy · 29 November 2008 02:07 PM
Instapundit asks the question. I'd agree there was a good chance casualties would have been reduced. Rush into a crowded room shooting, and there's a big difference if the attacker has to worry about getting shot in the back. Not to mention about being perforated while he is changing magazines.
And Instapundit reports that there were only ten terrorists. I really wouldn't give ten men attacking a few thousand Tucsonans much of a chance. About 2% of Pima County has a CCW permit; others carry openly or have one in their car (you don't need a permit to have a holstered gun in the glove compartment). So an attack on 2,000 people means an attack on *at least* forty who have a gun on them, and more who will have one available in seconds. A fair number of whom will be behind the attackers' backs.
UPDATE: the report that the killers went from room to room, sometimes calling first to see if anyone answered. No matter what weapon the killer carries, kicking in a door and charging in is only safe if the occupants are unarmed.
ANOTHER UPDATE: a photographer who unsuccessfully tried to get police to open fire says "I only wish I had a gun rather than a camera."
Posted by David Hardy · 28 November 2008 11:37 AM
At Reason Online.
Posted by David Hardy · 28 November 2008 09:00 AM
Bob Owens tries six months of carrying concealed.
Permalink · CCW licensing · Comments (2)
Posted by David Hardy · 27 November 2008 09:32 PM
Memories of a dinner in Falls Church VA, years ago, in the mid late 90s or so. Present were my law ex, her mother, her cousin, my son Mark, the cousin's son, and myself. Understand, the ladies there were VERY naive. The cousin's former husband was Claus, who had been a cook.
One of the ladies said the turkey carving was good, but not as good as Claus could do. He was an expert at boning a turkey.
The three males looked at each other and, stifling laughs, kept on eating.
The other ladies took it up. Nobody boned a turkey like Claus boned a turkey.
We averted our gaze and tried to keep from choking on our food.
They kept at it. When he boned a turkey, it was a work of art. Nobody could bone a turkey like he could. That was too much.
My ex asked what was so funny to the three of us, and I had to reply it was a private joke, I'd explain later. And they kept at it....
Posted by David Hardy · 27 November 2008 09:27 PM
Story here. This is the Chicago Tribune?
Hat tip to reader Ambiguous Ambiguae... maybe a double hat tip, since he gave much data to the columnist (who was fair on the issue to begin with).
Permalink · media · Comments (0)
Posted by David Hardy · 26 November 2008 09:17 PM
Easton PA votes down a proposal to criminalize failure to report gun theft, after the city solicitor advises that the proposal itself is illegal. But Pittsburgh passes it, with the chief sponsor remarking, "Who really cares about it being unconstitutional?"
Nothing like officials who care about their oath of office...
Permalink · State legislation · Comments (9)
Posted by David Hardy · 26 November 2008 01:28 PM
South Carolina decides on it. The "Second Amendment Tax Holiday" covers this Friday and Saturday.
Posted by David Hardy · 25 November 2008 08:13 PM
Story here. OK, I've figured out what a "bikie" is, but I'm still wondering about "the power to issue prohibition orders against people found near an illegal weapon."
Permalink · non-US · Comments (4)
Posted by David Hardy · 25 November 2008 08:09 PM
Part Two may include (a) ritual suicide or (b) resignation for personal reasons and flight under an assumed name to another state or (c) moving to Tibet and disguising yourself as a yak.
Posted by David Hardy · 25 November 2008 09:22 AM
Online here.
Permalink · Parker v. DC · Comments (5)
Posted by David Hardy · 25 November 2008 08:14 AM
Story here. As the author notes, the guys who do this face two risks. (1) Getting killed by the targets, who are now into background checks! (2) Being ruined by backstabbing superiors, as has happened to agents in the past if the operation wasn't 100% successful. Then it goes to finger-pointing, and the guys at the bottom of the bureaucratic food chain wind up on the receiving end.
Posted by David Hardy · 24 November 2008 05:57 PM
I suppose I must mention his piece in WashPo. I mean he is a famous writer who wears a tie and always looks like he never got over being buggered with a turnip during freshman hazing at an Ivy League school (and has a classical education so he would recognize being buggered with a turnip) but can still use baseball analogies in every article, even if discussing his appendectomy, just to show he's one of the guys. Provided all the guys in question have been buggered with turnips as a prelude to a really classical education.
OK, I tired of his writings years ago and rarely read them. Just as he probably rarely eats turnips. But I digress.
His gripe (carefully hidden -- he's just relating what someone else said, mind you -- is that the Heller Court, well, recognized a right. OK, unlike Roe v. Wade, "In Heller, the court was at least dealing with a right the Constitution actually mentions." But Will (who is probably as frightened of firearms as he is of turnips) maintains it is a disputed right (hey, there was a dissent!) and now the Court will have to ... shudder ... decide what it means, and that means policy makers (i.e., the Obama Admin., Nancy Pelosi, the California and Illinois legislatures, etc.) will be unable "to function as laboratories for testing policy variations." Policy variations as to ... hmmm... expressly-stated constitutional rights. But, where the question is at all close, Will argues that conservativism requires deference to elected policymakers, especially those at the local level. "Judicial conservatism requires judges to justify their decisions with reference to several restraining principles, including deference to the democratic branches of government and to states' responsibilities under federalism."
I think Americans in 1791 chose their policy variations.
By way of contrast, we can look at Will's response to the Kelo decision, another 5-4, which held that private property may be taken (with compensation) by local governments in order to be given to private developers whom they argued would make better use of it. The title of his column: "Damaging 'Deference." He calls the government's claim "brazen," its actions a use of "life-shattering power." His conclusion:
"Liberalism triumphed yesterday. Government became radically unlimited in seizing the very kinds of private property that should guarantee individuals a sphere of autonomy against government.
Conservatives should be reminded to be careful what they wish for. Their often-reflexive rhetoric praises "judicial restraint" and deference to -- it sometimes seems -- almost unleashable powers of the elected branches of governments. However, in the debate about the proper role of the judiciary in American democracy, conservatives who dogmatically preach a populist creed of deference to majoritarianism will thereby abandon, or at least radically restrict, the judiciary's indispensable role in limiting government."
Posted by David Hardy · 24 November 2008 05:18 PM
Right here, at their new blog. A CDC study shows hunters have LOWER blood lead than is average.
We found similar results here when there was a challenge to lead at a shooting range. We could show no possible migration via air or groundwater, but the laboratory (which was apparently paid to get results) theorized that, since everyone inadvertently eats a small amount of dust per day, range users might ingest it that way. We took two retirees who basically lived at the range 8-6, 7 days a week, ran their blood, and it showed up lower than normal for lead and arsenic.
My doctor friend pointed out that most lead ingestion comes from driving. Decades of leaded gas have left considerable lead dust on and near every road. These folks were spending their day at the range rather than driving around, and so were less exposed to environmental lead!
Posted by David Hardy · 24 November 2008 06:09 AM
Heading home, after many Heller activities and much research. Be back to blogging tonight or tomorrow....
Posted by David Hardy · 23 November 2008 06:44 AM
I have trouble finding a short term for the ability to pontificate while remaining utterly clueless. Reporter runs story on handgun deer hunting season, apparently feels compelled to interview someone who dislikes it, and winds up running an FSA opposition to .50 caliber handguns, which, it attests, have an effective range of 2,000 yards.
The guy they used for testing must have awfully steady hands.
Hat tip to jdberger...
Posted by David Hardy · 23 November 2008 05:57 AM
They didn't waste much time. (pdf)
Permalink · antigun groups · Comments (6)
Posted by David Hardy · 21 November 2008 01:17 AM
Here's Dave Kopel's take, at the Volokh Conspiracy. Holder seems opposed to guns, except when federal LEOs are sticking them in civilians' faces.
Posted by David Hardy · 20 November 2008 07:30 AM
Story here.
Posted by David Hardy · 19 November 2008 07:26 PM
Attended it tonight, at George Mason Univ. School of Law. Most was about things I already knew, but I did get to meet Dick Heller,
Then there was Dennis Hennigan of Brady Campaign. He was explaining hiow Heller was actually a good thing for them, since now they could pass various forms of legislation without anyone being able to argue it will lead to confiscation. Unfortunately time ran out in the Q-and-As before I could ask him "If Heller is such a great thing for you, policy-wise, does this mean you are going to support incorporation and application to the States? Wouldn't that be even better for you?"
A friend pointed out an amusing incongruity. The event was held in the Robert Levy rotunda. Levy was one of the attorneys for Parker/Heller, and there's a plaque to him in the hall. There is also a plaque to the law school's first dean. Who wrote the first law review article arguing for a collective rights view, back in the 1930s.
The two plaques are nearly facing each other across the hall.
Permalink · Heller aftermath · Comments (11)
Posted by David Hardy · 18 November 2008 07:57 PM
Pdf here. Of the six Illinois municipalities that had handgun bans, all but Chicago and Oak Park have repealed them.
Hat tip to reader Carl in Chicago...
Permalink · Chicago gun case · Comments (15)
Posted by David Hardy · 18 November 2008 07:18 AM
At Reason Online.
UPDATE: Eric links in comments to an interesting post. I've got to note that, to those who haven't done it, law is supposedly a science. It isn't. It's human chaos with some semblance of form. Perhaps I'm biased, but Heller -- an absolute federal ban -- should have been a hands-down winner. Yet it broke on a 5-4. The game of litigation isn't anywhere near as predictable as poker. More like playing 7 card stud where you get five cards now, and in 2-3 years we'll deal out the rest. And based on unpredictables (who resigns from the Court, who gets re-elected, what the Senate looks like and what their views on firearms are, with nobody vetting them for that), the deck we deal from may be mostly face cards or all clubs or only low, odd, numbers.
Permalink · Parker v. DC · Comments (7)
Posted by David Hardy · 17 November 2008 06:29 PM
An interesting piece on changes to police tactics. The traditional response was bring up the SWAT team, plan it out carefully, then go in. As the matter was better understood, this switched to whoever gets there first goes in immediately -- seconds passing means people dying. To my mind, this is a powerful argument for allowing teachers to be armed. The article ends:
"The other statistic that emerged from a study of active killers is that they almost exclusively seek out "gun free" zones for their attacks.
In most states, concealed handguns are prohibited at schools and on college campuses even for those with permits.
Many malls and workplaces also place signs at their entrances prohibiting firearms on the premises.
Now tacticians believe the signs themselves may be an invitation to the active killers.

The psychological profile of a mass murderer indicates he is looking to inflict the most casualties as quickly as possible.
Also, the data show most active killers have no intention of surviving the event.
They may select schools and shopping malls because of the large number of defenseless victims and the virtual guarantee no on the scene one is armed.
As soon as they're confronted by any armed resistance, the shooters typically turn the gun on themselves."
Hat tip to reader Jack Anderson....
Permalink · Crime and statistics · Comments (23)
Posted by David Hardy · 17 November 2008 03:12 PM
It's its 137th, founded Nov. 17, 1871. Founded by William Church, who'd been a Union officer during The Great Unpleasantness, and was dismayed by his troops' lousy marksmanship. And more dismayed to discover the Army had no real shooting manuals. As I recall, the drill manual just showed how to stand when firing offhand, not a word about sight alignment, much less bullet drop, trigger squeeze, etc..
And Church was in at the beginning of the war. I read one late 1864 report from Gen. Hancock, commanding II Corps, that one-third of his corps had never fired a live round from their muskets. His corps had been pretty badly shot up, and replacements were new guys who'd drilled on loading but never actually had fired a shot.
Permalink · NRA · Comments (2)
Posted by David Hardy · 17 November 2008 07:07 AM
Fellow is carrying openly, with result that people across the street phone in a "man with a gun" report. In these parts the deputies would ask what make, is he selling, and what price does he want. They weren't so understanding, tho, and arrested him for CCW and disturbing the peace by causing people to be alarmed (which is a bit inconsistent: how could anyone be alarmed if it wasn't visible?). The prosecutors at least had some sense and refused to file. Data here.
Posted by David Hardy · 16 November 2008 12:52 PM
Wisconsin DOT report here in pdf. It notes deer are the third most commonly struck item, that collisions with deer killed 14 and seriously injured 100 in 2007.
Posted by David Hardy · 15 November 2008 08:31 PM
The Supreme Court, in a 5-4, has decided against striking the Bill of Rights, at least for now.
(Note: is from The Onion, a hilarious site).
Posted by David Hardy · 15 November 2008 05:51 PM
Israpundit has thoughts here, and I suspect he's dead on. The purpose is not security, but "re-education" of the participants.
Posted by David Hardy · 15 November 2008 03:10 PM
Was down talking to friends two friends, military historians who are museum curators. One has a son in the Army. He was until recently on the Korean DMZ, which is more of a no-man's land, esp. at night.
They're on a night patrol, about 2 AM, 20 below zero. Coming toward them they can hear, and barely see, are a party of NK refugees, fleeing NK infantry, who are firing on them. Americans move up, and he sees a tiny 4 yr old girl coming toward him thru the gunfire. He grabs her, throws her to the ground, goes prone and rests his M-4 over her back, and opens up. Two NKs go down and the rest flee. They find the two NKs dead the next day.
My friend told his son 70-80 years from now when we're all gone, that little girl will be telling her great grandkids about you. Every family got its freedom differently. A lot came thru Ellis Island or wherever. This girl's family got theirs at 2 AM in the DMZ, figuring all hope was lost when American soldiers appeared in the night. She felt the rifle bouncing on her back and smelled the powder smoke as the American cut their pursuers down in the darkness.
Posted by David Hardy · 14 November 2008 03:24 PM
Story here.
Posted by David Hardy · 14 November 2008 12:26 PM
Scott Back has thoughts over at New Jersey Voices. There's a proposal in the NJ Assembly A2116, soon up for a vote, that bans anything modern gun of .50 caliber or over, and any muzzleloader of .60 caliber or over. I guess NJ can forget about Revolutionary War re-enactments if it passes. Must have been an epidemic of assault-weapon musketry over there.
Posted by David Hardy · 14 November 2008 08:34 AM
Their questionaire for political appointees (for thousands of positions, BTW, not just cabinet posts) asks about arrests. "There are no time limits for some information, including liens, tax audits, lawsuits, legal charges, bankruptcies or arrests." "Only the smallest details are excluded; traffic tickets carrying fines of less than $50 need not be reported, the application says."
But the Equal Employment Opportunity Commission takes a very dim view of considering arrest records in hiring and firing. Arrest without conviction proves very little, and arrests disproportionately impact minorities. The commission's advice to employers is that merely asking for arrest records may be violation: "Even where there is no direct evidence that an employer used an arrest record in an employment decision, a pre-employment inquiry regarding arrest records may violate Title VII. It is generally presumed that an employer only asks questions which he/she deems relevant to the employment decision." It advises that even with a conviction the employer must weight its gravity, how long ago it happened, and how it relates to the job.
I'd assume Title VII of the Civil Rights Act does not apply to political appointments (political operations usually except themselves from employment laws), but even so, I'd hope that the incoming administration wouldn't be quite so obvious in disregarding its spirit!
Posted by David Hardy · 13 November 2008 03:36 PM
As noted at the Volokh Conspiracy, question 59 on the questionaire that applicants for appoint fill out reads:
"Do you or any members of your immediate family own a gun? If so, provide complete ownership and registration information. Has the registration ever lapsed? Please also describe how and by whom it is used and whether it has been the cause of any personal injuries or property damage."
It's traditional to ask at least some questions, meant to guard against appointing someone with a background you don't know about. But as a friend pointed out when I worked in DC, it's not wise to ask for written answers. If the applicant has something embarrassing in their past, they sure as heck are not going to want to write it down and sign it! I don't know if transition committees are subject to the various federal records acts (meaning documents have to be saved, and will be available to the Administration after this one). But given all the DC backstabbing *within* an administration, who wants to pass around paperwork revealing every potentially embarrassing fact of their life?
Posted by David Hardy · 13 November 2008 10:36 AM
JPFO has it, in a free download. Look on the upper right part of their page. It's entitled "2A Today for the USA."
Posted by David Hardy · 13 November 2008 08:22 AM
Right here, in pdf. Author raises the point that the present test for self defense (did the defender reasonably believe he was in danger or lethal danger?) misses much of true self defense. I.e., when the defender is attacked by surprise and reacts by reflex, not really having a belief about anything. Courts generally treat that as self defense anyway, but the author suggests we ought to modify the doctrine to fit. He also notes that German law is more liberal toward self-defense; a person under criminal attack is not required to use only a reasonable amount of force, but rather is allowed to use force unless it is grossly disproportionate to the attack.
Permalink · Self defense · Comments (0)
Posted by David Hardy · 12 November 2008 07:07 PM
Ancestry magazine has an article on uses of aliases by ancestors, and my gunslinging judge great-grandfather got a prominent mention. My online tale of him is here. Outlaw Nat Hickman, who became Judge Charles Hardy of Arizona Territory.
UPDATE: same issue has an article on DNA and all that. Studies have shown that over 16 million people have Genghis Kahn's DNA. About 80% of England has Edward III's DNA. I read somewhere that DNA work shows we have twice as many female ancestors as male ones. Throughout history, men took chances. The unsuccessful ones often died. The successful ones averaged two women apiece.
It also has an article on "pedigree collapse." You'd expect a person to have four grandparents, eight great grandparents, etc.. But if cousins marry, at some point their ancestry overlaps and they have common ancestors, so the total count drops. They list one recent king who, due to intermarriage of the royalty, had only half the theoretic number of great great grandparents.
Posted by David Hardy · 12 November 2008 09:40 AM
Winters v. Natural Resources Defense Council, handed down this morning.
I'm posting it because the majority opinion isn't about whales and sonar: it's about injunction as a remedy, which is what you aim for in a test case. You start out seeking a preliminary injunction (order the other guy to stop it until we can get this case to trial) and end up seeking a permanent injunction (order him to stop it, permanently, after trial).
Preliminary injunction: there are four criteria, the two most important being likelihood of success on the merits (when it does get to trial you'll probably win) and likelihood of irreparable harm happening before trial if the conduct isn't stopped.
9th Circuit (and possibly others, I don't know) had a relatively permissive standard there. If you show a strong probability of success, you can get by with a lower probability of irreparable harm, the two can balance off, and with really high odds of winning you could get by with merely a "possibility" of irreparable harm.
Supreme Court says no to that idea. A plaintiff must prove both probability of success and likelihood of irreparable harm, and one doesn't balance off the other.
And at the end, it says that a permanent injunction is treated the same as a preliminary, except you must win on the merits. That means you have to meet the four criteria, including a showing of irreparable harm. Just because you won on the merits doesn't mean you automatically get an injunction (tho you may get declaratory relief).
I wonder why NRDC brought it in the first place. The Navy had gotten a "dispensation" as it were from the Council on Environmental Quality, which administers NEPA, the statute they sued under. An injunction limiting Navy anti-sub training doesn't seem like a good idea. Maybe they figured they were in the 9th Circuit, which loves enviro suits, but an injunction of this type would be something the Supreme Court would snap at. Which it did, and now NRDC is stuck with case law that hurts its lawsuits.
Permalink · General con law · Comments (3)
Posted by David Hardy · 12 November 2008 08:03 AM
Story here. The perils of "may issue." The new sheriff decides there simply must be too many permits, because a neighboring county has issued only a third as many. On the other hand, there is evidence the outgoing (indicted) sheriff issued them to campaign workers and buddies.
Hat tip to Dan Gifford...
Permalink · CCW licensing · Comments (8)
Posted by David Hardy · 11 November 2008 10:29 AM
Here's its report on the oral argument in the Hayes case. All the Court is trying to do is figure out what Congress meant when it defined domestic violence offense. Does that mean the elements of the underlying misdemeanor must be (1) use or threat of force (2) against a household member, or just (1) misdemeanor use or threat of force? (I.e., the household member can be proven in the federal prosecution).
Headline:
Domestic violence abusers could get gun rights
The Supreme Court will decide whether people convicted of misdemeanor assault against their spouses or partners should have their 2nd Amendment rights restored because of a flaw in federal law.
First para: " Thousands convicted of a misdemeanor for threatening or assaulting a spouse or girlfriend could once again own guns because of a flaw in the federal law."
Story goes on to quote extensively from the government attorney's argument, and not a word from the other side. And no analysis of what the legal issue was.
Hat tip to Ambiguous Ambigue
Permalink · media · Comments (7)
Posted by David Hardy · 11 November 2008 08:40 AM
A debate at Opposing Views. Opposing Views is an interesting concept. They take public issues, solicit arguments from spokesmen on either side (here, NRA, GoA and Citizens' Committee vs. Ceasefire and Freedom States Alliance, then open the debate to comments.
Posted by David Hardy · 11 November 2008 07:57 AM
A newspaper (Mail-Tribune of Medford OR) sued Sheriff Mike Winters to obtain the names of CCW permit holders. He opposed on the ground that State law exempts from disclosure info that is related to personal security. The Circuit Court ruled that CCW permits aren't automatically related to security; that must be proven.
Sheriff Rob Gordon came up with a novel idea to deal with the ruling (and the probability that someone would make a similar request of him), and polling CCW holders by mail to ask their reasons for obtaining a permit, and whether they want their data kept private. He also set up a webpage where people can enter their reason and whether they want their records held private.
[Story updated and corrected in light of reader Gordon R. Durand's comment].
Update: as I recall, when another paper tried this sort of story, local firearm rights groups researched and put online all publicly-available data on its editorial staff. Home addresses and phone numbers (obtained from voting registration forms), house size and valuations (from the county assessor's office), etc., etc, etc.. I seem to recall that the paper gained a newfound respect for privacy.
Permalink · CCW licensing · Comments (10)
Posted by David Hardy · 10 November 2008 06:48 PM
Available in pdf here. Government contends the federal bar on gun possession after misdemeanor DV conviction applies to a person who was convicted of ordinary battery, not requiring as an element that it was against an intimate partner, so long as the government can show at the federal trial that it was against an intimate partner.
Impressions: the Solicitor General's advocate shows speed and mettle, but by page 10 knows she has probably lost Scalia and Ginsberg (that combination hurts!) and CJ Roberts. By p. 14 she's lost Kennedy. P. 16, maybe Stevens, too.
Then the defendant's attorney gets up, and they climb on him, too. Breyer is leaning the other way, and possibly Ginsberg and Alito. Kennedy gets in a good and very true line -- "It seems to me that although this statute is a mess anyway..."
Rebuttal: government has definitely lost Roberts and Scalia, the rest are unclear.
Posted by David Hardy · 10 November 2008 06:22 PM
That's his prediction. Supporting it is an insider DC tip that his people are seriously considering a federal ban or restriction on "right to carry" laws. Exactly where the constitutional power to enact such a measure is to be found is less than clear to me. But so are a lot of other things like that.
Oh, and O's mysteriously vanishing webpage has been found here. About 3/4 of the way down, we find:
"Address Gun Violence in Cities: As president, Barack Obama would repeal the Tiahrt Amendment, which restricts the ability of local law enforcement to access important gun trace information, and give police officers across the nation the tools they need to solve gun crimes and fight the illegal arms trade. Obama and Biden also favor commonsense measures that respect the Second Amendment rights of gun owners, while keeping guns away from children and from criminals who shouldn't have them. They support closing the gun show loophole and making guns in this country childproof. They also support making the expired federal Assault Weapons Ban permanent, as such weapons belong on foreign battlefields and not on our streets."
The wording of the last IS a bit peculiar.
Posted by David Hardy · 10 November 2008 07:23 AM
Pdf here. Of course they have reason to do so, but their claims do involve quite a bit of "creative writing." As I see it, it proves an "F" who pretends to be an "A" can beat a "C." The question then becomes... does the "F" then act like an "F," or does he figure that having won as a fake "A" he'd better act like one if he wants to get re-elected as one? Time will tell.
Permalink · antigun groups · Comments (2)
Posted by David Hardy · 8 November 2008 08:00 PM
Next election, let's set up a movement to "draft" Colin Powell. Nevermind that he refuses to run. It can be via one party or the other or both or independent.
Then we vote him in. If he refuses to serve, there is plenty of common law precedent for the proposition that an elected official doesn't have a choice. He has been selected by the people, and must serve. Besides, this is C in C of the armed forces. Failure to serve is desertion. If he fails to show for his inauguration, MPs go looking and bring him in and then see him into the White House. He'd probably figure after that that he did command men who had been drafted and didn't want to be privates or pfcs, so he oughta serve as commander in chief even if he didn't want to.
In this I am guided by a friend who knew him, and thought him the wisest fellow he had ever known, and a general that I met at an NRA convention, when I was too intoxicated to remember his name, and a few NRA-linked people who served on his security details. And by the thought that it would be wonderful to be governed by a fellow who had no ego problems, didn't want the big name and celebrity, and had to be forced to attend his own inauguration. He does love to work on cars, but it wouldn't be hard to build a real garage onto the White House, and buy a full set of tools.
UPDATE: I know he endorsed Obama. We all make mistakes. I've made some bad and painful ones. The most we we expect is that a fellow learns from each. If he makes a move and gets hammered, he thinks about where he misjudge events or human nature, and learns from it.
Posted by David Hardy · 8 November 2008 10:40 AM
Only a few days after the election of our first black president, former Klansman Robert Byrd, the last known caucasian non-LEO user of the "n word," resigns his committee chair. My friend Phil "Wild Man" Murphy notes the irony.
Posted by David Hardy · 8 November 2008 10:27 AM
Inquiry here for anyone with pics or scans of pics of the pro-gun demonstrations of past decades -- and suggestions as to how to make use of them.
Posted by David Hardy · 7 November 2008 12:38 PM
From Prof. Joe Olson, who began his background with guns as a civil rights worker who didn't intend to get killed and buried in a dam somewhere. (BTW, my late father held the first sit-in on a segregated bus, when he was stationed in a State with those requirements, back in WWII. He sat in the back and refused to move when threatened with arrest. In the end they just drove on. Sorry Ms. Parks, someone was going to tell you some day). Here's is Joe's take:
America really is an amazing country.

America just elected a black President.

In my life time,

(1) I've seen "Whites Only" water fountains and toilets in Texas in 1959.
What a shock that was because I was only 14, just discovering race, and just back from four years in Europe where nationality mattered a hundred times more that skin color. I made a lot of social errors, so to speak, in Texas because I simply didn't/don't "see" race at all.

(2) My father's co-pilot, who was a black officer, had to live on the east side of Abilene (20 miles from Dyess AFB) because that's where the nice black neighborhood was located.

(3) In my first real post-college job, in 1967, I had folks in bed sheets shooting at my co-workers and harassing me until I bought a gun and waved it at them. Merely because was I was white, had Missouri plates, and was helping Negroes (time-warp term) gain equal opportunity . (Yes, I was an "outside agitator" to them. Deliberately.) People like me had been killed just three years earlier.

(4) In another job during a law school summer I almost got a shitkicking because I picked up "the nigger" (the older black man who did the crap details on the painting crew) since I drove past his house on the way to our work sites. I think I was saved by two things: I could speak in the distinctive Piedmont accent (with expletives) and the white boys knew I was out of their social class (after all, I'd never been to Central Prison in Raleigh). Hurting me would bring bad karma (not their term) on them.

(4) While in the Air Force, 1970-74, (AF officially color blind since 1948) I had to tell a number of clients that the AF couldn't control what they thought, but we sure as hell could and would control how they acted. As I used to put it "You don't have to like them or invite them home for dinner, you just have to act like you do. Understand." Apparently, "acting" continued for a long enough time brings real change.

The White side of the civil right movement got it's kick-off during Freedom Summer in Mississippi in 1964 although MLK and other Southern Blacks started much earlier in Birmingham, Selma, etc.

1964 to 2008. A mere 44 years. There are three new generations out there who have never seen a "Colored" water fountain. That's good.
UPDATE: I read somewhere that the 3/5 compromise came about in the opposite manner from what we'd expect today. That is, the slave states wanted a slave to count for zero in the population, and the free states wanted a slave to count for one. That was because in the 1780s, the big concern wasn't power in the House of Reps, it was how to pay off Revolutionary War debt. Each State's population would determine not only its votes in the House, but also how much federal tax could be allocated to it, viz., how much it would pay toward that debt.
Posted by David Hardy · 7 November 2008 07:59 AM
Snowflakes in Hell has the tale. Obama's transition platform is basically the (present) Brady agenda. I say "present," because if they get it they're obviously not going to proclaim victory, dissolve the organization, and look for other jobs.
Posted by David Hardy · 6 November 2008 10:43 AM
Here's an article, by its author (a military historian), on the early history of the NRA and military marksmanship. And here's the book, which I plan to order. [Update: no Rifleman review yet that I've seen, probably because the book is just out and Rifleman runs 60-90 days behind.]
Posted by David Hardy · 5 November 2008 10:10 PM
At SSRN. One of the core ideas is interesting to us grunts in the trenches who have to persuade courts -- that a right can be incorporated, yet not identical at State and Federal levels. The idea of "reasonable regulation," that is to say, may be more like "shall not be infringed" at the Federal level, and "reasonable regulation (subject to strict standards)" at the State level.
Understand, from the standpoint of those in the legal trenches, that you are trying to work out theories that can persuade judges at home on the driving range but not the rifle range, who associate guns with the latest newspaper article about crackheads shooting at each other instead of with shooters who are ashamed to get a moving violation, and live in gated communities where the closest approach to self defense is complaining about the golf ball that hit your windshield...
UPDATE: Effect of the election. (1) The Solicitor General will certainly file a brief, in any case that gets to the Supremes, opposing incorporation. An SG's brief gets more consideration than briefs by other folks. He might also file a motion to argue it, as he did in Heller. (2) In the longer term, Obama's going to be appointing Justices. The most likely to retire is Stevens, next to him Ginsberg. They both dissented in Heller, so those wouldn't change the vote count. The Heller majority was from the younger end of the Court. The risk is that young here means 70 or less, and there's always risk of a heart attack or cancer taking out one of the five over the next 4 years.
Posted by David Hardy · 5 November 2008 08:29 PM
New York permit holder has permit revoked for violation of safe storage requirement, which I gather would require the gun to be locked away. The NY Supreme Court (caveat: that is NOT the highest court in the State, NY follows a strange naming rule for its courts) overturns the revocation, noting that Heller found such a storage requirement unconstitutional. (The question of whether the 2A is incorporated via the 14th is overlooked).
Hat tip to Jacob Rieper of NY State Rifle & Pistol Association, and James Cochrane.
Permalink · Heller aftermath · Comments (7)
Posted by David Hardy · 5 November 2008 06:38 PM
NPR audio here. The topic is a bit stacked, not whether more guns do not mean more crime, but rather whether more guns reduces crime. But looks as if they won over the undecideds.
Hat tip to reader BlackX...
Posted by David Hardy · 5 November 2008 10:55 AM
SAF and NRA have filed. It's winner. The state requires resident (i.e., legal) aliens to get a special gun permit -- and then won't issue it because the issuing agency is not law enforcement, and FBI won't run background checks for a non-LE agency.
Permalink · Heller aftermath · Comments (0)
Posted by David Hardy · 5 November 2008 09:23 AM
The Washington Post has thoughts about Obama's first moves. They figure he's got to do enough to suggest "change" without doing so much that he comes off as a lefty, or loses the blue dogs, or sets the stage for another 1996, and list a number of ideas. Guns don't make the list; the priorities are mostly economic.
Posted by David Hardy · 5 November 2008 07:20 AM
1) It'll probably be full employment for second amendment lawyers for four years. For decades we played the safety position. Now we're front line.
2) Maybe, just maybe, the Repubs will remember that they came to power as small-government conservatives, and fell when they became big-government conservatives.
3) The Demos have some problems unsolvable by government, and will screw up much of the others. Obama's messianic message means the disappointment will be all the greater. Like the Repubs, they'll let power go to their heads in a year or two. If the Repubs do ask "What would Goldwater do?" they may return in 2012. But, then, if they could have figured that out, they'd never have gotten to this point.
4) The market will go up. Much of the economy is based on circular reasoning. People think it's prosperous, they spend and it becomes prosperous. Up to today, the media (a/k/a the extended Obama campaign) has run it as doom and gloom. Starting today, and accelerating with the inauguration, they'll run it as happy days are here again, and the economy will respond accordingly. Until the next bubble pops. Because the market is full of gamblers, who can't quit when they're ahead.
[Typo fixed, thanks).
Permalink · Politics · Comments (17)
Posted by David Hardy · 4 November 2008 08:35 AM
Here it is. It has my three latest articles on it, and you can download them. Constitutional history buffs might find my transcription of St. George Tucker's law lecture notes relating to the Bill of Rights of interest. Tucker appears to have written them in 1791-92, as he was just starting out as a law prof. at William and Mary. They give a good idea of how the BoR was understood, right after its ratification, by a fellow who was a friend of Jefferson and Madison, had a brother in the First Senate, and whose closest friend sat in the First House.
Posted by David Hardy · 3 November 2008 04:07 PM
In Florida, home of "shall issue" CCW permits, Miami just went a month without a single homicide.
Chicago, home of the handgun ban, is celebrating a crime reduction, too, since its homicides have fallen to only 400+.
Posted by David Hardy · 3 November 2008 02:44 PM
SOUTHPORT, CONNECTICUT 06890 U.S.A.
FOR IMMEDIATE RELEASE
For further information contact: Ken Jorgensen
Director of Media Relations and Shooting Sports Coordinator
RUGER® ANNOUNCES "INAUGURAL SPECIAL"
MINI-14® MAGAZINE PROMOTION
Southport, CT November 4, 2008 – Sturm, Ruger & Company, Inc. (NYSE:RGR) announces an "Inaugural Special" for Mini-14® 20-round magazines that runs from Election Day to Inauguration Day.
From November 4, 2008 to January 20, 2009, fans of the Ruger® Mini-14 Target Rifles and Mini-14 Ranch Rifles, both chambered for .223 Remington, can purchase Ruger manufactured 20-round magazines (regularly priced at $39.95) for only $29.95. This special offer is only available through the Ruger On-line Store at http://www.ruger.com. Please note that these magazines are not available where state or local regulations limit magazine capacity to less than 20 rounds.
The Ruger Mini-14 series of rifles has been extremely popular since first introduced in 1974. Long considered simple, rugged, and reliable, these rifles have proven so popular around the woods, farm, and ranch that they earned the nickname "Ranch Rifle." All Mini-14 rifles come from the factory with integral scope mounts.
For 2008 only, Ruger is offering a special edition NRA Mini-14 rifle. This rifle ships with two, 20-round magazines and a portion of the sales from each rifle is donated to the NRA Institute for Legislative Action to support its ongoing efforts in defending our Second Amendment rights. The NRA Mini-14 features a blued finish and 16-1/8" barrel in a patented black Hogue® OverMolded™ stock, and the grip cap of the stock features an NRA metal gold-tone logo.
For information on the extensive line of Ruger products and services, visit http://www.ruger.com.
About Sturm, Ruger: Sturm, Ruger was founded in 1949 and is one of the nation's leading manufacturers of high-quality firearms for the commercial sporting market. Sturm, Ruger is headquartered in Southport, CT, with plants located in Newport, NH and Prescott, AZ.

Posted by David Hardy · 3 November 2008 11:58 AM
I'd put them on the roads to polling places tomorrow.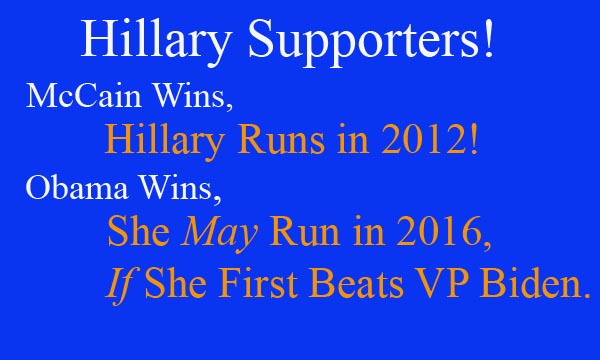 Posted by David Hardy · 3 November 2008 07:55 AM
A comment, as I recall (it was a busy working weekend) sought an assessment of the legislative picture, post-election.
The indicators seem to be that Obama wins. They're neck and neck in popular vote, but he's got the electoral college advantage. Real Clear Politics shows it as Obama 278, McCain 132, toss up 128. Main change in last 48 hours has been
leaning Obama" States moving into "toss ups," so it's not a sure thing. Clearly the Demos will increase their House and Senate majorities.
Whoever wins, I'd expect at the outset a "close the gun show loophole" push. If Obama wins, it's obvious, and if McCain wins, might as well set him up to sign it or back off from his past position.
Beyond that, I'd guess not too much at the outset. They'll have four years, and in that time there will be something newsworthy. A mass shooting. Or just homicide rates rising (they're cyclical, and we're coming out of the lowest levels in 20 years). At that point, anything is possible. They can give the yellow dogs a pass -- vote against, or don't vote -- and still enact whatever they want. The only limitation will be how much they can get past Harry Reid as Senate leader.
And the courts will be packed. People look at the Supremes, but there's also all the lower federal courts. The Dems have been blocking confirmations for years, with the result that something like a third of all lower court slots are open. Those will quickly be filled. I doubt that the 2A will be a litmus test, but the tests that will be applied (upholding government programs so long as they steer clear of the First Amendment, etc.) will tend to pick people unfriendly to the 2A.
Posted by David Hardy · 3 November 2008 06:39 AM
Column here.