« February 2008 | Main | April 2008 »
March 2008
Posted by David Hardy · 31 March 2008 08:41 PM
USA Today reports:
"Facing tighter budgets, law enforcement agencies across the country are increasingly turning to civilians to respond to some calls that sworn officers and deputies are usually responsible for.
That means people calling 911 to report a traffic accident, a burglarized home or a stolen car may be greeted by a civilian in a polo shirt instead of a gun-toting officer.
"It hasn't been universally adopted throughout the country. But most areas have at least thought about the alternative and are more open to it now because of the economy," said Richard Brady, president of the Palo Alto, Calif.-based Matrix Consulting Group that has worked with more than 250 law enforcement agencies.
The idea of using civilians, who require less training and are less expensive than sworn officers, to respond to minor police calls has been around since the late 1980s."
Sounds like a plan to me. In my life, I've reported a burglary, an attempted one, and a theft from a car. In all. I had likely fingerprints. In no case were they able to actually send an officer, or to take the prints (even when, in two of the cases, I offered to bring the material to be fingerprinted down to the central police station). I assume it was simple overload: too many thefts and too few folks to investigate them.
Permalink · militia · Comments (7)
Posted by David Hardy · 31 March 2008 08:15 PM
Now, the 120mm gun has great stopping power, but the problem is you not only nail the target, you also get the building before which he is standing.
Posted by David Hardy · 31 March 2008 06:50 PM
In the Western Criminology Review. Basically, the conclusion is that most silencer prosecutions are for simple possession; when charges involve possession in connection with crime, it's usually a drug offense. Prosecutions for use in a violent offense are almost zero.
The point he ultimately makes is that sentencing should reflect this Instead, the Federal sentencing guidelines call for two year's minimum imprisonment for first-offense possession, and if possessed in connection with crime, a separate provision mandates a 30 year, consecutive, minimum, without parole -- a sentence exceeding many jurisdiction's punishment for 2nd degree murder, and far exceeding their punishments for forcible rape.
Permalink · National Firearms Act · Comments (10)
Posted by David Hardy · 31 March 2008 11:40 AM
I'll post a bit more on this when I have time -- J. Neil Schulman's movie, "Lady Magdalene's" will be showing Thurday at the Backlot Film Festival in Culver City, CA. My own "In Search of the Second Amendment" will show Saturday. Neil has posted this video of Nichelle Nichols, who plays the lead role in his film.
I won't be able to make his showing, but am told it's a rare combination of humor and suspense, with some pro-gun materials included. The core of the plot is that a Federal agent falls into disfavor and as a result winds up assigned to run a legal cathouse that is in bankruptcy or receivership. And that's just the beginning!
Posted by David Hardy · 30 March 2008 08:44 PM
My documentary film (if you want one, see the left margin) will air at the Backlot Film Festival in Culver City CA (west part of L.A.) this Saturday at 10 AM. Tickets are only $5, and if you're in that area, I'd encourage you to attend. There's a chance the media will pick it up, and that increases if there is a sizeable attendance.
Permalink · documentary film · Comments (1)
Posted by David Hardy · 30 March 2008 01:28 PM
Here's the story, in the Washington Times. Transportation Safety Admin. was extremely reluctant (downright passive-aggressive) on allowing pilots to carry. The story is unclear, but it sounds as if TSA required any gun to be trigger-locked every time the cockpit door is opened, which can be ten times per flight. Of course one problem with trigger locks is that they can pull the trigger while being inserted.
Interesting... the Times story appeared two days ago. But the only MSM pick-up of the issue that I can find is the Charlotte Observer.
UPDATE: a couple of comments pointed out this story, which has a picture of the TSA-mandated rig. It's absolutely insane. Only a government agency could devise a "safety procedure" like this one. It's some sort of a holster with a round hole thru it in the trigger area, thru which the user has to thread a padlock. The trigger itself is not visible during the process, but if the lock goes thru the trigger guard ahead of the trigger, an accidental discharge would be almost certain. The rig is designed to make ADs almost certain, over time.
Oh, and the author of that page was warning, back in December that "None of the law enforcement firearms trainers I've talked to view this padlock holster as anything more that a hazard to all but terrorists ..."
Posted by David Hardy · 30 March 2008 12:00 PM
Alphecca has a post on the subject. Who'd ever have dreamed that someday the two leading Democratic presidential candidates would be claiming they supported the Second Amendment individual right? (Both have fallen back to "but we can regulate it").
I've been involved in this issue for decades, and so have a long term view. It's been steadily downhill for the other side.
1960s: they think they can get national registration and permit systems, at a bare minimum. In fact, the predecessor to the Brady Campaign opposes national registration and permits because it's a sell-out, a compromise that would deprive them of even more. They get GCA 68, which the Washington Post denounces as a worthless compromise. Second Amendment? Hah, we all know that only protects a State's right to have National Guard units!
1970s, early. Still pushing for national registration and permits. No luck.
1970s, late. How about a ban on "Saturday night specials"? Nope. Or snub-nosed handguns? Nope again. Angry that the Carter Admin. made campaign promises and won't follow thru (I've got the memos somewhere, where a low-level govt official says that the message that there will be no push from the Administration had better come from somebody with a higher pay grade). A handful of law review articles claiming Second Amendment protects an individual right.
1980s. Fall WAY back to measures so minor that they sometimes outlaw nothing at all, or outlaw things nobody has. Supposed plastic guns and armor-piercing bullets. Only apparent motive is that the gun movement will be forced to defend them and thus take a PR hit. That is one very flimsy strategic goal.
Gun movement gets Firearm Owners' Protection Act. Gets it even though House is Democratic, and its leadership VERY strongly opposed. Majority of House signs discharge petition that gets it out of Judiciary Committee.
1990s: Antigunners finally score a few victories, Brady Act, AW "ban" (which is meaningless in impact) the wiping out of home FFLs (which hurts, but in terms of the overall strategic goal doesn't do a lot Back in 68 the idea had been to make FFLs easy to get, because FFLs have to keep records of gun sales, see picture ID, etc.). As a result, Demos lose control of both houses and the White House.
All the big names in constitutional law begin endorsing an individual rights view of the Second Amendment.
2000s: Antigun cause consists of calling for narrow things (so narrow I can't even recall them now -- secure storage, trigger locks sold with guns, etc.). Even these fail. AW "ban" expires and neither party wants to touch the issue.
2008: Democratic candidates don't even argue collective rights anymore.
Continue reading "Clinton and Obama on the 2A"
Permalink · Politics · Comments (12)
Posted by David Hardy · 30 March 2008 11:37 AM
There are now two forensics experts arguing to the contrary. He clearly tried to kill him, but the fatal shot may have been a bodyguard's "friendly fire."
I heard a presentation on this at the U of AZ College of Medicine back in the 70s, so at least one of the issues isn't new. The argument was that the fatal hit came behind the ear, close to it, but without hitting the ear itself, yet all agree Sirhan Sirhan came at RFK from the front.
Posted by David Hardy · 30 March 2008 11:34 AM
Interesting scope design that would use lasers to assess wind conditions downrange. I rather doubt they'll allow it in competitive shooting!
Permalink · shooting · Comments (2)
Posted by David Hardy · 29 March 2008 12:55 PM
The DEA lost 91 guns and 231 laptops. And no one can guarantee that the laptops didn't contain info best kept secret: the agency only began encrypting their contents in 2005.
Posted by David Hardy · 29 March 2008 09:51 AM
Reader Victoria Lloyd sends her impressions of the Heller Experience, pasted in extended remarks below. Her experience with the Marshalls is typical. A court-watcher in the line next to me (who'd done one of the amici for DC) told me that the present Clerk, who came in under Rehnquist, has worked hard to make the Court user-friendly. Over in the Bar line, the Clerk came out about 7 AM to explain things, where the restrooms were, how to hold a place in line, what would happen when we were inside, etc..
Incidentally, before the argument, Justice Thomas read an opinion. I was a little startled -- for a fellow who never asks a question during oral argument, he has an excellent, deep voice and good speaking style.
Continue reading "Reader's experience at Heller"
Permalink · Parker v. DC · Comments (4)
Posted by David Hardy · 29 March 2008 09:20 AM
A four-part video report on training at the Front Sight Academy is available via VBS TV.
Permalink · shooting · Comments (4)
Posted by David Hardy · 26 March 2008 04:14 PM
Story here. Basically, the measure would let CCW licensees keep a firearm in a locked car while they were at work, despite employers attempting to forbid it (i.e., in a company owned parking lot).
Permalink · State legislation · Comments (6)
Posted by David Hardy · 26 March 2008 11:59 AM
Comment here. This may just have serious meaning for us all. Perhaps running for office is no longer limited to people who have devoted their lives to that one pursuit, and those who have loads of money.
Permalink · Politics · Comments (6)
Posted by David Hardy · 26 March 2008 10:11 AM
By David Mamet. No, it's not about the election. A few samples of his insight:
"'I observed that lust, greed, envy, sloth, and their pals are giving the world a good run for its money, but that nonetheless, people in general seem to get from day to day; and that we in the United States get from day to day under rather wonderful and privileged circumstances—that we are not and never have been the villains that some of the world and some of our citizens make us out to be, but that we are a confection of normal (greedy, lustful, duplicitous, corrupt, inspired—in short, human) individuals living under a spectacularly effective compact called the Constitution, and lucky to get it.
For the Constitution, rather than suggesting that all behave in a godlike manner, recognizes that, to the contrary, people are swine and will take any opportunity to subvert any agreement in order to pursue what they consider to be their proper interests.
To that end, the Constitution separates the power of the state into those three branches which are for most of us (I include myself) the only thing we remember from 12 years of schooling.
The Constitution, written by men with some experience of actual government, assumes that the chief executive will work to be king, the Parliament will scheme to sell off the silverware, and the judiciary will consider itself Olympian and do everything it can to much improve (destroy) the work of the other two branches. So the Constitution pits them against each other, in the attempt not to achieve stasis, but rather to allow for the constant corrections necessary to prevent one branch from getting too much power for too long.
Rather brilliant. For, in the abstract, we may envision an Olympian perfection of perfect beings in Washington doing the business of their employers, the people, but any of us who has ever been at a zoning meeting with our property at stake is aware of the urge to cut through all the pernicious bullshit and go straight to firearms."
Hat tip to reader Matt Carmel, of OSHA Data.
Permalink · Politics · Comments (1)
Posted by David Hardy · 25 March 2008 05:42 PM
Over at Brett's Constitution.
I think the meaning of the 2A is only ambiguous if a reader assumes (as did the Court in Miller) that the two clauses must somehow interrelate at a substantive level. If one recognizes (as I suggested in a 1985 law review article, see the left sidebar for it, The Second Amendment and the Historiography of the Bill of Rights) that the two clauses had different constituencies, ancestry, and purposes, the meaning becomes much more clear. The Framers had to please two groups, one of which wanted praise of the militia system, the other of which wanted a guarantee of a right to bear arms. (And some, like Geo. Mason in 1788, wanted both). The two clauses got put in one amendment because they had a common subject, arms, not because one controlled the other. Just as the intellectual rights -- press, speech, assembly, petition, and religion -- all got stuck together in the 1A.
Separate the two and the only ambiguity is how far the right to arms extends. That's the same as the situation with the First Amendment -- does freedom of religion protect polygamy, or freedom of speech cover "fighting words" or defamation?
Posted by David Hardy · 25 March 2008 01:03 PM
April 16 debate in Philadelphia. details here. Hard to duck the gun issue in that venue -- a city whose political leaders want lots more control, in a State where gun ownership and NRA membership is remarkably high.
Permalink · Politics · Comments (9)
Posted by David Hardy · 25 March 2008 12:07 PM
Ebay won't let a person use it to sell a firearm (and I've heard of them giving people trouble about selling even dummy ammunition, but apparently it's happy to sell switchblades. The interstate shipment of which happens to be a federal offense...
Yep, here is Ebay's policy page. No guns, not even pellet guns or black powder. And nothing resembling ammo: "This includes live, inert, and blank ammunition, as well as any component used to make up an actual round of ammunition, such as lead bullets, brass/casings, shells, primers and gunpowder."
Posted by David Hardy · 25 March 2008 09:17 AM
Over at Sentencing Law and Policy, there are numerous posts on Heller. This particular one tries to draw some conclusions from the fact that the Court recently granted cert. in US v. Hayes, a case under the federal ban on gun possession by persons with a DV conviction.
Must confess I don't see the point. And it was rather strange that the post nowhere describes what's at issue in Hayes. I found the Circuit ruling, and (1) no one challenged the constitutionality of the statute; (2) the issue is what did Congress mean when it defined DV?
Update: 922(a)(20) is the provision added in 1986 that says a restoration of rights or related order makes a person no longer a prohibited person. I helped some on drafting that, long story. There have been some fights over its interpetation, i.e., is a conviction really expunged or set aside when the order says that it is, but the state statutes say that the conviction still has effect (e.g., it would count toward a second offense or can be used to impeach a witness). I suppose that recognition of an individual right might add a little, but probably just a little, weight to the argument that these expungements count as restoring rights. As I say, a little.
To be precise: Hayes had been convicted of ordinary battery, not under one of the modern DV statutes. The victim was his spouse. So when Congress worded the statute to say DV means an offense an element of which is force or threat against a household member, did it mean (1) an element of which is force, which happens to be against a household member, or (2) the elements of the offense must be force, and use against a household member? If the latter, then Haye's previous conviction didn't qualify, since use against a household member may have been the case, but it was not an element of the crime of which he was convicted, which was ordinary battery. The 4th Cir. said it was (2) and his indictment should be dismissed.
I can't see where the disposition of Heller would have much importance to that issue, except that maybe if it's an individual right it might give a little more argument for reading the statute narrowly rather than broadly.
Other postings look rather like raising "horrible hypotheticals" against an individual rights ruling. Every felon in possession case will invoke it, etc., etc. I tend to be a bit suspicious about anything coming from Ohio State U in any event.
Posted by David Hardy · 25 March 2008 09:00 AM
Here's his webpage. (His official url, www.cramerforsenate.org, hasn't percolated to my end of the internet yet). For any who don't remember, he's the parttime historian who brought Bellesiles down, and just released a book documenting how extensively Americans were armed at the time of the Framing. He's new to politics, and can use contributions...
Posted by David Hardy · 24 March 2008 04:56 PM
Alan Gura is interviewed by Jurist.
And here's a YouTube interview. A lot of other views are linked there, too. In this interview he responds to arguments he didn't forcefully assert his position. The fact is that there is a distinctive Supreme Court style, which is calm, restrained, and dispassionate. It's not at all like a jury trial, where you are trying to fire up the jury, more like presenting a scientific paper.
And Mother Jones on it. I won't call it leftist, because I know some very pro-2A leftists who can explain their position well in terms of consistency (why disarm the working man while the elite have their bodyguards). The author buys the laughable claim that the 2A stems from the militia, and only got into the Bill of Rights because the slave states wanted to preserve the militia in order to hold down the slaves. Which doubtlessly explains why Sam Adams of Massachusetts was the first to propose adding a right to arms to the constitution, followed by a substantial minority of the Pennsylvania ratifying convention, and then by a majority of the convention in that well-known slave state, New Hampshire.
Then a digression into the 1988 case where black (and VERY antigun and antiNRA) columnist Carl Rowan shot and wounded a trespasser, who was in his backyard hot tub in the night, and was prosecuted for having an unregistered gun: "but the incident fueled a tremendous amount of racial tension in the city..." I was living in the DC area at the time, and cannot recall a speck of "race tension" over the incident. A lot of chuckling, given his antigun writings, but if anyone of any race was tense about that issue, I never heard or read about it. But this being Mother Jones, I suppose a columnist can't take a potshot at a trespasser without somehow creating racial tensions.
Permalink · Parker v. DC · Comments (6)
Posted by David Hardy · 24 March 2008 03:56 PM
The last of three lawsuits against the Metacon Gun Club shooting range in Connecticut has resulting in a ruling for the club.
Posted by David Hardy · 24 March 2008 09:19 AM
Article here.
Hat tip to Joe Olson, followed by many others...
Permalink · Parker v. DC · Comments (12)
Posted by David Hardy · 23 March 2008 05:25 PM

Just passed the 23rd anniversary of losing my best friend, and father in law, Bill Avery. Died of a heart attack on March 20, 1985. I found this photo of him in my former wife's effects (she died of cancer May 22, 2003). Bill was a brilliant linquist, founded the Dep't of Classical Languages at the University of Maryland. When the Post called up for an obit, Fran said that he was fluent in six languages. The reporter said -- he spoke six languages? Fran answered, no, he was fluent in them. His test for fluency was that if a native speaker could tell you were not one, you weren't fluent. I once heard a Spaniard ask him what part of Spain he was from, and Fran said that in Italy he passed for a Mafia Don (he loved the Sicilian dialect; I think he could do three dialects). If you just mean languages where he could converse, oh, you'd have to add Hindi and several others.
And he had such a sense of humor! We were dining one night and the waiter was from India. Bill asked him about the Beef Wellington, and he replied that being Hindu he could hardly say. Bill responded with something I couldn't understand, and the waiter broke up laughing and said "that is so!" I asked Bill what he'd said, and he replied it was Hindi for "the English are such pigs." It was a phrase higher-caste Hindus (who were required to take seven baths a day, and were being bossed around by folks who bathed far less often) often used when he was there in WWII.
He was a sergeant in the Army, doing translation, and the officers told him he'd make a great officer, why was a guy with a PhD and postdoctoral work just a noncom? He pointed out that the odds of a noncom translator being KIA was quite low, which could not be said of an infantry 2nd Lieutenant!
Posted by David Hardy · 23 March 2008 03:05 PM
It looks as if Obama... or perhaps it should be O'Bama... is actually an Irishman!
Someone play "Danny Boy" at one of his rallies so we can see if he breaks down in tears. That'd seal it!
Permalink · Politics · Comments (3)
Posted by David Hardy · 23 March 2008 11:31 AM
Editorial here.
"Yet it seems the danger pellet guns pose has not yet spurred enough public outcry to spark new laws.
Perhaps that's because in many pellet gun incidents, injuries were absent or minor.
But even when the trigger isn't pulled, these makeshift weapons can be used to rob, abuse and otherwise break the law as effectively as the real thing.
For example, one man allegedly used a soft air gun to shoot a Winnipeg Transit driver on Aug. 9, 2007.
And on Oct. 29, 2004, two young men terrorized the residents of a St. Andrews home, using a pellet gun to force them to reveal their bank card numbers."
"If these steps fail, a licence for pellet guns might be necessary to force potential owners to pass criminal record checks and endure a waiting period as pre-requisites to own a pellet gun."
Permalink · non-US · Comments (4)
Posted by David Hardy · 23 March 2008 11:08 AM
Article here. The claim is that it would prevent straw men and illicit gun suppliers from claiming a gun had been stolen from them, after it turns up in crime. To my mind:
1) It's interesting that none of the calls along these lines ever come up with numbers, or even a single anecdote. How often, if at all, is a gun traced to an illegal supplier who claims it was stolen? If a supplier is making a living at it, you'd expect multiple crime guns to be traced to him, which would make repeat claims of theft rather suspicious. I haven't heard of a single case where this sort of thing happened, and the proponents of these bills seem unable to come up with one, either.
2) If they want to get the supplier, there is a simple way. Give the criminal user use immunity -- nothing he reveals can be used against him, hence no self-incrimination, but it can be used against someone else. Put him in front of the grand jury and ask where the gun came from. Then prosecute the supplier using his testimony. Then you have the supplier on something serious (under federal law, as I recall, supplying a gun with knowledge it would be used in crime carries a 10 year sentence), rather than misdemeanor failure to report, which would probably result in a modest fine.
Permalink · State legislation · Comments (4)
Posted by David Hardy · 22 March 2008 11:06 PM
And if you do, make sure to tell the rest of the household so they don't turn the oven on. Story here.
Hat tip to reader Carl in Chicago...
Posted by David Hardy · 22 March 2008 02:20 PM
Lauer Custom Weapony, which produces camo paints for firearms, has released The Bloomberg Collection, named after the mayor.
Bloomberg is described as "outraged," but I suppose they could respond, "so sue us."
Permalink · antigun groups · Comments (5)
Posted by David Hardy · 21 March 2008 08:02 PM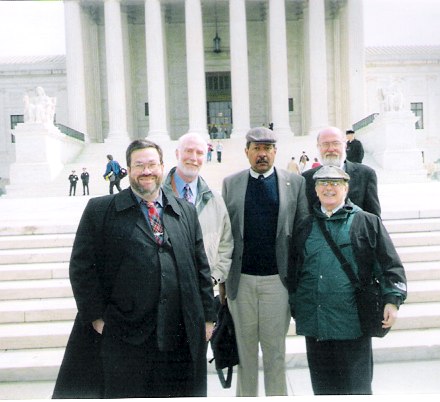 L to R: Clayton Cramer, Alan Korwin, Bob Cottrol, myself (w/ beard in rear) and Joe Olson. And yes, we were feeling good!
Continue reading "Heller: photo of the usual suspects"
Permalink · Parker v. DC · Comments (8)
Posted by David Hardy · 21 March 2008 02:31 PM
It's on YouTube. He has her for dinner.
UPDATE: Yep, at 05:04 that's me coming down the steps. To the right is Clayton, and behind us Bob Cottrol.
Permalink · Parker v. DC · Comments (9)
Posted by David Hardy · 21 March 2008 12:02 PM
I mean, it's by unanimous vote of their Senate!
OFFICE OF THE SENATE HOUSE
FEDERAL REPUBLIC OF NIGERIA
COMMITTEE ON FOREIGN PAYMENT
(RESOLUTION PANEL ON CONTRACT PAYMENT)
IKOYI-LAGOS NIGERIA.
Attn: BENEFICIARY ,
We receieved your file on Wednesday 19/03/2008 regarding the activation of your approved Contract payment method which has been signed by the Chief Accountant General of the Federation and from the office of the Presidency. We the entire members of the Federal House of Senate, on behalf of the Federal Republic of Nigerian, Under the auspices of the Head of states, President Alhaji Umaru Musa Yar'adua and the World Bank African Region, The Foreign Payment Officer, World Bank Africa Region, REV. DR. RICHARD WALTERS held a meeting on Tuesday the 18th day of March, 2008 concerning all debt , both foreign and local contractors and some inheritance funds before the new government will Release the year"s budget. On going through files on that Tuesday the 18th day of March, 2008 , we discovered that your file of $22,000,000.00 Dollas (22 Million Dollas) was dumped untreated because you have been dealing with the wrong officials of Central Bank of Nigeria and because of the fraudulent act of our Central Bank Governor, PROF. CHARLES C. SOLUDO......
Posted by David Hardy · 21 March 2008 09:08 AM
Clayton has some pics he took of the determined folks standing in line to get in for the Heller argument. These were taken around 9 PM the night before and yes, they were camped out in sleeping bags. Most of those who got in, I'm told, camped out TWO nights, beginning in line Sunday.
I've seen some other blog entries from people standing in line, but now can't find them; if anyone has some, please add to comments. (Note: due to spam, I think the filter is set to allow one or maybe two htmls per comment; if you have multiples, I'd suggest a separate comment for each).
UPDATE: Yup, if we win in Heller, the 2nd Amendment doctrine recognizing in the 6th Circuit (and in fact in nine of the twelve circuits, I think -- not counting Federal CIrcuit, which handles only certain cases -- will no longer be good law.
Permalink · National Firearms Act · Comments (3)
Posted by David Hardy · 21 March 2008 08:58 AM
It seems that a while back ATFE made a solicitation for bids for a custom Leatherman, to be "Engraved with: ATF-Asset Forfeiture AND "always think forfeiture""
Permalink · BATFE · Comments (12)
Posted by David Hardy · 19 March 2008 08:52 AM
Transcript is here, in pdf.
Here are reports from the Washington Times, the Detroit Free Press, and a take from Leibowitz's Canticle.
Joe Olson and I were out drinking with Alan Gura last night, and he was getting a constant stream of emails from machinegun owners on his pda, denouncing his statement that full auto arms' possession might not be protected by the 2nd Amendment.
I think EVERYONE associated with this case who knows anything about appellate argument -- and I've talked to many in that class -- agreed that if you cannot come up with a 2nd Amendment test that lets the government do a lot of things with full autos, you lose. That's bottom line. You can have a second amendment for things other than full auto, or you can have no second amendment. Take your pick, there is no third alternative. Life isn't fair. I was very relieved when the Court showed signs of taking the view that Heller is asking to own a .38, not a Thompson, so we can deal with the full auto issue if and when someone brings a case (which I hope will be about ten years down the road).
Permalink · Parker v. DC · Comments (81)
Posted by David Hardy · 18 March 2008 02:56 PM
Too tired to do much more, but here are my notes on the argument, in pdf format (8 pages).
I showed up for the Supreme Court Bar line at 6 AM, got No. 28. They let around 55 of us in, the rest went to the overflow room with audio but no visual. Report was that they had 60-70 seats for the general public, and since several hundred showed up, if you didn't sleep in line last night you didn't get in.
My guess is a 5-4 for us, possible a bit better but I wouldn't bet on it, and a narrow opinion by Roberts: a total ban on a class of arms violates the 2nd Amendment. The lower courts can figure out any additional inplications, and after a few years we may take another case to flesh it out some more. As Roberts pointed out, first amendment standard of review is a creation of the courts, and they took years on it.
Key event: Justice Kennedy turns out to be strongly pro individual rights. Read the notes.

Permalink · Parker v. DC · Comments (35)
Posted by David Hardy · 18 March 2008 02:48 AM
4:50 AM DC time, 1:50 to my biological clock. Rather astonished that my aged system can manage this sort of thing. Metro system opens at 5. Heading out to the oral argument in the predawn darkness. If I get in, won't be back here until some hours later. ScotusBlog will have the afteraction reports first.
Posted by David Hardy · 17 March 2008 07:09 PM
Just got that notice from SCOTUSblog.
Posted by David Hardy · 17 March 2008 07:00 PM
8 PM EDT, and I'd say there were 80-100 people waiting in line. Media crew just packing up and departing.
Posted by David Hardy · 17 March 2008 07:42 AM
According to the Volokh Conspiracy, the line began forming yesterday at 5:35 PM. 40 hours before the case is heard.
Permalink · Parker v. DC · Comments (17)
Posted by David Hardy · 15 March 2008 10:49 PM
No wireless, and only one ethernet connection per room. It's a three bedroom suite, housing myself, Prof. Joe Olson, and Clayton and Mrs. Cramer. Clayton and I brought computers. So we have to alternate on blogging, and the three of us have to alternate reading email. I took them all (plus Bob Cottrol and my son Mark) to dinner at the finest Chinese restaurant in which I have ever eaten, The Peking Gourmet Inn. I normally eat to refuel, not to enjoy, but when in DC make an exception for that establishment.
Last night we had a series of discussions here in the room about everything under the sun. Heller, DNA identifications, general constitutional law. The most interesting, I thought, was Clayton's note that there is a genetic mutation which (by elimination a cellular port where the microrganism latches on) renders a person resistant to bubonic plague. I had heard that they did DNA work on skeletons from the period of the plague, and found that the people who lived to a long age then had this mutation. Clayton pointed out that, with the plague killing a third of Europe's population, the survivors were disproportionately of this mutation. Here's the really interesting point: the AIDS virus uses the same cellular port to attack. The result is that people with this mutation are immune to AIDS. That discovery was prompted by a fellow who contracted it 20+ years ago yet has never shown symptoms.They did his DNA work to find out whether there was something unusual about his genetics, and that finding was the outcome.
Posted by David Hardy · 15 March 2008 09:55 PM
Here. I thought it nice to cite the Academics for the Second Amendment amicus. Altho the complaints about the amicus briefs being advocacy rather than dispassionate history don't ring very true when DC's historians' amicus was among the more hopelessly biased pieces of advocacy/history that I have ever seen. If a person wants to look at historians' craft as somehow impartial and scientific, they only have to look at Michael Bellesiles and, more importantly, all the big names in historians' work who enthusiastically praised it. Obviously they didn't verify anything in it before leaping aboard, or they wouldn't have been caught when it was flattened as largely fraudulent.
Permalink · Parker v. DC · Comments (2)
Posted by David Hardy · 14 March 2008 08:54 AM
Here.
On the way to DC for the Heller argument, so blogging will be light for a while.
UPDATE: reader Chris Masure writes that part two of Len's interview is available at: http://www.cnn.com/video/#/video/politics/2008/03/14/tucker.government.guns.part.2.cnn
Posted by David Hardy · 13 March 2008 02:24 PM
War on Guns has the report. Sounds like likely times are around 7:30 and around 8:30 PM EDT, on CNN.
Permalink · BATFE · Comments (1)
Posted by David Hardy · 13 March 2008 11:01 AM
Marion Hammer of Unified Sportsmen of Florida, states that HB-503 was reported out of committee. That was a bill to prevent businesses from barring employees and customers from having guns in their cars while parked on premises. The bill was amended (over USF objection) to protect only employees who have CCW permits. (The same requirement does not apply to customers).
Permalink · State legislation · Comments (0)
Posted by David Hardy · 13 March 2008 08:49 AM
In the Washington Post.
In trying to understand bureaucratic infighting, you must grasp: (1) political appointees are a tiny, tiny oil film atop the ocean of career people. Esp. at Justice. (2) They often have no experience at all, and are dependent upon what their subordinates tell them. In this case, Clement certainly has lots of experience generally, but probably knew very little of the Second Amendment. If you don't know the field, and don't really have the time (weeks or months) to get up to speed on it, and all your subordinates are telling you this is the only way to go, odds are you'll go that way.
UPDATE: a commenter points out a section of the article that I missed on quick read. It rather leads me to doubt the author's reliability. I've talked to plenty of people in connection with this case, and mooted Gura, and nobody doubts his capability. Frankly, we grilled the heck out of him, time after time, for about five hours, and he handled it quite well. This is the first I've heard of anything relating to Ted Olson. And in any event, it's Alan's and Bob's and Clark's case, so no other gun rights advocate would have a say in it.
I wonder if the author didn't hear a distorted version of the fact that Alan offered to share his time with Ted Cruz, Solicitor General of Texas?
Permalink · Parker v. DC · Comments (13)
Posted by David Hardy · 12 March 2008 04:24 PM
Story here.
NRA had one of those cases, and won it. Had some fun with the school, pointing out that every classroom has the Virginia flag in it. A flag that depicts a woman holding a spear, a corpse at her feet, and the motto Sic Semper Tyrannis. Oh, and for some reason she has one breast bare. So nobody is allowed to have an image of a weapon, yet in every classroom there is an official image of one, indeed a depiction of homicide, capped with a threat to do, and a bit of nudity!
Posted by David Hardy · 12 March 2008 01:30 PM
Story here. Fortunately, this happened in Arizona, and not on a National Park.
Posted by David Hardy · 12 March 2008 12:46 PM
Right here.
Permalink · media · Comments (1)
Posted by David Hardy · 12 March 2008 09:31 AM
Story here.
"An Arizona bill that would allow concealed guns on college campuses has gained national attention, sparking a debate over whether to let students and teachers arm themselves.
But it's only one of at least 15 measures in the Republican-led Legislature this year aimed at loosening gun controls in a state that has long had a fascination with firearms....."
Permalink · State legislation · Comments (0)
Posted by David Hardy · 12 March 2008 09:22 AM
Over at Townhall.com, Jacob Sullum responds to Larry Tribe's Wall St. Journal op-ed that claimed the DC laws were reasonable regulation.
Hat tip to reader Jack Anderson...
Permalink · Parker v. DC · Comments (0)
Posted by David Hardy · 11 March 2008 10:09 AM
Local newpaper reports the case of a fellow.... he'd been sentenced to a 97 year term, at age 16, for offenses including robbery and forcible rape. Given the length of the sentence, I'd guess that a long list of robberies and rapes were involved.
This time he grabbed a female prison guard, held her with a homemade knife, demanded transfer to a Montana prison. He then demanded sex and, upon her declining, pawed her a lot. They presented him with papers transferring him to a Montana prison, and he released her. Then he was of course sent to maximum security here (I've taken a deposition in the max. security unit ... it is indeed max security).
He was charged in connection with this latest fray, and told the judge (1) he wasn't sorry at all; (2) the prison guard's sexuality was definitely lacking ; (3) he spends all of his time in prison thinking up how to commit crimes more successfully in the future.
He of course got the max -- 28 years consecutive to his 97. He may not be able to serve them all, but will have to do his best.
Posted by David Hardy · 11 March 2008 09:42 AM
In the National Law Journal. The number of amicus briefs (67) doesn't beat the all-time record (107 in the Michigan affirmative action case) but should rank in the top ten. It's far above the average (six).
""The broad range of issues developed in the gun amicus briefs is interesting and supports the idea that Supreme Court cases are often about things far more important than what is important to the immediate parties," said Collins."
"An extraordinarily high-profile constitutional case generally draws an outpouring of amicus efforts by top Supreme Court practitioners. But with the exception of a handful of veterans, such as Robert A. Long of Covington & Burling, Charles Cooper of Cooper & Kirk, Jeffrey Lamken of Baker Botts and Andrew Frey of Mayer Brown, the amicus lawyers are predominantly from smaller firms outside of the Beltway, particularly on the side of the gun ban challengers."
Hat tip to reader Jack Anderson.
Permalink · Parker v. DC · Comments (3)
Posted by David Hardy · 11 March 2008 09:40 AM
In Great Britain.
Posted by David Hardy · 10 March 2008 06:08 PM
Editorial in the (VA) Daily Press. Count the nonsequiturs. My favorite: a bill allowing CCW holders into restaurants that serve alcohol, so long as they do not drink it themselves, was properly vetoed because " Alcohol and firearms are a dangerous mix."
Of course illustrating that with two incidents involving drunken federal agents gets second prize.
And a bill allowing a firearm in a vehicle so long as it was under lock and key would have made the lives of policemen risky. We all know how cop-killers like to put their guns in locked containers, so the officer has a sporting chance.
Permalink · media · Comments (2)
Posted by David Hardy · 10 March 2008 05:57 PM
War on Guns has the story.
Permalink · General con law · Comments (2)
Posted by David Hardy · 10 March 2008 02:11 PM
NY Governor Elliot Spitzer is caught on a wiretap making an appointment with a prostitution ring.
Of course he might only have been looking for advice on politics... but he'd better get used to sleeping on the couch for a time.
UPDATE: Discovering that the exclusive international ring of prostitutes known as the "Emperor's Club" charged up to $5,500 an hour for their services, New York governor Eliot Spitzer vowed to put an end to this price gouging practice..
Posted by David Hardy · 9 March 2008 09:46 PM
Story here. The guy wasn't exactly an upstanding citizen, but the basis for shooting is doubtful at best, and at the end of the gunplay the score stands:
120 shots fired, apparently at a stationary SUV and driver.
66 hits on the SUV.
9 hits on the driver, all survivable.
11 hits on the deputies' own squadcars.
1 hit on a deputy, likewise survivable.
Eleven hits on five different houses in the area.
Hat tip to reader The Mechanic..
Posted by David Hardy · 9 March 2008 07:33 PM
Personally, I suspect the explanation is more like a heavy dose of drugs.
Or perhaps he want to star in a sequel to Dances with Wolves: Swims with Gators.
Posted by David Hardy · 9 March 2008 03:24 PM
In Heller, both DC and some of its amici invoked an upcoming law review by Nathan Kozuskanich, who works with Saul Cornell. It's just been put online, i.e., too late for any pro-Heller amici to insert references to it. The article begins with praise for Saul Cornell's new book, and describes the DC CIrcuit ruling as relying on the "flawed and distorted version of history that Gura and his partisan amicus briefs offered." Chuckle--no doubt where this article is going!
The main theme is to try to demonstate that Pennsylvania's 1776 Declaration, which guaranteed the right of citizens to bear arms for defense of themselves and the state, meant something other than an individual right. The gist of the demonstration is that at the time lots of privotal Pennsylvanians were concerned about creating a mandatory militia. OK, so what? The 1776 Constitution had references to that. There's no showing that the fact that many wanted a mandatory militia caused the right to arms clause to be inserted in the Declaration.
I won't go into detail because the article has been critiqued in depth by Clayton Cramer and by Dave Kopel. Clayton points out that the article actually cites Bellesiles!
Permalink · Parker v. DC · Comments (5)
Posted by David Hardy · 8 March 2008 03:39 PM
Story here.
I've heard of a number of such complaints, where some government employee can show that he revealed fraud, waste, abuse or criminality within his agency, and thereupon was demoted, given bad evaluations (which are death to promotion or bonuses), miserable assignments, etc. But this is the first time I've heard of one made by the Deputy Director of an agency. When even the no. 2 man in the entire agency can regretfully say "In retrospect, I was naive to believe that the department would welcome my honesty," the corruption in HQ is pretty grim.
To be objective: I've known enough of Washington bureaucracies to where I would bet good money that what we're really seeing is a fight between vipers. No. 2 man wants to get rid of No. 1 man, perhaps to take his job, finds out his corruptions, and uses them, but doesn't get the job. New No. 1 man decides No. 2 is dangerous, might find out his corruptions, gets rid of No. 2 and brings in a new guy who will be loyal to him. But then figure if this is how the highest level is run, you don't want to know what's going on at the Ass't Director level!
And who could punish the No. 2 man for excessive honesty? The new No.1 man.
"Domenech said ATF's acting director, Michael J. Sullivan, and other officials have taken actions meant to punish him for raising questions about [former ATF director] Truscott. The moves include transferring him out of headquarters and excluding him from meetings and duties that usually would be his responsibility.
He also alleged that, after years of outstanding job reviews and bonuses, he was given an average review in 2007, which was changed only after he complained. Because of the earlier review, however, he was denied a customary bonus, he said."
.....
"Domenech first raised complaints about Truscott's performance in December 2005 with William Mercer, then principal associate deputy attorney general, who later would be a pivotal figure in the controversy over the dismissal of the federal prosecutors.
Mercer and another official said Truscott "appeared to be in over his head, but since his name came directly from the White House, there was little that could be done about the situation," according to the complaint. Several months later, Domenech said, Mercer dismissed complaints about Truscott as coming from "disgruntled career staff."
UPDATE: SayUncle posts the story, and gets an interesting comment:
"Deputy Director Tattoo (Domenech - "Look Carl, da plane! da plane!) was voted off ATF's Fantasy Island (headquarters) by the Islands newcomers after they confirmed how poorly he treated his agents. All the wrongdoings that Tattoo claims have been inflicted on him, he did to others, X 1000 in severity. Paybacks a bitch. Also, when Tattoo turned in Dana Carvey (Truscott) why did he and his co-'qou'spiritors have do it annomously? They were at the very top levels of ATF management. They wouldn't put their names on the complaint a) because they are cowards, and b) because they were fully aware of ATF retribution tactics having led their own assaults against their field agents."
Permalink · BATFE · Comments (6)
Posted by David Hardy · 8 March 2008 02:52 PM
An Atlanta, bar owner "takes back the night" with a homebrew robocop.
Posted by David Hardy · 8 March 2008 10:41 AM
Ed Whelan, at The Weekly Standard, has some serious thoughts about the power to appoint Supreme Court justices. Whoever wins in November will likely get to appoint 2-3 justices on their first term, and perhaps as many in their second.
Via the Volokh Conspiracy...
Permalink · Politics · Comments (0)
Posted by David Hardy · 8 March 2008 10:21 AM
Convicted of arson. Story here.
Permalink · animal rights and eco-terrorism · Comments (0)
Posted by David Hardy · 8 March 2008 08:02 AM
Never knew Violence Policy Center to have a sense of humor like this.
Hat tip to reader Bill Bailey...
UPDATE: It really is a gag site, a parody of VPC's positions.
Permalink · antigun groups · Comments (3)
Posted by David Hardy · 6 March 2008 07:17 PM
David E. Young has links to several analyses of DC's amicus briefs here.
Permalink · Parker v. DC · Comments (0)
Posted by David Hardy · 5 March 2008 03:05 PM
Story here. Normally it takes a few days, but in a handful of high-profile cases, the Court has done a same-day release.
Permalink · Parker v. DC · Comments (0)
Posted by David Hardy · 5 March 2008 01:04 PM
It's online at SCOTUSBlog. Reading it now. Interesting that it cites to Larry Tribe's article in yesterday's WSJ. Supremes briefs have to be printed, so this probably "went to bed" last week.
On a quick read:
Terribly weak on "not an individual right." I don't think they answered so much as one point we made in Academics for the Second Amendment's amicus.
A better job, tho, on standard of review.
Permalink · Parker v. DC · Comments (16)
Posted by David Hardy · 5 March 2008 05:42 AM
One story here, of many. The two bills sound pretty inoccuous, even if the person looking at them was against arms. One (from news accounts) let a CCW carrier enter an establishment that serves alcohol, so long as he didn't drink any. The other seems to have provided that a firearm secured in some way in a vehicle is not concealed (which has been the law in AZ since 1977 without incident).
UPDATE: Reader Anthony Mowry sends a comment which wa for some reason stopped by the spam filter. I'll post it "below the fold."
Continue reading "Gov Kaine (VA) vetoes two pro gun bills"
Permalink · State legislation · Comments (5)
Posted by David Hardy · 4 March 2008 06:36 PM
Larry Tribe of Harvard Law has an article in the Wall Street Journal. I think his position is somewhere between unclear and inchoherent; seems to agree that there is an individual right but even a complete ban on handguns is an acceptable regulation. The reasoning would be thin for a first year law student, along the lines of "it is wrong to say that a right is absolute; hence any restriction of it is permissible."
Sebastian at Snowflakes in Hell takes him to task. Alan Gura notes that his position last year was quite different.
Permalink · Parker v. DC · Comments (11)
Posted by David Hardy · 3 March 2008 05:45 PM
Right here. The Heller discussion starts at about 3.5 minutes into it.
I'll be on a plane tommorrow, so blogging will be light...
Permalink · Parker v. DC · Comments (0)
Posted by David Hardy · 3 March 2008 05:32 PM
Well, it does deal with arms, anyway. The sport of tent-pegging traditionally consisted of setting up wooden tent pegs and targets, and then the lancer tried to nail them as he galloped past. Needless to say, it takes a heck of a lot of skill to hit a tent peg with a lance, at the gallop!
I have no idea why they sent the me this email, but thought it so interesting that I'd pass it on. It's long, so it's in extended remarks, below.
Continue reading "Tent-pegging"
Posted by David Hardy · 3 March 2008 09:38 AM
From Pres. Bush's 2004 Platform:
"Republicans and President Bush strongly support an individual right to own guns, which is explicitly protected by the Constitution's Second Amendment."
.......
"We believe the 2nd Amendment and all the rights guaranteed by it should enable law-abiding citizens throughout the country to own firearms in their homes for self-defense...We oppose federal licensing of lawabiding gun owners & national gun registration as a violation of the 2nd Amendment and an invasion of privacy of honest citizens."
The SG's position may be consistent with the first sentence, but it's hard to see how it's consistent with the remainder. The core issue in Heller is ... owning firearms in the home for self-defense. If even a handgun ban is a difficult issue under the SG's legal position (hence requiring remand for gathering evidence), it's hard to see why licensing and registration would qualify as clear 2nd Amendment violations, as the Platform states.
In short, when it really comes down to the wire, the Administration turns its back on the Platform with which it won election.
.....
Posted by David Hardy · 3 March 2008 08:49 AM
Here it is, a preview from Cornell University's LII Bulletin.
Permalink · Parker v. DC · Comments (13)
Posted by David Hardy · 2 March 2008 08:24 AM
Assessing those two on gun rights issues is a little like debating who was better on freedom of expression, Hitler or Stalin, but.... over at the LA Times blog, Tim Cavanaugh points out one distinction. When the bill to forbid seizures of lawfully-owned guns in the wake of a natural disaster came up, Obama voted for it, and Hillary voted against.
Via Instapundit, who notes that Obama seems to think the Second Amendment is about hunting, and thus has favored complete bans on handguns and semiauto firearms of all types.
Permalink · Politics · Comments (7)
Posted by David Hardy · 1 March 2008 07:55 PM
I don't usually comment on "revolving door justice," because in most States (and certainly under the Federal Guidelines), sentencing is pretty strict. But this case out of Florida certainly merits that label. Watch the video for a list of his priors.
The Federal Sentencing Guidelines do not have an enhancement for felonious stupid, but if they it would surely add on 20 points.The gang leader posts video to YouTube threatening the police, daring them to arrest him, and in the course of it waving around a gun, when he's a felon with a few dozen convictions to do. The police of course took him up on the dare.