« January 2008 | Main | March 2008 »
February 2008
Posted by David Hardy · 28 February 2008 07:55 PM
Now that it's turned to running down McCain, the NY Times has an article questioning whether he meets the constitutional requirement of being a "natural born" citizen. He was born in the Panama Canal Zone, of citizen parents.
Apparently there was a statute passed by the First Congress that included persons such as he among "natural born." I wonder if "natural born" didn't have special meaning then. We still refer to persons who are made citizens after birth as "naturalized," made natural something, rather than made citizens.
UPDATE. Jim Lindgren points out, on the Volokh Conspiracy, that "natural born" indeed was a term of art at the time of the Framing, and under it McCain is clearly "natural born." Blackstone and other sources used "natural born" to mean one who owed allegience to a sovereign from birth, and listed children of ambassadors born over the seas (at the time, the citizens most likely to have left and taken families with them) as "natural born."
UPDATE: laws vary as to what constitutes being born within the country's domain. Some include military and civilian flagged ships, etc.. Ditto with parentage. At least 40 yrs ago, France said you were a citizen if you were born elsewhere but your father (not your mother) was French. We used to use these features to try to create hypotheticals where a person had a maximum number of multiple citizenships. French father, some other mother, born on a British ship while docked in NY harbor...
Permalink · Politics · Comments (23)
Posted by David Hardy · 28 February 2008 02:52 PM
Shining City on a Hill has this take on Heller, and on this USA Today article.
The USA Today piece points out an interesting cultural rift: 73% of the American public believes it has an individual right to arms, but the enormous majority of lower federal court judges believe they do not. I'm hard put to come up with another situation where this is true.
Permalink · Parker v. DC · Comments (6)
Posted by David Hardy · 28 February 2008 11:03 AM
Reader Jay Norton writes:
Just a quick note to inform you of our efforts here in Oklahoma regarding campus carry. HB2513 by Jason Murphey (R-Guthrie) has passed out of committee by a vote of 14-2 and is headed to the House floor. NRA-ILA has picked up on this, and Mr. Murphey will be on Cam Edwards' show tonight at around 8:20 to discuss.
Permalink · State legislation · Comments (2)
Posted by David Hardy · 28 February 2008 10:43 AM
Detailed video interviews of eight of the Justices on how they approach a case. From the Volokh Conspiracy.
Permalink · General con law · Comments (0)
Posted by David Hardy · 28 February 2008 09:11 AM
At Direct Democracy.
"Obama tells everybody what they want to hear! Who cares if it's irresponsible bullshit?"
What's interesting is that this is from an ANTI-seccond amendment type, complaining about Obama's claiming to support an individidual right.
Permalink · Politics · Comments (1)
Posted by David Hardy · 28 February 2008 09:05 AM
"Stop Or I'll Toot Is Not Safe for Women". Someone is raping women on the Univ. of Nevada/Reno campus, so university police are passing out "rape whistles."
Hat tip to reader Jack Anderson...
Posted by David Hardy · 27 February 2008 10:59 AM
Local federal District Court judge William Browning died last night. My first job out of law school was with his firm, Browning & Wilson-Druke. Carol Wilson-Druke passed away some years ago.
Browning was a westerner and a fun guy to be around. He did slip now and then. He'd been to a bar luncheon when he was president of the State Bar. Governor Raul Castro (no, not that Raul Castro) was the speaker. He spoke with a slight accent. Browning was making cracks at his table like "He can ALMOST speak two languages."
When the governor left, one guy at the table got up and left. Browning asked the others at the table who that fellow was. "The governor's pilot," was the reply. Oooops. They probably had some interesting conversations on the flight back to Phoenix.
Gad, the interesting ones are passing on. A few years ago we lost Mo Ollason, bankruptcy judge. He'd hang out at Bob Dobb's bar, and had an incredible sense of humor. One night he was discussing a case involving an ostrich farm north of here (yes, there is one). They were going bankrupt because the birds weren't reproducing as rapidly as projected. Someone jokingly pointed out that the new-ager types believe there is a powerful good vortex near Sedona, and powerful negative vortex near the ostrich ranch.
So next time the case came up, with a perfectly serious face he asked the attorneys:
Q. Have you investigated whether the ostriches are being affected by the negative power vortex at Picacho Peak?
A. Pardon, your honor?
Q. The negative power vortex at Picacho Peak. Everyone knows about it. It may be affecting the ostriches' willingness to reproduce.
A. Uh ... we'll investigate, your honor...
He'd also become the first bankrupcy judge to seize Univ of Arizona basketball tickets (goods one are worth $10-15,000 per season) from high-rolling developers who went bust. Then the court sold them by raffle, so every one in town could have a shot at them. Another guy had a classic car collection, which he undervalued in court, but the judge knew his cars. He ordered them turned in a 5 PM, and figuring the guy wouldn't, sent the Marshal out with tow trucks at precisely 5.
Then there was the time a guy at Bob Dobb's said he knew the judge had Viagra and could he borrow one for a hot date. Sure, Mo says... and gives him one of the powerful painkillers he had for back pain.
UPDATE: Yup, there really is a Bob Dobb's here. They sell T-shirts with the logo "I drink to make other people interesting."
Permalink · Personal · Comments (1)
Posted by David Hardy · 27 February 2008 09:28 AM
The FEC just rejected allegations against NRA and GOA, filed by the Brady Campaign.
Via NY State Rifle & Pistol Ass'n blog.
Permalink · antigun groups · Comments (1)
Posted by David Hardy · 26 February 2008 04:25 PM
Reader Matt Carmel has created a truly unique resource for Heller, which you can download in .zip format by clicking here. Caveat: it's a 41 Meg file, even compressed as a .zip. Require Adobe Reader to use.
What it is: a spreadsheet on the briefs and, more important, a keyword searchable Adobe file, so you can just enter a word or phrase and immediately see which briefs used it. Click on the resulting index entry and up pops the brief, right at that page.
I wish there was some procedure for filing software with the Court!
PS--here's Matt's homepage. When not creating software useful in Supreme Court cases, he is a firearms instructor and FFL in Maplewood, New Jersey. Oh, and organizes sailing cruises in New York. How's that for all-around?
Permalink · Parker v. DC · Comments (3)
Posted by David Hardy · 26 February 2008 03:21 PM
Article here. As always, interesting and provocative.
He asks "why use originalism" in the sense that Parker/Heller can win on a broader view; that the right has evolved in Americans' minds to become ever more strongly individual, and that should be taken into account.
He does suggest the Solicitor General's position on standard of review should be accepted. (I suspect he's more optimistic than I about how lower courts would use it. I'd guess that if the Supremes hold for strict scrutiny, lower courts will in practice use about what we call the intermediate level, and if the Supremes hold for intermediate, lower court will in practice use rational basis -- any purpose for a law that can be speculated, and does not require psychotic thought patterns, is enough).
Permalink · Parker v. DC · Comments (8)
Posted by David Hardy · 26 February 2008 12:01 PM
Right here.
"But, as happens time after time in these attacks when uniformed police are there, the killers either wait for the police to leave the area or they are the first people killed. In Kirkwood, the police officer was killed immediately when the attack started. People cowered or were reduced to futilely throwing chairs at the killer.
Just like attacks last year at the Westroads Mall in Omaha, Neb., the Trolley Square Mall in Salt Lake City and the recent attack at the Tinley Park Mall in Illinois, or all the public school attacks, they had one thing in common: They took place in "gun-free zones," where private citizens were not allowed to carry their guns with them."
.......
"With about 5 million Americans currently with concealed handgun permits in the U.S., and with states starting to have right-to-carry laws for as long as 80 years, we have a lot of experience with these laws and one thing is very clear: Concealed handgun permit holders are extremely law-abiding. Those who lose their permits for any gun-related violation are measured in the hundredths or thousandths of a percentage point.
We also have a lot of experience with permitted concealed handguns in schools. Prior to the 1995 Safe School Zone Act, states with right-to-carry laws let teachers or others carry concealed handguns at school. There is not a single instance that I or others have found where this produced a single problem.
Though in a minority, a number of universities — from large public schools such as Colorado State and the University of Utah to small private schools such as Hamline in Minnesota — let students carry concealed handguns on school property.
Many more schools, from Dartmouth College to Boise State University, let professors carry concealed handguns. Again, with no evidence of problems.
Few know that Dylan Klebold, one of the two Columbine killers, was closely following Colorado legislation that would have let citizens carry a concealed handgun. Klebold strongly opposed the legislation and openly talked about it."
Hat tip to Don Kates...
Posted by David Hardy · 26 February 2008 11:22 AM
A Hawaiian newspaper editorializes in favor of a .50 caliber ban. More nonsequiturs than I can easily count. The last one is simply, OK, it's not been used in crime, but we should ban it anyway rather than "wait for the carnage to occur."
Permalink · State legislation · Comments (5)
Posted by David Hardy · 25 February 2008 06:03 PM
Over at the Volokh Conspiracy.
Basically, over the period studied of the Rehnquist Court, with the exception of Rehnquist himself, the Justices all cast about the same number of votes to strike down laws as unconstitutional. The total votes ranged from 57 ro 67.
But when they split between Federal and State laws, you see a rather dramatic difference. The liberal wing was much more likely to strike State laws, and the conservative wing to strike Federal ones. Thomas and Scalia voted more often to strike Federal than State laws, whereas Stevens voted 63 times to strike State laws and only 17 times to strike Federal ones.
Permalink · General con law · Comments (0)
Posted by David Hardy · 25 February 2008 03:01 PM
Today the Supreme Court issued an order:
1) The motion of Heller & the Texas Solicitor General, to divide argument and give Texas ten minutes of Heller's time is denied.
2) The (US) Solicitor General's motion for 15 minutes of argument is granted.
Hard to read much into it, beyond the fact that it gives a tactical advantage to DC. 45 minutes of argument for reversing D.C. Circuit, only 30 of argument for affirmance. DC can probably figure the SG won't use a lot of time arguing for the individual right. The key to the SG getting where they want to go is standard of review, intermediate rather than strict scrutiny, so that's where the SG will spend his time. DC can cut back on argument over standard of review -- which might have occupied half their time, and more than half if they appeared to be losing on individual right -- and use the time elsewhere.
UPDATE: it ought to be noted that when the SG asks for argument, he gets it. Maybe he may have gotten turned down in the past, but I've never heard of it happening. I don't know what percent of motions for divided argument are granted, but it may not be high (hard to split up 30 minutes very well). So this may just be SOP, with a tactical outcome that benefits DC. Correction inserted here. DC gives first speech, and in theory can reserve some time for rebuttal and thus go last. In practice, that's very difficult to do with nine Justices asking a continuous stream of questions. Heller goes second or perhaps third, depending upon where the SG is put. I'd expect him to be put before Heller, to give a chance to answer whatever he says.
Hat tip to reader Jack Anderson.
Permalink · Parker v. DC · Comments (15)
Posted by David Hardy · 25 February 2008 09:14 AM
Via Instapundit comes this report. Oakland offers $250 per gun. So two gun dealers clean out all their old junkers and turn in 60 guns for a cool $15,000. Followed by a bunch of seniors at an assisted living facility nearby, who probably weren't doing much in the way of robbery or crack dealing.
Same thing happened here some years ago. A certain dealer sent his folks to make the rounds of turn in points (they had a limit per person) and turn his pile of junkers into cash. I took an old and broken single shot shotgun down and turned an unsalable and unrepairable gun into a fistful of money. Gun collectors staked out the locations and if they saw someone with something valuable, offered them more than the turn-in price. Since the folks at the turn in locations didn't know one gun from another, they wound up buying dozens of BB guns at a hefty price.
Posted by David Hardy · 24 February 2008 06:46 PM
The Demo National Committee, through Howard Dean, alleges that Sen. McCain is violating McCain-Feingold. The McCain campaign responds to the charge of hypocrisy with the charge that Howard Dean did the same thing in 2003.
Permalink · Politics · Comments (5)
Posted by David Hardy · 24 February 2008 06:40 PM
The Newsday story is about Hillary Rodham Clinton and a criminal case she defended long ago:
"Rodham was paid a $250 retainer for her services, minus 10 percent for court costs, records show. In her book, Hillary Clinton says the case spurred her to create the first rape hotline in Arkansas.
In 2005, while working in a laundry, she stole several hundred dollars worth of checks from her boss to buy drugs. She is now living in a halfway house and looking for work."
In context, the "her" is Hillary and the "she" is the victim of the crime,
Permalink · Politics · Comments (2)
Posted by David Hardy · 24 February 2008 10:29 AM
"More Guns, Less Crime" Why a convention center in Wilmington was Ohio's safest place last weekend" in the Cincinnati Enquirer.
If it'd been the Philadelphia Inquirer, we'd know the Seventh Seal had been opened.
Hat tip to Dan Gifford...
[update: spelling corrected, thanks]
Permalink · media · Comments (4)
Posted by David Hardy · 22 February 2008 05:38 PM
Via Red's Trading Post comes this story alleging that Sullivan put an FBI agent behind bars using perjured testimony (some from a mob hitman who got early release from imprisonment), tried to cover it up, and then, after he won a new trial, set up State charges against him.
Permalink · BATFE · Comments (3)
Posted by David Hardy · 22 February 2008 05:17 PM
It's from the National Parks Conservation Ass'm. A bit contradictory. On the one hand, it says it's supposed to prevent poaching. On the other, it says you only must unload and store the gun. That'd inhibit self-defense, but how does it prevent poaching?
Posted by David Hardy · 22 February 2008 01:54 PM
My documentary (you can order from the ad in the left margin), "In Search of the Second Amendment," has been selected to show at the Backlot Film Festival in Los Angeles. Festival date is April 2-5, I don't have a specific date and time for my screening.
Also showing will be "Lady Magdalene's," by libertarian filmmaker and author J. Neil Schulman. It's a drama/comedy that is pro-gun, and features his composition "I'd rather be tried by twelve than carried by six," which is one heck of a melody.
Permalink · documentary film · Comments (4)
Posted by David Hardy · 22 February 2008 01:27 PM
Continuing in its quest for relevancy, or at least media coverage, the Violence Policy Center proposes to require FFLs to notify universities if a student buys a firearm.
Hat tip to Joshua Berger...
Update: SayUncle points out that VPC swiped the idea from Brady Campaign.
Permalink · antigun groups · Comments (6)
Posted by David Hardy · 21 February 2008 08:55 PM
Ken Blackwell has an article on Obama in the NY Sun.
"Senator Obama recently gave us a disturbing foretaste of the contradictory doublespeak we could expect under an Obama presidency"
....
"Noting that some argue that the Second Amendment only grants state governments the power to arm National Guard units, Mr. Obama said he rejected that view in favor of the widely held belief that the Second Amendment — like the rest of the Bill of Rights — involves rights held by American citizens. "
....
"[L]ater in that same story it says that in the same news conference where he spoke about an individual's right and the Second Amendment, Mr. Obama also said he supports the D.C. gun ban."
....
"That's like saying you have the right to worship as you choose, but the government has the power to ban attending church. Or that you have the right to free speech, but that government has the power to stop you from speaking about any subject it wants. Or that you have the right against unreasonable searches and seizures, but that anything the government wants to search at your house is automatically reasonable."
Permalink · Politics · Comments (4)
Posted by David Hardy · 21 February 2008 08:45 PM
Or unduly dangerous guns. Or maybe military-looking guns. Anyway, whatever guns an appointed commission doesn't like. It actually has made it out of committee.
The sponsor's statements talk about "inherently dangerous" -- which any gun safety instructor will tell you, either includes all guns (if mishandled) or no guns, in good repair (if properly handled). And about focusing on "military-style" firearms, which "have no purpose for hunting."
Then the criteria (the standard pistol grip, etc.) have little to do with being inherently dangerous or not useful for hunting.
Permalink · State legislation · Comments (8)
Posted by David Hardy · 21 February 2008 09:24 AM
Article here. Quite balanced, I thought. At NIU, gun laws wouldn't have helped, and liberal CCW had only a small chance of helping; at Virginia Tech, liberal CCW had a much better chance of helping.
Posted by David Hardy · 20 February 2008 12:45 PM
Vote was 32-0.
Permalink · State legislation · Comments (2)
Posted by David Hardy · 20 February 2008 12:13 PM
Legal Times reports on the question of dividing argument time, which appears to have become rather contentious.
Law.com has a story on the history of the case. Since it's subscription only, I'll post segments in extended remarks below.
Hat tip to reader Jack Anderson....
Continue reading "Articles on Heller and upcoming argument"
Permalink · Parker v. DC · Comments (5)
Posted by David Hardy · 19 February 2008 02:21 PM
For the second time this week, I am thunder-struck:
"Daley unveils annual gun control legislation
Moved by the shooting deaths of five students at Northern Illinois University, Mayor Daley today unveiled his annual package of gun control legislation, even as a State Senate sponsor acknowledged that none of the bills could have prevented the tragedy."
"State Sen. John Cullerton (D-Chicago) acknowledged that none of the bills would have prevented Steve Kazmierczak from opening fire on Valentine's Day afternoon in a crowded NIU lecture hall."
"For 19 years, Daley has been beating his head against the wall on gun-control issues, stymied repeatedly in Springfield."
Permalink · media · Comments (8)
Posted by David Hardy · 19 February 2008 10:55 AM
From Christian Science Monitor:
"Drug smugglers, armed robbers, and hard-partying or alienated city dwellers are setting up camp in the deep woods and clashing more with rangers, US Forest Service personnel say. What such incidents have in common is an urban grittiness, they say....Many incidents, he says, relate to drugs and problems along the US border. In the West, Mexican cartels have moved into central California to grow marijuana on public lands, especially in the Sierra and the Stanislaus National Forests, he says."
From the Seattle Times:
"Whether it's meth labs hidden amid lush forests or car prowls at trailheads, park rangers and forest officers are seeing an increasing amount of criminal behavior.
While neither the U.S. Forest Service nor the National Park Service keeps precise statistics about crime on federally protected lands, officers and rangers in Washington say that crime appears to be on the rise in the backcountry.
That fact was underscored by the July 11 slayings of a Seattle mother and daughter on a trail in the Mount Baker-Snoqualmie National Forest, killings that remain unsolved. "
But the Official Position remains:
"But a coalition of park rangers and park service retirees say the amendment could jeopardize public safety and make it more difficult to stop poaching.
"There is simply no legitimate or substantive reason for a thoughtful sportsman or gun owner to carry a loaded gun in a national park unless that park permits hunting," the groups said in a statement."
Posted by David Hardy · 19 February 2008 09:57 AM
Reader Howard Nemerov has written an interesting study of VPC, its structure, and funding (pdf, not large).
UPDATE: Howard will be on NRANews.com about it, at about 10:20 PM EST.
Permalink · antigun groups · Comments (3)
Posted by David Hardy · 19 February 2008 09:51 AM
Video here.
Link corrected -- thanks...
Permalink · shooting · Comments (1)
Posted by David Hardy · 19 February 2008 09:33 AM
Right here.
Permalink · Parker v. DC · Comments (1)
Posted by David Hardy · 18 February 2008 04:11 PM
NSSF reports that Grits Gresham has passed on:
"REMEMBERING GRITS GRESHAM . . . Grits Gresham, one of America's best-known outdoorsmen and a longtime friend to NSSF, died today in his hometown of Natchitoches, La., at age 85. Gresham enjoyed an extraordinary career that included serving as field host and producer for the "The American Sportsman" TV series on ABC and as a magazine writer and editor, book author, conservationist and television personality."
When cable TV became available, he expanded into that field, with "The American Sportsman" series and others.
Posted by David Hardy · 18 February 2008 08:52 AM
Red's Trading Post asks why the double standard on recordkeeping? ATF's NFA records are hopelessly messed up, yet an FFL is written up, or revoked, over quite minor human errors.
Permalink · BATFE · Comments (1)
Posted by David Hardy · 17 February 2008 11:10 PM
At Concurring Opinions. I suppose by that rationale, one could prosecute the French resistance, and the Russian partisans, for failure to adhere to the rules of war.
So much for international law...
Via Instapundit...
Permalink · arms vs. genocide · Comments (3)
Posted by David Hardy · 17 February 2008 09:08 PM
Last night the link was up, then failed. Reader Jack Anderson just emailed a link that works. Maybe it was site maintenance.
Online here. I think she ought to have taken to heart one quote from its subject:
"There are two roads to everything--a low road and a high one. The high road is the easiest. You just talk principles and be angelic regarding things you don't practice. The low road is the harder. the task of making one's self-interest behavior moral behavior."
Continue reading "Hillary Clinton's undergrad paper."
Permalink · Politics · Comments (7)
Posted by David Hardy · 17 February 2008 07:22 PM
Via Instapundit comes this post.
"Nearly all of the mass shootings of late have been in "gun-free zones." And the ones that weren't -- at the New Life Church in Colorado and the Appalachian School of Law in Virginia -- were stopped by private citizens (and members of the community being attacked) with their own weapons.
Now for my second thought. If these places aren't going to get rid of their "gun-free zone" status, despite the overwhelming circumstantial evidence that they simply get more people killed, then how can they improve their security where it actually make the people inside safer?
I have a few ideas."
And he goes into detail, all they have to do is surround them with unscalable walls, search everyone entering, search everything shipped in, armed guys at each entrance, security blanketing the inside, with power to search anyone inside, etc.
"This sounds like a lot of work, and it is. Luckily, we don't have to start from scratch -- a lot of the preparatory R&D has already been done for us.
All we need to do is take the existing plans for maximum security prisons and convert them to college campuses.
The same model can also work for shopping malls, but it'll take a bit more work.... That, it seems to me, is what it would take to set up a truly safe "gun-free zone." Anything less just makes these places little more than hunting preserves for psychos.
As was shown at Virginia Tech.
And the Omaha mall.
And Northern Illinois University."
Posted by David Hardy · 17 February 2008 06:45 PM
An excerpt:
"It is not that the amicus historians fail to mention numerous historical facts. The problem is they often miss the significance of such facts in their rush to separate the Second Amendment from its actual private-rights-protecting nature. The professional academic historians' always-slanted interpretations are far from helpful for a clear understanding of a subject that they have helped make much more complex. It becomes evident at the very beginning of the historians' brief that their personally-held views are directly contradicted by the actual views of the two Founders, Mason and Madison, who were most closely associated with development of the provisions within the U.S. Bill of Rights."
Permalink · Parker v. DC · Comments (1)
Posted by David Hardy · 17 February 2008 02:35 PM
It's that time of year again, and Col. Brown has his endorsements. I'd agree with all of them. Steve Schreiner would be a great addition to the Board. He's on a committee right now, and if he's ever missed a board meeting, I can't remember it. Bill Dailey, a Harvard-educated attorney who prefers to practice in Moline ILL, is just indispensable to NRA. He chairs the Civil Liberties Defense Fund, sits on every law-related and legislative committee. Smart as hades, and the only board meeting he ever missed was when he had to have a heart bypass. He sits on eight committees (average director has four), so he's really handling double the workload. Budd Schroder is a hardworking gun activist from NY State, which is a trial in itself.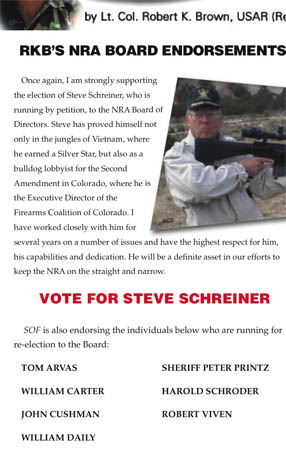 Permalink · NRA · Comments (3)
Posted by David Hardy · 16 February 2008 10:29 PM
Newsweek, no less. How far have things come!
Reader Carl in Chicago sends links to two ABC News stories on the students:
Posted by David Hardy · 16 February 2008 03:12 PM
From an antifederalist tract, "Letters of Cato," Essays on the Const. of the US 262 (Paul Ford, ed).
"The ten miles square, which is to become the seat of government, will of course be the place of residence of the president and the great officers of state; the same observations of a great man will apply a court of a president possessing the powers of a monarch, that is observed of that of a monarch -- ambition with idleness -- baseness with pride -- thirst of riches without labor -- aversion to truth -- flattery -- treason -- perfidy -- violation of engagements -- contempt of civil duties -- hope from the magistrate's weakness; but above all, the perpetual ridicule of virtue..."
Posted by David Hardy · 16 February 2008 02:06 PM
Instapunk has a great post on the group, together with one of their posters.
Permalink · CCW licensing · Comments (0)
Posted by David Hardy · 16 February 2008 12:14 PM
Story here. McCain is cosponsoring the amendment, and Reid is pulling the bill, reportedly so that Sen. Clinton and Obama don't have to vote on it.
Tho I'd think a simpler solution would be for the two to announce they're too busy campaigning to fly back to DC for a vote on a modest amendment. As I recall, Hillary has played that hand before on controversial votes.
Posted by David Hardy · 15 February 2008 09:44 AM
Prof. Gene Volokh and Glenn Reynolds discuss them on Hugh Hewitt. Transcript here.
The opening, by Prof. Reynolds: "I certainly think so. I actually have quite a few students who have permits to carry concealed weapons. One of them, in fact, was on the Springfield Armory National Pistol Team. And if they were armed in my classroom, I would feel enormously safe. And in fact, actually, after the Virginia Tech shooting, last year, one of those students came up to me and she asked if we could have class off-campus, because she's not allowed to carry on campus. "
Via Instapundit...
Posted by David Hardy · 14 February 2008 10:49 AM
He gives it both barrels in the Washington Times.
Permalink · Parker v. DC · Comments (5)
Posted by David Hardy · 14 February 2008 10:22 AM
Unless the other guy has knives and a meat cleaver. Rather underscores the point made by the women legislators' brief in Parker/Heller. If the victim had been armed, the killer would have been killed. If they'd both had guns, it would at least have been an equal fight (and odds are the guy would have stayed home rather than go to an equal fight). As it was, he knew he had a victim and she was cornered.
Hat tip to reader Eric Schultz...
Permalink · non-gun weapons · Comments (2)
Posted by David Hardy · 14 February 2008 10:06 AM
Sebastian of Snowflakes in Hell points out an interesting section of the Supreme Court docket:
Feb 11 2008 Motion of the Solicitor General for enlargement of time for oral argument, for leave to participate in oral argument as amicus curiae and for divided argument filed.
Feb 11 2008 Motion of Texas, et al. for leave to participate in oral argument as amici curiae and for divided argument, and, in the alternative, for enlargement of time for oral argument filed.
I'd interpret these as follows:
Solicitor General of the US would like to argue. Neither side was willing to give him time (you only get 30 minutes in the usual argument, and he's taking positions that are not pleasing to either side), so he wants argument with his own time allocation. Divided argument means, I assume, that two people will argue for the SG.
Texas SG's motion is more interesting. They want the same (without divided argument). My guess is that the minute they saw the US AG's move they whipped this motion out. Normally, if an amicus wants to argue the Court's going to say it's on time from the party they're supporting. But with the SG asking for its own time, Texas has a shot at this motion.
UPDATE: looks as if Heller agreed to give Texas part of their time, then the SG moved for their own (separate) time of 15 minutes. I for one find it annoying. (1) If Heller has gven up 10 minutes, why wouldn't the SG ask DC to give it ten minutes? (2) 15 minutes? That's 50% of what a party gets. (3) To defend their position that 2A is an individual right is one thing -- but Heller & Texas will do that. I rather suspect most of that 15 will be devoted to arguing for a lax standard of review.
The discrepancy between #s of briefs on the two sites is apparently due to the fact the Supreme Ct doesn't show them on its website until after they have been sent to an anthrax screening place, whereas the pdfs are available right now. They may stock up several days' worth before sending them.
Permalink · Parker v. DC · Comments (5)
Posted by David Hardy · 13 February 2008 09:21 PM
Right here.
Hat tip to reader The Mechanic...
Posted by David Hardy · 13 February 2008 04:14 PM
Guy's bodyguard flashes his gun at you during a deposition, and the attorney gets all upset. Why not just open the desk and show him your own?
Posted by David Hardy · 13 February 2008 09:32 AM
Reader Joe Heater emails:
"An off topic question for Dave or any one who would like to answer this question and observation of a non-lawyer, a slightly tongue in cheek one. I decided after reading four amicus curiae briefs regarding the Heller v DC case, that the legal profession is the least "green" of the majors. The briefs are 45 to 75 pages in length and most of the pages use no more than 33% of the available space for text, the rest is white space. I don't print the briefs but I imagine many people are. The forests are crying tonight as they "donate" their cellulose for white space. Reading sixty or seventy pages on the monitor is not my idea of a good time. Another thing that ragged me was the footnotes that covered two pages when there was more than ample space on the originating page to complete the note. What a pain! If you lawyers want to go to the green hall of fame, convince the profession they could save countless trees by using at least 66% of the available space on a page.

On another note, Dave K. linked to a brief filed by Jeffery B. Teichert on behalf of Scholars Correcting Myths Deployed by Opponents of an Individual Rights Interpretation… and it is a great history lesson. If you are interested, here it is.
http://www.gurapossessky.com/news/parker/documents/07-290bsacCitizensCommittee.pdf"
The answer on the white space is simple--in the Sup. Ct., your briefs have to be printed, as in on a printing press, and in a special booklet size. 6.5 x 9.5 inches, something like that. The Court only recent went to electronic filing in pdf. So when you lay out a brief in that format, on .pdf for standard 8.5 x 11 paper, there's some huge margins!
And you'll notice that (depending upon how the printing company creates the pdf), the pages may be centered, or set at left margin, or alternate left and right (which is how the printed page would be, since it's printed two-sided).
Yup. Supreme Court has quite strict rules on printing. Every set of briefs has a different color cover, so the Justices can keep track of things. You must use a particular set of fonts (Century). The rules even dictate the "leading" of the printed page. A wise person goes with one of the 2-3 printing firms that specialize in Supreme Court briefs.
Posted by David Hardy · 12 February 2008 04:00 PM
Dave Kopel has an excellent series of posts on the amicus briefs over at The Volokh Conspiracy. Good comments on each, too, in terms of how well-written it was and what effect it might have. He points out that the Solicitor General's brief was filed late at night and showed signs of hasty preparation. I think I found a couple of typos in, in a hasty skim. He suggests it might be the product of last minute changes, perhaps a change from strict scrutiny to intermediate review (as the Libertarian amicus points out, the SG cited cases which simply have no relevance to the case -- could be the result of a sudden change and people scrambling to find precedent).
By my count, which may be off, Heller is supported by 46 amici. Some don't do that much, but the great majority are powerful. And they're spread out, not piling in behind each other. The PA brief takes on details of PA history. Cato and Joyce Malcolm take on the English right. Academics covers ratification. Others deal with the great commentators, the 14th Amendment, four deal with standard of review,
In terms of authority, 30 state Attys General (vs, what, 5 for DC), a majority of both Houses of Congress (vs. 19 for DC), Two former US Atty General and a former Solicitor General (Robert Bork, a surprise, last I heard he was anti-individual right, but I also heard a rumor he was reconsidering in light of the literature).
Permalink · Parker v. DC · Comments (9)
Posted by David Hardy · 12 February 2008 10:19 AM
Now that we know, thanks to Matt Carmel's research and tip, that Violence Policy Center has a firearm dealer's license for their DC headquarters, I think we owe it to them to come up with an advertising campaign! Look at their opportunities. A city of 500,000 or so, they've got one of only a dozen licenses to sell guns, and the handgun ban may be struck down. VPC has always staked out the most extreme positions, so if the Supreme Court goes against them, they are ruined economically. Maybe they got the gun dealer's license as a hedge. Win in the Supreme Court, we make money pushing for more gun laws. Lose, and we make money selling handguns!
VPC should be ready with TV, radio, and billboards:
[Image of DC office building]
"While we wait for the Supreme Court to free the citizens of DC from their incompetent and corrupt government, now is the time to order your handguns from Josh's Handgun Haven, "It don't mean a thang if it can't go bang!"
[image of rows of firearms]
Drop on over to 1730 Rhode Island NW and take a look at our inventory! Glocks, 1911s, Berettas!
Earnest money only, all orders contingent on the court's ruling - get in line for something fine!"
[Pretty girl appears] "Violence Policy Center, it's your hometown gun shop."
Subtitle: The Joyce Foundation did not approve the content of this advertisment.
Permalink · antigun groups · Comments (10)
Posted by David Hardy · 11 February 2008 10:28 PM
At Concurring Opinions, Prof. Mike O'Shea has an interesting map.
Permalink · Parker v. DC · Comments (4)
Posted by David Hardy · 11 February 2008 03:01 PM
At ScotusBlog.
Very tired. But will add some commentary.
Argument I is a strong attack on DC's argument over what the 2A was meant to do. I think it pretty well levels that.
Argument VI deals with their dismissal of the PA minority and the NH ratifying proposals. They shrug these off, saying that Madison took the VA language, not the text of those proposals, hence they are irrelevant. BUT we show that there is no evidence that anyone at the time thought that Madison's language was meant to differ with those earlier measures, and much evidence that Americans saw his language as guaranteeing the same rights sought by PA & NH.
At 9 n.7 we hit at DC's claim that, well, maybe the First Senate declined to add into the BoR a statement that States could arm the militia, because it was redundant -- that's what the Second Amendment meant, and they already had written that up. We point out a VA Senator who wrote angrily about losing the vote -- he certainly didn't think the matter had been taken care of!
At 11-12 we point that the Framers HAD the equivalent of unorganized militias, but required them to be armed. They were excused from drill and muster, but not from owning arms.
At 13, we give a judo flip to the argument that the preamble must control the operative clause.
At 16 we point out that the Framers were familiar with *friendly* governments seizing arms when needed in an emergency.
At 20, n. 18, we point out that treating the militia as State controlled is not entirely accurate.
At 22-23, we discuss Federalist No. 26, I think with better analysis than is generally employed. It has to be read carefully.
At 30 we cite an interesting event in the First Congress, which I blogged here long ago.
And some preemptive attacks (remember DC gets to file the last, reply, brief and may try to shift ground)
At 11, n. 9 preempts any try in reply to shift on the theory of purpose.
At 18, n. 14 hits at a theory DC amici cited, in a yet unpublished law rev. article, claiming PA's 1776 guarantee was meant to allow a mandatory militia (PA didn't have one).
At 31 we preempt a move DC might make, arguing that "right of the people" is somehow less individualist than a right of "persons."
UPDATE: if anyone wishes to contribute toward the brief, just click here. There's a Paypal link on upper right of page. If you're not a PayPal member, just click at bottom of the Paypal page and you can enter ordinary credit card data.
Permalink · Parker v. DC · Comments (27)
Posted by David Hardy · 11 February 2008 11:26 AM
Josh Sugarmann, head of Violence Policy Center, has a Federal Firearm Dealer's license. The business address is VPC's headquarters in D.C.. Which, if I recollect DC law correctly, means VPC is exempt from the handgun ban they defend.
Thanks for the find to reader Matt Carmel...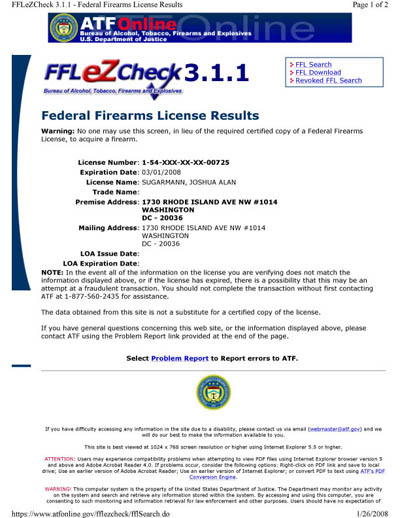 Permalink · antigun groups · Comments (44)
Posted by David Hardy · 10 February 2008 01:38 PM
It's their annual publicity event. The Rapid City Journal, for instance, runs the story S.D. GETS LOW MARKS FOR GUN RESTRICTIONS. Yup, a dismal F, 6 points out of 100 possible.
Strange that in 2006, the State, whose population is 150% that of the District of Columbia, had a whole 9 homicides. Homicide rate of 1.2, about 25% the national rate.
Permalink · antigun groups · Comments (4)
Posted by David Hardy · 10 February 2008 12:45 PM
A video tribute to supersniper Carlos Hathcock, created by the Wounded Warriors Project.
Posted by David Hardy · 9 February 2008 05:48 PM
California Senate President Don Perata, "a leading control advocate," has announced he's turning in a handgun to a gun-buyback. Won't say whether it's his only handgun, either.
And former Broward County Sheriff Ken Jenne was sentenced to a year in the slammer , and now has lost his pension,for tax evasion ... specifically, not paying taxes on bribes. Quite a downfall for a Brady Campaign stalwart. Hat tip to Eric Schultz...
Permalink · antigun groups · Comments (8)
Posted by David Hardy · 9 February 2008 11:27 AM
Wash Po picks up on the Congressional brief, and that Dick Cheney signs on. As well as the fact that the brief disputes the Solicitor General's standard of review position. Again, a surprising balanced and objective piece.
I've mentioned the brief filed by American Shooters & Hunters Assn, a "false flag" operation. They've put out a press release on their filing. As part of the false flag operation, their brief suggested the DC ban violated the Congressional home rule enactment for DC -- in the hope that the Court would use that, rather than the Second Amendment, as a basis for ruling. And so their press release is entitled "DC Gun Law Violates Home Rule Act." But US News & World Report doesn't take the spin.
BTW, I wouldn't give that angle high hopes. (1) It's invoking an argument NOBODY has ever made in the case. It's not the question presented, either. (2) Even if accepted, result would be DC Circuit is affirmed on a different basis. DC CIrcuit's case law stays in place. (3) Court didn't take the case just to bail out after everyone's briefed. Gun Law News has a concise summary.
Capitol Weekly (Calif.) has an interesting and long piece. Anti-rights folks saying an individual rights view would strike down every gun law and topple the Republic (watch how quickly they shift when that happens). For my money, the interesting passage:
"Irwin Nowick, a senior consultant in the Senate Rules Committee who is widely seen as a leading expert on firearms law, said courts have long ruled that states could limit or ban guns most likely to be used by "ruffians, brawlers and assassins," ....
Normally considered a liberals, Justices David Souter and Ruth Bader Ginsburg are both sympathetic to "reasonable gun rights," Nowick added. A narrowly crafted individual right could win 7-2, he said."
Big hat tip to reader Jack Anderson...
Permalink · Parker v. DC · Comments (6)
Posted by David Hardy · 8 February 2008 02:52 PM
Checking out the amicus briefs so far filed... BTW, ScotusBlog must have some software that automatically grabs and uploads an amicus as the Surpeme Court files it, because one of the filers today cc'd me on the upload to the Court, and not two minutes later the file was posted on ScotusBlog!
UPDATE: Here's the Congressional amicus Hat tip to Jack Anderson... oh, and the Vice President signs it as president of the Senate.
Anyway,they're an impressive lot. I was especially struck by the Buckeye Firearms Fdn one and the Pink Pistols one and the Congressional one. NRA has extensive coverage of the issue. Libertarian Party focuses on the Solicitor General's standard of review.
Maj. Generals' one is sponsored by American Shooters and Hunter's Assn, a false flag operation, and suggests that the DC Ban is unconstitutional but other gun laws wouldn't be. Well written, as are the other briefs. There's one by over a hundred women legislators and academics.
And NRA has a list of all the federal legislators who have signed the legislators' brief, not yet online.
Battle stations, latest draft coming back from Joe Olson, I'm outa here!
Permalink · Parker v. DC · Comments (8)
Posted by David Hardy · 7 February 2008 08:53 PM
Unless it's a six pack. Even then, you should opt for something with more stopping power.
Permalink · Self defense · Comments (2)
Posted by David Hardy · 7 February 2008 06:09 PM
DC had an Congressional amicus brief supporting it, signed by, I forget, 16 or 17 House members.
According to this article, there is a Heller brief incoming, supporting the individual right position, signed by 250 House members and 57 Senators. A majority of both Houses. And from that, necessarily bipartisan.
Hat tip to reader Jack Anderson.
UPDATE: the Washington Examiner reports that 68 House Demos, and 9 Demo Senators, are on the brief. Which means that the brief supporting Heller has four times as many Democratic signers as did the one supporting the District's gun law.
Permalink · Parker v. DC · Comments (8)
Posted by David Hardy · 7 February 2008 05:18 PM
ScotusBlog has the first amicus briefs supporting Heller & individual rights online. These are just the earliest filings. Deadline isn't until Monday. That's for filing with the clerk. Our printer's deadline, in order to meet that deadline, is crack of dawn tommorrow.
Take a look at the one from the Buckeye Firearms Fdn.. I liked the argument stating that DC's 911 system "is a joke."
Making final changes on Academics for the 2nd Amendment now -- to be precise, sending them over to Joe Olson for him to look at. This one is going to hit hard, very hard. Working at it now, weighing each footnote. Take this one out, we save 27 words. Could 27 new words be written that would have greater impact than the existing fn? (You get 9000 words, and we're right up against that).
Permalink · Parker v. DC · Comments (2)
Posted by David Hardy · 6 February 2008 08:25 PM
Have a late evening of almost spare time before back to work on it. So here's a modest roundup:
Prof Balkin, at Balkanization has his take on the Administration's position.
Prof. Berman, at Sentencing Law and Policy suggests that if Parker/Heller win, choice of future test case plaintiffs will be vital.
Leibowitz's Canticle analyzes Heller's brief.
Permalink · Parker v. DC · Comments (2)
Posted by David Hardy · 6 February 2008 03:07 PM
Story here. Drug deaths (predominantly among illicit users, but the story has some startling reports of accidental deaths) doubled 1994-2004. The biggest rise was in prescription drugs (oxycodone, for example), which went up 152% in five years.
Permalink · Crime and statistics · Comments (4)
Posted by David Hardy · 6 February 2008 11:44 AM
Article here. Quite a fair one, actually, which I find a little astonishing.
Permalink · Parker v. DC · Comments (2)
Posted by David Hardy · 6 February 2008 08:46 AM
Joe Olson, Clayton Cramer and I got the Academics for the 2nd Amendment amicus brief off to the printer in advance of the deadline, now awaiting the page proofs. That's why I haven't been blogging much. That and a trip to the SHOT Show to try to convince mfrs that they should include copies of the documentary in their boxes. Not a lot of sleep in the last week.
UPDATE: SHOT Show was OK. Talked to a bunch of mfrs about the idea. The smaller ones seemed interested, larger ones not so much. Oh, well. One safe mfr was very interested, tho.
Permalink · Parker v. DC · Comments (7)
Posted by David Hardy · 5 February 2008 12:26 PM
My friend and fellow gun attorney has an article out on the subject. Jim is author of the first law review article attacking McCain-Feingold, so it's not like he's a big McCain supporter. He's a straight shooter, and spent years in the Hanoi Hilton, and was tortured, so he's an eyewitness to what's under discussion.
By way of background, apparently there are internet rumors going around that are getting pretty wild -- down to claiming that McCain collaborated with his captors and as a result was assigned to a cushy hotel room with two ladies of the evening. I'm waiting for the followup in which he was taken aboard a U boat to celebrate Hitler's 90th birthday in a secret bunker in Antarctica.
More comment in extended remarks below.
Continue reading "John McCain and the Hanoi Hilton"
Permalink · Politics · Comments (3)
Posted by David Hardy · 4 February 2008 03:48 PM
Right here, in pdf.
UPDATE: the brief was the work of Alan Gura, Bob Levy, and Clark Nelly. I was happy to offer ideas and research now and then, but that was it.
Permalink · Parker v. DC · Comments (22)
Posted by David Hardy · 3 February 2008 11:19 PM
Haven't been blogging since I'm here trying to promote my documentary. Egad, is it big! The Las Vegas Convention Center is gigantic, but it overflowed that, and they shut down a number of indoor parking lots and set exhibits up there. They have everything, including a company that manufacturers body armor for police dogs!
Speaking of dogs, I'm dog tired, after walking I'd guess ten miles today. As I said, it's huge,
Posted by David Hardy · 2 February 2008 08:48 AM
Prof. Winkler argues for a low standard, while Prof. Reynolds (aka Instapundit) argues for a high one.
Just had a thought regarding the Sol. General's position. It is along these lines:
(1) The case law the SG invokes -- while the SG never tells the Court of this -- actually calls for two different levels of review. The cases cited deal with election ballot issues. Minor infringements of the 1st Amendment there get something like intermediate level review. Substantial infringments get strict scrutiny.
(2) An absolute ban on handguns, which are currently about 40% of all firearms, and the portion most often used in self-defense. cannot to my mind be anything but a substantial infringment of the right to arms.
(3) Therefore, under the cases the SG cites, strict scrutiny applies. The DC Circuit applied that standard, and thus the case should be affirmed, not remanded, as the SG requests.
Permalink · Parker v. DC · Comments (9)
Posted by David Hardy · 1 February 2008 11:10 AM
Here it is, with the first photo I've seen of the appellee in US v. Miller. I should mention another good historical piece on him and the case, arguing that the district judge, while ruling in his favor, was setting him up to lose in the Supreme Court.
If you want to read my other posts on US v. Miller, just go to the archives, in the left margin, and there's a category for the case.
While we're at it, here's a transcription of the records in US v. Miller. It includes the government's brief, which (while not well organized) in places makes the same argument that DC makes in Heller:
"the right to keep and bear arms, guaranteed in both the Federal and State Constitutions, had its origin in the attachment of the people to the utilization as a protective force of a well-regulated militia..."
"the right secured by that Amendment to the people to keep and bear arms is not one which may be utilized for private purposes but only one which exists where the arms are borne in the militia or some other military organization provided for by law and intended for the protection of the state."
Hat tip to reader Jarard Killip.
Permalink · US v. Miller · Comments (4)
Posted by David Hardy · 1 February 2008 08:17 AM
A West Virginia legislator has introduced a bill calling for firearm safety training as part of PE classes.