« June 2007 | Main | August 2007 »
July 2007
Posted by David Hardy · 31 July 2007 07:27 PM
National Review Online gives its take.
[Thanks -- link fixed].
Update: I like this take: "The Gun Rights Voters are the ones in charge. The NRA is merely one of their mechanisms. This gibbering again postures the NRA as a large evil lobby rather than the lobby of 4 million citizens."
At The Bitchgirls, Bitter has some good observations as well.
Permalink · NRA · Comments (5)
Posted by David Hardy · 30 July 2007 06:28 AM
Story here.
Permalink · Politics · Comments (3)
Posted by David Hardy · 29 July 2007 12:52 PM
Strangely, it captions it as Heller v. DC. Hat tip to David Codrea, who also noted the strange titling of the case.
[Blogging has been light since I'm out of town, to take a deposition, participate in some meetings, and do some technical research].
Permalink · Parker v. DC · Comments (7)
Posted by David Hardy · 28 July 2007 05:59 AM
Read here.
Permalink · media · Comments (0)
Posted by David Hardy · 28 July 2007 05:46 AM
Carolyn McCarthy explains to antigunners why she got into bed with NRA in regard to the recent House bill on mental records and disabilities.
Permalink · antigun groups · Comments (3)
Posted by David Hardy · 25 July 2007 04:58 PM
Here's a posting on eleven web hosts that "won't dump you at the first sign of controversy." My own Michael Moore page is hosted by one, CrisisHost.
Posted by David Hardy · 25 July 2007 04:48 PM
Story here.
Here's Glenn Reynold's take on the issue.
"Personally, I can't see any legitimate reason for ATF personnel conducting a routine inspection not to be photographed. What possible problem is there with photographing public employees performing a public duty in a public place? Certainly if ATF agents were photographing ordinary citizens in such a setting, we'd hear that there was "no legitimate expectation of privacy," right?"
Permalink · BATFE · Comments (2)
Posted by David Hardy · 25 July 2007 03:19 PM
Discussion at Murdoch Online.
Posted by David Hardy · 24 July 2007 08:12 PM
David Codrea has an interesting post on the latest developments in BATFE's attempt to revoke the FFL license of Red's Trading Post. BATFE has complained in a motion that people have taken pictures of their inspectors during an inspection, and mentioned blog posts. Note these are not enforcement agents, who might go undercover and have legitimate concerns about having their images taken, but inspections people, who audit records.
PS--word is that the photographer(s) are locals who don't appreciate the move to revoke their FFL's license one bit.
Permalink · BATFE · Comments (16)
Posted by David Hardy · 24 July 2007 06:31 PM
The University of Colorado voted to can his tail. Charges were plagiarism and publishing falsified history.
His response is ... so Sixties. 1. Hold an Indian ceremony (I think the Ghost Dance would be most appropriate); 2. announce it was all political and preordained and 3. announce he was going to sue.
Posted by David Hardy · 24 July 2007 05:55 PM
The GOP in Manchester, NH, is holding a machinegun shoot as a fundraiser. Local Demo response: "That the mayor's political party would seek to glorify the use of machine guns for political gain is unconscionable."
Posted by David Hardy · 24 July 2007 02:14 PM
Stop Handgun Violence has stopped making strawman buys long enough to issue a press release that reveals (gasp!) NRA doesn't endorse background checks for private sales. And they even have a list of persons and groups that have antigun positions. Those are real shockers!
Permalink · antigun groups · Comments (3)
Posted by David Hardy · 24 July 2007 11:19 AM
Story here. As if that would do any good. Two interesting responses: FOP points out the obvious: it'll cost money and have no effect. A dean from the U of Penn. points out -- on the street, being on the registry might improve your image. "You ain't no gangsta' -- I looked up your name on the registry and you ain't there." "So, my probation officer screwed up."
Permalink · State legislation · Comments (2)
Posted by David Hardy · 24 July 2007 09:36 AM
I rather liked what I watched of the ones last night, if only because it made the candidates' pandering to people so obvious. I mean -- the lesbian couple who asked, if you were president, would you let us get married, and every candidate saying yes. How about "No, because the president of the US doesn't issue marriage licenses. And marriage is not a federal issue, talk to your state legislature. And if you want a constitutional amendment, or to be protected against one, the president doesn't even have a veto power over those. So I can't do a blamed thing in the area, talk to someone else."
Joe Biden, as would be expected, came down hard on a guy who asked about gun control (and referred to his rifle as his baby):
QUESTION: Good evening, America. My name is Jered Townsend from Clio, Michigan.
To all the candidates, tell me your position on gun control, as myself and other Americans really want to know if our babies are safe.
(MM : Mr. Townsend shows the audience a black rifle - looks to be an AR but not totally sure. Some on AR15.com think it was an AK)
This is my baby, purchased under the 1994 gun ban. Please tell me your views.
Thank you.
COOPER: Governor Richardson, you have one of the highest NRA ratings.
RICHARDSON: The issue here, I believe, is instant background checks.
RICHARDSON: Nobody who has a criminal background or is mentally ill should be able to get a weapon. That is the key, and that includes gun sales. That includes gun sales at gun shows.
The key is going to be also attacking poverty, bringing people together, dealing with those kids in the ghettos that are heavy users of gun violence and they are victims of gun violence, to make sure that this country attacks the core problems of poverty, having child care, bringing parents together.
COOPER: Senator Biden, are you going to be able to keep his baby safe?
BIDEN: I'll tell you what, if that is his baby, he needs help.
(APPLAUSE)
I think he just made an admission against self-interest. I don't know that he is mentally qualified to own that gun. I'm being serious. Look, just like me, we go around talking about people who own guns. I am the guy who originally wrote the assault weapons ban, that became law, and then we got defeated and then Dianne Feinstein went to town on it and did a great job.
BIDEN: Look, we should be working with law enforcement, right now, to make sure that we protect people against people who don't -- are not capable of knowing what to do with a gun because they're either mentally imbalanced and/or because they have a criminal record, and...
COOPER: Time.
BIDEN: Anyway...
(APPLAUSE)
COOPER: We got one more question. Before...
BIDEN: ... I hope he doesn't come looking for me.

BTW, the Influence Peddler says that Biden's claim to have filed the first AW bill is a bit of ... plagiarism?
Permalink · Politics · Comments (11)
Posted by David Hardy · 23 July 2007 04:31 PM
Right here. Must be hard up for "news," since the AR-15 has been on the market for 40 years, and Ed Ezell's book "The Black Rifle" has been out for 14 years.
I have no idea where gun control advocates get the idea (and this is quite frequently claimed) that a pistol grip is meant to make it easier to shoot from the hip (or why shooting a rifle from the hip would be a "military feature."). It's actually just an artifact of moving the butt more into line with the bore, so as to reduce rise from recoil. Move the butt up, and it's no longer feasible to have the handgrip part of it, so it has to be separated.
Hat tip to reader Eric Schultz...
Posted by David Hardy · 23 July 2007 03:49 PM
[Via Instanpundit] Ed Driscoll has a review of the book "Camelot and the Cultural Revolution: How the Assassination of John F. Kennedy Shattered American Liberalism."
The theme is that the liberal movement was unable (at an emotional, subconscious level) to deal with the fact that a popular (and regarded as liberal, anyway) president had been killed by, well, a communist who'd defected to the Soviet Union and demonstrated in favor of Castro. In trying to cope, it (1) went off on conspiracy theories that tied in the government and/or (2) on anti-Americanism: Oswald hadn't killed him, America somehow had. It wasn't helped by the fact that in the early 60s a major liberal theme had been the dangerousness of right wing movements -- now turned on its head by the identity of the assassin. If he'd just been a John Bircher, everything would have fit together emotionally -- but he was quite the opposite.
I wonder if it deals also with the assassination of Robert Kennedy, gunned down by a palestinian -- a third worlder, as it were. A neo-nazi, maybe an Israeli fanatic, would have fit emotionally, but not a palestinian.
I recall reading a similar commentary on 9/11. Not quite so striking there, but again liberalism (already much modified) is faced with a horrific crime committed by people it tends to idealize -- third worlders. Ah, here it is, in the form of a novel. Do read the intro first -- part of the novel's plot is that a group of self-absorbed types have founded a think tank, so if it reads a little strangely, that's part of the plot. The key to the colors mentioned is that in the novel he breaks down political thought on emotional lines. Red=anarchic fighters (good fighter pilots). Blue = rules conseratives. John Aschcroft. (good cops and military). Orange = Jeffersonian, sometimes an early liberal. Green = the modern liberal/left. Not allowed to be judgmental, must be sensitive to everything, esp. that which is different from you.
Permalink · Politics · Comments (1)
Posted by David Hardy · 23 July 2007 09:41 AM
A Virginia judge has ruled the issuing agency cannot require disclosure of SSNs as a condition of application.
Permalink · CCW licensing · Comments (0)
Posted by David Hardy · 23 July 2007 09:34 AM
Story here. The state agency handling adoptions issued rules limiting firearm possession by foster parents. The Attorney General ruled that the rules violated the State pre-emption statute.
Permalink · State legislation · Comments (1)
Posted by David Hardy · 23 July 2007 09:31 AM
Posted by David Hardy · 22 July 2007 08:31 PM
Here's the great-grandparents' headstone in the Old Yuma Cemetery. In the wider view, atop, they're the grey one to the left of the big black headstone. Also in the broader view, you can see how some families had to make do with wooden headstones. At least they survive in that harsh climate. The day I took the photos it was 122 or 124 F. in the shade, and there was no shade. The sand (which is what the soil is there) was searing hot. No room for termites there. I didn't check dates on the wooden headstones, but there were probably contemporaneous with my ancestors', which means they'd stood for around ninety years.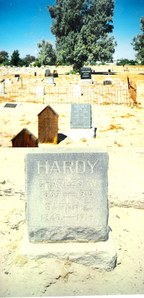 Posted by David Hardy · 22 July 2007 08:09 PM
My great-grandather, Judge Charles Hardy, first Justice of the Peace of Cave Creek, Arizona Territory. He was also a gunman name Nat Hickman, who fled the law after shooting a guy in Colorado, and took Charles W. Hardy as his alias. He 'fessed up when he applied for a Civil War pension many years later. I've always wondered if he left a clue in this photo. His left hand looks like it has a glove with the fingertips cut away. Elmer Keith wrote that the old gunmen always did that, to make sure they have a feel for the trigger. I suspect it amused him to leave clues. For example, his cattle brand was N/H -- his real initials, plus a slash, and in the civil pension application he mentions as a distinguishing mark a knife slash on his cheek.
I know he was a gunman because a turn of the century doctor wrote of his experience in the Arizona Territory, and of knowing a "rancher Hardy" in Cave Creek, who was incredibly fast with a gun and terrified him with tales of how outlaws were just killed out of hand.
At his side is Sarah, an Indian who was widow of the first JP of Phoenix (who got relieved after he shot a man in a street fight and fled the law). The taller boy is Jesse Hardy, whose headstone I posted earlier, and the shorter my grandfather Mark Hardy.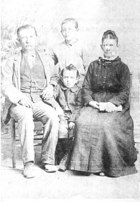 Permalink · Personal · Comments (1)
Posted by David Hardy · 22 July 2007 02:05 PM
Right here.
Permalink · shooting · Comments (0)
Posted by David Hardy · 22 July 2007 12:29 AM
Digging thru old photos, I found two I'd made of the gravesite of my great uncle, Jesse Hardy (died in 1941). He was a fairly big landowner for the area (Buckeye, AZ, west of Phoenix), but the family couldn't waste money on a headstone. Below in the image is his marker -- a metal tag on a stick -- and above is a broader view of the cemetery where he lies -- and where the great majority of graves have the same markers. It may have been 1941, and he may have been a landowner, but these folks were living in a state that would stagger anyone below the poverty line today. Click on the thumbnail for a larger image.

Permalink · Personal · Comments (5)
Posted by David Hardy · 21 July 2007 02:56 PM
He sounds pretty solid. (I'm not sure which party he's with, but he might be scouting for a VP slot, too).
Permalink · Politics · Comments (8)
Posted by David Hardy · 21 July 2007 11:14 AM
I found the obituary for Bruce Stern, NRA director from Connecticut, president of Coalition of Connecticut Sportsmen, and a first-rate man and friend.
Posted by David Hardy · 21 July 2007 10:53 AM
Here's the audio. It's pretty funny when the radio host starts Mirandizing the reporter.
(IF, a big if, the version the reporter later gives is true, then maybe it wasn't a straw sale. The buyer was an NH resident kept the gun after the sale, and kept it in NH. Although Rosenthal of Stop Handgun Violence keeps insisting "it actually was a straw purchase." And there's always 18 US Code section 2, which makes it a felony to command another person to commit one, to advise or counsel them on it, etc.)
Permalink · media · Comments (1)
Posted by David Hardy · 20 July 2007 11:15 PM
"Armed Resistance to the Holocaust" (pdf), forthcoming in the Journal on
Firearms & Public Policy.
Permalink · arms vs. genocide · Comments (0)
Posted by David Hardy · 20 July 2007 10:17 AM
And Say Uncle takes them down.
Permalink · media · Comments (1)
Posted by David Hardy · 19 July 2007 08:18 PM
Ah, at least CSM will remind me of how the media is supposed to be! Here's their editorial, "Rescue Mexico from US Guns". I'll take the major parts one by one.
It's not only poverty propelling Mexicans into the US. Rising gun violence by drug gangs, and lately a military surge against them, have driven many to cross the border. And where do these drug cartels get their arsenal of weapons? El Norte, of course.

Lax gun laws and lax enforcement in the United States have made it easy for Mexican gunrunners to buy and transport everything from AK-47s to Stinger antiaircraft missiles, which then allows the cartels to use these high-powered weapons against rival gangs or against a military attack.
Hmm... it's been a while since I've seen a Stinger for sale at the local swap meet, or an unlicensed AK-47. CSM's editors must hang out in some rougher places than I visit.
Most alarming is the increasing flow of combat-style rifles into Mexico, often just a few at a time hidden in the trunk of a car. That trend is partly a result of Congress allowing the US ban on assault weapons to lapse in 2004.
Earth to space cadet. Report in at once. The "ban" on AWs banned a few models by name, and required others to be made without a few features (e.g., a bayonet lug). Are the Mexican cartels fixing bayonets? As far as taking arms into Mexico in the trunk of a car -- this would be more difficult if the border guards couldn't be bribed (customary mordida is $10) to skip searching a car. This is a Mexican problem, not a US one.
But also worrisome is an increase in Mexican gang agents at US gun shows who brazenly pay citizens to buy weapons for them.
Got some examples?
An undercover investigation by Garen Wintemute, a University of California professor, found such illegal "straw purchases" are common at gun shows. He used hidden recording devices at 28 shows in five states during 2005 and 2006 to detect 24 illegal sales.
You can read his study (partially funded by Joyce Foundation) here. (1) We have to rely upon his judgment that he could tell a straw sale by watching, and that he reports it fairly; (2) the data on this is supposedly in Table 3. Unfortunately, the report has only two Tables. (3) He claims to have observed illegal sales in the immediate vicinity of police officers, which makes one justifiably suspicious that they weren't illegal sales; (4) he claims to have seen 24 straw sales and 3 probables, at 28 gun shows, which doesn't suggest much of an issue, and (5) he claims some behavior that I have never observed at a gun show, such as taking cell phone pictures of guns.
He says California has stronger gun laws than the other four states, and his research shows the result is less illegal trade and proves that tough regulation can work.
He refers to Table 3, which can't be found.
Just as the US expects Mexico to curtail illegal migration
Not a prayer, guys. Haven't you heard that there is a government agency, Grupo B, which gives them bus rides to the border?
the US needs to do far more to help Mexico in its current campaign against powerful drug cartels and to block these private armies from getting US guns.
Understand, CSM editors, the cartels own the Mexican government. There are even standard procedures for getting paid. (Cash is provided via third parties, who can be killed in the unlikely event the bribes are investigated).
he US and Mexico already work together against drug trafficking. But it is weak gun laws in the US – compared with strict ones in Mexico – that help drive the cross-border gun trade.
Those strict Mexican gun laws -- at least this part is true. What is also true is that Mexico has a murder rate 250% that of the US.
Permalink · media · Comments (11)
Posted by David Hardy · 19 July 2007 04:31 PM
I was just told that NRA director Bruce Stern, of Connecticut, died suddenly. As an attorney should do, working at his desk. Very sad -- Bruce was a good fellow, and very funny one, always ready with a joke or witty pun.
UPDATE: there will be family-only services. Memorial donations can be made to NRA Foudation. Condolences can be sent to Judi and his family at 75 Heritage Drive, Trumbull, CT 06611.
I am also told that former director Jim Nicholson of Texas passed on a few days ago. Again, a first-rate fellow. Here's his obituary.
Both were very good men, and I'm happy to have counted them among my friends.
Must be getting old. I got the call on Bruce while I was driving to the funeral for the wife of the fellow who designs my documentary sales webpage. Egad, he must be in his mid-40s. Their three sons were there, the youngest maybe 6-8. Cancer got her.
Posted by David Hardy · 19 July 2007 11:26 AM
Story here. It appears to be a tiny parasite, somehow imported from Asia.
I can tell you that they've died off around here. When the mesquite tree bloomed last year, it was overrun with bees, who love mesquite nectar. This year -- I literally could not find one of them on it.
Posted by David Hardy · 19 July 2007 09:38 AM
The Boston Herald picks up the story. A Boston Globe reporter set up a straw man sale in New Hampshire so he could write a story about it, and the Globe paid for the buy.
Say Uncle notes there's even more to the story -- a leader of the antigunners was involved in the illegal buy, too. Apart from the felonies committed (sale to nonresident, false paperwork), it's interesting that the Globe is comfortable with its reporters working hand-in-hand with such leadership.
Permalink · media · Comments (11)
Posted by David Hardy · 18 July 2007 06:43 PM
On Monday, DC filed for an extension of time to file for cert., and Plaintiffs shot in an opposition this afternoon. Here both are, online.
DC's motion is quite weak. Basically (1) they took two months to decide whether to file, which now leaves them about a month to go, and it's complex, so give us another month and (2) we've taken on some outside attorneys and they need to get up to speed.
Plaintiffs' response hits hard. A petition for cert. hardly takes the research of a brief on the merits (here it almost writes itself: conflict between 5th and DC Circuits and the other CIrcuits, on a major constitutional issue. Respectfully submitted, (insert your name)).
One bit of news -- among the new attorneys on the DC side is a Walter Dellinger, Ass't Atty General, and for one term Solicitor General, under the Clinton Administration. Fuller bio here.
Continue reading "Parker is off and rolling!"
Permalink · Parker v. DC · Comments (15)
Posted by David Hardy · 18 July 2007 04:29 PM
Pretty funny -- long, so it's in extended remarks below. Hat tip to Bernie Oliver..
Continue reading "Comparison of AK, M-16, and Moisin-Nagant"
Posted by David Hardy · 18 July 2007 10:05 AM
Here it is.
Hat tip to Michael Baker...
Posted by David Hardy · 17 July 2007 08:34 PM
At Concurring Opinions, the question is will the Court's 2007 Term be the Second Amendment Term?
"If the Court takes the case, then October Term 2007 becomes The Second Amendment Term. Parker would swiftly overshadow, for example, the Court's important recent cert grant in the Guantanamo cases.

How many Americans would view District of Columbia v. Parker as the most important court case of the last thirty years? The answer must run into seven figures. The decision would have far-reaching effects, particularly in the event of a reversal."
He points out that the only way the Court could overturn the DC Circuit ruling would be to become obviously inconsistent in its treatment of the First, and of the Second, Amendments. The First Amendment establishment clause (as Akhil Amar points out) doesn't proclaim a "right," of the people or otherwise, but only that Congress shall make no law -- meaning Congress also couldn't interfere with State establishments of religion, which would continue to exist for decades. So it can be read as a federalism guarantee -- religious establishment will be a state rather than federal question. Nonetheless, the Court has read the establishment clause very broadly as creating an individual right.
In contrast, the Second Amendment does guarantee a "right of the people." It's hard to see how that can be read as something other than a guarantee of a right, and be consistent with establishment clause jurisprudence.
Finally, he suggests that in the popular eye there would be simpler reaction to ruling against Parker: "Wait a minute. I have a fundamental right to obtain an abortion or to engage in sodomy, even tho the Bill of Rights says nothing about either, yet I *don't* have a right that is spelled out in plain English? The Justices are just making it up as they go along, constitutionalizing anything they think should be protected, and abolishing and right they don't think should be protected."
Permalink · Parker v. DC · Comments (12)
Posted by David Hardy · 17 July 2007 01:39 PM
A humorous clip on YouTube.
Hat tip to Budd Schroeder...
Posted by David Hardy · 17 July 2007 11:03 AM
I'd posted on the OSHA ammunition and components rule earlier, and some commenters pointed out that the electronic comments page appears to be nonfunctional. I just received an email (no link attached) indicating that OSHA has withdrawn the proposed rule and intends to substantially rewrite it before submitting it for comment again.
[UPDATE: just got a link.]
(Agencies can finalize a rule if the majority of comments are against it -- regulatory law isn't democratic -- but like all humans, prefer not to stir up a big controversy unless they think it's really important. Also, they do have an obligation to respond to the substance of comments, to answer at least the major arguments against what they proposed doing, so if comments raised logical issues, beyond just stating an opposition, that might have been a big worry. It's quite possible that OSHA, which probably knows little about guns, ammo, and gun stores, didn't know what it was doing here. Or that the low-level staffer who wrote the proposed rule did know, and was antigun, but the bosses who approved it didn't know and are now aghast at the public response.
When I worked at Interior, a rule would be drafted by a Fish and Wildlife biologist who knew what they were doing. It'd go thru maybe 3 of their supervisors, who knew what they were doing, but would usually just give it a very quick read. It'd then be approved by me, my boss, and his boss, who were attorneys who knew little of wildlife biology or management, and assumed that the FWS folks were correct on those issues. Then it'd go thru 2-3 levels of political appointees for approval, most of whom knew little either of law or of wildlife, and had only a few minutes to read maybe 3" of rule and supporting materials.
So what might have happened here is either (a) the higher levels heard of the controversy and got upset or (b) the lower levels, who clearly would know of it, got worried that the top levels would get upset if they let the proposed rule stand and tried to send up a final rule for approval.)
Posted by David Hardy · 17 July 2007 10:35 AM
I'd agree with previous comments:
Thomas and Scalia are clearly in favor of an individual right;
Roberts and Alito are probably (maybe very probably) in favor of it.
The remainder are unknown.
But I'd add -- don't count on the "liberal wing" as all against an individual right. I know LOTS of folks who are liberal, in the civil libertarian sense, who support an individual rights view. Among my friends -- Don Kates and Mark Benenson (former head of Amnesty International's US branch) helped to start the movement toward recognizing an individual right. Professors William van Alstyne, Akhil Amar, and Sanford Levinson are all very liberal. I could easily see one or more of the liberal wing coming over (even if they might give problems later when it got down to what are reasonable regulations of the right).
Conversely, I doubt there is much risk of a conservative wing justice going to the other side. That was a big risk in former years (Warren Burger and Harry Blackmun, appointed by Nixon as conservatives, turned out to be strongly anti-second amendment, consistent with their "law and order" conservative views). But I don't see the present conservative wing as having those tendencies.
Update in light of comments: the Ginsburg dissent came in United States v. Muscarello, 524 U.S. 125 (1998):
"Surely a most familiar meaning is, as the Constitution's Second Amendment ("keep and bear Arms") (emphasis added) and Black's Law Dictionary, at 214, indicate: "wear, bear, or carry . . . upon the person or in the clothing or in a pocket, for the purpose . . . of being armed and ready for offensive or defensive action in a case of conflict with another person.""
Not definitive, but the association of "bear arms" with "carry a firearm on your person" does suggest that she's open to (if not already subscribed to) an individual rights view. One of the collective rights arguments is, after all, that while "keep" may be a person right, "bear" has a military orientation).

Permalink · Parker v. DC · Comments (13)
Posted by David Hardy · 17 July 2007 10:24 AM
Lott gets an Op-Ed in the Philadelphia Enquirer, "Guns don't kill people, Phila. does."
"In the five years from 2001 to 2006, Philadelphia's murder rate soared more than 36 percent while nationally, the murder rate increased only 2 percent. ...
Why haven't murder rates gone up in the rest of the country? Should Phoenix, the city closest in size to Philadelphia, claim that its murder rate remained virtually unchanged for the last five years because of the supposed lack of new gun control? How should Dallas explain its 24 percent drop in murder?"
Posted by David Hardy · 16 July 2007 09:54 AM
SCOTUSBlog has the story.
The press release, which I'll paste in extended remarks below, says they will ask for an extension of time to Sept. 5 to file.
That'd make the timetable roughly:
Petition: Sept. 5
Response due 30 days after petition is docketed, roughly Oct. 5.
Court returns to start new Term ... first Monday in October is a holiday, so I don't know if that counts, but either Oct. 9 or 15. It rules on the petition when it gets to it.
If it grants, DC's briefs are due 45 days from the grant -- let's guesstimate late November or early December -- Parker's briefs are due 35 days from that, maybe early January, and DC's reply would be due 35 days after that, say early to mid February.
Hat tip to reader Charlie Oldfield.
UPDATE: Here's the Brady Campaign press release on the filing. I find it rather strange. Nowhere does it say anything like "we applaud D.C.'s filing," or support it, or anything like that. It gripes a lot about the DC Circuit ruling, and says the obvious: a ruling would be the "most significant Second Amendment ruling in our history."
Continue reading "DC to file for cert in Parker"
Permalink · Parker v. DC · Comments (18)
Posted by David Hardy · 15 July 2007 05:07 PM
The latest bin Laden videotape:
The Australian proclaims "CAIRO: Al-Qa'ida leader Osama bin Laden has praised martyrdom as a weapon and a path to glory for Muslims in a new video posted on a website yesterday."
CBS says much the same.

The new media: Michelle Malkin's HotAir runs it to ground, shows that the hills in the background exactly match those in a taped interview of bin Laden that was released in 2002 and probably dates to 2001 -- five or six years ago. As she notes, this is a further indication that bin Laden is dead. Why use ancient footage, unless he's not around to be filmed?

Permalink · media · Comments (3)

Posted by David Hardy · 15 July 2007 11:23 AM

Here's the story.

He "attacked what he called a lack of professionalism among terrorists, especially some al-Qaida cells," because " it saddens him that today's terrorists plot to kill ordinary people."

Hat tip to J. Neil Schulman.

Posted by David Hardy · 15 July 2007 12:21 AM

They filed suit. For which the City is paying, of course. Apart from the flimsy legal theory, I'm not quite sure how individual councilmen (as opposed to the city) have standing to sue. Two councilmen want to enact laws, and feel state law precludes them from doing so. Sounds like a pretty abstract debate, as opposed to case or controversy (or any state equivalent thereof) to me.

Posted by David Hardy · 14 July 2007 11:56 PM

Here it is.

Permalink · Politics · Comments (6)

Posted by David Hardy · 14 July 2007 10:20 PM

Over at Balkanization.

The joke is that his high school lab partner, Cal Tillisch, used the following approach to an assignment: "First, draw the desired curve. Then, plot the data. If time permits, do the experiment."

He adds: "I used it as a parable about how not to do constitutional interpretation -- and as a description of how some interpreters (courts, law professors, certainly many first year law students) seem actually to do Constitutional Law, at least from time to time: Pick the desired result, choose an interpretive methodology to match, and then, time permitting, do some research to find supporting evidence."

Permalink · General con law · Comments (0)

Posted by David Hardy · 14 July 2007 07:08 PM

At Reason Online, Jacob Sullum has an excellent article, "An Epidemic of Meddling".

"What do these four "public health" problems—smoking, playing violent video games, overeating, and gambling—have in common? They're all things that some people enjoy and other people condemn, attributing to them various bad effects. Sometimes these effects are medical, but they may also be psychological, behavioral, social, or financial. Calling the habits that supposedly lead to these consequences "public health" problems, "epidemics" that need to be controlled, equates choices with diseases, disguises moralizing as science, and casts meddling as medicine. It elevates a collectivist calculus of social welfare above the interests of individuals, who become subject to increasingly intrusive interventions aimed at making them as healthy as they can be, without regard to their own preferences."

Posted by David Hardy · 13 July 2007 11:48 PM

My support for Fred Thompson wavers, as Iowahawk picks up critical endorsements.

Via Instapundit.

Posted by David Hardy · 13 July 2007 09:43 PM

Officer Keith Mouliere (Alexandria LA) sets out to pull over a speeder, the guy flees, crashes the car, jumps out while carrying a bag, gets hit by the squadcar, then falls because his pants fell down during the chase. The bag turns out to hold a goodly stash of crack cocaine (suprise). Story here.

Posted by David Hardy · 13 July 2007 06:26 PM

It's been disclosed that Sen. Vitter (R-La) was a frequent customer of Deborah Jeane Palfrey, who ran a string of DC area call girls.

Reporters asked his wife if she's going to take it as Hillary Clinton did. Her reply:

""I'm a lot more like Lorena Bobbitt than Hillary," Wendy Vitter told Newhouse News. "If he does something like that, I'm walking away with one thing, and it's not alimony, trust me.""

I bet if he looked for armor on EBay, the Senator could find some chain-mail underwear...

Egad--looks like the Washington Madam blew it, er, lost her big chance. Hustler magazine was offering $1 million for proof of legislative hanky-panky; she could have sold that CD with images of her phone calls and had a million in the bank.

Posted by David Hardy · 13 July 2007 06:07 PM

We're largely cut off from town (can still get there by going east, then south, and coming back west), have been for about 3-4 hours. First clue was lots of sirens and emergency vehicles really hauling tail.

News says a Honda Accord, full of teenagers, was speeding south down Bear Canyon Rd when they lost control and went head-on into a pickup. The Accord was pretty well demolished. The two in the front seat were killed, three others had non-life threatening injuries. Which, considering the state of the Accord, is very lucky.

In my last try at getting thru, deputies were searching both sides of the road (it's sealed off about a quarter mile from the actual accident site). I assume looking for missing car parts.

Understand, this is a 2 lane road; in a dozen years here, this is only the second accident I've seen on it. Some of the younger drivers do tend to take it rather fast (you want to be careful when the high school above us lets out).

Permalink · Personal · Comments (0)

Posted by David Hardy · 13 July 2007 05:29 PM

The case I blogged a few days ago, about the guy who went into a bank with a bomb fastened around his neck, and ultimately got blown up...

Just got a LOT wierder. As one commenter said, if anybody had made a TV series on it, they'd have been laughed off as ludicrously implausble.

The full story now involves:

Cocaine;

a hooker;

a doublecross (the guy was in on the plot, having been told it was a fake bomb, and was only told it was real at the last moment);

a "treasure hunt" for clues (after robbing the bank, he was supposed to follow a chain of clues until he got to the last one, that would tell him how to take the bomb off);

a plot to murder a woman's father, so she would inherit;

a hit man who was to be paid from the bank robbery;

a suicide note that gave clues as to who else was involved; and

a body in a freezer.

Permalink · Crime and statistics · Comments (4)

Posted by David Hardy · 13 July 2007 12:50 PM

Queen Elizabeth meets with Britain's three surviving WWI vets. The oldest is 106, which means that (like the U.S.'s longest surviving Civil War vets) he was more than a bit underage when he enlisted (as in 14-15 at the Somme).

Understand, this fellow was born in the first year of the reign of Edward VII. In American terms, he was born the year after President McKinley was assassinated, and Teddy Roosevelt took over.

Continue reading "I guess if you survived the Somme you're hard to kill"

Posted by David Hardy · 13 July 2007 09:38 AM

Clayton Cramer has a take on the bill and, while I haven't puzzled thru all its details, I agree with all the points he makes. It puts more mental health records in the system, but doesn't bar anyone who is not already barred. On the other side, it gives those who are barred (and at the moment a committment is a lifetime bar) an avenue (I think two avenues, but my memory may be off) to get the bar lifted. That alone will benefit two (former) shooters that I know.

Yep, I think it's a big improvement in this area. What formerly was available -- "relief from disability" (to own a gun) granted by BATF (which was actually pretty decent about granting it) has been blocked for over a decade by budget riders forbidding BATF to spend any funds for that purpose. The bill, as I recall, mandates that States create systems so that persons with a committment can get relief that way, and also creates a federal system for VA committments, etc.. It's not called relief from disability, so the budget riders shouldn't affect it.

Permalink · prohibitted persons · Comments (9)

Posted by David Hardy · 13 July 2007 09:13 AM

Here. The lady's husband shoots the burglar while the operator is still asking foolish questions. The questions that follow are the funny ones, tho. BLAM! "My husband just shot him." "Does your husband have a gun?"

Hat tip to Budd Schroeder....

Permalink · Self defense · Comments (8)

Posted by David Hardy · 12 July 2007 01:58 PM

Pro-gun Demos teamed with Reps to keep it in place. Sounds like the debate got a bit hot:

"The committee chairman, Rep. David Obey _ a liberal Democrat representing a rural Wisconsin district _ said the issue was only marginally related to gun rights. He opposed the efforts to ease the data restrictions.

But Obey lashed out at both the NRA, which failed to endorse him in his most recent race despite his pro-gun rights record, and Bloomberg. He said the mayor's representatives came to his office and threatened to run television ads attacking him."

[Hat tip to reader Bill Taggart]

Posted by David Hardy · 12 July 2007 10:49 AM

I bet this entry gets deleted....

UPDATE: it's been deleted. But if you look in comments, you'll see a link to a screen capture by Matt Maynard, who tipped me off.

Permalink · BATFE · Comments (4)

Posted by David Hardy · 12 July 2007 09:41 AM

At the Volokh Conspiracy, there's a post on law enforcement in the District of Columbia.

Frankly, I suspect DC police just get demoralized and jaded. Trying to enforce the law in a city where a sizeable percent of the population are convicted felons (I forget now the proportion, but it was pretty high), crime is constant, etc. must be pretty demoralizing after years.

To give you some idea of what I mean when I saw crime is constant: at one point they sent fire engines down the streets, shooting water under parked cars. Why? The coke dealers all hung out on those streets, and put their inventory under the cars. A customer would buy, and they would direct him to get it from under the car. That way they figured that, if busted, there would be no proof they possessed the coke. The volume of trade was so large that DC found it easier to just wash it all down the drain than to do what would be necessary to set them up.

Permalink · Crime and statistics · Comments (0)

Posted by David Hardy · 12 July 2007 09:15 AM

It's a three part (so far, more are being added) series, starting here.

Posted by David Hardy · 12 July 2007 09:09 AM

Story here. This one is too wierd to describe, read the story.

Permalink · Crime and statistics · Comments (3)

Posted by David Hardy · 11 July 2007 11:02 PM

Worse than most. Two Philadelphia city councilmen sue the state over gun laws, because it has shown "blatant disregard and disrespect for Philadelphia and its residents.".

That must come under the "it's just not fair" provision of constitutional law.

Update: as expected, it's a cheesy publicity stunt.

Posted by David Hardy · 11 July 2007 08:26 PM

There's a comparison of Ron Paul and Fred Thompson over at Republic Renaissance. (Since the blog has R. Paul's picture in the margin, you can guess how the comparison works out).

And Thompson himself has a post over at Powerline. (Hat tip to David McCleary and to Instapundit).

Permalink · Politics · Comments (6)

Posted by David Hardy · 11 July 2007 11:31 AM

JPFO has a trailer for its film, "The Gang" on (subject ATF abuses) on Youtube.

Permalink · BATFE · Comments (0)

Posted by David Hardy · 11 July 2007 11:30 AM

My friend Dan Gifford will be on CNN's Glenn Beck show today, topic being Michael Moore.

Posted by David Hardy · 11 July 2007 08:40 AM

The DC mayor says the city will decide on whether to go to the Supremes within the next week. (That's inevitable: they have until August 8 or so to file, and it can take weeks to get the petition and record printed. Yes, the Supremes require real offset printing).

[update in light of comments: Back 20 years ago, I was told there was a sporting goods store in DC that had an FFL. I doubt you could get one today. A expensive solution might be to buy antique arms, those made before Jan. 1 1899, which are not "firearms" under the Gun Control Act and thus can be sold interstate. Rifles would be easiest to find (Krags, 1893 Mausers, etc.) but at greater expense you could probably get, oh, Colt Single Action Armies, etc..]

Permalink · Parker v. DC · Comments (14)

Posted by David Hardy · 10 July 2007 04:01 PM

The 9th Circuit just handed down an affirmance in US v. Gonzales (pdf here). Facts: shortly after takeoff a passenger got hysterical, demanded that the plane land, paced around, started opening overhead bins and shouted he had a bomb and was going to blow the plane up.

The opinion quotes a flight attendant on the results. Yes, some passengers started screaming "we're all going to die." As for the rest:

"I saw many of our male passengers unbuckle their seatbelts and they stood up and they — I remember seeing the people throwing punches and everybody, you know, they were all on top of Mr. Gonzalez. . . . [Gonzalez] was hysterical and he was swinging and kicking and he was just — he was hitting and kicking passengers and the passengers were trying to take him down and hold him down."

They ultimately tied him up. The 9th Circuit upheld the trial court's decision to enhance the sentence by nine levels, and then max him at 27 months' imprisonment.

Permalink · Self defense · Comments (4)

Posted by David Hardy · 10 July 2007 02:58 PM

Gun Owners' Action League has the story. John Rosenthal, of Stop Handgun Violence and American Hunters and Shooters Association, went on a radio show to discuss his latest anti-NRA billboard, and in the process explained how he'd made a straw man purchase at an out of state gun show, after licensed dealers refuse to sell to him.

Not that he'd have to worry about prosecution, of course. Which is why he felt free to confess to a federal felony over the radio. Oh, and the Boston Globe paid for the buy.

[UPDATE: the theory of a strawman sale is (1) if the ultimate recipient is not able to buy (here, he's a nonresident), then he has made an illegal purchase through the use of a third party and (2) whether he's an illegal buyer or not, he's a party to making a false record in connection with a firearms purchase (getting the straw man to fill out the 4473 claiming that he is the purchaser), which is likewise a felony. (2) is even clearer today, when, as I recall, the 4473 form has a clause specifically asking if you are buying for someone else.]

Permalink · antigun groups · Comments (12)

Posted by David Hardy · 10 July 2007 01:58 PM

Mayor Harry Moore, of Oldmans Twnsp, NJ, has resigned. Here's his resignation letter.

"I joined your coalition because of its purported purpose to combat the criminal acquisition and misuse of guns, which is a goal shared by all Americans. Regrettably, it has become abundantly clear to me that you are using this coalition of mayors to advance a hidden agenda of bringing lawsuits against members of the firearms industry and spreading anti-gun propaganda.
......
According to ATF and the Department of Justice, your actions in having civilian private investigators conduct clandestine sting operations against federally licensed firearms dealers, without the knowledge of ATF or your own police department, actually interfered with ongoing criminal investigations, putting the lives of law enforcement officers and others at risk. The Department of Justice warned you to refrain from these actions because such efforts could "interrupt or jeopardize ongoing investigations." In response, your Deputy Mayor Ed Skyler stated that the operations would not necessarily stop. I do not want the blood of a police officer on my hands so that you can advance your anti-gun litigation campaign. I prefer instead to support the Fraternal Order of Police, a group that opposes your coalition's efforts to gain access to gun trace data for use in civil lawsuits."

Permalink · antigun groups · Comments (1)

Posted by David Hardy · 10 July 2007 12:42 PM

I'm not into modern music, but here's a pro-Second Amendment piece.

Hat tip to Eric Schultz...

Posted by David Hardy · 10 July 2007 09:18 AM

Governor Blagojevich suddenly advocated magazine size limitiations, just at a moment when he needs to distract attention from budget woes and his proposal for a $7 billion tax increase. Story here.

Permalink · State legislation · Comments (2)

Posted by David Hardy · 9 July 2007 11:20 PM

A Texas legislator, one of the minority who voted against "castle doctrine," has shot an intruder in a house that the legislator owned.

Posted by David Hardy · 9 July 2007 05:50 PM

According to its website, WAVE, or the Wisconsin Anti-Violence Effort (which strangely only seems interested in firearms violence), is "Wisconsin's only statewide grassroots organization solely dedicated to reducing gun violence, injuries and deaths."

It goes on to list its accomplishments:
"A fully functional professional organization has been created essentially from scratch and is now up and running with a solid infrastructure.

An active coalition of partner groups is in place, drawn from sectors including public health, violence prevention, law enforcement, families and children, education, faith, grassroots, community and neighborhood-based, and others."
Curiously, it doesn't seem to have any true members, just contributors. The only staffer identified is an excutive director who is mentioned in press releases. And its newsletters only go back to 2006. This "grassroots" group seems to have appeared out of nowhere in the last year. How did they muster public support?
They didn't. Bouncing over to the Joyce Foundation's lists of antigun grants, we find:
"Thursday, November 30, 2006 Printable version
WAVE Educational Fund
Milwaukee, WI
Amount: $630,000.00"
Permalink · antigun groups · Comments (5)
Posted by David Hardy · 9 July 2007 05:47 PM
I'd posted on this debate months ago, but Michelle Malkin's HotAir appears to have the final word.
Posted by David Hardy · 9 July 2007 11:51 AM
Over at The Unblinking Eye. It covers Walthers, the 1908 Bayard, the Browning 1910 and its imitators, not to mention grips, holstermaking, etc.
Permalink · shooting · Comments (2)
Posted by David Hardy · 8 July 2007 05:31 PM
Story here.
What I don't understand is this -- Jesse Jackson normally extorts firms with enough money to be worth shaking down. More here and here.
Maybe he's desperate for cash this month. But it's so undignified, like Al Capone collecting protection money from lemonade stands.
Permalink · antigun groups · Comments (8)
Posted by David Hardy · 7 July 2007 06:13 PM
I've got seven clips posted (in addition to the original trailer) over at YouTube.
The new clips concern: the 14th Amendment, arms in the civil rights movement, and a city/police agency has no legal duty to protect you.
Permalink · documentary film · Comments (0)
Posted by David Hardy · 7 July 2007 12:03 PM
He's posted his Congressional testimony on the subject at Reason Online.
Posted by David Hardy · 6 July 2007 10:16 PM
Academy Award nominated producter Dan Gifford ("Waco: The Rules of Engagement") has written a letter to the Academy asking -- in the documentary category, does truth matter any more, or is it just a subdivision of fiction/entertainment? Text is in extended remarks.
Continue reading "Letter to the Academy (Awards)"
Posted by David Hardy · 6 July 2007 09:24 PM
Not bad, actually. One big error is a reference to " lawyers for the National Rifle Association—who helped steer the legal strategy of the plaintiffs and backed them financially...." Which wasn't the case at all. But then the heights of academia probably feel it necessary that a major legal matter not be brought by a couple of attorneys on their own buck, just as in tales of ancient Greece it is necessary that the invader have at least a million men (even tho it would have been impossible to move, or feed, a fraction of that number).
I like this segment:
"Pro-gun activists like Froman are confident that the Court will hear an appeal by the district in Parker, and they say that they couldn't have gotten this far without help from an unlikely quarter: liberal law professors. In the past 20 years, several prominent legal scholars known for liberal views, including Professor Laurence Tribe '66, have come to believe that the Second Amendment supports the individual-rights view. In the 2000 edition of his treatise "American Constitutional Law," Tribe broke from the 1978 and 1988 editions by endorsing that view. Other liberal professors, including Akhil Reed Amar at Yale Law School and Sanford Levinson at the University of Texas at Austin, agree.
"My conclusion came as something of a surprise to me, and an unwelcome surprise," Tribe said in a recent New York Times interview. "I have always supported as a matter of policy very comprehensive gun control.""
Permalink · Parker v. DC · Comments (1)
Posted by David Hardy · 6 July 2007 09:33 AM
According to this story, the city is establishing a program where, if a citizen consents to an officer searching their house for guns, they won't be charged based on any guns found.
I could grasp the idea of an amnesty, but can't see the relevance of consent to search. Of course, the reporter might be off base here. Or maybe the idea is that a person only gets amnesty if he lets officers search the house to make sure that's the only one. (One problem with drafting amnesties, BTW, is figuring out how to exclude someone who's already cornered: you don't want a team to execute a search warrant and be told as they enter "there are sawed-off shotguns upstairs, I want to turn them in and get the benefit of the amnesty."
I'll stay in AZ, thank you. Where if an officer asks you what guns you have in your house, the next question is likely to be how much you want for the Glock.
Posted by David Hardy · 5 July 2007 12:25 PM
OK, it got up to 110 yesterday, and soon will be summer. But in DC:
1. A storm swept into the area, with tornado warnings in the VA suburbs, forcing evacuation of the Mall. It swept out in time for the fireworks to go on.
2. But after the display, one of the unfired ones detonated, injuring two workers.
3. And in the suburb of Vienna, a projectile burst in the crowd, leaving ten injured, two with life-threatening injuries.
Posted by David Hardy · 5 July 2007 09:46 AM
Now BBC publishes a pretty fair article on Americans and guns. It opens with an interview of Suzanna Hupp, no less.
But here in the US, the Sandusky Register, presumably hard up for controversy, publishes the names and addresses of CCW permit holders. Who respond by searching public records on the publisher and putting them online (they're polite enough to redact his SSN).
Hat tip to Dan Gifford.
Permalink · media · Comments (2)
Posted by David Hardy · 4 July 2007 03:00 PM
Posted two more on Youtube. Going to create and post a few more later this week. (Note that the video transitions are grainy, because of the degree to which YouTube compresses the video).
Posted by David Hardy · 4 July 2007 01:56 PM
From the Philippines comes this story:
"Neither does the Philippine National Police have the appetite to go after Bedol for admitting that he owned a cache of 20 firearms. Such private armories are normal among traditional clans in the Autonomous Region in Muslim Mindanao, according to Chief Superintendent Joel Goltiao, ARMM police director.
Under the country's tough gun laws, civilians are not supposed to maintain such weapons stockpiles. But Philippine laws apparently do not apply to the ARMM, as far as the PNP is concerned. A study in 1995 reportedly showed that 80 mayors in the region each owned at least 60 firearms, including assault rifles, grenade launchers and M60 machine guns."
And in Nigeria, with the elections over, the the bottom has fallen out of the machete market.
Meanwhile, Canadian polls show little support for more gun control, and support for easing what exists.
Permalink · non-US · Comments (2)
Posted by David Hardy · 4 July 2007 10:35 AM
What looks like a pretty fair treatment, at the Tulsa World.
Hat tip to Budd Schroeder...
Permalink · CCW licensing · Comments (1)
Posted by David Hardy · 4 July 2007 10:30 AM
It's an email, and as it's rather long, I'll put it in extended remarks below.
Continue reading "Don Kates on arms and genocide"
Permalink · arms vs. genocide · Comments (1)
Posted by David Hardy · 3 July 2007 01:40 PM
"When he leaned inside, trying to yank the mother out of the car, the 17-year-old grabbed the gun, Fortunato said. He said it went off once as they struggled, but did not hit anyone. Once the youth got the gun, he shot Chestnut several times, Fortunato said."
Update: the attacker was wanted for Murder One.
Permalink · Self defense · Comments (4)
Posted by David Hardy · 3 July 2007 11:18 AM
From the "Rainbow Coalition" website: "Rev. Jesse L. Jackson Sr., founder and president of Rainbow PUSH Coalition, announced today he will organize a national day of protest in 25 cities on Aug. 28, 2007, to rally support for legislation to restrict gun sales."
I did get a chuckle from this. I suppose it would help if he knew something about the subject:
"The National Rifle Association, a powerful special-interest lobbying organization and chief proponent of lax rules for gun ownership, is promoting a federal bill that would, among other things, eliminate any limits on the quantities of guns an individual may purchase."
Permalink · antigun groups · Comments (6)
Posted by David Hardy · 3 July 2007 10:04 AM
The Occupational Safety and Health Admin. has proposed rules for transportation of ammunition and components. Here's the NSSF's take on them. The paragraph that caught my eye:
"As written, the proposed rule would force the closure of nearly all ammunition manufacturers and force the cost of small arms ammunition to skyrocket beyond what the market could bear—essentially collapsing our industry. This is not an exaggeration. The cost to comply with the proposed rule for the ammunition industry, including manufacturer, wholesale distributors and retailers, will be massive and easily exceed $100 million. For example, ammunition and smokeless propellant manufacturers would have to shut down and evacuate a factory when a thunderstorm approached and customers would not be allowed within 50 feet of any ammunition (displayed or otherwise stored) without first being searched for matches or lighters."
Here's a discussion, and at the top a link to where you can file an electronic comment (a rather complicated process).
UPDATE: one commenter points out that OSHA cites, as a reason for the rule, a 1947 explosion. As OSHA admits, that was a huge detonation of ammonium nitrate fertilizer. I know a bit about it because it gave rise to a Supreme Court case construing the Federal Tort Claims Act.
Basically, in order to get fertilizer to Europe after WWII, the federal government cut a lot of corners. It allowed the stuff to be bagged when it was too hot for safety, allowed it to be put in waxed sacks (more waterproof, but if the wax melts it becomes the equivalent of fuel oil in a ANFO bomb), etc., etc.. The port of Texas City was full of boxcars of the stuff when some of it spontaneously ignited, then detonated -- the resulting explosions essentially levelled the town.
Some people sued the government -- it had, after all, ignored all the standard industry safety standards. They lost because the Supreme Court ruled that the situation fell under the "discretionary function exception" to the FTCA. The agencies that ignored the safety standards had discretion to do so, and had essentially made judgments that speed of production was worth the risk to life, and that was that.
A rather strange case to invoke for an argument that government regulation is necessary in order to make us safer.
Posted by David Hardy · 3 July 2007 09:20 AM
The Plain Dealer has the story. This is in relation to BATFE activities at Richmond, VA area gun shows a while back, where they were getting addresses off 4473s and driving to the address to make sure the person lived there (and in some cases asking the spouse if they were OK with them buying a gun), etc..
Update: here's the report, in pdf.
Permalink · BATFE · Comments (0)
Posted by David Hardy · 2 July 2007 06:03 PM
The Calif. Rifle and Pistol Ass'n is circulating an alert (below the fold here) on a bill that just passed the Assembly, which would ban use of lead centerfire ammo for hunting within California Condor range, which is a large portion of central and southern California.
Continue reading "Lead ammo ban at issue in CA"
Permalink · State legislation · Comments (9)
Posted by David Hardy · 2 July 2007 02:22 PM
From ABC News: a punk tries to swipe money from a 72 year old fellow's pocket, and discovers too late that he's a Marine who has kept in good shape. The Marine grabs the guy's wrist and unloads a large can of whupass on him, then the store manager charges in to help.
Permalink · Self defense · Comments (1)
Posted by David Hardy · 2 July 2007 12:13 PM
The Washington Examiner reports that the National Press Club cancelled an appearance by Venezuelan Students Abroad, who wished to speak on human rights abuses in their country, after the Venezuelan Embassy objected.
Always nice to see how seriously the press takes freedom of speech. It's unclear whether the principle involved is (a) you may only address human rights abuses if the abuser has no objection, or (b) you may only criticize human rights abuses if the abuser is not on the political left.
Permalink · media · Comments (5)
Posted by David Hardy · 2 July 2007 11:38 AM
Decision of the Day reports an 8th Circuit ruling on felon in possession. The defendant had been convicted in 1984 of selling meat in violation of the Federal Meat Inspection Act. In 1994 he brought a declaratory judgment action to determine that this was not a disability to own guns, but the 9th Circuit ordered dismissal for lack of standing. In 2005, he was charged and convicted of felon in possession.
His defense (and I assume the basis of the dec. action) was that the GCA says certain business offenses are not within its definition of felony conviction:
"The term "crime punishable by imprisonment for a term exceeding one year" does not include—(A) any Federal or State offenses pertaining to antitrust violations, unfair trade practices, restraints of trade, or other similar offenses relating to the regulation of business practices."
His focus was of course on the "or other similar offenses" language. The Eighth Circuit opinion (pdf) goes against him, and affirms his conviction.
Interestingly, Judge Bright's dissent argues that the statute (at least in this context) is void for vagueness. "The similar offenses clause of § 921(a)(20)(A) could be read as the majority determines, or otherwise, as contended by Stanko. Either is a plausible interpretation of the text. Stanko should not be convicted under a statute that is so uncertain as to its meaning, and therefore I respectfully dissent." He also points out that the earlier 9th Circuit ruling underscores his concerns: "our system of laws should not accept a statute so vague that an individual must suffer the harm of a § 922(g) conviction before learning from the courts whether his prior conviction falls within the scope of § 921(a)(20)'s exemptions."
BTW--I remember how this exemption got into the law. It dates from before GCA 68, back when they had the looser Federal Firearms Act. A major company that had an ammo business -- might have been Olin -- got convicted of felony antitrust violations, as I remember. So Senator Dodd, who was always on the lookout for fast influence and cash, got this amendment passed so the corporation wouldn't have to sell off its ammo business.
[UPDATE: Yup, it was Sen. Tom Dodd, father of the present Senator. He set something of an early record for corruption, and got censured by the Senate (for what he got caught at -- there was a lot that he got away with. In those days, you could take a "campaign contribution" and essentially stick it in your pocket if it wasn't used for campaigning, none of the modern idea of campaign contributions are separate from your personal bank account. So he'd announce some big investigation of, oh, insurance companies, gun companies, drug use in professional sports. And after the recipients of legislative attention sent the right contributions, would abandon the inquiry.
So why GCA '68? The answer is that the major domestic gun manufacturers WANTED the legislation. They were getting killed by interstate mail order houses selling cheap military surplus. They wanted something to (1) outlaw imports of surplus -- which GCA 68 did, in a provision later relaxed -- and (2) require people to buy from dealers in their own state, thus ending the mail order houses.]
Permalink · prohibitted persons · Comments (3)
Posted by David Hardy · 1 July 2007 08:16 PM
"Victims of Crime Trust director Norman Brennan said Britain was quickly gaining a reputation as being one of the most violent countries in the Western world, scarring communities and leaving millions in fear of crime.... "A child is stabbed to death on the streets of Britain every week and knife homicides out number gun homicides by three to one. If these measures were introduced it would greatly reduce knife crime and consequently save lives."
Permalink · non-US · Comments (5)
Posted by David Hardy · 1 July 2007 01:16 PM
Story here. A British shopkeeper pursues shoplifters, two of them attack him and one of them kicks him in the groin, he fights back. The shoplifters are given "penalty notices," the shopkeeper is charged with criminal assault and fined.
"The act was aggravated by the fact you kicked the victim on the ground. We feel it has been mitigated because you acted in self defence."
Hat tip to Dan Gifford.