« August 2006 | Main | October 2006 »
September 2006
Posted by David Hardy · 30 September 2006 12:08 PM
Just came across Women and Guns, published by the Second Amendment Foundation. Since it's on volume 17, I suppose it's not new, but it was new to me.
Also found a website for NRA-certified instructors.
Posted by David Hardy · 29 September 2006 08:46 PM
BATFE's headquarters' website has this pdf file explaining gun laws for the public.
On pages 73 and 75 (of the pdf) it shows shotguns with barrels shortened to "less than 16 inches", and states that "Since this weapon exhibits a barrel shorter than 16 inches, it is subject to the NFA regulations governing minimum dimensions..."
Uh-- the NFA limits for shotguns are 18 inches, not 16. The 16 inch limit only applies to rifles (because after WWII the government found to its embarassment that it had sold loads of M-1 carbines, as surplus, with 16 1/4 barrels). Shotguns with barrels under 18" have been subject to NFA registration since the statute was enacted in 1934.
Considering that possession of an unregistered shotgun with a barrel under the limit is a federal felony, with a prison sentence of up to ten years, you'd expect headquarters would be a little more accurate in its description of the law to the public....
Posted by David Hardy · 29 September 2006 09:24 AM
Story here.
Posted by David Hardy · 29 September 2006 09:09 AM
A Newark, NJ program to crack down on firearm crime by actually cracking down on repeat and violent offenders has been scrapped, over the objections of police.
Apparently the assignments judge didn't like it. The primary reason for scrapping was that the only verifiable result was higher bails. Well, as with the BATFE effort discussed below, you really can't implement a local program, wait a year or two, and expect someone to produce objective statistical evidence that it affected crime. Crime rates go up and down for reasons we can only partially explain (classic case: murder trends tend to mirror trends in accidental motor deaths -- but why?). You can't just say rates went up or down after you did something, and that proves what you did worked or didn't work. At the local level, where numbers are smaller, there can be quite a bit of random variation.
I find it rather strange that efforts to enforce gun laws against serious offenders are subjected to a standard of "produce objective proof that this actually reduced crime," whereas enactment of additional regulations is tested by something more like "sounds like a nice idea."
Hat tip to Joe Olson.
Posted by David Hardy · 28 September 2006 12:05 PM
VCDL has set up a defense fund for the two Virginia FFLs sued by Bloomberg and who have refused to settle. The donation page is here.
After entering the amount and clicking 'Continue,' you need to enter "Gun Dealer Legal Defense Fund" at the bottom in the "Message to Seller (Optional)" field. (Alternate instructions for mailing check are in extended remarks below).
Continue reading "Defense fund for Bloomberg suits"
Posted by David Hardy · 28 September 2006 11:47 AM
A few years ago, BATFE got $20 million for a violent crime initiative, and thereafter announced its success. Justice Dept's Inspector General thinks otherwise. (pdf file).
A quick read suggests (1) it was a pretty good plan -- zero in on small violent crime hotspots, and focus on the worst perps in them; (2) headquarters, however, designated the targets with little input from the field agents, who might actually know the local conditions; (3) followthru on the plan details was lacking (sounds as if focusing on the worst of the worst wasn't yielding many arrests, so the offices gradually expanded it to include bad guys in general, not a bad thing but not in accord with the plan) and (3) the success consisted of showing declines in gun homicides city-wide, not just in the targetted areas, and in cases where it was limited to the targetted areas, the number was so small that large percentage variations could be expected (one target area had a 50% drop -- but we're talking about going from four homicides to two, which could be sheer chance).
I suspect it'd be impossible to show success or failure by the test being used (six months before and after, in a small area). If you did put the ten worst perps in jail for ten years, the benefits will be spread over ten years -- and only begin with their arrest, which won't happen the day the program starts.
Posted by David Hardy · 27 September 2006 01:33 PM
The House Report on HR 5092 is online here. As is usual, the first part of the report just sets out the language as reported by committee, the explanations are later.
(The link comes via a website search engine. I tested it, but if it doesn't work, go here, click on "search committee reports" and enter HR 5092.
Posted by David Hardy · 27 September 2006 09:55 AM
The Philadelphia Inquirer actually covered the pro-gun side of the legislative debate in PA.
Gad, here's another article in it, saying that studies have shown the laws being proposed have no effect.
Rather astonishing....
Posted by David Hardy · 26 September 2006 01:34 PM
Chronwatch has an article on UN "peacekeepers" who commit rape and related crimes, and are let go, which forms an interesting contrast to their claims that arms ownership is bad for women since they might be victimized. An interesting quote:
Now consider the contrasting experience with women in Liberia. Some were abused, and some were not. The reason some were not is most instructive.
The first report states: "U.N. peacekeepers sexually abused and exploited local women and girls in Liberia." The allegations ranged from "the exchange of goods, money or services for sex to the sexual exploitation of minors." Repeating a now-familiar refrain, the article noted: "Currently, U.N. troops and employees accused of wrongdoing are sent home to be dealt with by their own government but are often never punished."....
Counter to the stories of exploitation by both locals and U.N. peacekeepers, a number of women in Liberia found that by arming themselves and uniting into combat units, they were able to protect their personal sovereignty during that country's civil war:
"Black Diamond, 22, says she joined the rebel forces after being gang-raped by the notoriously ill-disciplined and unpaid forces loyal to former President Charles Taylor in the northern Lofa county in 1999.
" 'There were many reasons, but that was the key one. It made me want to fight the man who caused all that, because if you are a good leader you can't behave like that,' she is quoted as saying by Reuters news agency.
"Many of Black Diamond's female comrades have similar tales…"
Not only are the women able to move about in relative security––considering this is a war zone––they were respected as fighters as well. Most importantly, they had the means to defend the honor of their fighting comrades as well as other female victims:
"Liberia's Health Minister Peter Coleman has met many women fighters during the 14 years of warfare and says they are prized by their senior commanders.
" 'They don't get drunk and they take their mission very seriously,' he said.
" 'I saw a woman shoot another officer because he raped a woman.'"
Via Dave Kopel at the Volokh Conspiracy.
Posted by David Hardy · 26 September 2006 12:23 PM
I have an unconfirmed report that HR 5092 passed the House by an overwhelming 277-131 vote.
UPDATE: consider it confirmed. Here's the Brady Center condemnation of the vote.
Posted by David Hardy · 26 September 2006 11:47 AM
Cecil Brooks, who made the handcrafted muzzle-loaders that NRA presented to dignitaries at each annual meeting, died Sunday, age 93 His guns has been presentation pieces at the annual mtg since 1955. He'd started out as a blacksmith and woodcarver, shifting into firearms in the 1920s, and into custom guns in the 1930s (his first piece is in the Ohio State Museum in Columbus).

Visitation Tuesday, September 26, 2006
2:00 PM - 4:00 PM and 7:00 PM - 9:00 PM
McCurdy Funeral Home, 309 6th Street
Beverly, Ohio 45715

Funeral Service Wednesday, September 27, 2006
1:00 PM at McCurdy Funeral Home

Cards & letters may be sent to his wife Mary at:
Mary Brooks
604 Fifth Street
Lowell, Ohio 45744
Posted by David Hardy · 26 September 2006 09:05 AM
Off topic, but too good to not to pass on. Don Kates sent, by email, an article which I think is superb. It's by a prof. emeritus of history at Princeton. The points it makes are that the current mindframe in much of the mideast is not so much traditional Islam, as a 20th century form of it, driven by quite modern occurences, including:
1. During WWII, the French holdings in the Mideast (chiefly Syria and Iraq) fall under Vichy/Nazi control, and the Nazis spent the years loading the area with propaganda for the fascist approach to government. This form (literally) of islamofascism gives a model to the Baathist party. This supplanted traditional Mideastern approaches to government (which involved conciliating and keeping happy a wide variety of tribes, elders, etc. -- not democracy, but not autocracy, either).
2. The House of Saud unites Saudi Arabia, and happens to be of the Wahhabist variety of Islam, stricter and more, shall we say, revolutionary than the mainstream. After oil is discovered in the 1920s, this gets a major economic boost.
3. More recently, the Iranian revolution, and the defeat of the USSR in Afghanistan. The west saw the latter as the defeat and eventual downfall of the Soviets by the West. The Mideast saw it, more correctly, as the defeat of a western world power by radical Islam.
Full article in extended remarks.
Continue reading "Situation in the mideast"
Posted by David Hardy · 25 September 2006 09:28 PM
Colt CCO reports he's suffered a heart attack and is no expected to survive.
UPDATE: comments here and elsewhere indicate he's passed on. He was one determined fellow. For the last two years or so he showed up at NRA Board mtgs in a wheelchair. He might be too weak to stand, but he was going to do his duty.
Condolence cards may be sent to his wife:
Mrs. Janelle Cooper
2950 West Gunsite Road
Paulden, AZ 86334
Posted by David Hardy · 25 September 2006 08:16 PM
Spank that Donkey is hosting the Best of Carnival of Cordite.
Posted by David Hardy · 25 September 2006 07:51 PM
Calif. Rifle & Pistol Assocation reports that the LA city council will consider a measure making it a crime to fail to report a lost or stolen firearm within 48 hours.
The strange part about those laws to me is -- why wouldn't a person report a theft? The logical reason is that they know it's wasted effort since it won't be investigated. Police are overloaded with theft reports, and really can't take much time. I've reported two thefts that I recall. In one, a detective did call back and said he would check pawn shop reports for the sertial numbers. In the other, the theft was from a glove compartment, I offered to drive it down to the PD parking lot so they could fingerprint the inside of it without having to do anything other than come out of the office. They declined, giving me some tale that fingerprints "evaporate" and thus would already be gone. My father had one gun theft, and never bothered to report it since, he observed, nothing would be done anyway.
Posted by David Hardy · 25 September 2006 10:27 AM
The NY Sun has run an article that actually covers critics of the Bloomberg lawsuits.
Posted by David Hardy · 24 September 2006 10:23 AM
The Phil. Inquirer is announcing that thousand will descend "by bus or by foot" on the state capitol to demand more gun laws. (I can't find the link, but somewhere I saw an article that the march on the capitol consisted of two people -- here's an article putting the number at "less than ten.")
And if you're in PA, here's a schedule of gunshows that I found.
Posted by David Hardy · 24 September 2006 10:06 AM
The Congressional Budget Office has a report on the projected cost of the legislation (pdf file, but small). Sounds modest, mostly hiring admin law judges and additional attorneys.
Giving the power to ALJs is, I think, a good idea (if done correctly). The ALJs at Interior were their own organization, and handled a wide range of cases from different agencies, so they didn't build up loyalty to any one agency. There were some who were known to be cozy with an agency -- but then, a district judge can be, too -- but most struck me as trying to do the right thing.
It would certainly be better than the present system, where one BATFE office issues a notice of revocation, and if it is challenged, the hearing is held before, and the decision made by, a BATFE agent from another district. Nobody in an agency wants to tell their peers that they are wrong, or do something that might constitute questioning an agency decision, so if there has ever been a revocation overturned within the agency, I've never heard of it. I'd assume they don't file a notice of revocation unless they figure they have the evidence for it, so even an impartial review might sustain most of them, but when the figure seems to be 100%, you have to figure something's less than impartial.
Posted by David Hardy · 23 September 2006 07:57 PM
Illinois has an interesting statute -- while they don't have statewide pre-emption, the fact that a person used a gun in self-defense (on their own land) is an affirmative defense to a charge under local gun laws. I suppose it is a bit peculiar, but one practical way to deal with the situation where a citizen self-defends, and gets charged with a gun law violation.
Illinois
(720 ILCS 5/24-10)
Sec. 24-10. Municipal ordinance regulating firearms; affirmative defense to a violation. It is an affirmative defense to a violation of a municipal ordinance that prohibits, regulates, or restricts the private ownership of firearms if the individual who is charged with the violation used the firearm in an act of self-defense or defense of another as defined in Sections 7-1 and 7-2 of this Code when on his or her land or in his or her abode or fixed place of business.
(Source: P.A. 93-1048, eff. 11-16-04.)
Posted by David Hardy · 23 September 2006 03:21 PM
I've been a bit light the last couple of days, because I'm working ... slaving ... on the Second Amendment documentary. Now down to the final edits, ought to be finished next week (then it'll take about three weeks to have the disks replicated).
The last series of edits was necessary because, on a couple of transitions to titles, the titles appeared twice. The first time was too faint to see on the computer monitor (monitors are quite a bit darker than TVs). So, after making changes, I create a Quicktime movie and burn it to DVD (taking about 3 hours total), play it on a TV to check, and see them. Back to the beginning. I want to have a DVD out today to the Liberty Film Festival.
Posted by David Hardy · 23 September 2006 11:29 AM
In his blog, Clayton Cramer posts a critique of Prof. Cornell's "civic right" approach.
Posted by David Hardy · 22 September 2006 02:17 PM
Here's the press release. It indicates it may be up for a House vote as early as Monday.
Posted by David Hardy · 22 September 2006 09:55 AM
PA gun activist Dr. Preston Covey has passed on. A memorial is here.
Posted by David Hardy · 21 September 2006 01:15 PM
Press release here.
Posted by David Hardy · 20 September 2006 11:50 AM
The Carnival of Cordite is up. I esp. liked the link to this story, on how the military is considering long-overdue replacement of the 5.56 mm with something more potent. The traditional assault rifle was optimized for the 200-300 yard battles likely to take place in Europe. We're now finding, while fighting in deserts and mountains, that longer-ranged firefights are likely.
While we're on carnivals, here's the Carnival of Homeschooling.
Posted by David Hardy · 19 September 2006 10:02 AM
The editorial is here.
Posted by David Hardy · 18 September 2006 07:37 PM
Newsbusters has a post on how, when the WashPo and the AP ran a story on a DC guy buyback, they for some reason couldn't find a single skeptic or critic to balance the story.
Actually, I rather like gun buybacks. I've got a cheapy gun I got at a yard sale and which has broken down, and I'd be happy to get $50-100 for it, when no buyer in their right mind would offer that. Last time we had one in Tucson, every gunny in town got rid of their old junk. I later got the records of what was turned in, and it was pretty funny. Air guns, gun parts (apparently the folks operating the buyback didn't know guns). A "Mars" brand revolver (those were cheapies made around the 1890s).
Some gun collectors took up station outside the collection points, and if they saw someone with a good firearm, offered them $25 more than the city was paying, and picked up some nice bargains. There were rumors that one local gun dealer cleaned out his stocks of junkers that were being cannibalized for parts and sent his employees rotating among the collection points, turning them in two or three at a time.
[Via the Volokh Conspiracy]
Posted by David Hardy · 18 September 2006 09:52 AM
I watched Assault on Waco on the Discovery Channel last night, having sent the producers some footage and audiotapes.... I gave up after the first 20 minutes or so. There were too many areas where it was just plain invented.
I mean ... there's ATF agent Robert Rodriquez, the most honest agent on the ATF side, and the only one with guts enough to go to Mt. Carmel undercover on the morning of the raid. He's given an account of what happened, as have some surviving Davidians. They agree that Koresh talked to him, left the room to take a phone call, and came back shaking. He told Robert that, I think, the ATF and National Guard were coming. Robert got the feeling that Koresh knew he was an agent (as he in fact did), and said he had to go. Koresh shook his hand and, in one account, said you have to do what you have to do.
In the movie, an angry Koresh confronts Robert, shouting that he is an ATF agent, as the other Davidians give him hostile stares. It just didn't happen. Koresh never accused him, and was shaking in fear rather than angry.
Then, during the firefight, the soundtrack is full of full auto fire from the Davidians. I've got the audiotapes from the ATF radio van, which show exactly *one* burst of full auto, about twelve minutes into the fight (ATF snipers got the fellow who fired, and no more is heard).
Michael Schroeder was a Davidian who was away from Mt. Carmel when the fighting began, and after it stopped tried to sneak back in. He encountered an ATF patrol and died with several gunshot wounds. One was to the head, and the skullcap he was wearing, which could have been tested for powder residue to determine if the head shot was at close range, vanished. The ATF version was that he, armed with a 9mm handgun, had attacked a team of guys armed with rifles, and at fairly long range. The movie uncritcally accepts the ATF version.
The movie says that Koresh was shot and it fractured his "thigh bone." Actually, the shot was to the groin and blew a hole thru his pelvis. A simple look at the autopsy (or any of the official reports) would have noted that.
Then it has Koresh shouting at Agent Cavanaugh over the phone. I've heard the tape, and Koresh is in fact wounded and weak. He's conciliatory, telling the agent it was a big mistake -- you thought we were bad guys, and we weren't. He tells Cavanaugh how much he likes law enforcement, because they risk their lives every day.
Then it talks about how the Davidians thought the 7th Seal was being opened. As I recall, they actually thought the world was on the 4th or 5th seal (and understand, they figured opening each one involved years or even thousands of years). If I remember, they figured that the 7th seal could only occur after there were 144,000 converts, and they had relocated to the holy land. That's when the confrontation with evil occurs. They obviously were upwards of 143,000 converts and several thousand miles away.
At that point I gave up. This wasn't a documentary, it was a fictional piece loosely based on what happened. All these are errors that could have been cleared up with a bit of reading or a phone call, and in some cases they run directly contra to evidence I assume the producers had, such as the actual tapes of conversations and accounts by the agents.
Posted by David Hardy · 18 September 2006 08:50 AM
Oral argument has been set in the Parker challenge to the D.C. handgun prohibition (and other related laws).
It's 13 Nov. 2006, 9:30 a.m. The panel consists of Judges Henderson, Griffith, and Silberman.
Posted by David Hardy · 17 September 2006 05:58 PM
Glenn Reynolds at Instapundit has a post on the NY Time story on globalization of the gun rights movement.
Posted by David Hardy · 17 September 2006 02:43 PM
George Mason University will host its second symposium on the Second Amendment, on October 7. Details are in extended remarks below. I'll be speaking, BTW.
It's a great event, esp. for us lawyers. Where else can you get 7 hours of CLE, for free?
Continue reading "2d Amendment Conference at Geo. Mason Univ."
Posted by David Hardy · 17 September 2006 02:23 PM
There was a shooting in Canada, by some punk with a (legal) gun, and the president of Coalition for Gun Control predictably that doesn't prove the gun laws don't work, just that we need more of them.
But a columnist in the Calgary Sun lets drive at her with both barrels.
"Wendy Cukier, the mastermind behind Canada's obscenely expensive and ineffective gun registry -- she's president of the Coalition for Gun Control -- along with her Liberal Party lapdogs promised us more gun control would make us safer.
Way to go, Wendy."
[Hat tip to Dan Gifford]
Posted by David Hardy · 17 September 2006 08:36 AM
I'm back from attending the NRA directors' meeting, where I was asked to be available for the Range Committee. I dropped by Legal Affairs, and their Civil Liberties Defense Fund, and heard some modest news. Let's see...
In the New Orleans gun confiscation suits, the judge appears to be a bit grumpy, but much more so at NO (which, from the transcript, was promising to return the guns but never quite doing so). NO moved to dismiss the part of the suit that alleged that the 14th Amendment incorporated the 2nd and made it applicable to the states, saying that the Supremes had left the issue open.
In the countersuits against Bloomberg, Rep. Barr said essentially that everything is complicated as heck, but it's one serious fight. The dealer or dealers he represents have told Bloomberg to go to, as far as settling. They've moved to dismiss his lawsuit against them for lack of personal jurisdiction. In turn, he removed their state court suit against him to federal court, alleging that it involves a federal question (how 4473s are filled out). I don't think it does, but he eliminated references to federal regs in an amended complaint, and has moved that the federal court remand to state court.
Posted by David Hardy · 12 September 2006 11:11 PM
I'll be out of town until Sunday, with limited internet connection, so blogging will be light until then.
Posted by David Hardy · 12 September 2006 12:55 PM
While researching, Clayton Cramer made a find. After the Glorious Revolution, the British Parliament passed an act to disarm papists (Roman Catholics, for you modern sorts), although I think Joyce Malcolm found that they had an exception for arms necessary for self-defense.
Clayton was trying to find any evidence that this had been carried out in the American colonies, and the only record he found was a Maryland enactment a few years later that ordered anyone who had seized arms from a papist to turn them in so they could be restored to their owners.
Posted by David Hardy · 12 September 2006 12:35 PM
Glenn Reynolds of Instapundit has a podcast interview of Bob Corker, who's running for the Senate in Tennessee. Among the topics is his view of the Second Amendment.
Posted by David Hardy · 11 September 2006 09:58 PM
A CBS station in New York has discovered a new gun menace.
Minature guns. Apart from the fact that they are about two inches long, fire a tiny bullet at 400 feet per second, cost upwards of $5,000, only 50 have been made by this company, and can't be imported into the US, they are the perfect criminal tool.
"These bullets could be aimed at the face." "No SwissMiniGuns have been recovered here yet..."
I suppose the station would be really upset if told that miniature guns have been made for at least three centuries, and were long a "final exam" for high-level European gunsmiths, on the theory that anyone who could build a flintlock that fired a ball the size of matchstick had proven his artistry beyond any doubt.
UPDATE in light of comment: a .092 ball would be about the size of a single No. 8 birdshot, which weighs in at 1.07 grains or 1/400 of an ounce. At 400 feet per second (about a third of the speed at which a shotgun launches birdshot) I doubt it could penetrate the skin. Might leave a red mark, tho.
Posted by David Hardy · 11 September 2006 01:13 PM
Carnival of Cordite is up. I especially liked the posters in the margin.
Posted by David Hardy · 11 September 2006 10:50 AM
Inside Higher Education of course treats it as Gun Rights vs. College Rights. I didn't know taxpayer-financed institutions had "rights" as against their legislatures. It also gives some background. Apparently the U. of Utah first filed a federal suit, and the federal judge ordered them to settle the state law questions in state court.
I'd think the federal questions (apparently freedom of speech, etc.) are losers.
1. The statute has nothing to do with freedom of speech. We can talk about "academic freedom," but I can't see how that extends to "a university can make any rules on student conduct it wants, regardless of the legislature."
2. I can't see how a government institution has "rights." An individual employed by it has rights, but I can't see how the institution does.
3. The 14th Amendment (which is the key here, since it is what binds the States) says no "person" shall be deprived of life, liberty or property without due process of law.
Is a University, a subset of government, a "person"? The Supremes long ago (and perhaps erroneously) ruled that a corporation was a "person." I doubt that a state-funded university is.
And how is it deprived of life, liberty, or property by the law? In the average situation, a person can make that claim, because if he disobeys a statute he is incarcerated or fined.
UPDATE: Don Kate's take on the article is in extended remarks below.
Continue reading "More on Utah decision re: universities"
Posted by David Hardy · 10 September 2006 06:21 PM
Just finished watching a DVD, "Deadly Force," available here. It's essentially a training film on when you can use deadly force. Several re-enactments, with commentary on whether it would be proper or not. Input from a retired deputy on what he looked for when he showed up at a probable self-defense case, and from a retired county attorney on what he looked for when deciding whether to prosecute.
It won't win an Academy Award, but this is a film you watch for content and education. Chuckle -- the deputy actually had investigated a case where a shopowner shot a burglar outside, far outside his premises, and dragged the body back in, put it in front of the cash register, and claimed it was a robbery. Of course there were drag marks all over, and the burglar had been shot in the back, so the guy wound up pleading to manslaughter. As he pointed out, once you find out the crime scene has been re-arranged, you naturally start to doubt everything the person said.
I liked the practical point: if you're cold and shakey, you may have grounds to use deadly force. If you're hot with rage, you probably don't.
It also has interviews with long-term criminals. Their story matches what one guy, who knew some burglars, told me. It makes burglars avoid houses where someone is home -- way too dangerous. In the US, burglars tend to go in only if they're sure nobody is there. One says that he gave up residential burglary after he got shot at -- from then on, he only did businesses at night. I like the burglar who suggested that homeowners should warn the burglar they have a gun, and give him a chance to flee, before snuffing him. He had a friend who was shot by surprise by a homeowner, and he seems to feel that was unsporting.
Posted by David Hardy · 10 September 2006 04:38 PM
Don Kates emailed me the attached article from the Bangkok Times. The link no longer works, but I've pasted it in extended remarks below.
Continue reading "Newspaper response to UN denial of self defense right"
Posted by David Hardy · 10 September 2006 04:34 PM
While (as I've noted earlier) Great Britain has gone to giving warnings for first-offense burglary, they still have time to crack down on garden gnome statues that a neighbor claims are (for unspecified reasons) offending him.
[Hat tip to Dan Gifford]
Posted by David Hardy · 10 September 2006 01:10 PM
Don Kates has sent part of a rough draft of an article he's working on, regarding discretionary permit issue. It's under extended remarks, below.
Continue reading "Don Kates on CCW permits"
Posted by David Hardy · 10 September 2006 09:53 AM
I get up this morning, look out front, and what do I see but an albino roadrunner!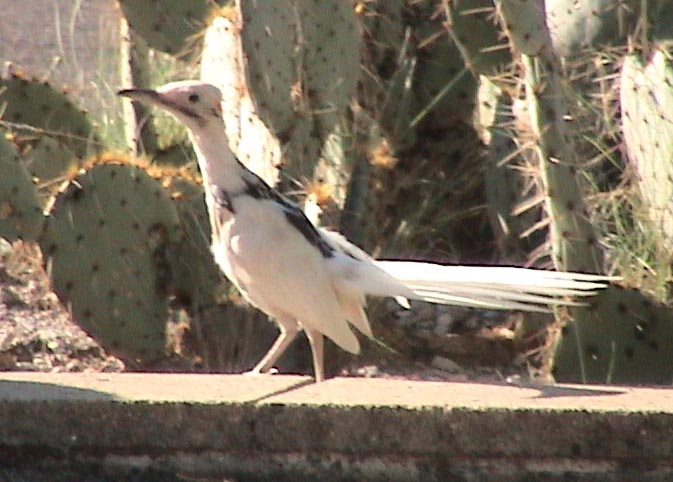 Posted by David Hardy · 9 September 2006 09:13 AM
Instapundit notes a couple of amusing self defense cases. In one, a nurse manages to strangle an intruder; in the other, a wheel-chair bound granny who has a CCW permit pops a mugger.
Posted by David Hardy · 9 September 2006 08:57 AM
How many errors can AP make in a five-sentence story, based on a written report? Gene Volokh counts four errors.
Posted by David Hardy · 8 September 2006 04:10 PM
Prof. Volokh reports that the Utah Supreme Court upheld a state law forbidding universities to bar firearms from campuses. The University of Utah had done so, and after the law was passed filed suit to challenge it, claiming that the University was, under the state constitution, independent of the remainder of the state government. Not so, said the State Supremes.
Posted by David Hardy · 8 September 2006 02:08 PM
David Codrea has posted the testimony of Prof. Preston Covey before the Pennsylvania Senate Judiciary Committee.
Posted by David Hardy · 8 September 2006 10:43 AM
In Pennsylvania, some organizations have announced a march from Philadelphia to Harrisburg to ask the legislature to enact one-gun-a-month and to create jobs in Philie.
Well, actually, no one is going to walk that distance. They'll walk in relays, so nobody gets too tired. But they hope it gets publicity.
What's strangest to me is the call for the state government to create more jobs. The solution to unemployment in one area is either to lure employers in, or to move out. My father, a construction guy, did the latter quite often. No work in Tucson, but a big project in Yuma, move to Yuma. If you want work in a blighted area, the best solution is probably less government there, not more. Say you lift the sale tax there for a guaranteed number of years. Lift the tax on new improvements (while keeping the tax on land), so that improvements don't up the realty tax, while empty land is still taxed. Allow improvements that raise buildings closer to the modern building code, even if they don't meet it entirely (one barrier to restoring buildings is that any improvement must come up to the present code, which is cost-prohibitive in many older structures. So the owner just lets the old building, which is grandfathered, sit as it is, rather than improving it up to the limit of his budget).
Posted by David Hardy · 8 September 2006 10:41 AM
I gather that House Judiciary reported out the various firearm bills, because Brady Center is criticizing the action.
Posted by David Hardy · 7 September 2006 05:03 PM
Regarding Mayor Bloomberg's "sting" of gun dealers -- The total conviction count is one dealer pleads to disorderly conduct. Bloomsberg's police seize the gun store inventory, then return it quietly a week later.
He sues out of state dealers, two have filed counter-suits, and he offers to settle against the others for supervision -- for which NYC will pay.
Comes now the Queens' Ledger to proclaim it a great success. "As a result of Spallone's arrest, 200 handguns and 34 rifles were taken off the streets." "Mayor Michael Bloomberg seemed happy with the news, stating that the case sent the message "if you break the law, you are going to pay the price."
Posted by David Hardy · 7 September 2006 03:28 PM
It's the title of a Byron Williams piece over at the Huffington Post. [Via theBitchGirls, where Bitter has an interesting response.]
Posted by David Hardy · 7 September 2006 09:55 AM
Agoraphilia suggests viewing the Constitution as a contract.
There's much to that, altho Randy Barnett has pointed out it's not quite contractual. It binds me, even tho in 1789 my mother's ancestors were in Italy and Austria, and for all I know my father's ancestors objected to it (and in either event, I wasn't alive yet). Barnett finds the basis for originalism in a variant of the view. What, he asks, makes a law morally binding? (As opposed to practically binding -- the consideration that those in power will punish you for not heeding it). His answer is that the law was made pursuant to a system created by our ancestors, and the implied agreement is that if those temporarily in power heed the Constitution, we will heed the laws made pursuant to it. If they could say the Constitution has evolved to let them do what they please, then we could say that, morally, there is no duty to obey the laws they create.
Posted by David Hardy · 7 September 2006 09:16 AM
Emphasis on proposal. I think Brady has an accurate assessment of its chances: "Oh yeah, that's going to happen when hell freezes over," a spokesman for the Brady Campaign to Prevent Gun Violence, Peter Hamm, said.
One more reason I'm glad to live in Arizona.
Posted by David Hardy · 6 September 2006 12:59 PM
I'm re-reading Steven Pressfield's Gates of Fire. It's a historical novel concerning the stand of the Spartans at Thermopylae. I'll just say that it does for their epic what The Killer Angels did for Gettysburg. It's best war novel I've ever read.
Hard to decide which part I like best. Maybe the point when the Persians send over an envoy, who offers the Spartans control of Greece and much else if they will come over to their side. The Spartans tell him no. He asks to be taken to their king, and they say the king would flog them for even proposing such a betrayal. An old man in the ranks says, yes, the king would flay them alive for it, adding that he's a crusty old fellow, with a bad temper, barely literate and by now probably drunk.
The envoy notices the old man is 20 years older than the other troops, and they're all looking to him, and realizes he has just had his interview with the king.
Continue reading ""Gates of Fire""
Posted by David Hardy · 6 September 2006 12:47 PM
Saul Cornell has an interview at Buzzflash. He sums up his approach concisely: "The state can do whatever it thinks appropriate with regard to handguns. The one thing they can't do is pass laws which would, in effect, make it impossible for the militia to be armed."
One passage is a bit mystifying, expressing the hope that both sides "will recognize that the right to own guns, although not guaranteed by the Second Amendment, is deeply rooted in American history." As I read his argument, it's that indeed there is a right to arms via the Second Amendment, the dispute is over what laws can be passed to regulate that right, not whether it exists. He may have spoken off-the-cuff, or the reporter may have slipped in transcribing it.
[UPDATE: Prof. Cornell emailed me, the gist of it being that he's there using "individual right" to mean individual right for individual purposes (self defense, maybe hunting), as distinct from "civic right," which I was treating as individual right for civic (militia) purposes.]
Posted by David Hardy · 6 September 2006 09:47 AM
CeaseFire Maryland has issued a press release claiming that one assault rifle is traced every 48 hours in Maryland, proving they need more laws against that manner of thing.
OK, that's 180 guns a year for the entire state. As I've noted earlier, upwards of 90% of ATFE traces aren't in relation to use in crime. (ATFE encourages local police to trace any guns that come into their hands, so they trace recovered stolen and lost guns, guns seized pursuant to a domestic violence restraining order, etc.). So now we're down to under 18 guns a year, for a populous state. Big woof.
Posted by David Hardy · 5 September 2006 07:52 PM
The Las Vegas Review-Journal has a blistering editorial on Brady Campaign's opposition to expansions of self-defense.
[Hat tip to Budd Schroeder]
Posted by David Hardy · 5 September 2006 07:44 PM
The 9th Circuit has affirmed a refusal to give a jury instruction that a felon is not guilty of possession if the possession was brief and for a lawful reason. The DC Circuit has allowed such instructions; the 1st, 4th, 7th and now 9th have not.
The defendant's story, which had some BIG holes (but has to be treated as if true for this purpose) was that he found a gun near a school, took it home, unloaded it, and went off to the police station to report it.
Permalink · prohibitted persons
Posted by David Hardy · 4 September 2006 02:07 PM
I started in quite favorable to the idea of Special Prosecutor/Independent Counsel concepts – it was a reasonable way to handle things where the government might have to investigate itself. I must say my opinion is changing.
There was the Waco counsel, with whose operation I had some personal experience. They went into coverup mode quickly. I got the message when we attended a deposition of an expert at their office. We were told to stay only in the deposition room or immediately outside, since the rest of their office was off-limits. No problemo. Then they invited the Justice attorneys into their office for some private chats. OK, you got the message as to who were viewed as in-group and who as out-group.
The only prosecution they undertook (despite finding plenty of government perjury and false statements) was the Ass't US Attorney who had helped to end the coverup, by letting Mike McNulty see the evidence that had been hidden. They got him on a perjury count for not revealing some notes he'd made, as I recall. I think that investigation cost ten or twenty million.
Then there was the Bill Clinton independent counsel. Enough said. Millions spent to investigate an episode of oral sex.
Now there's the IC on the Plamegate matter. Millions spent with the result that Scooter (how do they get these nicknames?) Libby is indicted for perjury. The N.Y. Times finally picked up on the discovery that, on virtually his first day in office, the IC knew who had tipped off the reports to the fact that Mrs. Wilson was a CIA employee – Richard Armitage, former Deputy Secretary of State, admitted doing it. The IC decided not to charge him. OK, isn't the IC's job done at that point? He knows who did it, and it's not worth charging them.
Instead, the IC goes on, puts a reporter in jail for withholding information, spends months and millions, and eventually charges Libby with perjury and false statements.
UPDATE in light of comments: I'd LOVE it if the law permitted private persons to file criminal actions (as they can, with certain limitations, file civil actions under the False Claims Act -- if they win, the gov't gets the proceeds and they get a finder's fee and atty fees. That was the British procedure, at least in the 18th century and before. The King could issue a "dispensation," sort of like a pardon in advance, but it was a public act that put everyone on notice of what he was doing (and in the case of James II, was a contributing factor in his overthrow). The reason I'd like it is that legislatures would be less likely to pass unduly restrictive laws if they had to worry that they'd be applied to those who had political power, the wealthy, the popular, etc.. As it is, they can pass broad statutes in the confidence these will be applied only to those without power or those who are unpopular (the statutes on electoral procedures are a great example, but there are many others).
Posted by David Hardy · 4 September 2006 12:03 PM
There's a call for stricter gun control in Turkey. Apparently their idea of gun control is discouraging people from shooting randomly into the air to celebrate weddings, etc. The estimate given is that around 200 people a year die from this manner of celebration; from the sound of it, the celebrants sometimes fire "into the air," more like parallel to the ground.
We need to send Eddie Eagle over with a crate of firecrackers.
Posted by David Hardy · 4 September 2006 11:55 AM
An interestingly unbiased article at the Washington Post.

I'd made one addition -- the article compares NRA's expenditures of $180 million to Brady's of $10 million. A better comparison would be compare Brady to NRA-ILA, which last I saw had a budget of about $15 million. ILA is NRA's federal and state lobbying, research and member info on legislative issues, PR and legal on the same. Brady Center doesn't have to worry about national matches, police training, firearms training, four or five magazines, a firearms technical branch, a range design division, etc., which is where the bulk of NRA expenditures go.
Posted by David Hardy · 2 September 2006 10:45 PM
Was just reading Geo. McDonald Frazier's Black Ajax, one of his few serious works (his Flashman series is the funniest stuff I have ever read, and I mean that. If you haven't read them, start with The Flashman Papers. "Can a man who fights lies, cheats, steals, fights fixed duels, seduces his father's mistress, and betrays his country on the battlefield ... be all bad?"
His novels are based upon some pretty solid historical research. Black Ajax is a novel about an American ex-slave who went to Britain and tried for the boxing championship, toward the end of the Napoleanic Wars, when bare knuckle fighting was the obsession of the nobiity and, indeed, just about everyon, right up to the prince regent (de facto king, George III being insane).
One brutal sport it was ... you fought until one man or the other could not stand -- the ex-slave kept in his second championship fight with a broken jaw and two broken ribs -- his opponent, the champion Tom Cribb, had his eyes swollen shut so that his seconds had to lance them, and drain the blood so he could see.
The novel points out at one point that Jews were unsafe on the streets -- a dog would not be used as they were (I think one of Dave Kopel's writings picked up on this).
Then a Spanish Jew, Mendoza, became a major boxing figure, and set up a school. London's jews decided to join the fad and studied under him. (One of his invention was Mendoza's Chop ... when the other guy swings a right at you, instead of blocking it with your left, you use your right fist to hammer his forearm and drive it away. Two or three of those and the other guy's right becomes very weak).
As a result, in a matter of a few years, London's jews were treated quite politely. An antisemite had to worry whether the fellow he meant to harrass had spent a few months with Mendoza, and was well suited to hammering the stuffing out of him.
Rather like CCW permits in that regard.... only a minority of the population has them, but who's to say whether this intended victim is part of it?
[Update in light of comments] The book suggests, and I've heard elsewhere, that boxing was highly developed at the time. There was one fellow who stand with one foot on a handkerchief, and bet that you couldn't hit him (I assume there was some limit, like you had to aim for the head or upper torso), use both hands, keep going till you give up, and he almost always won the bet. He was simply too fast.
That's not to say it wasn't brutal. As I noted, fights kept going until one man couldn't stand up. Some wrestling throws were allowed. If one got the other in a headlock, he was entitled to keep pounding him; referees didn't break it up. No gloves to protect body, or hands, and special measures (such as soaking the hands in brine) to try to toughen them up. ]
Posted by David Hardy · 2 September 2006 06:12 PM
Via Instapundit and Dr. Helen, comes the link for this new TV series on self-defense cases. (Hosted by NRA, in case you're wondering why the mass media would do something like that).
Posted by David Hardy · 2 September 2006 11:50 AM
Leonard Levy, pretty much the dean of American constitutional history, died last month. His obit. is in extended posting below.
His book, Origins of the Bill of Rights, took a strongly individual view of the right to arms.
Continue reading "Leonard Levy"
Posted by David Hardy · 1 September 2006 03:58 PM
The Claremont Institute has taken the UN to task for the report I noted a few days ago. Richard Samuelson points out that Grotius and Vattel, the fathers of international law, recognized self-defense as fundamental, indeed Vattel referred to the right as "a perfect one, since it is given to satisfy a natural and indispensable obligation: for, when we cannot use constraint in order to cause our rights to be respected, their effects are very uncertain."
Via InstaPundit.
Posted by David Hardy · 1 September 2006 03:13 PM
St. Louis papers are reporting that a Federal judge threw out a machinegun case against a police rifle instructor. He bought it privately, and used it only for police purposes. The court held the statute void for vagueness as applied to him.
The article doesn't say which statute the prosecution relied upon. 922(o) bans post-ban MGs with an exception for "a transfer to or by, or possession by or under the authority of, the United States or any department or agency thereof or a State, or a department, agency, or political subdivision thereof." There might be ambiguity with regard to possession "under authority of ... a State, or department, agency..." The article reports that, whichever statute it was, ATFE takes the position that it excepts only a police dept itself, and not an individual officer who owns one.
It might be NFA, but that exempts "A firearm may be transferred without the payment of the transfer tax imposed by section 5811 to any State, possession of the United States, any political subdivision thereof, or any official police organization of such a government entity engaged in criminal investigations," 26 USC §5853, which sounds much clearer in saying only the PD itself can register the gun tax-free.
[Hat tip to reader Michael Gale of Shall Not Be Infringed,
Permalink · National Firearms Act
Posted by David Hardy · 1 September 2006 01:32 PM
I just remembered my late father and late uncle talking about the military around WWII and how its status changed so suddenly.
My uncle, George Ferguson, enlisted in the Coast Guard before WWII. At one point he was in Norfolk, the big port, in then-segregated Virginia. The restaurants had signs up: "Negroes and Sailors Not Admitted."
After the war, he was demobilized far from home, and it took several days to get back. In all that time he didn't buy one meal. He'd eat, put money on the counter and the owner would push it back to him, grinning and saying "Your money's not good here, sailor," meaning it was on the house. Or when the check was put down, a civilian would snatch it up and say it was his privilege to buy his meal.
Dad was demobilized on the east coast (he'd been USAAF and it left him terrified of flying... he drove from Tucson to D.C. for our wedding and the baptism of our first kid rather than fly. He set out to return home by thmbing a ride. A guy picked him up, and said they could make Arizona in two days by driving day and night -- the one not driving would sleep in the back seat. Off they went. That meant the owner was trusting a perfect stranger to drive his car while he dozed, but he was a serviceman, wasn't he?
In 1940, a serviceman was treated as scum. In 1945, a man in uniform was treated as at least a completely trustworthy fellow, and often as a hero. [More below]
Continue reading "Thoughts on military status"
Posted by David Hardy · 1 September 2006 11:07 AM
Canada is moving to arm its border guards, in the wake of an embarassing situation where some fled when told murder suspects were heading in their direction.
Nimrod45 adds, in a comment for some reason rejected by the spam filter:
Just a small correction, if you please, David:
The Customs Officer's union has been pressing the Canadian Federal Government for sidearms for years, as a "workplace safety" issue - as I am sure that everyone would agree that it is. The previous Lieberal (socialist) government of 13 years steadfastly refused to provide them with the tools necessary for them to do their jobs effectively and safely.
The Customs Officers in question did not "flee" - they exercised their legal right to WALK OFF THE JOB due to UNSAFE WORKING CONDITIONS - several times, in fact - when reports that armed and dangerous felons were fleeing the U.S.'s jurisdiction towards our borders.
Fortunately, the current Conservative government understands the dangerous nature of the work in which these men and women are engaged, and rightly have moved to arm and train them, for their, and our, protection.
Posted by David Hardy · 1 September 2006 10:19 AM
Cam Edwards has a Townhall column up on the subject of this group.
Posted by David Hardy · 1 September 2006 10:01 AM
Michael Sullivan, US Atty for Massachusetts, has been named acting head of BATFE.
I know nothing of him, but anyone interested in rising in MA politics is, for me, a source of worry in the firearms area. The appointment seems strange, tho. The job is now subject to Senate confirmation (I'd assume this is a recess appointment). He keeps his job as US Attorney while heading the agency. That's not improper (there have been folks who sat on the Supreme Court and were cabinet members at the same time, OK, that's a bit improper), but it is irregular -- how can a fellow do two fulltime jobs hundreds of miles apart? It's possible he very literally is meant to be acting director, just give another entry on his resume', and go back to being US Atty when they find the real nominee.