« July 2006 | Main | September 2006 »
August 2006
Posted by David Hardy · 31 August 2006 03:26 PM
A Columbus OH paper responds to bills intended to expand self defense rights with a headline: "State lawmakers hope to pass a 'shoot first' bill" More below.
Continue reading "Now, this is the media that I'm used to"
Posted by David Hardy · 31 August 2006 11:12 AM
Blogging will be a little slow today, since I'm working on a law review article and on polishing the Second Amendment documentary film. I hope to have it in distribution by end of September. I've got a clip (warning 19 megs of video) posted here. Right now the length is an hour and 48 minutes. I've got everyone from Joyce Malcolm to Gary Kleck in it -- Nelson Lund, Gene Volokh, Glenn Reynolds, Brannon Denning, Dan Polsby, Don Kates, Steve Halbrook, Dave Kopel, Clayton Cramer, and others I'm too tired to recall.
Posted by David Hardy · 31 August 2006 09:25 AM
The New York Sun has the story. A second dealer has filed a counter-suit in his home state, a NY dealer they charged with criminal offenses had to be let off with disorderly conduct (in most states, about a minor a misdemeanor as they have), they seized guns from that dealer but had to return them, the city has settled with two on terms that have them audited by a special master (whom the city has to pay)... oh, and a third dealer now says he's going to sue.
Bloomberg is trying to make the best of it, saying that the plea to disorderly conduct (what you'd get for being a noisy drunk) sends a "strong message" about how vigorously he's enforcing gun laws.
[Hat tip to Budd Schroeder]
Permalink · Gun manufacturer liability
Posted by David Hardy · 30 August 2006 06:40 PM
A report (pdf format) submitted by Barbara Frey, Special Rapporteur, whatever that is, to the UN Human Rights Councils's Sub-Commission on the Promotion and Protection of Human Rights, whatever that is.
Re-reading it, I think the point is that the Special Rapper wants to class self-defense as something less than a "right" (i.e., as a manner of criminal defense) because if it were recognized as a "right" it would be something governments would be bound to guarantee -- and that leads right to Prof. Glenn Harlan Reynold's argument that a right to arms should be guaranteed as an international right. How could governments "guarantee" such a right (in the sense of doing something more than saying "you can plead this as a defense if prosecuted" -- as might be expected the UN document treats "rights" as something more than "the government must leave you alone" -- while outlawing the items a person needs to exercise that right? This leads to the anomaly that the report claims that the right to life is a "right," but the right to keep from having your life taken is not. I suppose it equates to -- you have a "right," however unenforcable, to be protected by government, but not to defend yourself if it fails to do so. As might be expected from the source, the concept of "right" is rather ineptly socialist: rights are what you may ask the government to do for you. (And of course strongly of the legal positivist school: rights are not something that pre-exist government, and any official declaration of them, derived from a deity, morality, or man's nature. Rather, in this view they are created by the document, or government, that acts to write them down. Created, as opposed to guaranteed).
"20. Self-defence is a widely recognized, yet legally proscribed, exception to the universal duty to respect the right to life of others. Self-defence is a basis for exemption from criminal responsibility that can be raised by any State agent or non-State actor. Self-defence is sometimes designated as a "right". There is inadequate legal support for such an interpretation. Self-defence is more properly characterized as a means of protecting the right to life and, as such, a basis for avoiding responsibility for violating the rights of another. " [Not quite sure what babble means--More in extended remarks below]
Continue reading "UN report proclaims self-defense is not a right"
Posted by David Hardy · 30 August 2006 10:36 AM
Police here see themselves as underfunded.... but in South Africa, with the second highest murder rate in the world, recruits are being told, when responding to a crime report, "If you don't have a car, ride a bicycle or a donkey".
Hat tip to Dan Gifford.
Posted by David Hardy · 29 August 2006 09:38 PM
The New York Sun is reporting that NYC is refusing to release its videotapes of dealers supposedly making straw man sales to BATFE unless the agency signs an agreement not to release them without NYC's consent. (I'm a bit rusty on the Freedom of Information Act, but I suspect BATFE can't sign such an agreement).
Wonder what NYC has to hide, here? I thought that program was launched with a lot of publicity, but they want to guarantee no one sees the supposedly incriminating videotapes? This tends to support my theory that this is just a media stunt. Disclosing the tapes can't hurt NYC's lawsuit... as soon as the suits settle down to discovery, the tapes are going to come out. BUT it might hurt plans to milk the cases for publicity and then bail out (which seems to have been happening).
[Kudos to the NY Sun, by the way. They not only carried the story, but called up Steve Halbrook and Saul Cornell for comments].
Posted by David Hardy · 29 August 2006 08:06 PM
Michelle Malkin's HotAir is reporting a media event right out of Police Squad. CNN Anchorperson Kyra Phillips left her lapel mike live while going to the bathroom, during Pres. Bush's Katrina speech today, and the whole world got to hear about how she has to protect her brother from his "control freak" wife.
Posted by David Hardy · 29 August 2006 06:31 PM
CSRPA's Alert is in extended entry, below. The bill to microstamp guns has apparently had an amendment added that would require serial numbers on bullets.
Continue reading "Another head's up for Californians"
Posted by David Hardy · 29 August 2006 03:09 PM
A 16 yr old shoots at a car because he thinks it has gang members in it (I'd assume he was a gang member himself)... and gets probation.
Not that I'm on a soapbox about sentencing -- the primary effect of "get tough on crime" is to motivate each session of a legislature to up the penalties, to where sentences often exceed anything that is reasonable, and things that should be misdemeanors get classed as felonies. But probation for an apparently gang-related attempted homicide is out of line.
Permalink · Crime and statistics
Posted by David Hardy · 28 August 2006 01:54 PM
I was reviewing an article by the late David Caplan and his wife, Susan Wimmershoff-Caplan, Postmodernism and the Model Penal Code, 73 UMKC Law Rev. 1080 (2005). Pretty interesting in that it shows, by citation to English cases from 1330 onward, that the common law version of the castle doctrine was simple. You could kill a person who broke into your house to steal, period. The 1330 case specifically recognized that this was so even if it was not in necessary self-defense. It was regarded as a good deed that benefitted the entire community. (In one early case, cited in Coke's Commentaries, the defender killed a burglar and the court said "he would receive from the law nothing but good.") If he was no menace, if he was fleeing -- who cares? He was a burglar, prove that and you walk.
This underscore a point Don Kates has made. Self-defense law, with its restrictions (including retreat in a minority of US jurisdictions) evolved against a background where thieves and other felons could be killed out of hand, so it never came to a matter of pleading self defense. Self defense only came into play when two people, with no other criminal intent, got into a fight. There it made sense to have restrictions such as retreat. (At earliest common law, self defense wasn't even a defense, it was just good grounds to apply for a pardon. Even that didn't stop forfeiture of your goods. Later it did apply to forfeiture, and pardon became routine -- the court made the finding and sent notice to the monarch, and the monarch sent back a pardon.)
Only when the courts and legislatures moved away from "open season on burglars" were the requirements of self defense made applicable to use of force against persons committing a felony. I suspect that, like many legal evolutions, it happened so slowly that no one realized it.
[UPDATE in light of comments: I haven't been able to find the article anywhere on line. David is dead and I don't know if Susan does much on the internet. What the Latin means, I cannot figure out. My days of Latin are around 35 years ago, and that sentence is a little too involved for me. Tucker didn't worry about it, since in his day knowing two classical languages was an entry requirement for most colleges. I read somewhere that, at the seige of Yorktown, many American and French officers conversed in Latin. With the English-French conflicts, learning the enemy language had not been important to them, but everyone who'd gone to a college knew Latin.]
Posted by David Hardy · 28 August 2006 01:52 PM
Larry Pratt of GOA has an article in today's Conservative Voice, relating to laws liberalizing self defense.
Posted by David Hardy · 28 August 2006 11:00 AM
The latest edition of Gun Facts is online. It's a free, 84 page, e-book on firearms and firelaws.
Posted by David Hardy · 27 August 2006 12:08 PM
Don Kates has a new article in Hamline Law Review, entitled "Genocide, Self-Defense, and the Right to Arms." I have the text (minus footnotes) in extended entry, below.
His core theme is that the Holocaust was a very much atypical form of genocide, where it was carried out by a nation-state with a powerful and efficient military. The vast bulk of the 200 million+ deaths in 20th century genocide were carried out by rag-tag forces, or mobs armed with machetes and other simple weapons, and which would not have been conceivable had even a small portion of the victims been able to have arms.
[Beerslurpy comments, in an entry for some reason blocked by the spam filter:
There are lots of things in there I have been saying for years, only not as eloquently. A very good read.
I always love bringing up the murderousness of 20th century socialist govenrments whenever anyone tries to warn us of how Bush's mild faith will lead us to rivers of bloodshed.
And I loved debating the russians at my last job and pointing out that despite complete civilian disarmament, Russia has had several hundred times more gun murders than the US over the past century. Of course, you have to accept the concept that a government killing can be a murder.
Continue reading "New Don Kates article"
Posted by David Hardy · 27 August 2006 10:49 AM
Just had a thought, based on the previous entry.
In my experience, most legislation follows one of two courses: (1) after enactment, it endures without much change for decades. Its advocates got what they wanted; from there on they bring test cases to interpret or enforce it. National Environmental Protection Act, Administrative Procedure Act, Marine Mammal Protection Act would be laws of this type that we handled at Interior. Alternately, (2) the law is tinkered with in minor ways. The Endangered Species Act falls into this class, with the tinkering generally being aimed at loosening it.
Firearm regulations are entirely different. No matter how much is enacted, its political proponents insist that they must have more. As I noted in the previous post, even New York and Massachusetts politicians want more, more. If the laws are failing, it just proves they must be made nationwide, not that something is wrong with the approach.
Given this, can we fairly speak of an addiction to firearms regulation? The behavioral pattern matches the most severe chemical addictions. There is no such thing as enough. Whatever is obtained soon ceases to satisfy iIn chemical addiction, because the body compensates by creating more natural depressants or stimulants, in legislation, because crime continues or rises). The concept of "enough" does not even exist. I think Dave Kopel once pointed out to me that no antigun organization has ever laid out a real platform -- "this is what we want, and if we get it, we'll be satisfied and stop there."
The only parallel I can think of is Mothers Against Drunk Driving, which has really won all that they sought (.08, no drinking under 21, stiff sanctions, severe punishment for repeat offenders), but keeps coming for more action. Even there, most of their recent push is for more enforcement and stiffer sanctions, wanting roving checkpoints and license plate seizures -- they don't seem to be pushing for lowering the level still farther, or raising the drinking age to 25, or things like that.
What could we regard as symptoms of a legislative addiction? I'd suggest:
1. No level of regulation is "enough."
2. That a problem continues despite regulation does not prompt an examination of whether the regulation itself is ineffective, but only the claim that it is insufficient. Logically, there will be situations where the legislation is potentially effective, but insufficient. The key here is that the proponents of it are incapable of examining it in this light: the thought that it is ineffective is literally inconceivable. Evidence to the contrary is simply ignored. They MUST HAVE MORE.
3. As a consequence of 1 and 2, the proponents lack a true platform. They have at best a time-bound agenda of what they think they might get in the near future.
4. If the addiction cannot be fed well, anything will suffice, even if it has no real impact ("cop-killer bullets," "assault weapons").
5. The addiction must be fed, even in the face of suggestions that it is harmful. The loss of both houses to the GOP, liberal support despite harm to other liberal objectives such as civil liberties, the tendency of opponents to counter-legislate with stiffer penalties and even the death penalty, etc. These consequences, which would meet with proponents' strong objections if they came about in isolation, are acceptable costs if the addiction can be fed.
[Guy Smith adds, in a comment stopped for some reason by the spam filter:
I'm not sure it is an "addiction", but more like self reinforcing diagnosis.

Contrast gun control logic with "medicine" as practiced by barber doctors of medieval times. If you were ill and went to the barber, they would let some blood. The loss of blood made you feel woozy, so to cure this condition they would ... let some more blood. The resulting drop in blood pressure would make you nauseous and lethargic, so the learned barber would ... let some more blood.

Repeat until the patient dies from "vile vapors" or some other contrived explanation.

The modern scenario is one where the unintended consequence -- emboldened criminals, street level violence, hot home invasions -- bring calls for yet more gun control ... repeat until we look like the U.K.]
Posted by David Hardy · 27 August 2006 10:40 AM
In NY, Atty General candidate Mark Green touts his stuff, said stuff including support for Bloomberg's lawsuits and a lot more.
The Boston Globe has an article praising the lawsuits, suggesting Boston might try the same, while admitting NY had an advantage -- a judge with an agenda:
"Equally significant, the city filed its suit before federal Judge Jack B. Weinstein of the Eastern District of New York, a judge who is notoriously sympathetic to claims that the industry is responsible for illegal gun traffic."
Posted by David Hardy · 26 August 2006 07:45 PM
There's a debate on John McCain, gun laws, and all else over at the Knoxville Sentinel blog.
Posted by David Hardy · 26 August 2006 12:13 PM
Scotusblog has a podcast on what type of cases the Supreme Court accepts. Gist of it:
A typical Term will have about 7,500 petitions for cert., but most of these a prisoner petitions, of which only a few will have any interest. It really boils down to about 500 serious petitions, of which the Court will take about 75-80. The keys to what it takes to go from one of the 500 to one of the 80 appear to be:
1. It must involve as near as possible a pure question of Federal law. The more heavily the case is dependent upon facts, the worse its odds are.
2. It usually will involve a split between Circuits, or State supreme courts, on that issue. The Court values its function of making federal law uniform.
3. The issue must be ready for the Court. No reason to leave it "percolate" in the lower courts any more, in hopes that they'll discover new angles or approaches.
4. The issue was clearly presented in this case -- it wasn't just a side issue, on which the parties and lower courts might have spent relatively little time and thought.
5. The lower court got it wrong. In theory, this wouldn't be a factor, but since about 75% of Supreme's rulings end in reversal, it obviously is. Note that this is the last criteria. Supremes rarely take a case just because they figured the Court of Appeals ruled incorrectly. But if you meet all of the first four criteria, the Court of Appeals erring helps to make the cut.
As the comments note, there are certain narrow exceptions. When a case can ONLY be brought in the Federal Circuit, there will never be a circuit split. I've also noticed a tendency to take a lot of cases relating to a new Federal statute with lots of regulatory twists. When the Congress wrote or re-wrote the pension laws a few years ago, the Supremes took quite a few cases on them. I'd assume they were figuring to lay out the standards early in the game.
It's noticeable that a Second Amendment case could easily meet all five criteria. It's usually a question of law (tho it would help to focus upon one or a few statutory provisions, not all the provisions of an elaborate gun statute), there's a big circuit split after Emerson, the issue has been percolating in scholarship (and with Emerson and Silveria, in the circuits at great length) for decades, and it's usually presented as the main issue of a case.
Posted by David Hardy · 26 August 2006 11:37 AM
For the second time this week (and third time this summer) I had to rescue a tarantulla from my swimming pool. A day or two ago I opened the garbage can to dump some stuff into it and wound up rescuing a baby (2" diameter) one from the can. I just wish they'd stay out of the pool. In past years I've had them in the back yard, even coming into the house, but they always managed to avoid falling into the water.
They hunt at night ... males roam, and females stay in their burrows. The females position themselves right at the burrow entrance, with their forward legs filling the opening, held parallel to the ground. When anything touches the hairs on their legs, they jump out and grab it.
Their main predator is the tarantulla hawk wasp, a BIG (maybe 2-3" long) solitary wasp, shiny black in color, with bright red wings. They cruise around, slowly, a few feet off the ground, looking for their prey, sometimes landing and hopping around. The wasp apparently regards the world as consisting of tarantullas and other stuff, and is interested only in the first. Stand still, and they'll fly or hop around you, to make sure there isn't a spider behind you. Your significance is only that you're blocking their view of spiders.
Posted by David Hardy · 25 August 2006 10:03 PM
Sounds like some serious troubles.
Posted by David Hardy · 25 August 2006 09:57 PM
The sheriffs of Riverside, Kern, Orange, Mendocino, Modoc, and Tehama Counties have opposed the microstamping bill passed by the California senate.
Posted by David Hardy · 25 August 2006 01:26 PM
BBC reports a study of stock spammers. The technique is to buy some low priced "penny" stock, then spam the world with its virtues as an investment. Enough people will be gulled in to raise the price for a day or two, and the day after the spam the spammer sells of his shares. The study indicates the average stock spammer would get a return of about 5%, and the average victim lose about 8%.
The sidebar has links to other BBC stories on spam. About 40% originate in Asia, with China about equalling US as a source. Virgina just convicted a spammer under its state law against using forged email addresses, and the jury recommended nine years, hurrah! The guy had made about $24 million off spamming on stocks and low mortgage rates.
Posted by David Hardy · 25 August 2006 10:37 AM
An interesting story. Des Moines police found a water-cooled German MG from WWI in a drug raid, and made arrangements to turn it over to a military museum.
Thought: back in the 70s, police generally auctioned off seized firearms. I used to go to the auctions here. One of the judges sent his bailiff over to bid on the ones he liked. (I guess he thought it'd be improper to bid against attorneys). Then in later years that changed, here and almost everywhere else, to where seized guns were destroyed. I wonder if it might not be useful to try to get exceptions. For example, guns on the ATFE curio and relic list can be donated to museums, and those not accepted can be sold. That way collectibles wouldn't be melted down, at least.
[UPDATE: I think there is a museum exception (not dead sure). The only police exception is, as I remember, that they don't have to pay the $200 tax -- but guns on which no tax is paid become "law enforcement only," I think even if a person offers to buy and pay the tax on that transaction.]
Permalink · National Firearms Act
Posted by David Hardy · 24 August 2006 08:35 PM
The California Senate, 22-18, passed a bill to require semiauto handguns to have a feature that microengraves serial numbers onto bullets.
It of course takes under a minute to swap barrels on most semiautos (assuming the gun isn't stolen in the first place). What's also interesting is that unless mfrs adopt special machining for California semiautos, they probably won't sell to law enforcement there, either.
Posted by David Hardy · 24 August 2006 07:57 PM
From the City Journal. A few segments:
"For the last 40 years, government policy in Britain, de facto if not always de jure, has been to render the British population virtually defenseless against criminals and criminality....
On April 21, for example, even the Observer (one of the bastions of British liberalism responsible for the present situation) gave prominence to the official report into the case of Anthony Rice, who strangled and then stabbed Naomi Bryant to death.
Rice, it turned out, had been assaulting women since 1972. He had been convicted for assaulting or raping a total of 15 women before murdering Naomi Bryant, and it is a fair supposition that he had assaulted or raped many more who did not go to the police. In 1982, he grabbed a woman by the throat, held a knife to her, and raped her. Five years later, while out of prison on home leave, he grabbed a woman, pushed her into a garden, held a knife to her, and raped her for an hour. Receiving a life sentence, he was transferred to an open prison in 2002 and then released two years later on parole as a low-risk parolee. He received housing in a hostel for ex-prisoners in a village whose inhabitants had been told, to gain their acquiescence, that none of the residents there was violent; five months after his arrival, he murdered Naomi Bryant. In pronouncing another life sentence on him, the judge ordered that he should serve at least 25 years: in other words, even now the law has not quite thrown away the key."
[Hat tip to Don Kates}
Posted by David Hardy · 23 August 2006 03:42 PM
In a Phoenix theater, someone livened up the showing of "Snakes on a Plane" by releasing a couple of live rattlesnakes. Well, if you want genuine realism, that's as real as it gets. I have to wonder how they kept them quiet, and released them without getting bitten. A rattler in a bag is apt to be rather testy.
[Hat tip to Bill Bailey]
Posted by David Hardy · 23 August 2006 03:37 PM
According to this article, Bloomberg has offered a settlement to a VA gun dealer that mirrors the earlier settlements. Full text of the earlier Georgia settlements is in extended remarks below.
If I was them, I'd tell NY where to go, but then I don't have to pay the legal costs. I think the settlements are quite a retreat for NY anyway. I'm told that under them the stores are monitored by a special master appointed by the court, and their personnel get training -- but NYC pays for both. Never heard of a case where a plaintiff settled on terms that left him paying out!
Continue reading "Bloomberg offering to settle gun suits"
Posted by David Hardy · 23 August 2006 01:26 PM
In Florida, a a neighborhood is evacuated because a couple of teens built some pipebombs, and they're now facing felony raps.
Ah, memories of my own days, when getting caught at that would at worst involve a lecture from police and/or advice on how to do it safely.
[Hat tip to Bill Bailey]
Posted by David Hardy · 23 August 2006 09:49 AM
I suppose everybody's doing it, but...
Iran's president Mahmoud Ahmadinejad has a blog. It needs a little work on the English and and the buttons are still in Farsi (I assume).
Posted by David Hardy · 22 August 2006 11:32 AM
Miami Hurricanes coach Larry Coker says he wants to discourage players from owning guns. This, after one of his players used a gun to protect another, who had been shot by an attacker.
[Hat tip to Dan Gifford]
Posted by David Hardy · 22 August 2006 09:58 AM
PA legislators are having a session on gun legislations on Sept. 26. It's reported to be some manner of session where votes will be taken, but will not count -- never heard of one of those before this. If the newspaper reporter is correct, it doesn't sound like much wll happen anyway.
Posted by David Hardy · 21 August 2006 06:33 PM
Here's a webpage with almost all of the briefs filed in the Parker appeal, including the recently-filed reply brief. There are a few amici briefs still being added.
The States' amicus included Idaho, and is antigun. Idaho has since withdrawn itself from participation in the brief.
[Update: in light of comments, the last may be an error. I'd received the page from a pro-gun attorney, who noted something to the effect that Idaho had seen the error of its ways and withdrew. There may have been a mistake as to what brief was being referred to -- I assumed Idaho was on the State's brief]
Posted by David Hardy · 21 August 2006 02:55 PM
Wikipedia has an entry dealing with the Joyce Foundation. Hat tip to Kevin Pinto, who came up with the concept.
Posted by David Hardy · 20 August 2006 05:48 PM
Thanks to a query from Don Kates, I found an issue of Case and Comment from the 1970s that cites a case of some historical interest.
In 1861, Tennessee's confederate government passed a bill that empowered the governor to designate persons in each county to round up all arms. Since it was a bill relating to a Department of Ordinance, I'd assume the purpose was to get arms for the military, although it might have been applied with more vigor to areas such as eastern TN, that weren't sympathetic to seccession. After the war's end, a fellow whose rifle was taken sued the person who took it, and won.
The state Supreme Court affirmed in Smith v. Ishenhour, 43 Tenn. 214 (1866). The court ruled that the statute had "utterly disregarded" the state constitution, which protected a right to keep and bears for the common defense. "This is the first attempt, in the history of the Anglo-Saxon race, of which we are apprised, to disarm the people by legislation." Accordingly, judgment for the plaintiff was affirmed.
Posted by David Hardy · 20 August 2006 12:17 PM
The Daytona Beach News-Journal has an editorial attacking the Florida firearms laws. [Hat tip of Bruce Mills]
Let's take it one step at a time.
"The bad news: Florida's gun-crazy. The worse news: The ailment is contagious.

Since the spring of 2005, 15 states have adopted laws expanding the concept of self-defense to ludicrous -- and deadly -- proportions. Florida was the first to adopt the so-called "shoot first" or "stand your ground" law, which allows people to use deadly force whenever they feel threatened, so long as they are in a place they have a legal right to be. The new law erases any duty to try to get away, even if escape is possible."
A person under criminal attack, and who has reasonable fear they would be killed or maimed, shoots the attcking thug. Now can't be prosecuted on the theory that they could have escaped.... so why is that a bad thing? I suppose newspaper's sympathies are with the criminal who got hurt. Mine tend to be with the victim. Take your pick.
As Don Kates has pointed out with regard to another article, "Among the highly misleading things in this article is that the ordinary reader will probably never realize that the retreat rule has always been the minority rule in the U.S. So instead of a horrible earthshaking change taking place, all that is happening is that the legislatures of at most 15 states have adopted what was already the rule in most states."
"And it blocks any liability for innocent bystanders. If a person is aiming his gun at a potential assailant but hits a 5-year-old girl instead, he still can't be arrested or prosecuted -- no matter how reckless he was. He also has immunity from civil suits."
I'd have to examine the law closely to see if that was the result. But in any event, how can one be reckless in that situation? Perhaps if, with an onrushing thug, the victim put his hand over his eyes and emptied a magazine in the assailant's general direction. If that has happened in the history of this Republic, it hasn't come to my attention. Gimme a break, editor!
"Over the past year, it's become clear that the law -- pushed by the National Rifle Association, but applicable to any deadly assault -- makes it tougher for prosecutors. To obtain convictions in cases where an assailant claims self-defense, prosecutors must prove, usually months after the fact, what a shooter was thinking when she or he pulled the trigger."
That's one thing the law did NOT do. Before and after, self-defense required proof that the defender believed they were under deadly attack, and that that was a reasonable belief. So prosecutors already had to prove, at trial months down the road, whether the defender had a reasonable belief at the time.
"When the law was passed, opponents predicted it would become a shield for warring gang members in drug disputes. That claim was dismissed as nonsensical -- until a drug dealer was lured to a Lexington, Ky., apartment by a man who owed him money and beaten to death with a lamp.

Two years ago, James Adam Clem, 27, would have faced homicide charges. But since Kentucky had passed a law identical to Florida's, prosecutors would have had to prove that Clem wasn't in fear for his life. The fact that he was able to club his victim to death, rather than shooting him, made no difference. Instead of going to trial, Clem got a favorable plea deal earlier this month, and may be eligible for parole by Christmas."
To be precise: the judge refused to dismiss the case, based on the law. He plead to manslaughter. His claim was that the guy had assaulted him (and, presumably, tried to kill him). There were no eyewitnesses.
The castle doctrine itself didn't play a role (the guy hadn't broken in). Retreat wouldn't have played a role, since Kentucky has never had a retreat requirement.
With or without the law, odds of getting a murder conviction on those facts are pretty slim. Even if you disprove self-defense, in a fight like that the jury is probably going to go with voluntary manslaughter. So the prosecution took what it'd probably get anyway. This is a case that turned out the way it would have turned out anyway, but the editorial blames it on the statute.
[I see a lot of complaints that the new law in KY was badly drafted, and that may be the case. If so, it merely points out that laws should be well-drafted, not that the idea itself was flawed]
"The Orlando Sentinel documented 13 shootings in Central Florida where the new law may come into play. In another case, a New Port Richey prostitute is using the new law as a defense against charges that she shot and killed her 72-year-old client after taking his gun away from him.

Because the state doesn't keep track of shootings, there's no statewide total -- but the early figures suggest that it would be daunting as more people learn about the major loophole in the law."
I blogged the Orlando Sentinel article here. Yep, there were 13 self-defense arguments where the law might come into play. Five persons have been cleared so far (one under investigation was an off-duty officer -- the castle doctrine laws protect law enforcement, too).
As far as the prostitute goes, Don Kates took that case apart here. "Her story is that her elderly client pulled a gun declaring that he was going to kill her and then himself. She wrests the gun away from him and then shoots him rather than fleeing. Even under the retreat rule one is only required to retreat if ths is clearly possible. Under these circumstances she was privileged to shoot rather than run away taking the chance that this homicidally desperate man can jump on her and get the gun."
I note the ediorial omits the fact that the client had pulled a gun on the lady of the evening and threatened to kill her, instead making it sound as if she just decided to whack a client (which is bad for business, of course).
"Right before the law became effective Oct. 1, the Brady Campaign to Prevent Gun Violence launched a campaign warning tourists of the dangers of the new law. The campaign included ads in key "feeder" markets like Chicago, Detroit, Boston and the United Kingdom, and fliers distributed at Florida airports reading "An Important Notice to Florida Visitors." Under the heading of "sensible precautions," the fliers urged visitors to "not argue . . . with local people.""
As I noted in an earlier posting, Brady is having a bit of trouble here, since Florida's crime rates have fallen to the lowest level in 35 years. "A telephone message left for comment after hours with the The Brady Center to Prevent Gun Violence in Washington, D.C. was not immediately returned."
"The Brady Campaign can't single Florida out any more. Expect other states to see an escalation in unprosecutable shootings.

The spotlight may veer away from Florida, but the fact remains that this state was the first to enact this dangerous and bloody law. Florida can get national headlines again -- for the right reason -- by being the first state to tear up this virtual get-out-of-jail-free card."
Posted by David Hardy · 20 August 2006 10:45 AM
Judicial Watch has uncovered some interesting records in the Clinton Presidential Library. "These new documents clearly show that the Clinton administration put into motion an organized plan to attack the gun industry," said Judicial Watch President Tom Fitton. "Tough questions about these extortive methods ought to be asked of both Clintons."
There is a pdf file of the more interesting documents linked to the page. Ideas that were floated included nationwide handgun permits, banning importation of large capacity magazines, and background checks for private sales. There are also detailed memos on suits against gun manufacturers. One letter from the NY Atty General complains that the HUD/Smith & Wesson deal was negotiated without letting him know, and complains that was not teamwork, but someone getting caught with his hand in the cookie jar. It also complains that their efforts to get magazine disconnect safeties on guns is undermined by FBI's insistence that its guns not have these. "I am disappointed and angry at the way you proceeded."
[Via Instapundit,]
Posted by David Hardy · 19 August 2006 05:22 PM
Here's the section of the opinion dealing with standing to sue. Standing issues are murky at best, but the core is that you can't sue just because you dislike a law or government action, or think it's illegal, you have to prove it inflicts some "concrete harm" upon you. OK, so the government is snooping on international calls, trying to focus on calls to terrorists -- how is that any skin off your nose? From the opinion:
" For example, scholars and journalists such as plaintiffs Tara McKelvey, Larry Diamond, and Barnett Rubin indicate that they must conduct extensive research in the Middle East, Africa, and Asia, and must communicate with individuals abroad whom the United States government believes to be terrorist suspects or to be associated with terrorist organizations. 12 In addition, attorneys Nancy Hollander, William Swor, Joshua Dratel, Mohammed Abdrabboh, and Nabih Ayad indicate that they must also communicate with individuals abroad whom the United States government believes to be terrorist suspects or to be associated with terrorist organizations, 13 and must discuss confidential information over the phone and email with their international clients. 14 All of the Plaintiffs contend that the TSP has caused clients, witnesses and sources to discontinue their communications with plaintiffs out of fear that their communications will be intercepted. 15 They also allege injury based on the increased financial burden they incur in having to travel substantial distances to meet personally with their clients and others relevant to their cases. 16
......
the court need not speculate upon the kind of activity the Plaintiffs want to engage in - they want to engage in conversations with individuals abroad without fear that their First Amendment rights are being infringed upon. Therefore, this court concludes that Plaintiffs have satisfied the requirement of alleging "actual or threatened injury" as a result of Defendants' conduct. It must now be determined whether Plaintiffs have shown that there is a causal connection between the injury and the complained of conduct. Lujan, 504 U.S. at 560-561. The causal connection between the injury and the conduct complained of is fairly traceable to the challenged action of Defendants. The TSP admittedly targets communications originated or terminated outside the United States where a party to such communication is in the estimation of Defendants, a member of al Qaeda, a member of a group affiliated with al Qaeda, or an agent of al Qaeda or its affiliates. 23 The injury to the Plaintiffs stems directly from the TSP and their injuries can unequivocally be traced to the TSP."
Capitol Hill Blue quotes a law prof saying the opinion indicates that impeachable offenses were committed. Somehow, if I were a Demo legislator, I'd find some other issue to talk about. The court finds concrete injury because terrorists can't safely make phone calls, and people in the US who want to communicate with a terrorist are put to the trouble of leaving the US to talk in person. Oh, and ACLU sued because it has members who want to freely call terrorists overseas. Yup, that's an issue which is going to have Americans crying "outrage!" and storming the White House.
But then we are talking a major political party, in a time in which elections seem to be determined by which party does the less competent job of committing ritual suicide.
Posted by David Hardy · 19 August 2006 12:38 PM
Just came across a rather well-written Wickipedia entry on federal gun law
Posted by David Hardy · 18 August 2006 02:57 PM
A Oklahoma judge has been sentenced to four years' imprisonment for indecent exposure during trials. Now, I know trials can be boring, but using a penis pump under the bench is really a bit much.
Posted by David Hardy · 17 August 2006 07:39 PM
So... I come across a press release today from the Legal Community Against Violence, which claims it was founded by attorneys in response to gun violence, etc., etc., and has created a "a first-of-its-kind publication designed for public officials and advocates working to reduce gun violence across the country."
My first thought: one more Joyce Foundation clone, a supposed "grassroots" organization in fact created by Joyce's millions, and with a membership at best in the dozens. But perhaps I'm too cynical.
Nope. Hop over to Joyce Foundation's webpage and we find among its grants:
"Legal Community Against Violence
San Francisco, CA $380,000
For general support. (2 yrs.)"
And, as might be expected, a search of Legal Comm. Against Violence's own website reveals... not one mention of who are their officers, directors, or how many members they have. In fact, no names at all. One more plywood cutout, backed by Joyce's money.
UPDATE:
Jim Dewey, of Dewey Ex Machina sent the following, which for no reason I can understand got stopped by my spam filter:
LCAV appears to be part of Firearms Law Center [also funded by Joyce]
(from Google.com)
3/4/02 Minutes
Canton, OH
FIREARMS LAW CENTER
SUE ANN L. SCHIFF, EXECUTIVE DIRECTOR, &
SAYRE WEAVER, LEGAL DIRECTOR
268 BUSH STREET #555
SAN FRANCISCO, CALIFORNIA 94104
Posted by David Hardy · 17 August 2006 04:52 PM
LAPD appears to be having some problems with unintentional firearm discharges.
"Officers over those years shot themselves or one another nearly as often as they were shot by suspects.
Since 1985, there have been more than 350 accidental discharges by LAPD officers. There also have been more than a dozen so-called friendly fire incidents....
One off-duty officer shot himself in a leg as he sat behind his desk and, according to department records, contemplated "a complex mathematical problem." Another officer inadvertently pulled the trigger when his African gray parrot flew into his face.
One officer accidentally shot his girlfriend in a leg while trying to retrieve a cartridge from his handgun as a "memento" of their date. Yet another officer admitted that he accidentally fired his gun because he was startled by a woman holding a teddy bear. Two officers accidentally discharged their weapons as they handled them at home while watching themselves in mirrors."
[Hat tip to Dan Gifford]
Posted by David Hardy · 17 August 2006 03:41 PM
There's an interesting discussion of the district court ruling (actually, several discussions) over at Volokh.com.
Just two comments:
1. It illustrates how "standing" tends to work out to "if the court likes your case, you have standing, otherwise you don't." Plenty of firearm and other cases have been dumped on standing grounds, on the basis that "I won't do something because it's against the law and I fear prosecution" isn't enough. Here, "somebody in another country won't do something (talk to me) because they fear they might be overheard and prosecuted" is held to create standing.
2. In order to win on standing, plaintiffs had to argue, and the court accept, that the program is functioning as intended. Namely, terrorists and possible terrorists are unable to use the telephone for fear of being overheard and prosecuted.
Posted by David Hardy · 17 August 2006 07:21 AM
A no retreat law is being proposed in PA, according to this article. If the reporter has it right, it sounds a bit strange... only applicable to CCW permit holders.
On the other hand, it may be no stranger than the existing law. I was about to post on it yesterday when my browser crashed and I lost the link--as I remember it, the existing PA law covers self-defense in two sections, one relating to defense of self or others, the other to defense of property, and there is no retreat provision in the defense of property section, but none in the defense of self or others one!
Posted by David Hardy · 16 August 2006 07:13 PM
NRA and SAF are declaring that the judge denied NO's motion to dismiss their lawsuit over the gun seizures. Here's NRA's press release.
It's an interesting suit, since it's in the 5th Circuit, which has declared for an individual right interpretation of the 2nd Amendment. To apply that to a local government, you'd have to see whether the 5th will incorporate the right to arms via the 14th Amendment. If it does, there might just be Supreme Court material here (and if gunowners win in the Circuit, such a move might be inevitable, since it'd be New Orleans' lot to file for certiorari).
Might make for an interesting case. (1) Unlike the typical criminal appeal, you don't have, well, criminals asserting a right; (2) the Court wouldn't have to flesh out the details of the right (which it may be reluctant to do), but could simply hold that confiscating firearms from an entire civilian populace, at a time when they are most needed, violates the right to arms. Then pitch it to the circuits to figure out what else might, and come back in in five or ten years and give some more definitive rulings.
Posted by David Hardy · 16 August 2006 03:40 PM
From Kim du Toit: a Minneapolis man drives off burglars with some swordplay.
Posted by David Hardy · 16 August 2006 12:01 PM
Basically, a 10-22 hellfire that works (and is a lot more expensive).
Posted by David Hardy · 16 August 2006 11:16 AM
Here's the story.
[Hat tip to Budd Schroeder]
Posted by David Hardy · 14 August 2006 04:48 PM
Boston just made a second $3.2 million settlement for wrongful prosecution and conviction.
Posted by David Hardy · 13 August 2006 10:32 PM
Well, there's no doubt about the type of place I'm in. First, everything (including public garages) carries warnings that something or else in them "is known by the State of California to cause cancer." The garages have it because CA "knows" that exhaust does it. The hotel has it because it has smoking rooms (so you're informed that *someone else* may be exposing themselves to a risk). In fact, the pack of fishing sinkers I just bought has such a warning, too, cautioning me to wash my hands after touching these deadly lead sinkers.
Oh, and a political ad on the radio for an initative to put some manner of fee on oil companies' offshore drilling, OK, and then "make sure that they can't pass the fee on to you."
Posted by David Hardy · 11 August 2006 08:28 PM
The day before the attempted bombings and new security. My eldest son flew out just after them, and the plane was half an hour late due tom the increased screening.
Posted by David Hardy · 8 August 2006 10:53 PM
Hurrah! I'm taking a vacation, for the first time in two years! I'll be out until the 16th, maybe able to blog a little between now and then, but probably very little. But it's 75 in the San Diego area, and I'll be wandering the beach.
As some minor matters until then--
Here's a bit on my family history. I discovered that the family name of Hardy is an alias taken by an outlaw gunman. Nat Hickman fled the law in Colorado, escaped to Arizona Territory, and became Judge Charles W. Hardy. In a state where quite few people can say they were born here, we date back to 1871, and to 1859 in the case of my great-grandmother.
Here's a load of Civil War research that I've undertaken.
Here's my late father's recollections of growing up on the Arizona frontier. Dad started in dirt-floored adobe hut, maybe ten by fifteen feet, that housed him, his grandparents, an uncle and two siblings. No
1000
water, no electricity. Laundry boiled on a pot outside, propped up on three rocks. Daniel Boone could have wandered by, and known the use of everything. And Dad lived into the 21st Century.
Here's a memorial webpage for my ex-wife, Frances, who died of cancer in 2003, age 52. Someday I'll fill in the full story. It's one of those things blasted into your memory. You have to look someone you once loved, and have known for 20+ years, in the eye and tell them the docs are coming over to tell them there is no hope, and you see their eyes go round....
Anyway, take a look, and I'll be back online next Wednesday or so!
Posted by David Hardy · 8 August 2006 11:47 AM
Don Kates just published an article in the Legal Times. Pdf file is here.
Posted by David Hardy · 8 August 2006 10:36 AM
So I awaken this morning, and find a specimen of furry, baby, wildlife drowning in my pool. Of course I rush to the rescue!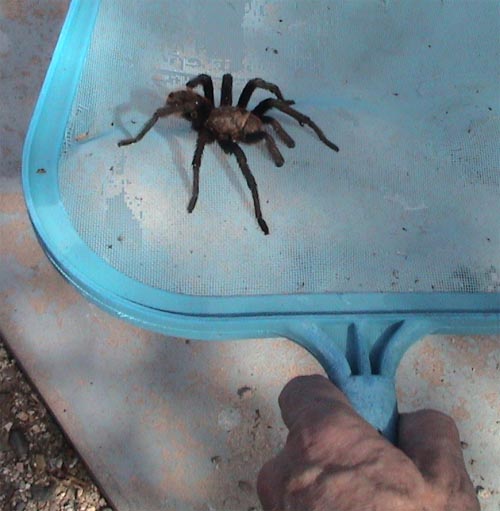 Posted by David Hardy · 7 August 2006 05:48 PM
Prof. Sandy Levinson has a post over at Balkanization.
His ending: "gain, to be absolutely clear: I would much prefer a world in which Hezbollah devoted itself only to doing good works for Lebanese citizens and where the Mahdi militia laid down its arms and acquiesced to the sovereignty of an Iraqi government that indeed fairly represented all of the groups within Iraqi society. But this is to engage in fantasy, alas. One might at least try to understand why control over the means of violence is perhaps the central political issue in any serious design of a constitution for a divided society. This is why the Second Amendment should be front and center in any consideration of the nature of our own original constitutional system, whatever it should mean today, and how our own history might lead us to a more complex and nuanced view of what we can plausibly demand and expect to receive from the deadly serious political groups in such countries as Lebanon and Iraq."
[Hat tip to Saul Cornell]
Permalink · Academic treatment
Posted by David Hardy · 7 August 2006 04:06 PM
A 64 year old, 5'1" grandmother is confronted by a gang of teenage thugs, blocking her way and shouting abuse and taunts. One dares her to hit him, and she gives him some light prods in the belly. He knocks her down and breaks her arm.
The thug's mother calls the police on her, and she is arrested for assault.
Tom Holzel comments (which for some reason my spam filter stopped):
The situation in the UK is now completely out of control. Tony Martin, a farmer, had been repeatedly robbed, with the local constabulary at least 30 minutes away--when they chose to come at all. The third time he was robbed, he shot and killed one perp and wounded another after they had broken into his home. Both had long rap sheets. Of course Martin was tried and convicted of using excessive force. The wounded burglar was consulted by the judge to determine the length of the sentence (!!) The trial cost for the wounded burglar were paid for by the state. Tony Martin's were not.

Recently a man in London called the police on his cell phone to say he was witnessing the theft of his car, and if the police hurried, they could catch the miscreants. They replied that they had better things to do, and he could come down to the station and report the theft for insurance purposes.>>

Posted by David Hardy · 7 August 2006 12:00 PM
The NY Times has run an article on the castle doctrine laws. Of course, it's mostly a hit piece. Don Kates' detailed response is in the "read more" section below.
Continue reading "NY Times on castle doctrine laws"
Posted by David Hardy · 6 August 2006 05:59 PM
A reasonably balanced article on claims by Massachusetts that Maine's more liberal gun laws are a problem for them.
On the other hand, since Boston is on a roll for its highest murder rate in a decade, while Portland had a murder rate of 2 per 100,000, one might wonder whether Massachusetts might want to adopt Maine's laws.
Posted by David Hardy · 5 August 2006 09:12 PM
The Minneapolis Star-Tribune is reporting on a few scandals that may have prompted the BATFE director to resign. As I noted earlier, the resignation was not at a time a bureaucrat would voluntarily choose (just before he got in his "high three" years of salary on which his pension is calculated).
"A report on ATF is expected soon from Justice Department Inspector General Glenn Fine, whose office has been investigating allegations that Truscott put through or proposed hundreds of thousands of dollars of unnecessary plan changes and upgrades to ATF's new 438,000-square-foot headquarters. The building, under construction in northeastern Washington, is at least $19 million over budget.
Sources familiar with the project told the Washington Post this year that Truscott planned to buy, among other things, nearly $300,000 in extras for the new director's suite, including a $65,000 conference table and more than $100,000 for hardwood floors, custom trim and other items. These sources described Truscott as overly focused on the building's luxurious details, from soap dishes to tile colors and said he wasted valuable time with innumerable project meetings and field trips to the site....
Justice investigators also questioned ATF employees about a costly trip that Truscott and others took to London last year and about allegations that ATF staff members helped assemble a school video report for a young relative of Truscott's, according to officials interviewed in the inquiry and who declined to be identified for fear of retaliation."
(Hat tip to Prof. Joe Olson).
Posted by David Hardy · 5 August 2006 04:15 PM
Preston, Lancaster police want to ban drinking while standing at a bar, out of the fear that fights start when people crowd arond the bar and knock each other's beer over.
Posted by David Hardy · 5 August 2006 09:05 AM
Carl Truscott, Director of BATFE, has resigned.
Funny time to do it... every bureaucrat knows your pension is based on your "high three," average of your three years' highest pay. He's been director for two and a half years. Sticking around a few more months might have made a pretty nice change to the pension.
Posted by David Hardy · 4 August 2006 08:11 PM
The DC government's brief in Parker (challenging DC gun ban and other restrictions) is online in pdf form here.
Hat top to reader Jim Archer, who observes that it lists states that supposedly did not guarantee an individual right to arms (p.29, pdf pg. 40) as including Rhode Island. That's an interesting way of putting it -- RI had *no* constitution until 1842, he notes.
I've skimmed the brief, and it strikes me that they're advocating Saul Cornell's "civic individual right" instead of the earlier "collective right" approach.
Posted by David Hardy · 4 August 2006 05:16 PM
Carnival of Cordite No. 68 is up, on theme of hot women and guns. It links to a Michael Bane post on Forest Service cutting off shooting opportunities. I can tell you, as its presidente, that Tucson Rod and Gun Club has has some experience with that.
Posted by David Hardy · 4 August 2006 05:03 PM
SayUncle has this posting on Rep. Harold Ford, who is running for re-election in Tennessee. His voting record and ratings are, to say the least, very interesting.
Posted by David Hardy · 3 August 2006 08:49 PM
I've been practicing 30 years ... hmm, 31 ... and while I've had certain temptations at times, managed to avoid filing a notice of appeal like this one, It takes more work, but often you can write the brief so as to suggest that conclusion without ever quite putting it in words.
Posted by David Hardy · 3 August 2006 03:23 PM
Cokehead and his dealer are alone in a room, fight breaks out, cokehead fatally beats dealer with a metal lamp. Prosecutors charge murder and, during trial, plead it to manslaughter.
According to Brady Campaign, it was due to the new castle doctrine law: "The reason: Kentucky's new "shoot first" law, pushed by the National Rifle Association in multiple states this year after passing it in Florida last year. "It has created some problems," the prosecutor, Ray Larsen, told the Lexington (KY) Herald-Leader. "This case is a prime example.""
News reports suggest a slightly different story: "Last week, Circuit Judge Sheila Isaac rejected a defense motion to dismiss Clem's murder charges because of a recently enacted "home-intruder" law that grants immunity to somebody who uses deadly force against a robber or attacker."
Continue reading "Brady Campaign and criminal case"
Posted by David Hardy · 3 August 2006 10:17 AM
The PA Senate Judiciary Committee held headings this week on a theme of more gun laws (of course).
Posted by David Hardy · 2 August 2006 08:05 PM
The Volokh Conspiracy notes that the Yale Law Journal Pocket Part (a manner of supplement to the main journal) is looking for short articles.
Posted by David Hardy · 2 August 2006 09:58 AM
Attorneys come to appreciate matters of witness (or in this case, filming) perspective, and this officer-involved shooting illustrates it quite well.
View this wmv file of it, and you'd swear the officer back-shoots the suspect for no reason at all. View this one from a different angle, and you see the suspect had a gun out, aimed, and you wonder that they didn't fire earlier.
Posted by David Hardy · 2 August 2006 09:55 AM
Police in Australia may not quite be doing door-to-door searches of gun owners, but they're going to be doing door-to-door inspections of gun storage.
[Hat tip to Budd Shroeder]
Posted by David Hardy · 1 August 2006 05:08 PM
For those of us who tinker with metal, here's a report of an unusual grinding accident. Guy is grinding metal when he's partially enveloped in a fireball of exceptional heat (deep 2d degree burns). Theory is that iron oxide from grinding iron mixed with aluminum from prior grinding to make a form of thermite. (I suspect it was more of a thermite *dust* explosion, as a pile of thermite wouldn't do up that quickly).
Posted by David Hardy · 1 August 2006 04:23 PM
Sounds like some serious trouble in Illinois ... and from the info given, it doesn't sound like the first time it's happened. I'm not familiar with ILL law, but from the way it's set out, it sounds like he was carrying legally (Firearm Owner ID card, unloaded gun, in a buckled case) and was arrested anyway.
UPDATE: The local paper has an editorial, essentially saying "he had it coming." Their version claims he faces felony CCW charges, and had a firearm in a hip holster, and treats it as if he were setting up a second amendment test case (which, from his posting, seems to have been far from his mind).
Posted by David Hardy · 1 August 2006 03:12 PM
SayUncle has more details, and a commentary.
It sounds as if the settlement is: the gun shops agree to better train their salespeople, and to be monitored, and plaintiff NYC agrees to pay for it all! Sounds like quite a settlement ... for the defense. Normally you're happy to walk away--let alone make the plaintiff pay to give your guy something. Monitoring the records -- sure, nothing like free audits to protect against the risk of license revocation.
As SayUncle observes, "So, the city of New York is going to monitor (and pay for it) two small pawn shops in Georgia? Doesn't sound like much to me other than a symbolic victory, which may be all they're after." It sounds to me as if NYC sued, and then bailed out before anyone moved to dismiss.
Via the Bitchgirls.
Permalink · Gun manufacturer liability
Posted by David Hardy · 1 August 2006 10:14 AM
Larry Pratt, of Gun Owners of America, lost his 23 month old grandson, Luke, to an accident. Luke is the son of Larry's son Erich.
If any of you are in the DC area, memorial service is Thursday at 2:00 p.m. at the Harvester Presbyterian Church at 7800 Rolling Road in Springfield, VA 22153. In lieu of flowers, they suggest contributions to the church, with "Hispanic Ministery" written on the note line.
There's nothing worse than losing a child. It makes things like the prospect of your own demise seem trivial. I never went that far, but did spend 3-4 yrs thinking I was going to lose my eldest.