« Lawsuit in Ohio | Main | AZ gun bill passes House »
Drug raid in Mexico
Posted by David Hardy · 29 May 2007 02:10 PM
Here's a pic of *part* of the drug runner's money supply. Yes, those are hundred dollar bills.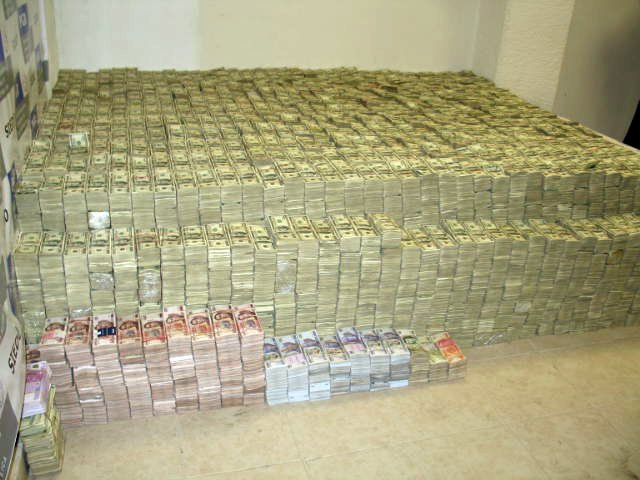 Comments
Wow, screw practicing law. How do I become a drug kingpin?
Posted by: Jim W at May 29, 2007 04:52 PM
What, you mean this isn't all the money you've made from the documentary? *grin*
Posted by: Eric at May 29, 2007 05:57 PM
I used to have a mattress over it, but it started to get uncomfortable.
Posted by: Bodi at May 29, 2007 06:02 PM
Bullocks, that's Michael Moore's yearly Twinkie money.
Posted by: Letalis at May 29, 2007 06:34 PM
That looks like enough money to have a serious effect on the Mexican economy.
Posted by: Sebastian at May 29, 2007 08:03 PM
A stripper friend of mine told me that it's actually remarkably difficult to spend cash in today's society. She said she developed a quick appreciation for why so many prostitutes and drug dealers developed an affection for bling and fancy jewelry. It was an easy way to get rid of large quantities of cash.
I would imagine cash spends a lot easier in Mexico than in the US, but man, that's a big pile.
Posted by: Sebastian at May 29, 2007 08:07 PM
Can't you just deposit the cash in a bank account and pay for stuff with a debit card or checks? I have been transacting in cash or cash equivalents for a long time and never had any difficulty.
Buying a home or a car is way easier with cash because you have financing up front.
Posted by: Jim W at May 29, 2007 08:32 PM
Jim W:"Can't you just deposit the cash in a bank account and pay for stuff with a debit card?"
Every time you use a debit card or a check, it leaves a trail. The trail markers can be added up, and if you are spending more than you legitimately earn, or are reporting to the tax man, it's bad for you.
Of course, it's almost impossible to buy real estate or a car without leaving records all over the place. (Real estate more than a car, I'd think.)
The main thing about that stack o' cash is...Jim W's opening comment. That picture is nothing but advertising for an exciting career in recreational pharmaceuticals. No matter how much of the Constitution we feed into the shredder, the War on Some Drugs will never overcome the allure of that stack.
Posted by: Refugee at May 30, 2007 12:34 AM
I knew a drug dealer for a while back in the early 80's. He drove a non-descript late 60's four door car with like $5,000 worth of stereo, $5,000 worth of motor, and $1,000 worth of tires in it. Hell, he put a $500 spin balanced drive shaft on the thing. His non-descript house (that he rented) was sort of the same; lots of big dollar stereos, TVs, and other electronic gizmos.
I have seen captured vids of relatively small time drug dealers counting their cash (yeah, they actually filmed themselves doing it). They literally had laundry baskets full of $1 bills stacked up that they weren't even counting.
Posted by: Letalis at May 30, 2007 03:32 AM
that does look like enough cash to have a measurable impact on the Mexican economy, i think, yes. mind, much of it likely wasn't bound for Mexico as the final destination anyway. i'm not sure either how long it takes cash to filter through from the black economy into the legit one; the impact may be spread out over enough time not to matter much.
Posted by: Nomen Nescio at May 30, 2007 08:00 AM
35x11 stacks = 385 stacks
.0043" thick per $100 bill
each stack is about 6 bills high
each bill is 6.14" long
35 wide x 11 long x 6.14" per bill x 6 bills high /.0043" per bill thick x $100 = about $330 million.
Holy crap.
Posted by: jlbraun at May 30, 2007 12:40 PM
The Financial Crimes Enforcement Network (FinCEN), an agency of the United States Department of the Treasury, requires a Suspicious Activity Report (SAR) to be filed by a financial institution when the financial institution suspects insider abuse by an employee; violations of law aggregating over $5,000 or more where a subject can be identified; violations of law aggregating over $25,000 or more regardless of a potential subject; transactions aggregating $5,000 or more that involve potential money laundering or violations of the Bank Secrecy Act; computer intrusion; or when a financial institution knows that a customer is operating as an unlicensed money services business.
FinCEN also requires a Currency Transaction Report for each deposit, withdrawal, exchange of currency, or other payment or transfer, by, through, or to a financial institution which involves a transaction in currency of more than $10,000. If the bank suspects that you're breaking up the transaction into smaller transactions to avoid the $10K limit, they're supposed to report that too.
So it would be hard to get enough cash moved into an account to make it useful for anything "good" - like that new Ferrari.
Posted by: Bill at May 30, 2007 02:03 PM
I think you have missed the boat by a large margin. Ill agree with the
35x11 stacks = 385 stacks
.0043" thick per $100 bill--but each stack is very much more than 6 bills high---and---each bill is 6.14" long--has nothing to do with value, only with volume. So Id suggest the equation correctly be--35 wide x 11 long x $100 x how many inches tall the stacks are / thickness of each bill (so you know how many bills tall the stacks are). In this case its hard to figure, but Id say at least 30". In which case 35x11x100x30/.0043= about $268 million. About the same result but calculated with no length included. Your mileage may vary!
Posted by: jbill at May 30, 2007 03:58 PM
Since there were two estimates of the value, and the first one seemed messed up because it estimated each stack was only six bills high, I decided to calculate if for myself. As I was doing it I realized a good way to estimate the height of the stacks was to visualize one of the bills turned long ways vertical. Then I realized that's what jlbraun meant by 6 bills high. A bill is about six inches long, and the stacks are about six bill lengths tall, so that's about 36 inches tall. Both estimates above are pretty good, about $300M.
Estimates of volume have error that is the cube of the error in the linear estimates, which makes volume estimates subject to very large errors. For example if you have a cube that is four feet on a side and you want a cube that holds twice as much, how long should the sides be? Answer: 5 feet. So a 20% error in the length estimate can result in the true volume being DOUBLE what your estimate is.
Posted by: MB at May 31, 2007 04:52 AM
The *other part* of that cash went to pay off the pot head politicians to ram us wth their illegal aliens, ignore the social costs, and redirect the war on drugs away from them. An honest politician is one who, when he gets bought, stays bought!
Posted by: The Mechanic at May 31, 2007 11:31 AM
$205 million.
http://mexico.usembassy.gov/mexico/ep070320seizure.html
Posted by: Ted Weeks at June 9, 2007 12:16 AM
****$205 million.
http://mexico.usembassy.gov/mexico/ep070320seizure.html****
That must be after the law took their cut.
Posted by: El Diablo at June 12, 2007 12:51 PM
A stack of hundreds equals $10,000 at all times. If you apply that to the equation using the 35 x 11 function, you come out with about $385 million. The authorities say $205 million, but we'll never know unless we sit there and count it (one for them, and one for me).
Posted by: Josh at September 28, 2007 12:07 PM
I only see 34 x 10 full columns, plus the shorter row in front.
Also, JBill's estimate assumes the bills are compressed perfectly flat. I would suspect at least a third of the height of those stacks is simply empty air.
CJ
Posted by: CJ at February 1, 2008 05:55 PM
After closer examination and looking at all the photos that have been posted on the web.
I get 34 along x 11 across x 10 high
which is 34x11x10 = 3740 bundles of $5000US =
$187,000,000US and that is not counting the part filled row and the other currency
$100US bills are always stacked 500lots

Posted by: Cajun at June 3, 2008 09:50 PM
@jlbraun: you can use 100 accounts on 100 different banks, and you have enough money for your ferrari and a few other things.
but people, who are really part of the organised crime haqve methods of money laundry, which are very hard to detect and makes all their income seem to come from legal business.
Posted by: Kwyjibo at July 16, 2008 04:25 PM
how ever said put that money in the bank is just as dumb as the poeple cout with it. the police with be all over that dirty money sitin in the bank u gotta clean that money before it even gets thought about being put in a bank.
Posted by: Hip at July 24, 2008 05:30 AM
Posted by: Anonymous at May 21, 2009 09:59 PM